But like, with a sauce! A coconut milk sauce. So good.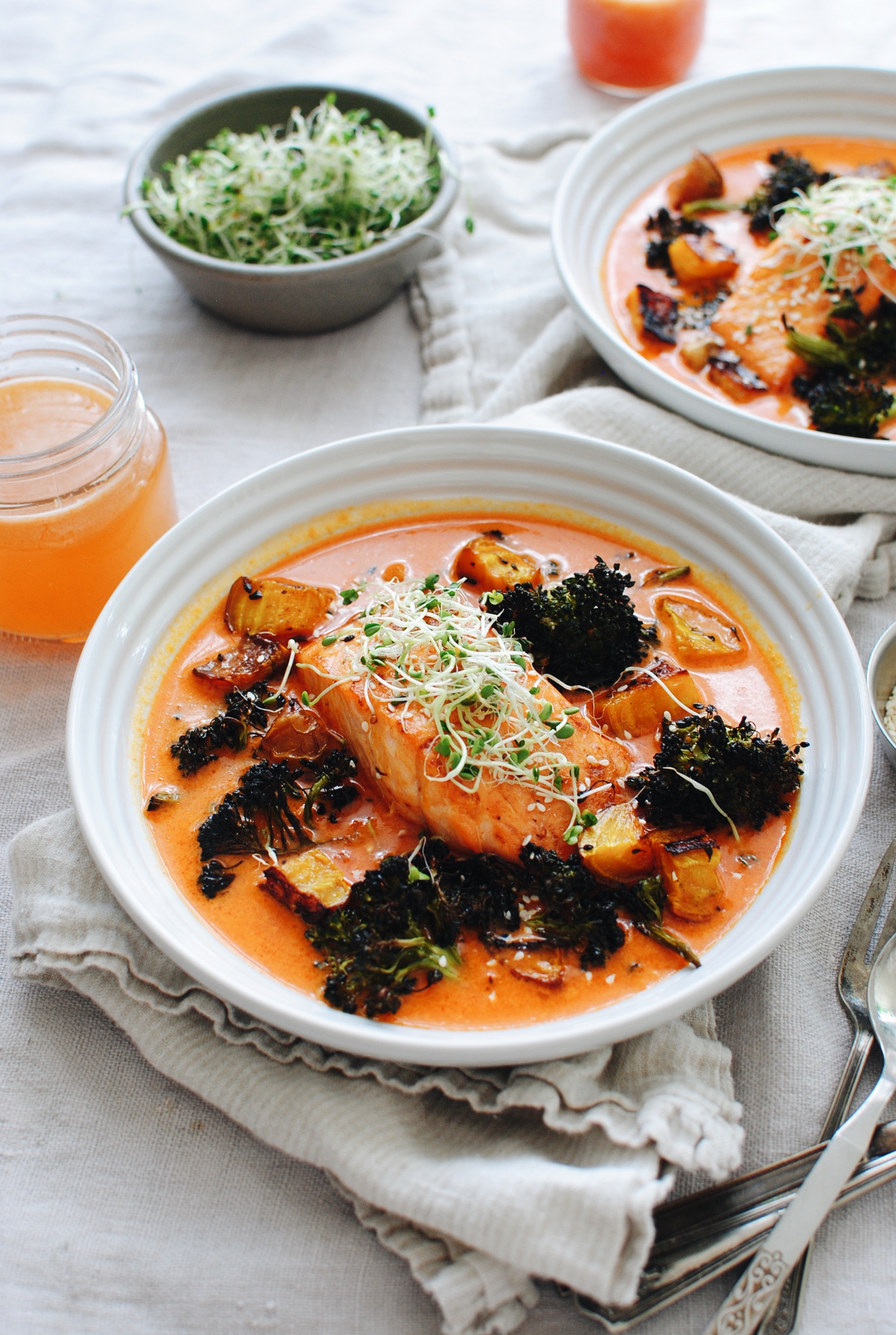 And it's low carb! Which are incredibly sad and awful words and should be thrown away in the trash, but seeing as how March THE FIRST is tomorrow, I know it's that micro mental shift into "bikini bod" land.
Which are also awful words. BIKINI BOD? Who came up with that.
No.
Garbage.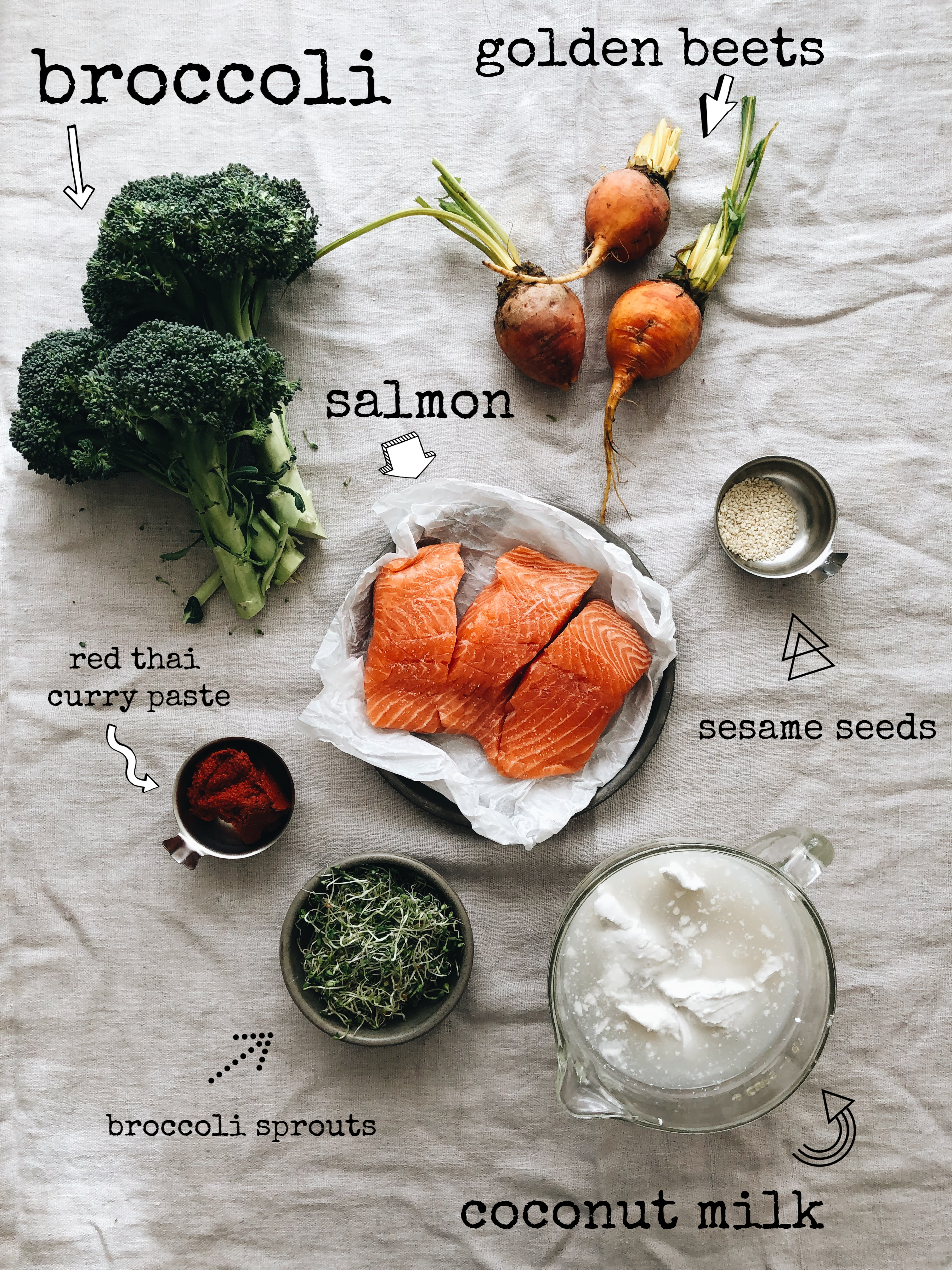 But check it. So easy. And I realize that the coconut milk looks like baby barf. But you know how sometimes the milk and the cream separate in the can? And you scoop out the cream on top, and then use the watery liquid in the bottom of the can? You know? Stop talking? Okay.
(It's okay that it looks like that. Or you can shake the can! Some would say not to do that. But I can't help it. I shake. I just didn't shake on this particular day. Hence the baby barf.)
(I'll stop.)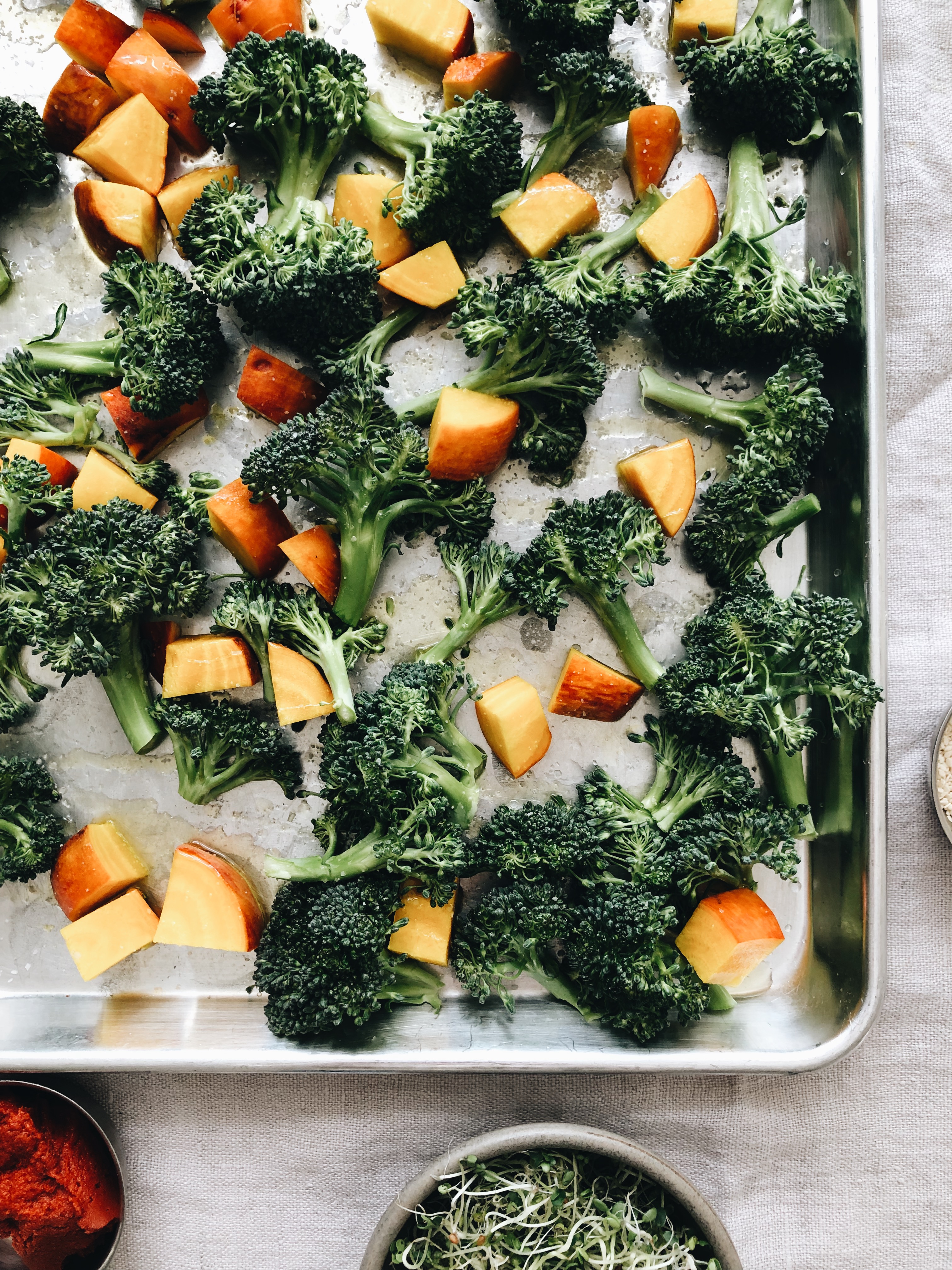 You're going to roast some broccoli with golden beets! And seriously, try the golden ones. Regular beets might dye your sauce in the end, and the golden ones are total mouth gems. Try 'em!
Also, little tip: if your broccoli starts to over-char in the oven, tong them out and let the beets go a full hour. Just tent the broccoli to keep it warm. Know what I mean, Vern?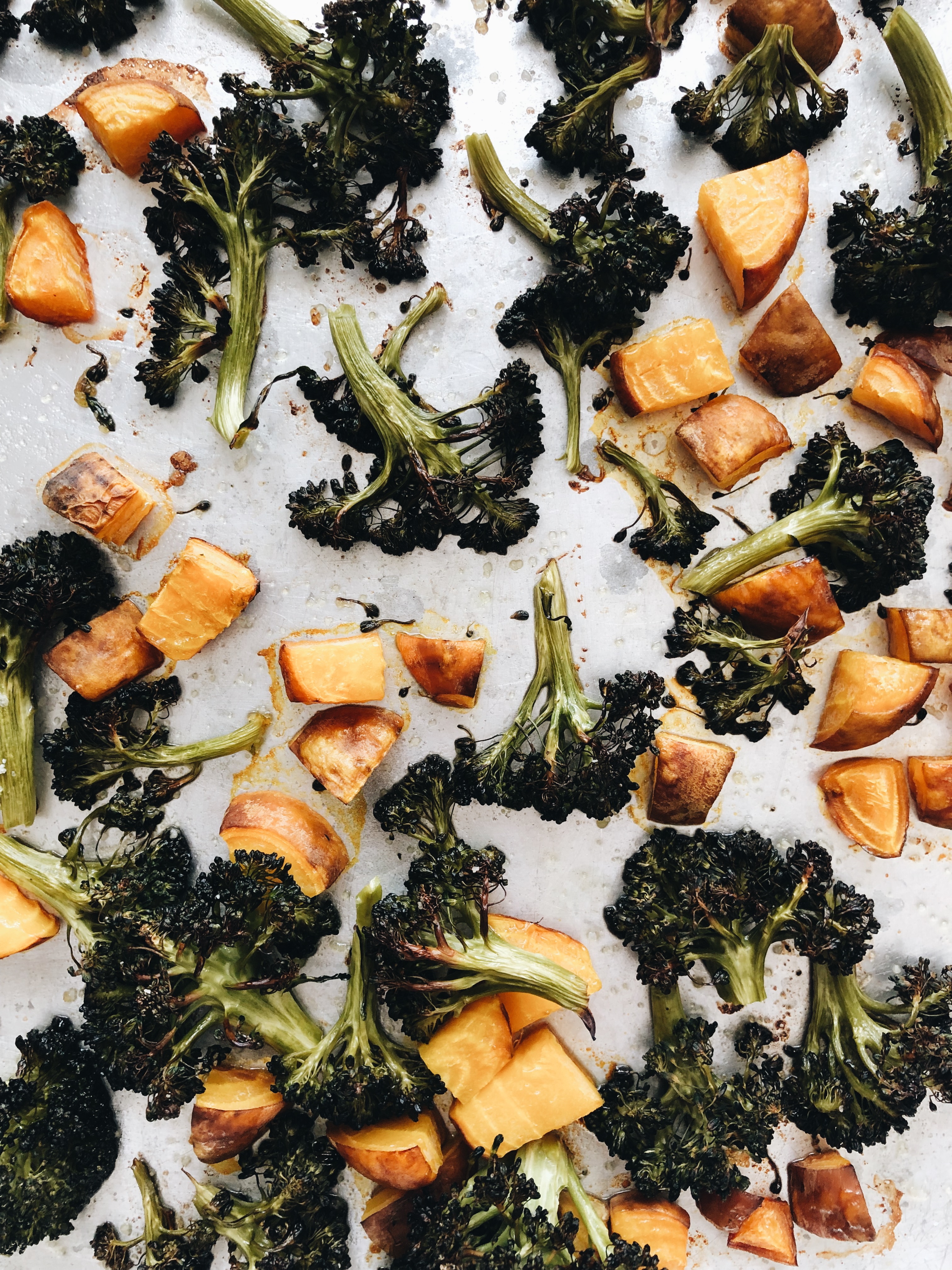 Ugh. I love roasted all the things.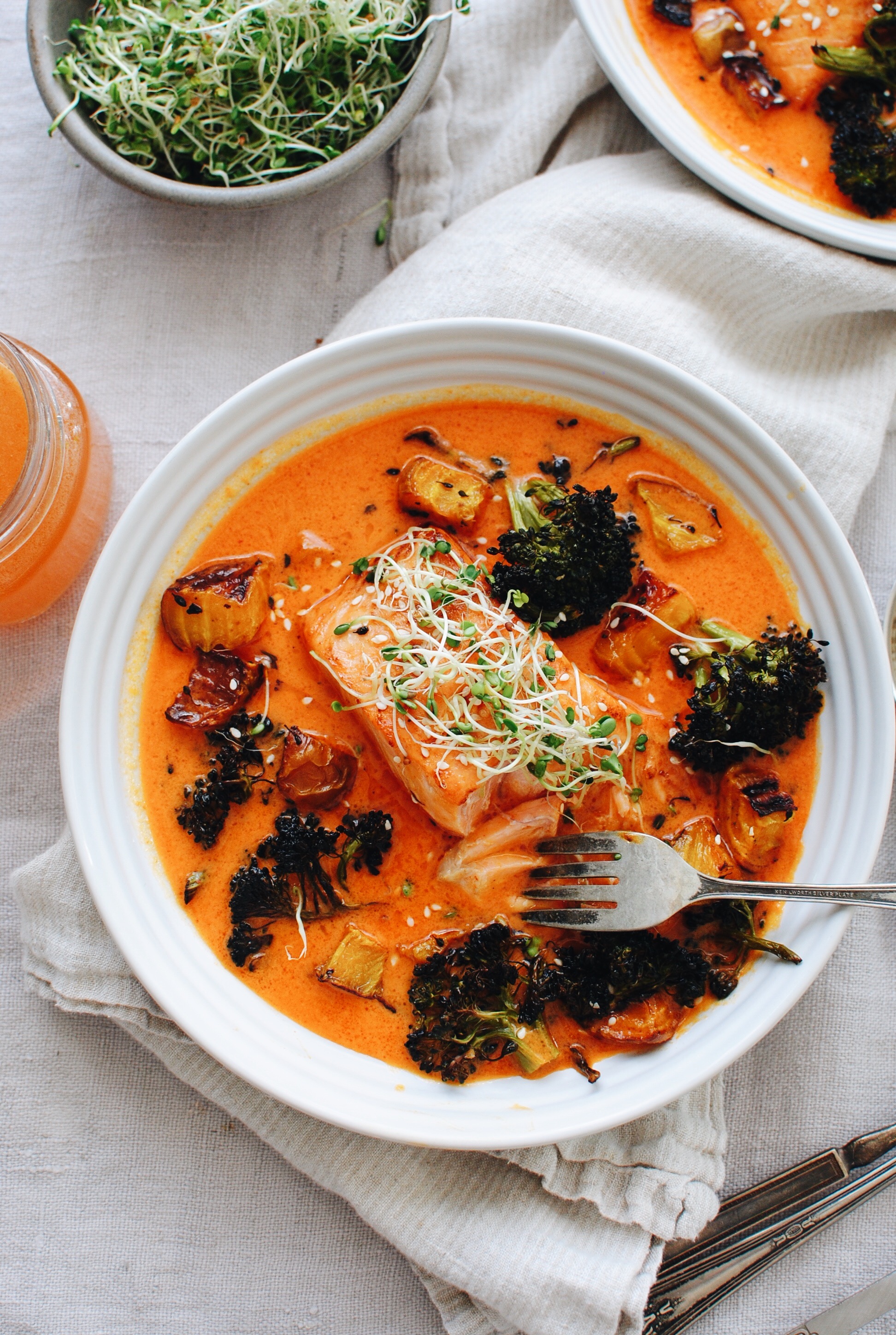 And in the meantime you'll simmer the red curry paste with a can of coconut milk (And a tiny dash of fish sauce if you have some! Just don't smell it. I can't have you hating me today.)
Squirt of lime juice, and that's your sauce.
AND, after the veggies roast, you'll flip the oven to broil, season the salmon with salt, and brush the sauce over the top of the salmon. Seven minutes under the flame and boom. This is the life you're actually living.
Nestle the salmon and roasted veggies (that charred almost-crunchy broccoli is insane!) in a shallow bowl of sauce, and garnish with sesame seeds and the broccoli sprouts! Or any sprouts. Whatever. You could put ripped up grass blades on top and it would be beyond.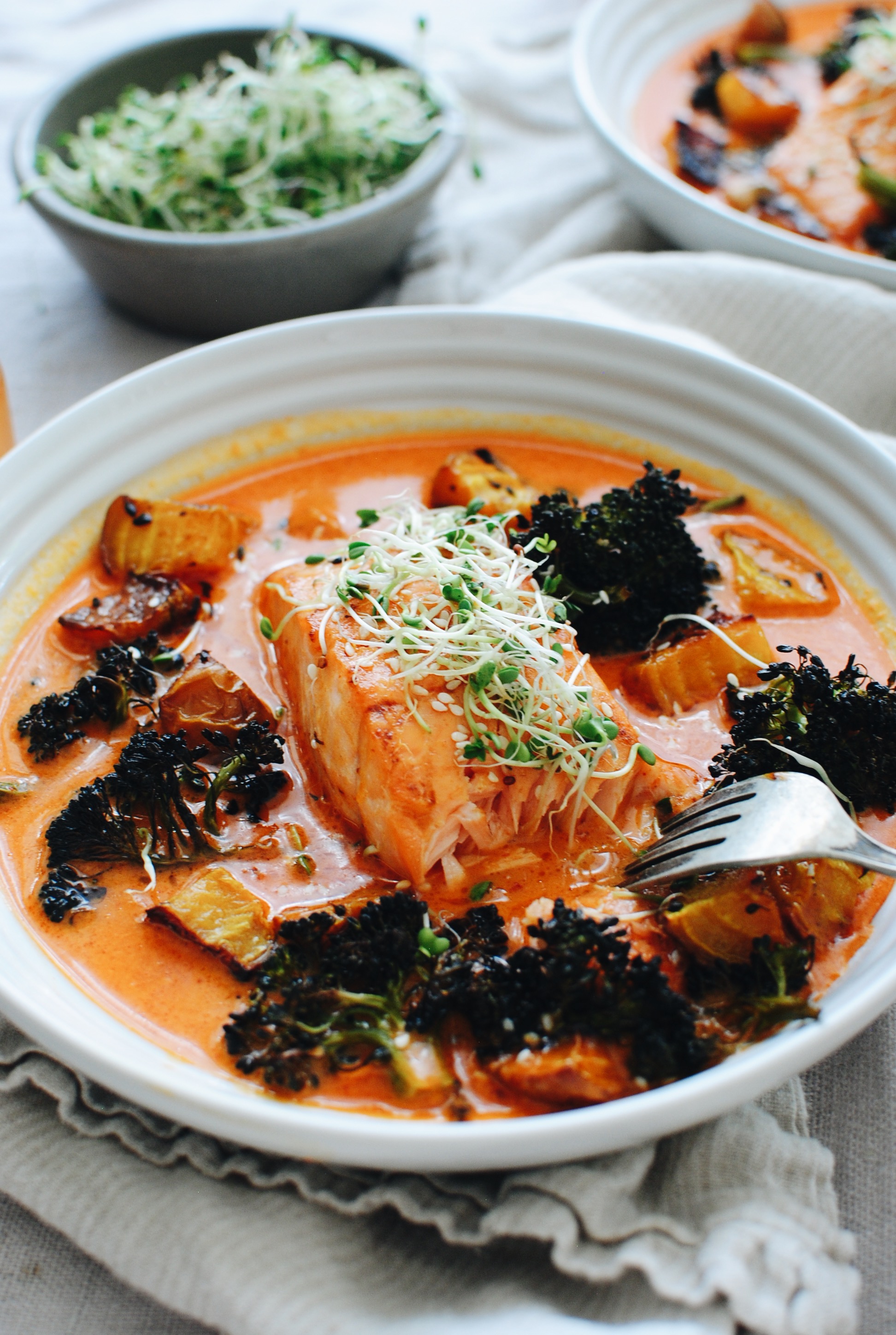 Dinner tonight? Obviously.
Thai Salmon and Broccoli Bowls
Ingredients
One bunch broccoli, cut into florets
3 or 4 golden beets, scrubbed clean and cut into bite-sized pieces
2 Tbs. extra-virgin olive oil
3 or 4 salmon fillets
1-2 Tbs. red curry paste
1 can coconut milk (or two cans, if you want more sauce!)
1 tsp fish sauce
1 lime
Sesame seeds, for garnish
Broccoli sprouts (or any sprouts) for garnish
Salt
Instructions
Preheat your oven to 400.
Place the broccoli florets and diced beets on a large baking sheet. Drizzle with the oil and season with a good pinch of salt. Roast for 40 minutes, then check the broccoli. If it's getting charred and crunchy (but tender!), tong them off the sheet and let the beets roast another 20 minutes, until tender and roasted.
In a sauté pan, add the curry paste and press it into the pan, letting the oils release. Add the coconut milk and whisk together, creating your sauce. Add the fish sauce, a small pinch of salt and a Tbs. or so of lime juice. You want the sauce sweet, but acidic. This should get you there.
Flip the oven to broil, and place the salmon on the baking sheet. Season with salt, and brush the coconut sauce on top of each fillet. Broil for seven minutes, until flakey and gorgeous.
Ladle the sauce among shallow bowls, and nestle the fish and roasted veggies right on in it. Garnish with sesame seeds and broccoli sprouts.
Serve it up! It's SO GOOD.
Make 3-4 bowls.
7.8.1.2
210
https://bevcooks.com/2019/02/thai-salmon-and-broccoli-bowls/
You could even add rice noodles! Do that. Seriously, do that.