Vegetarians! Here it is. Here you go. Open wiiiiiide! (I can chill.)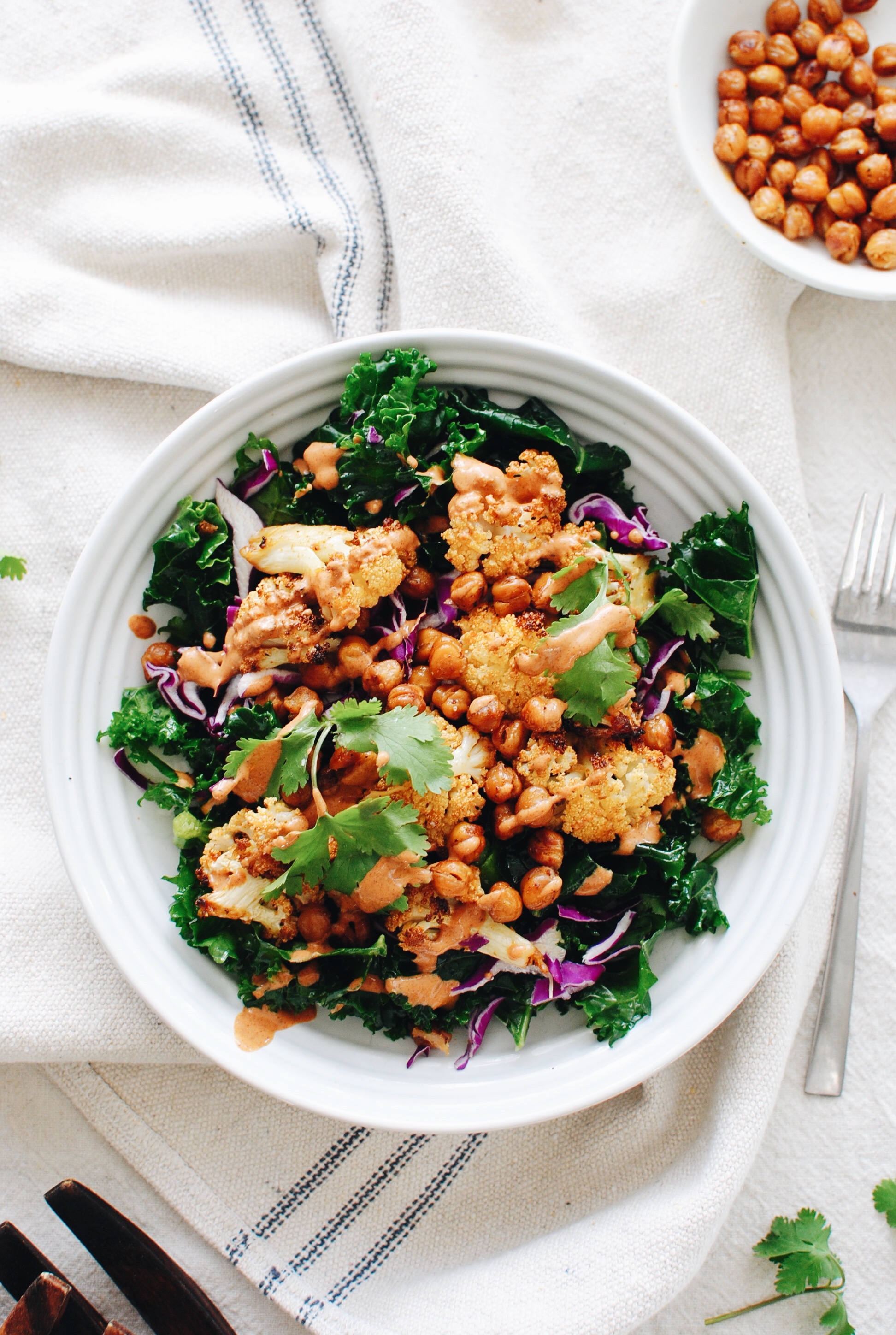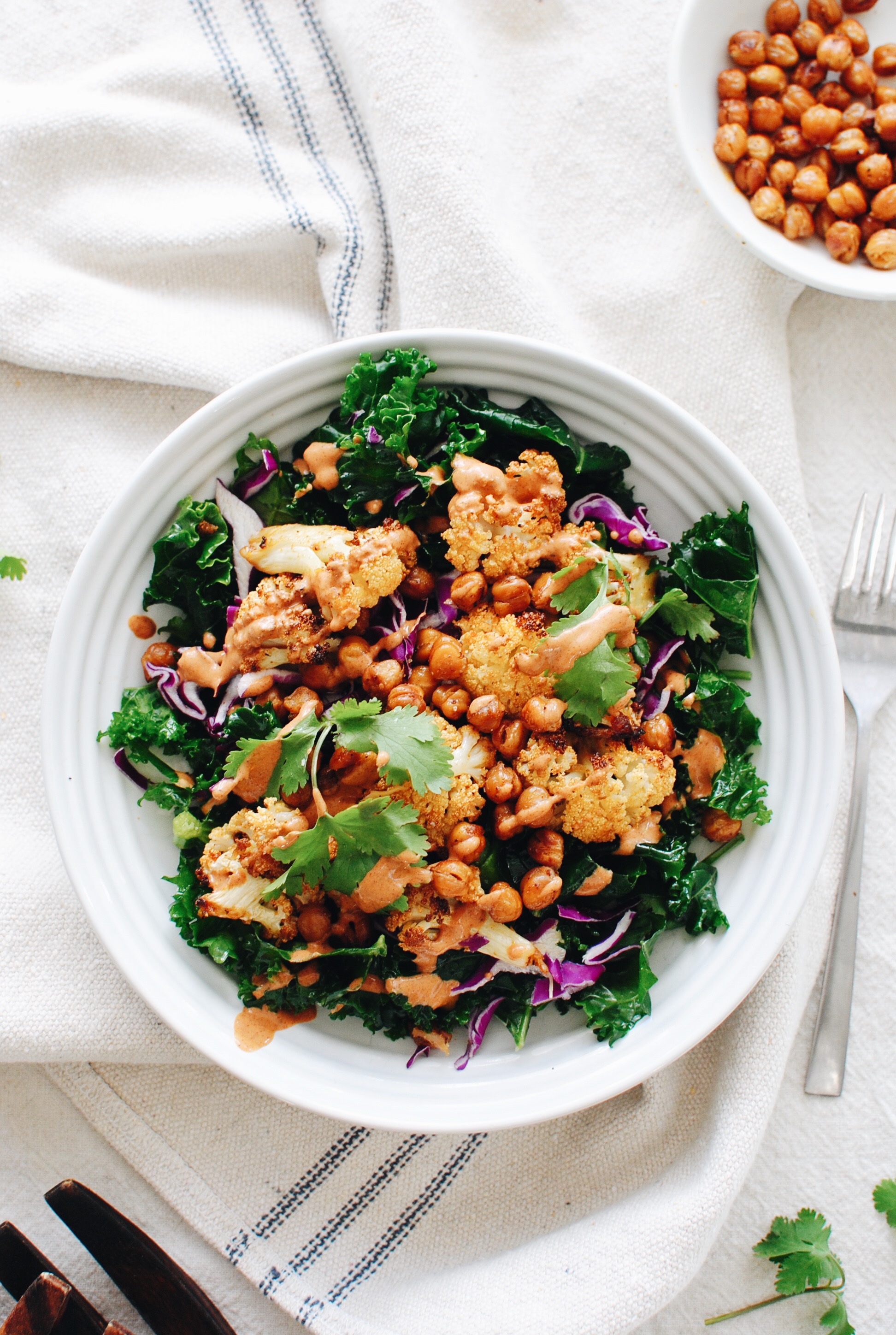 But really.
This has become (and will become for you) a LUDICROUS idea for dinner or lunch or now. Not only is it completely and unbelievably delicious, but it's . . . unexpected! Like a baby with a mustache. It's like WHAT is that. And how can I make the rest of my life about it.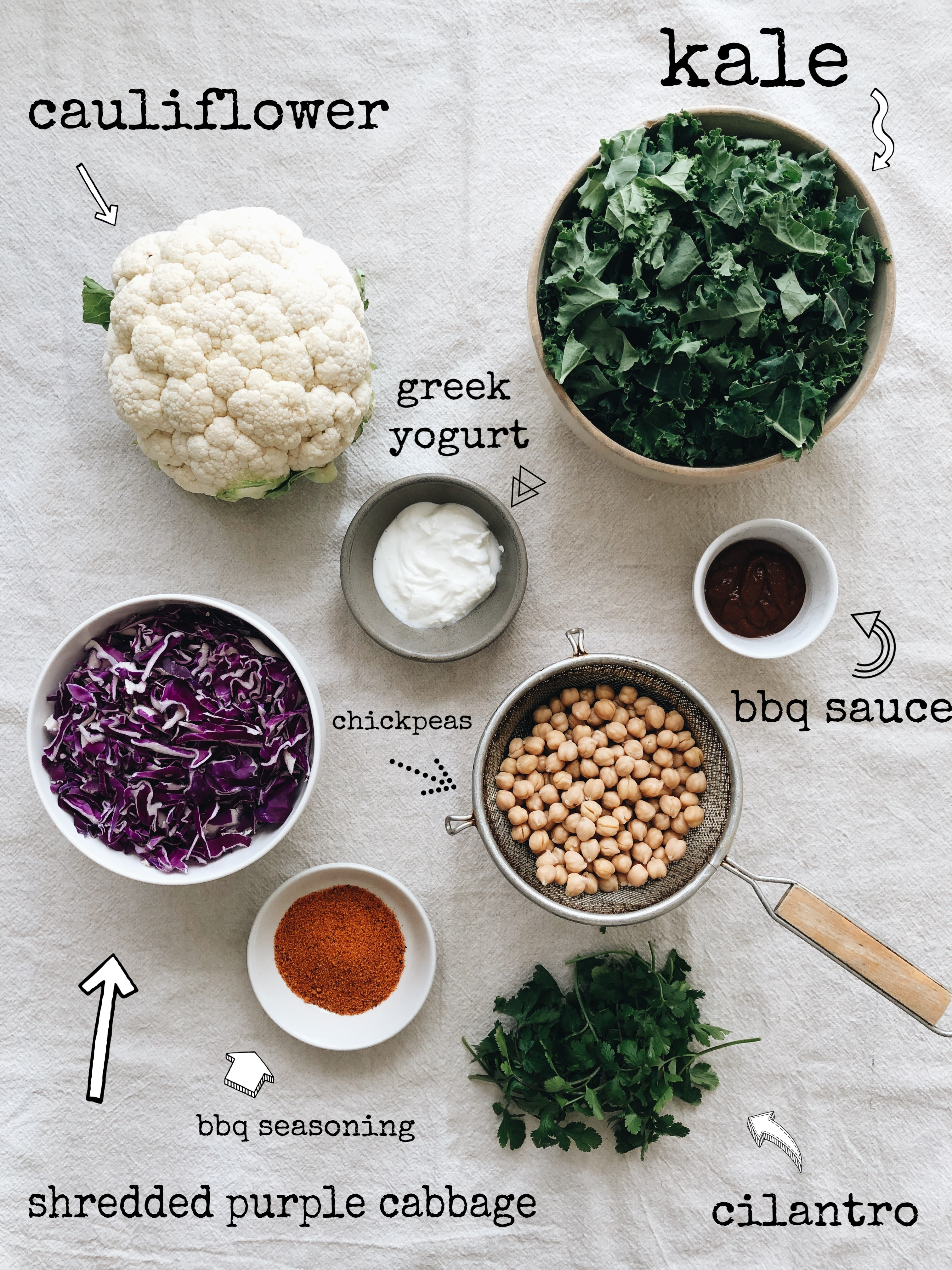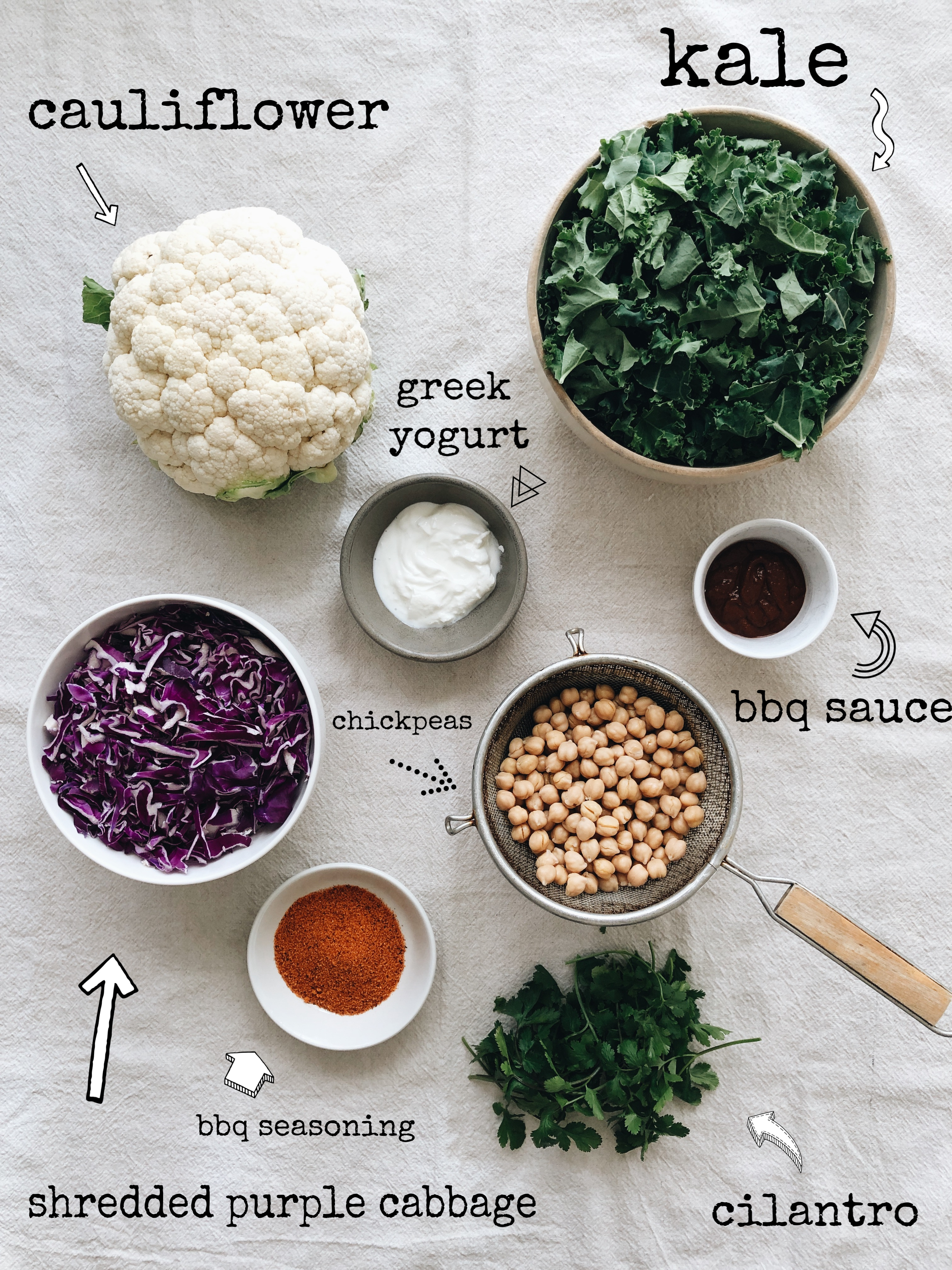 Because first of all, we're roasting cauliflower and chickpeas. But HARK this. We're dusting the cauli and peas with your favorite BBQ seasoning.
Wait, QUESTION: Does it drive you bonkers when people say BBQ instead of barbecue? It's technically the same thing. But is one trendy? Or lazy?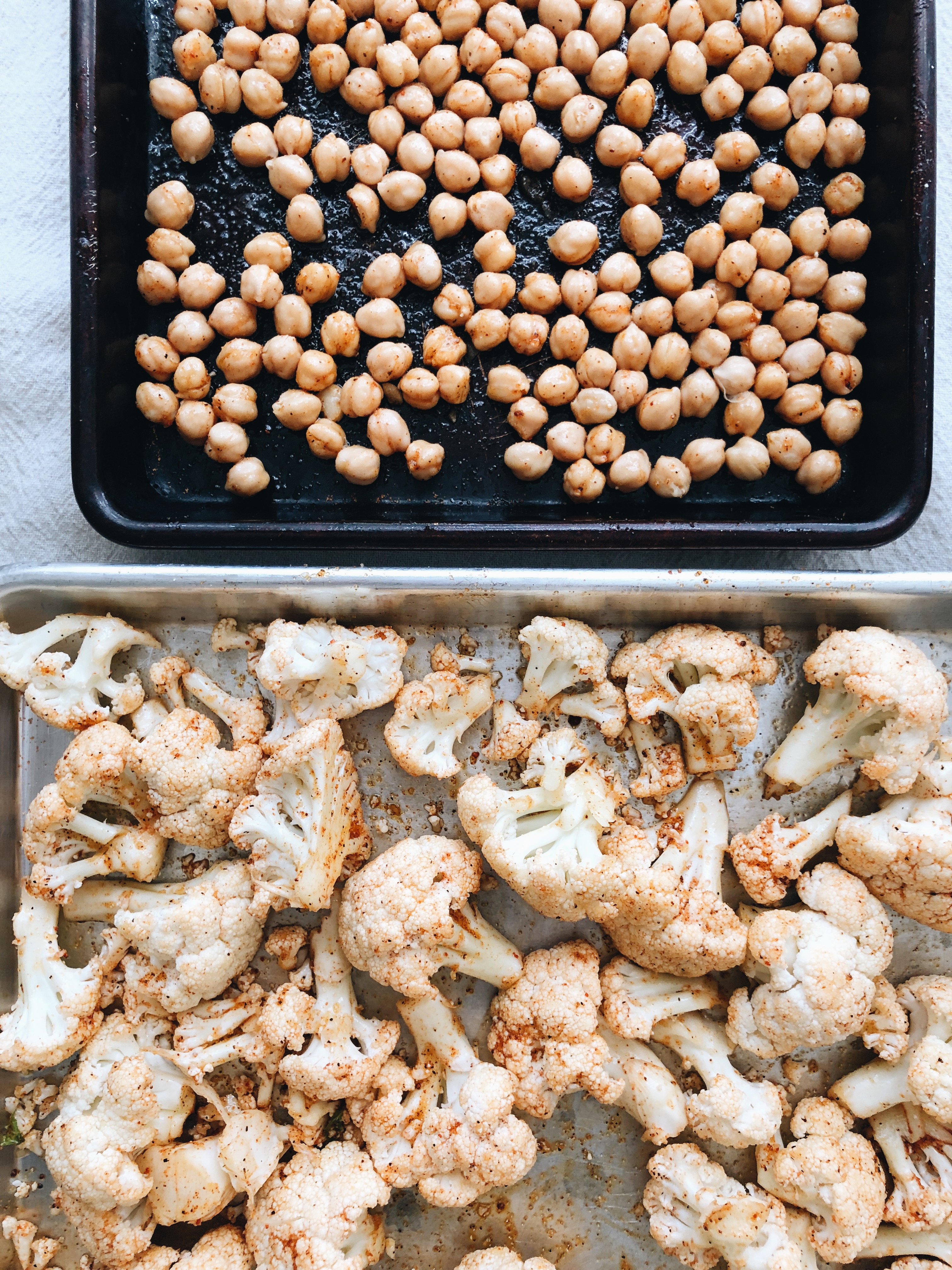 Or wait – is barbecue the ACT of preparing the food? And BBQ is the flavor? Or are they interchangeable? All of a sudden I know nothing about anything.
(you're like, "really? all of a sudden?")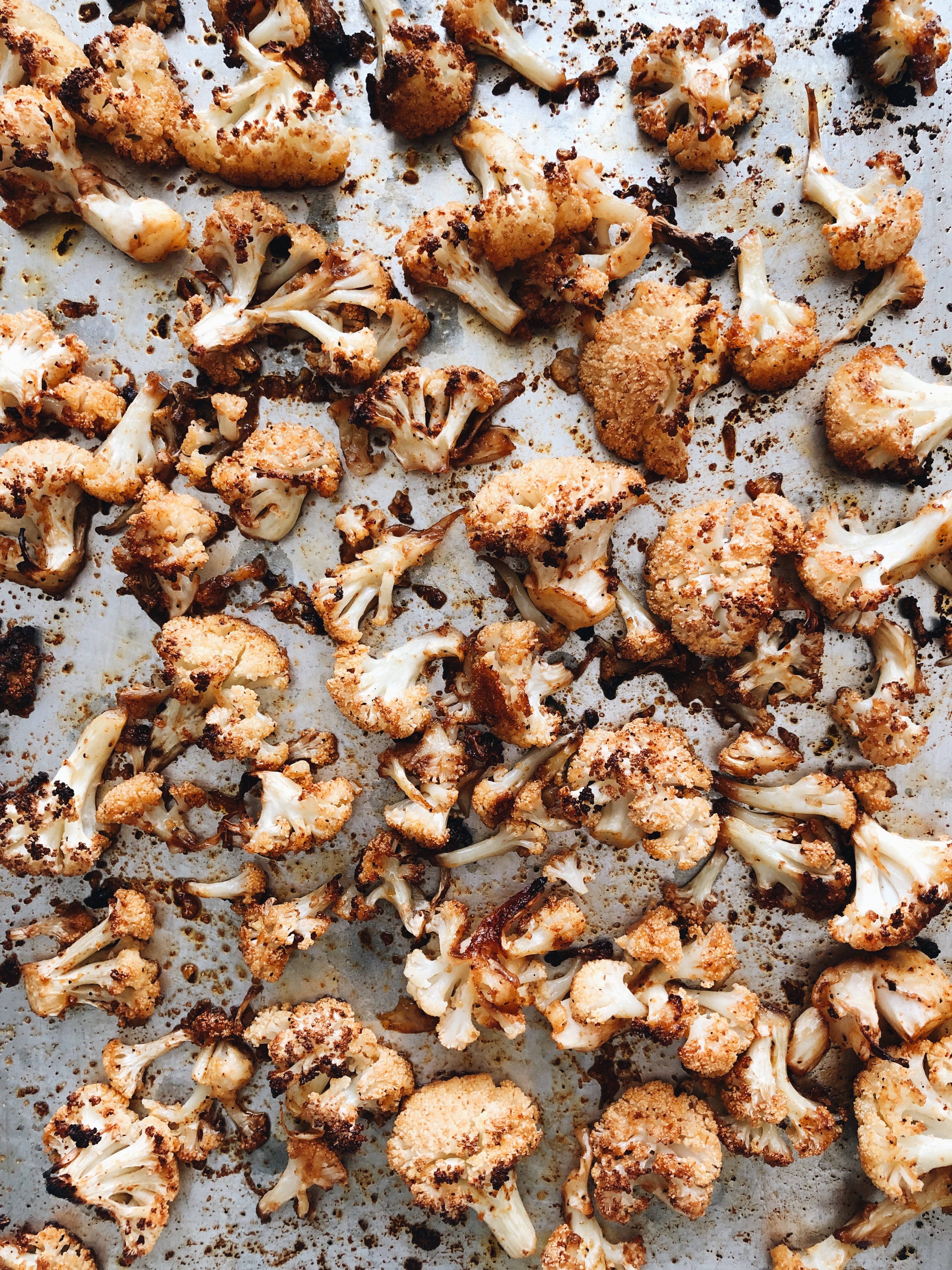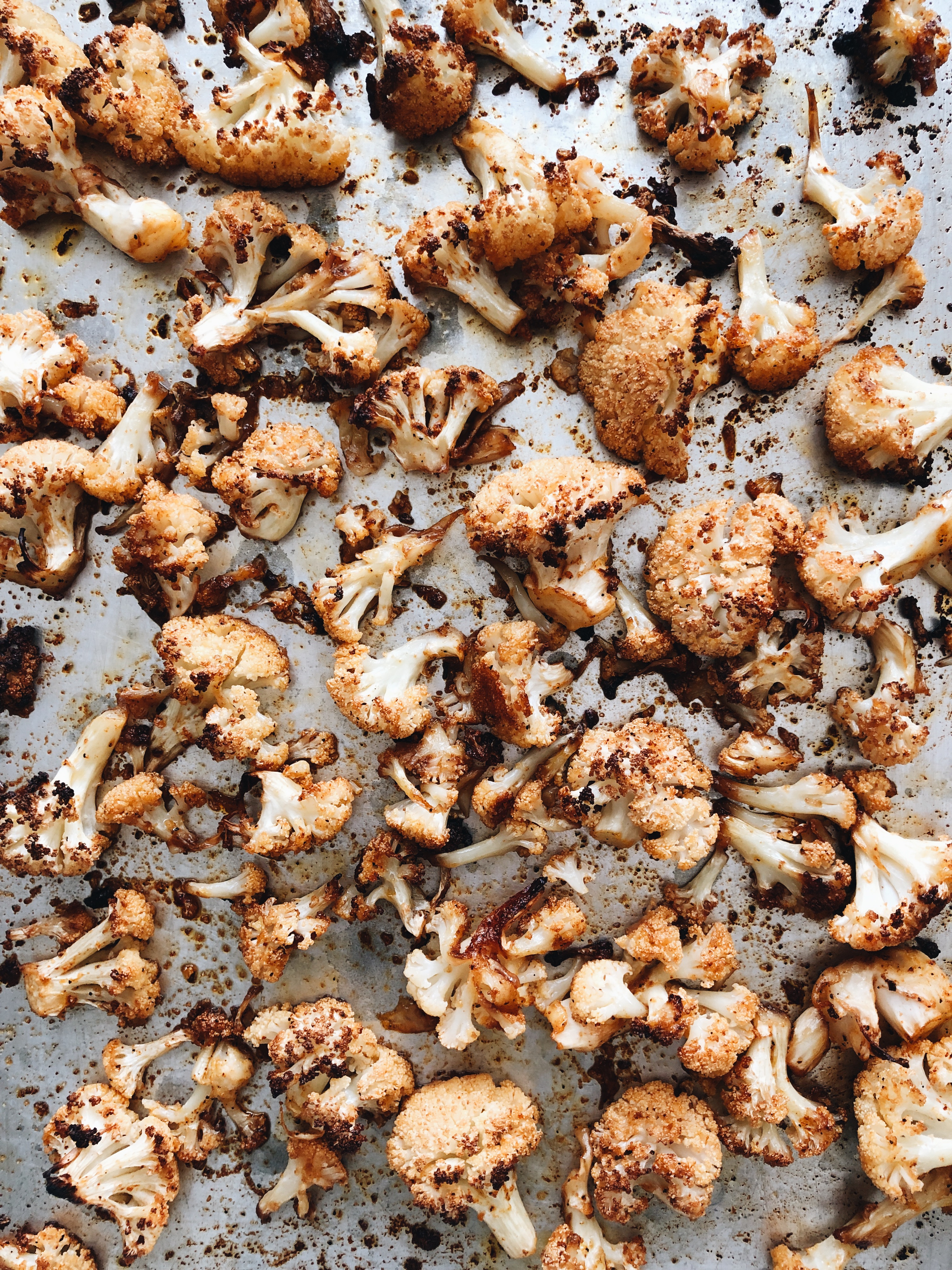 Just look at that color. This is honestly a full hour of oven time! Maybe an hour and 10. Depending on your oven. But you want it good and charred and a little BURNT in places. (you have to hear me say BURNT to get the full effect. BURNT. There's a growl involved, and I sound like I have one tooth. Never mind.)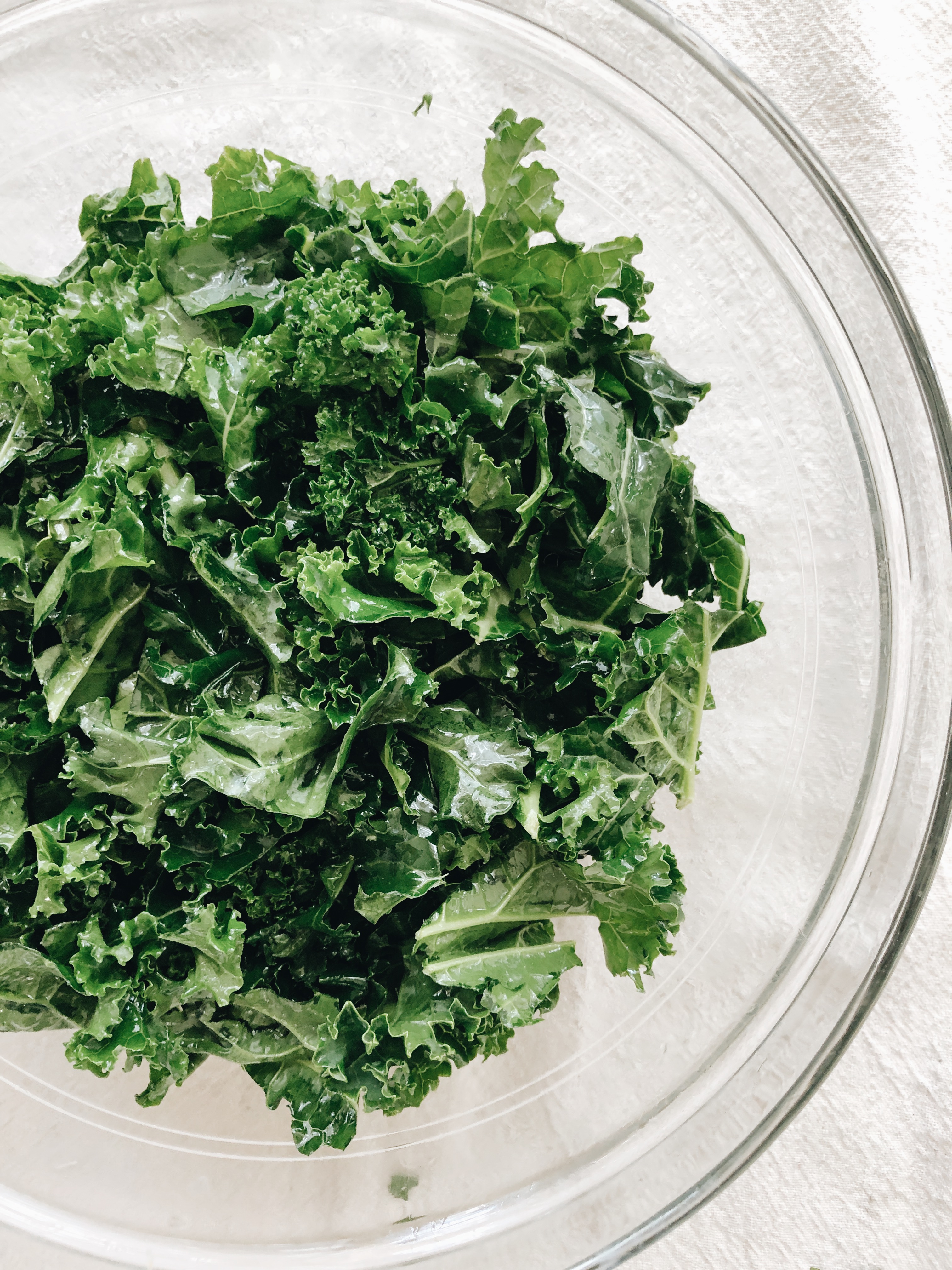 So, the kale. What you'll do with it is drizzle some oil over it and lightly massage the oil into the leaves. Since we're not sautéing it, giving it a massage breaks down the kale fibers (band name?) without losing its guts. It's still hefty! But just a little more delicate. You dig?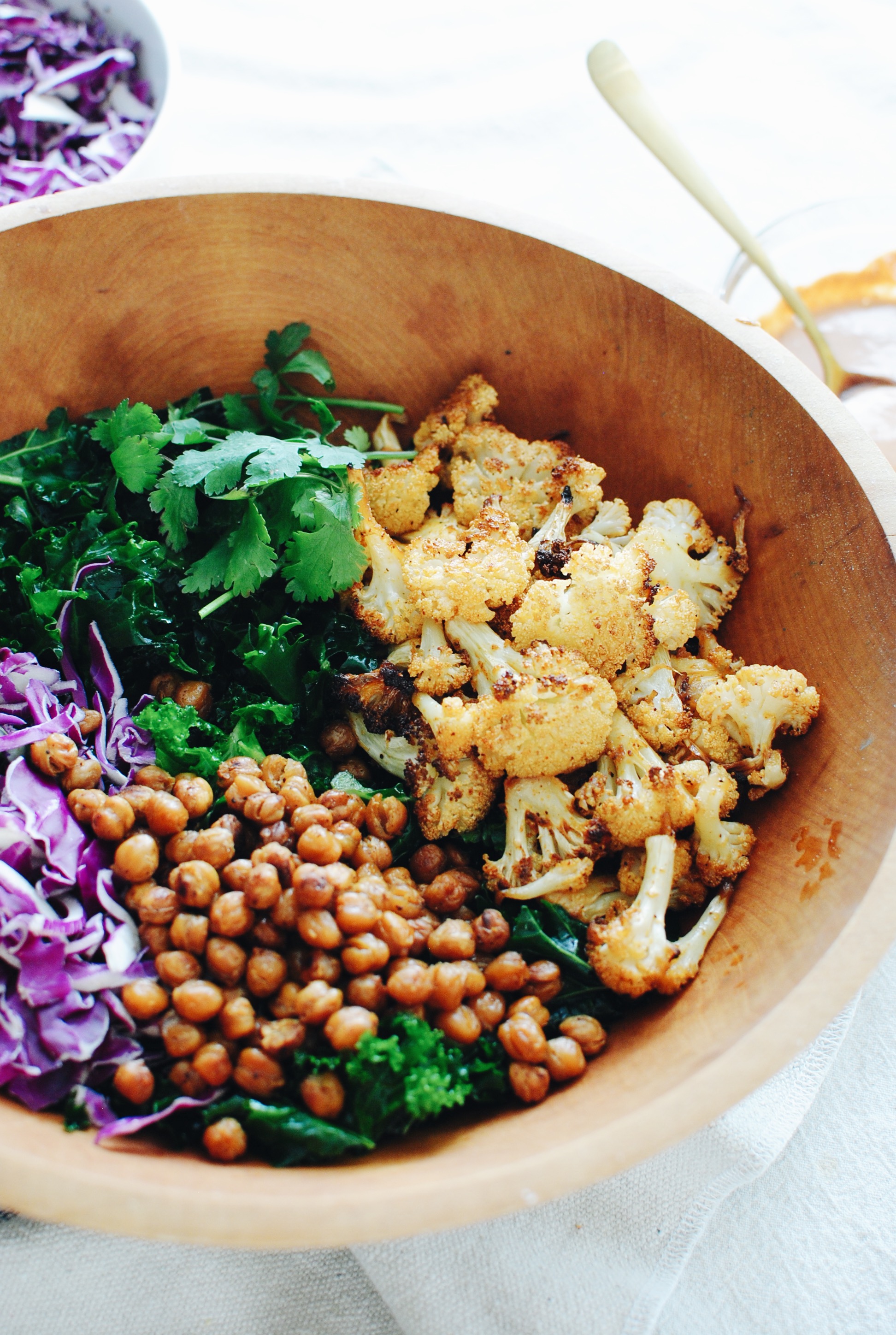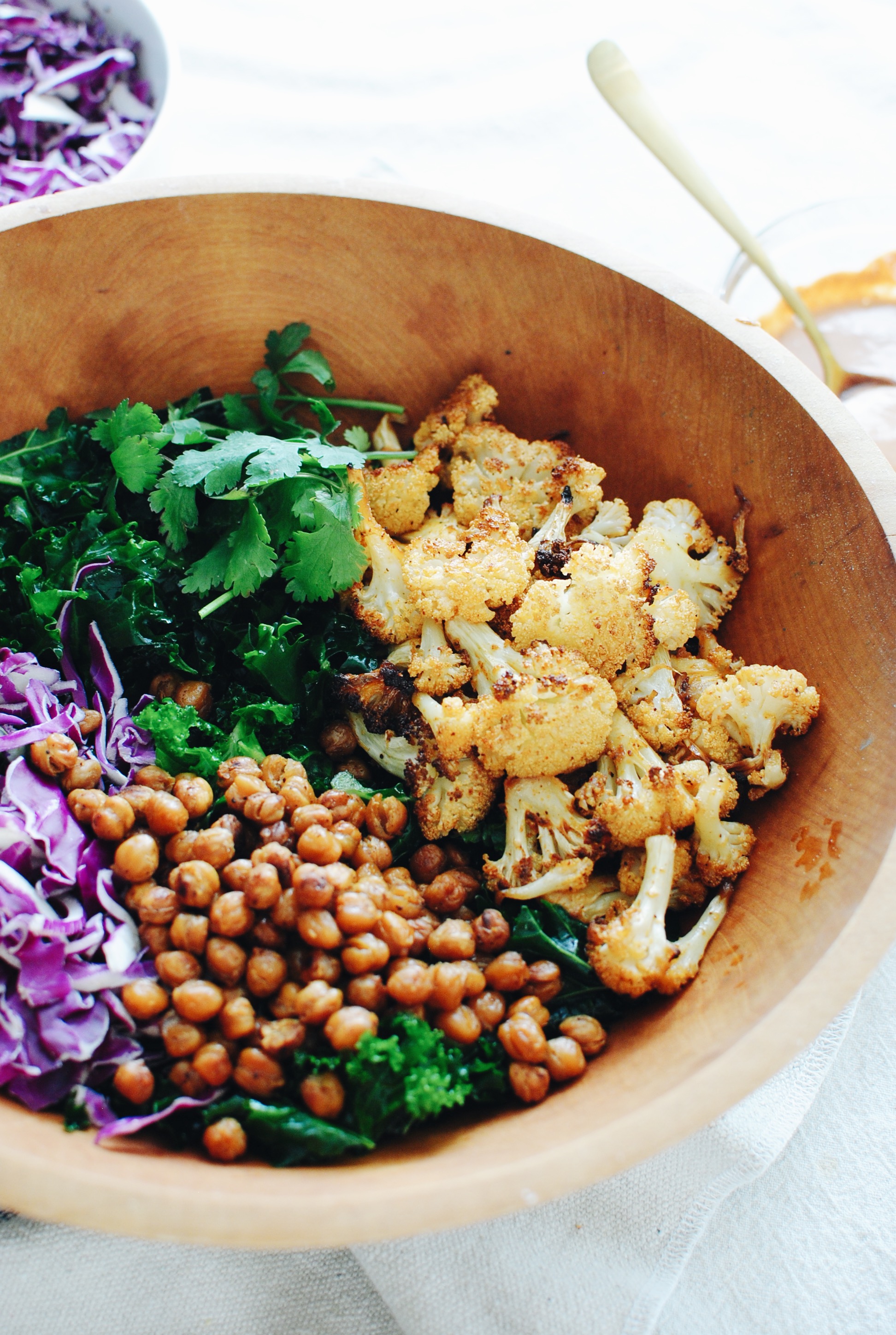 Now, you build. (<— I say this part like Liam Neeson.) Kale in the bottom, roasted cauli and chickpeas (that have gotten super crunchy and almost candy-like in all that roasting, omg), shredded purple cabbage, and torn cilantro sprigs.
Mama said knock you out. Did you know?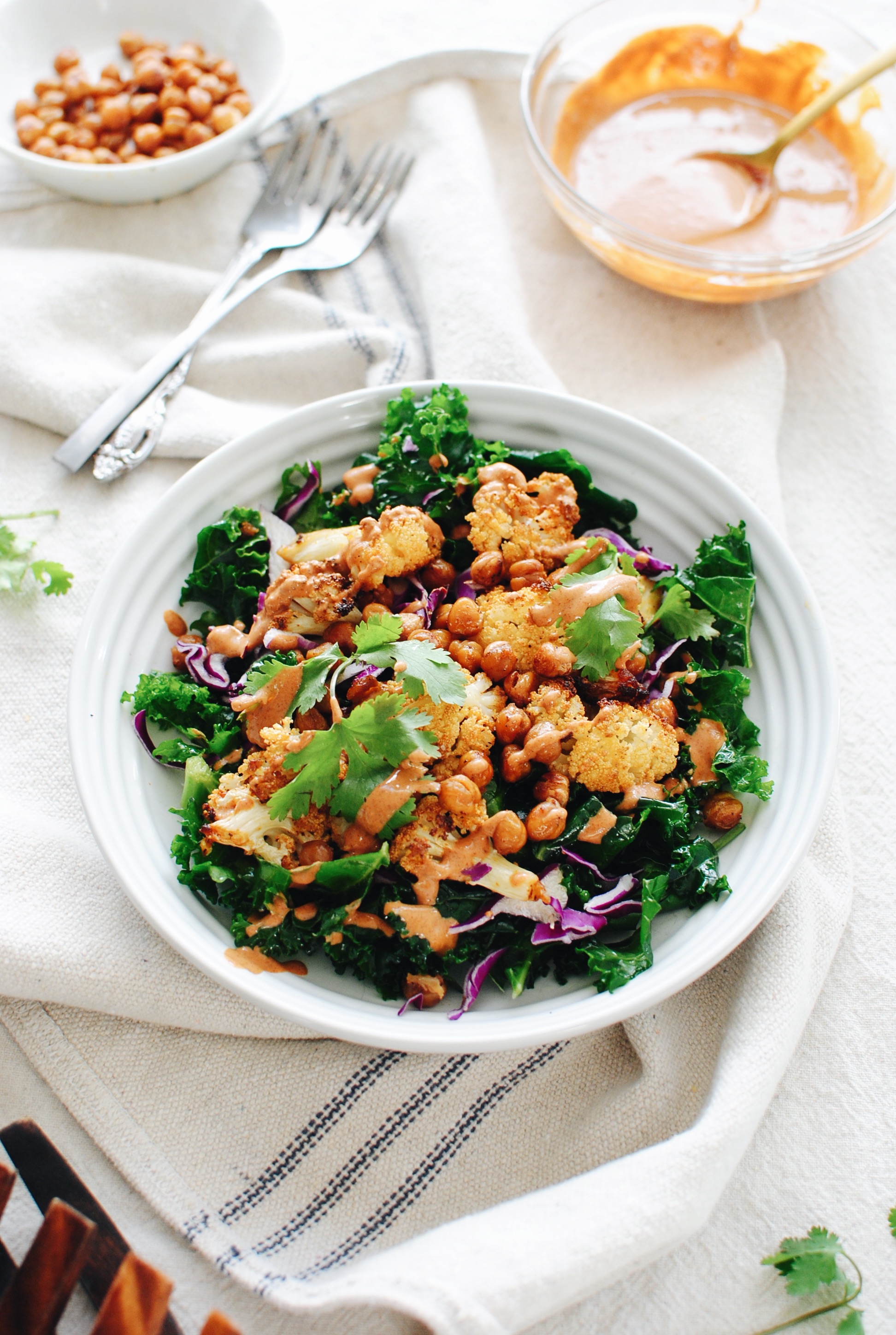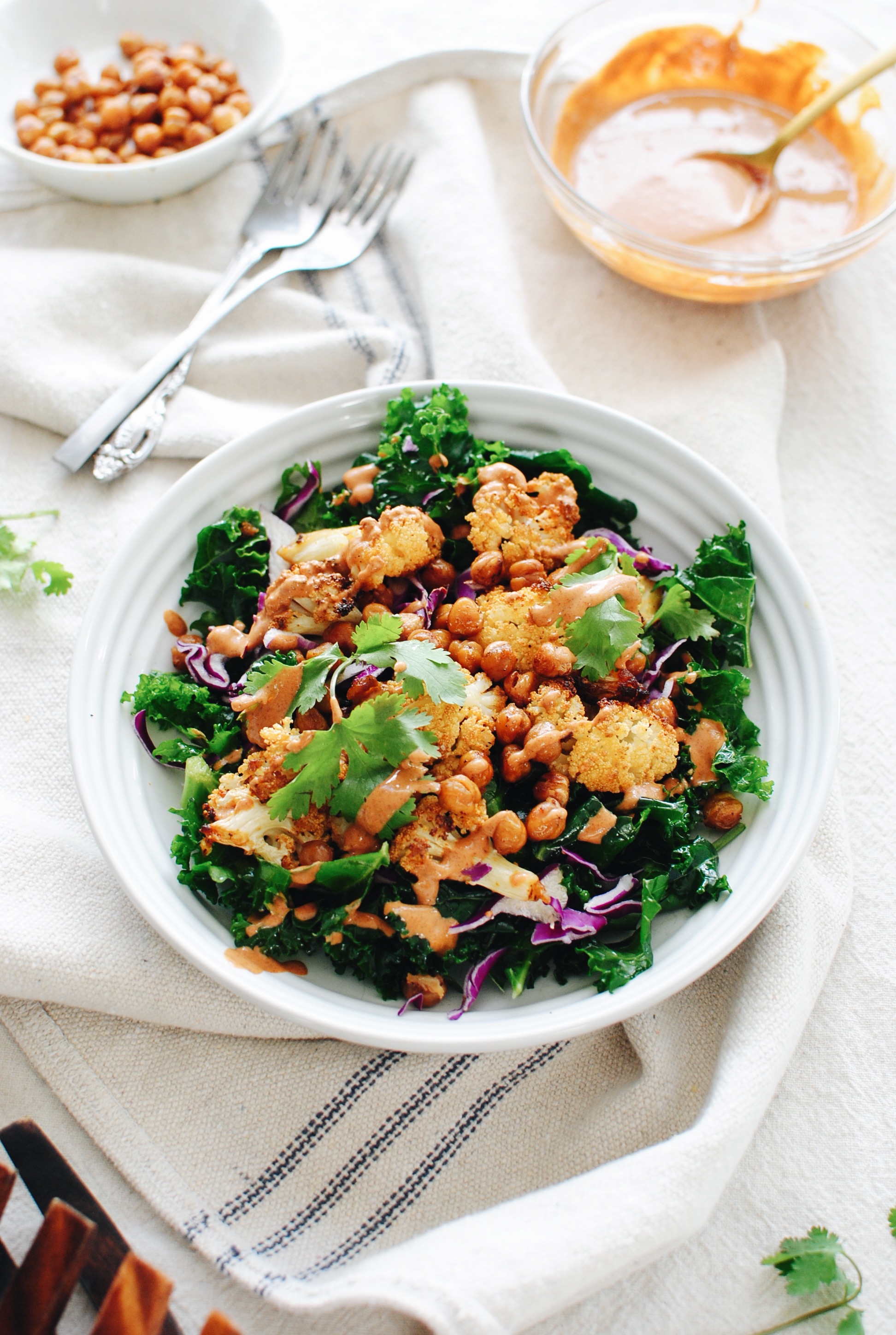 You can either do two things right here –

One – toss everything together in a giant bowl before serving, and save the dressing for the end.
Or two – build in your own bowls, and drizzle the dressing on at that point.
Or three – drizzle in the big bowl once tosseth.
Or four – drizzle in your own build and THEN tosseth.
Or five – drizzle in the big bowl and THEN tosseth.
Or six – dri- wait are you gone?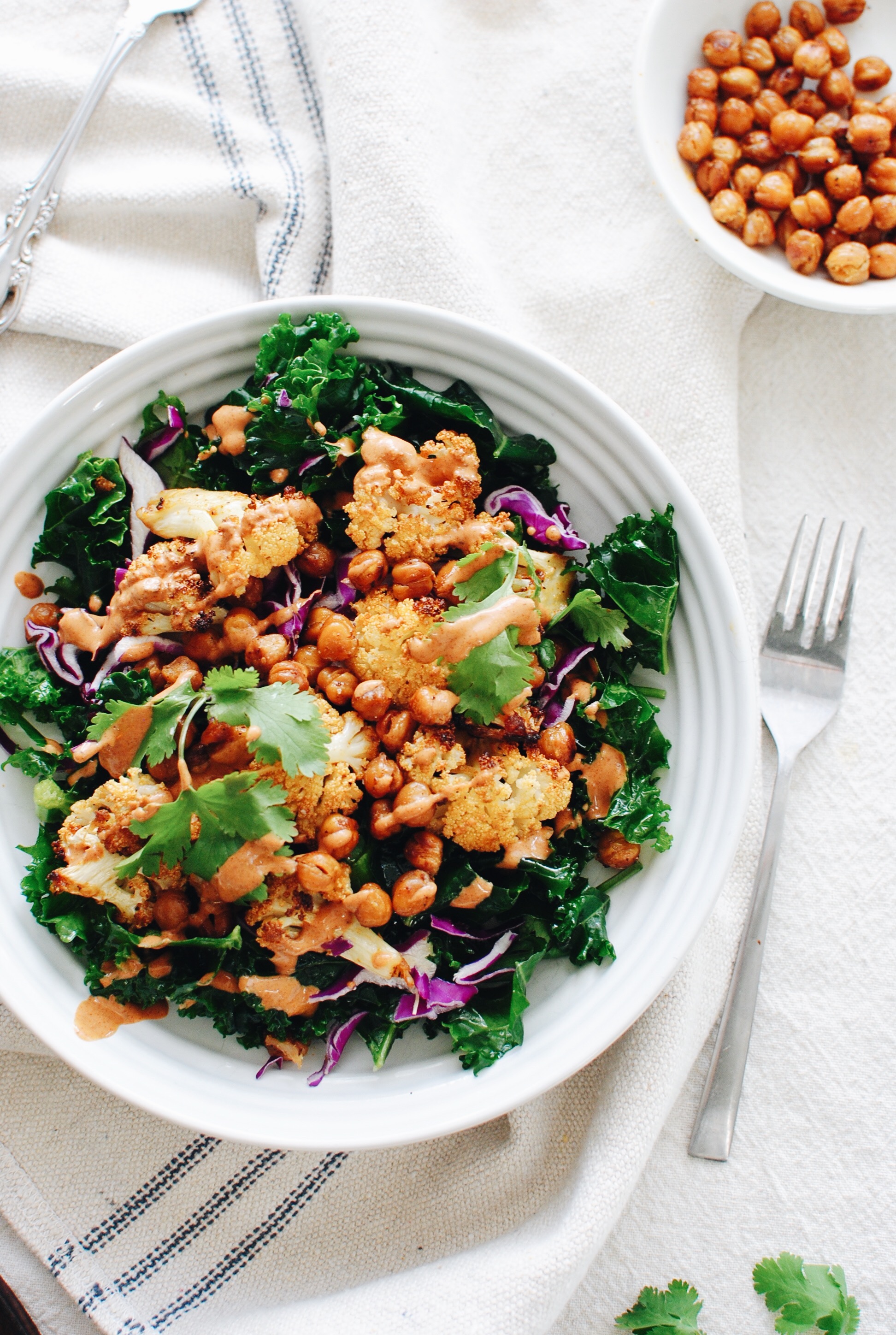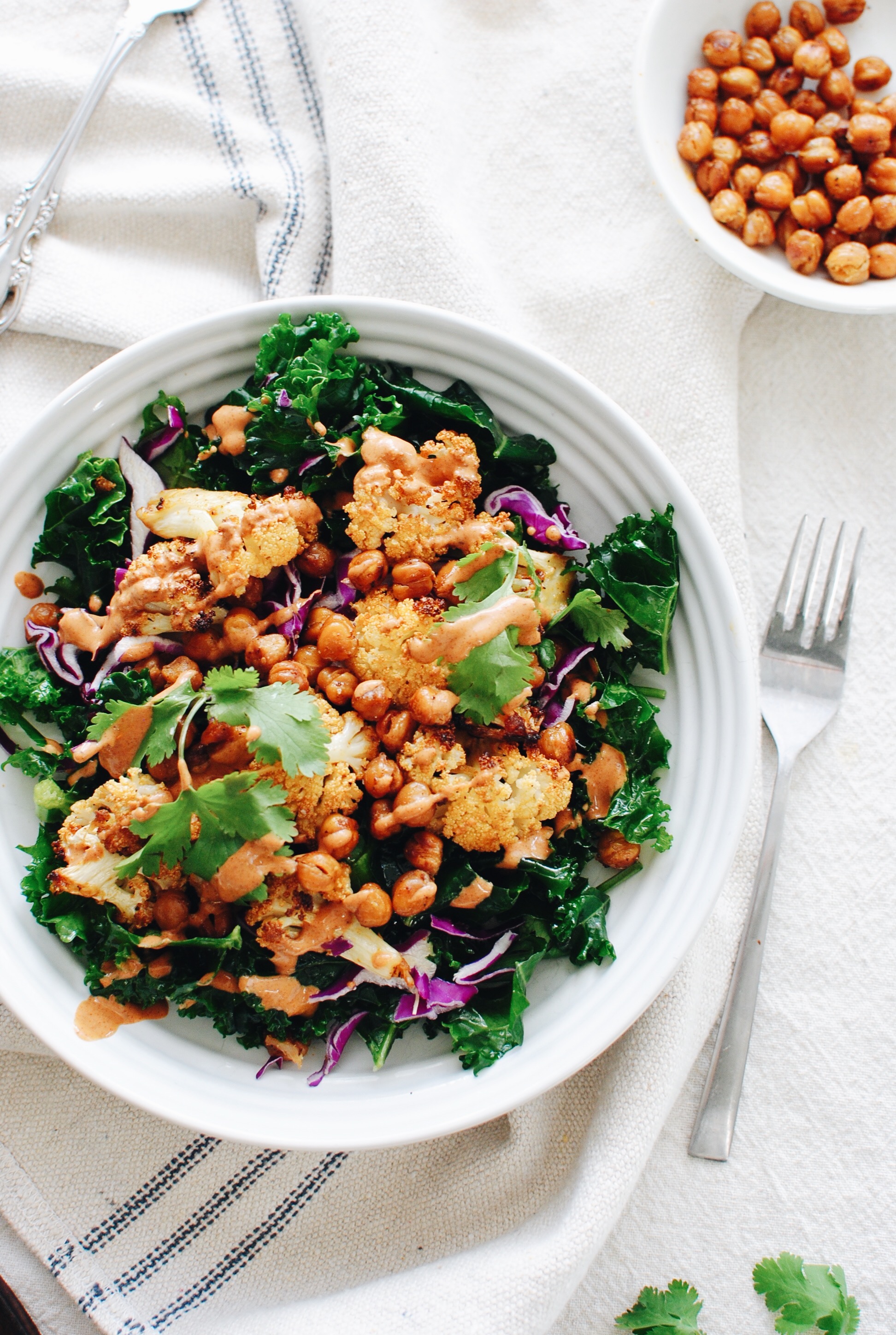 This is going to make you so happy.
That double tang of the Greek yogurt mixed with BBQ sauce, HOLY FACES. And then the crunch of the chickpeas and the roasted essence of the cauli, GOOD GRIEF.
And then the zingy cilantro with the slightly-softened rustic kale leaves, next to the earthy crunch of the cabbage? NO. YES. YES and no. Except so much yes.
It's hearty, it's stupidly flavorful, it's delightfully BBQ-ish but doesn't explode with bro vibes, it's wonderfully wintery yet doesn't feel like someone just threw a cinder block down your belly.
GET. IN. THIS. BEFORE. I. SCREAM. AT. A. KITTEN.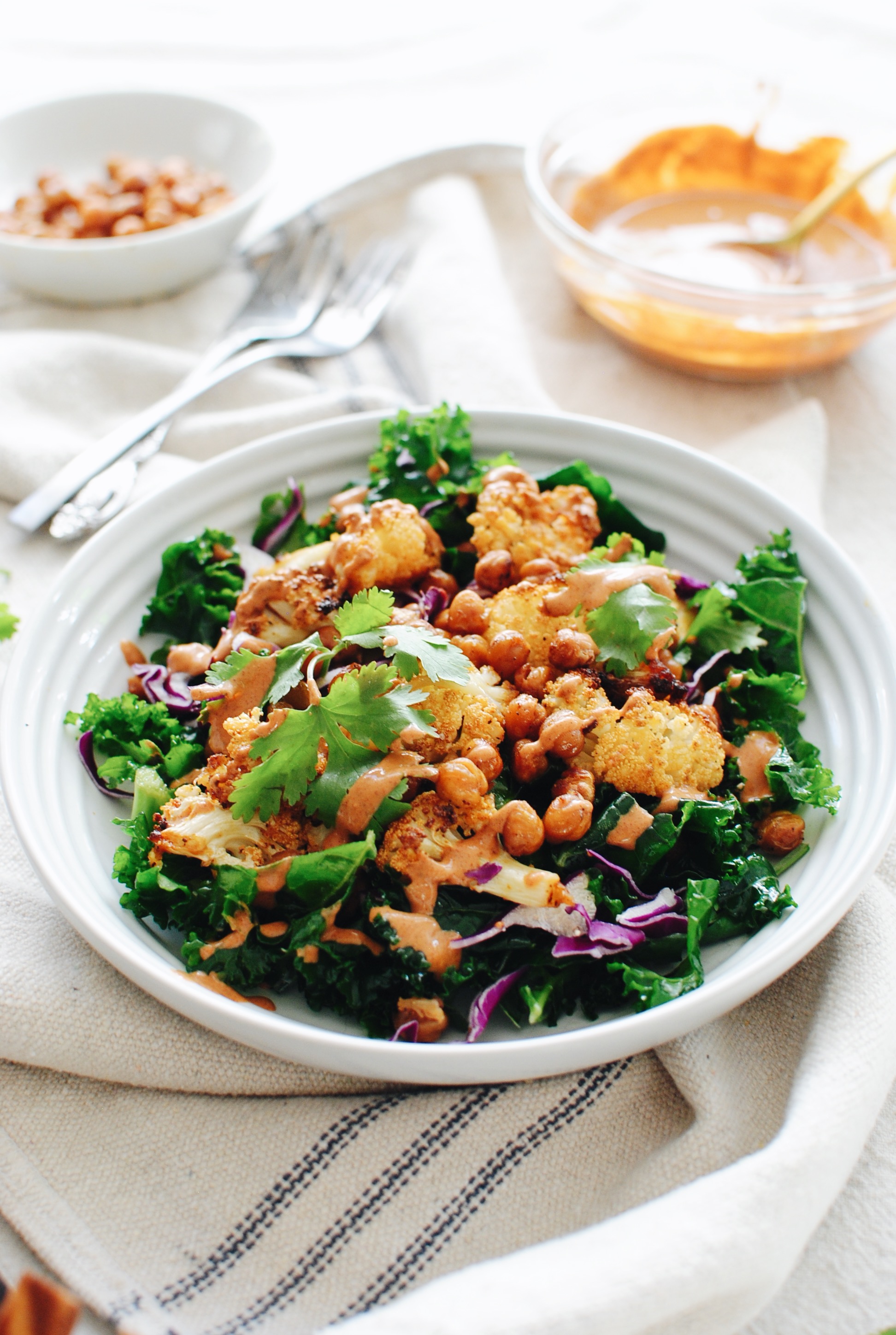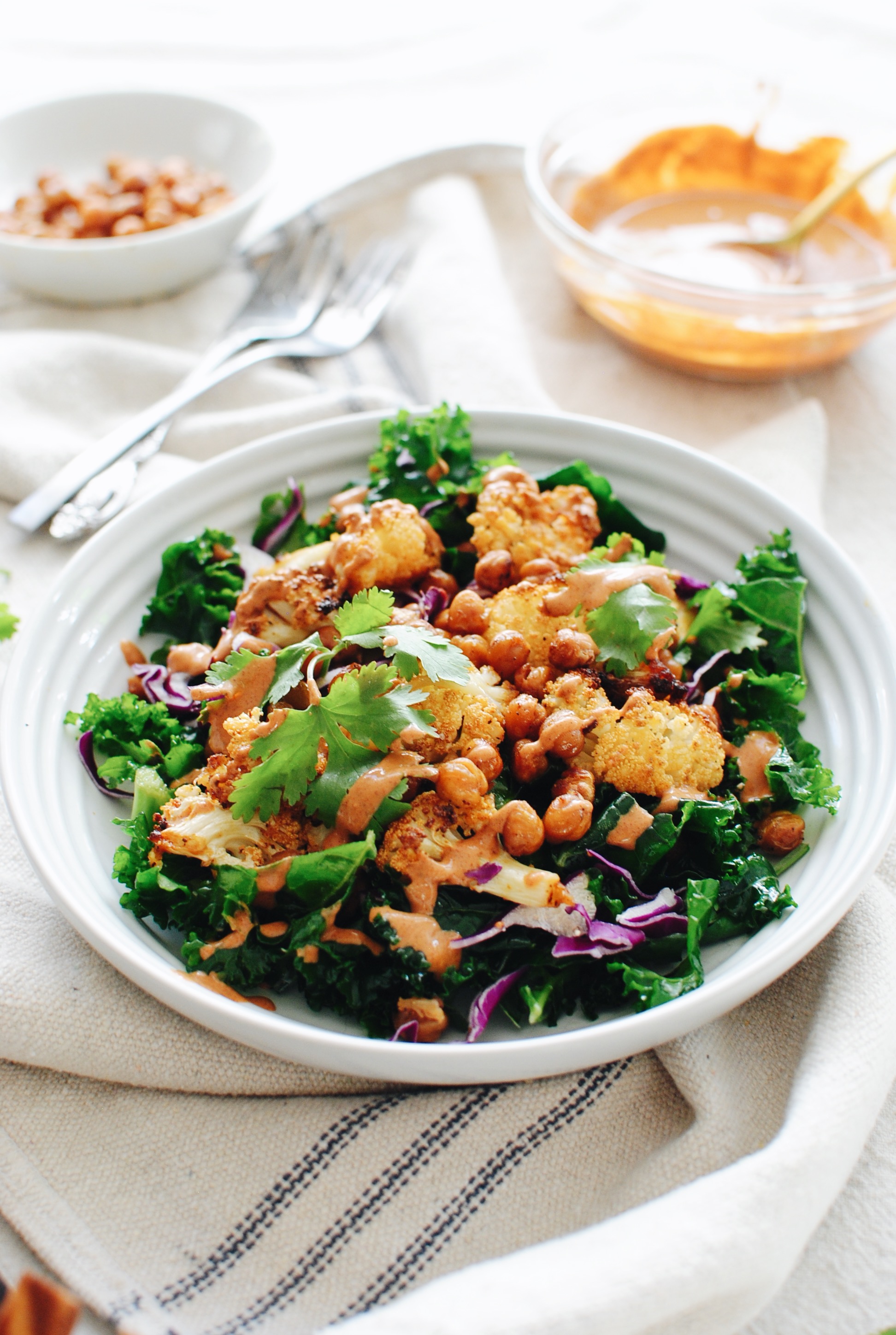 Are we okay?
Roasted BBQ Cauliflower and Chickpea Bowls
Ingredients
1 head cauliflower, broken into florets
1 (15 oz) can chickpeas, drained and rinsed
3 Tbs. bbq seasoning
2-3 Tbs. extra-virgin olive oil
4-6 cups chopped kale
2 cups shredded purple cabbage
3 Tbs. Greek yogurt
2 Tbs. bbq sauce
Cilantro, for garnish
Instructions
Preheat oven to 400.
Roll the chickpeas around on a paper towel, so that the thin outer shells slide off. (Discard those!)
On a large rimmed baking sheet, sprinkle the cauliflower and chickpeas with the bbq seasoning. Drizzle with the oil and toss with your fingers so that everything gets evenly coated. (Most seasonings have salt in them, so I didn't add any more. But you can always add more at the end!) Roast for an hour, until the chickpeas are crunchy and the cauliflower is charred and tender.
In the meantime, drizzle about a Tbs. of oil over the chopped kale, massaging it into the leaves, slightly softening them.
Now you build! In a large serving bowl goes the kale, cabbage, cauliflower and chickpeas. In a small bowl, whisk together the yogurt and bbq sauce until fully combined. Drizzle it over the cauliflower bowls and serve immediately!
Garnish each bowl with cilantro.
Makes 2-4 bowls.
7.8.1.2
208
https://bevcooks.com/2019/02/roasted-bbq-cauliflower-and-chickpea-bowls/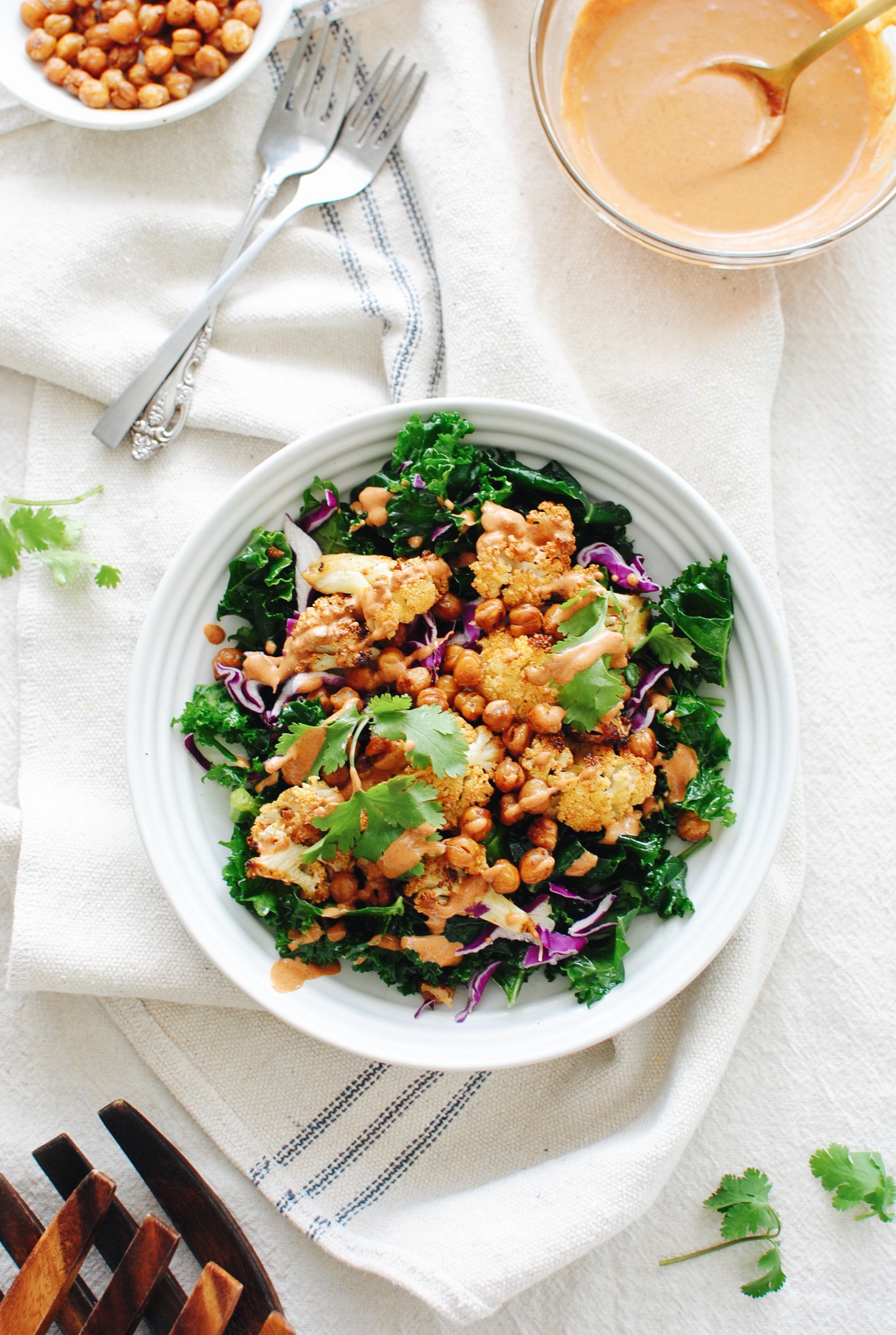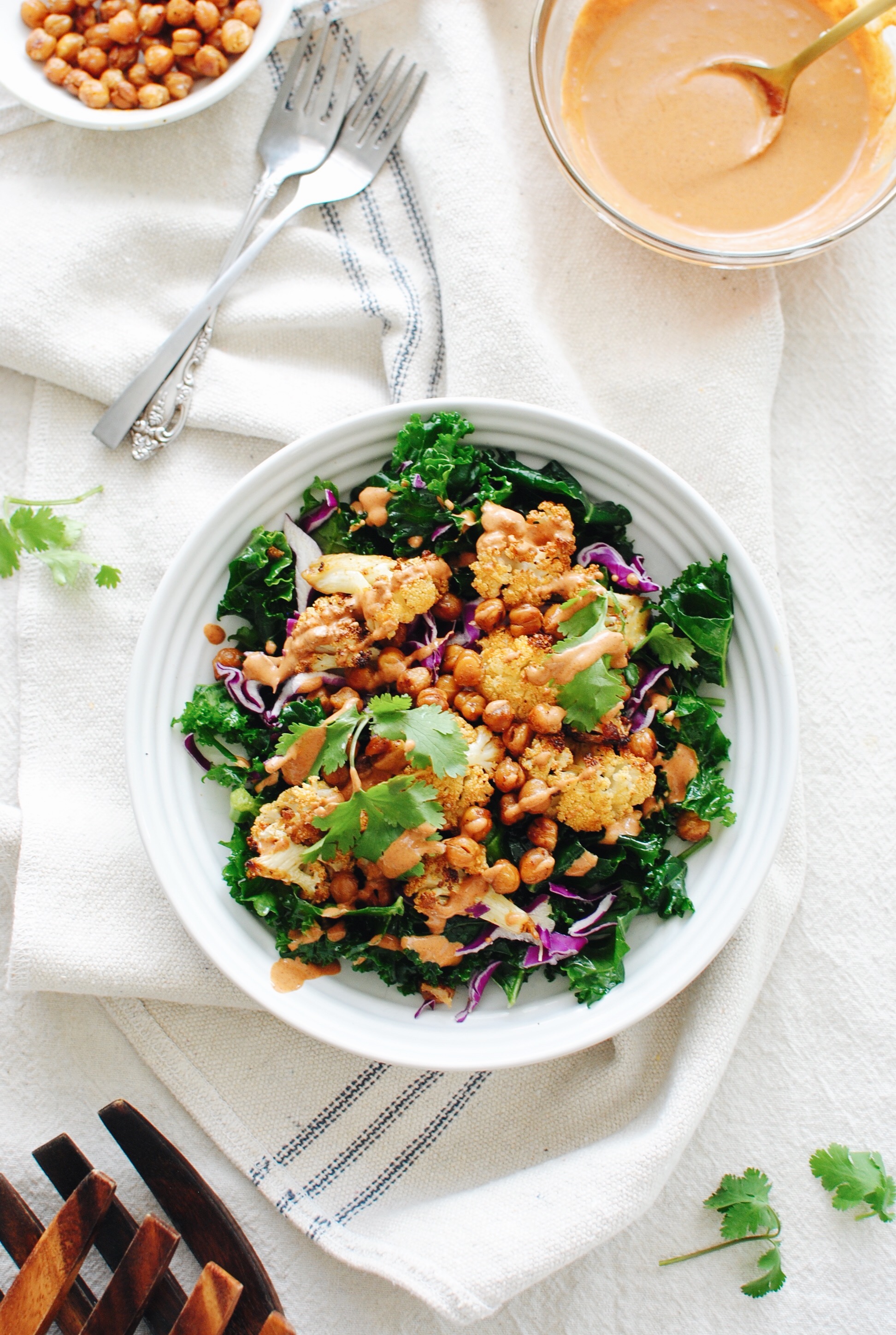 (I added more sauce.)