Aaaaand all of my followers just abandoned me forever.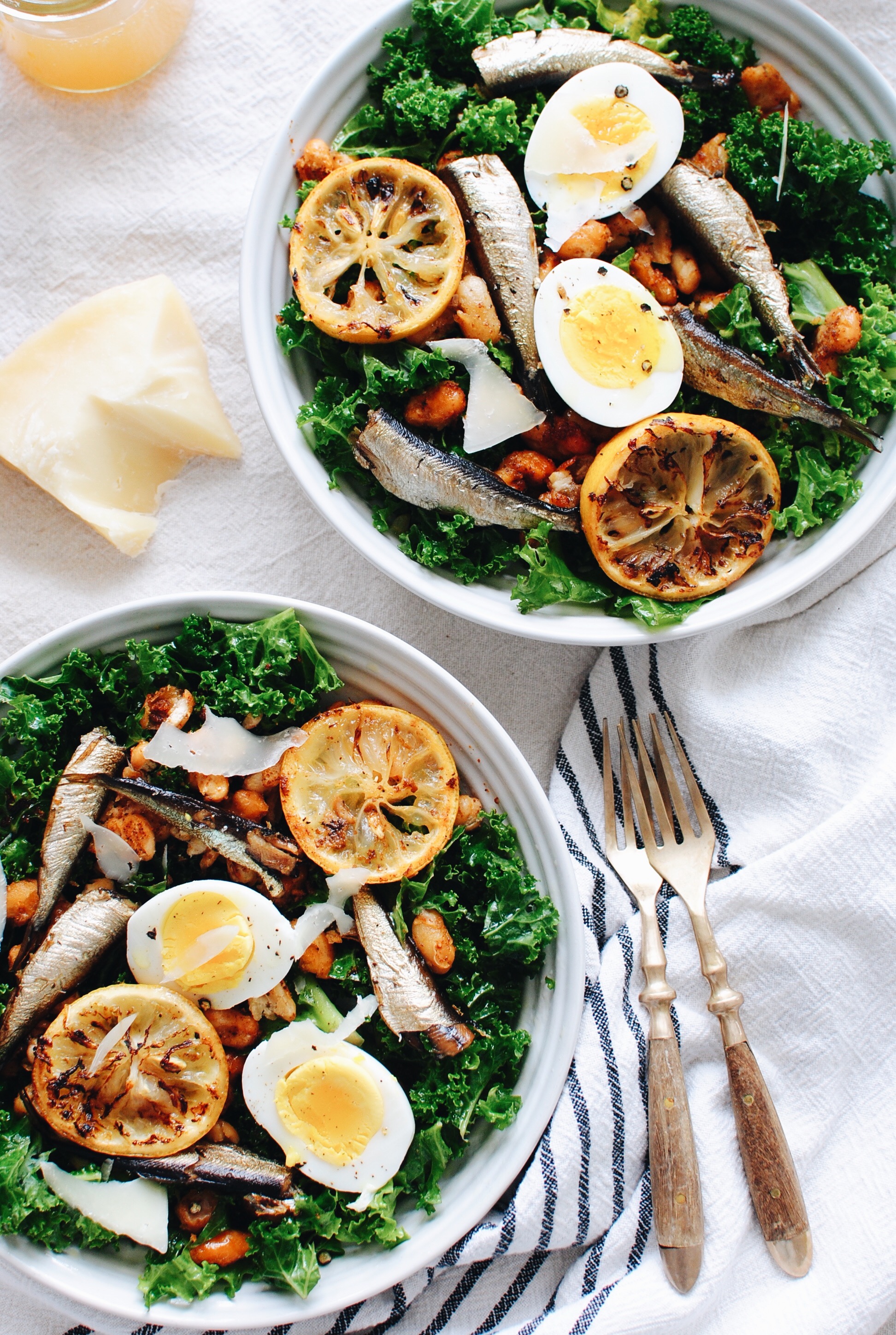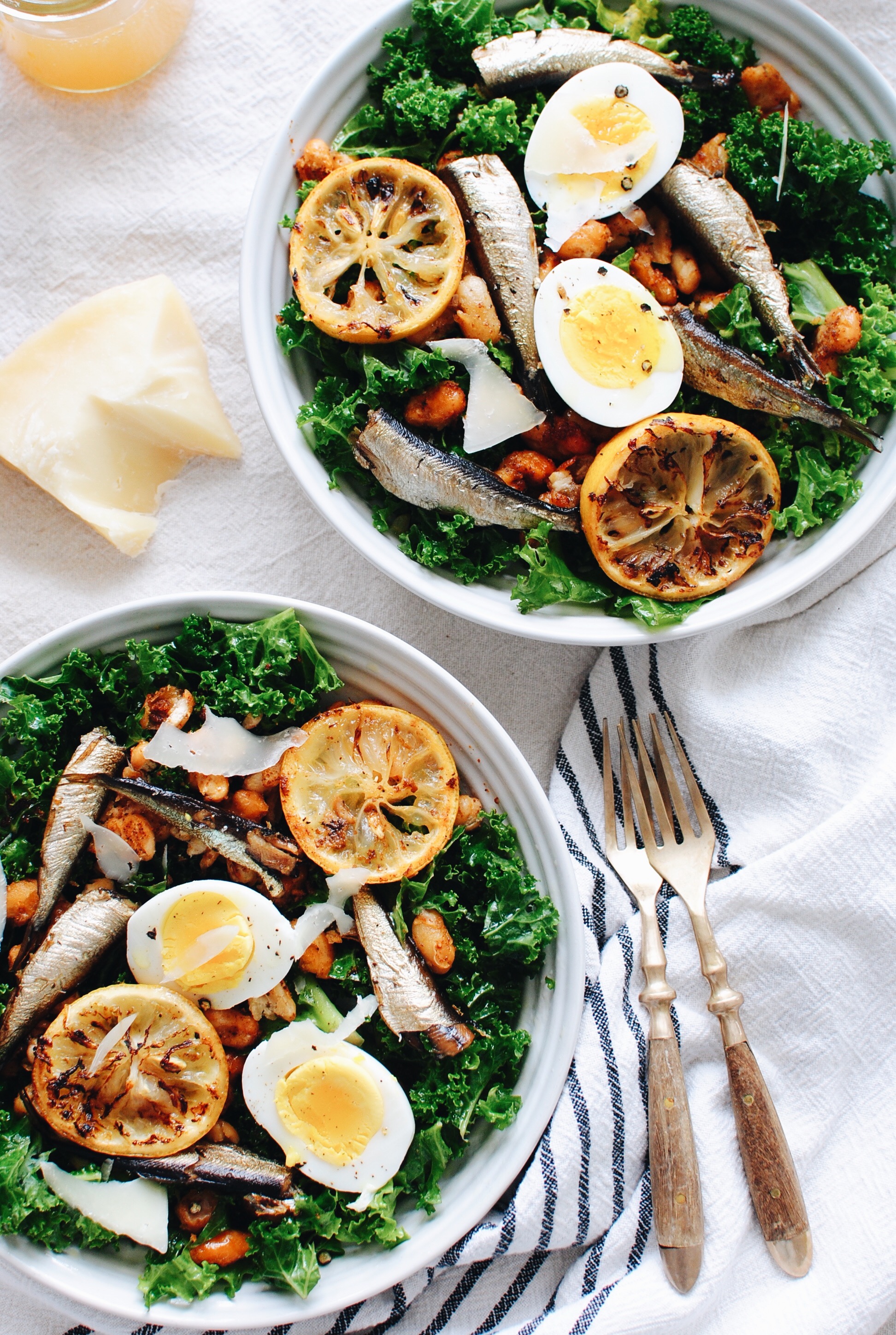 Actually, I'd be willing to put down TWO ENTIRE WASHINGTONS and bet there are more sardine lovers out there than we think. Eh? Are there? Hello?
WHERE MY SARDINIES AT. (I promise never to say "sardinies" ever again.)
This is the thing. Sardines are a regular for me. And I'm going to tell you something that you might not believe, but you MUST know I'm not fibbing at all when I type these next words. The gremlins dig them, too.
Matter of fact, remember when I joked about having a sardine tasting party on their birthday, but then had one anyway because I wanted sardines with grainy mustard on Triscuits? 'Memba? Well they TOTALLY TOOK PART AND SNARFED. THEM. DOWN. LIKE. FERAL. DOGS.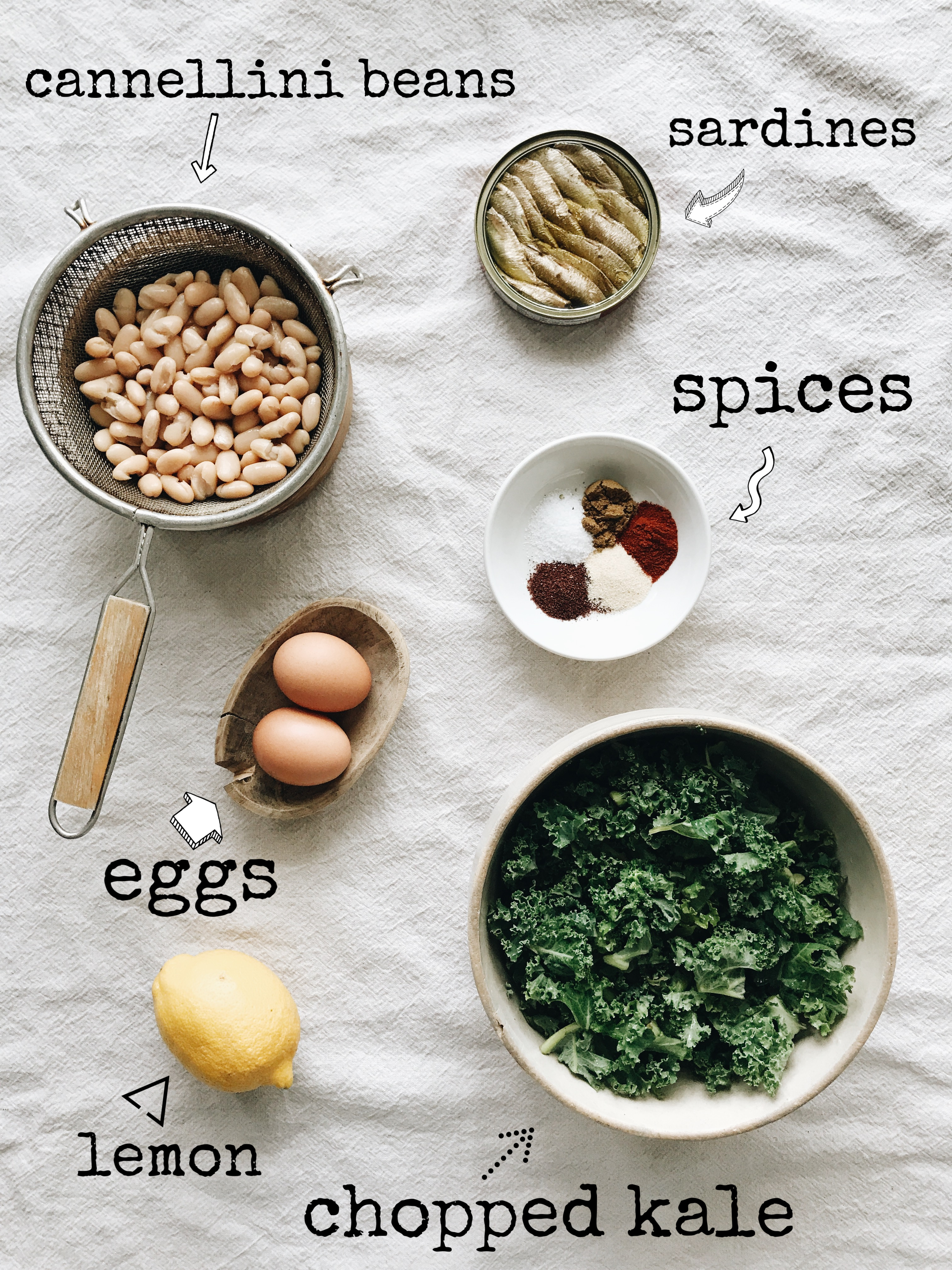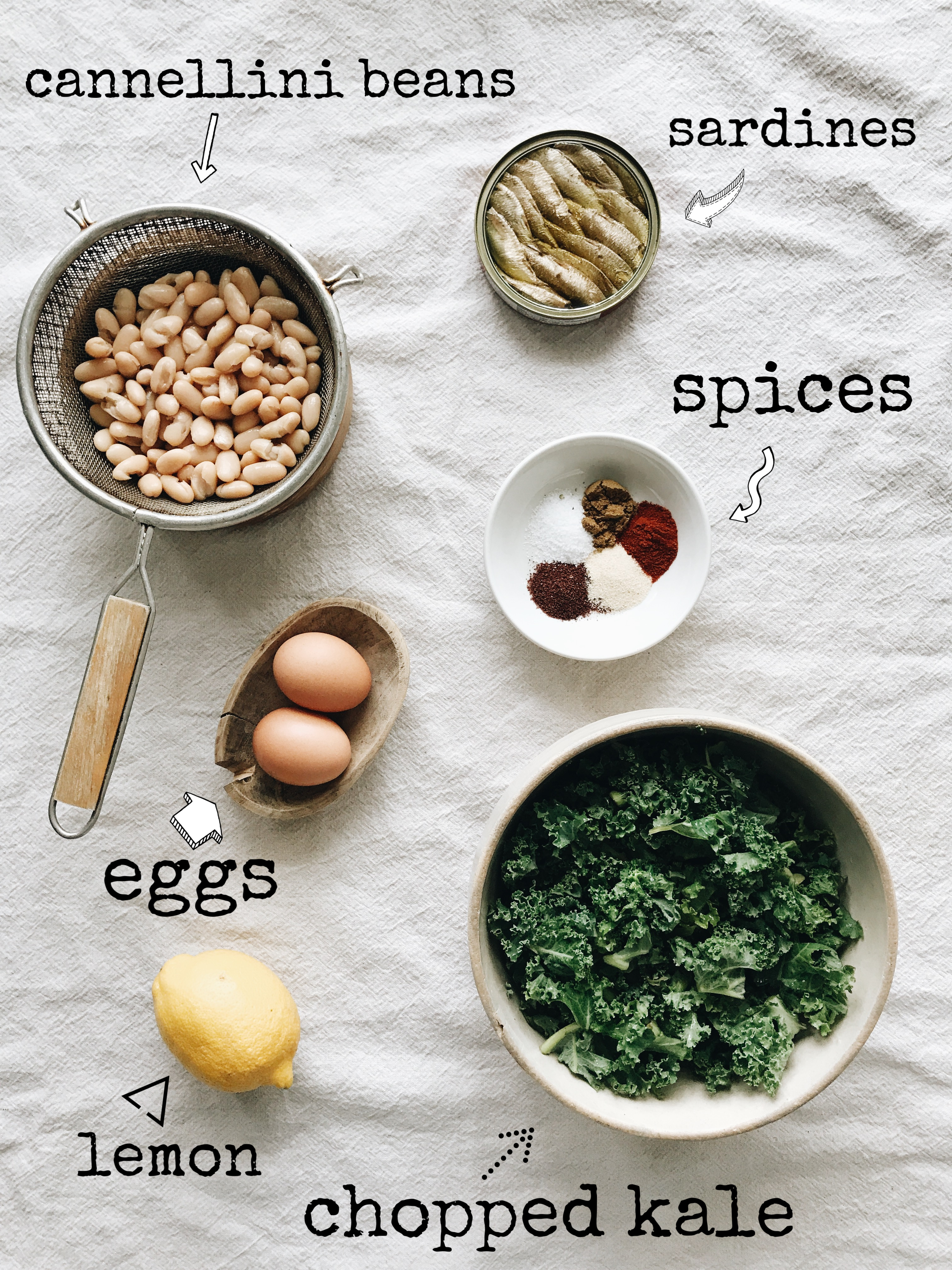 So I thought I'd share with you an amazing salad with roasted lemons and sardines with spicy cannellini beans. And semi-soft boiled eggs! You'll see why they're only semi soft. It was this whole thing. But I've dealt with my sadness since then.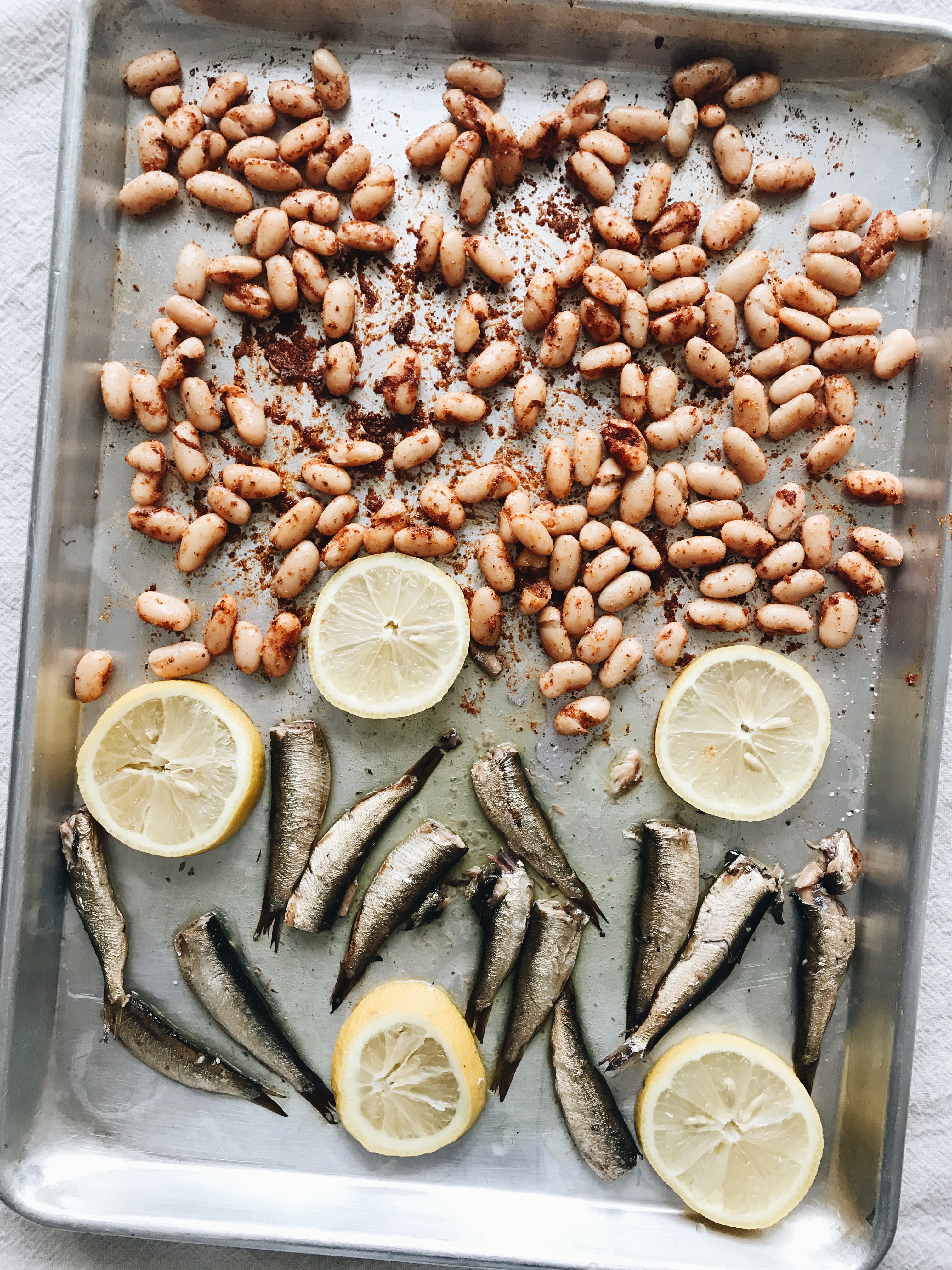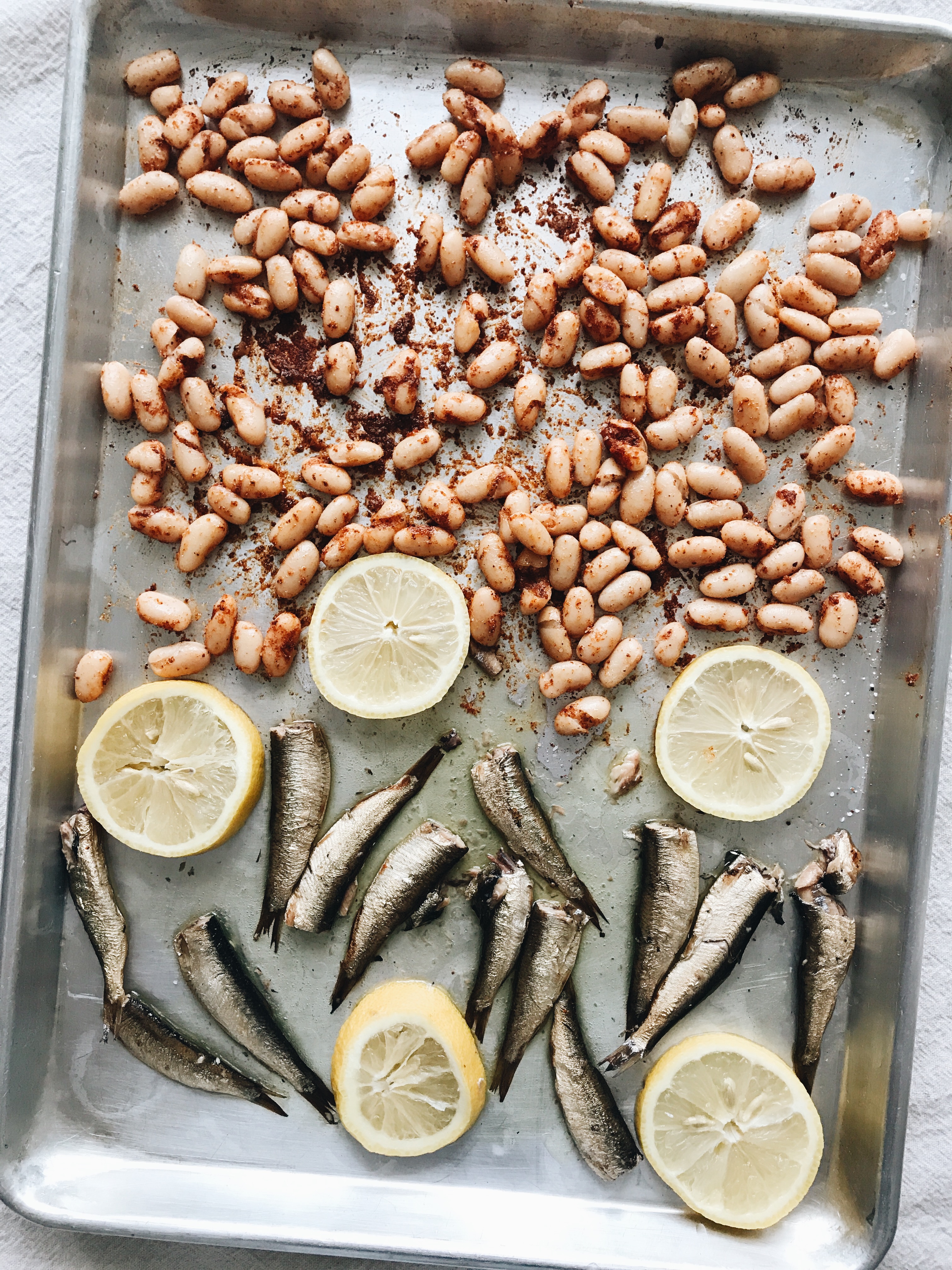 So, the spices – it's an easy-to-remember mix of smoked paprika, sumac (no need to seek this out! I had some on hand and I like the flavor so I used it), onion powder, cumin and salt. A teaspoon each. You'll drizzle the beans with olive oil, sprinkle the spices over the beans, then lightly toss with your fingers to coat. Done.
As for the sardines – this specific kind was only $2! Brisling, lightly smoked, in oil, medium sized. LOVE THEM. But if you prefer the bigger fishies, do it, brah.
Then you'll slice up a lemon and arrange the slices all willy nilly on the baking sheet.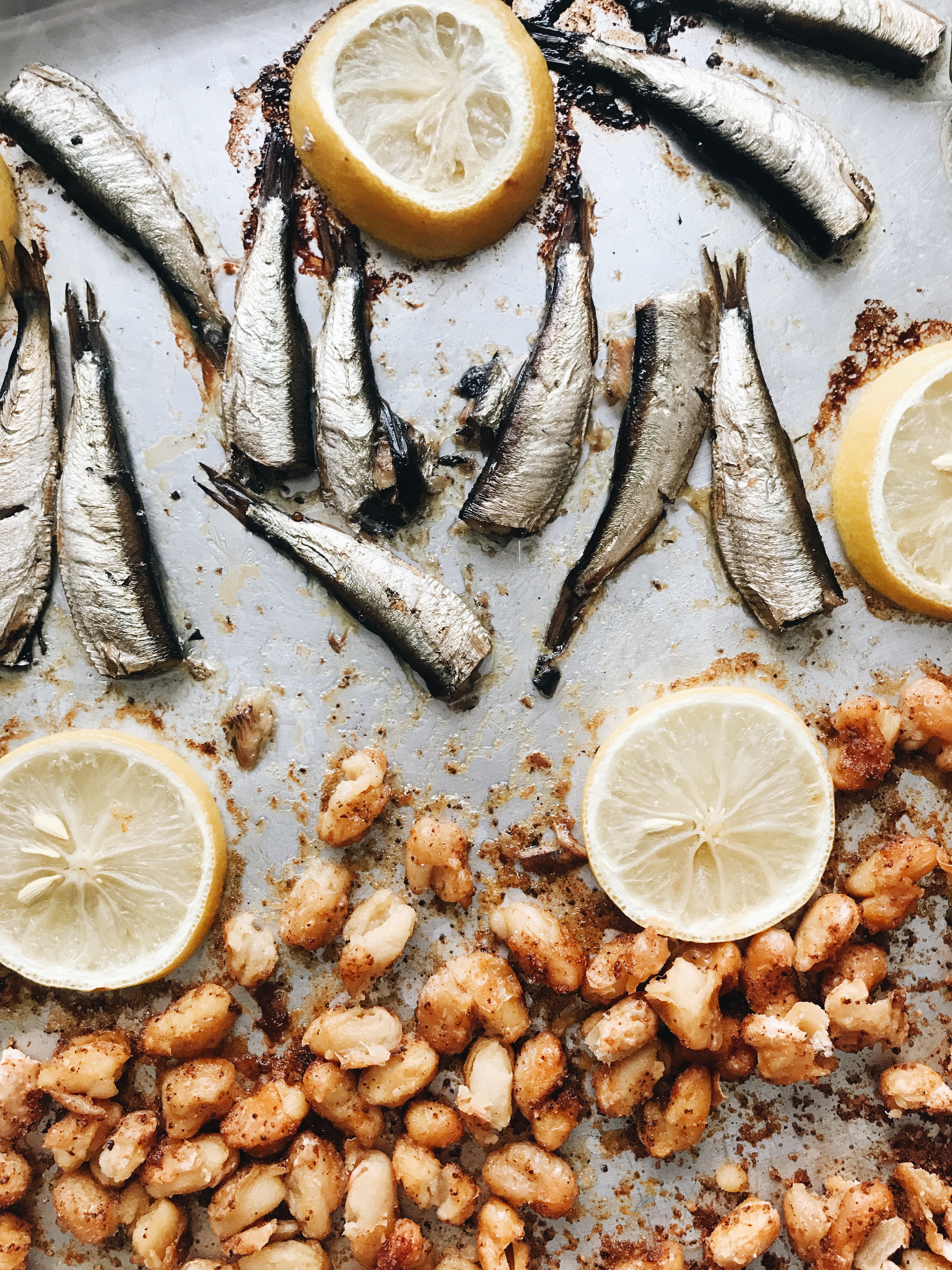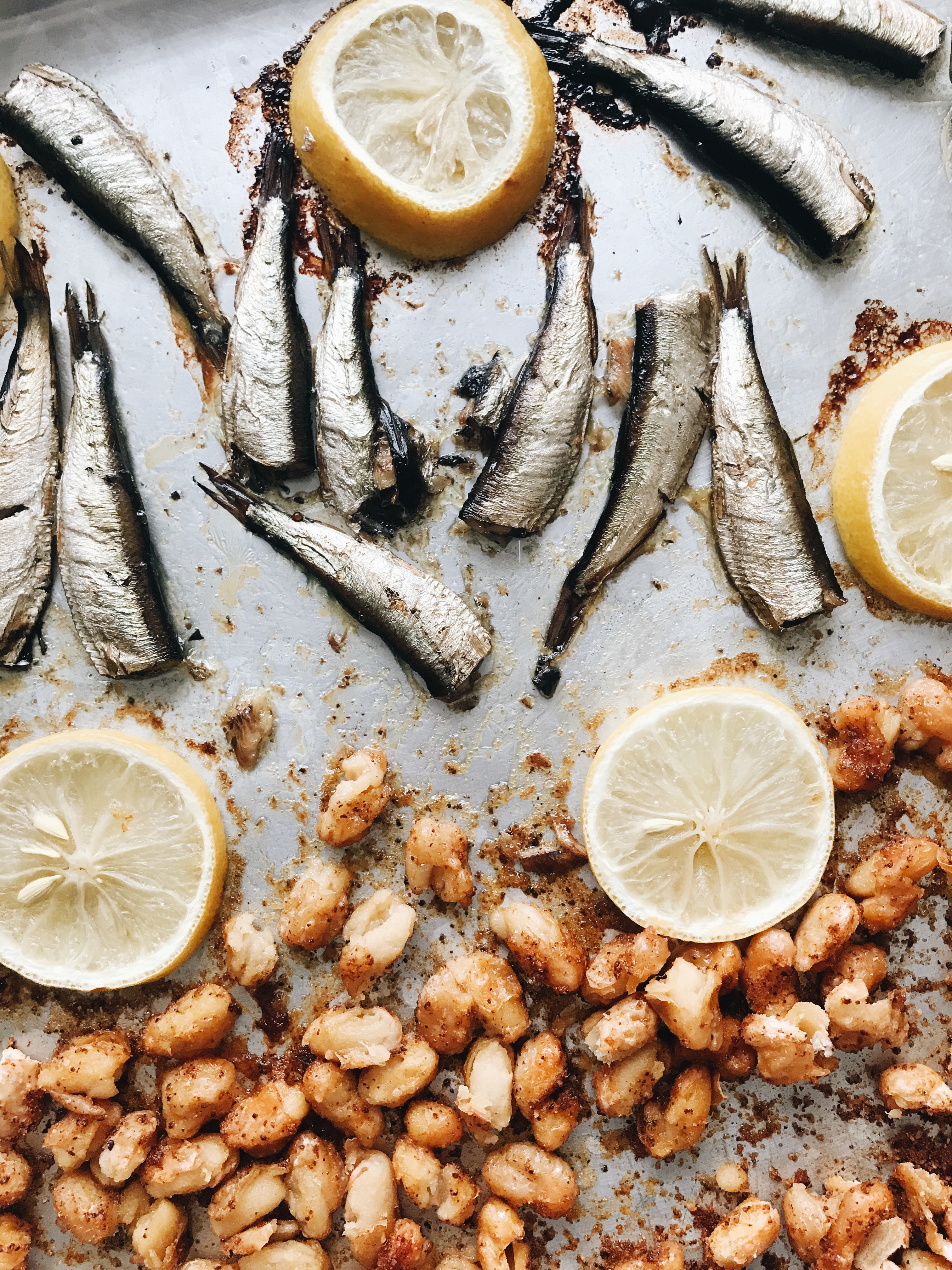 450 degrees and 15 minutes later – those beans are crispy! The lemons weren't quiiiiite where I wanted them, so I took the beans out and broiled the sardines and lemons until they crisped up and darkened in places and my soul leapt out of its cavity and did the Macarena.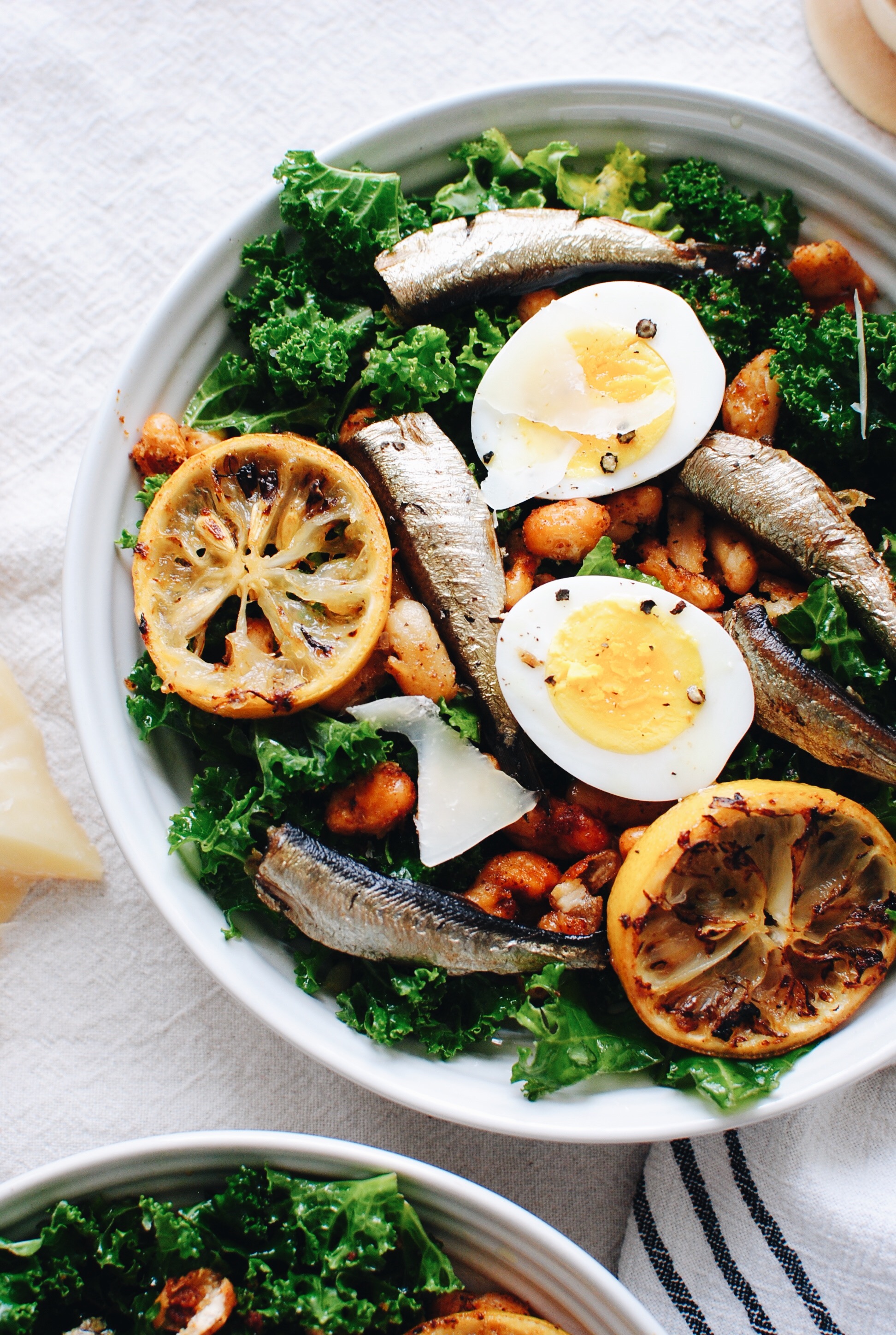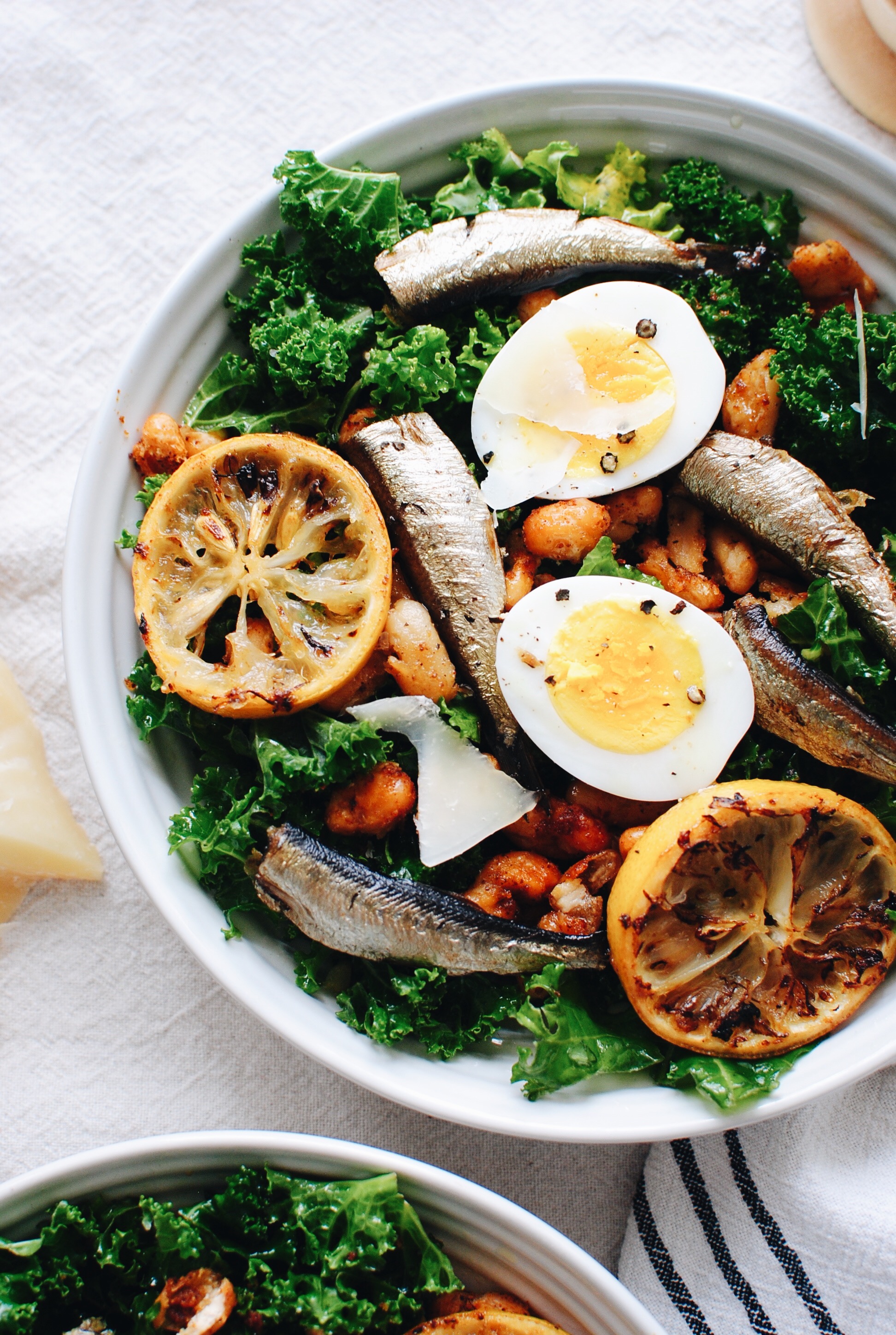 Oh! And in the meantime, you'll either hard boil or semi-soft boil two eggs. I wanted the yolks to be jammy and soft, but the kids needed something which required the amount of time that I would normally use to address the eggs and get them cooled and peeled, but that specific time went to put out a fire with the gremlins. So. There we have it. Not soft enough.
It's fine.
I'm fine.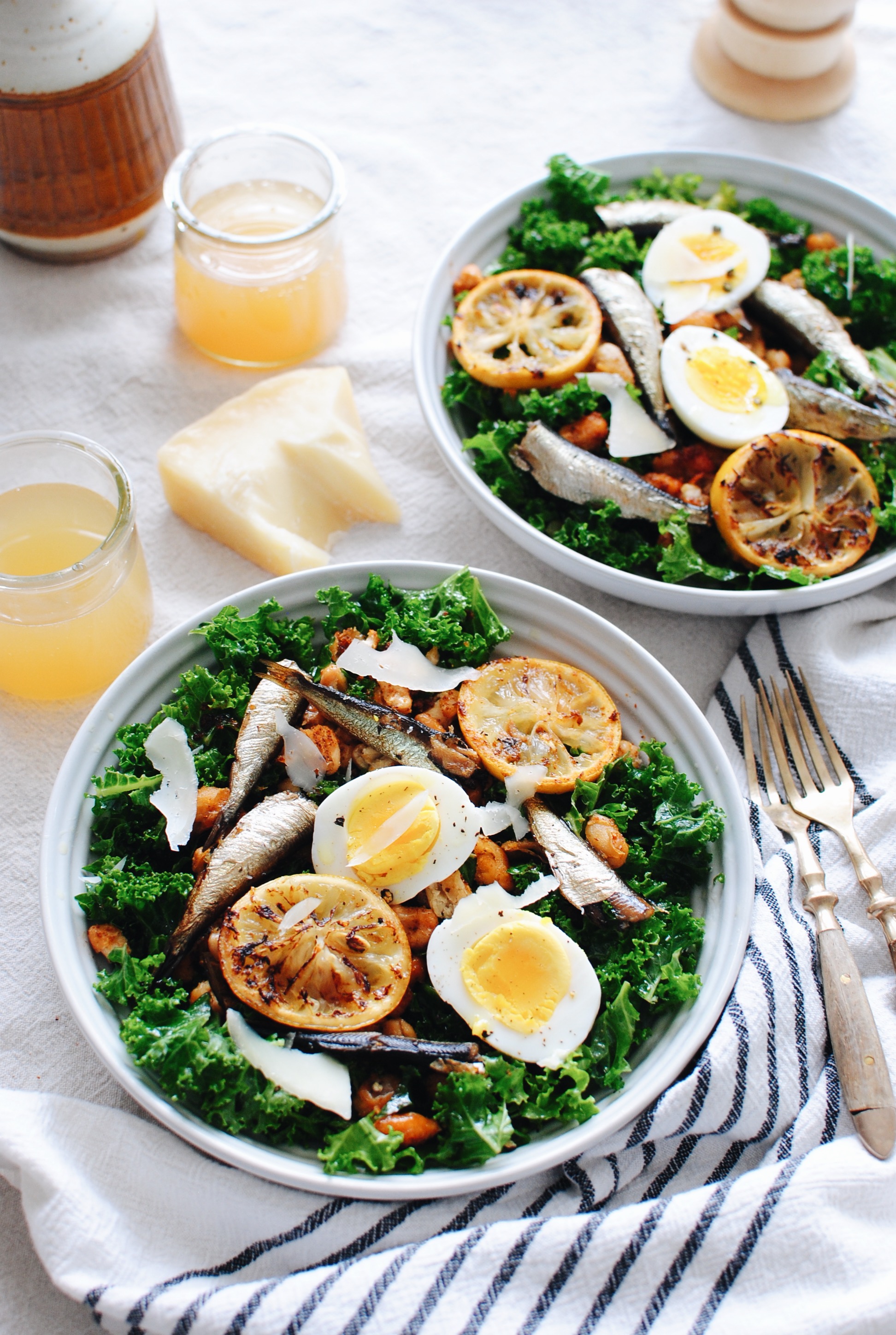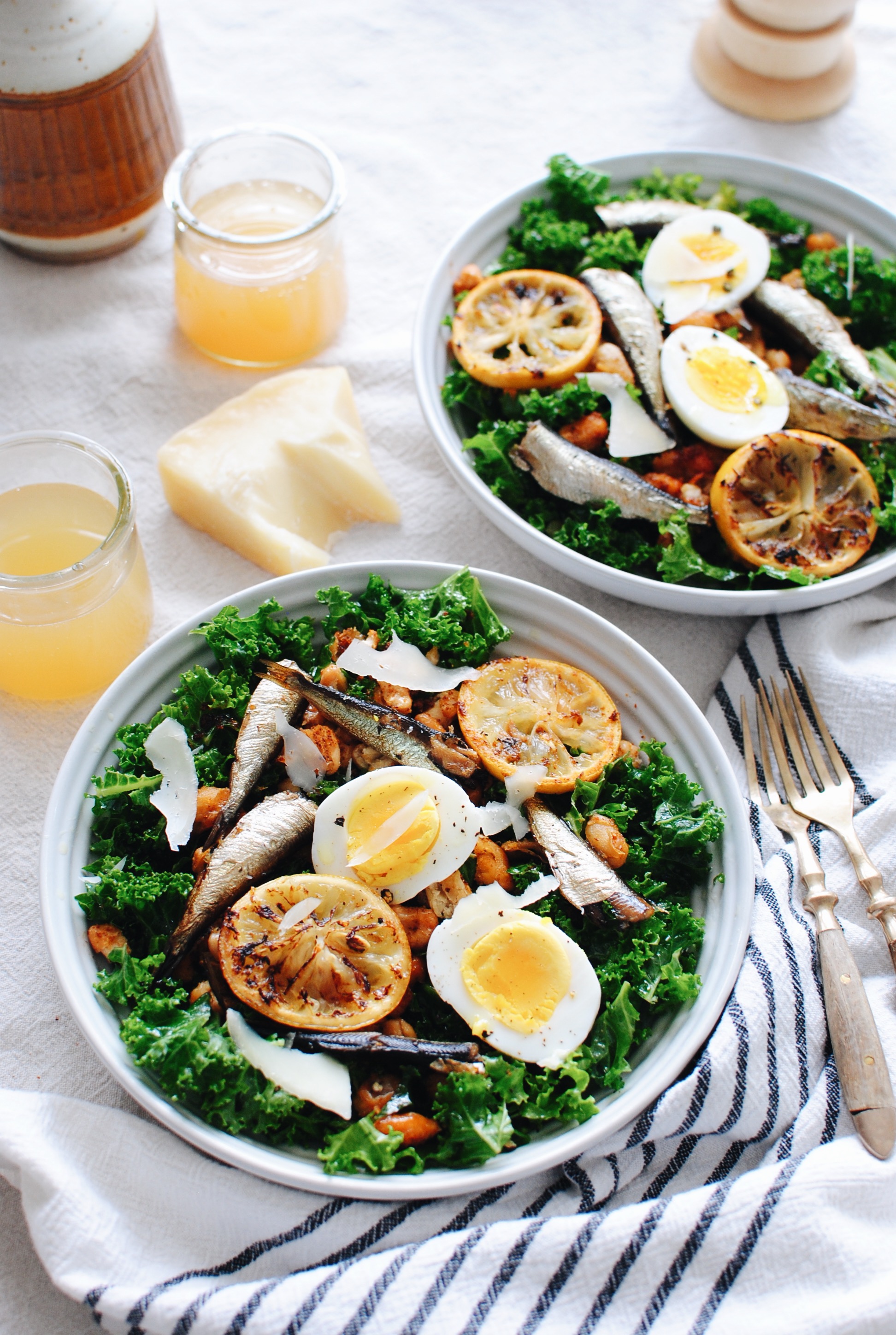 Look at this! I massaged the chopped kale (that you can dump straight from a bag) with a little bit of oil while everything roasted, just to give it a head start. And the sardines – let me assure you, they're not what you think they are. Especially roasted, they're delightful little salty bites of ocean. Not fishy. Totally umami-ish. And all mixed with crispy spiced beans and the eggs omG.
Everything is perfect together. PERFECT. And total January food. Look at you with this bounty of nutrition! Fist bump? No?
Okay.
Also, there's no real need for an official dressing. The oil that you'll massage into the leaves, plus the remaining oil and flavors from the roasted heaven you just poured on top will do the trick.
SO TELL ME. Are you a sardine fan? Do they scare you? Have you even tried them? And if you ARE a sardine lovah (said like Carrie Bradshaw in that one episode where she's talking to shoes in the department store), tell me how you eat them! Straight from the tin on crackers? Chopped and in a pasta? Grilled over a bed of charred veggies? You know I need these details to thrive in this world.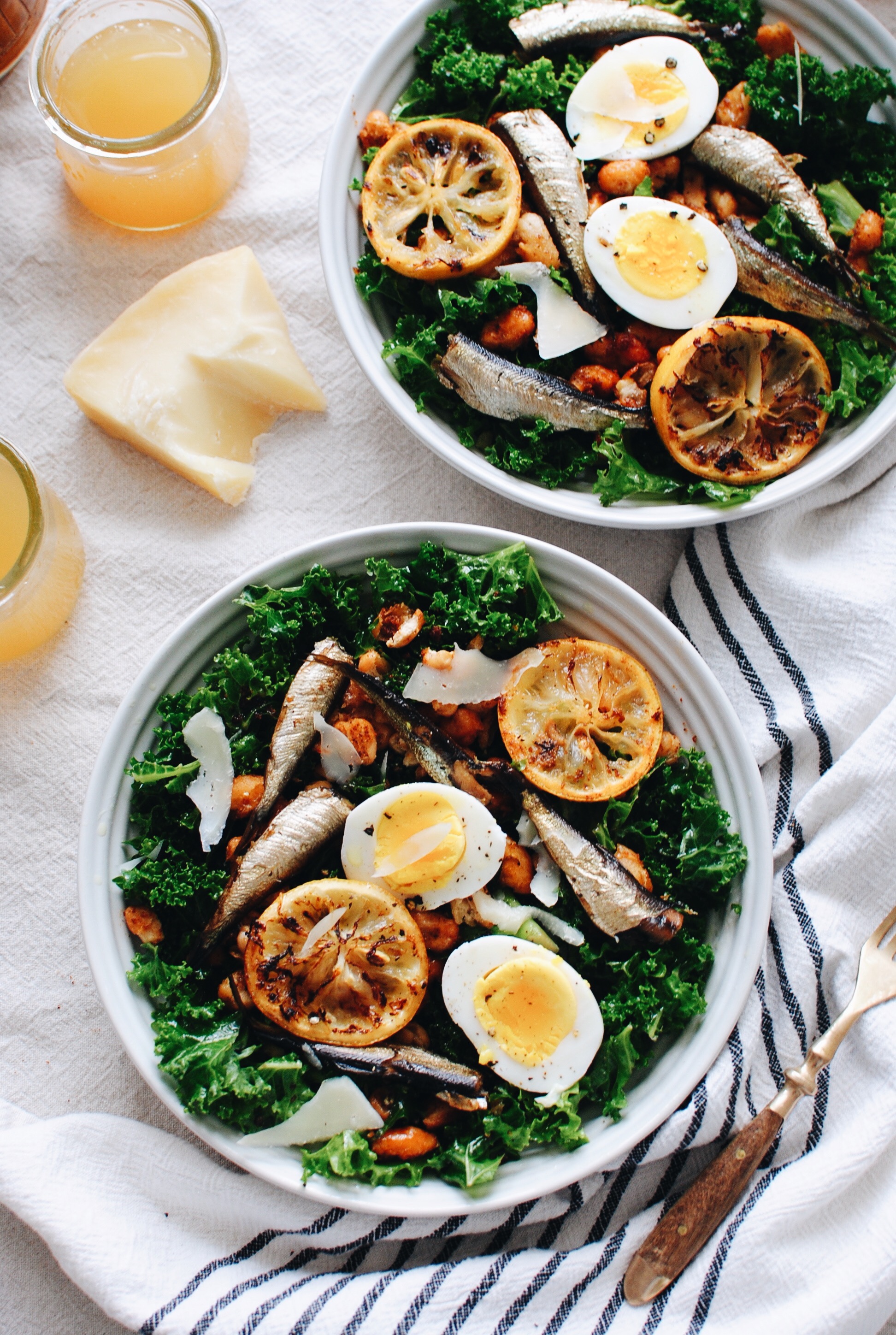 I mean, yeah.
Kale Salad with Roasted Sardines and Beans
Ingredients
1 (4.23 oz) tin brisling sardines, in oil (or any size tin you prefer!)
1 (15 oz) can cannellini beans, drained and rinsed
1 tsp each: smoked paprika, cumin, sumac, onion powder and kosher salt
4 Tbs. extra virgin olive oil, divided
1 lemon, sliced
2 eggs, soft boiled (or hard boiled if you prefer!)
4-6 cups chopped kale
Fresh parmesan, for garnish
Instructions
Preheat your oven to 450.
In a small bowl, combine the spices. On a baking sheet, arrange the beans on one half, and the sardines on the other. Be gentle getting them out of the tin! They're delicate little babies. Sorry I called them babies. Drizzle the oil from the tin over the sardines, and 2 Tbs. olive oil over the beans. Sprinkle the beans with the spices and toss with your fingers to coat. Arrange the lemon slices on the sheet. Roast for 15-20 minutes, until the beans are splitting and crisping up!
Remove the beans from the sheet, and broil the lemons and fish until they darken and char, and the tails start to curl up. Don't be freaked out. This is a good thing in life.
In the meantime, rub the last two Tbs. oil into the kale leaves, softening them just a tad. Then sprinkle the beans over the kale, along with a few sardines, lemon slices, and a boiled egg. Garnish with fresh parmesan shavings if you want! Grind of black pepper. Done. Eat it. You will FREAK.
Makes two salads.
7.8.1.2
203
https://bevcooks.com/2019/01/kale-salad-with-roasted-sardines-and-white-beans/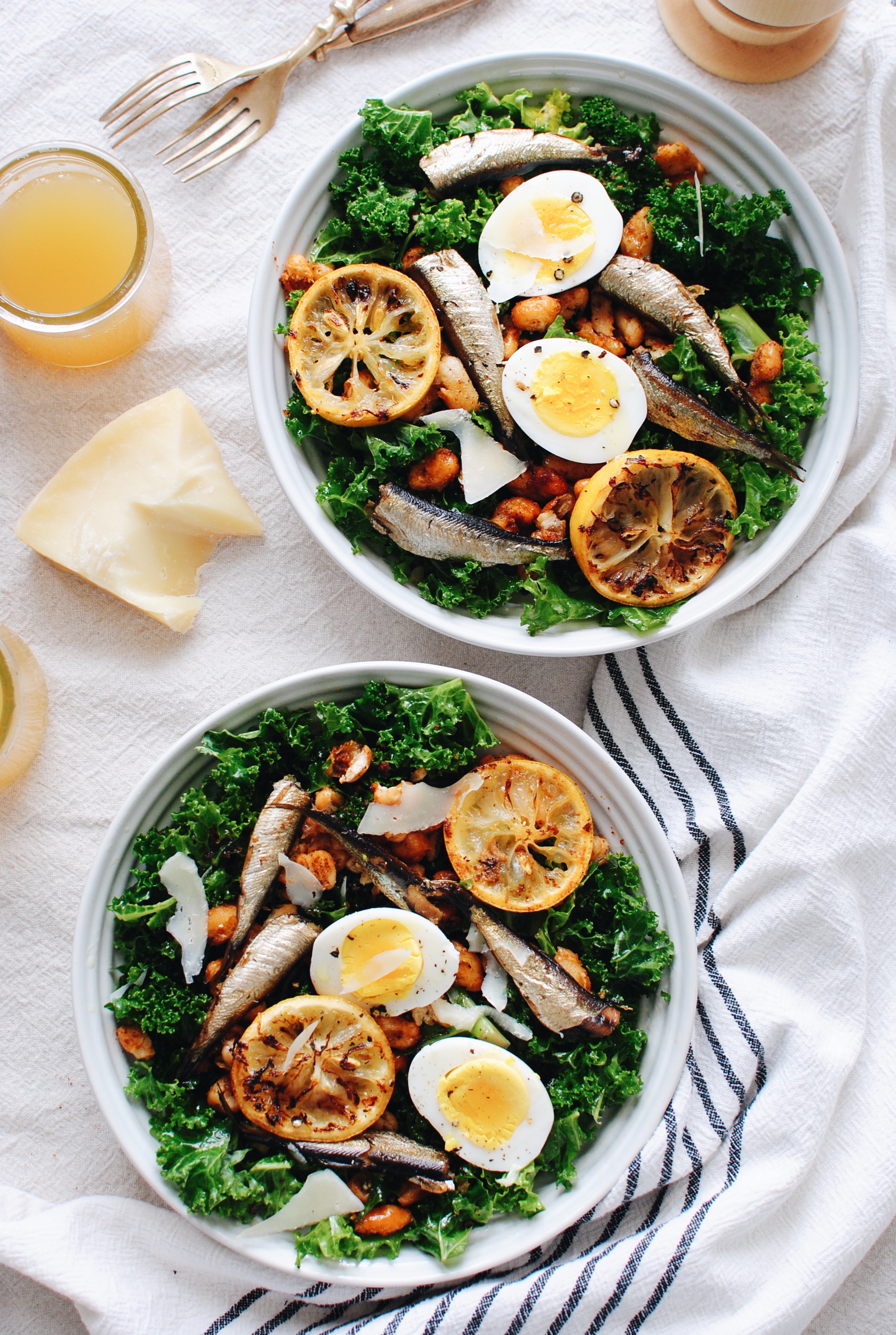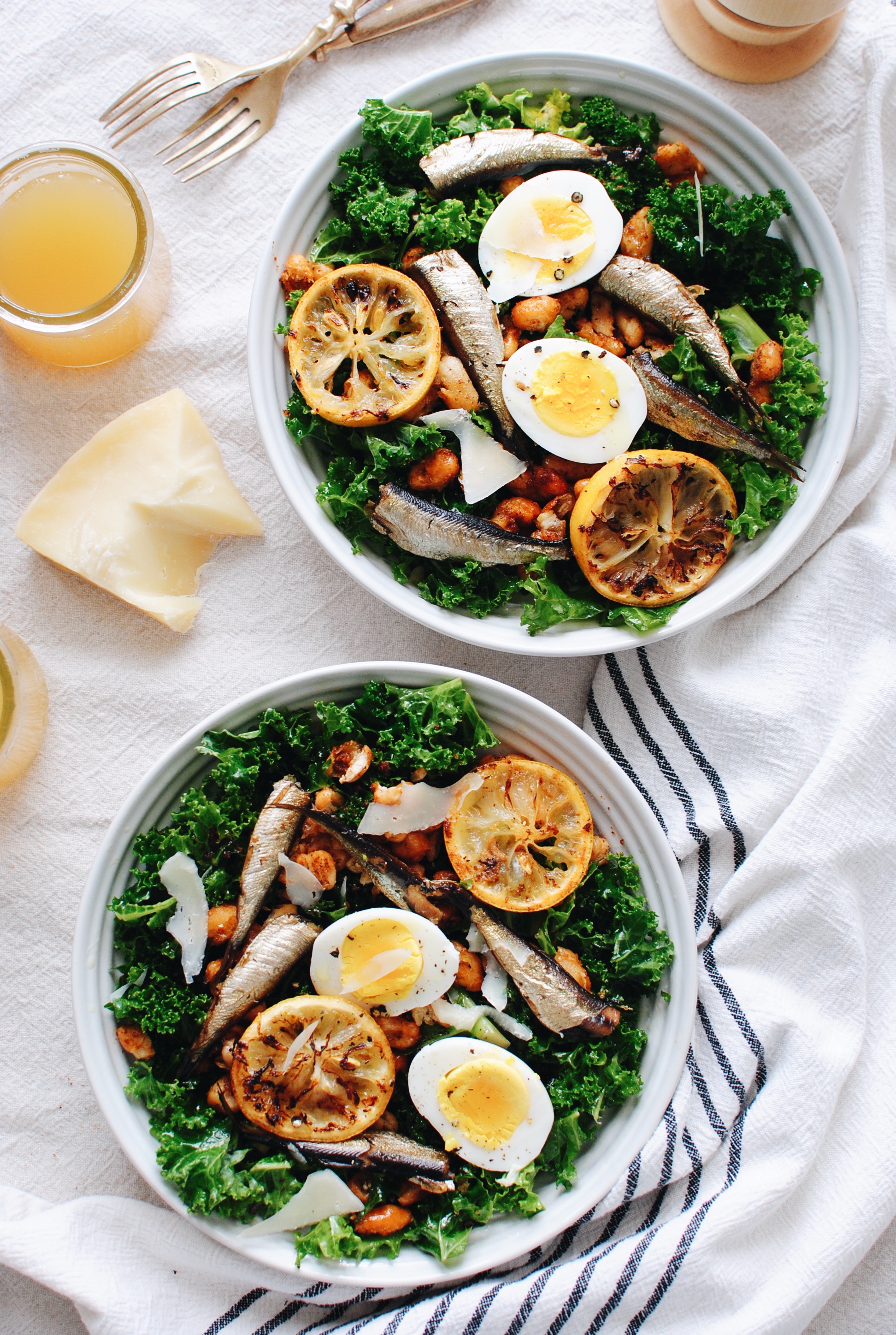 ALL MY SARDINIES SAY BLUB BLUB BLUB BLUB. (yeah sorry about all that just now.)