IT'S BEEN SINCE AUGUST SINCE I LAST POSTED PASTA. (sorry to scream at you.)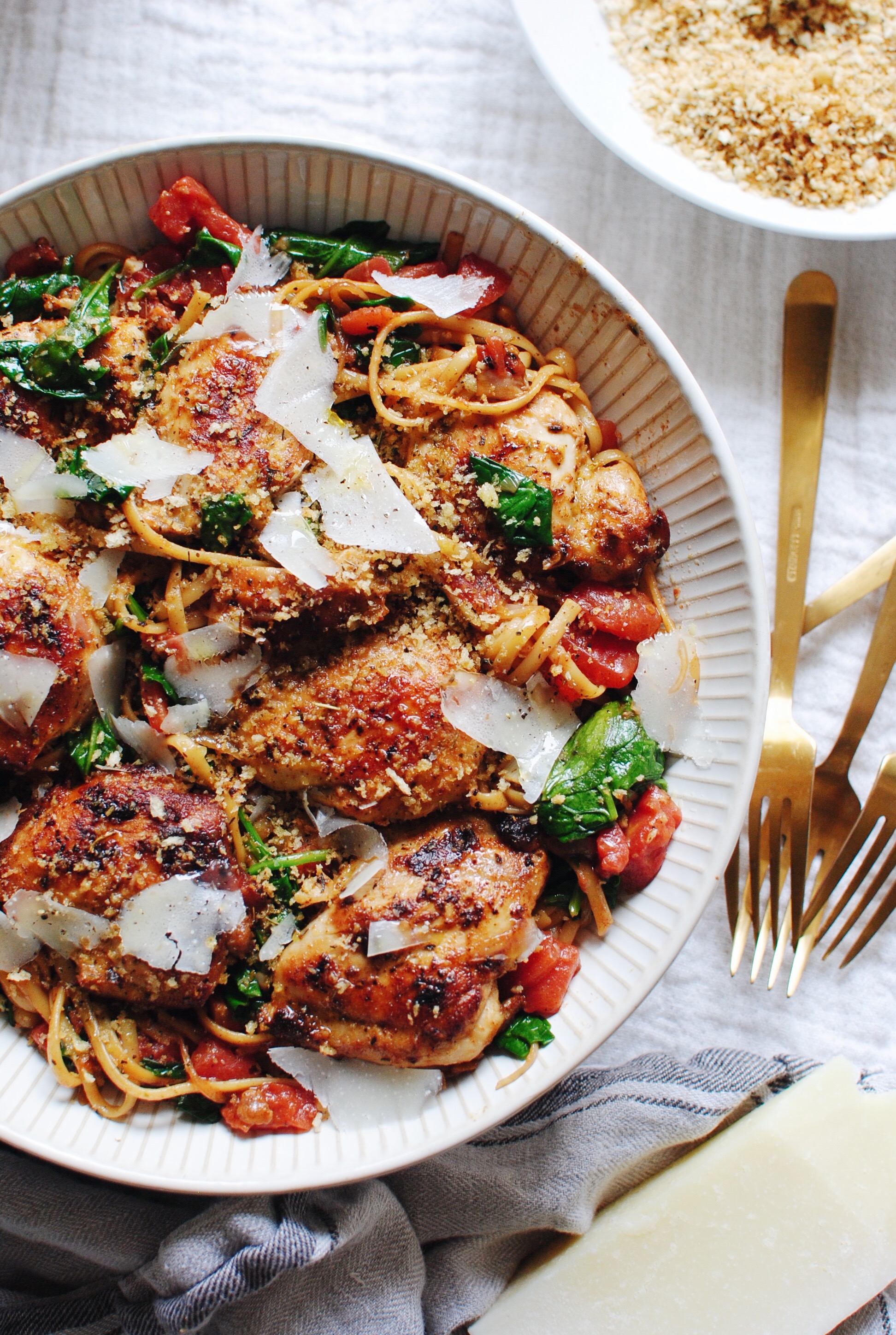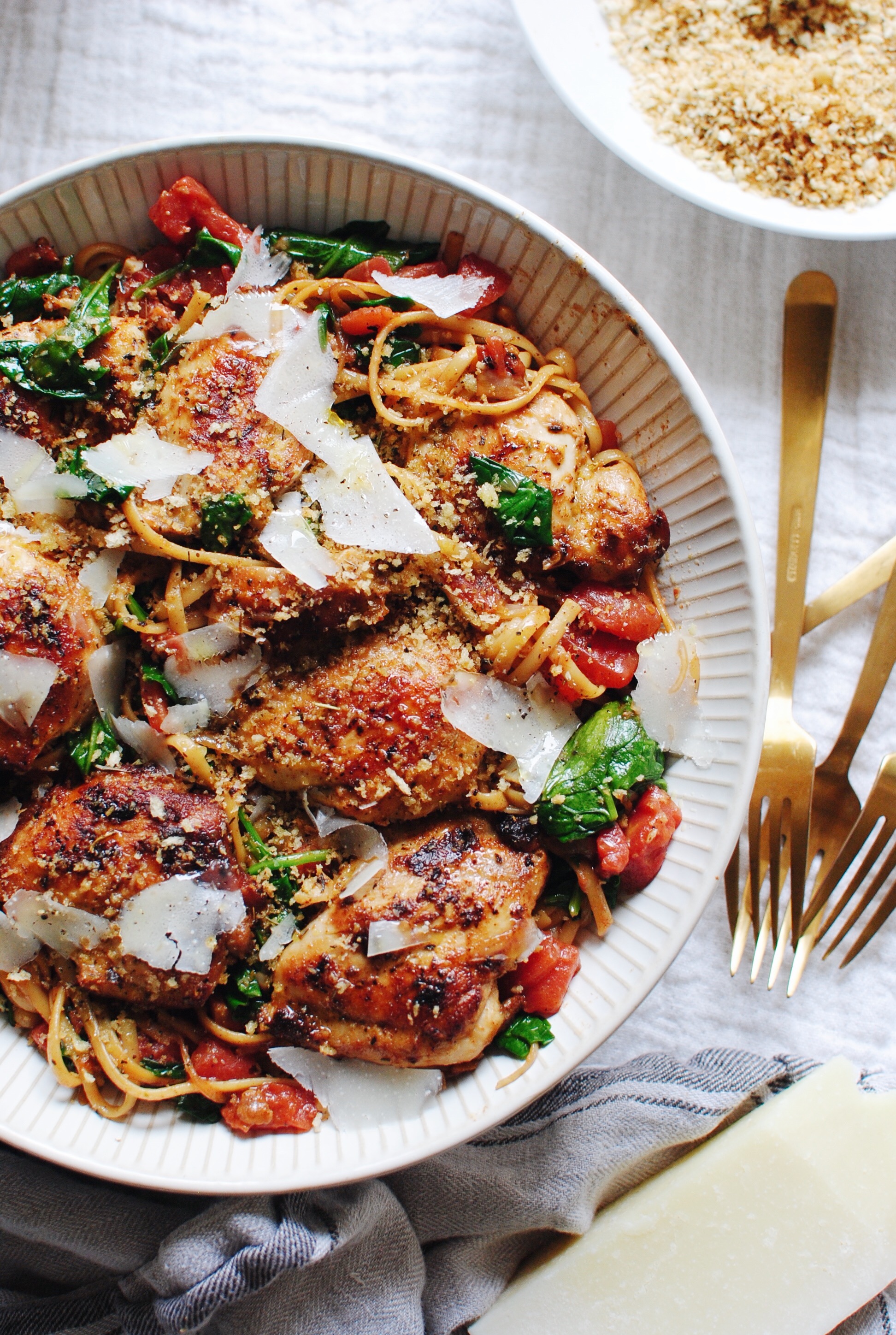 What kind of bull honk a wonk is that. AUGUST. I should be ashamed of myself.
I bet the insanity I'm about to show you will somehow make up for lost time. For lasta time?
Because THIS MEAL. Ugh. It was meant for weeknights. Meant for chilly evenings. Meant for all glitter faces and sparkle hearts in magical unison. (<—I'm living with an almost 4-year old girl.)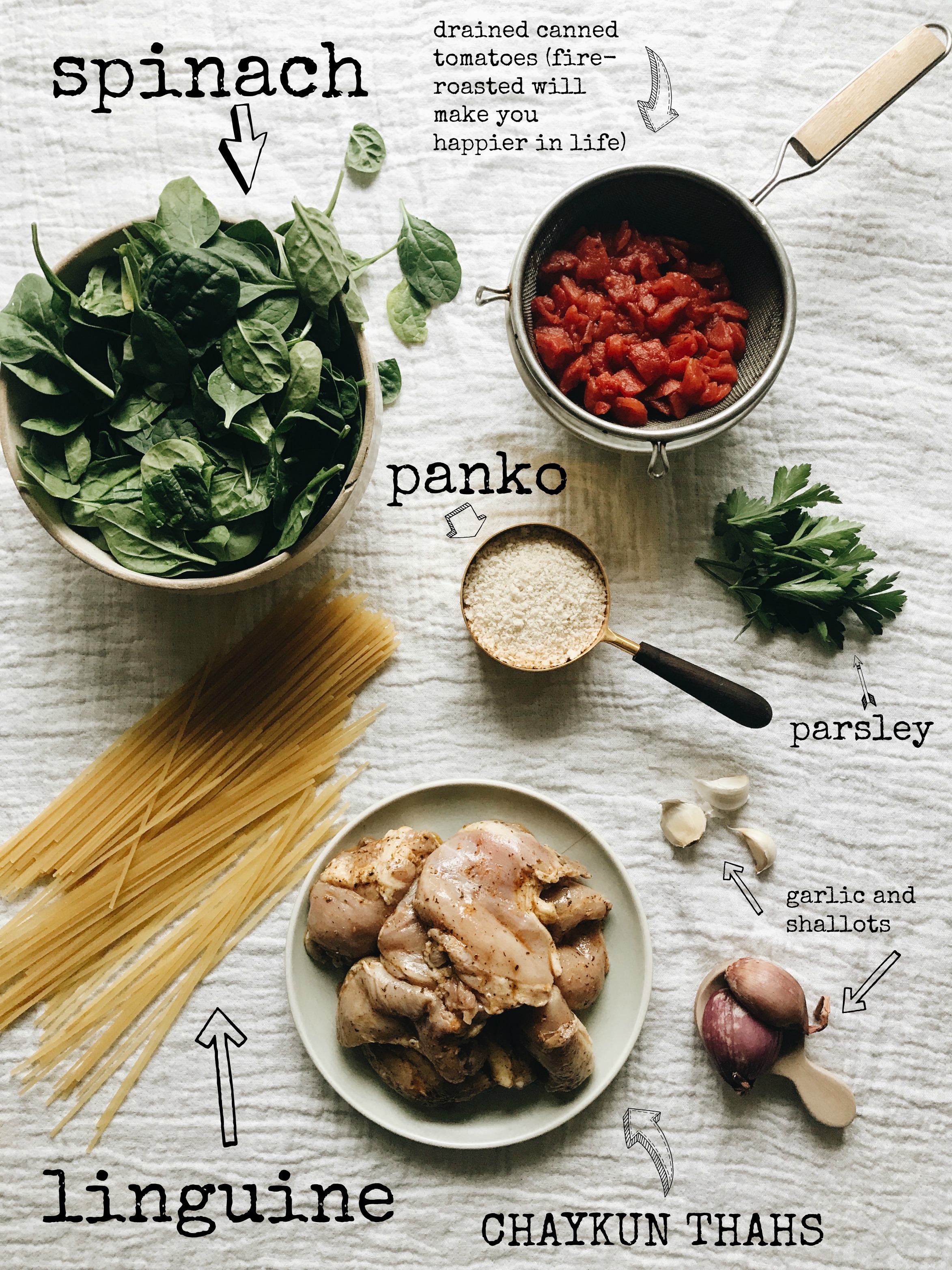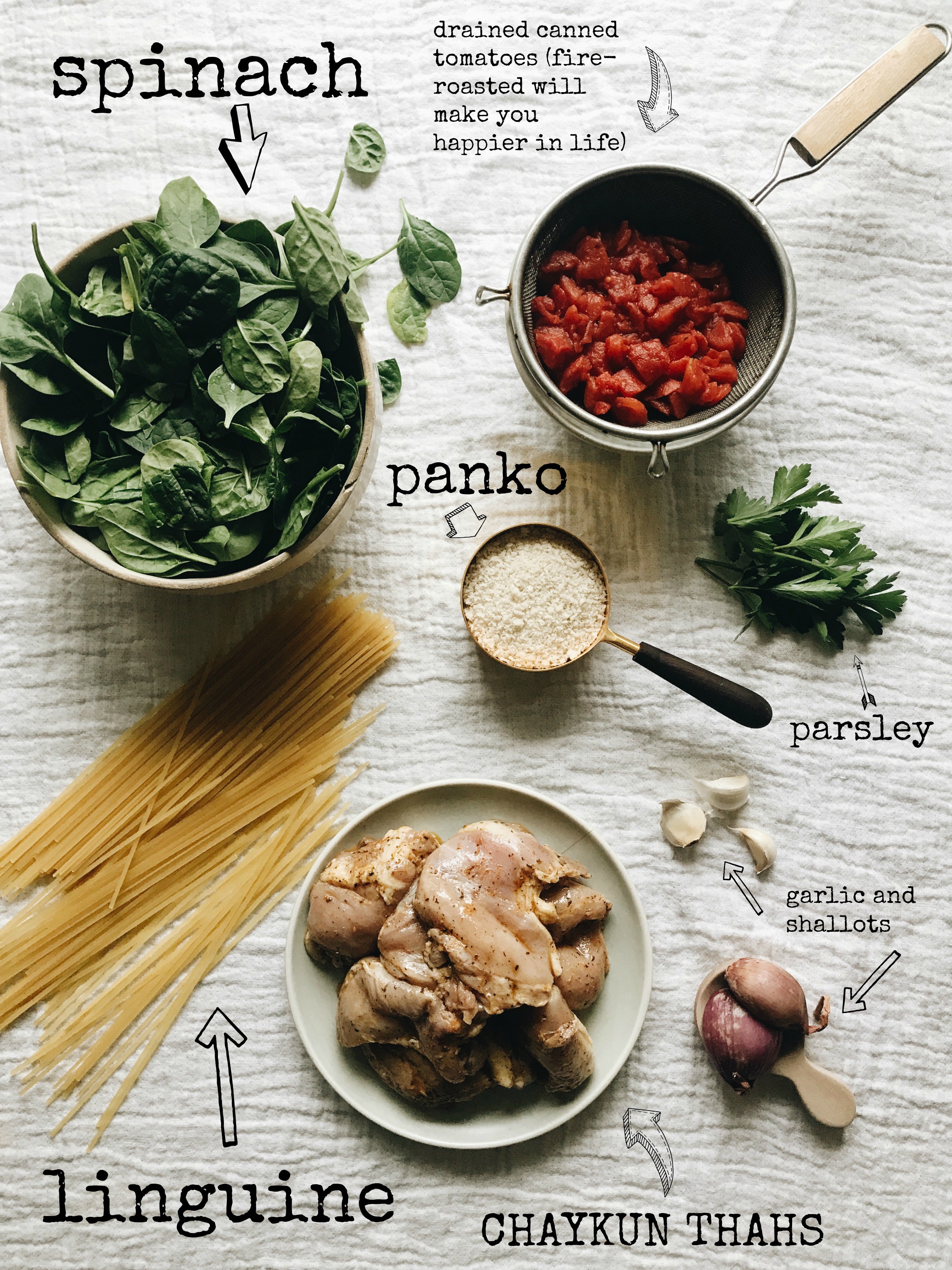 Quick note! You can use chicken breast here, but I highly recommend thighs, because there is nothing in this world like the joy of a juicy, marinated chicken thigh. Clearly I need a life.
You'll marinate your thighs (the chicken's, not yours) for however long you want with a kiss of dried Italian seasoning, garlic powder and onion powder, olive oil and lemon juice. These are pretty much basics of the good life.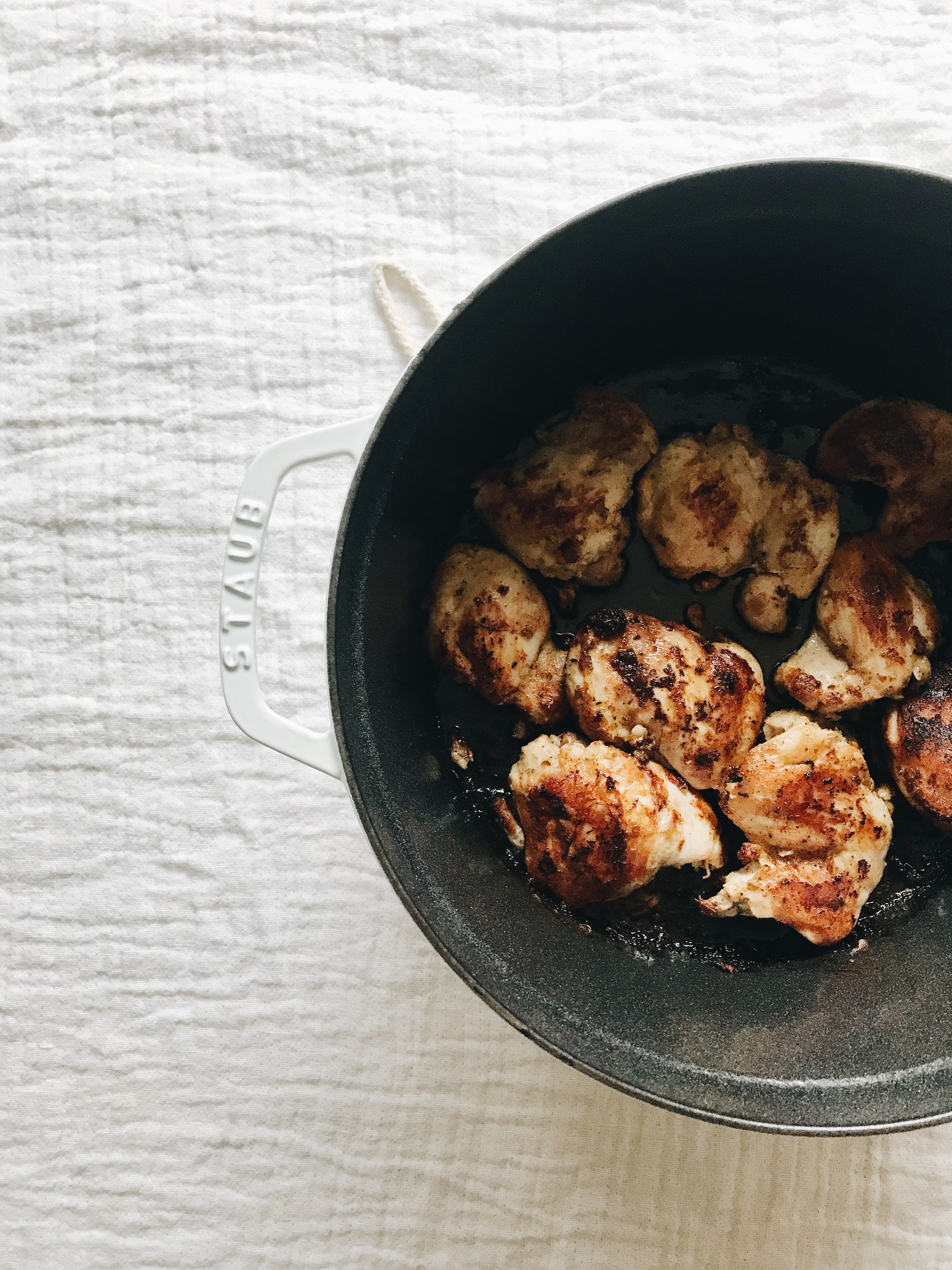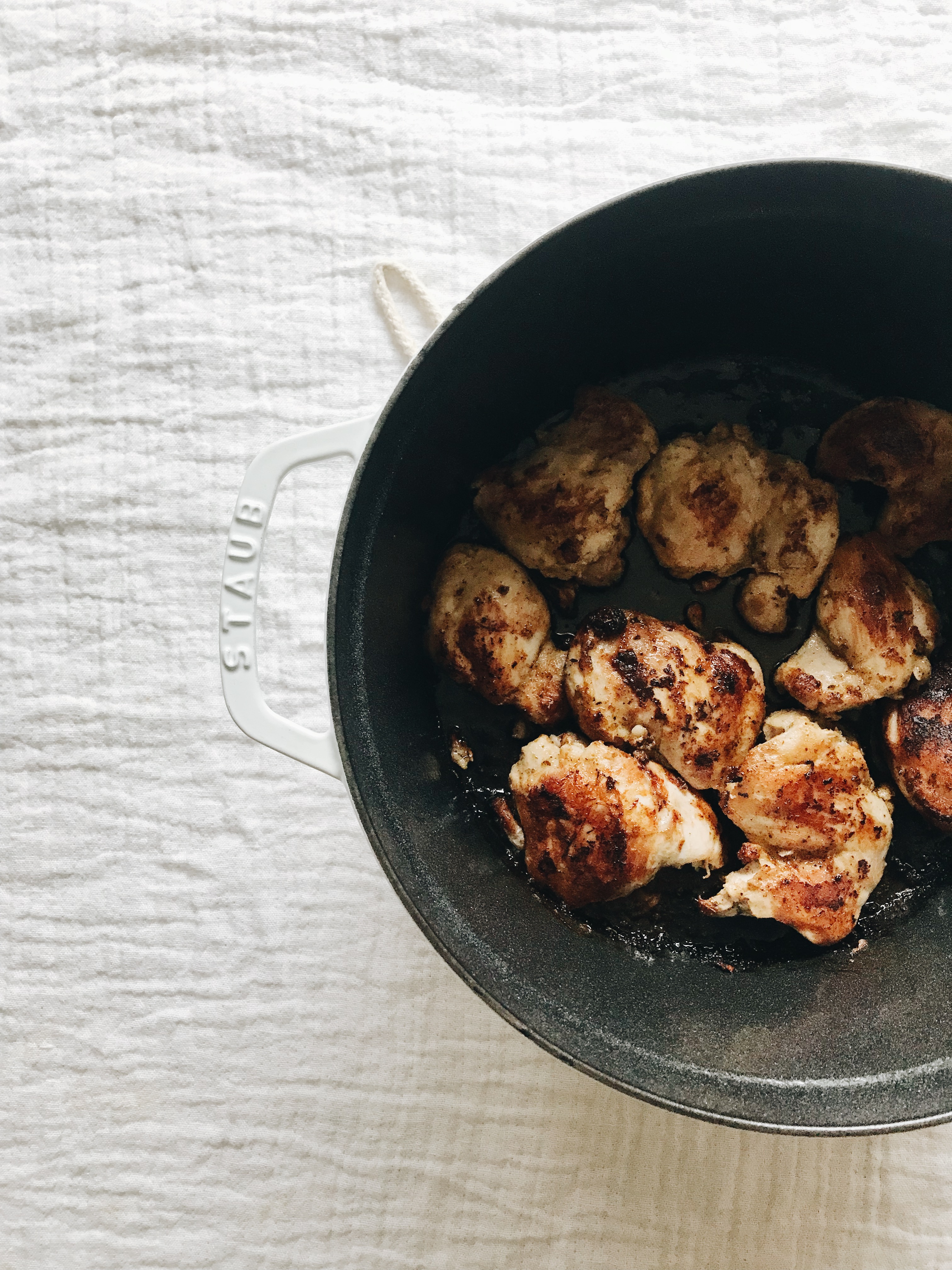 Sear 'em up! Move 'em on out.
Sauté yer shallots and garlic! Don't move 'em on out.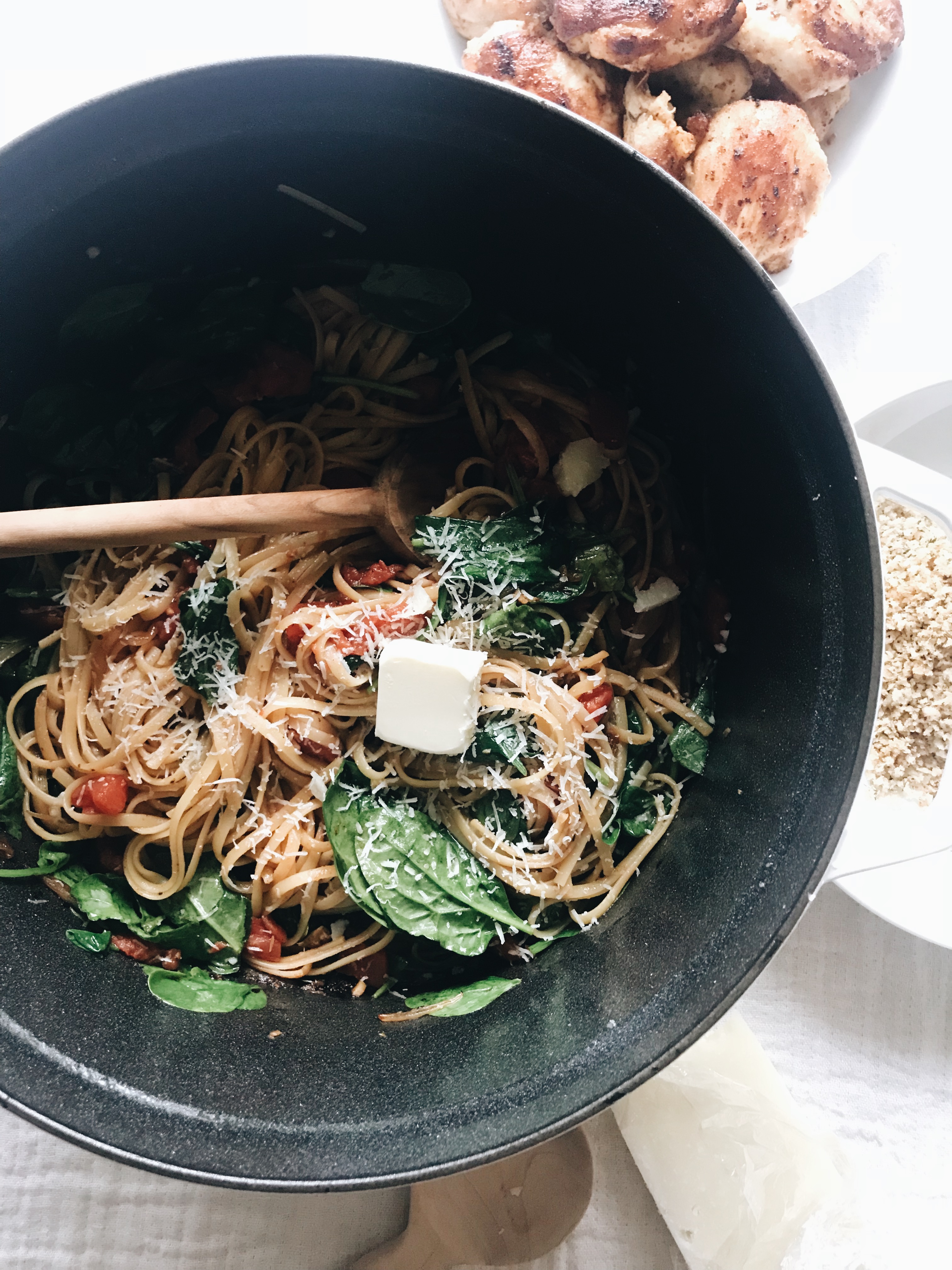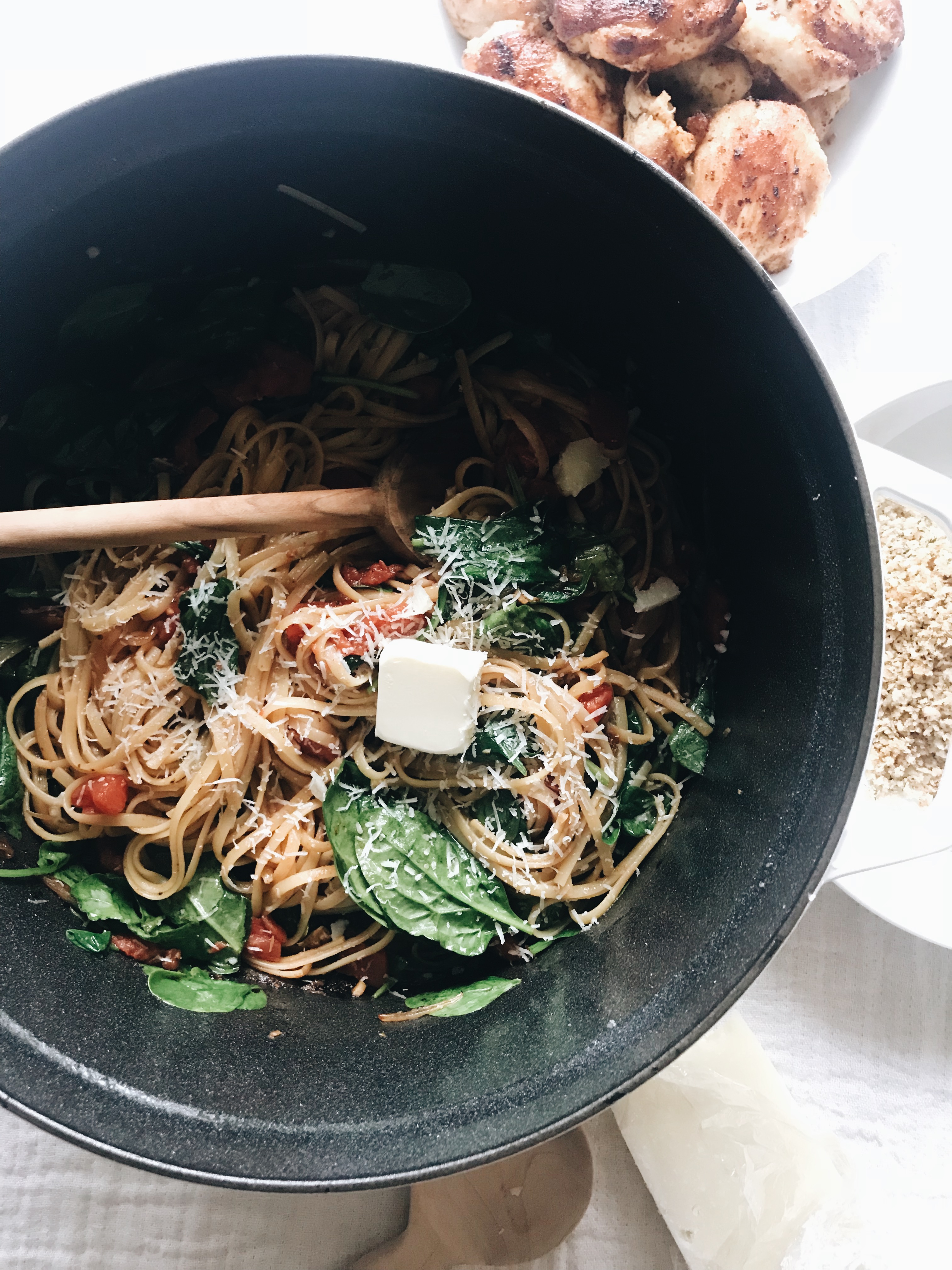 Then it all just comes together like birds of a fea – okay not that.
Add your cooked (al dente!) linguine to the pot, along with a cup (give or take) of pasta water, the drained fire-roasted tomatoes, and spinach. Toss toss toss until the spinach begins to wilt, then add a pat (or two?) of butter, and about a 1/4th cup of freshly grated parmesan cheese. Nestle that chicken back in. Let it all soak up and become one. You should be violently sobbing by now.
Because…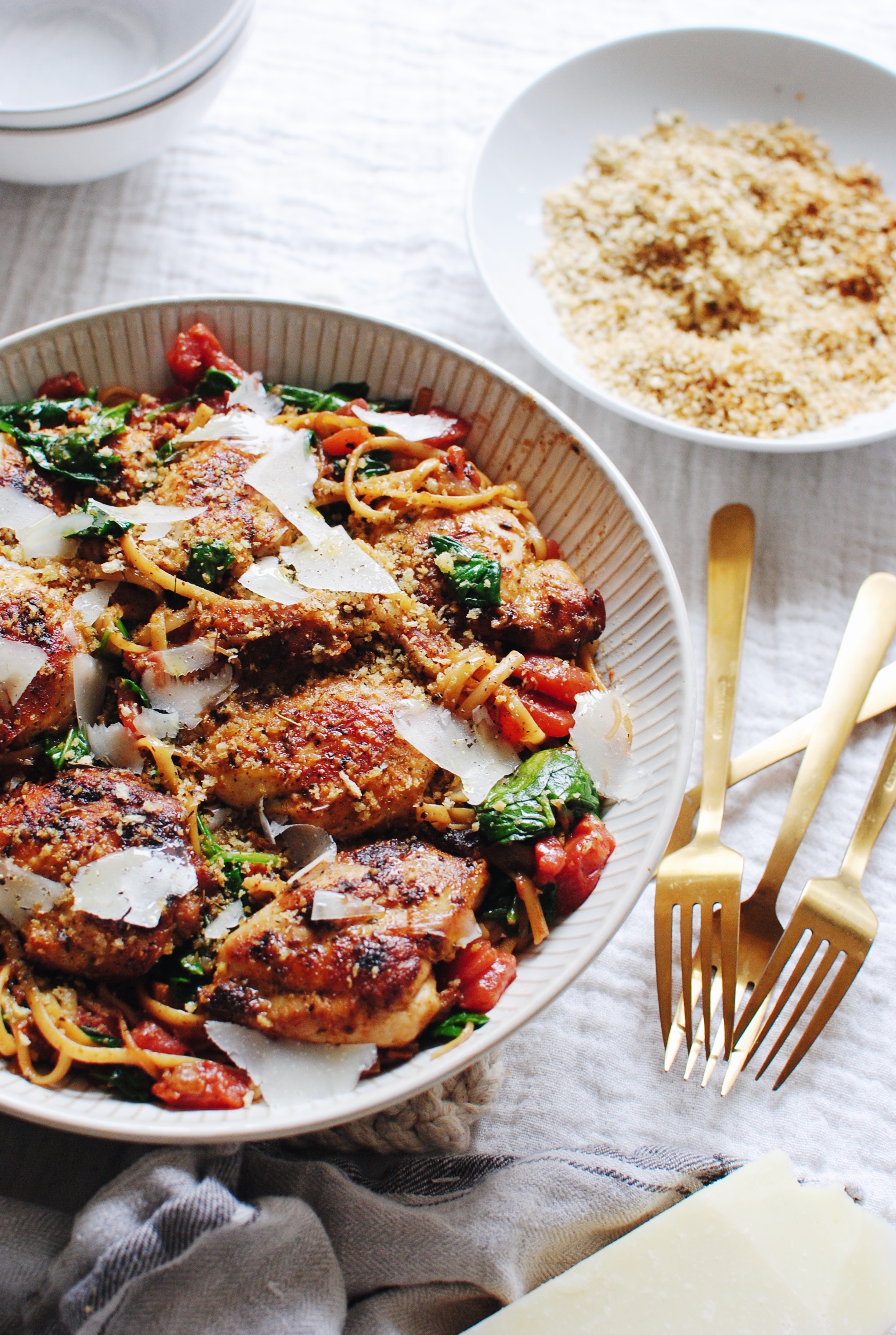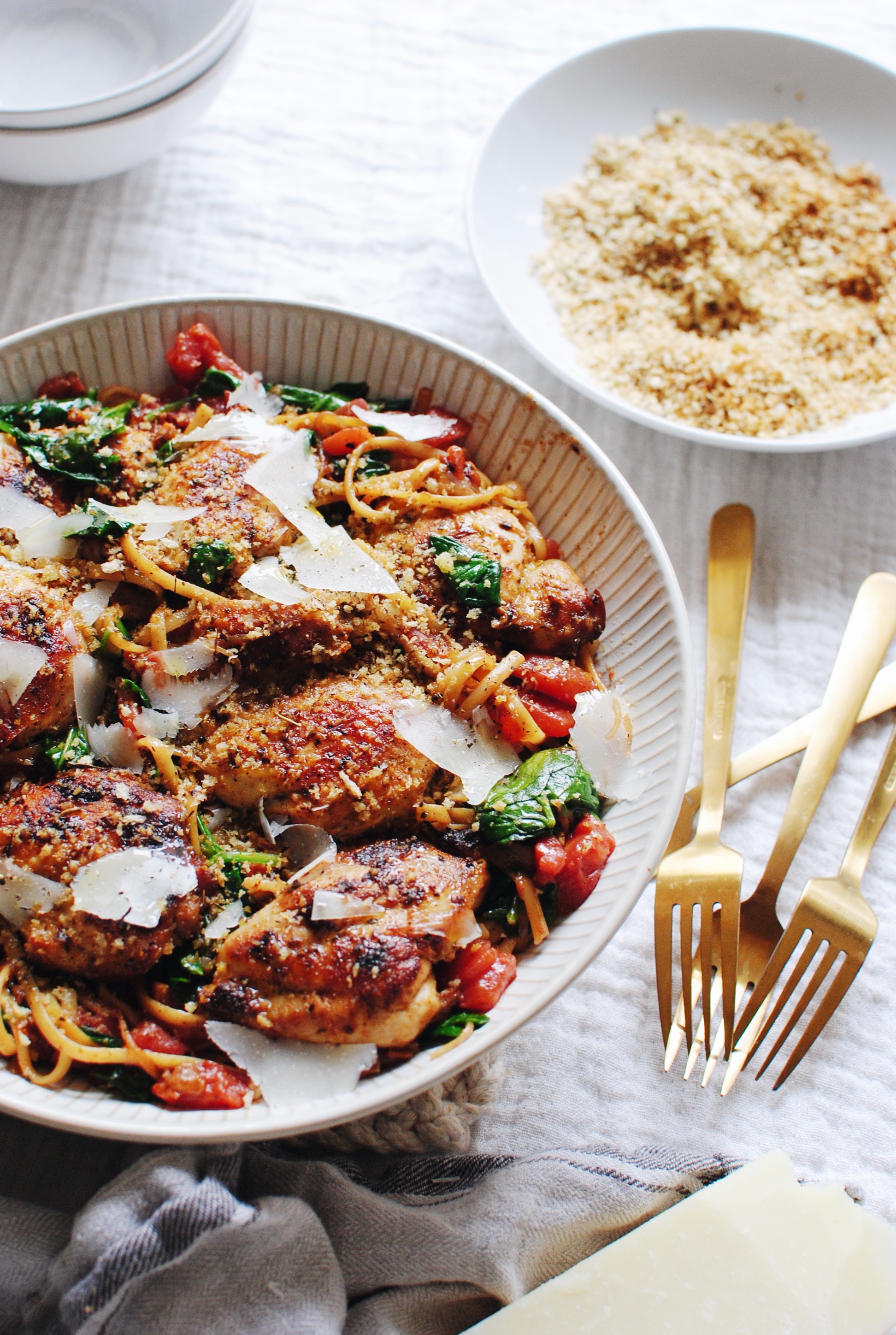 Waaaaaaaaah.
OH MY GOSH THE PANKO. I totally spaced that.
So, in a small skillet, toast about a cup of panko with a pat of butter and a pinch of salt. Easy sleasy. Wait.
Once the panko is golden brown, take it off the heat because you don't want it to burn and curse my name. I can't have that on my plate today. I already have to wash my hair, so.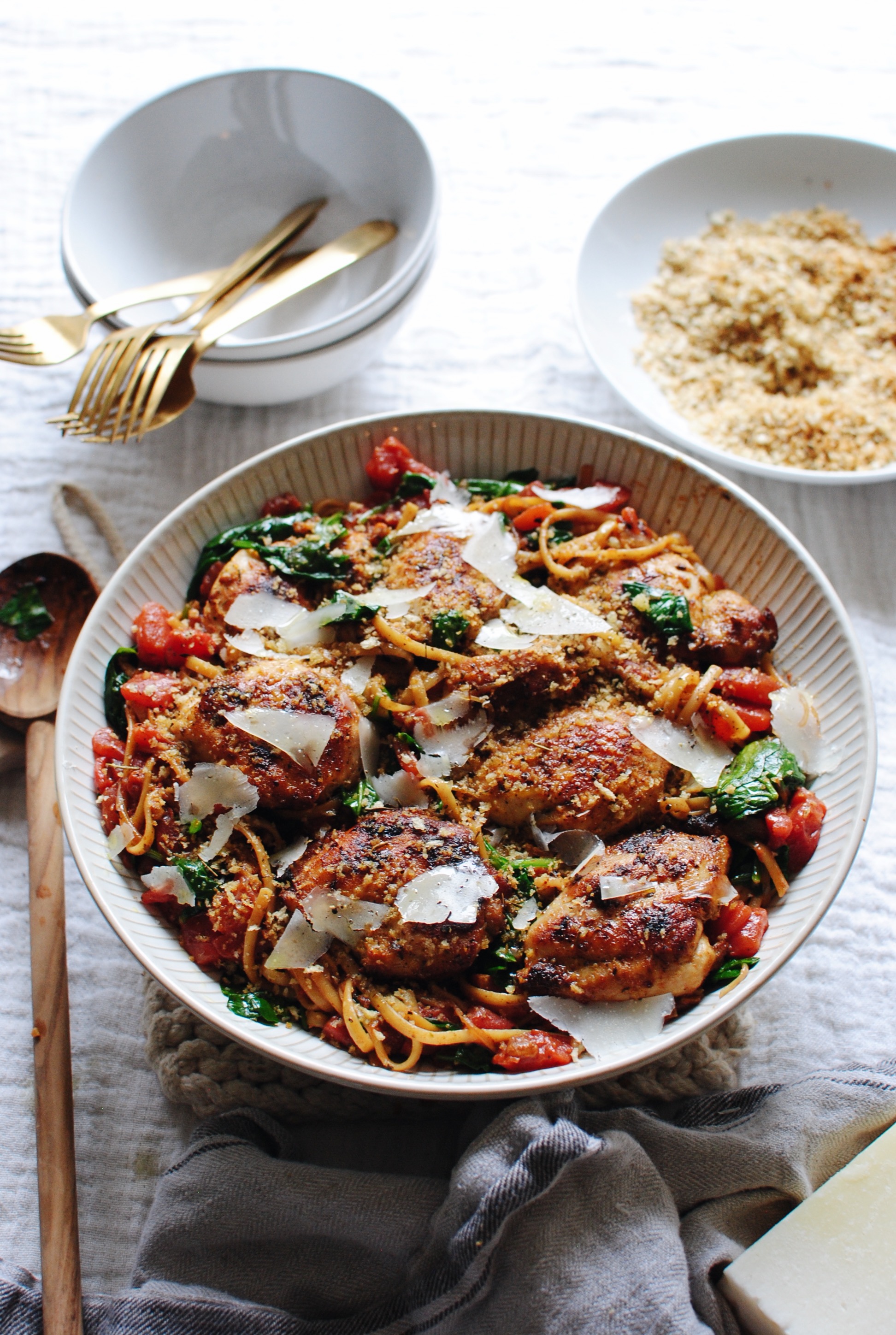 Sprinkle the whole deal with crunchy panko! Add some enormous shavings of parm. And give it all a good squeeze of lemon juice at the end, because you know my rule about citrus at the end of anything and everything – it wakes it up! SO WAKE IT UP.
We don't want the snooze button on this dinner, do we? AHHAAHAHAHA. Ha hah ah a hash ash aha.
…hello?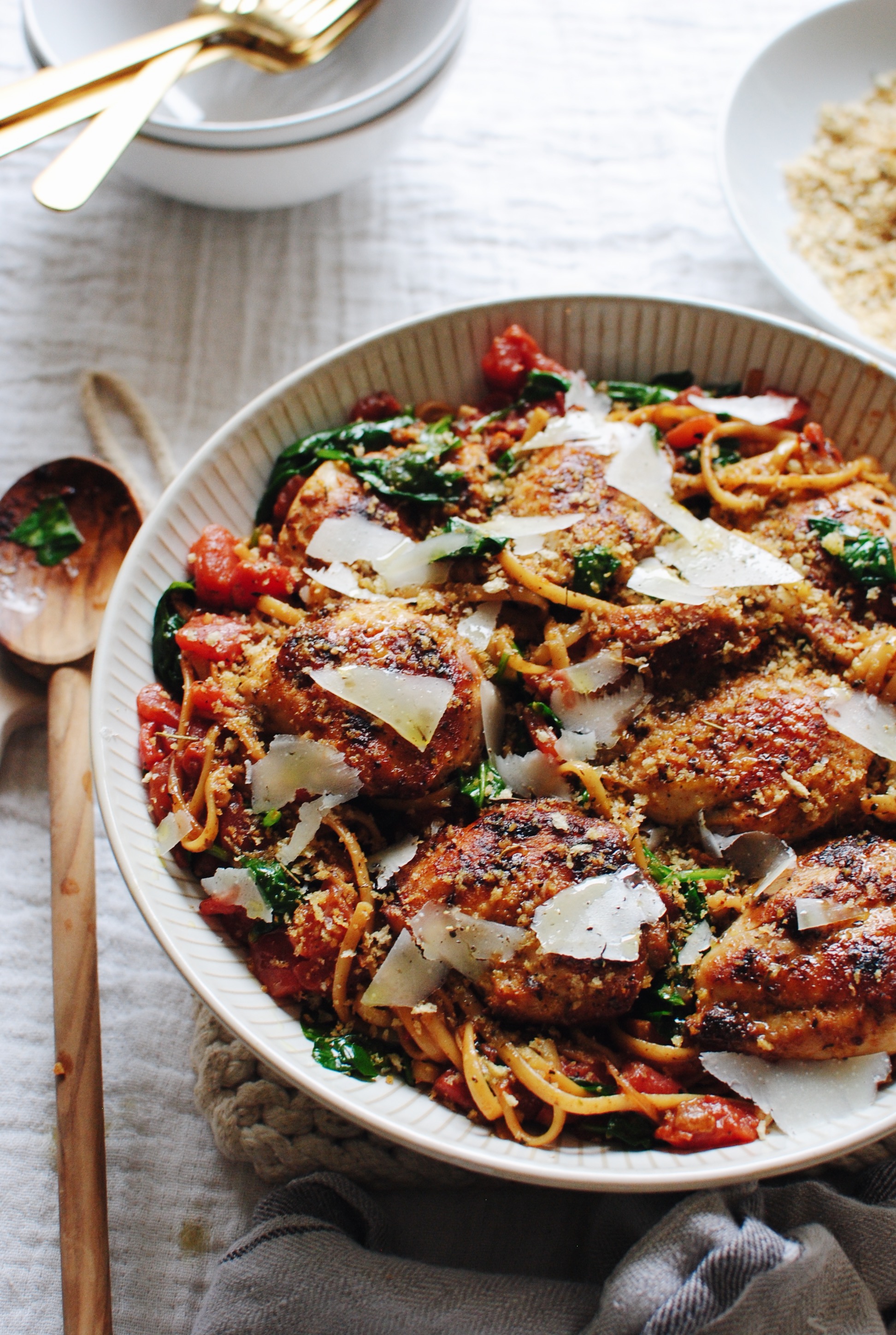 Snuggle up.
Linguine with Chicken, Tomatoes and Spinach
Ingredients
6-8 chicken thighs
2 Tbs. dried Italian seasoning
2 tsp garlic powder
2 tsp onion powder
2 tsp coarse salt
2 Tbs. extra virgin olive oil
2 Tbs. freshly lemon juice
12 ounces of linguine
2 shallots, chopped
3-4 garlic cloves, minced
1 (14.5 oz) can diced fire-roasted tomatoes, drained (you don't have to drain it if you want more of a tomato sauce)
5 oz baby spinach
1 cup panko breadcrumbs
3-4 Tbs. butter (divided)
1/4 cup freshly grated parmesan cheese, plus extra or garnish
1 lemon
Salt and pepper
Instructions
In a large plastic bag, add the chicken thighs, Italian seasoning, garlic powder, onion powder, salt, oil, and lemon juice. Seal it up and rub the chicken with the marinade so that everything is coated. Place the bag on a plate (to avoid any spills) in the fridge for at least an hour.
Melt a Tbs. of butter and a Tbs. of extra virgin olive oil in a deep pot over medium-high heat. Add the chicken and sear on both sides, until nice and browned all over, about 10 minutes total. Remove the chicken from the pot and set aside.
To the pot, add the chopped shallots. Sauté for about five minutes, until they begin to soften and brown. Add the minced garlic and a pinch of salt. Sauté the veggies for another 30 seconds or so until the garlic is fragrant. (If you need to add more oil, go right ahead.)
In the meantime, bring a large pot of salted water to a boil. Cook the linguine until al dente. Transfer the cooked pasta to the other pot (with the veggies), and stir in the tomatoes and spinach. Add about a cup of pasta water to the pot and toss, wilting the spinach. Season it liberally with a pinch of coarse salt. Add a Tbs. or 2 of butter and the parmesan cheese. Toss again, melting the butter. Nestle the chicken back in the pot.
In the meantime, toast the panko with the remaining Tbs of butter and a pinch of salt, until the panko becomes golden brown. Transfer to a small bowl.
Serve the chicken pasta family style, garnished with the crunchy toasted panko, extra parmesan shavings, and a good squeeze of lemon juice.
You may now jump in.
Serves 4!
7.8.1.2
119
https://bevcooks.com/2017/11/linguine-chicken-tomatoes-spinach/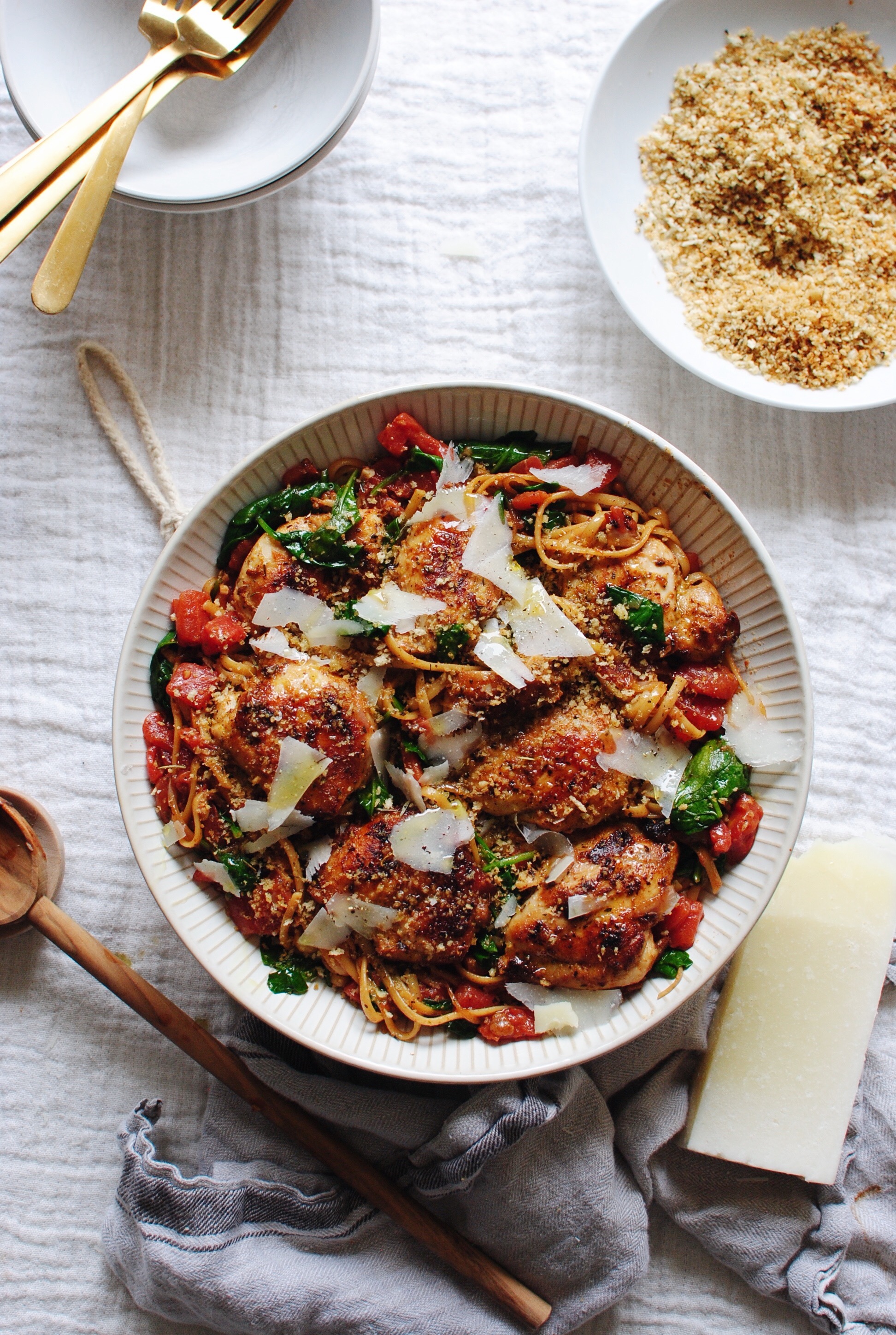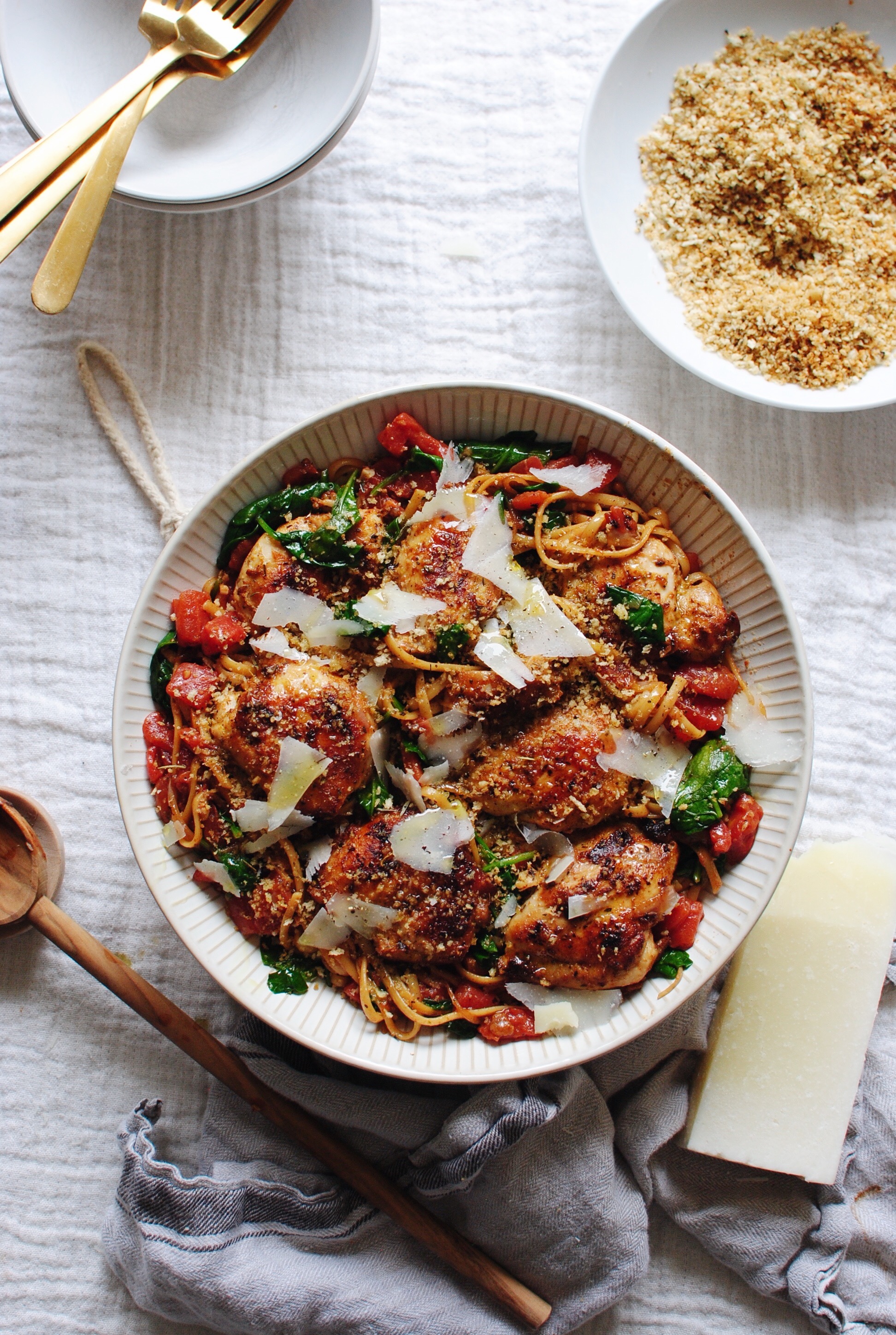 We're okay now, right?