I don't really know why I call it Thai. The coconut? The coconut!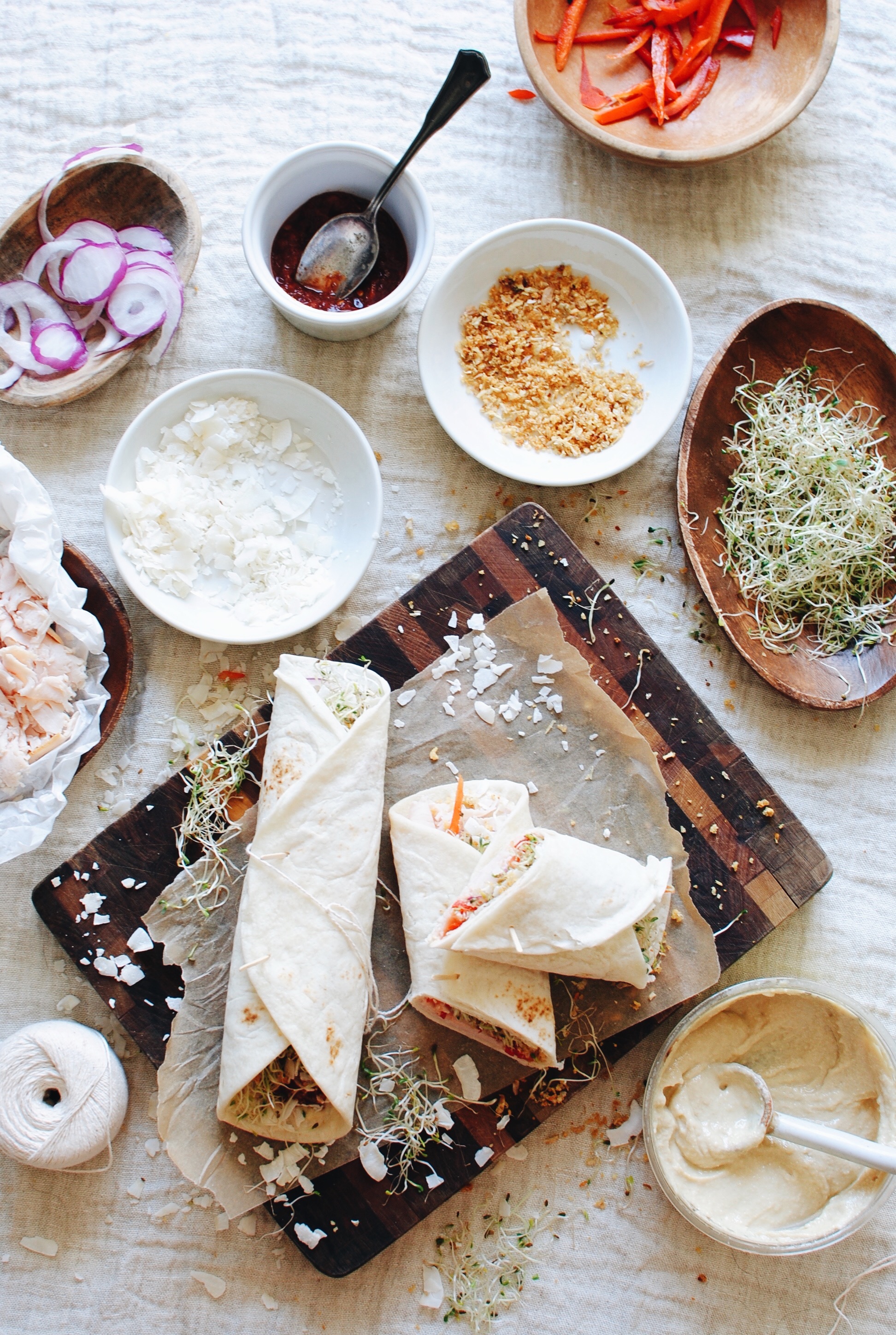 This is a quick lunch that I've been making for a few months now, and it never occurred for me to put it on the blog until semi recently when my noggin woke up from a ding dong coma. DUH, you guys would totally dig this.
I know it seems like A LOT. All the ingredients. All the layering. But check it, it's seriously stuff you probably already have in your pantry/fridge. So once you get the hang of the build, this ain't no thang.
Let's discuss.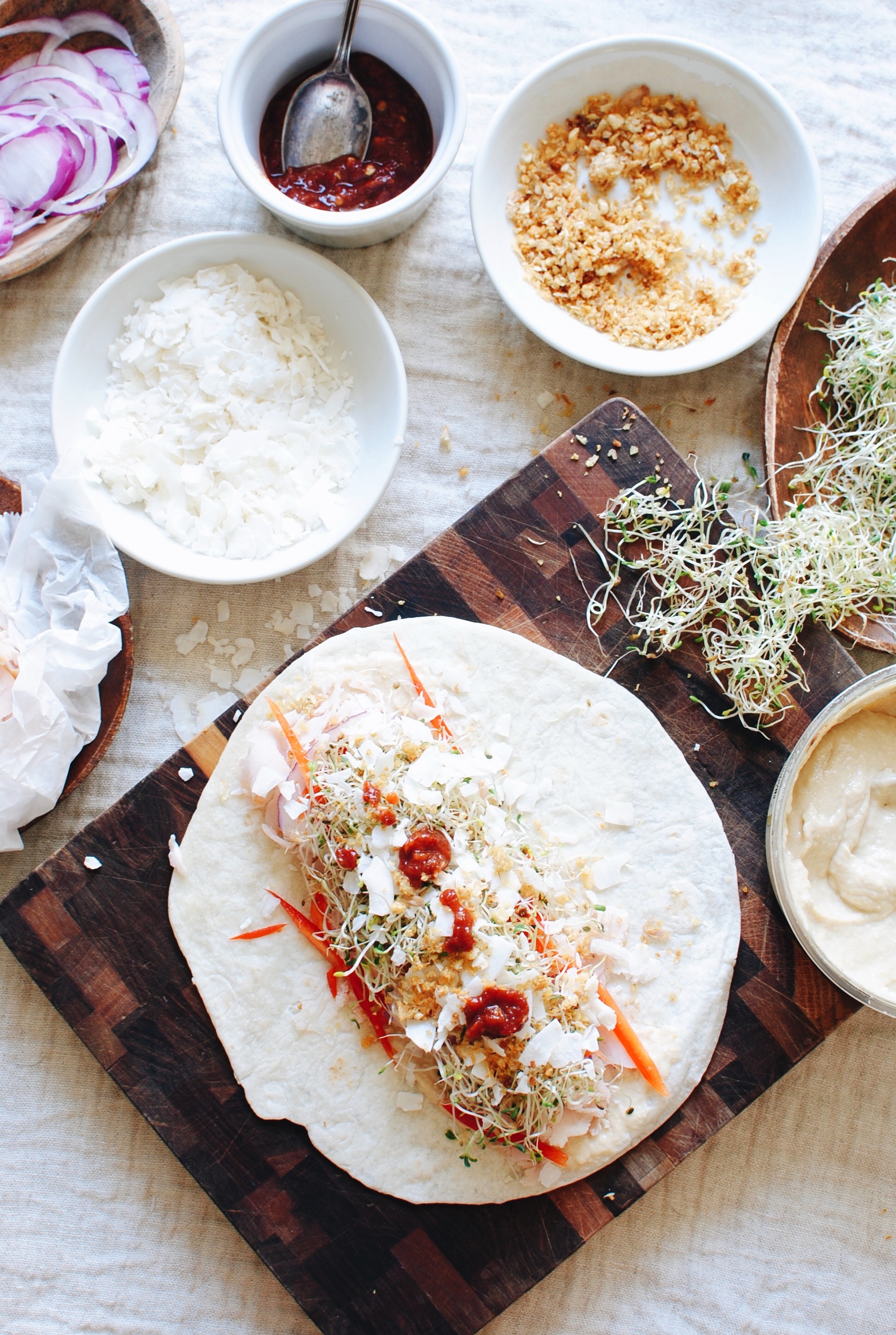 It's lunchy, so I always use deli turkey. From the counter, you know. From Sam the Butcher.
But! You start with a smear of hummus. A hummus smear. (<–sorry) Then on top of that, your turkey. (Maybe smoked? Check yo'self.) Then it goes like this:
Thinly sliced red onion, thinly sliced red bell pepper, alfalfa sprouts, shaved coconut, fried garlic, and a few tiny dollops of sambal oelek. More if you're James Dean.
You could eeeeven add fresh mint, omg. I'm adding mint today. I'm adding mint right now.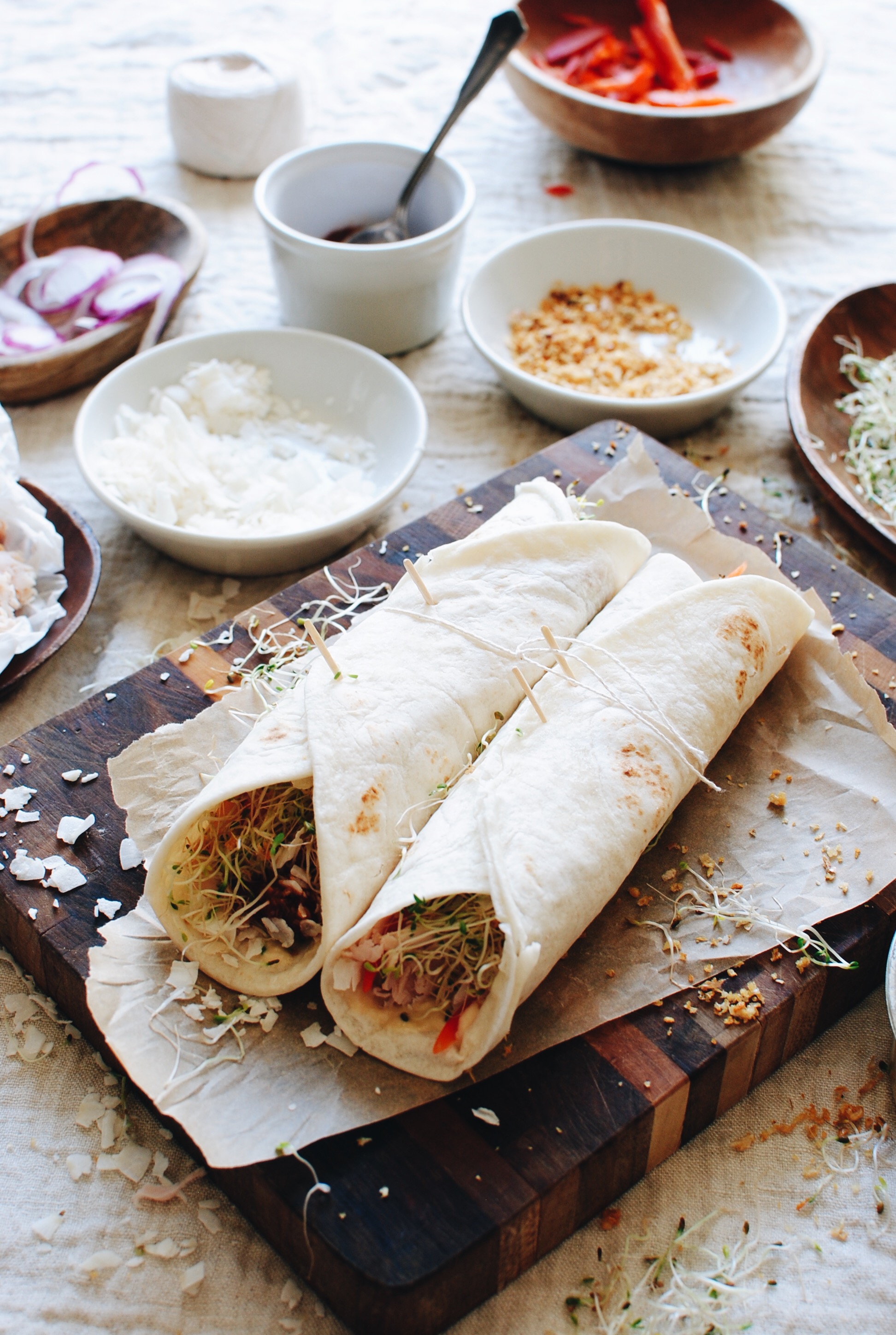 And then roll it up in a tortilla! (Pardon this awful photo. I forgot to use a bounce card because I was playing Lilith Fair music, altering my brain activity. And I'm a lazy sum-b.)
YOU KNOW WHAT (sorry to scream), these particular tortillas were medium sized, but in the past I've used the big'ns. You could even do Spinach tortillas! Anything you want, pigeon.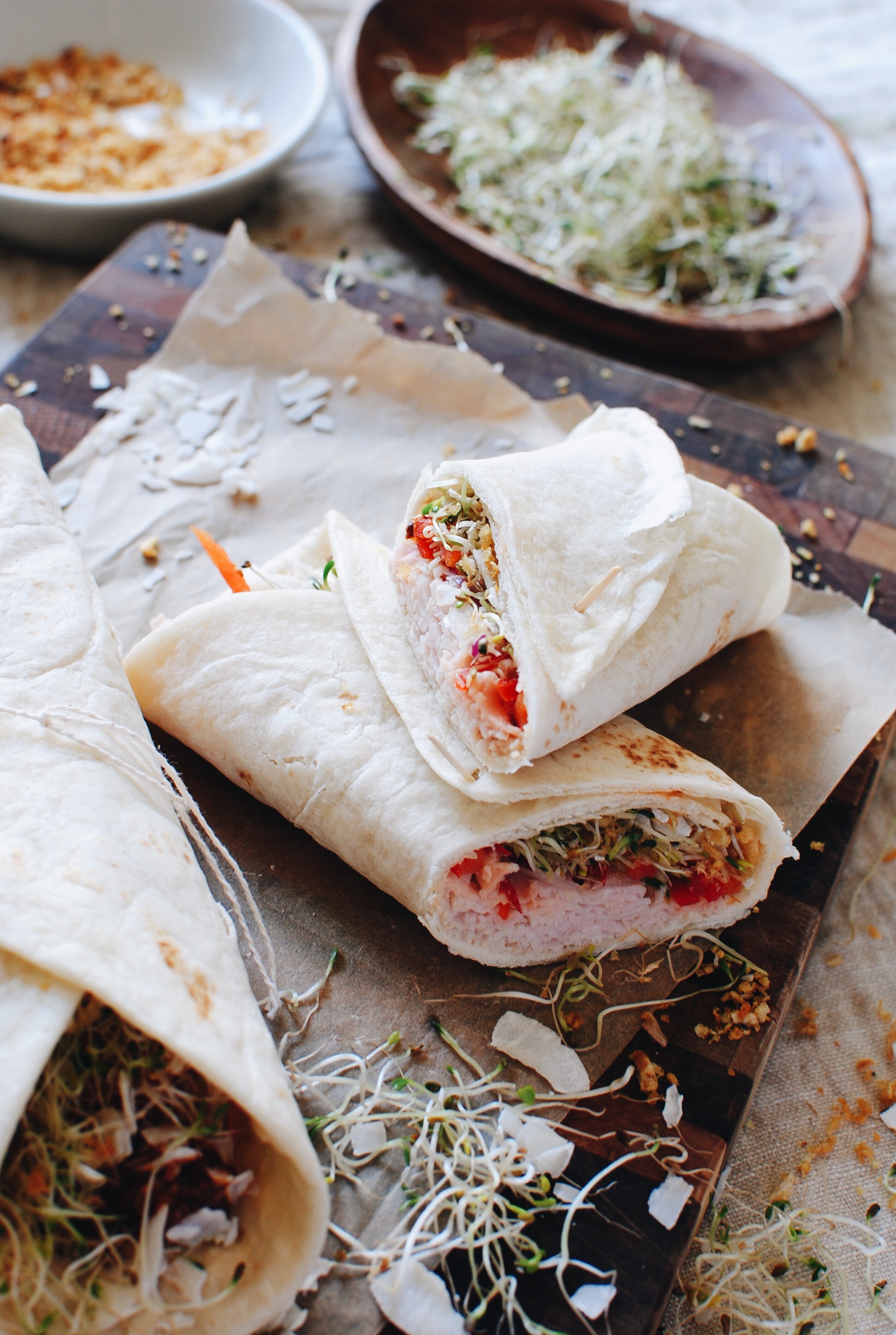 I know you're like, WHAT IS THIS MAGICAL, CRUNCHY FRIED GARLIC YOU SPEAK OF. It's this. But there are tons of brands, so just look in your Asian food aisle, and I bet it'll jump right off the shelf and smooch ya.
Also, a note on the coconut – you could totally toast it if you want! Sometimes I do, sometimes I don't. It just depends on the mood of my soul fairies at that particular moment.
Another quick tip – you can slice your onions and peppers early in the week and throw them in a baggie for swift grabbage. Hey, let's start a band called Swift Grabbage! We suck.
These are seriously amazing. Light, crunchy, a little spicy, ugh.
OH AND – I serve these cold. Tortillas are cool, the innards are cool, – it works for summer life.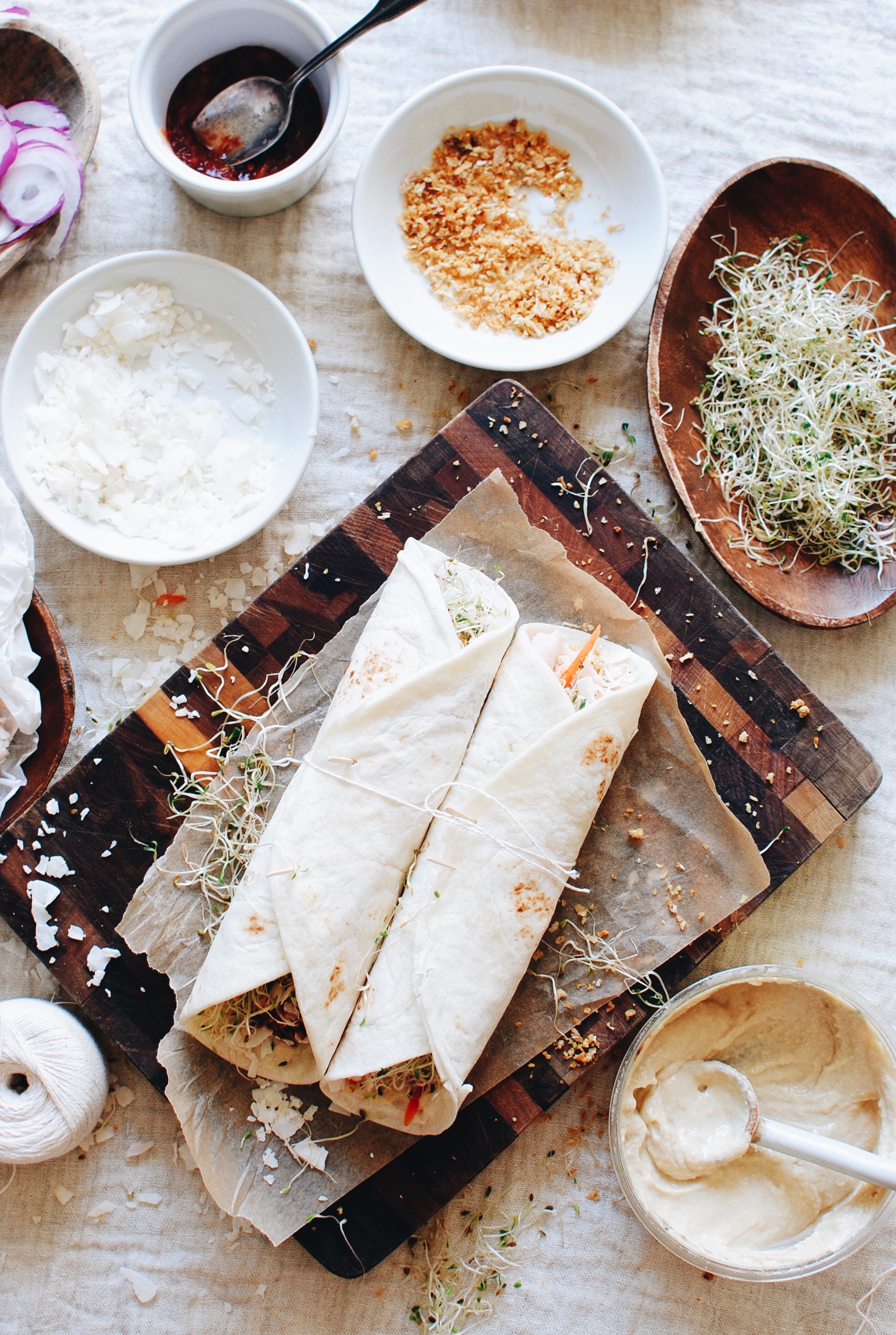 Or anytime life.
Ingredients
4 medium to large flour tortillas
4 Tbs. hummus (flavor of your choice)
1/2 pound sliced deli turkey
1/3 cup thinly sliced red onion
1 red bell pepper, seeded and thinly sliced
1 cup alfalfa sprouts
1/2 cup shaved coconut (toasted, if desired)
fried garlic (about 1/3 cup, give or take)
A few dollops of sambal oelek (Sriracha sauce works, too)
Instructions
In the center of each tortilla, spread about a Tbs. of hummus. Layer with deli turkey, red onion, red bell pepper, sprouts, a sprinkling of coconut, fried garlic, and a few dollops of sambal oelek. The amounts are really up to you. Go big, go little, whatever.
Tightly roll up each wrap and secure with a wooden toothpick. Slice in half on the diagonal and shove it in your face.
Makes 4 wraps.
7.8.1.2
100
https://bevcooks.com/2017/07/thai-turkey-lunch-wrap/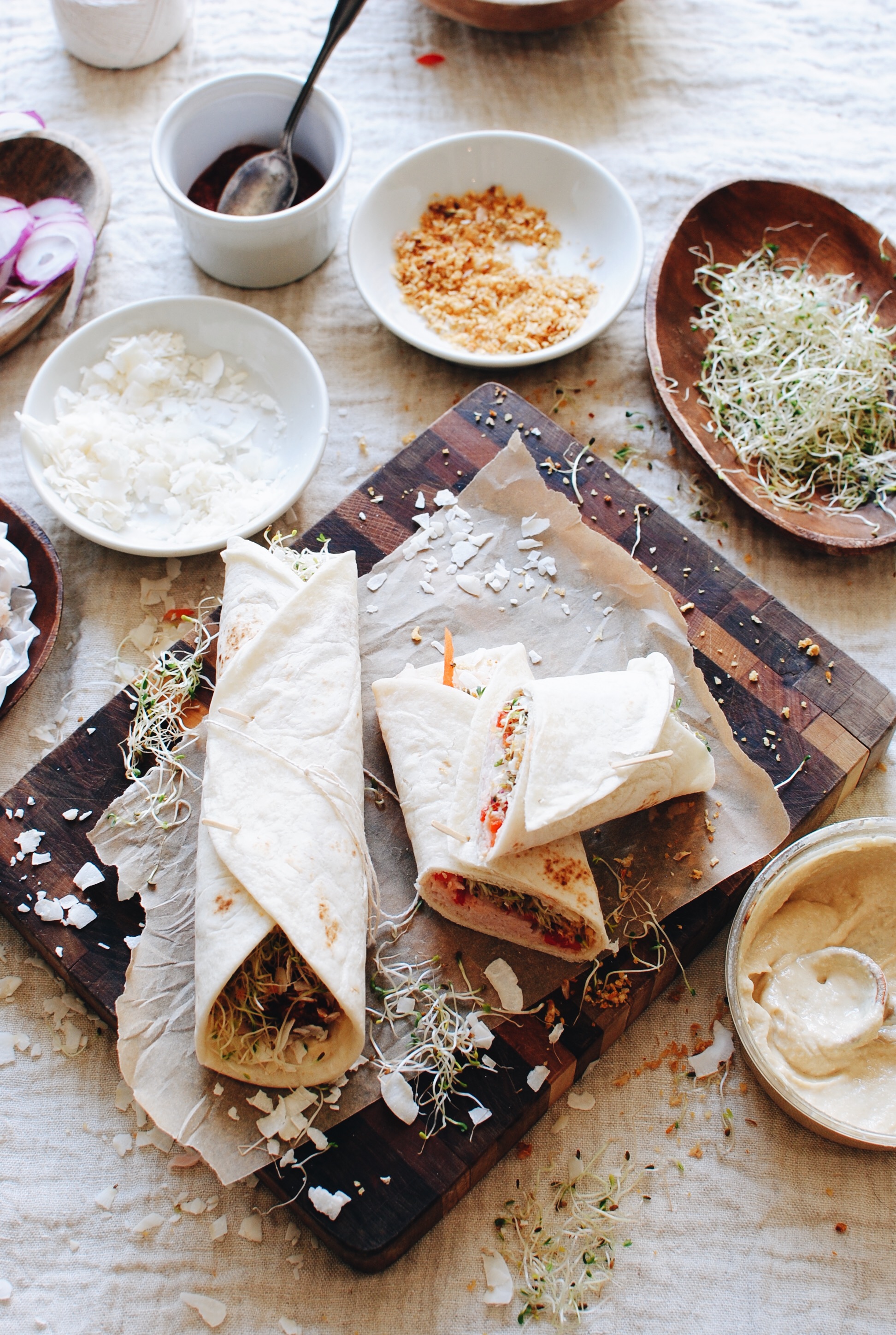 This is totally Thai, right?