AS IN, you can make this today or right now.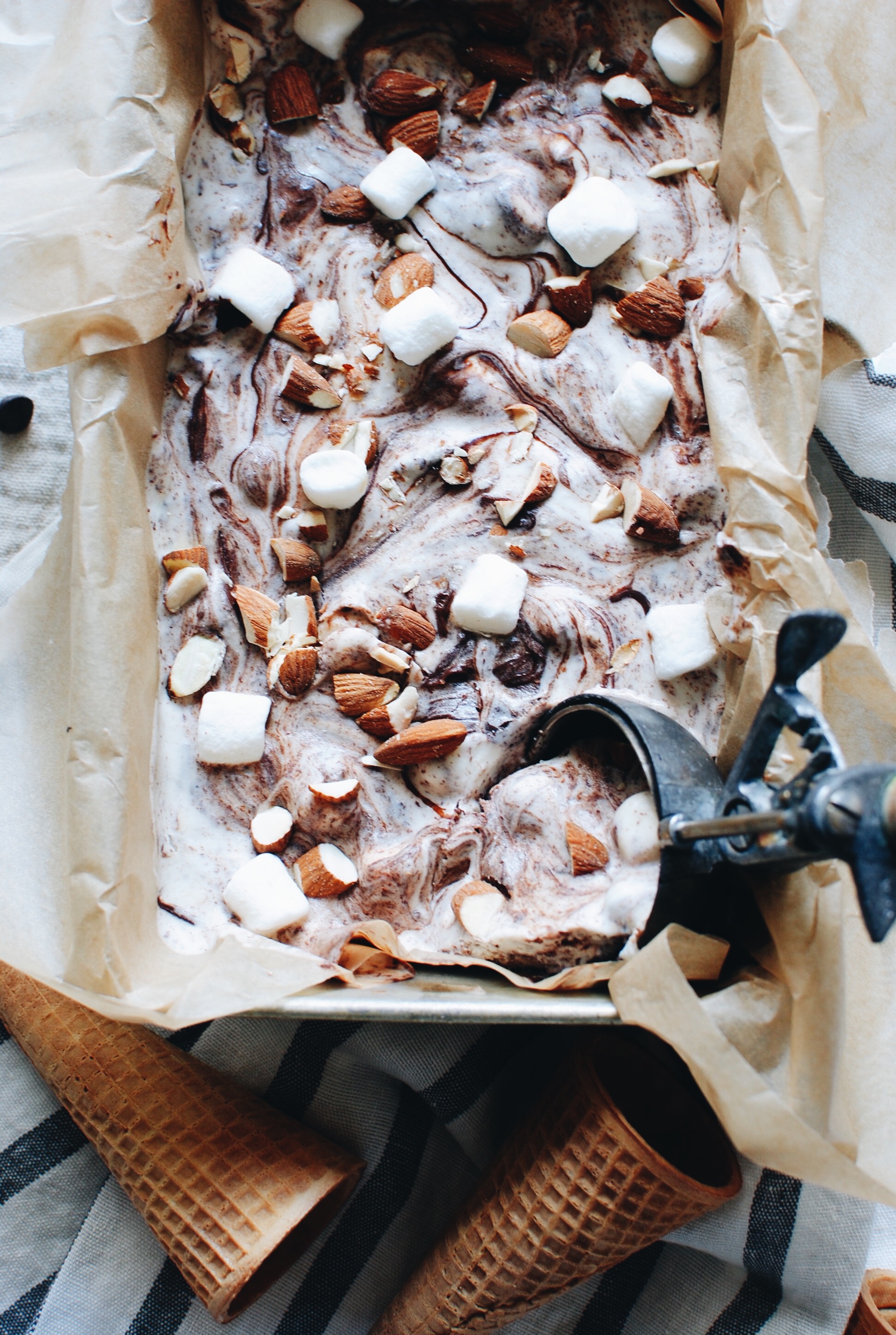 Listen, it's the second half of the summer. The heat and humidity have maliciously teamed up to make every waking second of our lives A YUCKY, SLOPPY, STICKY LIVING HELL.
Revenge?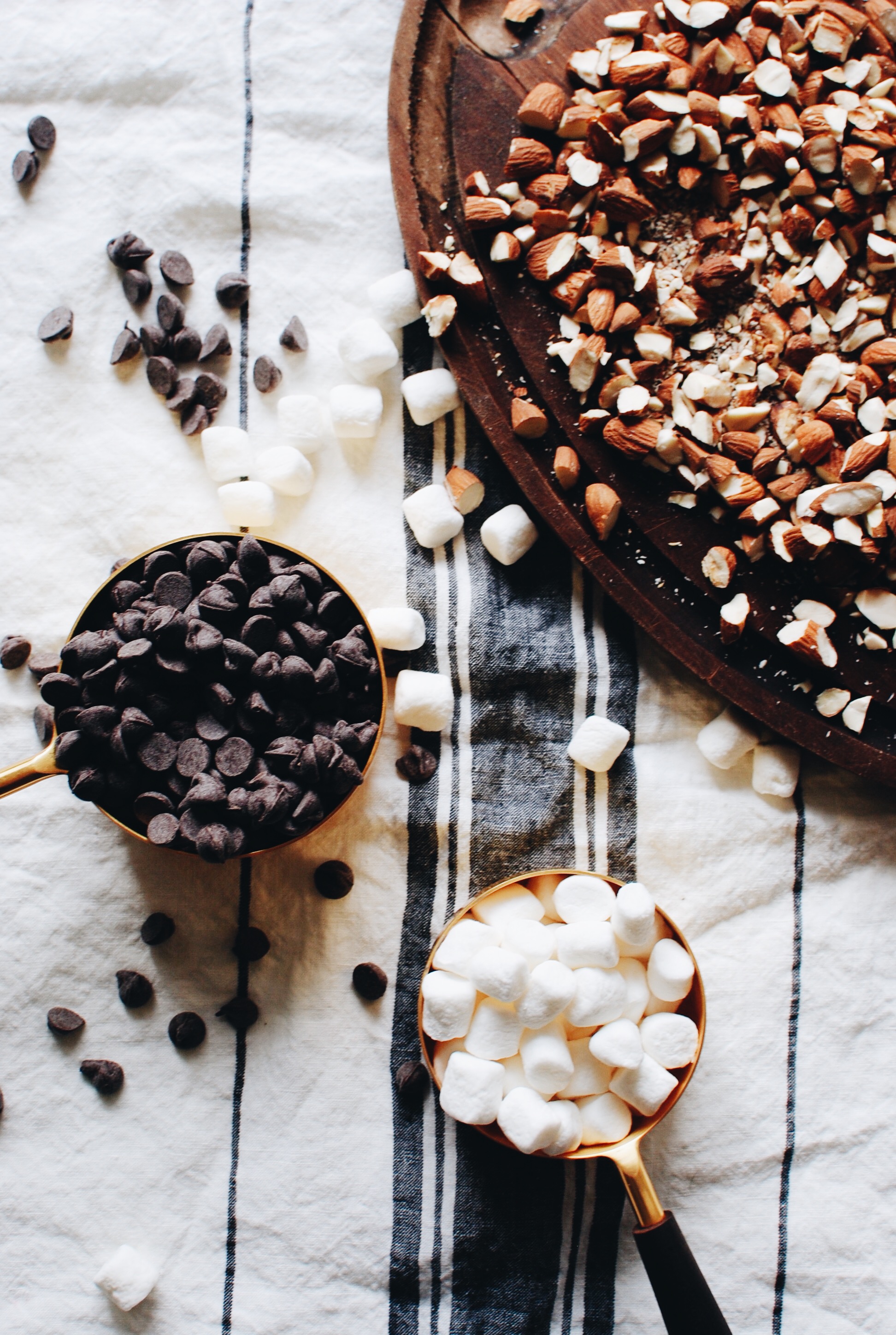 Now traditionally, I do know that rocky road ice cream simply consists of chocolate ice cream, almonds and marshmallows. Yawn.
I wanted swirls, man! So I made you swirls. And I feel like you're not gonna be super peeved about it.
But! If you want to avoid swirls like a weirdo, then you can keep stirring until you get straight up chocolate ice cream. Which okay, isn't horrible.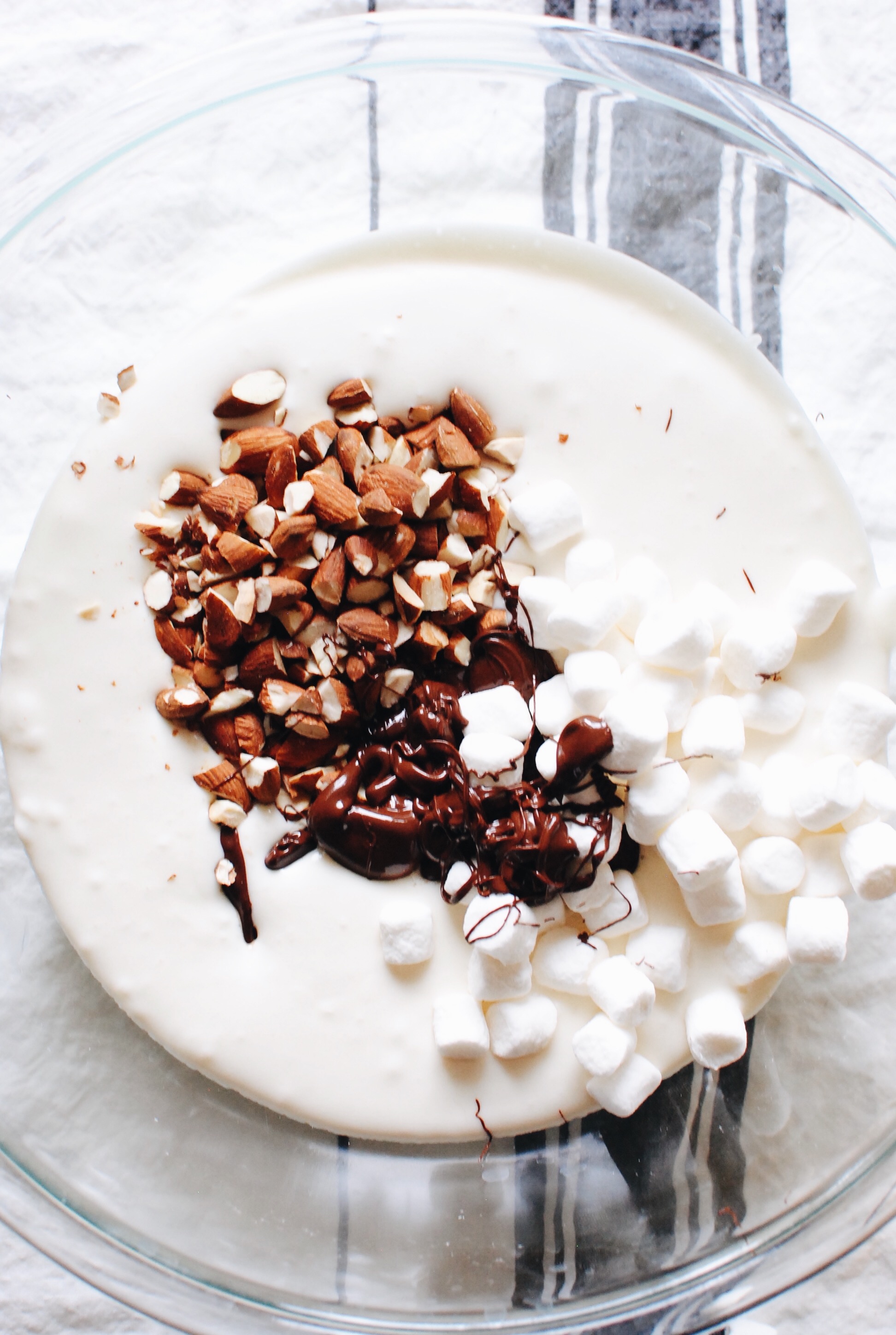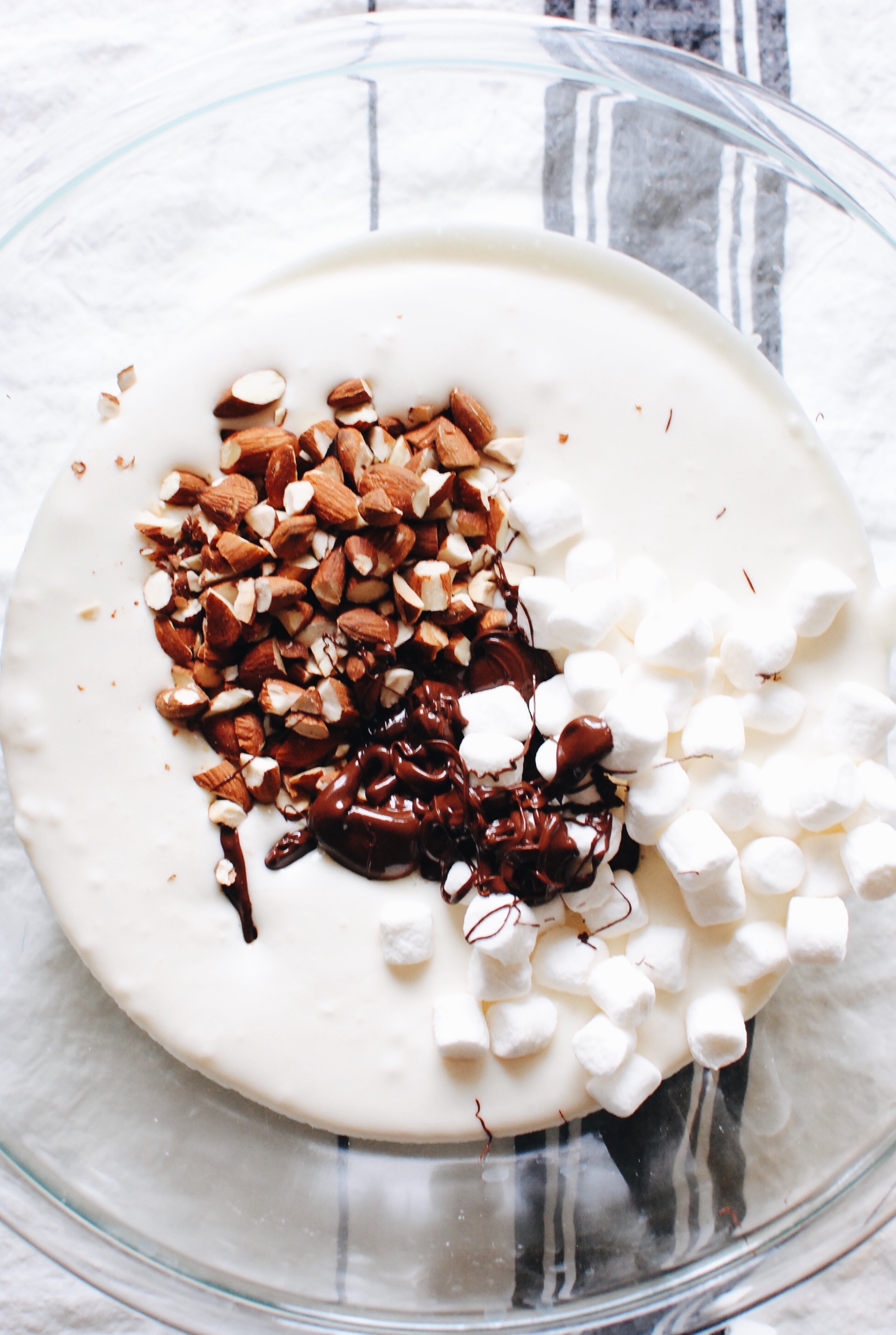 This recipes takes a good few hours, all of which are brutally laborious and hands on.
Just kidding.
It's surprisingly painless to pull together! You'll hand mix some heavy cream until you get stiff peaks. I always want to say Twin Peaks. Stiff Twin Peaks. Then you'll pour a full can of sweetened condensed milk (also known as THE BEST DECISION OF YOUR LIFE) into the bowl, with a little bit of vanilla. Mix mix mix until creamy and you can't see through your tears.
Then! You melt some chocolate chips. Pour that in. Then murderously throw in some marshmallows and chopped almonds.
THEEEEN just gently fold it all together until you get some purty surrey with the fringe on top swirls.
Transfer the blessed cream fluff to a freezer-safe vessel of your choice.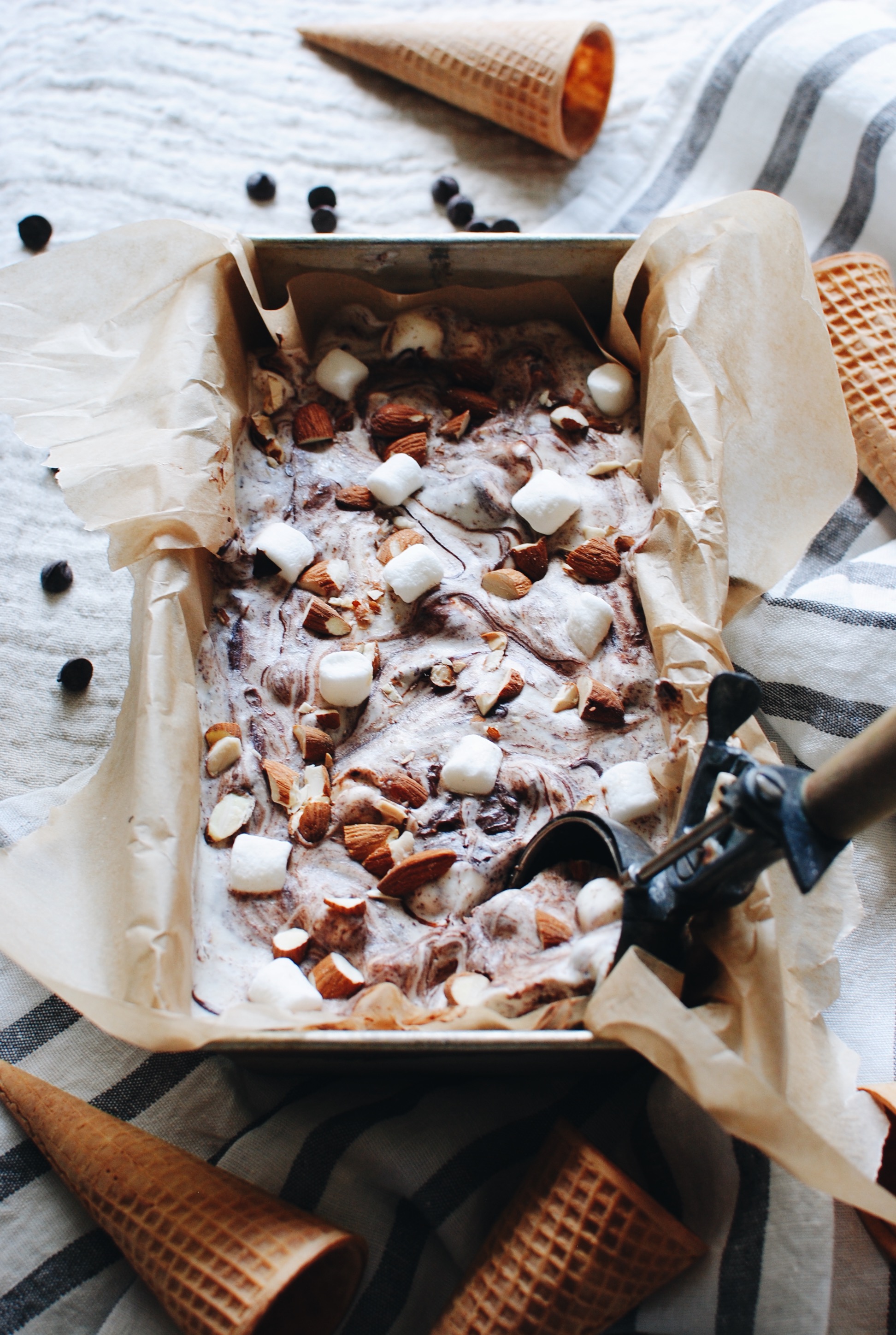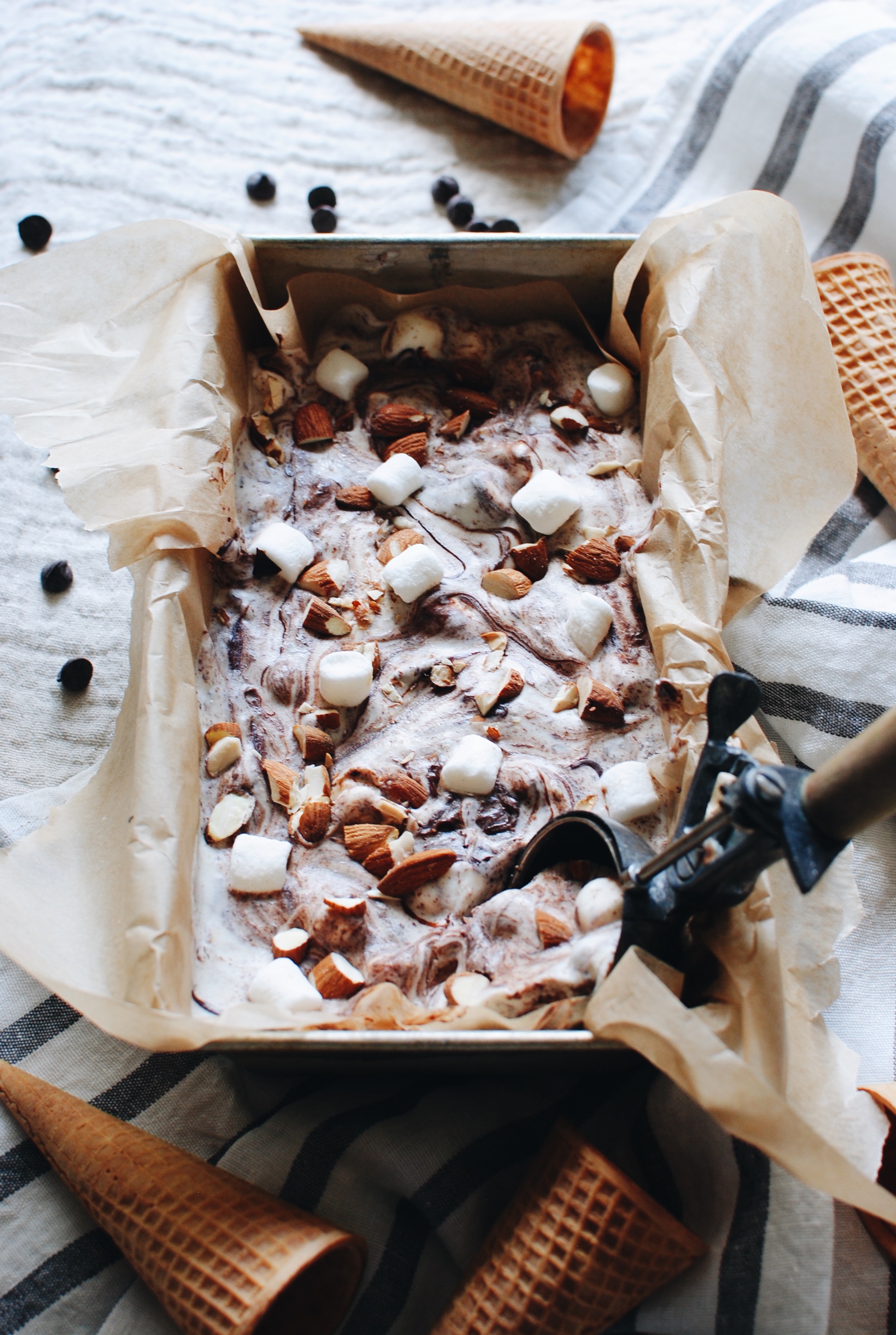 Six hours later. Maybe three hours? Maybe an hour. I don't know. I put it in overnight, so just leave it in until frozen, or until you can't control yourself any longer.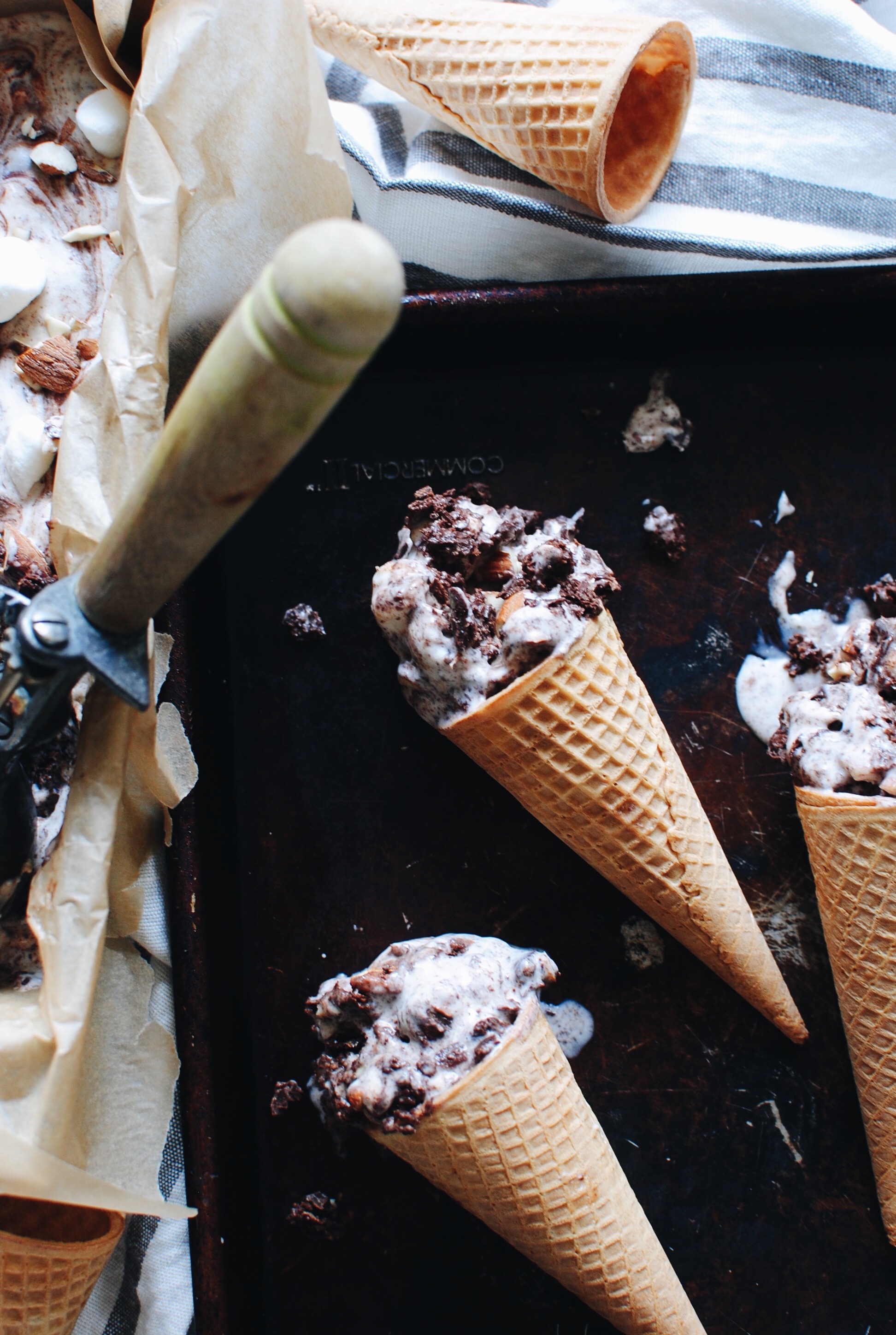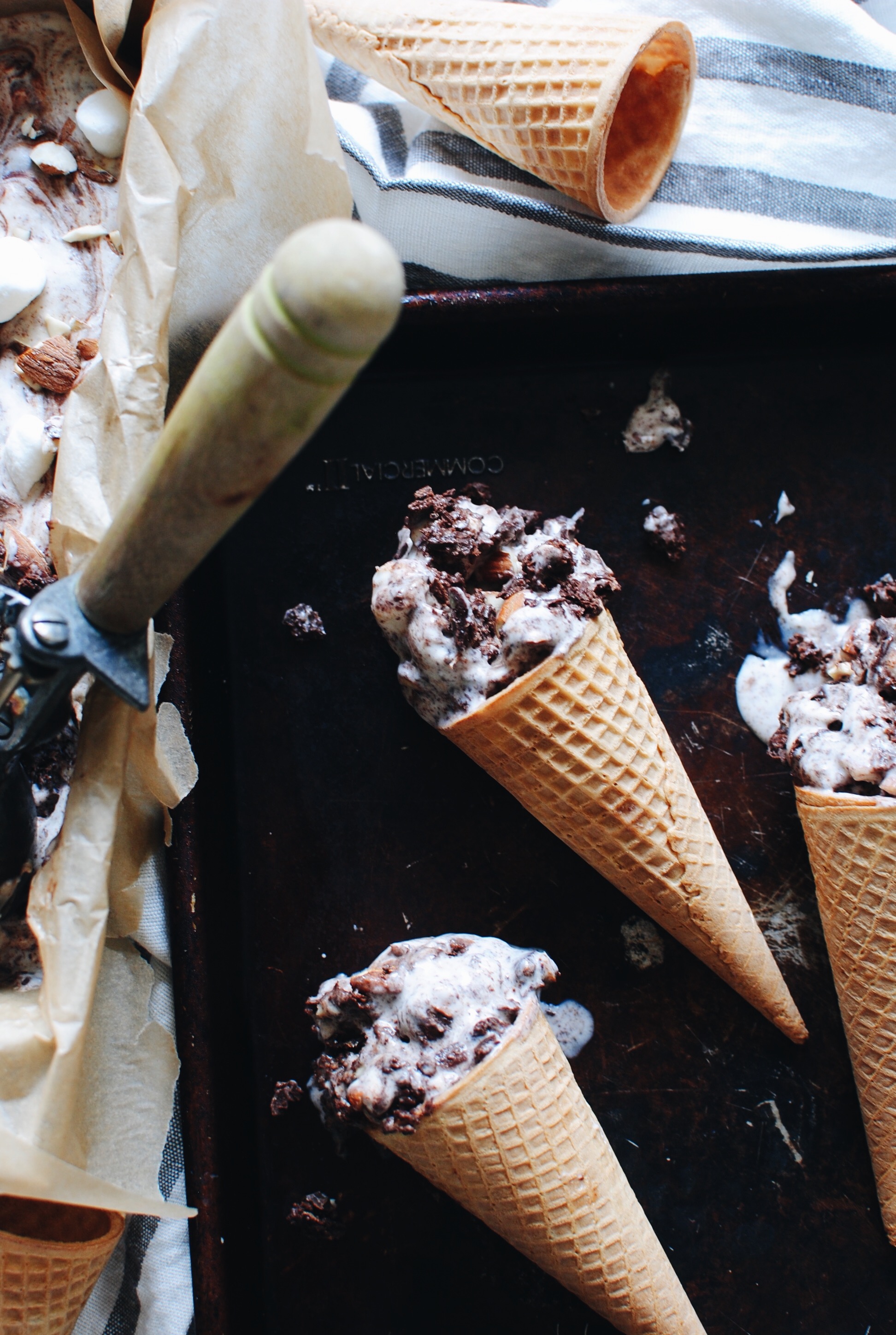 A) I'm not exactly stellar at photographing ice cream, 'mkay.
B) THIS IS RIDICULOUS. The flavor intensity! The crunch! The spongy 'mallows! You can scoop her into bowls, cones, A STOCK POT, I don't care.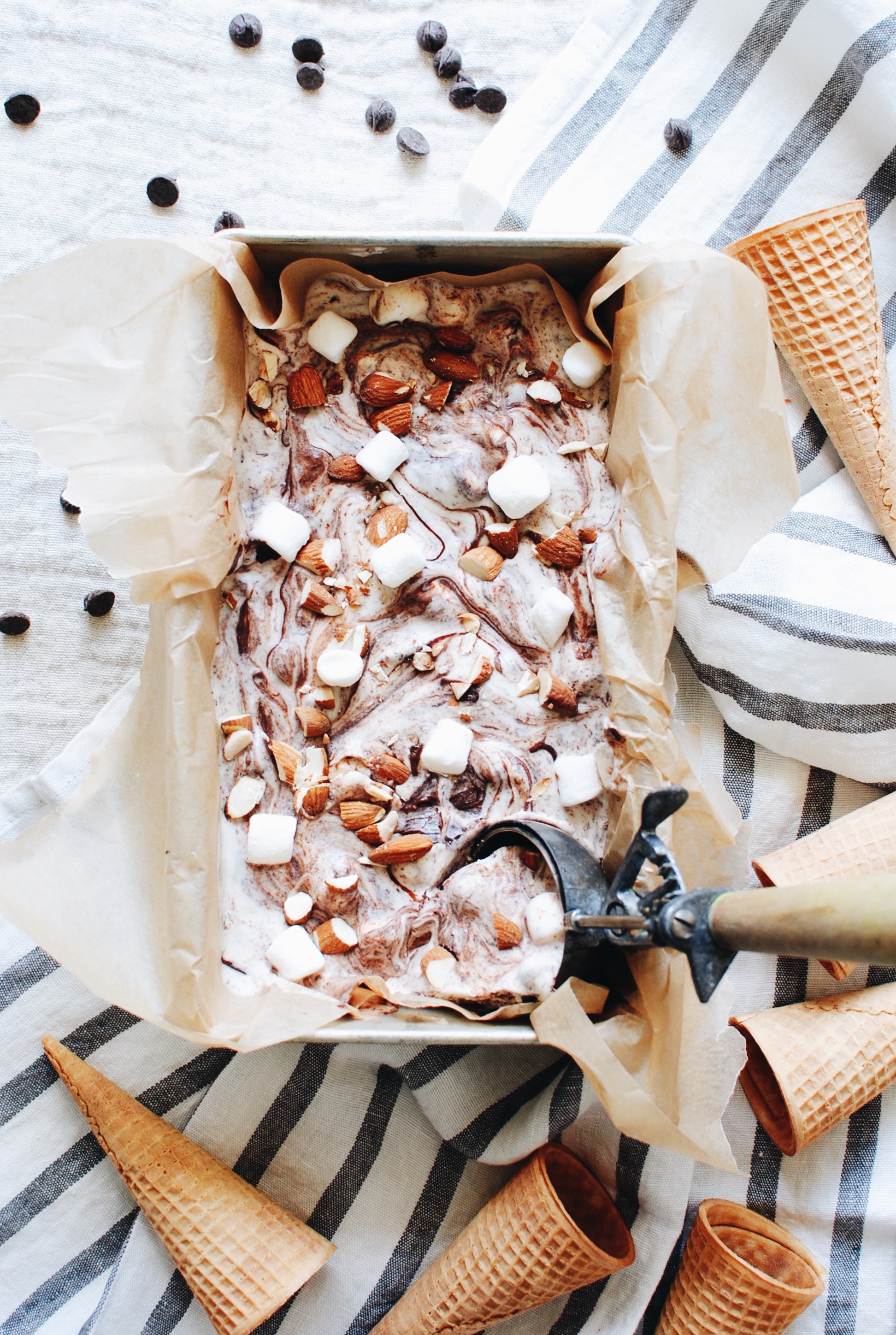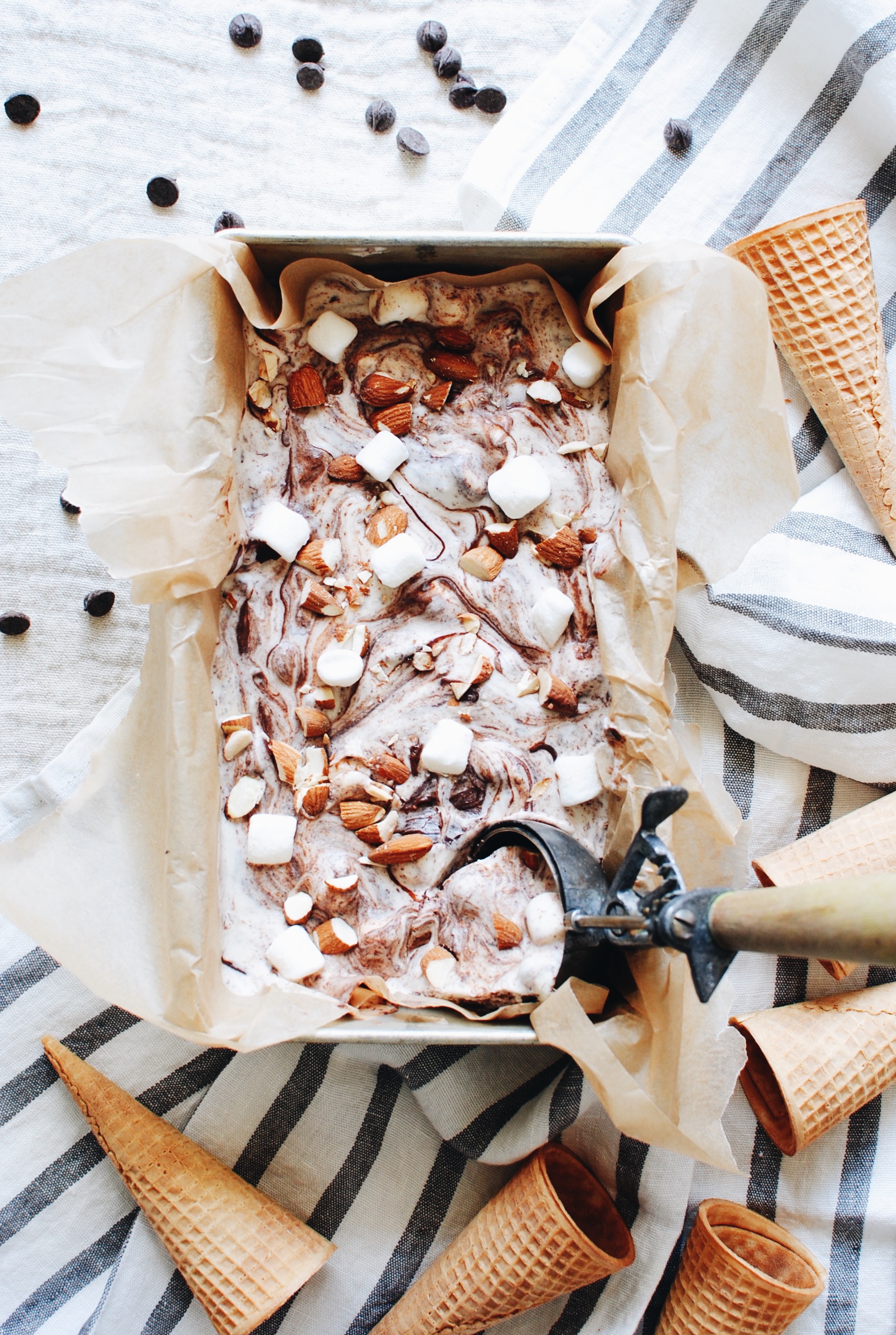 Sweet, sweet (and I mean sweet) revenge.
No-Churn Rocky Road Ice Cream
Ingredients
1 cup heavy cream
1 (14 oz) can sweetened condensed milk
2 tsp vanilla extract
1 1/2 cups semi-sweet chocolate chips
1 cup chopped almonds
1 cup mini marshmallows
Instructions
In a large bowl, using a hand mixer, beat the heavy cream until you get stiff peaks. Slowly pour in the condensed milk and vanilla, and mix until combined and creamy, about a minute.
Melt the chocolate chips until totally smooth, either in the microwave, or in a double boiler on the stove. Once melted, pour the melted chocolate into the cream mixture. Add the chopped almonds and marshmallows, and gently fold until you get the amount of swirls you desire. If you want it straight chocolate, keep folding and stirring until combined.
Pour the mix into a freezer-safe container (I used a meatloaf pan with parchment paper), cover with plastic wrap and freeze for about six hours, or until frozen.
Serve in bowls or cones! Your choice, man.
Serves 6-8.
7.8.1.2
97
https://bevcooks.com/2017/07/no-churn-rocky-road-ice-cream/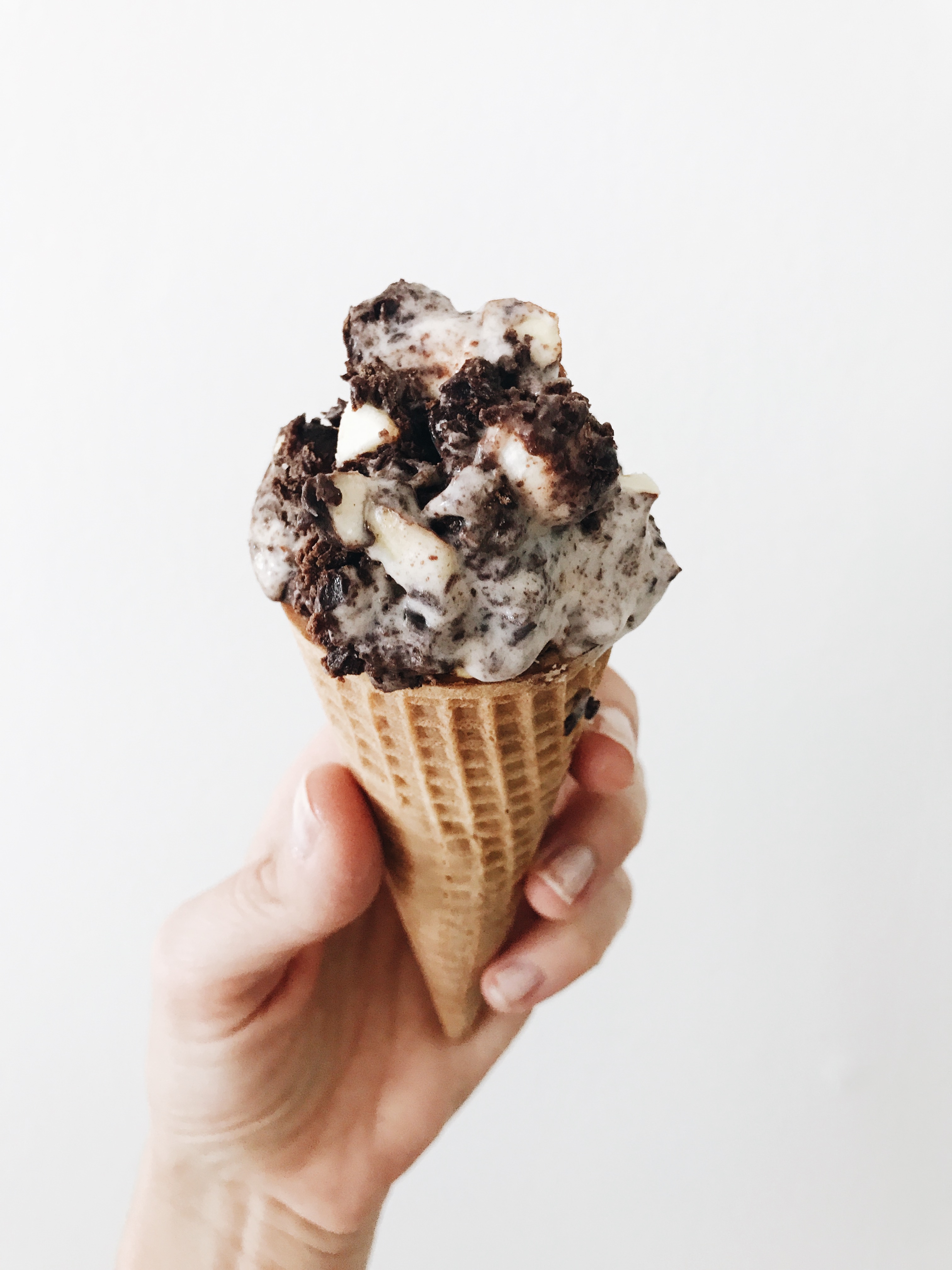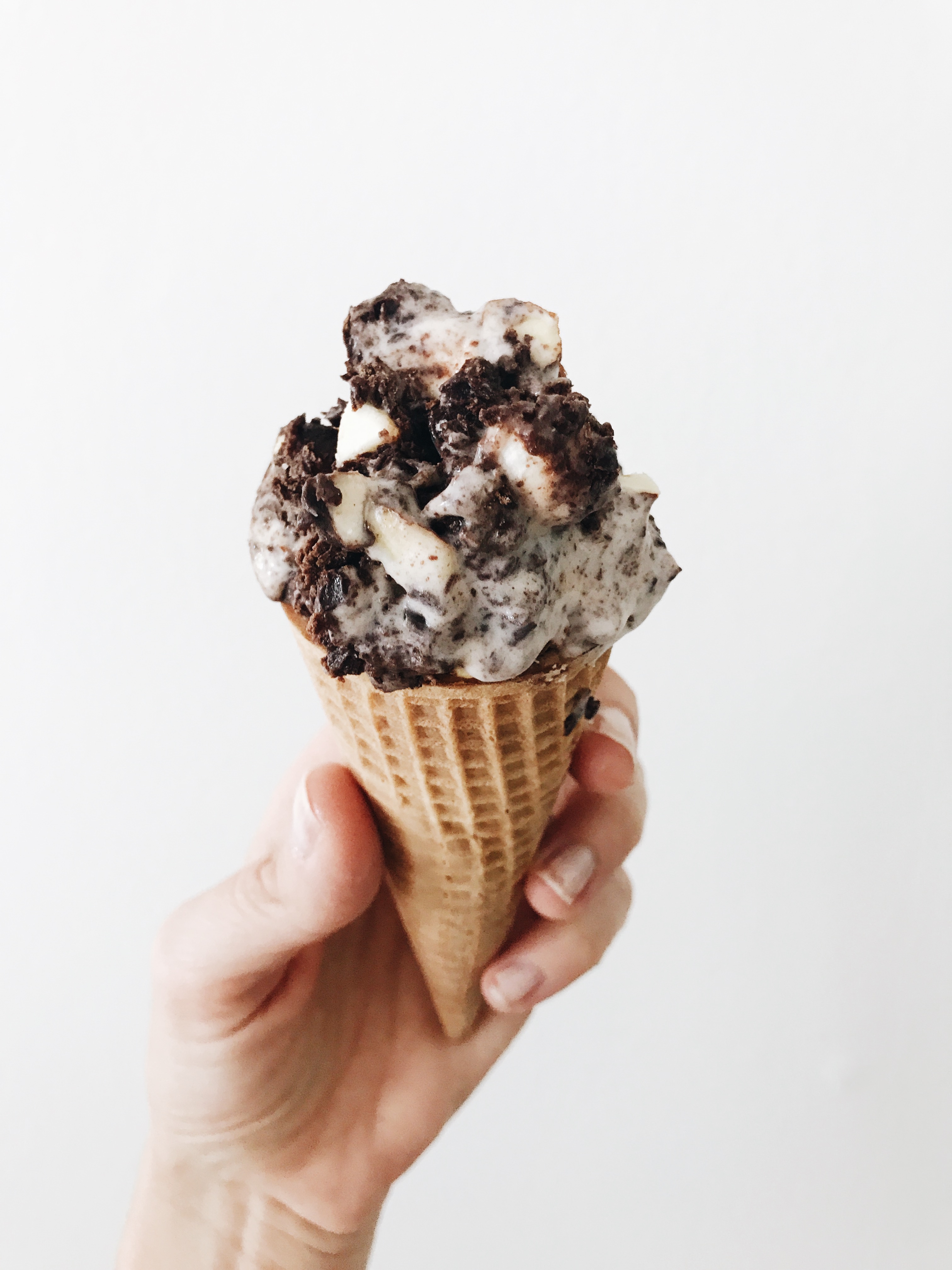 Take THAT, summer.