Let's start summer with butter, 'mkay?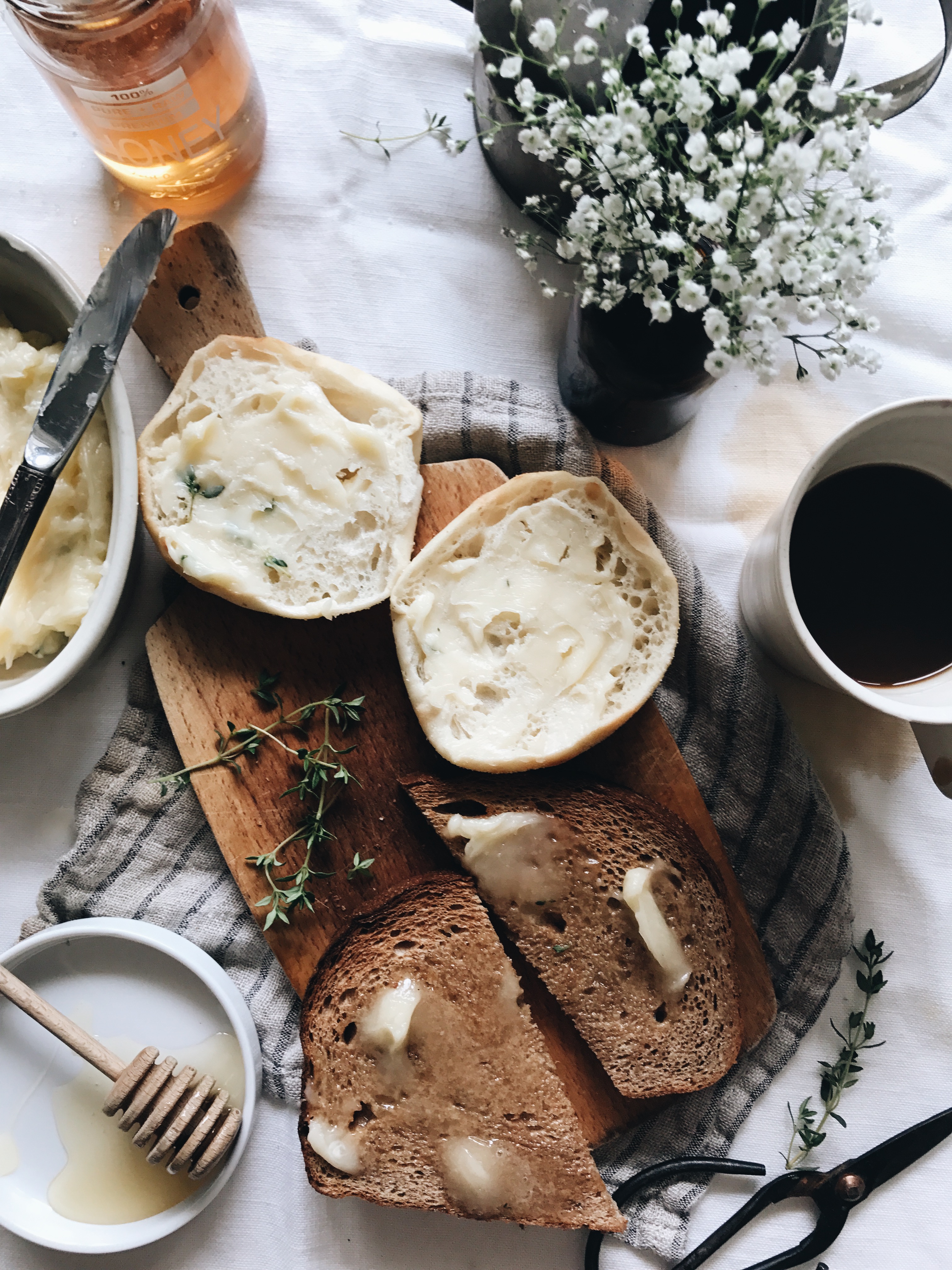 A HONEY THYME BUTTER.
It's almost not even a recipe. It's more like, a way of life.
I'm basically giving you this recipe as a springboard into your future. It will take you places you've never dreamed.
You'll see things you never imagined.
You'll dance like you never danced before.
You'll weep through the night at uncontrollable levels.
And you'll think of me.
Ew. Wait. Butter.
You'll think of butter.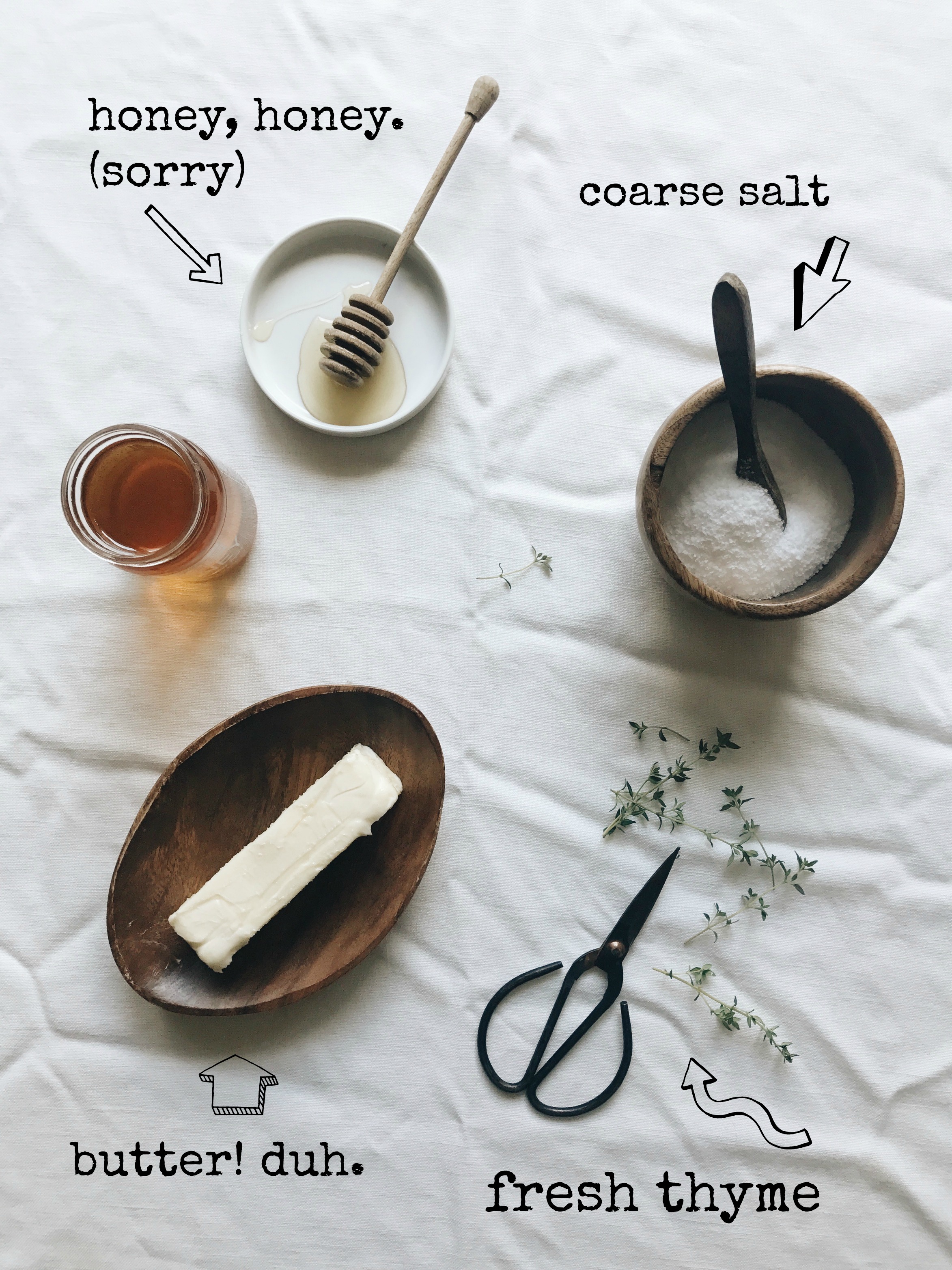 It's ridiculously simple. One stick of unsalted butter + 2 Tbs. honey + maybe a tsp of packed thyme leaves + 1/2 tsp coarse salt.
But this next part is very important! Don't screw this up or you'll regret it forever. Make SURE sure sure that your linen tablecloth is wrinkled while you prepare the butter. It just won't taste the same if it's not creased and wrinkled and a little bit stained in places. Like your soul.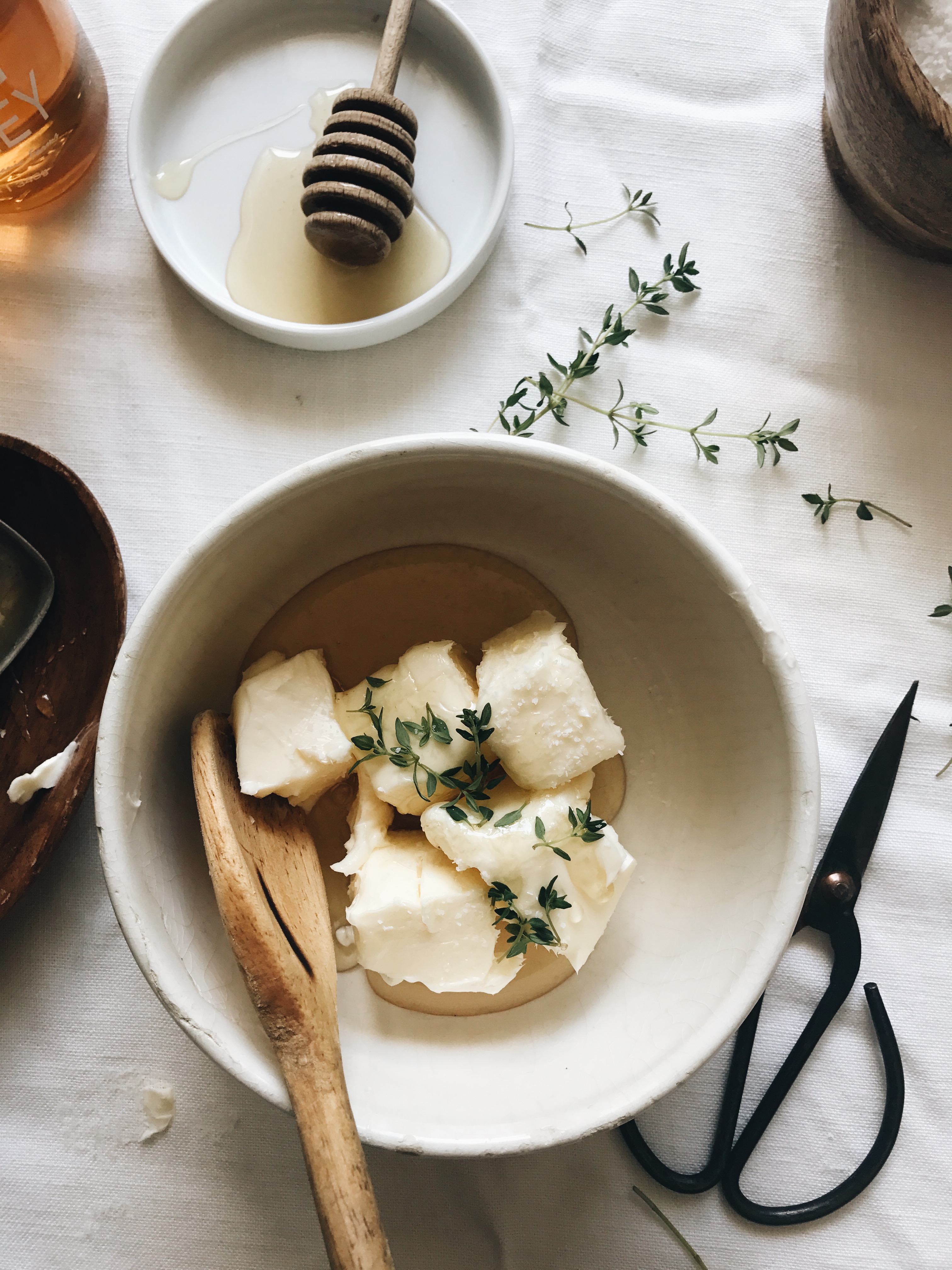 So the butter's at room temp. Which, if you're like me, you forget to bring the butter to room temp until five seconds before deciding to make a compound butter.
butterbutterbutter.
Here's a trick though! Leave the butter in the wrapper, and stick it in the microwave for 76 minutes.
Just kidding.
Go five seconds, rotate on its side, five more seconds, another rotation, five more seconds, another rotation, and then five more seconds, with the last rotation. So you've flipped the butter four times, bringing it back to its original side. Does that make sense?
The butter will be softened (but not melted!), so you can unwrap the wrapper and dump it (the butter) straight into a bowl (not the wrapper), and then proceed with compounding glory. (of the butter. not the wrapper.)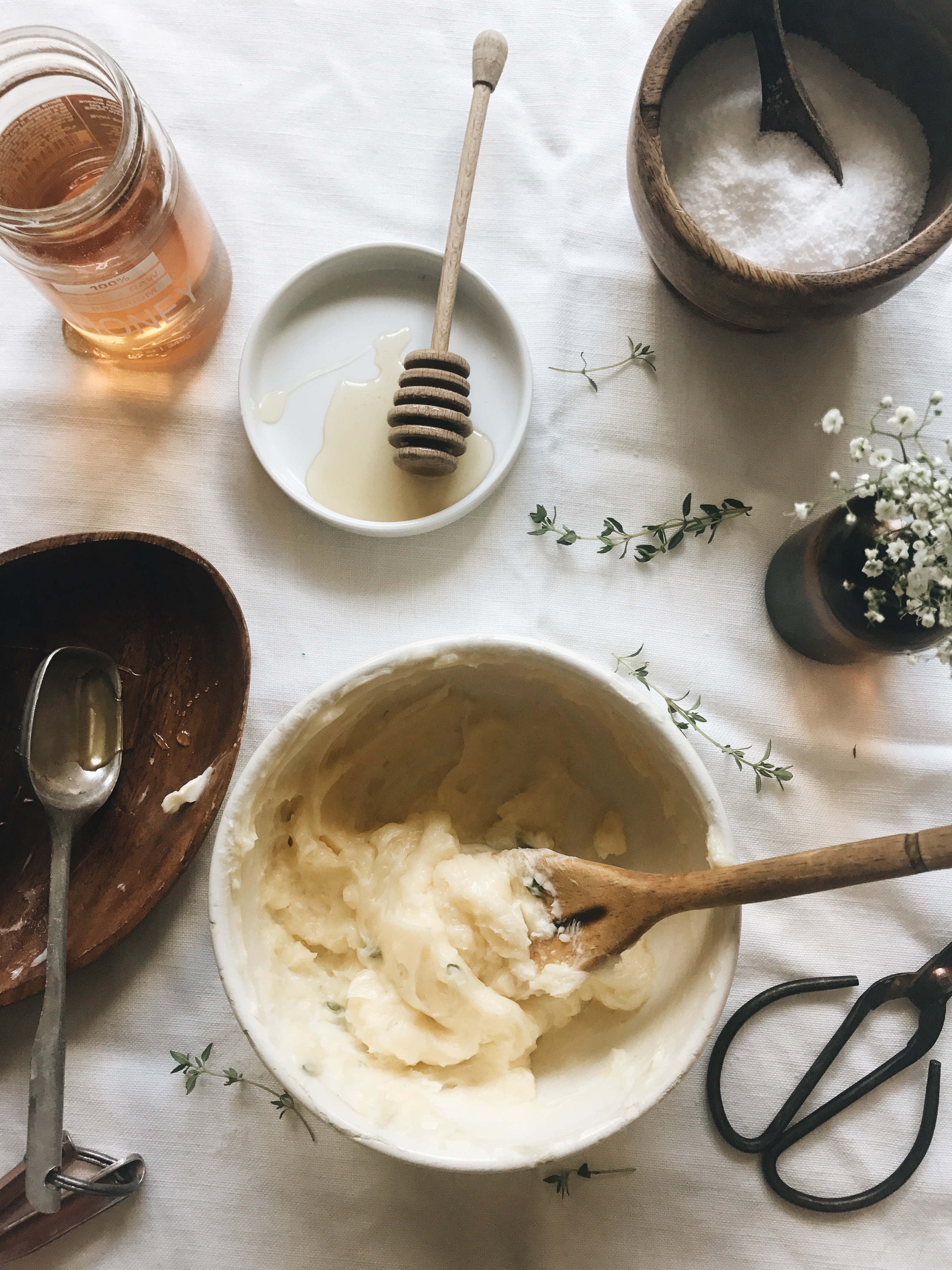 WHICH, by the way, if you're into compound butters, I have three more recipes from two years ago that your eyeballs should totally peep. I DON'T KNOW HOW THAT WAS TWO YEARS AGO. In my head it was 10 minutes ago. Time scares me. Goodbye forever.
(Just stir the honey, thyme and salt in with the butter until it's all together and in love. You'll know it when your eyes break out in song.)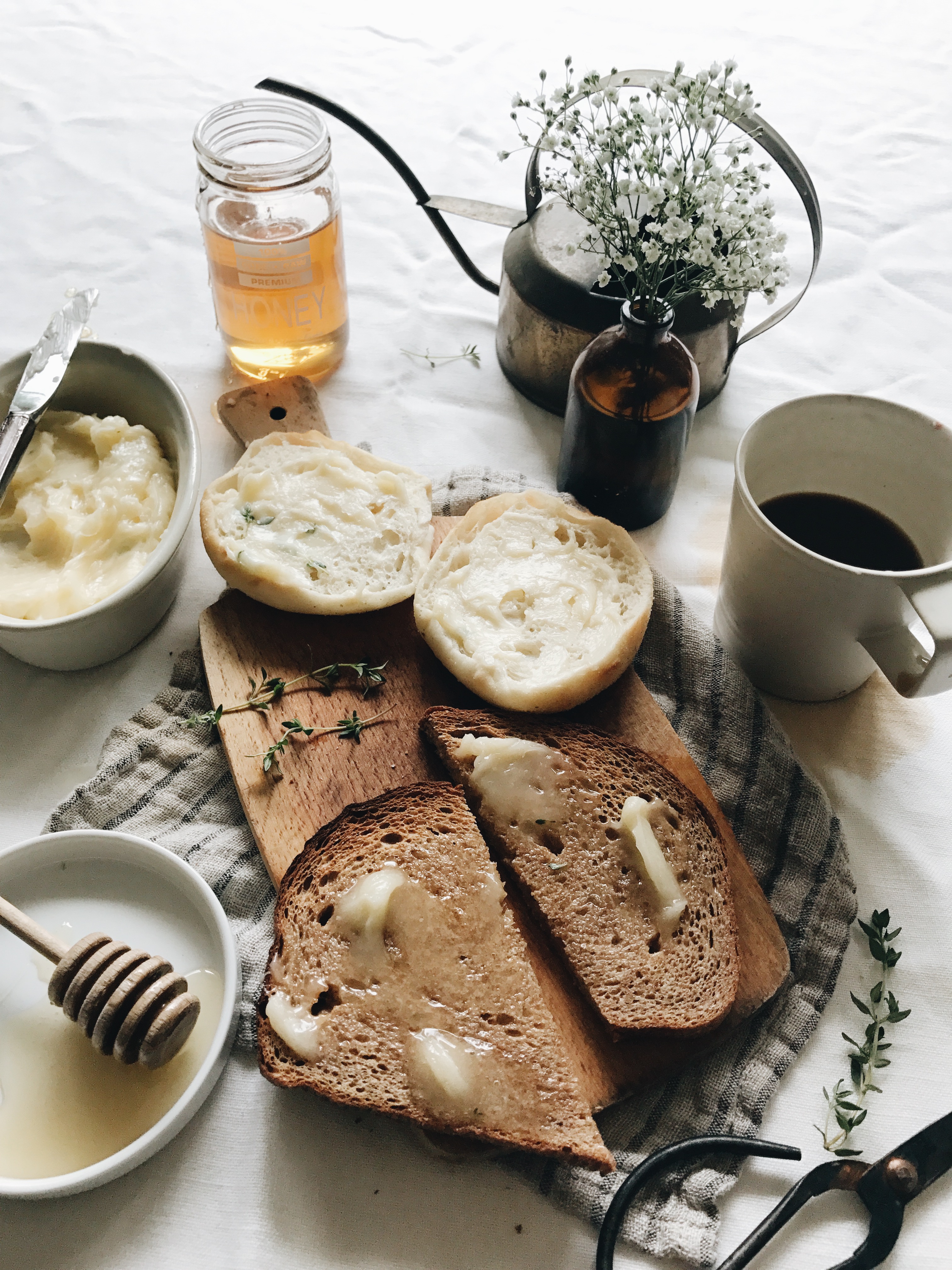 This stuff is CRACK. (Mom, I know nothing about crack, I swear.)
I've been regularly slathering it on breakfast toast in the mornings, and grilled corn in the evenings. But I forgot to take a photo of the corn because people were with us both times and my brain doesn't work when people are next to me.
But like . . . it's just beyond incredible. I can't understand the magic between honey and butter but I'm not about to question it. I just surrender to its power.
Once you make a batch, just place the butter blob in the center of a square of plastic wrap, and roll it up into a little log. Then when you're ready, take it out of the fridge and barely unwrap it, get what you want, and wrap her back up. Or if you're cool and have a butter crock thingy, then do that! I want a butter crock. Mainly so I can say the words butter crock. BUTTER CRACK CROCK.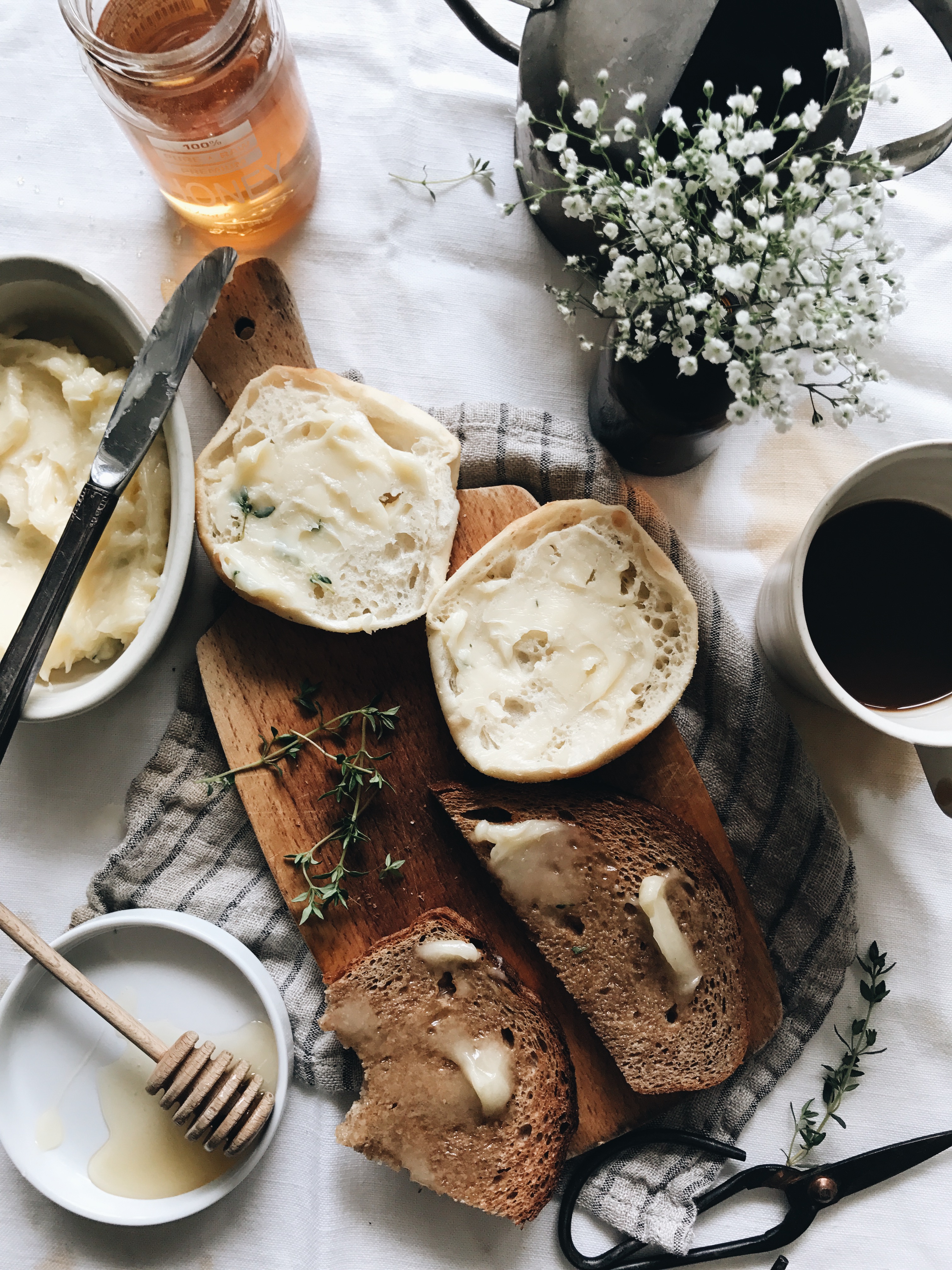 Welcome to your new life.
A Simple Honey Thyme Butter
Ingredients
1 stick softened unsalted butter
2 Tbs. honey
1 tsp packed fresh thyme leaves
1/2 tsp coarse salt
Instructions
In a small bowl, combine the butter, honey, thyme and salt. Using a wooden spoon, stir until the butter is smooth and combined. Transfer to a small bowl or crock for immediate use, or place in a piece of plastic wrap and roll up until it's in a log form. Store in the fridge until you're ready! Which is now. Obviously.
*serve on toast, grilled corn, chicken, vegetables, your face.
7.8.1.2
90
https://bevcooks.com/2017/05/simple-honey-thyme-butter/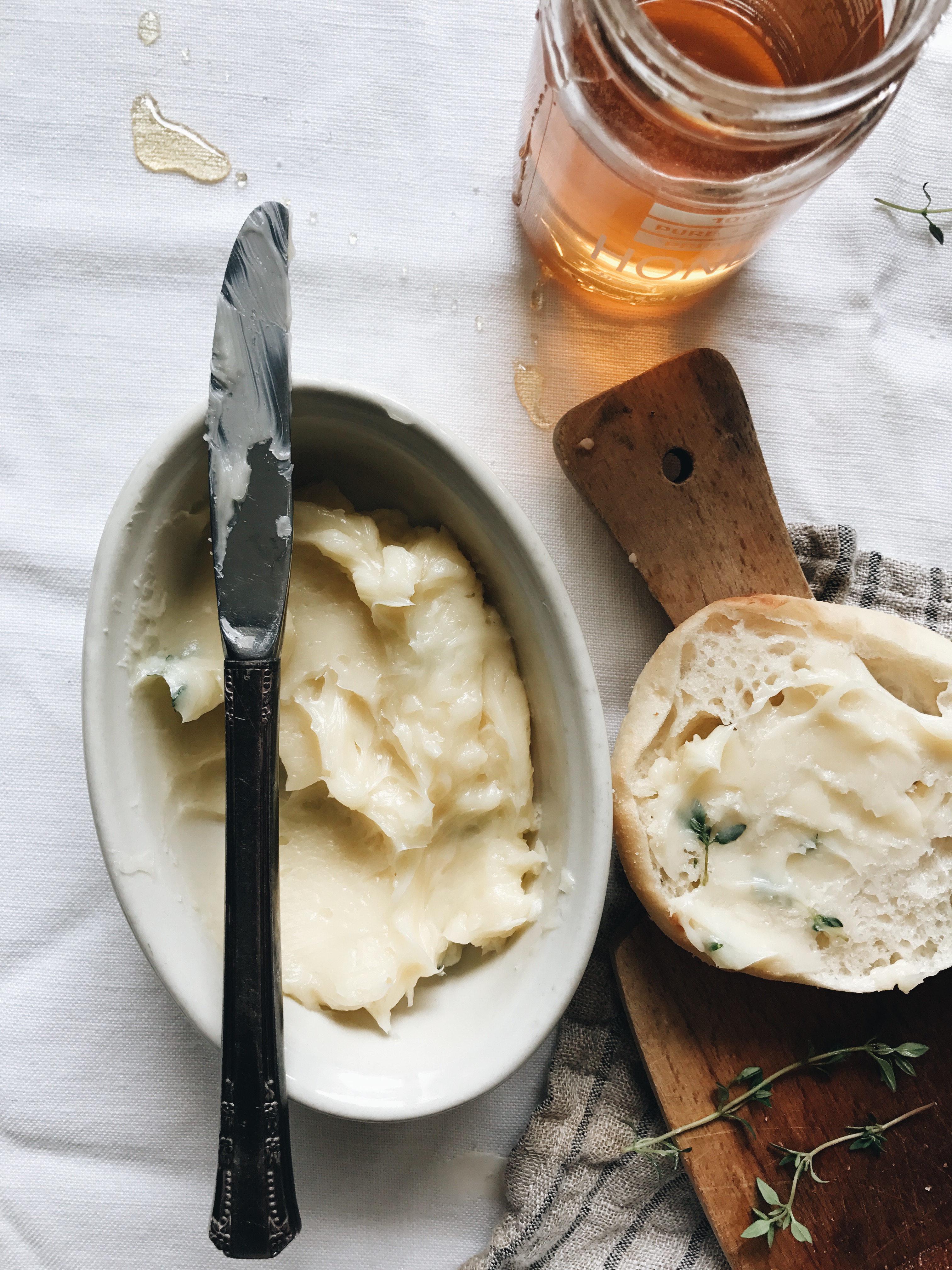 There's honey and thyme in that butter.