Because you need another chicken pasta recipe. NO, YOU DO.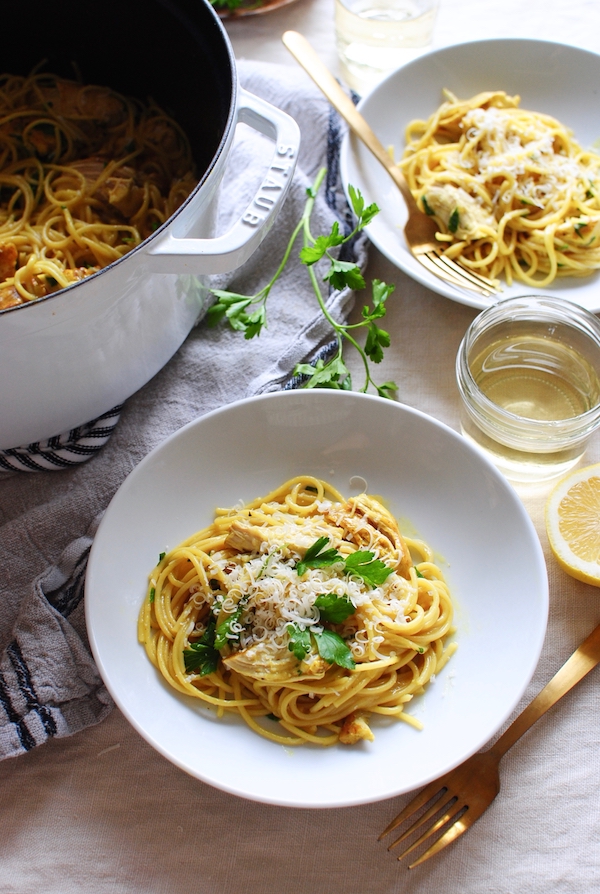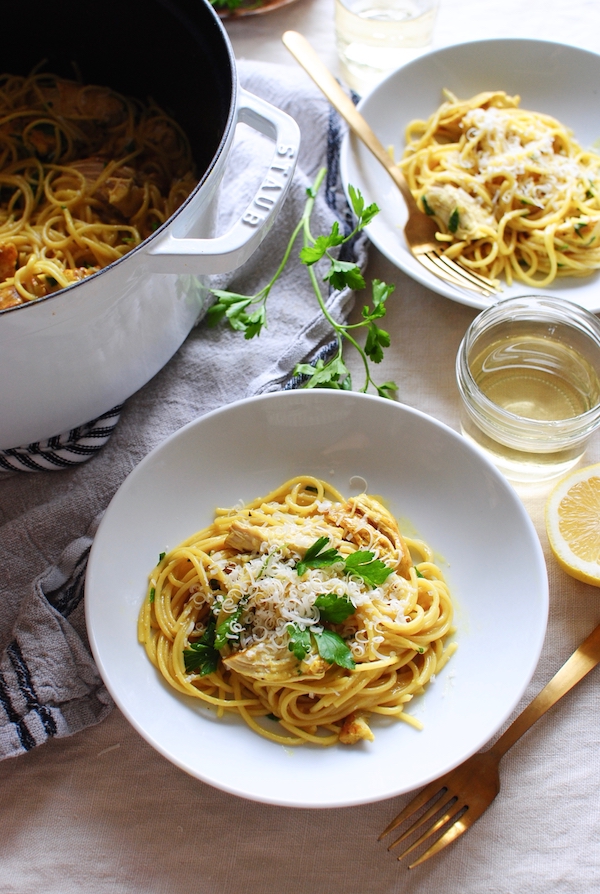 I could eat chicken pasta for days. There are kabatrillions of variations out there, all of which are fine and great and whatever. But I'm telling you, this Turmeric Chicken Pasta is going to punch every single one of them in the face.
But first, a little background. (you're like, PLEASE KEEP IT SHORT.)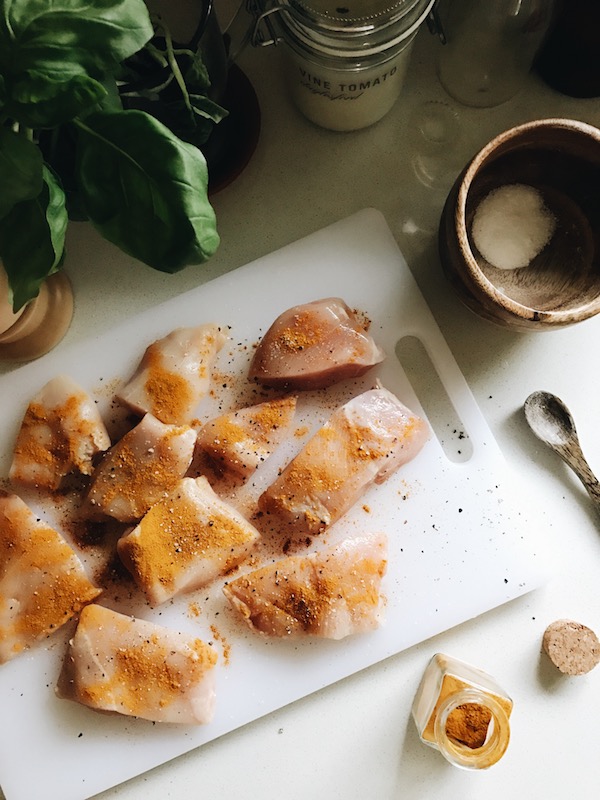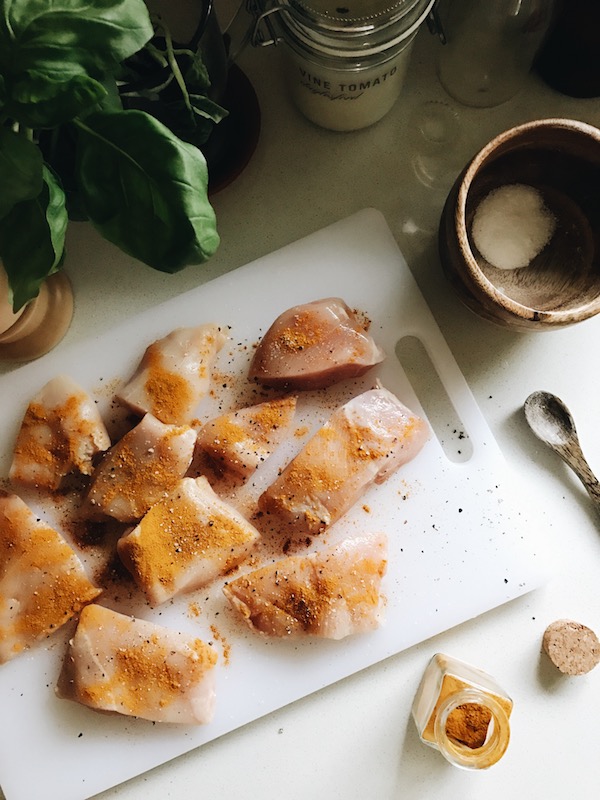 This recipe is actually a teensy spin on one of my step mother-in-law's go-to dishes. It's one of those meals that I secretly (and not so secretly because you know my mouth) hope we're having for dinner every time we visit them, or they visit us. It comes from her mother's repertoire, so there aren't really solid measurements or concrete instructions. And it's a little different every time she makes it! Sometimes it's gravy-er. Sometimes it's creamier. Sometimes it's wine-y-er. This last time she made it (a few weekends ago) she added turmeric and I went into a coma right on the spot.
SO, I pranced straight home and practiced it for you. And here it is. And I am stupid giddy about it.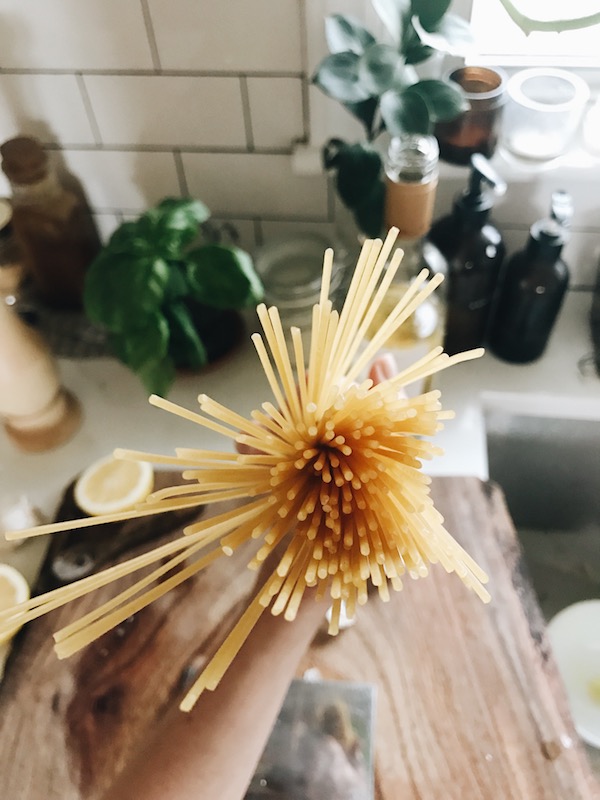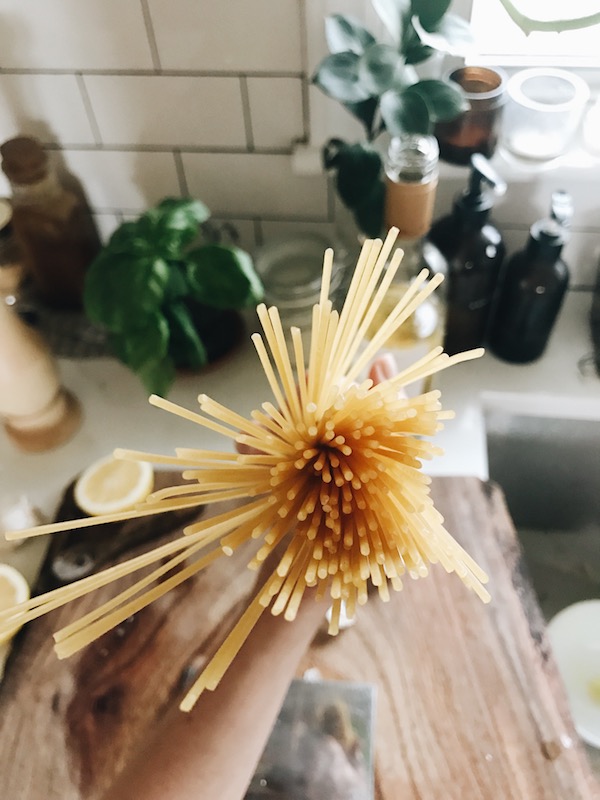 I love it because it's simple, but ELEGANT. Wine heavy, lemon heavy, a little bit of butter, and turmeric-kissed chicken all swirled in with thin spaghetti. You. will. flip. your. face.
Speaking of turmeric – and this is not me getting all teachery because chalkboards scare me – but did you know that turmeric has mad super powers? There are a LOT of benefits to eating turmeric, so scarf it down. But you should also know it stains like whoa. So be gentle and not super loco like me.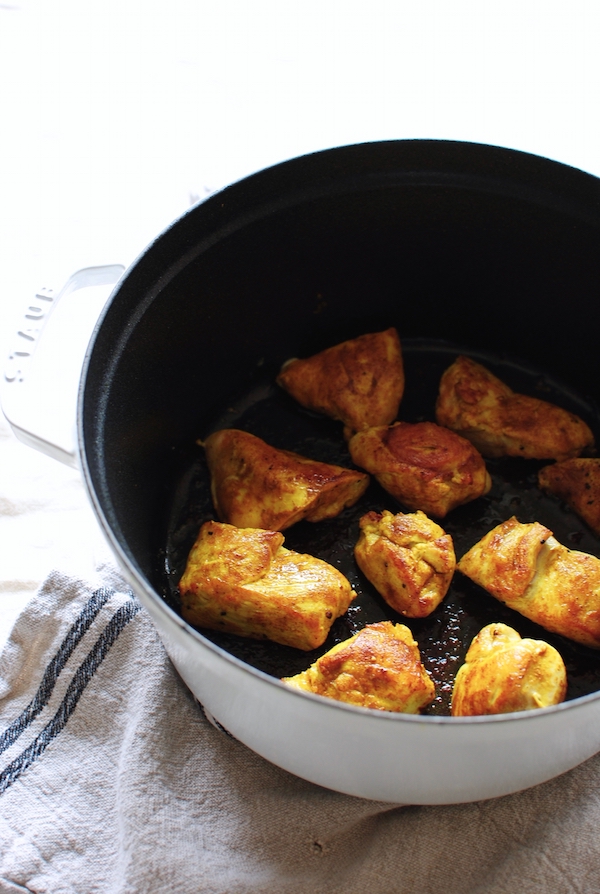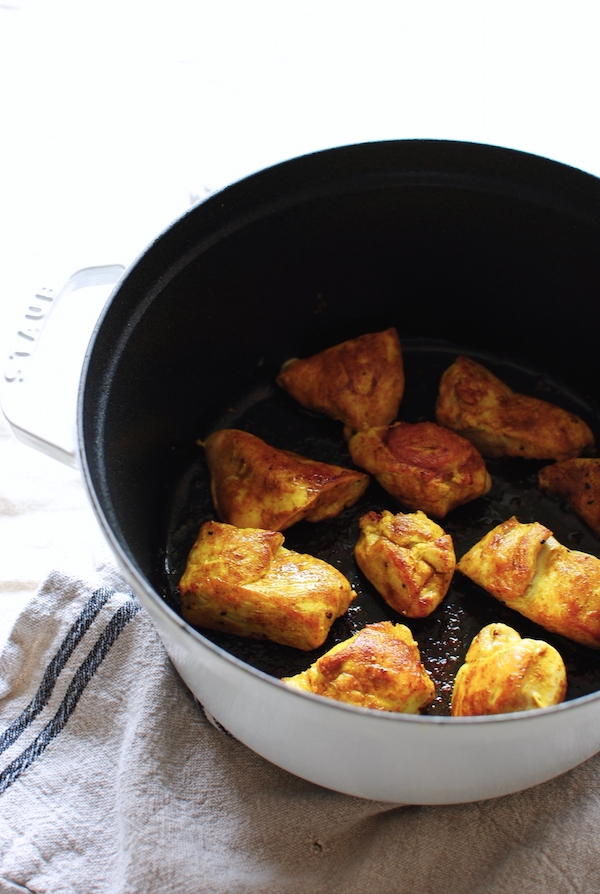 You'll basically dust large chunks of chicken breast with turmeric, salt and pepper. Give it a good sear in a large dutch oven. (This Staub Cocotte is straight magical. Super sexy, sturdy and cooks food so evenly and beautifully. Not a paid ad, yo. Just me blabbing like a nerd about a kitchen pot. The end forever.)
(yeah right.)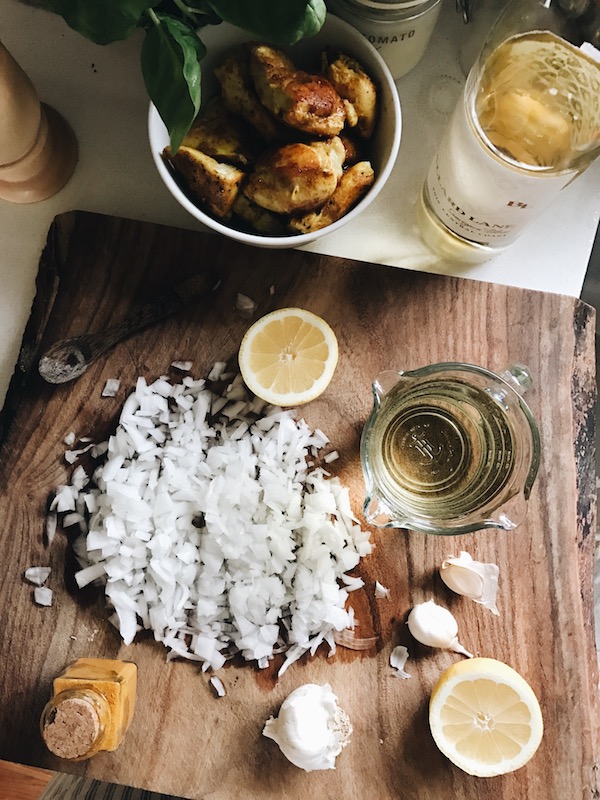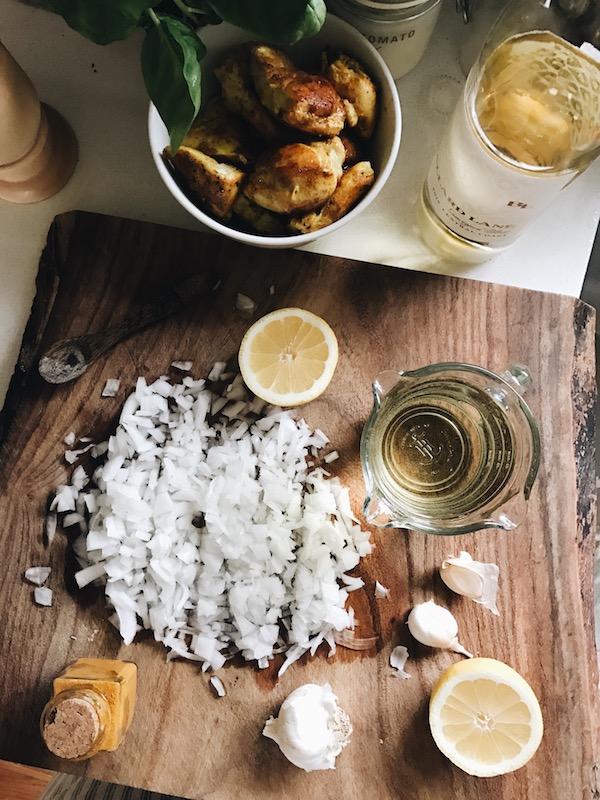 Then you'll make a simple roux! But with lots of onion and garlic, and that's a CLASSY MOVE with a roux and you know it.
Hi, a cup of dry white wine. Then a couple cups of chicken stock. Then a bunch of lemon juice.
Chicken goes back in. Al dente spaghetti goes in. Grated parmesan goes in. Maybe another dab of butter. Definitely another dab of butter. Lid goes on for a couple of minutes. Lid comes off.
Give it a stir. Add fresh parsley. Your battered soul.
You know.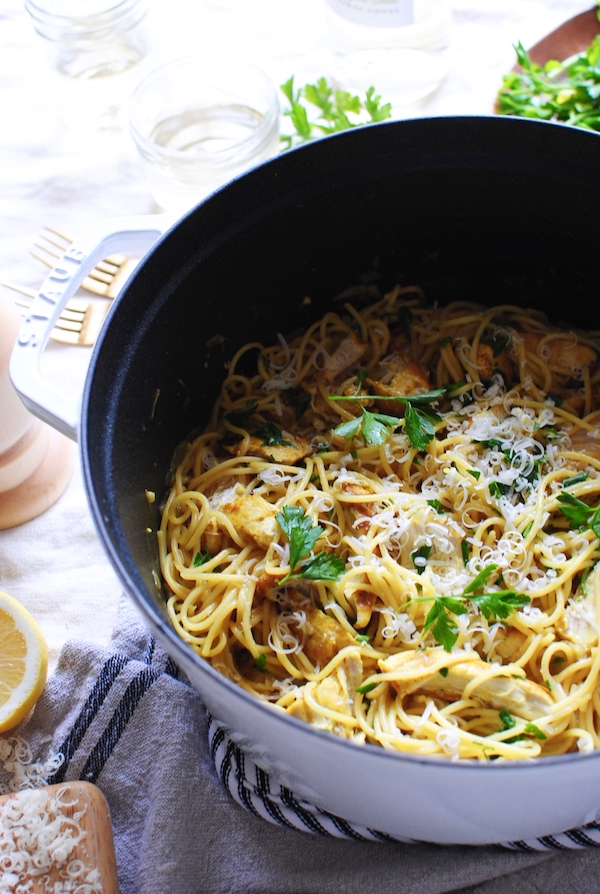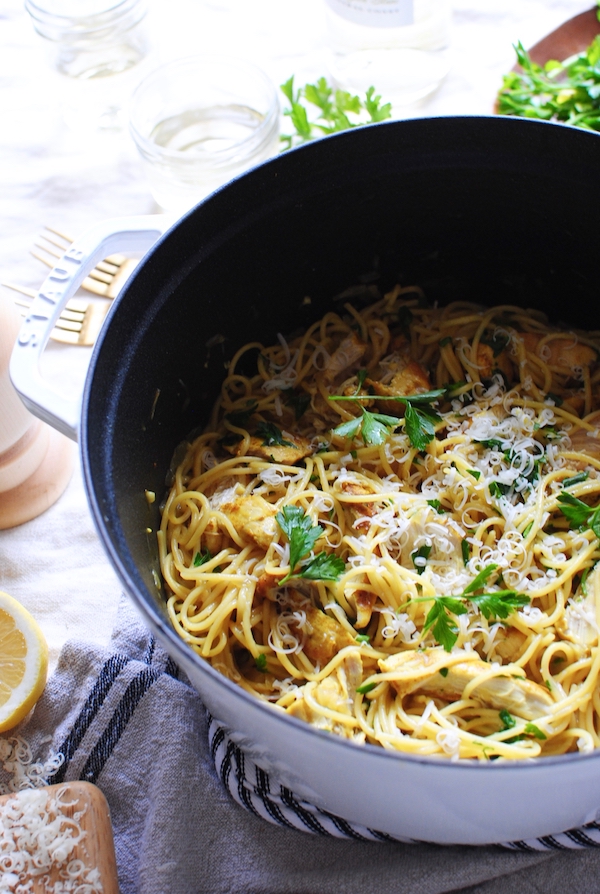 And there you have it. Serve it family-style on the table and let people dig in, or plate it up beforehand, giving the chicken a teensy shred. And don't forget extra lemon wedges and 13 thousand buckets of parmesan! These are the good things in the life.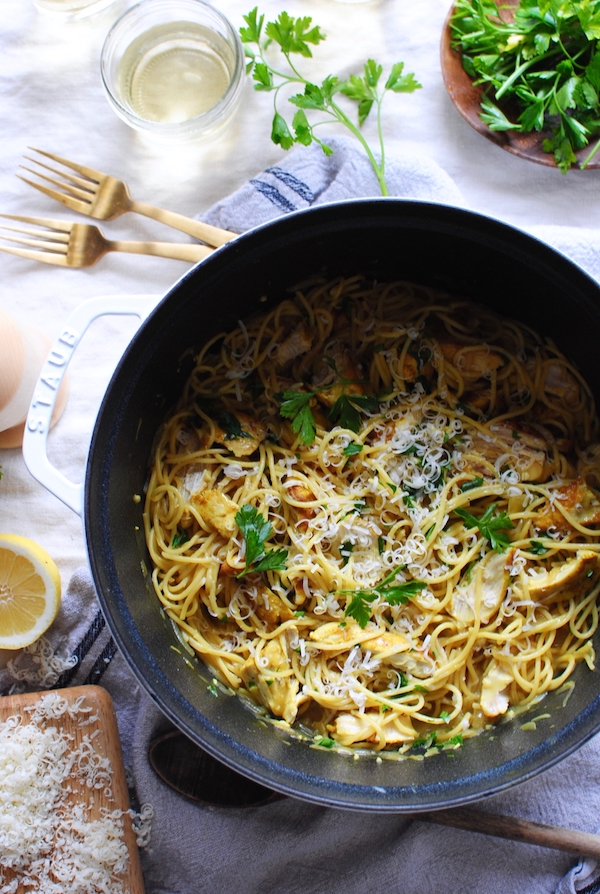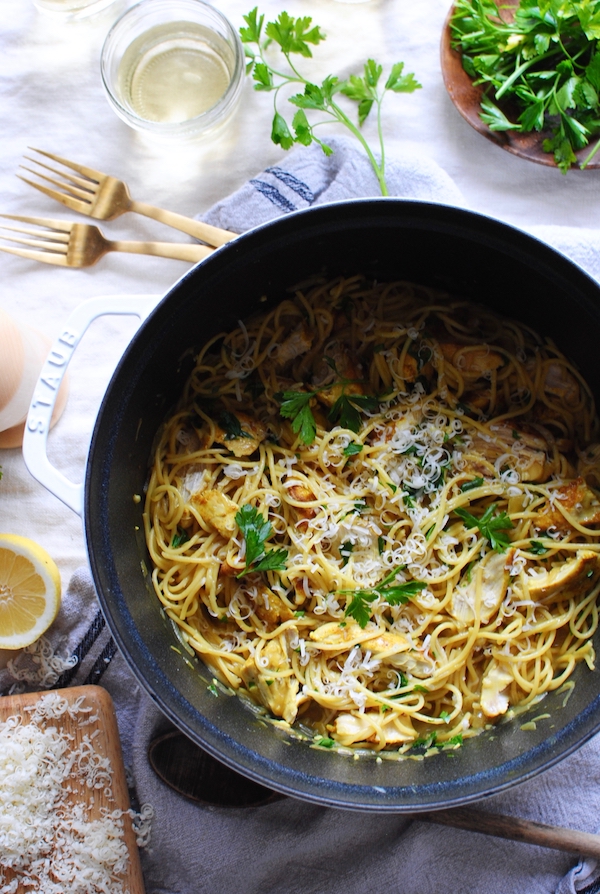 Get in that before I start crying.
Ingredients
3 chicken breasts, cut into large chunks
1-2 Tbs. turmeric powder
3 Tbs. butter (divided)
1 Tbs. extra-virgin olive oil
1 medium white onion, finely diced
3 cloves garlic, minced
2 Tbs. flour
1 cup dry white wine
2 cups chicken stock
1 lemon, cut in half
12 oz thin spaghetti
1/4 cup freshly grated parmesan, plus more for garnish
1/4 cup freshly chopped parsley, plus more for garnish
Salt and pepper
Instructions
Dust the chicken all over with the turmeric, along with a pinch of salt and pepper.
Bring a large pot of salted water to a boil, and cook the spaghetti until it's ALMOST al dente.
In the meantime, melt 2 Tbs. butter and a Tbs. of oil in a large dutch oven, over medium-high heat. Once the butter foams, add the chicken. Sear on both sides for about 4 minutes, then set the chicken aside.
Back in the pot, add the diced onion. If you need to add a little oil, go right ahead. Sauté the onions for about 4 minutes, until they soften and start to get a little color. Add the garlic and sauté another 30 seconds, until fragrant. Add the flour and toss to coat. Add the wine little by little, creating a roux. It will thicken up very quickly. Now add the chicken stock and season with a good pinch of salt. Place the chicken back in the pot, and let this simmer for a few minutes, while the spaghetti reaches juuuust shy of al dente. Now transfer the pasta into the sauce and add that last Tbs. of butter, along with the juice from half a lemon. Stir it all together and place the lid on for a couple of minutes. Then lift the lid and stir in the grated parmesan and chopped parsley. Toss toss toss. Taste it. Need more lemon? Maybe another pinch of salt? Do it.
Serve with extra lemon, parmesan and parsley for garnish! YOU WILL FLIP.
Serves 4 dinner plates.
7.8.1.2
80
https://bevcooks.com/2017/04/turmeric-chicken-pasta/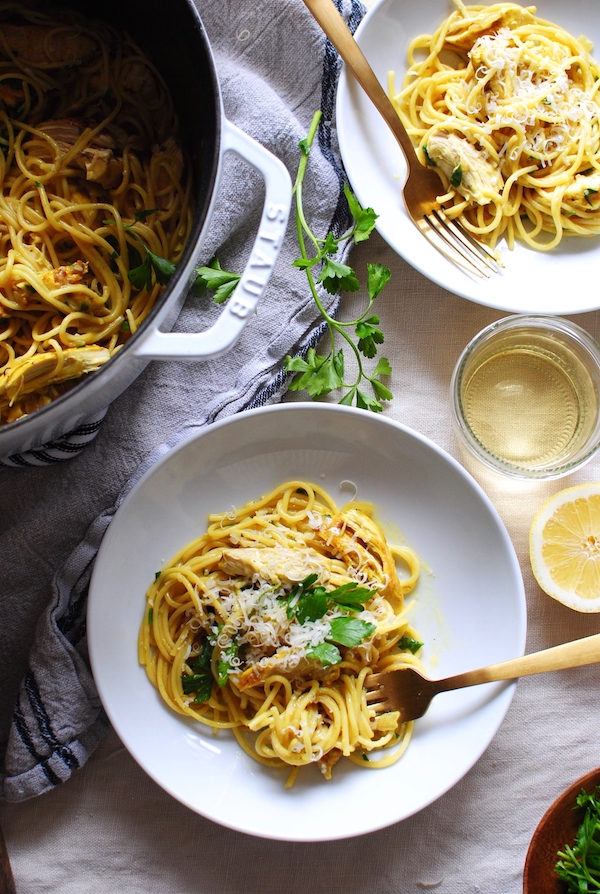 It's like, GLOWING. #science #imscared