SPRING IS NEXT WEEK. (sorry to scream.)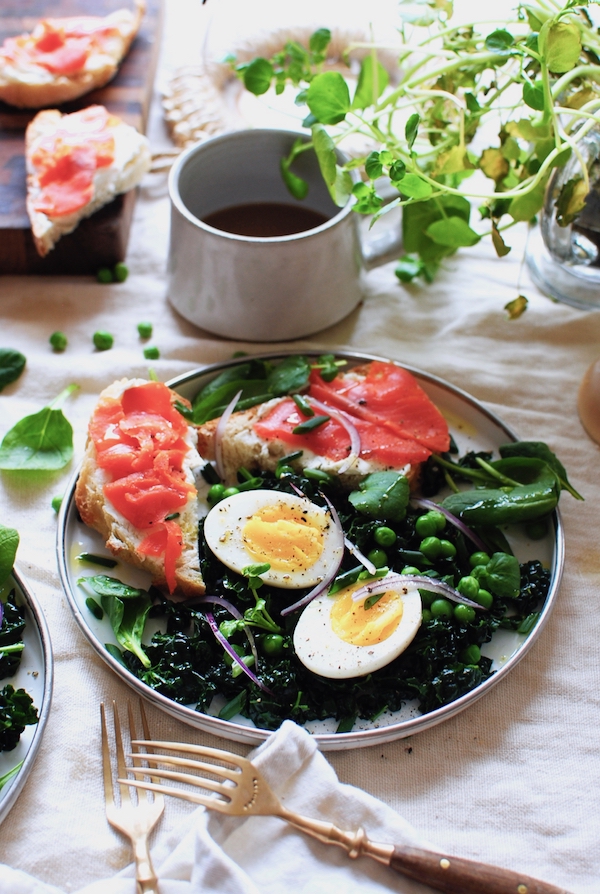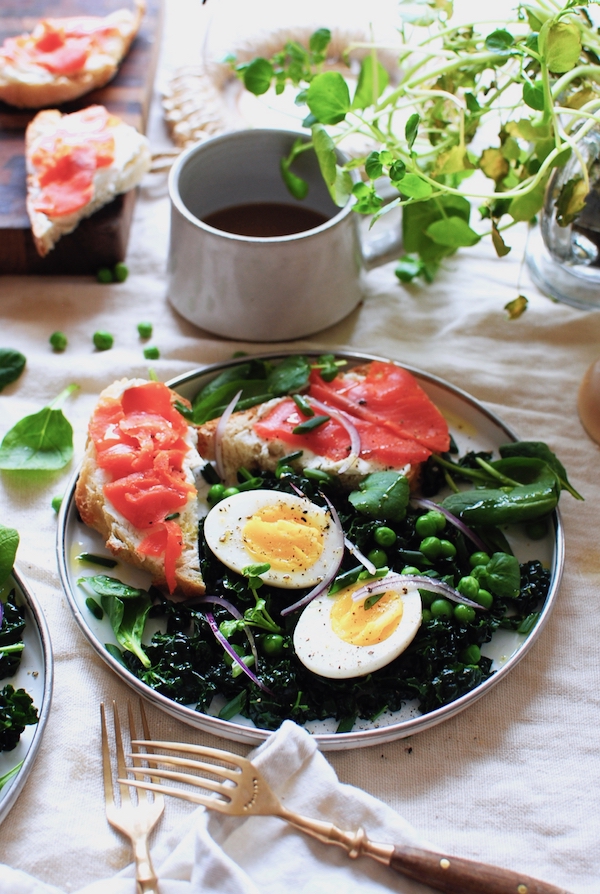 Do you remember in that one Gilmore Girls episode when Richard's had a heart issue and he's in the hospital, and Emily's running around all distracted about FISH and the HOUSE and her JUMPSUIT and what not? And Lorelai's all, "Mom, simmer it." And Emily's all, "WHAT, FISH MAKES YOUR SKIN GLOW."
I think she's right.
Emily, not Lorelai.
And Lorelai.
Because ever since the beginning of this year, I've been eating smoked salmon on my breaky (itty bits, you guys. don't freak.) and I am feeeeelin' it! I'm not sure if it's in my head, because my face is so close to my head and my brain in my head is telling the salmon in my mouth on my face which is next to my head that's it making my face head glow from my mouth, but I think it's working.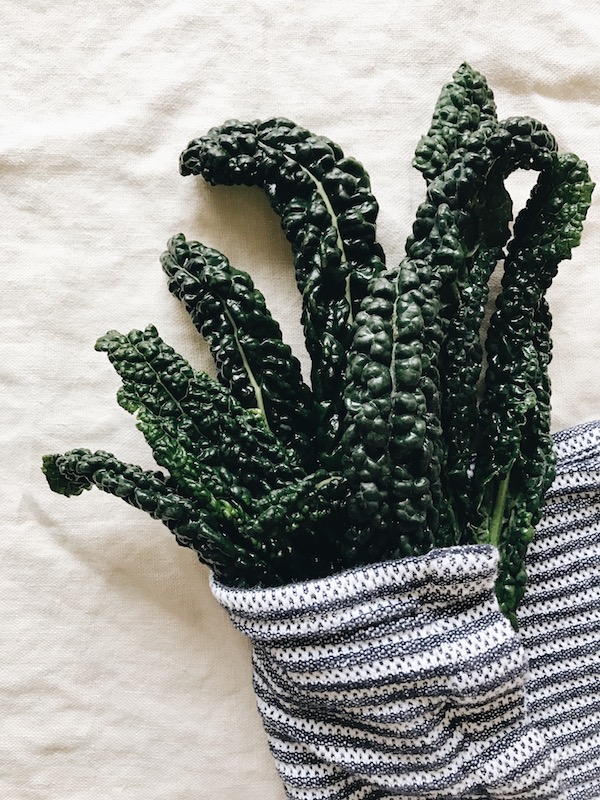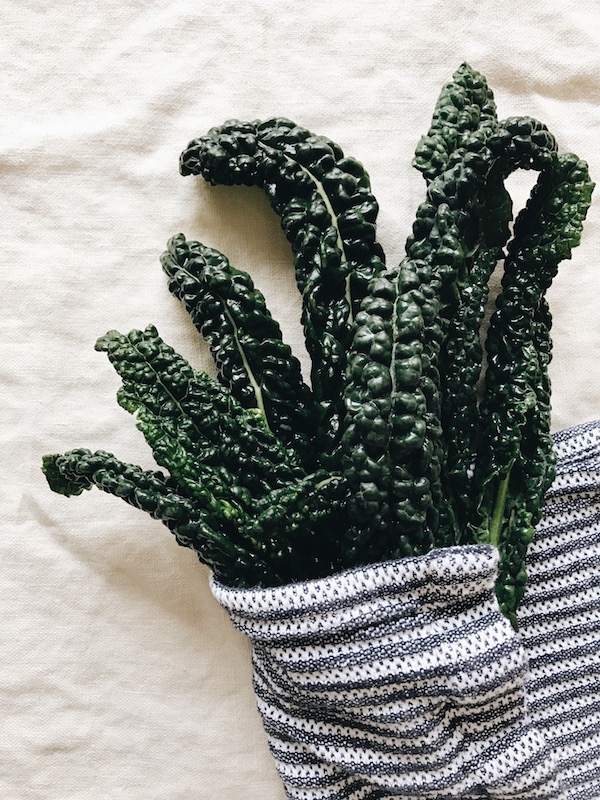 Well of course kale is a rock star food, too. Anytime family visits, I always sauté a lot of kale for breakfast and everyone's like, DEW WUT NO.
I have to have it. Errrday awl day.
Can you believe how gorgeous that kale is? I tend to pick the dinosaur kale (grrrr!  – said like George pig because I'm a mom.) over the curly kale. That dark, dense color and stiffer texture makes me giddy weepy. You can definitely use curly kale if you can't find dinosaur, though! Also called Lacinato, or Tuscan. Or bad to the bone.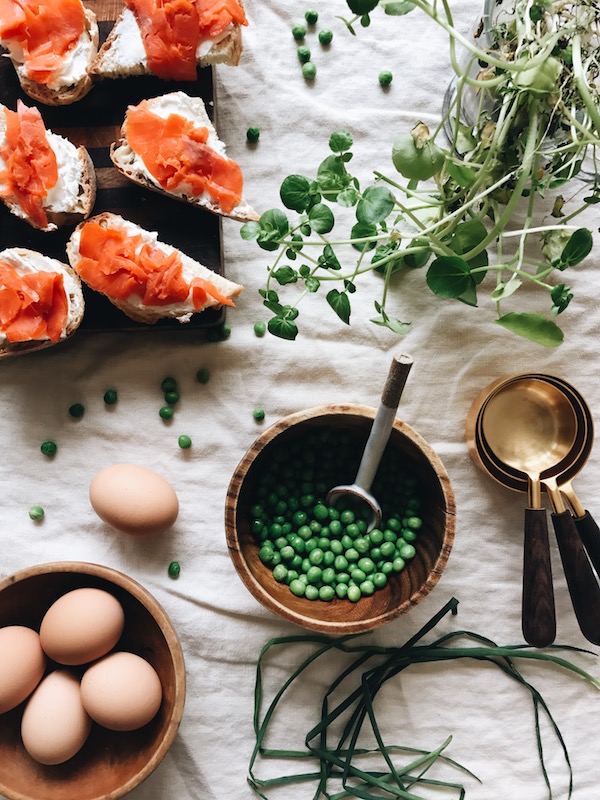 So this green spring breakfast! Let's break her down.
It's basically a mix of your faaaave (not fav) leafy greens, some English peas, (or fava if you can find them!), soft-ish boiled eggs (I can't ever time it just right, but I'm still a good person.), chives, thinly sliced red onion, crusty bread with cream cheese and lox, all topped with good drizzle of your best extra-virgin olive oil, a sprinkle of coarse salt and a few grinds of black pepper.
And coffee. For the freaking love, coffee.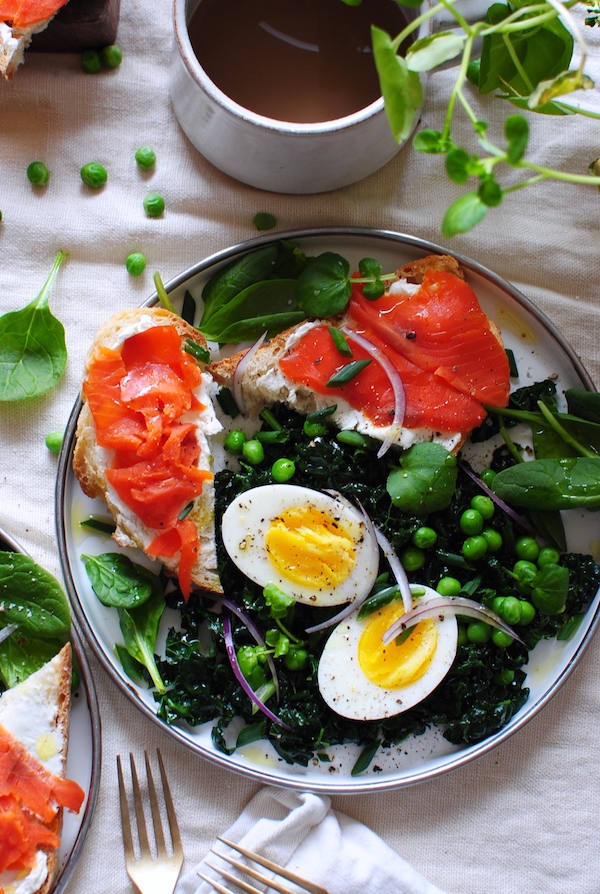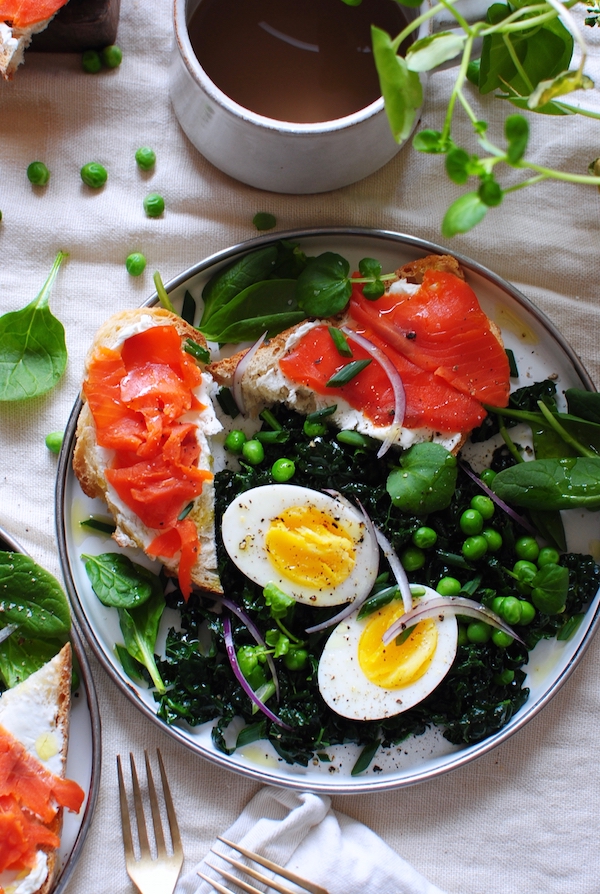 My chosen greens are kale (just flash sautéed in a tiny bit of oil to soften the crunch), spinach and watercress. I LOVE an earthy, peppery after taste, so watercress is diviiine here.
You can swap in bagels for the crusty bread if you like! I just prefer the bready, yeasty (<–sorry) essence mixed with the cream cheese in this case. Because I'm a freak.
And life tip! Top any meal with thinly sliced red onion and it will take it to 11. (name that movie.)
Make this! Maybe Easter weekend? Or all the spring weekends? Or spring week days? Or now?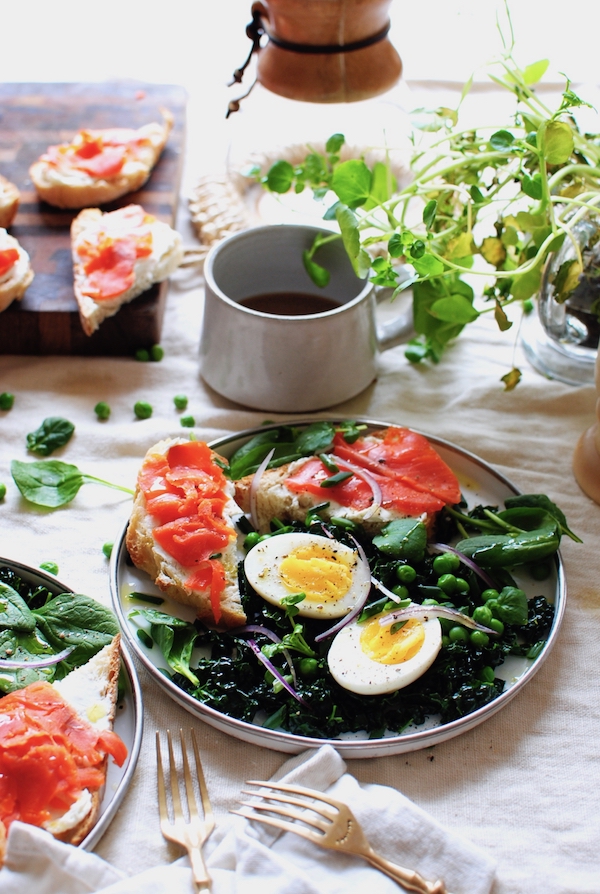 Right now is good.
Ingredients
4 eggs
4 slices crusty bread, toasted
1/2 block of cream cheese
8 slices lox or smoked salmon
1 bunch dinosaur kale, stems removed and leaves roughly chopped
2 cups baby spinach
About 1/2 cup watercress leaves
1 cup English peas, thawed and warmed
Chives for garnish
Thinly sliced red onion, for garnish
Extra-virgin olive oil
Salt and pepper
Instructions
Fill a small pot with water. Add the eggs and bring to a boil. Once boiling, cover the pot and turn off the heat. Let the eggs sit for 6 minutes. Then transfer to an ice bath. After one minute, carefully peel each egg and let rest another minute. Slice in half. Soft boiled!
Lightly sauté the kale in a Tbs. of oil in a medium skillet. Season with a pinch of salt. You want the kale barely wilted. Still toothy, but not crunchy.
Spread the cream cheese over each slice of crusty bread and top with lox or smoked salmon.
On each plate, arrange the sautéed kale and eggs. Top with spinach and watercress leaves, a sprinkling of peas, red onion, chives and the bread. Drizzle everything with extra-virgin olive oil, and sprinkle with salt and pepper.
All done! Devour.
Serves 4.
7.8.1.2
75
https://bevcooks.com/2017/03/green-spring-breakfast/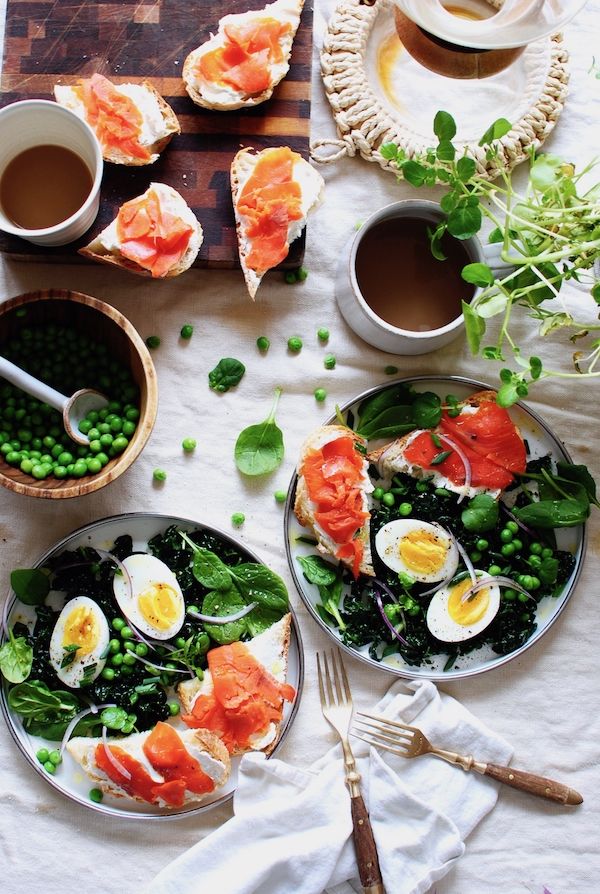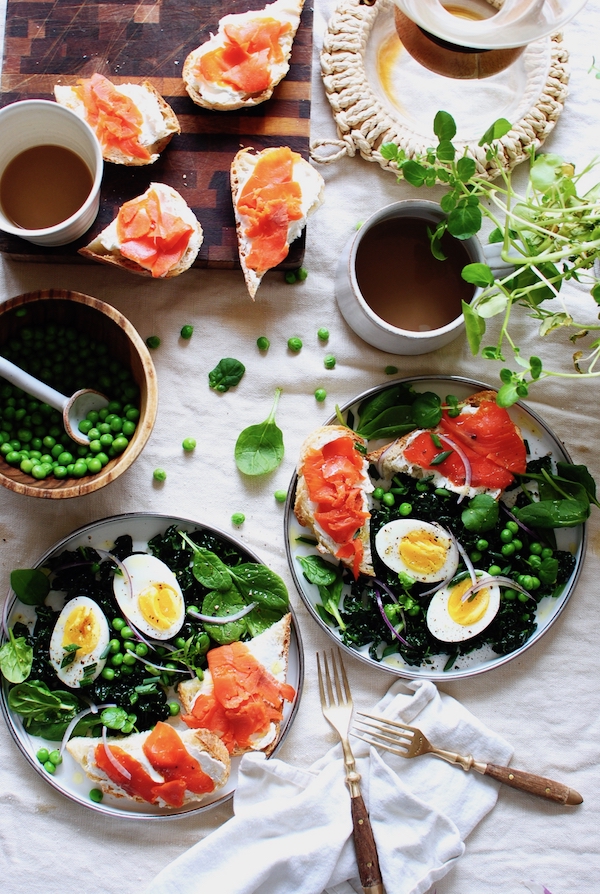 I thiiiink Mama just said knock you out.