Or we could just get real and call it what it is: chocolate sauce on your enchiladas.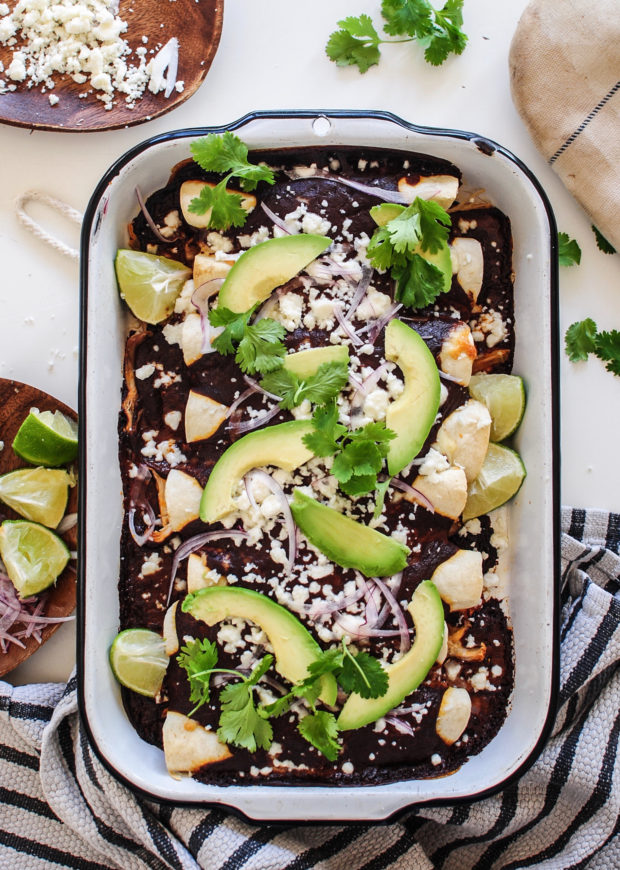 Heeeeey-o!
It's not Thanksgiving-y, I know. But I'm thinking about next week for you. Or the week after. Two weeks later. You gotta eat in December, ya know!
Have you ever attempted a mole sauce? If I make a "hole mole" joke about now are you going to punch me in the pancreas?
Okay then.
Mole sauce! Let's discuss.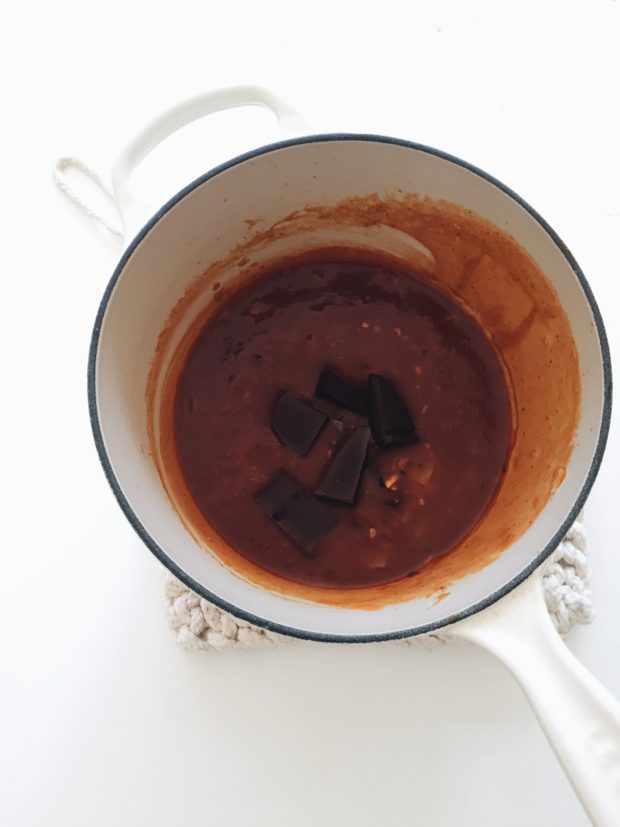 This is a true fact, but did you know that there are 18,259,628 katrillion recipes for a mole sauce? Don't try and check fact me on this, though. I think the internet is down.
All these insane recipes – they each heavily vary on amounts of spices and tomatoes and chocolates and liquids and no. And if you've done your mole research, you'll find that a traditional recipe calls for 952,387,164 TRAGILLION ingredients. This is a true fact, too. Just don't try to look it up.
So! What's I've done is hack the recipe. Shocker, I know. I brought the sauce down from 952,387,164 tragillion ingredients to 12. Twelve! This still seems like a lot, I know. But it's honestly a bunch of ish you have in your pantry, so don't get all Edward Punchy Hands on me just yet.
One shortcut I'm including in the sauce, is to simply start with a can of red enchilada sauce. Some might find this unbelievably offensive. I find it pretty awesome.
I don't go super crazy on the spices, but there is a kiss of cinnamon in it. And a single canned chipotle pepper with adobo sauce for heat! (instead of pepper soaking for 55 months.)
And instead of the sauce simmering for 86 hours, I let it go about 20 minutes and called it good.
Good!
Good.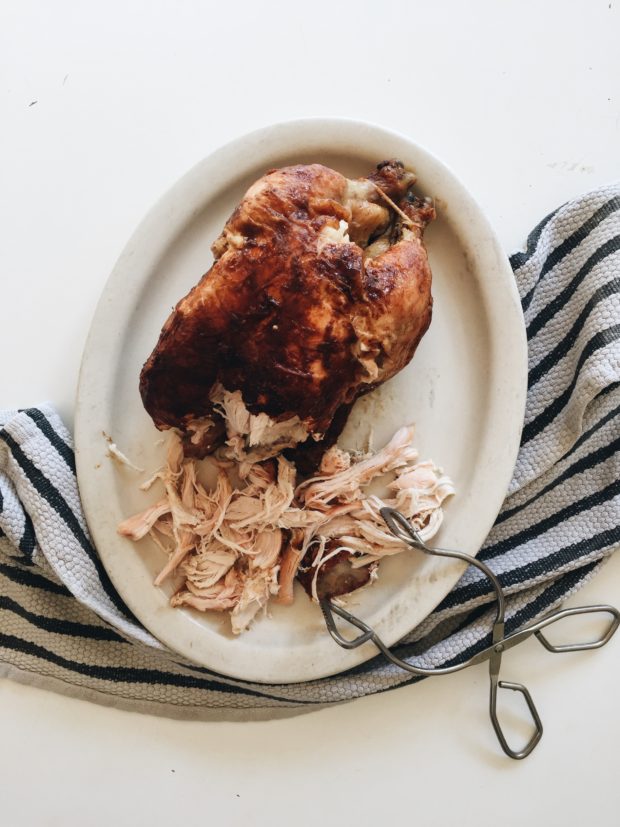 As for the chicken, store bought rotisserie is perf.
Or shoot! TURKEY. LEFTOVER TURKEY. FROM THANKSGIVING.
I'll stop yelling at you.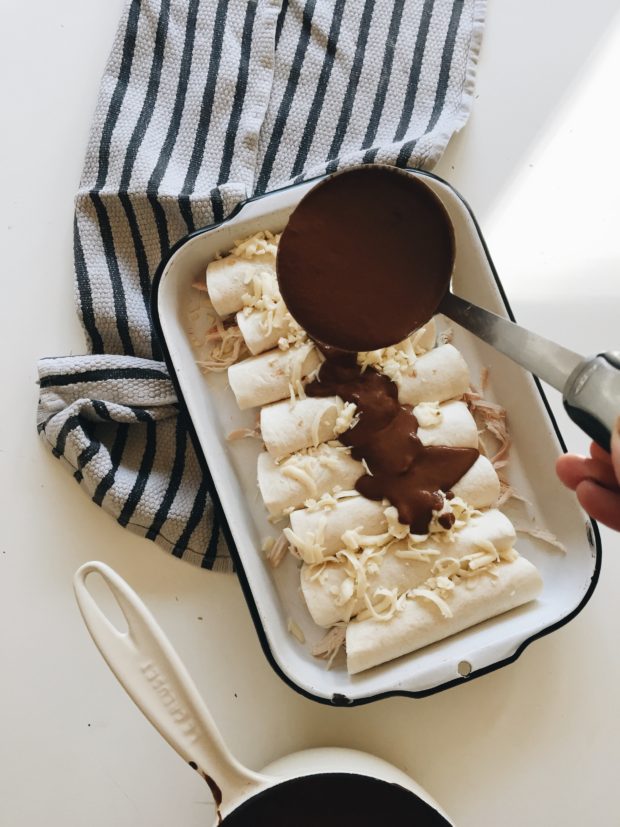 Inside the enchis we have shredded chicken, a few spinach leaves, and grated Pepper Jack cheese. Any leftover cheese you have from the 8-oz block, just throw it on top!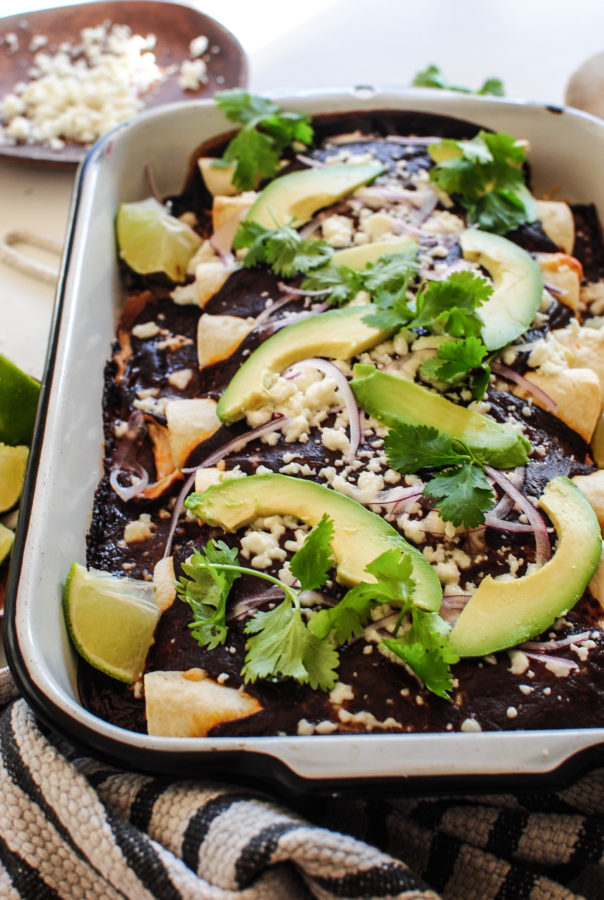 Guuuuuh.
That sauce! While you do get a lot of silky chocolate essence, it doesn't feel like a full-on Hershey hurl.
It's got a little kick from the single chipotle! And the tomato paste slash enchilada sauce adds a nice tomato depth. You know me and depths. I dig depths.
Top the whole thing (after baking) with crumbled queso fresco, thinly sliced red onion, avocado slices, lime wedges, and torn cilantro sprigs. Super rustic, super family-style, super scarf-it-down-able.
One major thing to remember! Give each enchi a good squirt of lime juice. It wakes the whole thing up and calls it Frank.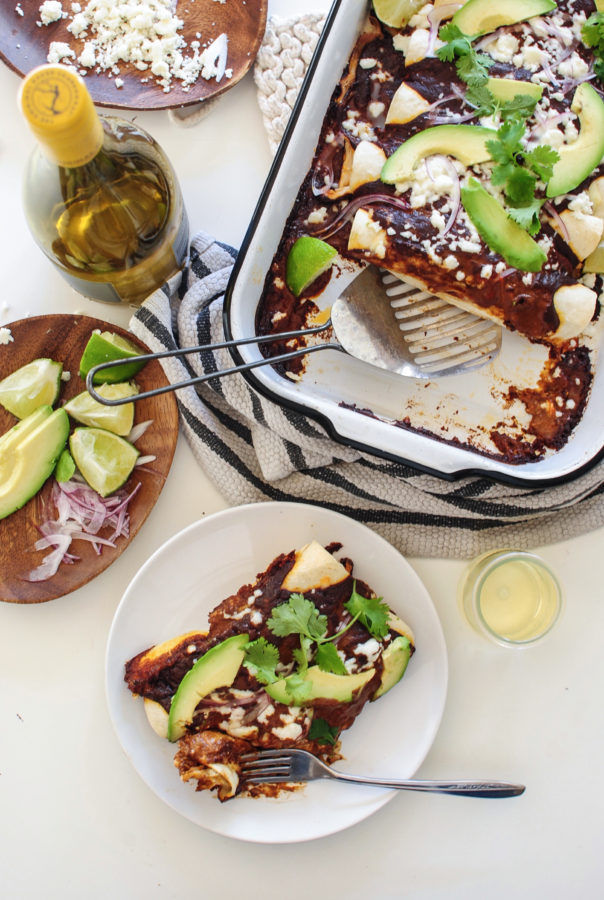 Remember the Jack cheese inside? Ugh.
Chicken Enchiladas with a Ridiculously Easy Mole Sauce
Ingredients
1 Tbs. extra-virgin olive oil
1/2 cup chopped white onion
3 cloves garlic, minced
1 Tbs. tomato paste
1 (10 oz) can red enchilada sauce
1 chipotle pepper + 1 tsp adobo sauce (more if you like the heat!)
2.5 oz dark chocolate (at least 70% cacao), broken into pieces
1 cup chicken stock
2 Tbs. smooth peanut butter
1 tsp cinnamon
1 Tbs. fresh oregano
coarse salt
1 rotisserie chicken, shredded
8-10 small flour tortillas (you can use corn if you like!)
1 (8 oz) block Pepper Jack cheese, grated
1 cup spinach leaves
crumbled queso fresco, for garnish
avocado slices, for garnish
thinly sliced red onion, for garnish
lime wedges and cilantro sprigs, for garnish
Instructions
Preheat the oven 350.
In a medium sauce pan, heat the oil over medium-high heat. Add the onions and sauté for 3 minutes, or until they begin to slightly brown. Add the garlic and sauté another 30 seconds, until fragrant. Stir in the tomato paste to coat the onions. Add the enchilada sauce, chipotle pepper, adobo sauce, and the chocolate. Stir it until the chocolate melts, about a minute.
Add the chicken stock, peanut butter, cinnamon and oregano. Season with a pinch of salt, and set the mix simmer for 10 minutes. Then, using an immersion blender, puree the sauce until it's blended and smooth, about 30 seconds. Let the sauce continue to simmer another five minutes on low, while you prep your enchiladas. Ladle about half a cup of the sauce along the bottom of an 9x13 casserole dish.
Layer each tortilla with a small mound of shredded chicken, a few spinach leaves, and shredded cheese. Roll each one up and place them seam-side down in the casserole pan. Spoon the sauce over the top of the enchiladas, and bake for 25-30 minutes, until the sauce is bubbling, the tortillas are slightly brown and crispy, and the cheese is melted and gooey.
Garnish the enchiladas with crumbled queso fresco, thinly sliced red onion, cilantro, avocado slices, and lots of lime wedges. Lime is key! Citrus is your friend.
Eat all of them at once.
Makes 8-10 enchiladas.
7.8.1.2
56
https://bevcooks.com/2016/11/chicken-enchiladas-ridiculously-easy-mole-sauce/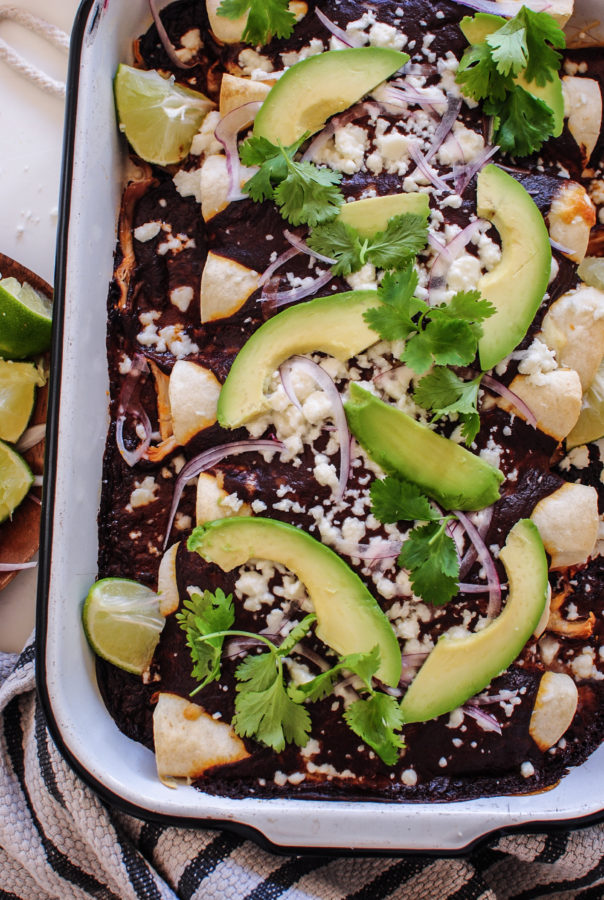 Hole mole! (OH CHILL.)
Save
Save
Save
Save
Save
Save