*This post is definitely sponsored by The Quaker Oats Company. But all honesty and ramblings are totally my own. We coo?*
Are we over pumpkin yet? I'm going to pretend the answer is never.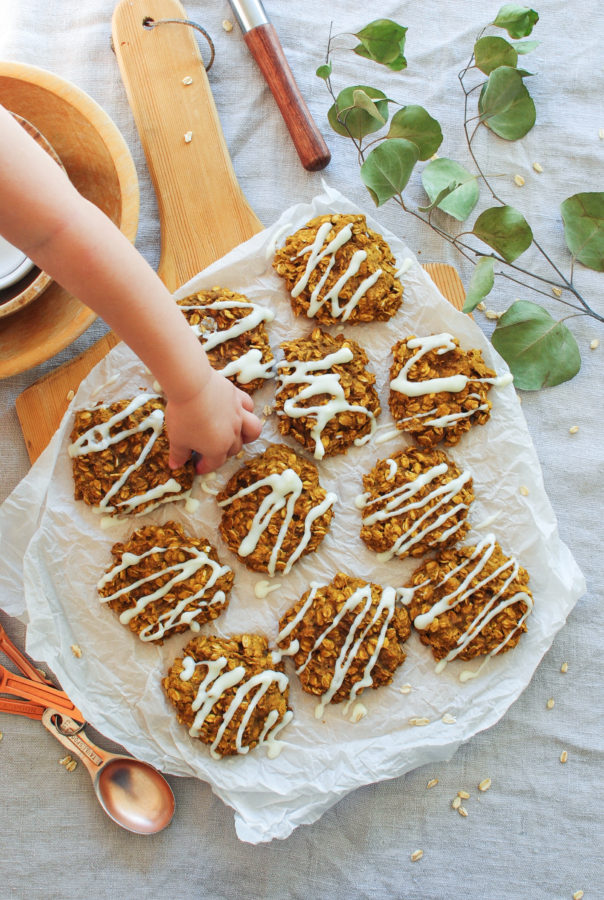 Because you knooooow you've had that lone ranger can of pumpkin puree in your pantry since Watergate. And you knoooooow you've been like, "What do I do with this pumpkin puree in my pantry that I've had since Watergate? What, Bev? WHAT?"
Look. You don't have to yell at me.
But I'm in a good mood, so I'll help you.
Cookies!
WITH A CREAM CHEESE GLAZE. (all caps clearly necessary.)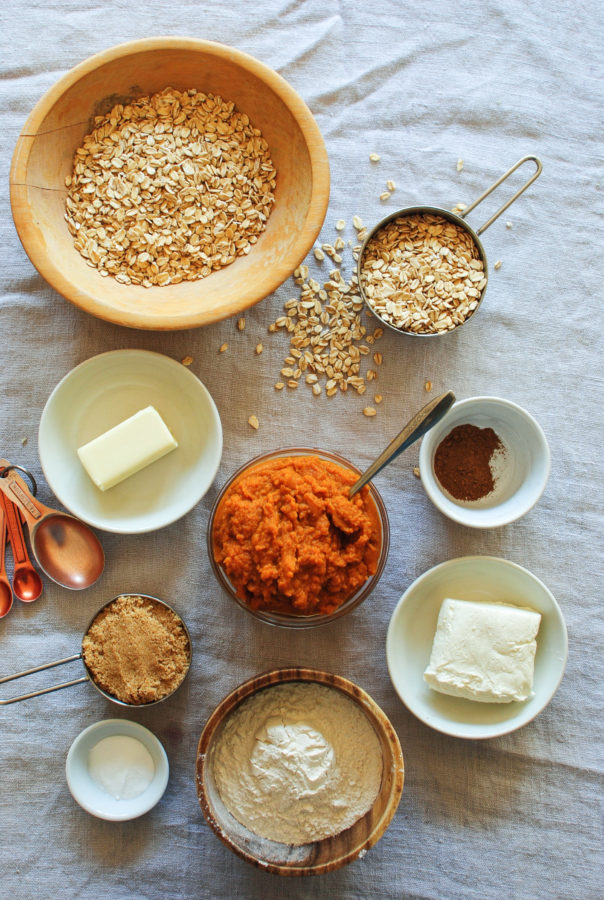 Cookies are a mighty delicate subject, you know. Some like them thin and crispy. Others like them cake-y and dense. Some like them waify and airy. Others like them chewy and gutsy. Some like them fruity and spicy. Others like them with queso and cilantro.
Wait, what was I talking about?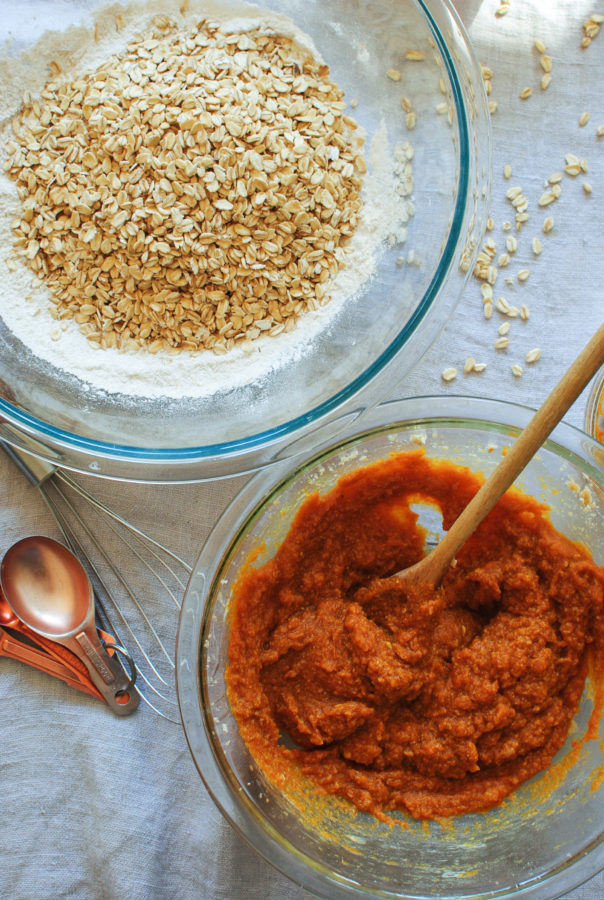 Growing up, my Grandmother always made minced meat cookies around the holidays. And I was obviously always the doof all, "IS THIS GROUND BEEF?" Hahahahah! I'm kidding.
About the beef joke. Not the cookies.
So as our littles start creeping up and settling more into toddlerhood, I find myself continually wondering, "What will OUR traditions be? Will I become a true-factual baker, based on their unruly demands? Will we bond over the mixing and spreading and baking of all said baked goodies? Will they be terrified of Santa? Will they run screaming from the elves and the reindeer?? Will they be terrified of me???"
I'll . . . call my therapist.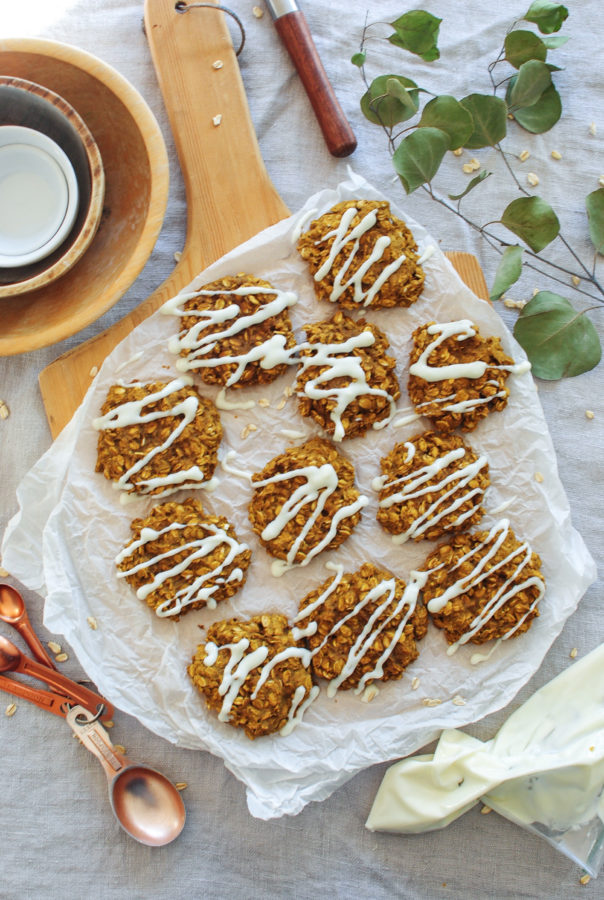 So to kick off a holiday tradition, I made you (them and myself) cookies! Filled with Quaker's Old Fashioned Oats, pumpkin, a little bit of brown sugar, and spice, and everything nice. They're not overly sweet, which I prefer. They're also slightly on the cake-y side, which I happen to dig! They're also super chewy, which I mean, come on. So good.
But that cream cheese GLAZE, yo. To freaking freak your freak over.
Super simple. Cream cheese, powdered sugar, vanilla or pumpkin extract, and a wee bit of milk. And half of your face because you will straight drizzle it all over yourself and not even remotely care.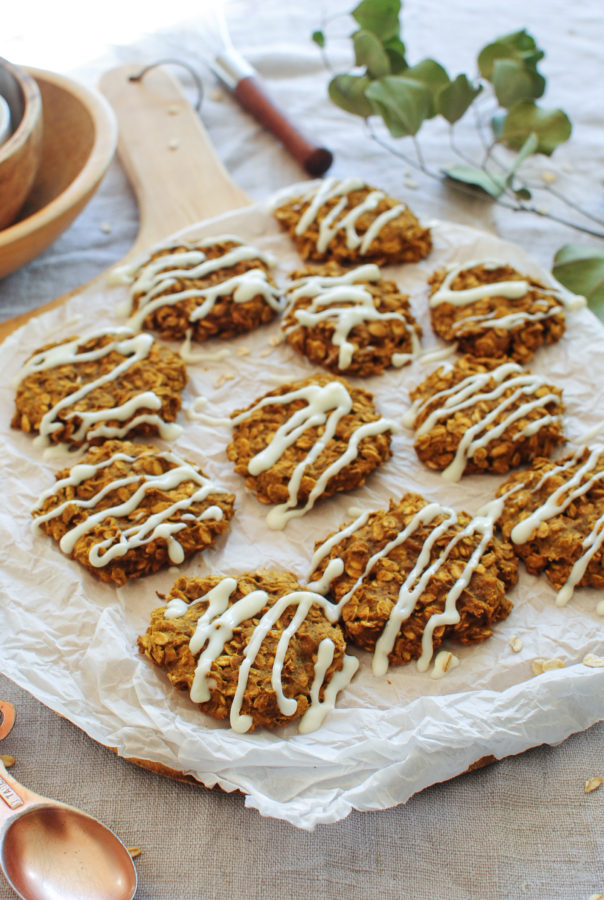 Get yo' self in some cookies!
Pumpkin Oatmeal Cookies with a Cream Cheese Glaze
Ingredients
1 cup all-purpose flour
1 tsp baking soda
1 tsp pumpkin spice
pinch of salt
2 cups Quaker® old fashioned oats
1/2 cup packed brown sugar
3 Tbs. white cane sugar
1/2 stick of butter, softened
1 (15 oz) can pumpkin puree
4 oz cream cheese
1/2 cup powdered sugar
1 tsp vanilla or pumpkin extract
3 Tbs. milk (more if you prefer a thinner glaze)
Instructions
Preheat oven to 350.
In a standing mixer, cream the butter and sugars together, until combined. Then stir them together with the canned pumpkin in a separate bowl (or the bowl of the mixer!).
In a large bowl, sift together the flour, baking soda, salt, pumpkin spice, and oats. Add the pumpkin mix to the dry ingredients and stir to combine.
Using your fingers, or a small spoon, press about a Tbs. of cookie dough onto an ungreased baking sheet. You can actually shape the cookies to the size you want. They won't spread much in the oven. Bake for 13-17 minutes, or until slightly crispy on top.
In the meantime, add the cream cheese and powdered sugar to the mixer. With the motor running, add the extract and milk, until the glaze is silky and perfect. Transfer glaze to a small plastic bag, and cut a tiny hole in the corner. Drizzle each cookie with the glaze and serve immediately!
Makes 20-25 cookies.
7.8.1.2
57
https://bevcooks.com/2016/11/pumpkin-oatmeal-cookies-cream-cheese-glaze/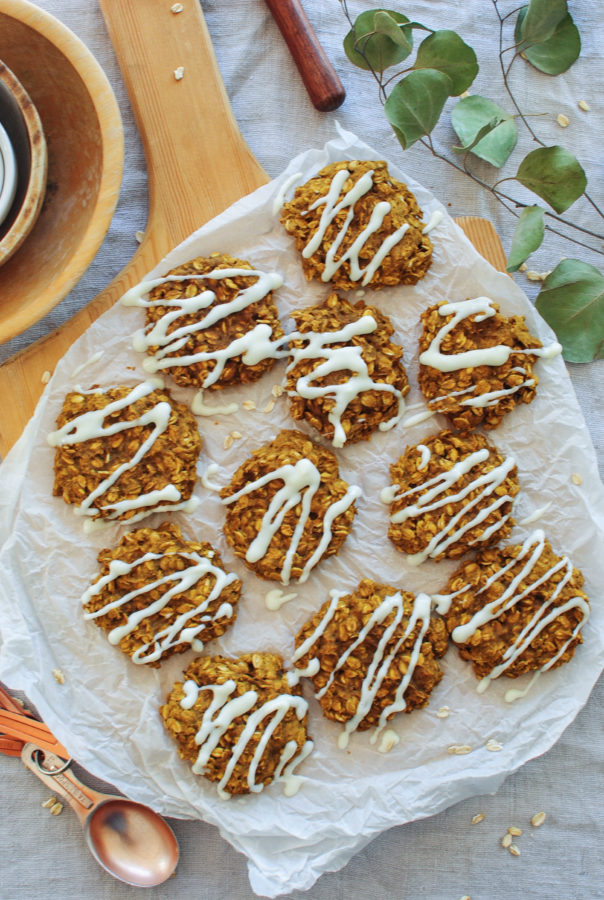 Save me some glaze.
Save
Save
Save
Save