Yes those are biscuits and yes that is melted cheese on top and yes that is a lake of drool on your keyboard.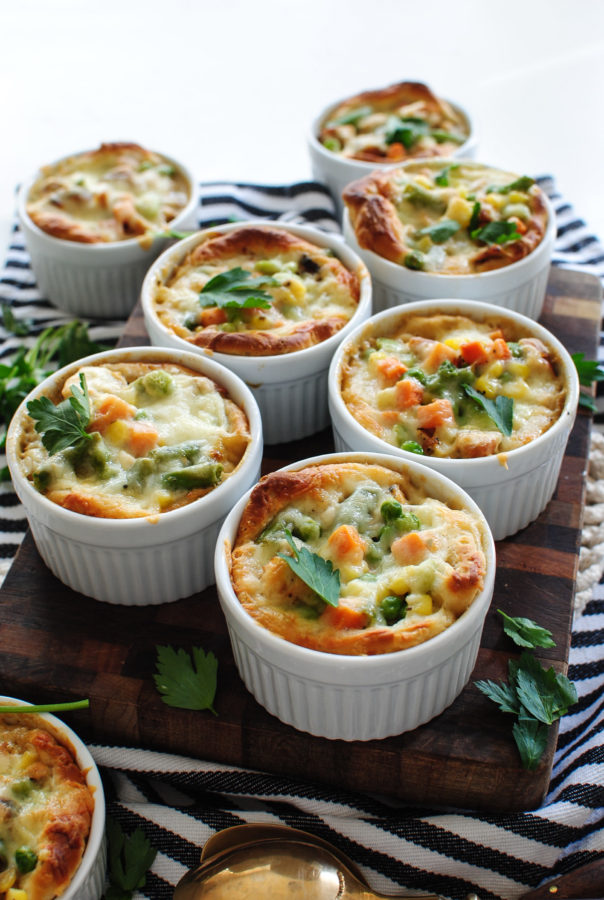 I'm not gonna lie. Sometimes I have those nights when I'm like, "Dude I just need to open up a can (not of whoop a$$)and rip open a frozen bag of whatever and call it."
THIS is that meal for you.
It involves a can of biscuits, a bag of frozen vegetables, season and seared chicken, and melted cheddar cheese. And because they're mini pot pies the cute meter is practically shattered.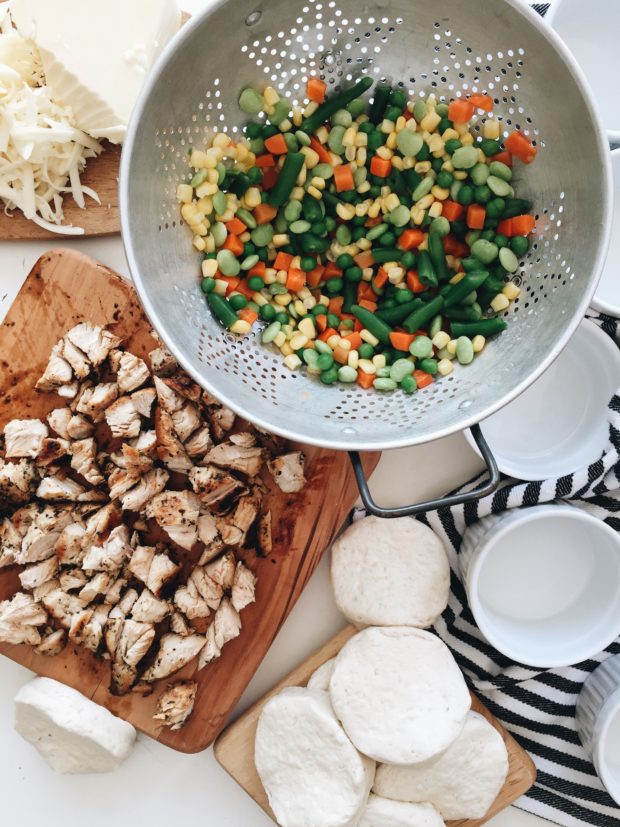 Suuuuuper simple. (I feel like I say that about every single dang recipe I post. But it's true! I can't help it. I only speak the truth. I wouldn't say it every time if it weren't true. Am I talking too much parentheses talk? I'll chill. But just so you know, this recipe is super simple. Goodbye forever.)
First you'll sear a couple of cheeecken braystes. Just season with some Italian seasoning, sear, and chawp. Then just go ahead and roll out a can of biscuits. But take the biscuits out of the can first. Don't roll the actual can. You crazy!
Then lightly press the beeeeezceets into eight ramekins. You don't even have to grease the 'kins. The biscuits have flecks of butter in them (remember that on Snapchat? omg.) that'll keep them easy to pop out.
Oh, wait, I forgot a step!
Take the crimp iron and start from the bottom of your hair shaft. Work your way up until you rea – hold on. That's not for this. Never mind.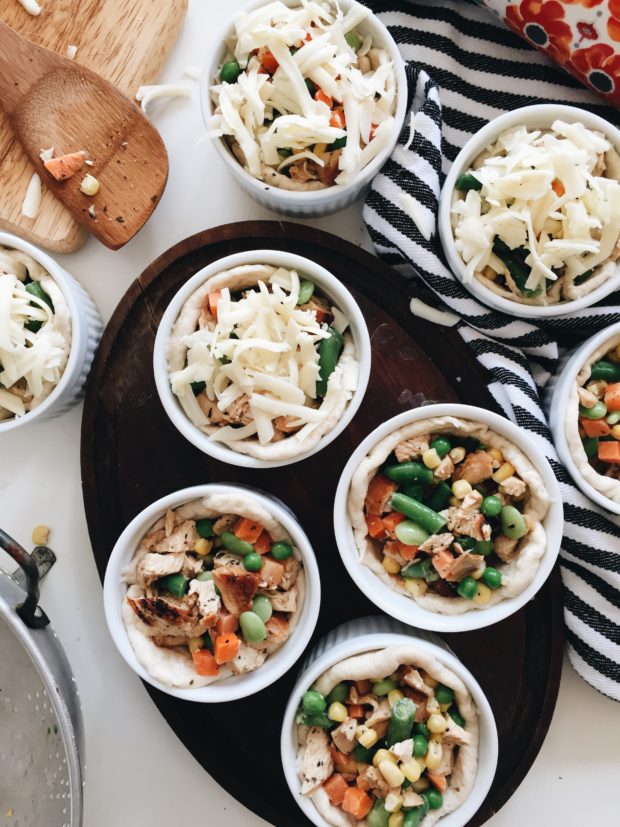 You'll combine the chopped chicken with the thawed vegetables, a tiny bit of flour, and a smooch of milk. The milk is the binder. Keeps everything creamy. You like creamy. It's fall, you're required to like creamy. Deal.
Then pile a little chicken and veggie mixture right into each biscuit pocket, and top with grated white cheddar. Mmmmmmmmmmmm. Are you getting excited? You should get excited.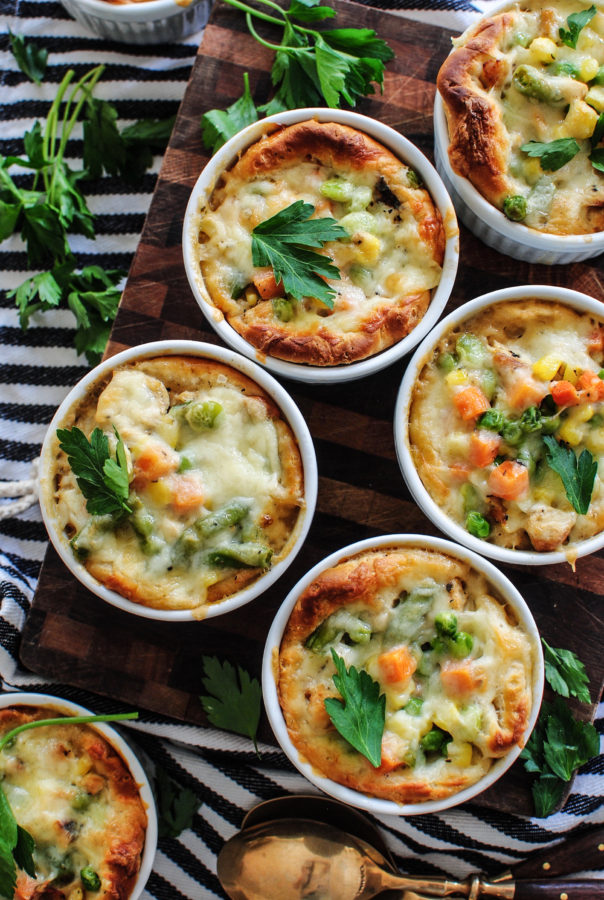 BECAUSE THIS.
Waaaaaah.
I don't think I need to tell you that my kids plunged their entire torsos into these. As did their mom. Which is me. Bev. There was lots of torso plunging.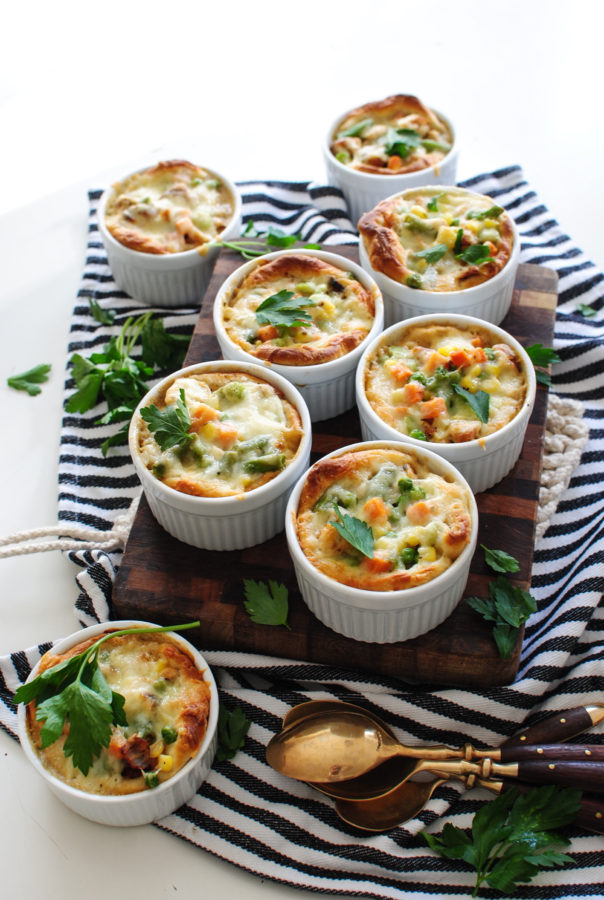 Insanely easy.
Veggie and protein packed.
Hi, biscuits.
Beyond comforting.
TASTES LIKE CHILDHOOD I'M NOT SURE WHy I'm screaming this at you.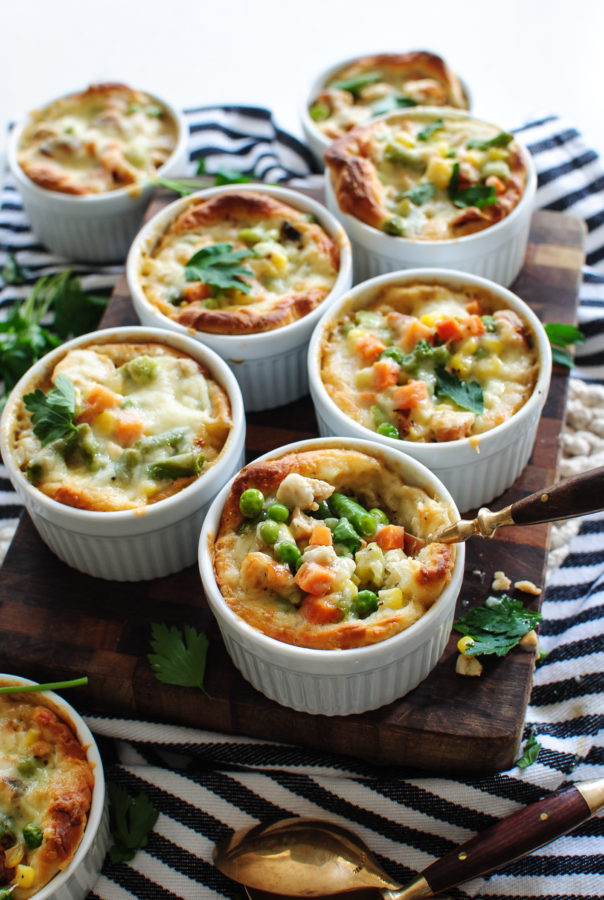 Make make make!
Ingredients
1 Tbs. extra virgin olive oil
2 chicken breasts
1 Tbs. Italian seasoning
1 (12 oz) bag frozen vegetables, thawed
1 (16.3 oz) can of biscuits (I used Grands)
2 tsp all-purpose flour
1/3 cup milk
2 cups (about) freshly grated white cheddar cheese
coarse salt
fresh parsley, for garnish
Instructions
Preheat the oven according to the biscuit can. I think it was 375.
Heat the oil in a medium skillet over medium-high. Season the chicken with the Italian seasoning and a pinch of salt. Sear, covered, on one side for 5 minutes. Flip, cover and sear for 4 more minutes. Let the chicken rest a few minutes, then give it a good chop.
In a large bowl, combine the chopped chicken with the thawed veggies, flour and milk. Give it a good pinch of salt and stir to combine everything.
Roll out each biscuit until it's like, 5 inches across, then lightly press them into ramekins. Evenly fill each ramekin with the chicken/veggie mixture, and top with grated cheese. Bake for 25-30 minutes, or until the cheese is starting to brown and bubble, and the biscuit dough is cooked through.
Garnish with parsley and watch them disappear like whaaaaat.
Makes 8 ramekins.
7.8.1.2
48
https://bevcooks.com/2016/10/cheesy-biscuit-pot-pies/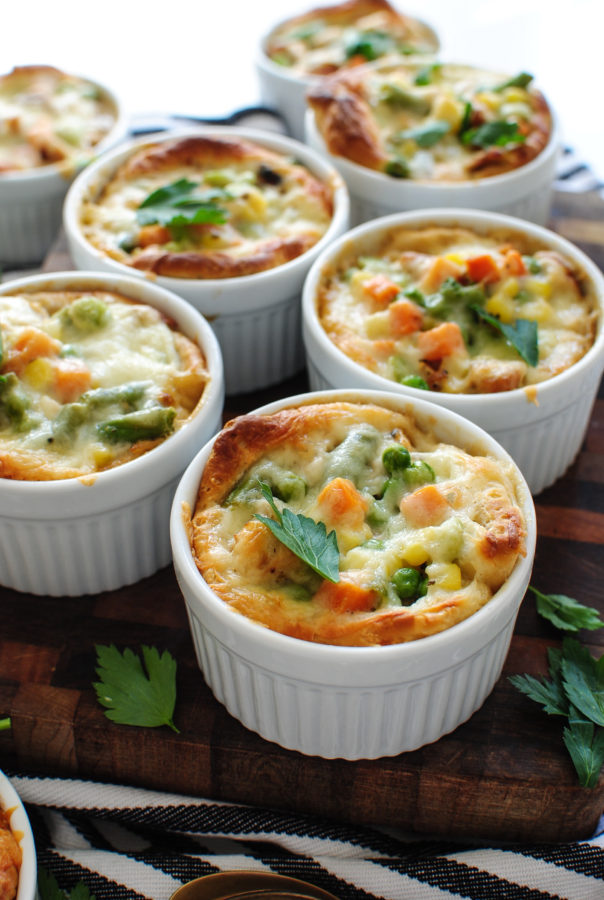 You have my permission to proceed with your own personal torso plunging.
Save
Save
Save
Save