I'm posting FOOOOOD glory be to all the pigeon angels and baby koala bears.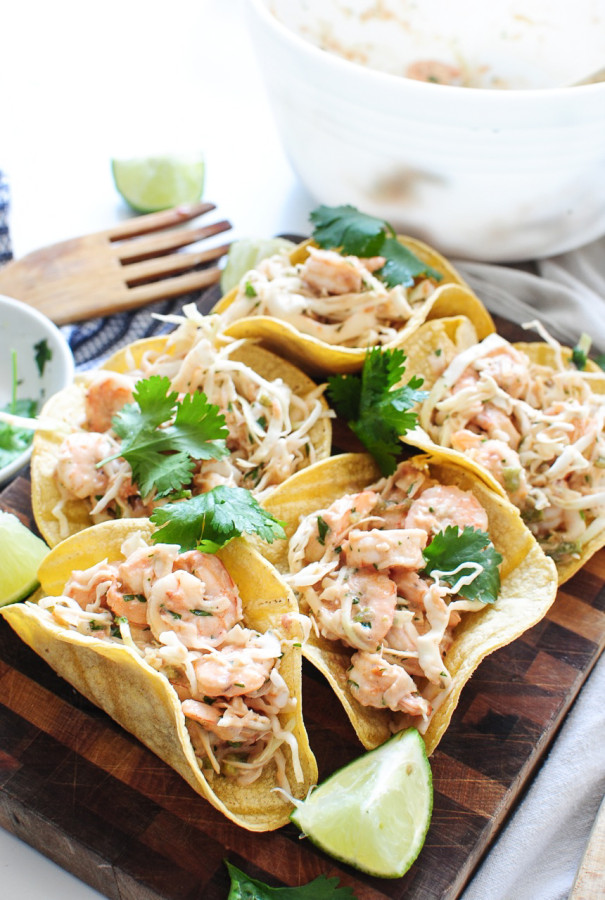 And tacos, none the less. Had to start back strong, ya know. Go tacos, or go home. Isn't that the old saying? Every taco has its shell? When life gives you tacos, make tacos? I forget how it goes.
Anyway, thanks for being patient with me as I settle back into a normal post-travel groove. I've had z e r o time to cook for the blog, so it felt reallyreally nice to get my big-girl camera out, pump up some tunes (<–why do I do it?) and churn out a new recipe fer ya. Tacos!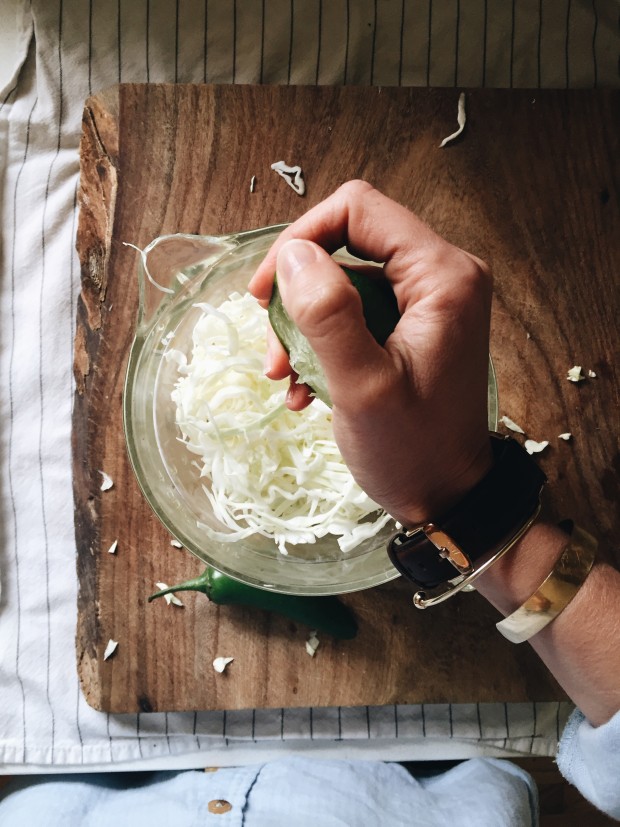 These are so fun. I can't remember when or where I got the idea for them, but it was before my big tri- OH I REMEMBER. And you've probably already done this a kabillion times before, but one afternoon when the munch bug hit, I took a little bowl and swirled together some good ranch dressing and salsa. It became this magical shade of pink and right then, it spoke to my soul, "Beverly Sue, this mystical combination of ranch and salsa shall bring your life a fresh purpose. Go forth and pave new ways for future generations. And shave your legs, for crying out loud. It's been like, an entire week and people are going to start calling you Thicket Legs."
I didn't say the voice was friendly.
The basic ingredients for this biz are seared shrimp (I used large this time around because they're smaller and more bite-able for tacos. Isn't it weird that a size large is small? Just think about that.), shredded green cabbage, ranch dressing, salsa, cilantro and a roasted jalapeno pepper!
And don't be skeered by the pepper – it really doesn't add that much heat. Just amps up the flavor a bit. Totally wish I hadn't used the word amp just now.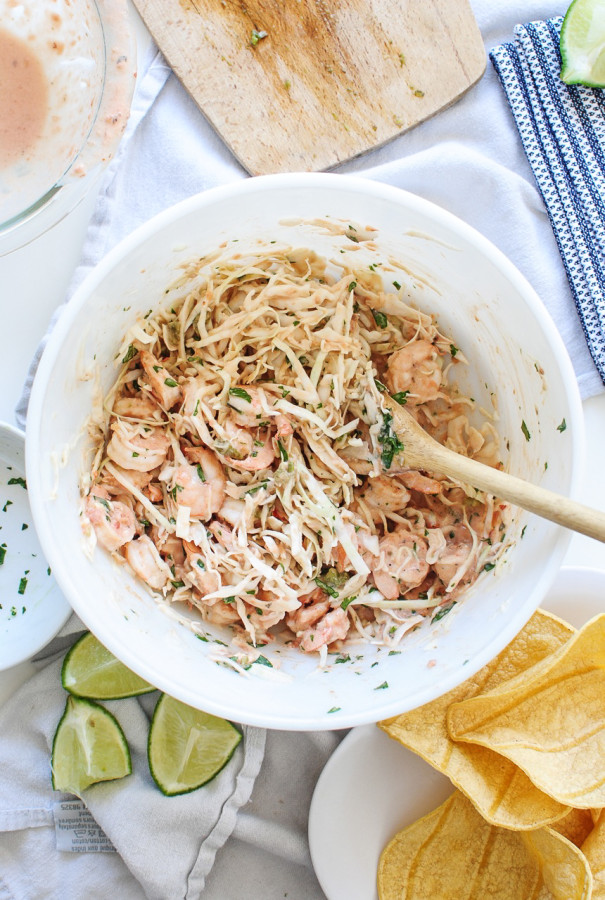 Toss toss toss aaaaaaand you're done. Scoop the shrimpy cabbagy mix into some crunchy corn tortillas, and life eeeeez guuuuud.
Oh! A word about how I did the shells. Just preheat your oven to 350, and flip a muffin tin upside down. Carefully nestle the shells between the tins, and lightly coat with cooking spray. Bake them for abouuuuut 10 minutes. May not even need that long. Just keep an eye on them. They'll stiffen up a little and give you a nice crunch! Not AS crunchy as store-bought shells, but overall a smidge healthier, since they're not fried. Look at you!
Give her a squeeze of lime juice and garnish with more cilantro. Always and forever.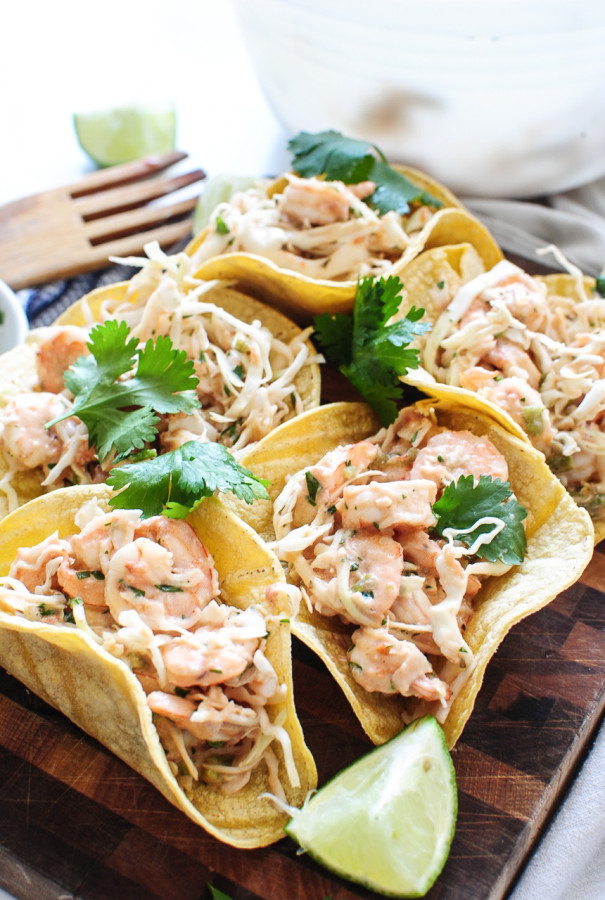 TACOS.
Shrimp and Cabbage Crunchy Tacos
Ingredients
3 - 4 cups finely shredded green cabbage (a mandolin works great!)
1 pound shrimp (I used large)
1 jalapeno pepper
1 or 2 limes
4 Tbs. good quality salsa
2 Tbs. good quality ranch dressing
1/3 cup finely chopped cilantro, plus extra for garnish
6-8 corn tortillas
salt and pepper
Instructions
Place the shredded cabbage in a medium bowl and squeeze the juice from half a lime into it. Toss and let it sit while you prepare the rest.
Preheat your broiler to hi, and place the jalapeno on a small roasting pan. Roast until it's charred all over. Once black, transfer the pepper to a small baggie, and zip to close. After a few minutes, remove the pepper and rub the skin off with your fingers. Slice off the stem and finely chop the pepper. (you can remove the seeds for less heat, but it's really not that hot!)
Now flip the broiler to bake at 350. Flip a muffin tin upside down and carefully nestle the tortillas between the muffin tins. You might even want to microwave the tortillas for about 10 seconds, making them more pliable. You just want to be careful not to break them. Lightly coat with cooking spray and bake roughly 10 minutes, or just until slightly crispy. Remove from the oven.
In the meantime, season the shrimp with salt and pepper and sear in a large sauté pan until opaque. Won't take but a minute. Transfer the shrimp to the cabbage bowl.
In another small bowl, whisk together the ranch and salsa.
Now, pour the ranch mix over the shrimp, along with the minced jalapeno and cilantro. GIve it a big toss to incorporate everything. Taste it. Eeeeeeee! Sorry, I get excited.
Pile the shrimp mix into each tortilla, and give it another squeeze of lime and a few torn cilantro leaves.
YOU WILL FREAK.
7.8.1.2
14
https://bevcooks.com/2016/04/shrimp-cabbage-crunch-tacos/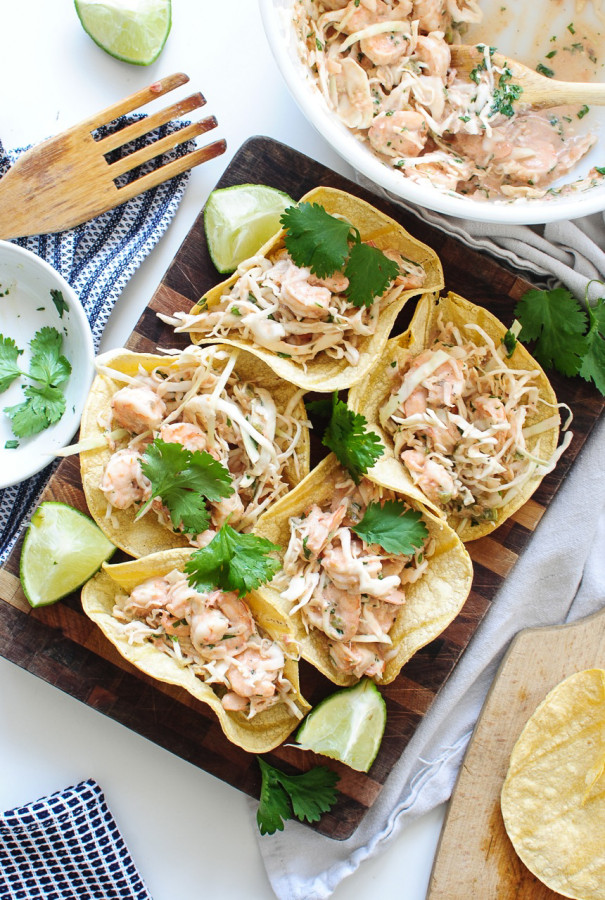 I'm still upset about the Thicket Legs thing.