Howdy ho, howdy hoo, how da hay do ya do!
…I have no idea what that was about.
But! I'm super pumped because I'm finally posting the spring edition of What We're Diggiiiiin'! (<–obviously said like Mama O) This post is especially special because of three special sponsors who helped make this edition extra special. (<–don't punch)
And because the law: the insanely delicious cookie mixes from Krista's Baking Co., along with the ISSA Mikro Toothbrushes for kids and the Artifact Uprising Layflat Album were all given to me for review. Therefore, product and/or monetary compensation exchanged extremely under manicured hands. (<–mine)
Let's dew deez:
1) Homemade Cappuccinos!
Uhhhhhh, first of all, you all know I'm a die-hard Chemex coffee girl, but I can't even believe I MADE THIS FANCY FACE DRINK. I'm sure it's like, way subpar to the capp-pros of the world, but dis gal be proud.
However, I need major help. I'm sure there are supposed to be layers in this drink, right? Like, the espresso layer on the bottom, the milk layer in the middle, and then the microfoam layer on top. Can you see my foam?! I MADE THAT FOAM. But how do you achieve the layers without it all blending together? How do you tell that espresso layer to sit still? How do you catch a cloud and pin it down? (<-name that movie)
Okay, there's obviously so much to cover here. Do you make capps at home? (I call them capps, by the way. It's a problem and I'm not willing to seek help.)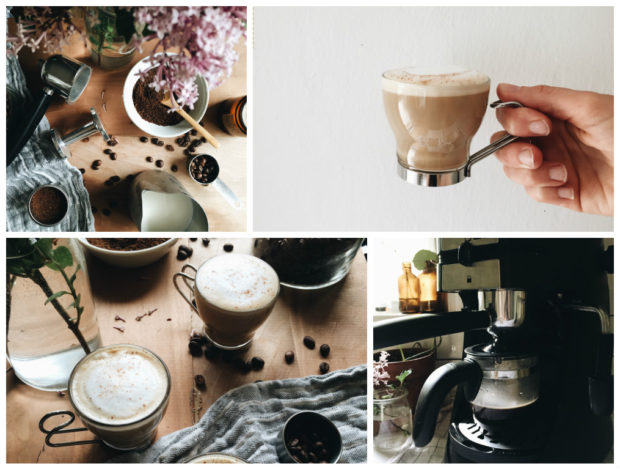 First of all, do you use actual espresso beans when you make cappies at home? Or do regular coffee beans work okay? Because I've been using regular and I feel good about this in my life, but I don't know. Are they the same thing? Help my sadness.
Also, do you find that a lower percentage in milk fat makes a BETTER foam? Or is it all in how cold the milk is? It took me a few tries to get my foam good and . . . well, foamy (put the steaming pitcher in the fridge!), and I can tell you, when I finally did – JURASSIC TEARS WERE SHED.
My dad bought me a little Capresso machine when they visited earlier this spring, only because I couldn't shut my frickin' pie hole about my new unwavering love for cappuccinos and how they'll always remind me of my time in Europe. And I dig it! It's small. Not too scary. Makes some good cappies.
I call them cappies now. Just punch me and get it over with.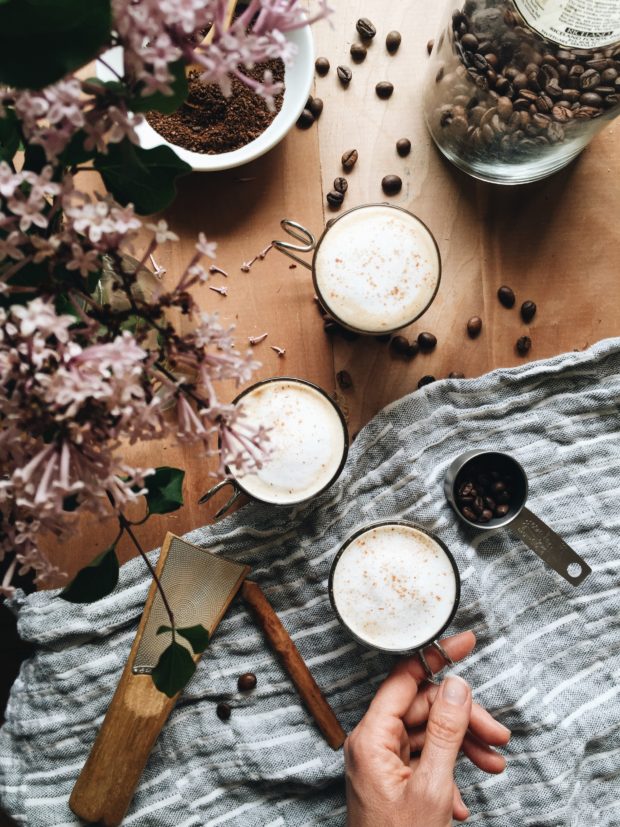 One last thing! If you have tips on foam art, share away. That's my new goal in life – FOAM ART. Is it even called foam art? Cappie foamy art? I'll stop.
Also, I dig!
2) Krista's Baking Co.'s COOKIE MIXES omg.
You need a cookie to go with your cappie, right?
YAS.
First of all, Krista is super, super sweet and nice. And she lives in Seattle, so she's obviously cool. And her COOKIES. Well, her cookie mixes. You make the cookies from the cookie mixes! Know what I mean, Vern?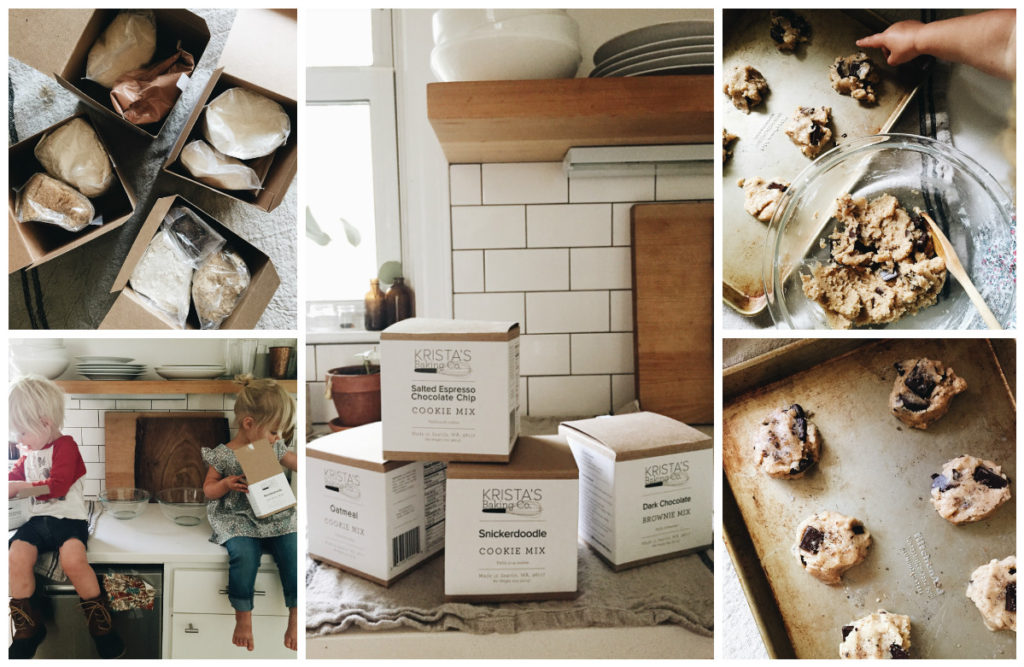 It really is such a cool idea. (And simple, beautiful packaging which always wins my heart forever and ever.) So this is the thing: she has six different cookie mixes, each coming complete with pantry staples. And then you add the rest! Which is normally just like, butter and eggs. Boom. We made the Salted Espresso Chocolate Chip cookies and I still can't say my own name, they are that insane.
Aaaaand, the instructions for each cookie mix are printed right on the side of the box, so it's way simple for a loon like me to read and manage. Aaaaand each ingredient is in its own cute little pouch or baggie. Like, a tiny pouch of finishing espresso salt. WHAT. Who does that? Krista does, that's who.
You can obvs. buy her cookie mixes via her site, and she also has a scattering of places across the country that sells them! (locals, SEASON + SQUARE in Brookside. You know my love for this little shop. Go! GOOOO.)
It's pretty much the cutest, funnest, most delicious time. Ever.
These two cookie monsters approved.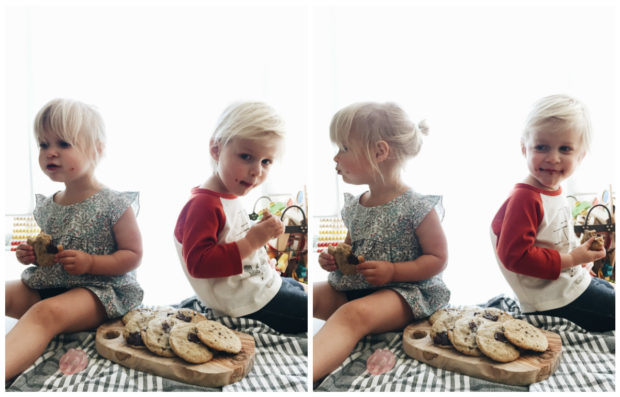 COOOOOOKIIIIIIIEEEEE. We dig!
3) ISSA Mikro Electric Toothbrushes! For KIDS.
Now that we've had a drink and our dessert, we should probably brush our teefies, right? I say teefies because I have two year olds, and because that's just the way I say it.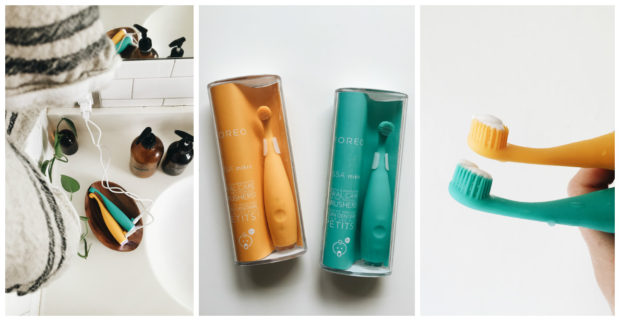 You guys, these toothbrushes are craaaaaazy. You CHARGE THEM. Which I guess is normal for electric toothbrushes, but I've never had one. And now my kids do and I'm like, "Hold up. Where's mine?"
First of all, clean packaging. Yes.
Second of all, the toothbrushes themselves feeeeel good. They're soft. A little spongy in a way. Easy on zee leetle feengers.
The deal is, the toothbrushes pulse with sonic vibrations, but you can definitely brush their teeth without the vibrations. I have to be straight with ya, my kiddos aren't on board just yet with the buzzing. I'm holding out for the day when they are because I think it would be a hilarious experience for us all. I think a few months from now it will be a totally different story, and they'll think it's funny and cool and weird and awesome. But right now? Nnnnnnnno.
They ARE obsessed with walking around with the toothbrushes in their mouths for hours though. Might be because I put chocolate ice cream on them instead of toothpaste.
OH I keeeeeeeed.
….I think.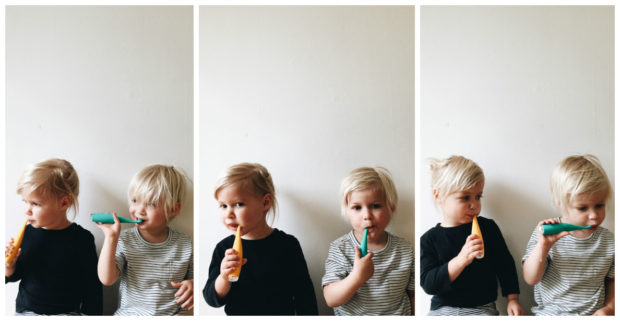 The bristles are actually silicon, so they're super soft, and don't go flat and wire-y like a hay stack. I seriously want one.
ISSA Mikro Toothbrushes from Foreo! Completely, completely dig.
4) The Artifact Uprising Layflat Album:
As Mary Poppins says, "A thing of beauty is a joy forever." (you know how much Poppins we watch, right? a. lot.) But she's totally right! And this photo album from Artifact is exactly that. If you've not yet seen this on my Instagram page, I've partnered with the ultra-chic printing company, Artifact Uprising in a $200 site credit giveaway! PLUS 10% off your order, when you use the code BEVCOOKS at checkout. Ha-bam.
If you have a love for simple, beautiful design, you'll absolutely freak out over everything on their site. I have a small wooden calendar that I couldn't love more, and yearly flip books that make my heart muscle squeal like a Muppet.
But this LAYFLAT album aaaaare you kidding.
It is stunning. Hard cover, a gorgeous oatmeal color with white lettering. Ugh. And the pages are super thick with amazing high-quality printing. These are seriously just my iPhone photos. Uploaded straight to the site! I weep for days.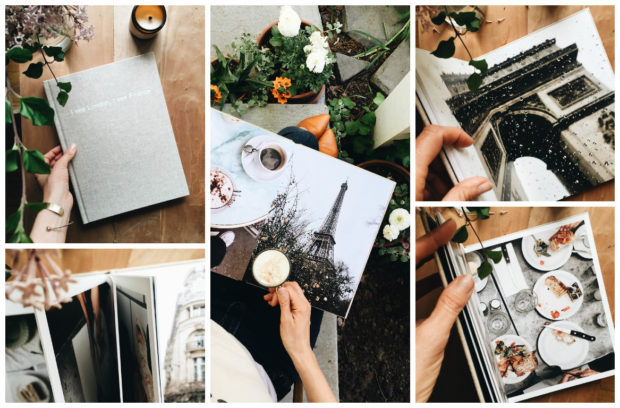 The book I made is called, "I See London, I See France" because I'm five years old and it made me giggle. It's a collection of photos from my Euro travel, but you could make whatever you want! Photos of your kids, your food, YOUR FEET omg. Do that. For me.
The giveaway (and discount) ends this Friday at noon, so be sure and peep it for Mother's Day gift ideas, or you ideas! Because presents.
5) White Converse!
Can't get any more classic-casual than these tried-and true babes. I remember when wearing white on your feet was ghastly forbidden, and only reserved for people like Jerry Seinfeld. (<–now you know why I love him so)
These days it's all changed! We WANT to wear white on our feet. And we wear it proudly and stylishly. I've definitely noticed the white converse trend reappear (and uh, explode) in the last few months. I had a few pairs back in high school – but darker, more grungier colors like olive green and charcoal. And we wrote all over them like morons. Favorite bands, favorite quotes, Beavis and Butthead drawings. Ugh, I miss the '90s.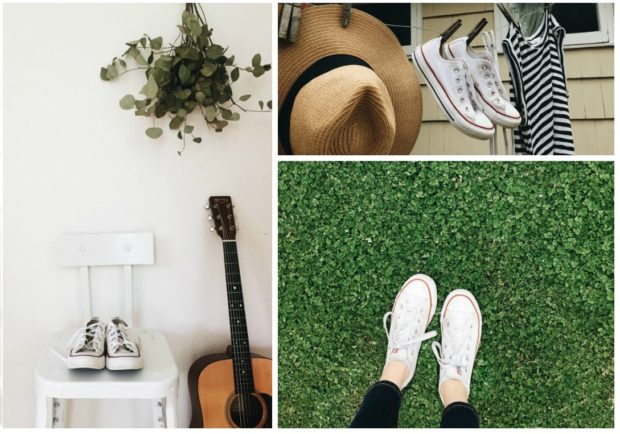 They've been around forever. And have looked GOOD forever. And I'm completely obsessed with mine and it's a problem that's starting to spiral.
Do you have some? How many pairs? How often do you wear them? 'Fess up. Because I need to feel not so crazy in my life.
And there we have it! Five springy thangs we're diggin' at the moment. Thanks again to my three awesome sponsors! I'd also like to thank the Academy for always being ther- wait. This . . . is the wrong . . . yeah.
Tell me what you're diggin' right now! You know I need these details to thrive.