Crepes! As in – the real deal. From scratch. From crepe scratch.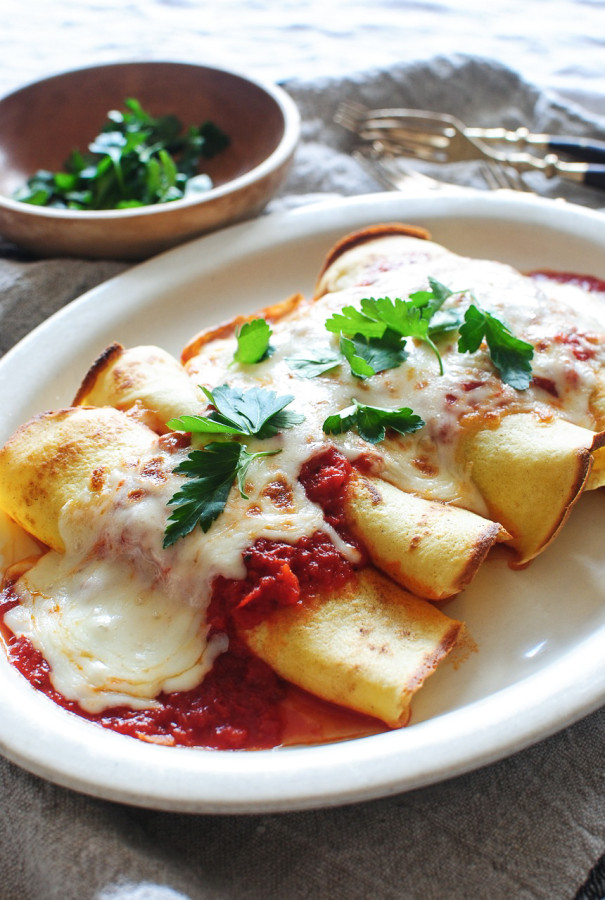 Plus an obscene amount of melted mozzarella because these are the ridiculous decisions of my life.
So, the other day I was watching Jacques Pépin on the PBS, and he was whipping up these beautiful, light, golden brown crepes lightning fast, while his tiny chipper granddaughter chimed in with the occasional snicker here and blush there. And I was like, "CREPES. I've never made crepes! I've need to make crepes. Like, bad." While he didn't give exact measurements (other than 1/2 cup of flour + two eggs), I watched and listened closely to his, "Yew jus add a leetle more meelk at the end because yew dun want it too theeck. You want it like ehhhh, heavy cream!" Got it, Jacques. I so got this.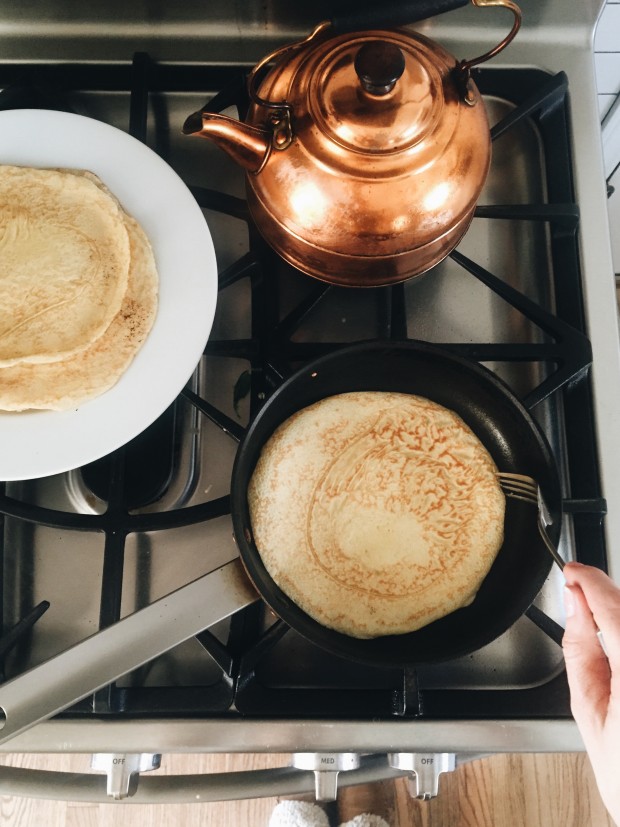 After a little willy nilly this way, and wonky nonky that way, bam. Done. Figured out.
In short, you start by melting 2 to 3 Tablespoons of butter. His pat was pretty enorm, so I lean towards 3. Once it's melted (but not browned!), you'll whisk it into a bowl with the flour, eggs, a pinch of sugar and about 1/4 cup of milk. Once you whisk it, you add mooooore milk, another 1/4 cup and whisk it until it's thin and ready to get crepealized. (<–true factual word)
Jacques served one tiny stack to this granddaughter with Nutella and strawberries, and another stack to himself with jam and powdered sugar. And it all looked crazy glorious.
But! You know I need the savory in my life. (however, I did buy some Nutella for the grems because I'm a walking cliché.)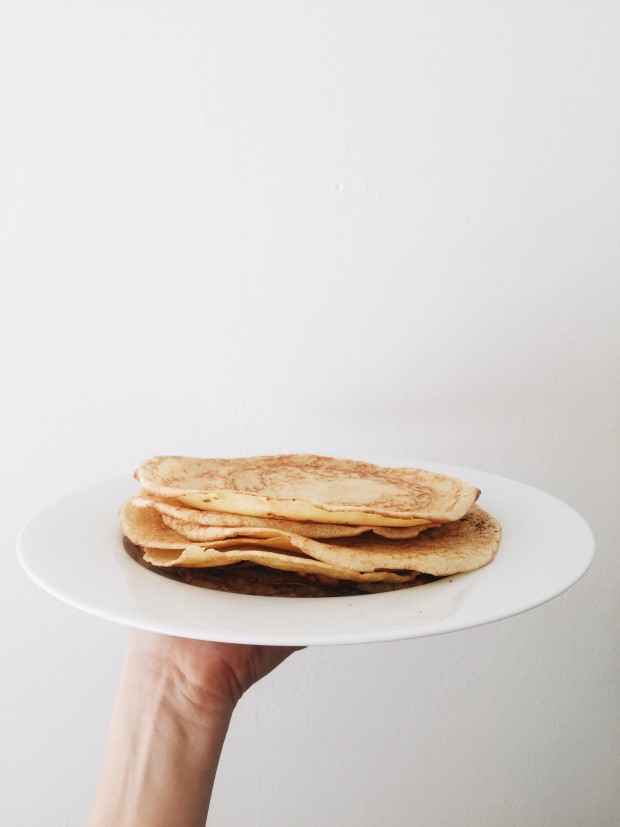 So after a stack of crepes were made and resting in a warm oven, I got started on my savory filling. It's pretty standard, but I kept it straight forward and on the simple side. You know my ways.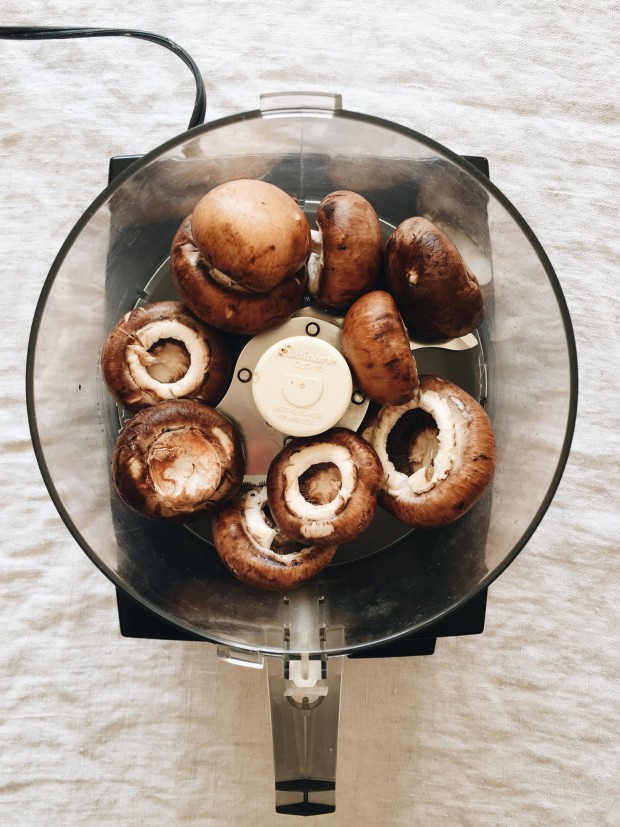 Baby bellas in a food processor. Blitz blitz until it's super crumbly and almost a paste. Coo? Coo.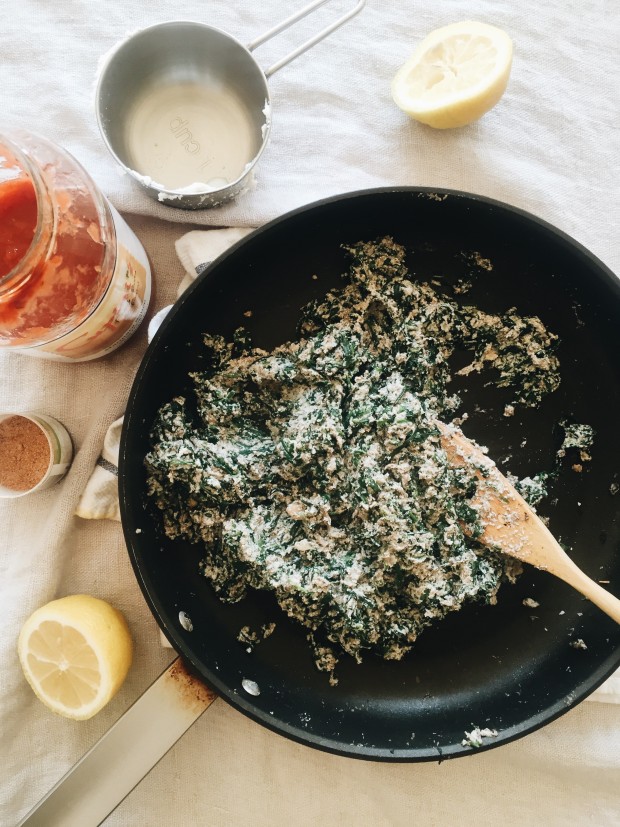 Then you'll just sauté the mushroom paste with garlic, spinach (thawed and water squeezed out like whoa), and about a cup of ricotta. I kept the ricotta on the light side, only so that the spinach and mushrooms had a chance to shine. AND BOY DID THEY SHINE.
(Not sure why I screamed that just now.)
And the rest is simple! Fold the filling into your warmed crepes, top with your favorite marinara and shredded mozzarella, give her a broil aaaaaaaand….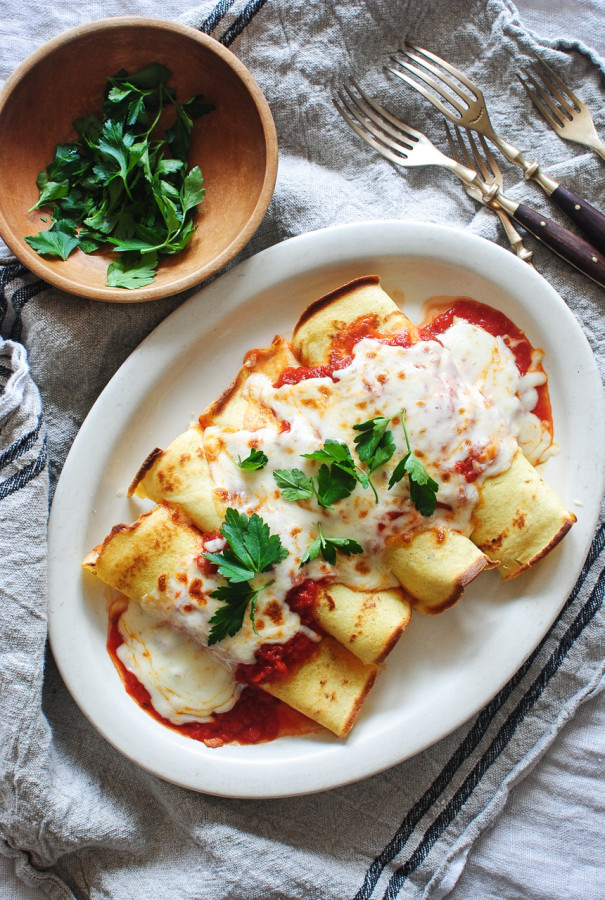 HA – B I G G I T Y.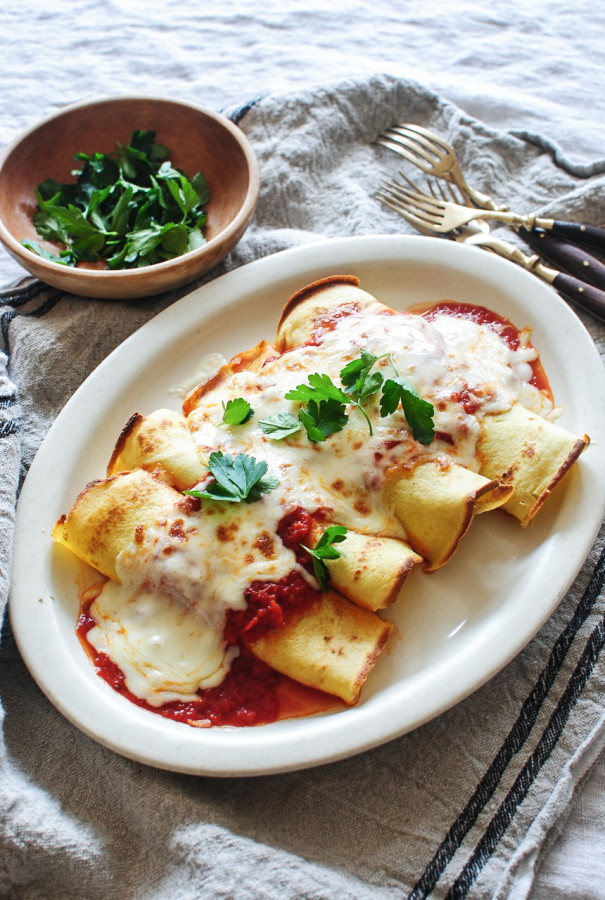 This is serious business, you guys. Obviously your kids will love it because of all that melted cheese on top. Obviously your husband (not mine) will love it because of all that melted cheese on top. Obviously you'll love it because of all that melted cheese on top.
And then the crepes! Soft, thin, pillowy little blankets cradling a luscious filling o' fab.
Jacques knows, man. He knows.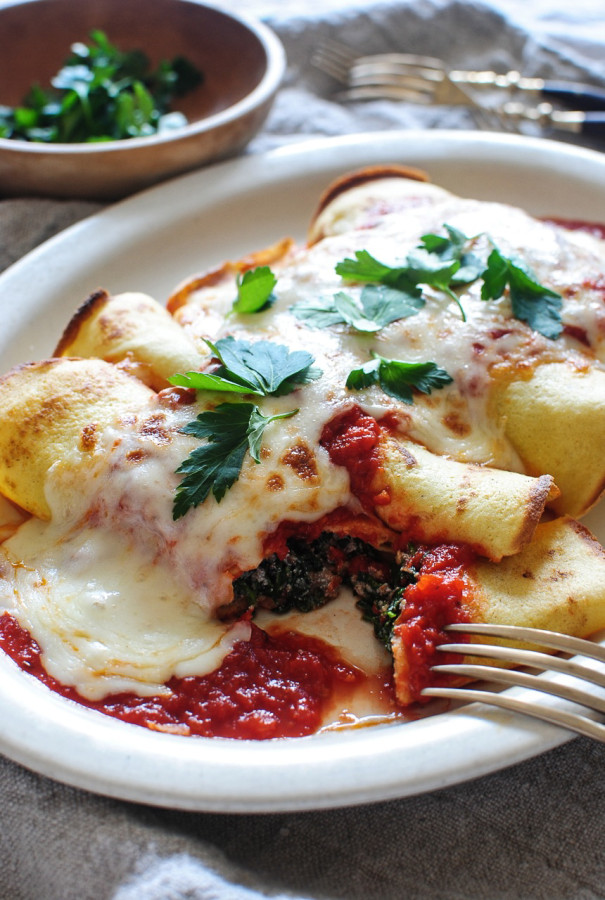 Uggggggh.
Spinach, Mushroom and Ricotta Crepes
Ingredients
for the crepes:
3 Tbs. butter
1/2 cup all-purpose flour
2 eggs
1 pinch of sugar (1/2 tsp)
1/2 cup milk, divided
for the filling:
8 oz baby bella mushrooms, rinsed of any excess dirt and stems twisted out
10 oz frozen chopped spinach, thawed and excess water squeezed out
3 cloves garlic, minced
1/2 tsp fresh nutmeg
1 cup of ricotta (maybe a little more if needed)
2 tsp fresh lemon juice
salt and pepper
for the rest:
1 cup favorite jarred marinara (we use a local restaurant's brand), slightly warmed in a small pot
2-ish cups shredded mozzarella (grate your own! makes a difference)
parsley, for garnish
Instructions
Melt the butter in a small skillet. While it's melting, whisk the flour, eggs, sugar and 1/4 cup of milk. Stir in the melted butter, remaining 1/4 cup of milk and whisk until smooth and thin.
Back in the skillet over medium heat, ladle about 1/4 cup of the batter into the pan and immediately swirl to coat the bottom of the pan. Let sit for about 20 seconds. Flip with a fork and let it slightly brown on the bottom side, another 20 seconds. Takes no time at all. Transfer to a plate and repeat with the remaining batter.

I would coat the pan each time with cooking spray!

Keep the crepes in a warm oven while you make the filling.
Place the baby bellas in a food processor. Blitz until very crumbly, almost paste-like.
Heat a Tbs. of olive oil in a large skillet over medium-high heat. Add the minced garlic and sauté for 30 seconds, until fragrant. Add the mushrooms and stir around in the garlic, giving the mushrooms a little color. Add a good pinch of salt and the nutmeg; sauté a couple of minutes.
Add the spinach and ricotta cheese, stirring to incorporate everything. Add the lemon juice and another pinch of salt. Taste it. Ooooo! If it needs more salt, go right ahead.
Place a couple of Tbs of filling into each crepe and place on a serving platter, seamside down. Spoon the warm marinara over the crepes and top with shredded cheese. Slide under the broiler for about 3 minutes, until the cheese is browned and bubbly. Garnish with fresh parsley and completely freak out when you see this GLORY.
Makes EIGHT crepes. Heavens yes.
7.8.1.2
10
https://bevcooks.com/2016/03/spinach-mushrooms-and-ricotta-crepes/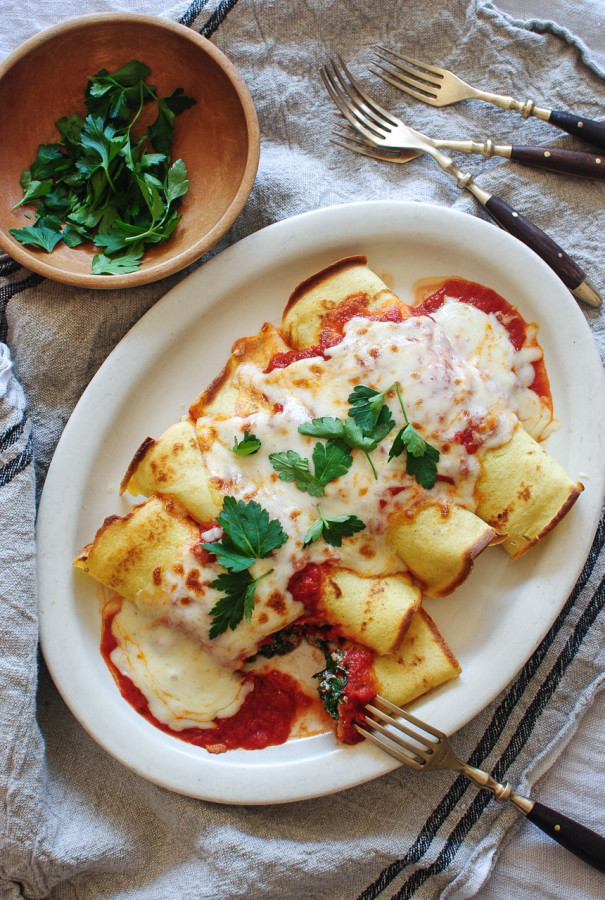 Good grief.