Taco Thursday! Just go with me.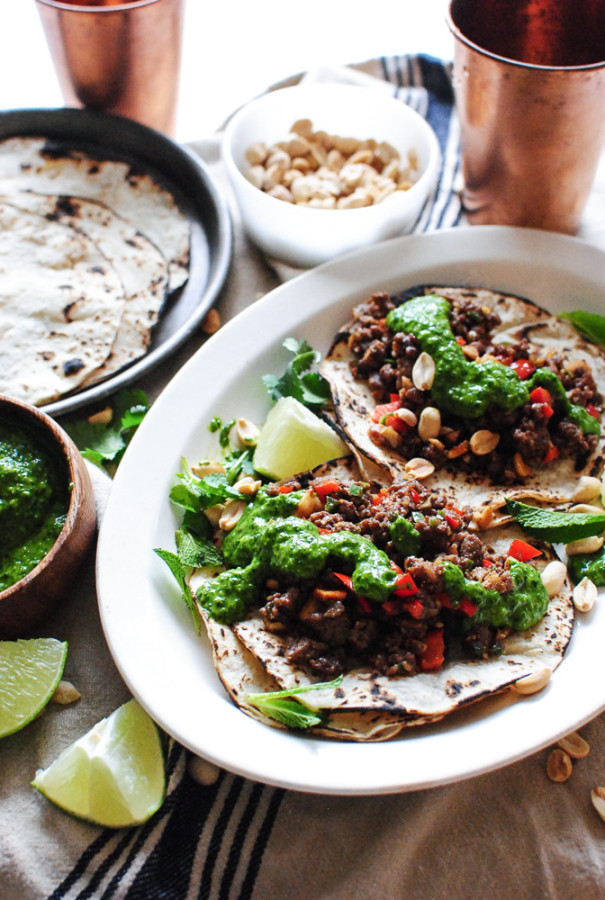 This recipe is actually a riff of another pork dish on my site, except for some reason I called that one Thai Pork Salad. And I'm calling this one CHINESE Pork Tacos. Things that make you go hmmmmm.
I'm actually calling these Chinese Pork Tacos because of the Chinese 5-spice in the filling. However, the Chinese 5-Spice is also in the Thai Pork Salad, therefore leaving us with conclusion: Bev be loco.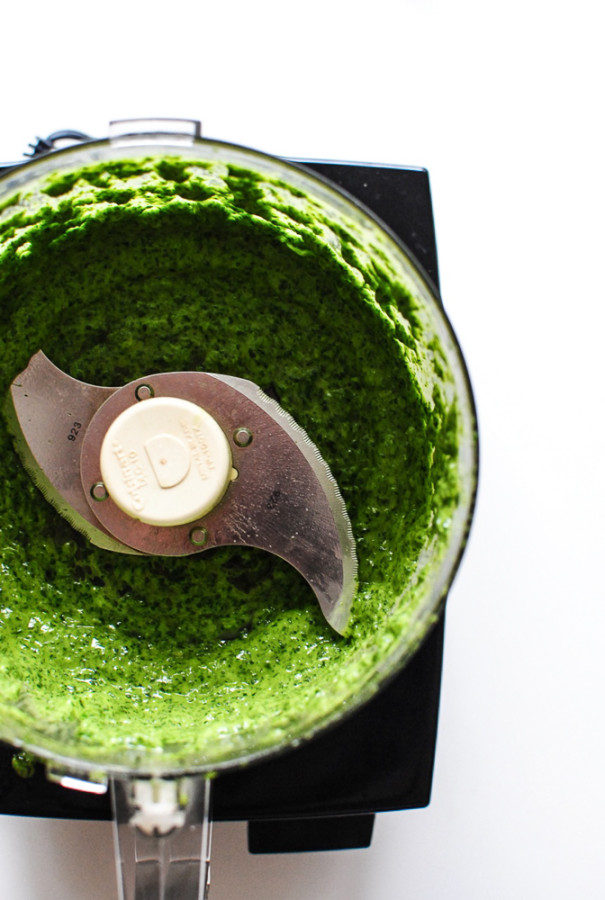 I severely want you to try these tacos, though. No matter what they're called. We could call them Felix if you want? That might be easier in the long run. Let's do that – Felix it is!
We don't have to call them Felix.
Anyway, let's discuss this pesto situation that will eventually drape the tacos (Felix) and your entire mouth. I kept it clean and bright, with mint, cilantro and scallions. But added a teensy bit of depth with sesame oil. If you don't have sesame oil at home, no bigs. You can skip it. I just like the JE NE SAIS QUOI it gives. (I had my fingers twiddling in the air when I said "je ne sais quoi" just now.)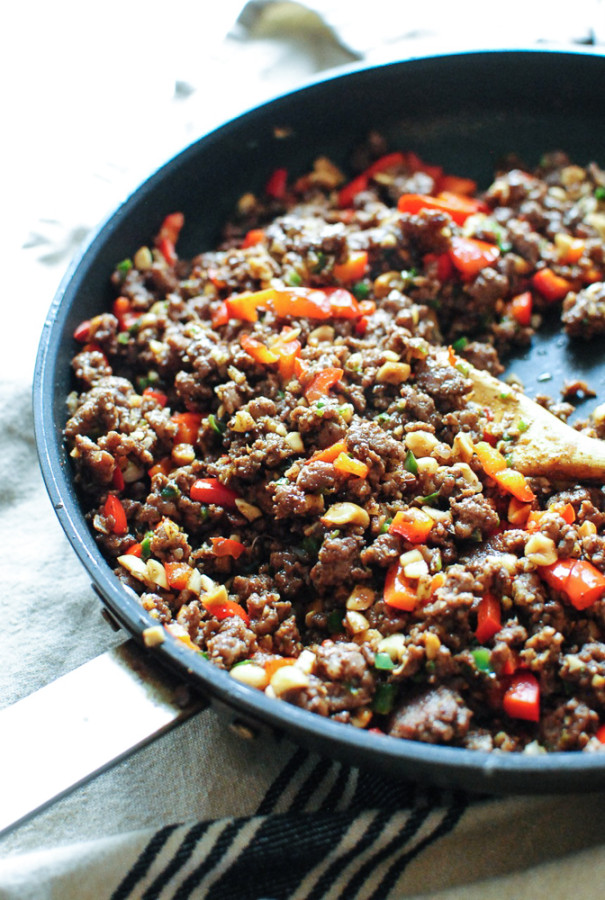 This taco filling will TRIP.YOU.UP. Felix don't be messin' around. It's a savory filling, but also sweet, because there's cinnamon in the Chinese 5-spice. If you've never tried this spice before, you totally should. Seek it out. Lurk the corners. Hover among grocery store staff until someone notices you slash calls the police. It's REALLY good. But if you can't find it (it can be tricky sometimes), just mix together a little bit of each spice in it and you'll come close. (cinnamon, cloves, star anise, black pepper and something else. I'd need to google it but the bats are about to emerge from their caves so I'm scrambling to get this written.)
Felix also has peanuts in it so that crunch be like mmmmm HMM.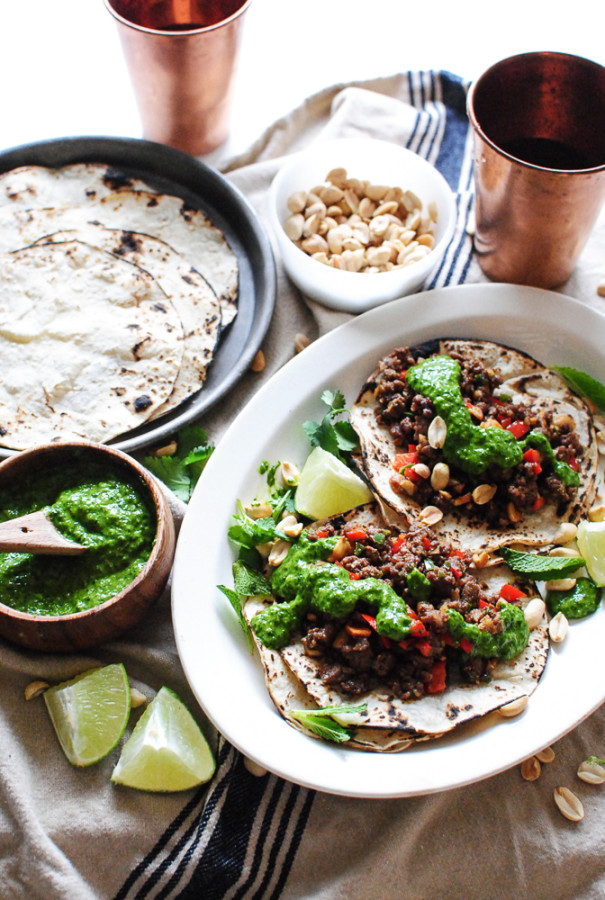 And that's IT. You've got your filling, and you've got your clean and bright herb pesto. Garnish with extra peanuts and a scattering of mint leaves and you're set.
My only advice would be to stick to corn tortillas. And if you have a gas burner, run each one over the flame until beautifully charred on both sides. This is my favorite slash only way to love on some tacos.
I'm telling your faces, these are delightful. Totally different! Lots of depth, but still zingy and bright. Look at you changing it up.
Look how happy you've made Felix.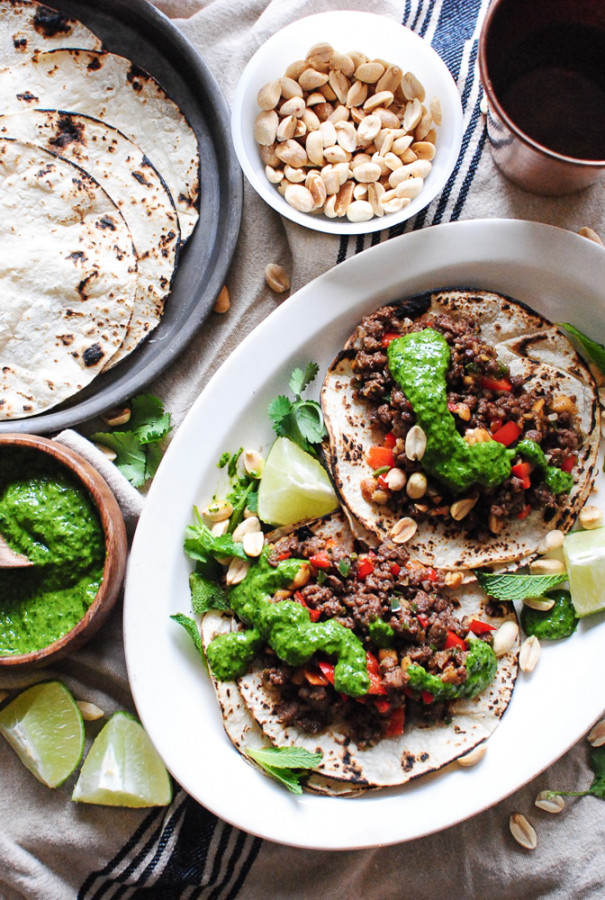 Felix for life.
Chinese Pork Tacos:
What it took for 4:
for the taco filling:
1 pound ground pork
1-2 Tbs. Chinese 5-spice (start with 1 tbs. and taste it.)
4 cloves garlic, minced
1-inch piece of ginger root, minced or grated
1 jalapeno, seeded (for less heat) and minced
2 Tbs. brown sugar
1/2 cup chopped peanuts
1 Tbs. soy sauce
juice of half a lime
1 red bell pepper, diced
16-20 corn tortillas (more or less, depending on if you double up or not)
for the pesto:
1 cup mint leaves
1 cup cilantro leaves
3 scallions, white ends removed
1 Tbs. sesame oil
1/4 cup extra virgin olive oil
1 Tbs. lime juice
pinch of salt
To make the pesto, combine the mint, cilantro and scallions in a food processor. With the motor running, slowly add the sesame oil and extra virgin olive oil. Once smooth, add the lime juice and salt. Give it another whiz. Taste. Can you pick up on the sesame oil? Yessss. It's nice, huh? Okay set this aside.
In a large sauté pan, brown the ground pork, breaking up with a spoon, until cooked through. If necessary, drain the fat. Add the Chinese 5-spice and toss to coat. Add the garlic, ginger, jalapeno, brown sugar, chopped peanuts, soy sauce and juice from half a lime. Toss that for a couple of minutes, then lastly add the diced red bell pepper. Give it another toss. Taste it and add a pinch of salt if it needs a tiny lift.
Once your filling is in a good spot, slide the pan off the fire, and run each corn tortilla over the flame until soft and slightly charred on both sides.
I like to stack two tortillas, to keep from tearing. Pile a small amount of filing in the center of the each tortilla, and spoon a bit of the herb pesto on top. Garnish with extra mint leaves and peanuts, and of course wedges of lime juice. Done!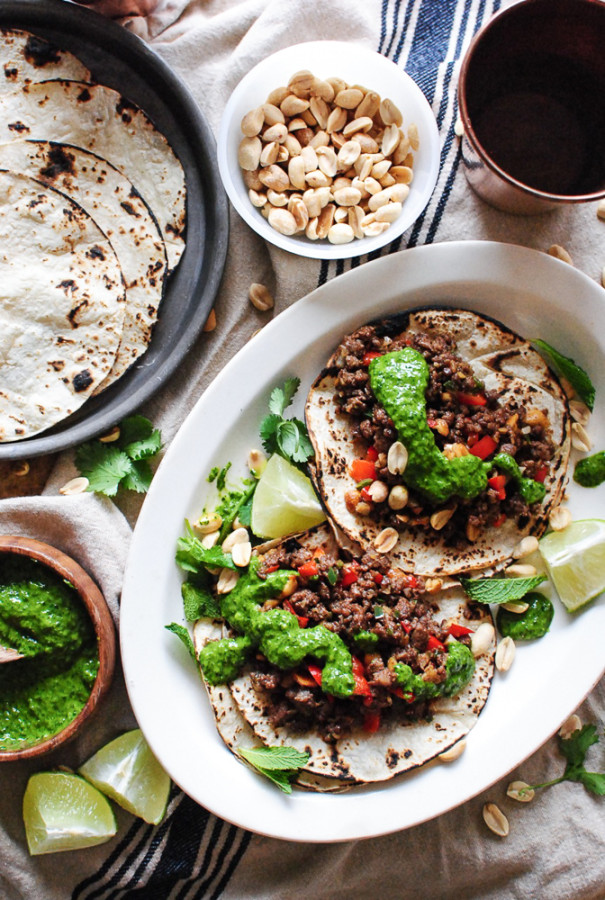 Don't forget a margarita or 30.