It's my first pan sauce! Well, not ever. But for the year. Like I was talking about? My year of pan sauces? Never mind.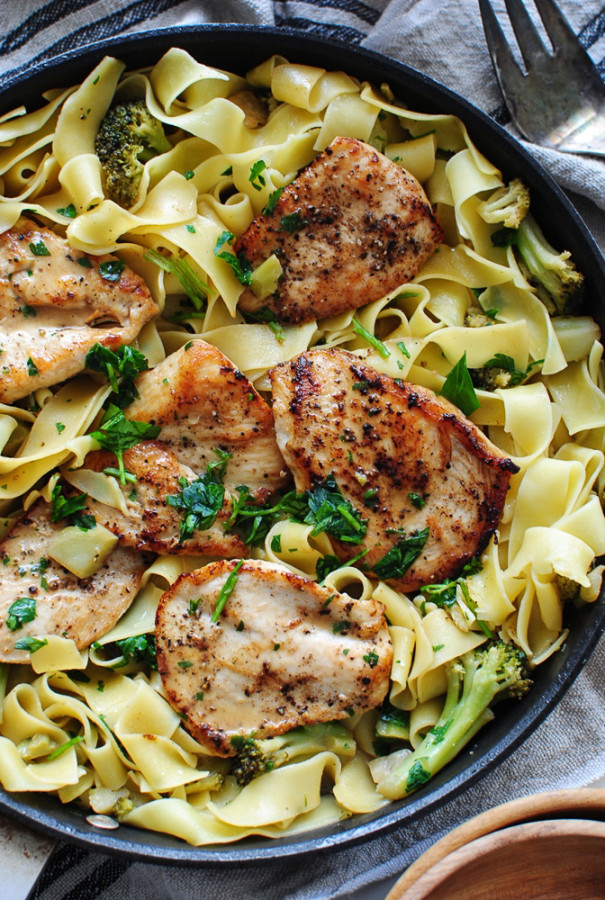 You have to know about the evolution of this recipe. It'll make you giggle. And by giggle I mean viciously stabby.
So the other day I was trying to figure out what to shoot for the blog this week. Of course I'd forgotten all about my pledge for more pan sauces, and I was thinking about some sort of lighter beef stroganoff. But wait! With chicken. And maybe not the egg noodles. A different noodle. Pappardelle! I have some already! Oh this is good. Hold on, I already have a chicken stroganoff recipe on my site. Well crud. What about beef with pappardelle? Ehhh, we just had beef over the weekend. Let's go back to chicken. But what SAUCE. Wait! I have leftover beer from our Flemish Stew on Saturday. Something with beer? OMG HOLD UP. A BEER PAN SAUCE. WITH MUSTARD. THAT'S IT! MY FIRST PAN SAUCE RECIPE BECAUSE I TALKED ABOUT PAN SAUCE RECIPES.
Thank you for your time.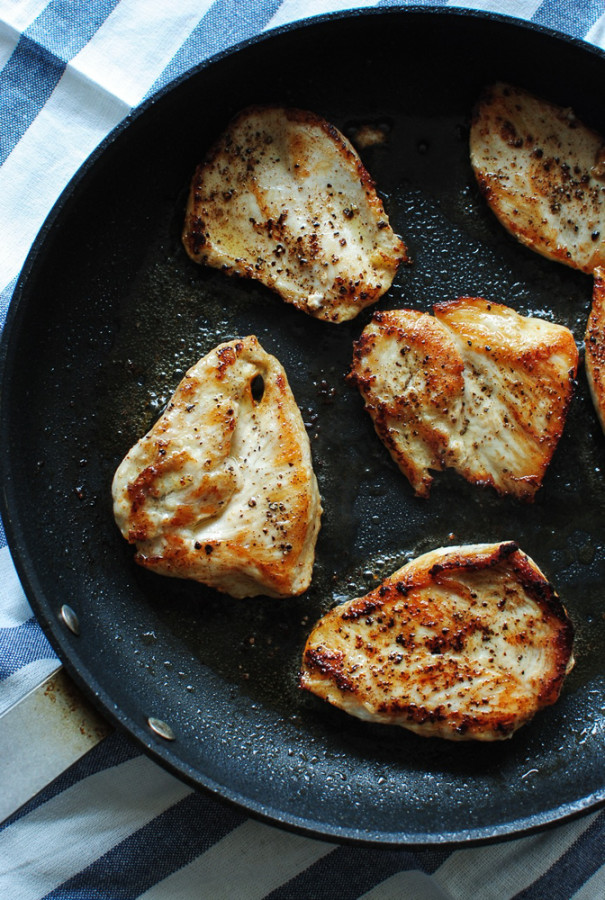 On top of that it's insanely simple to make.
Aaron calls it "The Dude's Piccata," because it totally has a chicken piccata FEEL to it, but with beer instead of wine. So I'm okay with you calling it that, too if you want.
You'll sear ze chicken. I took three cutlets and sliced them in half lengthwise, because I'm obsessed with how cute lil' half cutlets look seared like that. Which makes me sound like a complete psycho, but this is the life I lead.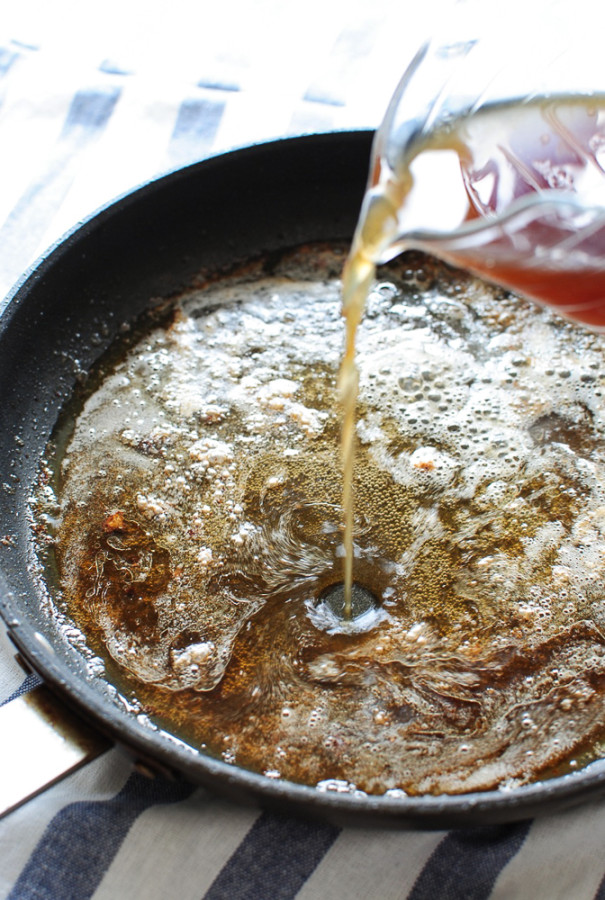 Then it's . . . stop: pan sauce time! (<–ugh)
Add the beer, some butter, a smoochie of Dijon, a bit of lemon juice, brown sugar, and a tiny pinch of salt. Whisk whisk whisk.
Oh- I added some frozen broccoli at this point because I have toddler faces galore in my hood. But you could always go a bit more refined with some steamed broccolini. THAT would be tight. (tight?)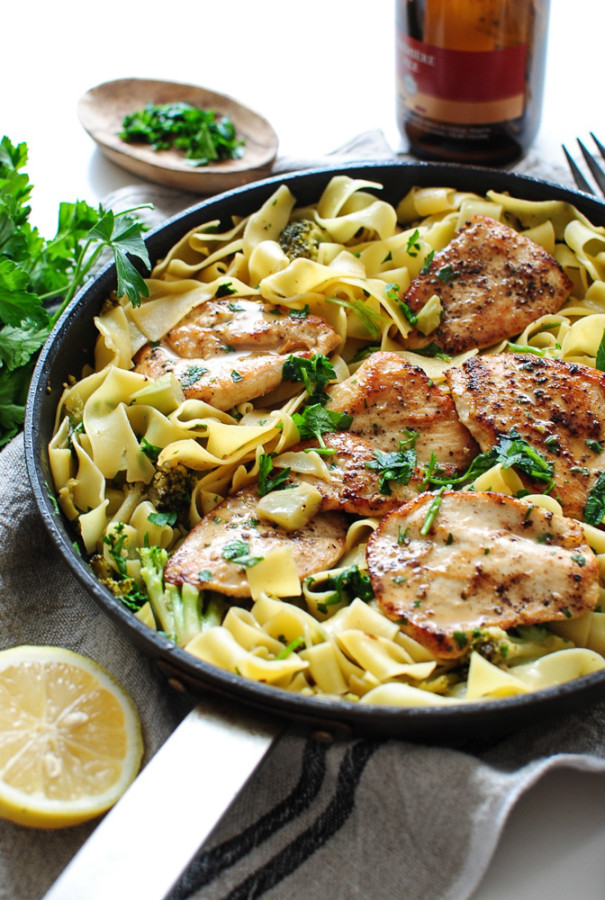 And that's pretty much it! You'll cook some pasta and toss it in the sauce, add the chicken back to the pan, along with some fresh parsley. Find a little bullseye center for your facehole, and mercilessly plunge in, head first.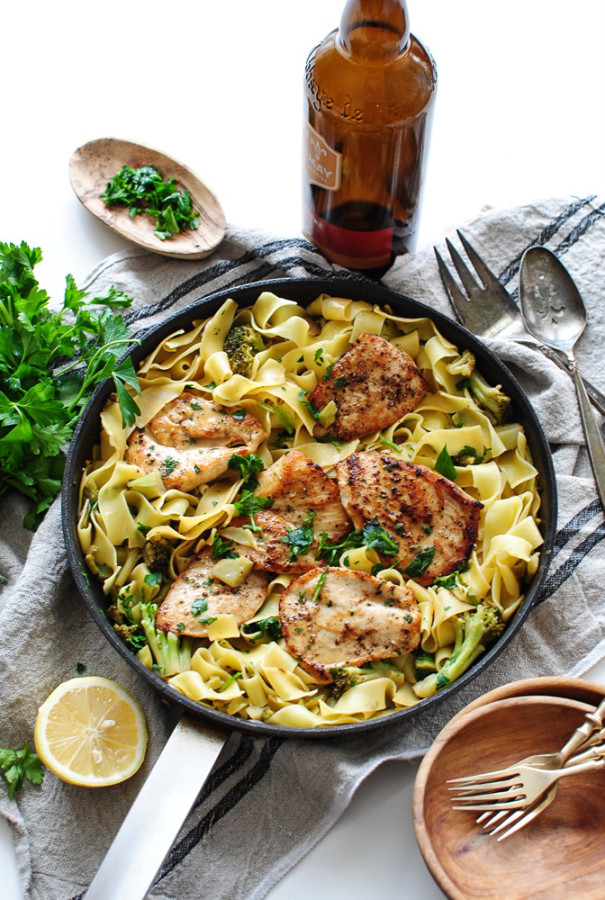 Oh! Be sure to garnish it with plenty of freshly grated parmesan. I forgot to because I'm a massive idiot. And extra squeezes of lemon juice. Always.
Weeknight meal + PAN SAUCE = reason for living.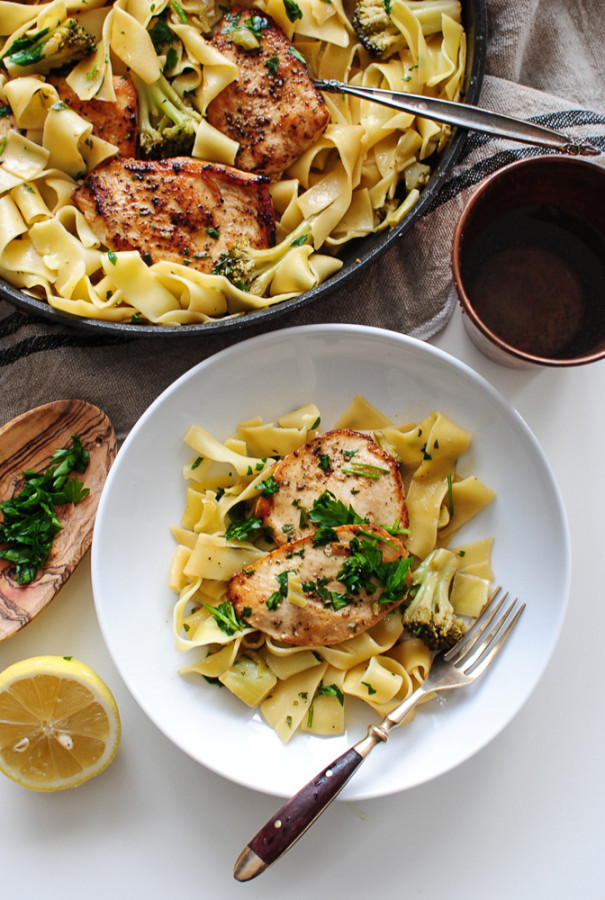 Amen.
Chicken Pasta in a Beer Mustard Pan Sauce:
What it took for 4:
* 3 chicken cutlets, cut in half lengthwise
* 1 Tbs. oil
* 4 Tbs. butter, divided
* 1 (8.8 oz) package of pappardelle pasta (about half a pound)
* 1 cup of beer
* 2 tsp Dijon mustard
* juice from half a lemon
* 1 Tbs. brown sugar
* 2 cups frozen broccoli florets, thawed
* about a half cup of chopped parsley
* salt and pepper
Heat the oil and 1 Tbs. of butter in a medium skillet. Season the chicken on both sides with salt and pepper, and sear until you get some nice browning, about 3 minutes per side. Remove from the skillet and set aside.
Back in the pan, melt 2 more Tbs. of butter. Add the beer, Dijon, lemon juice, brown sugar and a pinch of salt. Whisk until it's all combined and let reduce for about 3 minutes. Add the broccoli and let it simmer another couple of minutes.
In the meantime, bring a large pot of salted water to a boil. Cook the pappardelle pasta until al dente, about 7 minutes. (or whatever the packaging says) Using tongs, transfer the pasta to the skillet and toss in the sauce.
Add the chicken back to the pan, along with the parsley. And maaaaybe that last Tbs. of butter. Toss it all together, and taste it. Is the sauce just right to you? Does it need a little more lemon? Maybe some fresh black pepper? Just doctor it until it's perfect.
You could even add some fresh parmesan to this! Please do that. Now eat.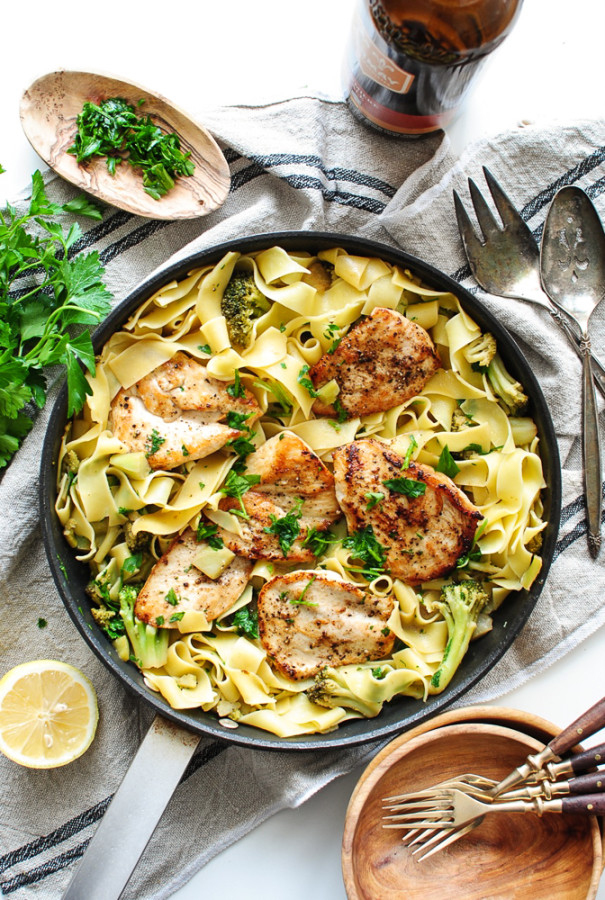 Did we just make "The Dude's Piccata" a thing? I think we did.