So glad we had that talk.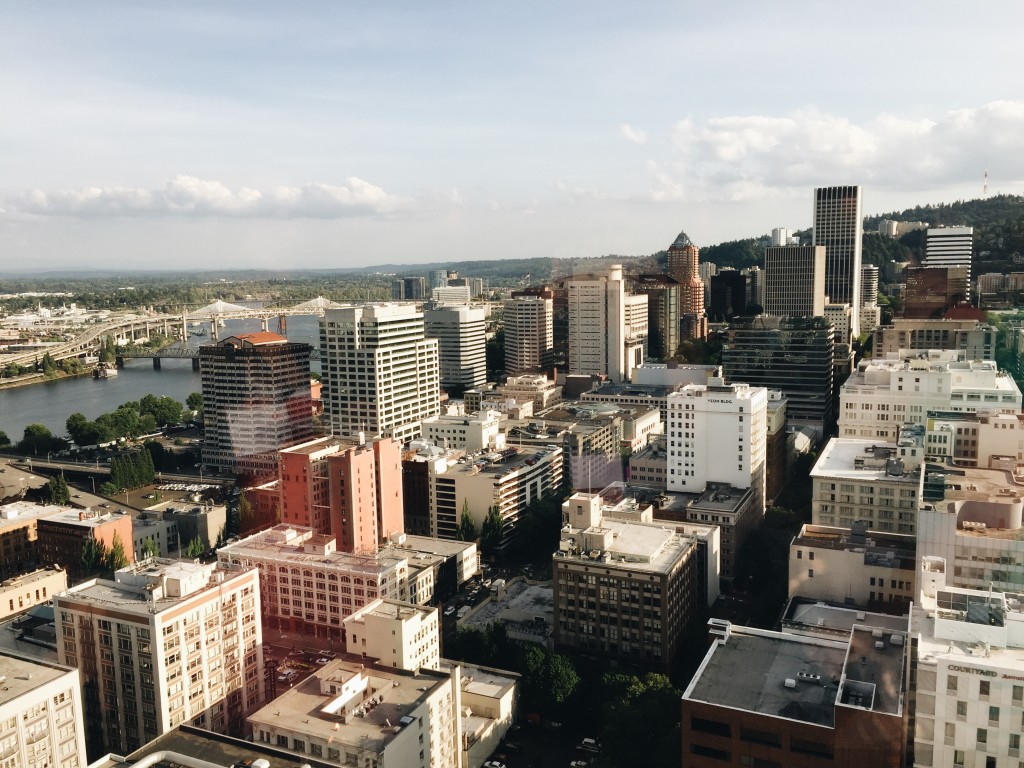 Portland. Oh my gosh, Portland. That city won my heart. Won my eyes, ears, mouth and nose, too. #toddlermom I'm going to try to plow through these photos because I want to avoid you gnawing through your own jugular. Wait, can you even do that?
I can't get over how much I love that city! That whole area. The Pacific Northwest. Plus it's like, only a few hours away from Edward Cullen!
I just lost the last itty bitty amount of credibility I have to my name, didn't I?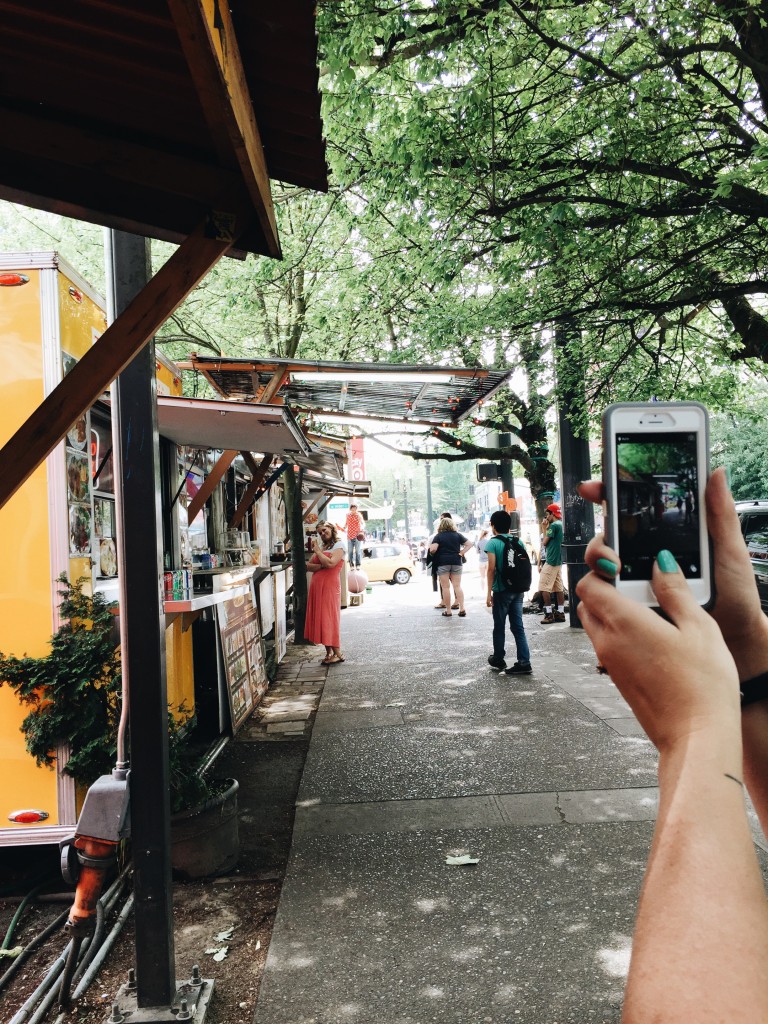 There's something about Mary. But there's also something about the city of Portland that oozes such friendliness! Along with a healthy amount of hipster vibes, succulent coffee aromas and an impressive array of beards. I live in the Midwest (KC), and we gots some dang nice folks here. But you guys out in the Portland, man oh man, you're nice. You're happy. You're hip. And I like you.
I'm going to give you guys a quick play-by-play of the trip through my eyes. I swear I'll go fast! (see jugular gnawing above)
Of course we hit a bunch of food carts. You can't visit Portland and not eat at 13 trillion food trucks/carts.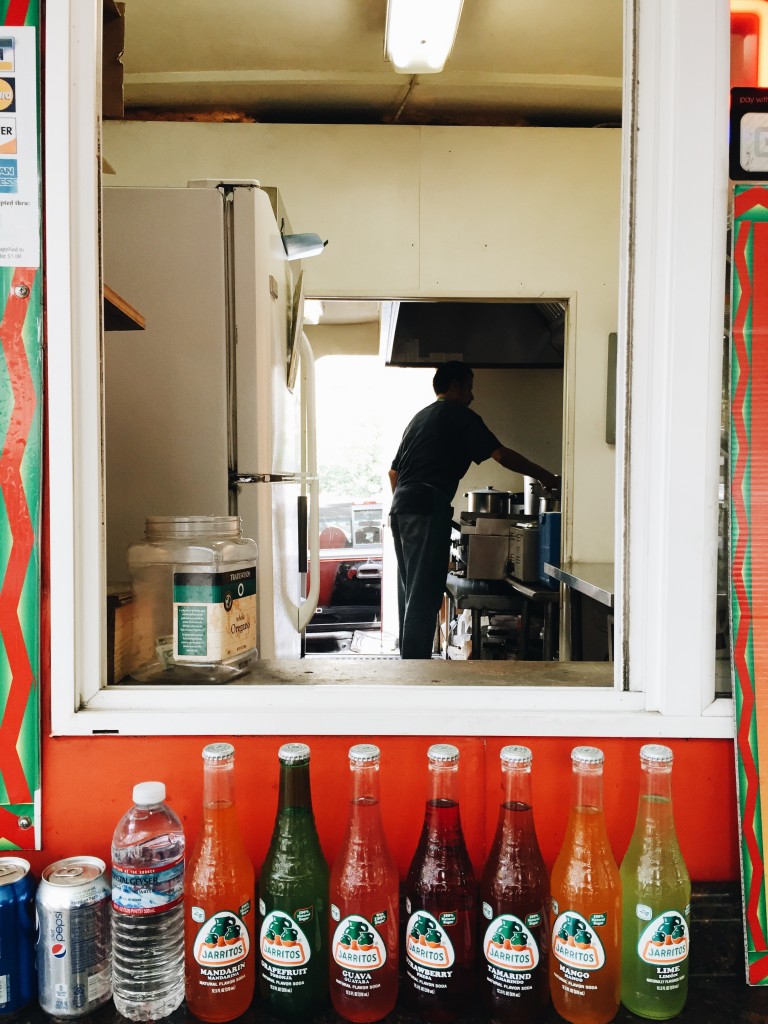 Here's my man making my tacos! He's not my man. I have no idea who he is. But he was so nice! Portland has nice people. And insanely delish street tacos. I had one chicken, one pork and one shredded beef. Best decision of my life. (besides that whole IVF thing)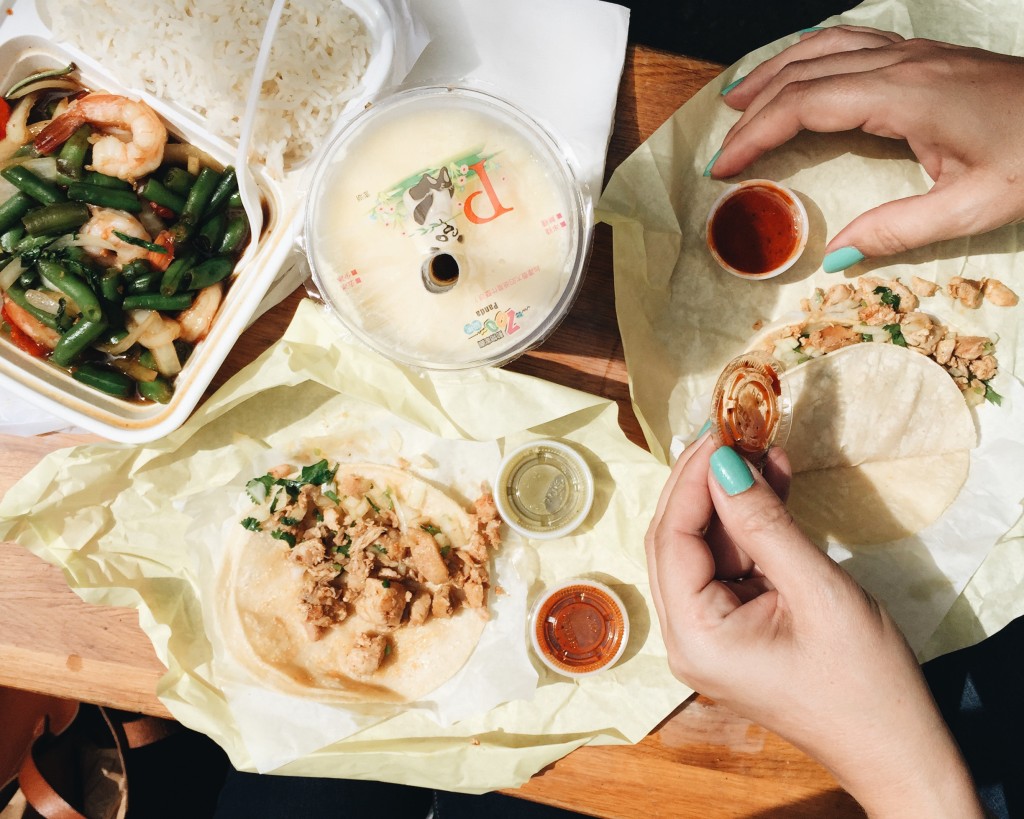 So yeah, as soon as Kristen, Shawn and I landed, we checked into our hotel (Monaco <said like Monaco and Chandler> – CRAZIEST hotel ever. Like, patterns on patterns on patterns everywhere. Wildest, most colorful style. Usually I hate that sort of thing, but I loved it! Only in Portland.), and ventured out to eat. There's my weird looking chicken taco, but I swear it was so simple and flavorful I wanted to punch it. I did punch it! With my face.
Also, I was with Kristen basically the entire time, so all the purty aqua nails in every single photo are hers. I forgot to ask her the color! I'm bad at life.
Here we are eating our little food. There aren't really places to sit after you grab your noshies, but miraculously I spotted a tiny wooden table with three gnarly metal chairs, so we grabbed it! I was afraid we'd get kicked out since the table didn't belong to the food cart right in front of it, but no one cared! They're too busy being happy because they live in Portland.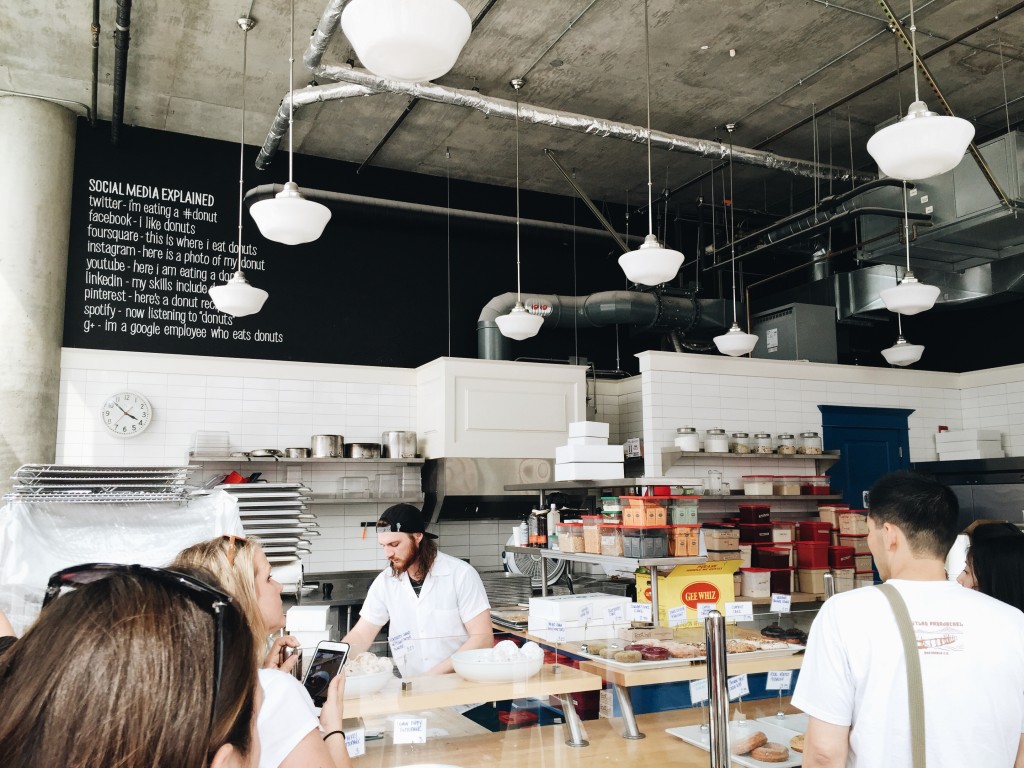 Then of COURSE we had donuts right after. Doughnuts. Donuts. Whatever. In Portland it's like, YOU HAVE TO GO TO VOODOO DOUGHNUTS. But theeeen the other half of people are like, SKIP VOODOO AND GO STRAIGHT TO BLUE STAR. So we hit Blue Star. And it was awesome!  So white and light and bright. Right up my doughnut shop alley. My donut shop alley. Whatever.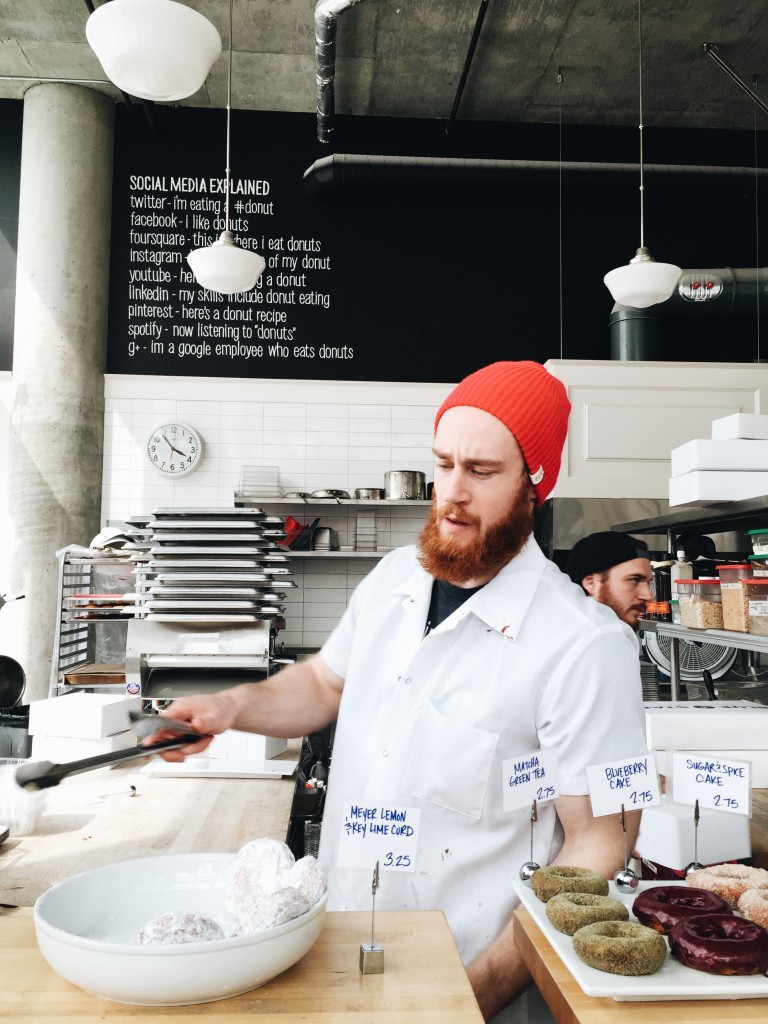 You guys, who is his celebrity look-alike!? Can you guess? CHRISTOPHER MELONI! Right? I kept wanting to ask him how many murders he'd solved with Benson that day. Or if he'd fondled his sweaters yet. (if you get that second reference we're soulmates for life.)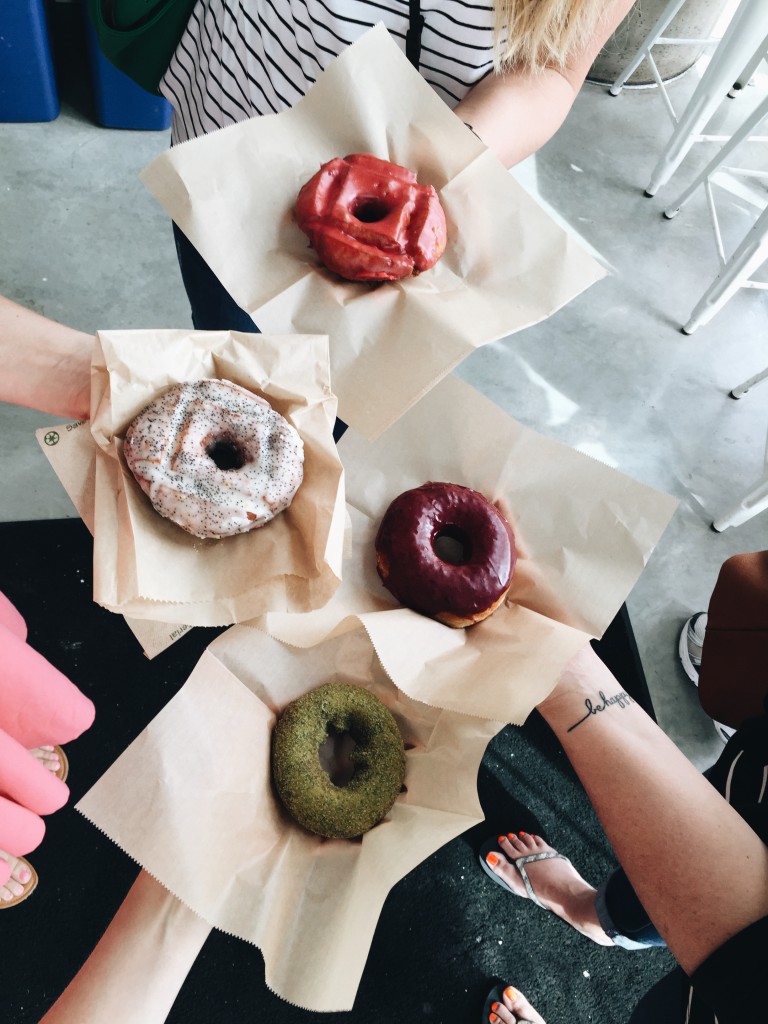 Donuts! Doughnuts. Whatever.
Mine's the Matcha Green Tea one and it was perfection.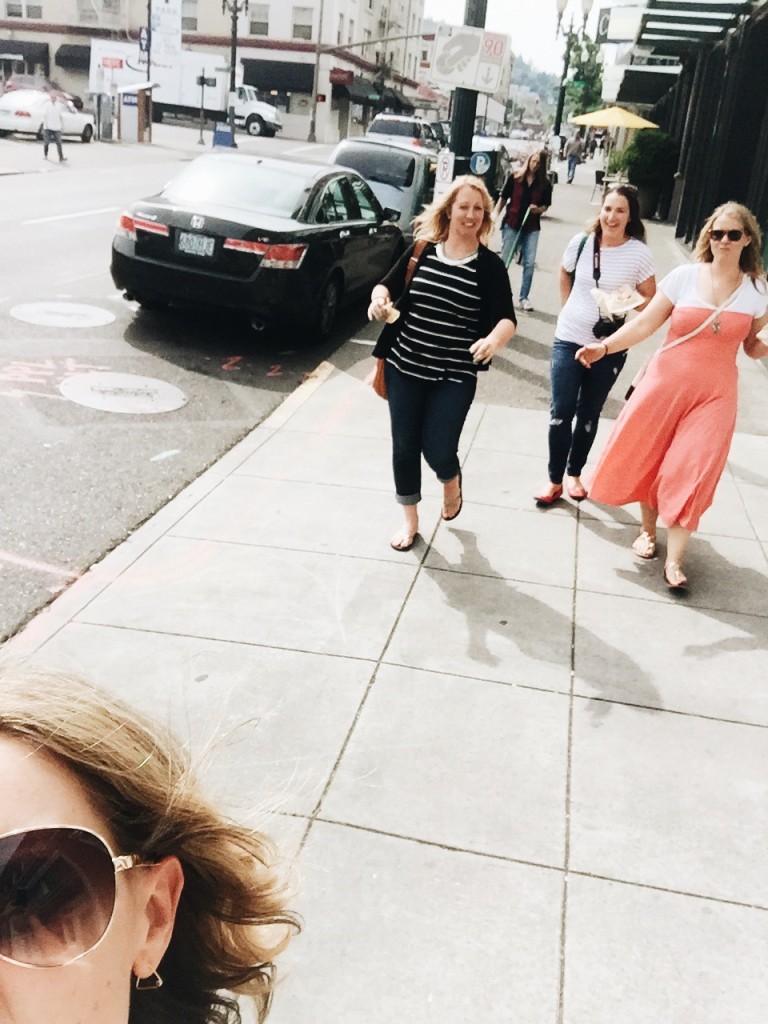 Here we are walking back to our hotel to register for the conference. We met up with our last roomie, Deborah at the donut shop! It's so funny finally meeting someone you've been e-pals with for SO MANY YEARS. I totally dig Deborah. She has some wicked ombré hair. I touched it! She didn't bite me.
Very hard.
Then of course I spot a white wall on the way back and drag everyone over for a little photo sesh. At this point they are seriously regretting agreeing to room with me/be seen with me outdoors.
I'd also like to assure you that I do not in fact have a Charlie Chaplin/Hitler mustache, no matter what this photo suggests. Thank you for your time.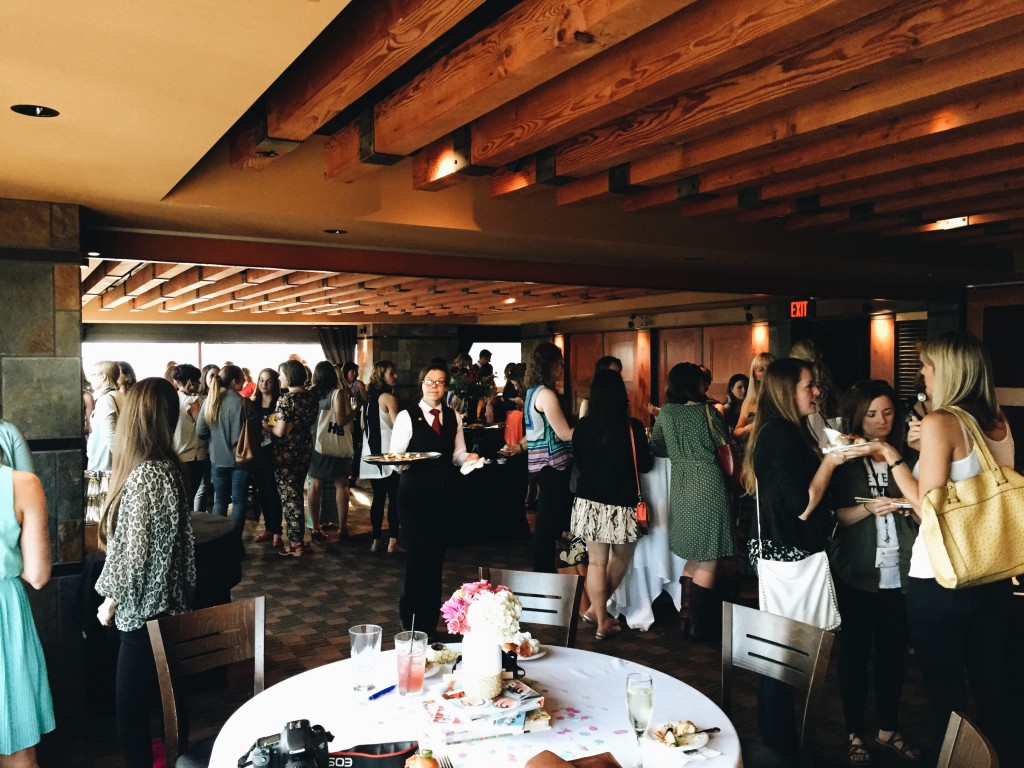 Later that evening we attended the opening reception, which was in this STUNNING little room on the 30th floor of Portland City Grill. Incredible view of the city, yummy appies, and all the bloggers in all the lands. That photo of the city at the very top is riiiight to my left. There were glass walls that wrapped around half the room. I actually took a photo from the other wall, looking out into the hills, but the sun was intensely bouncing back my reflection and all you could see in the photo was my nostrils. So I opted out of posting that one. You're welcome.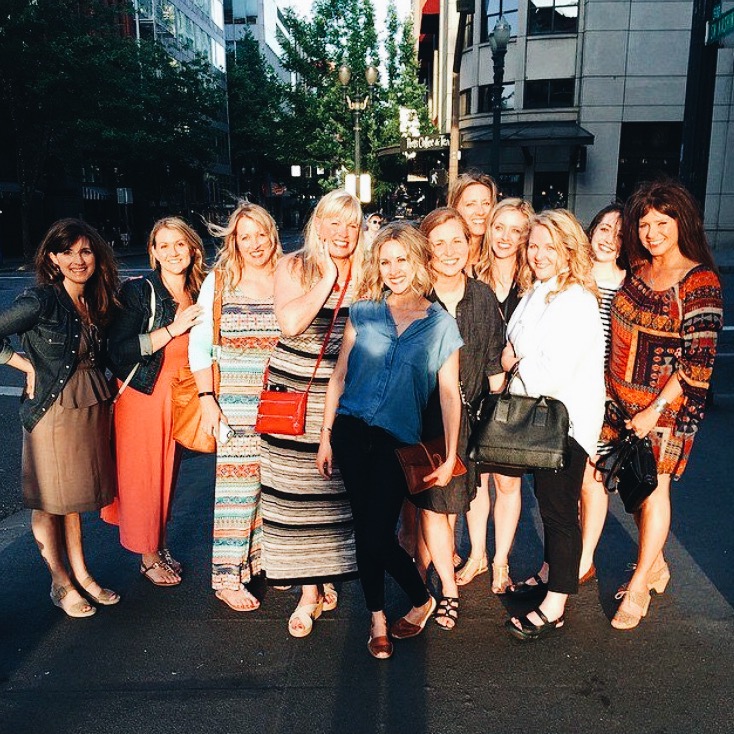 After the reception, a bunch of us blogging pals walked to dinner at Tasty and Alder. Oh heavens, that place was beyond. But obviously first we had to stop and document our sun-blasted selves. Starting from the left we have Carrie, Shawn, Kristen, Lori, me, Elise, Heidi, Ali, Amy, her beautiful teenage daughter with sinfully perfect skin, and Sandy! Oh, and the shadow of the dude taking the photo. He was so nice. People in Portland are so nice, you guys! Ugh.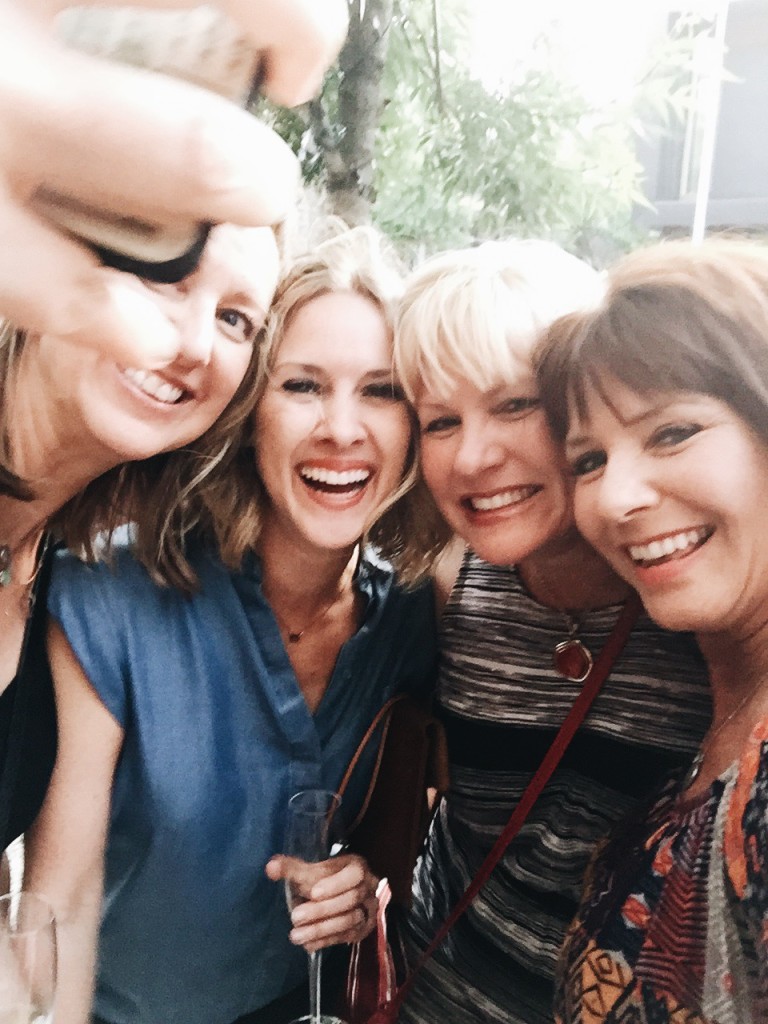 We had reservations, but the party before us kept doing just that. Partying. But Portland doesn't skip a beat! The staff served us prosecco while we waited outside, as an "I'm so sorry about this." Kindest restaurant ever. So, obviously a bunch of selfies commenced.
I think Lori gave me a Wet Willy right about then.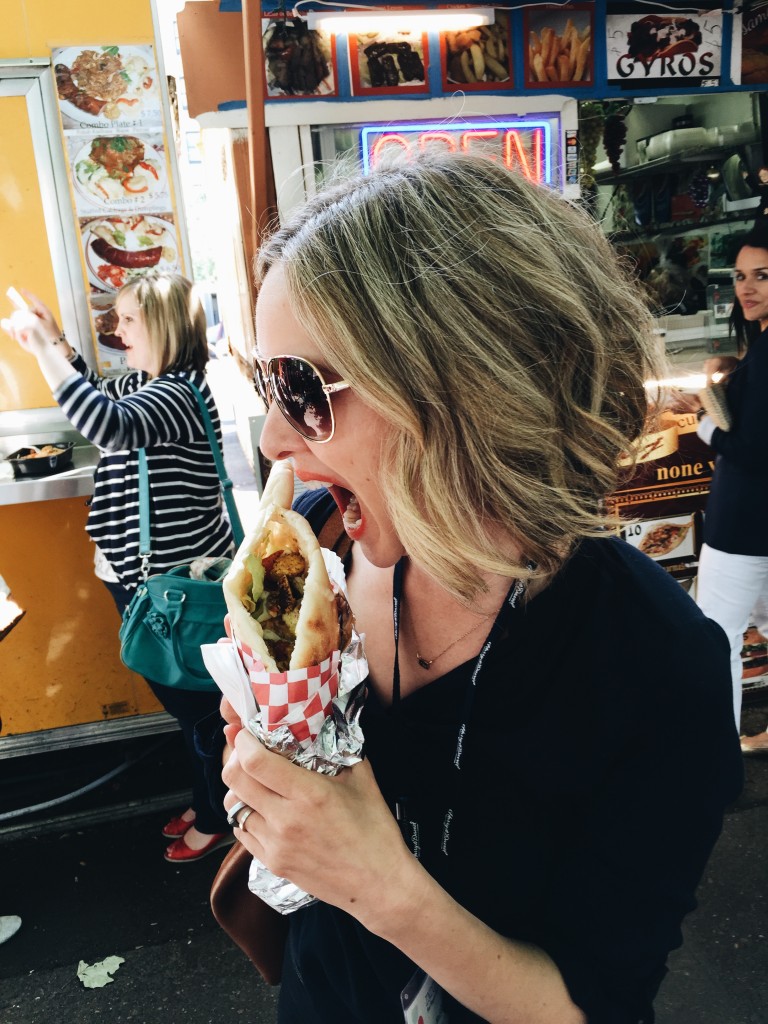 Next day! (See, we're getting through this. Are you so bored right now?)
The morning part of the conference went really well. Inspiring speakers and healthy snacks galore. There was even a cold brew morning break and I wept, it was so delicious.
Here I am eating the world's most enormous chicken shawarma from yet another food cart. Don't I look so classy and refined with my foaming, unhinged jaw?
Don't answer that.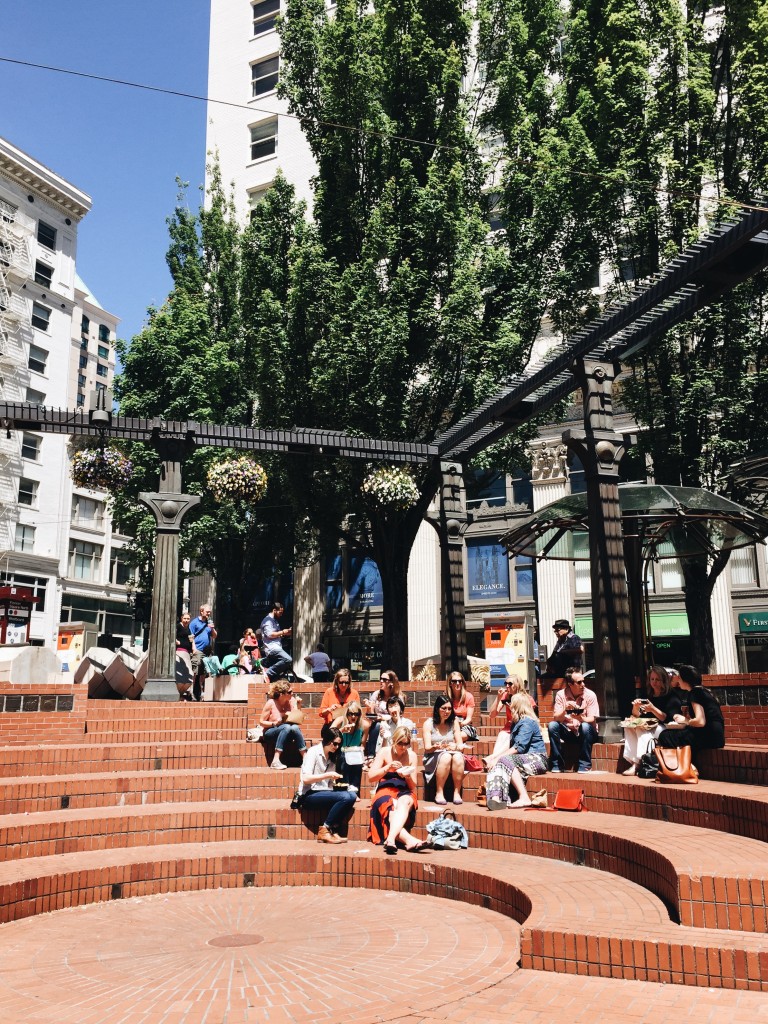 After we all selected our food truck lunchies, a bunch of us walked down to a little city park to eat. Flawless temperatures, you guys. GAH I LOVE PORTLAND.
I'll chill.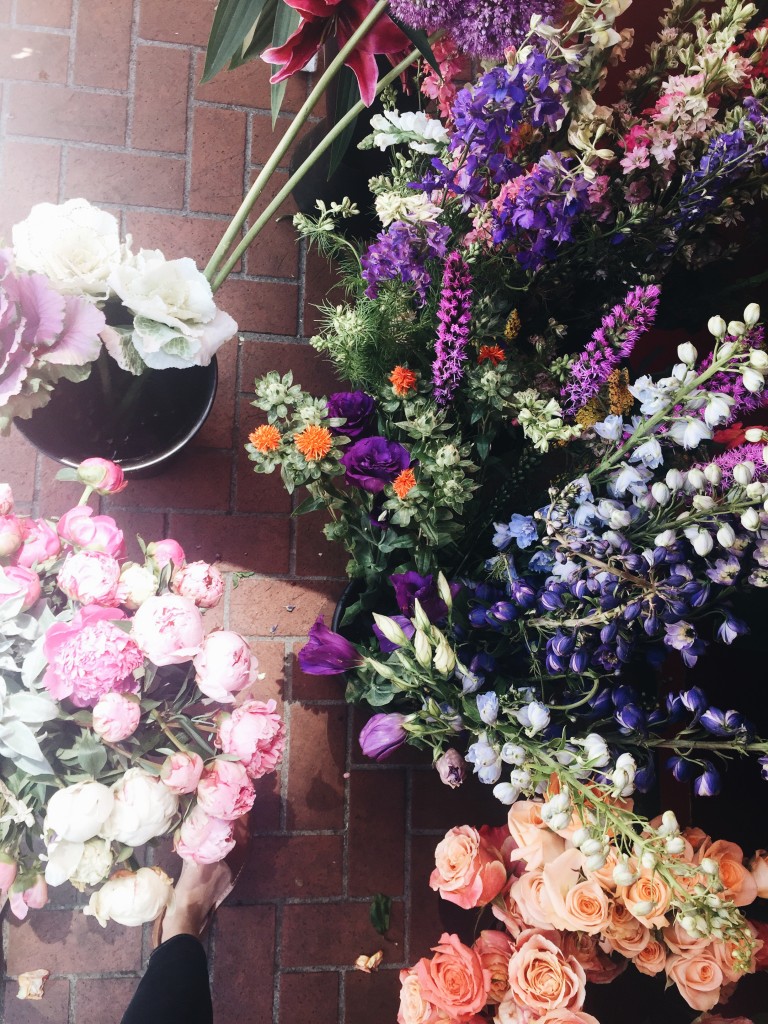 Flowers! Can't not post a photo of flowers.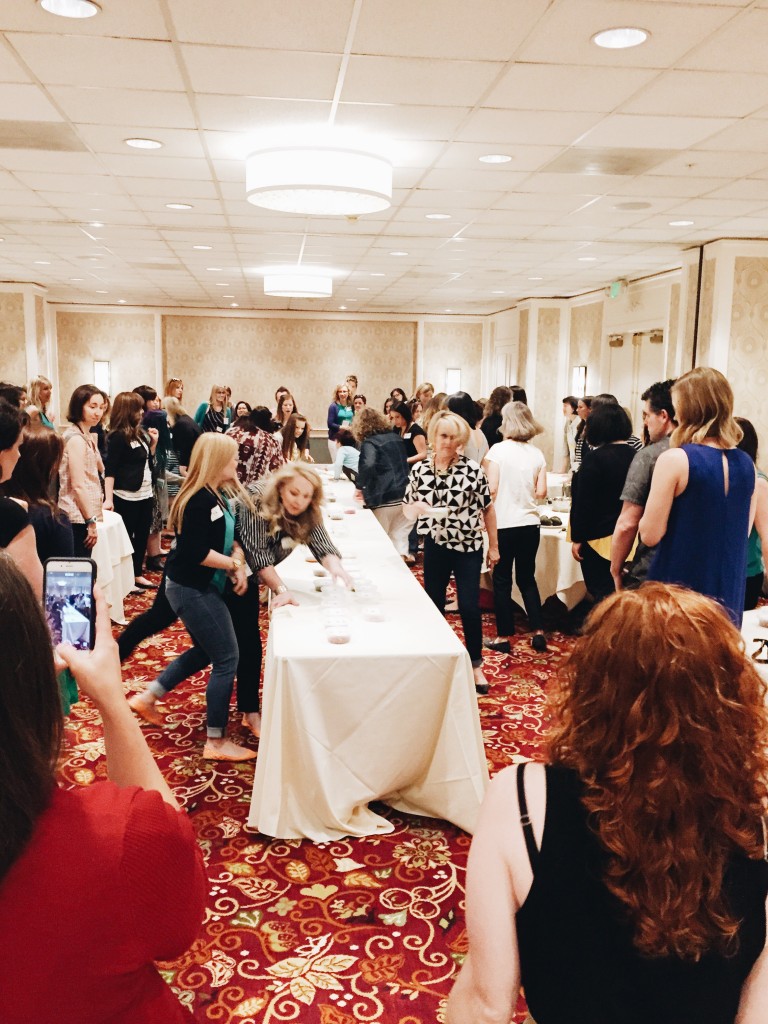 Okay we're skipping to the middle of the day when I got to judge a guacamole contest. Look at everyone go! These people are serious about their guac ingredients.
This was right after my presentation, but don't even ask me about it. I can't remember what I said because I was in a coma. I think I called everyone a psycho at one point? This is why I shouldn't be allowed to speak and/or be seen in public.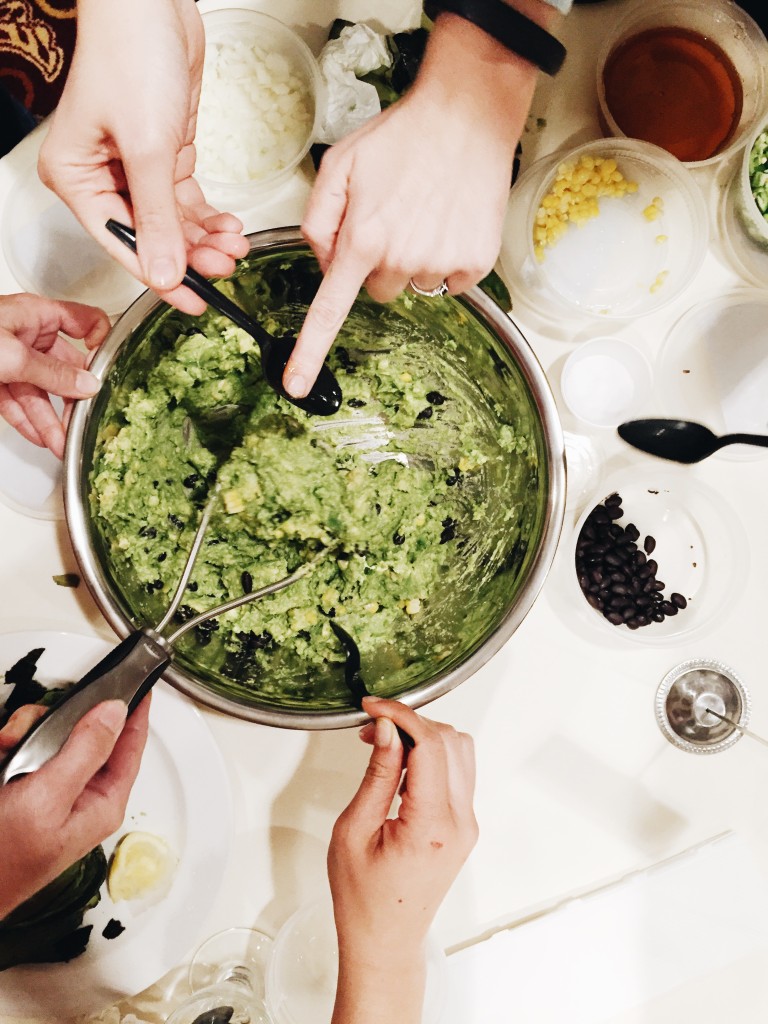 Anyway, guac. Lots and lots and lots of guac. Fifteen teams of guacamole, to be exact. Life = made.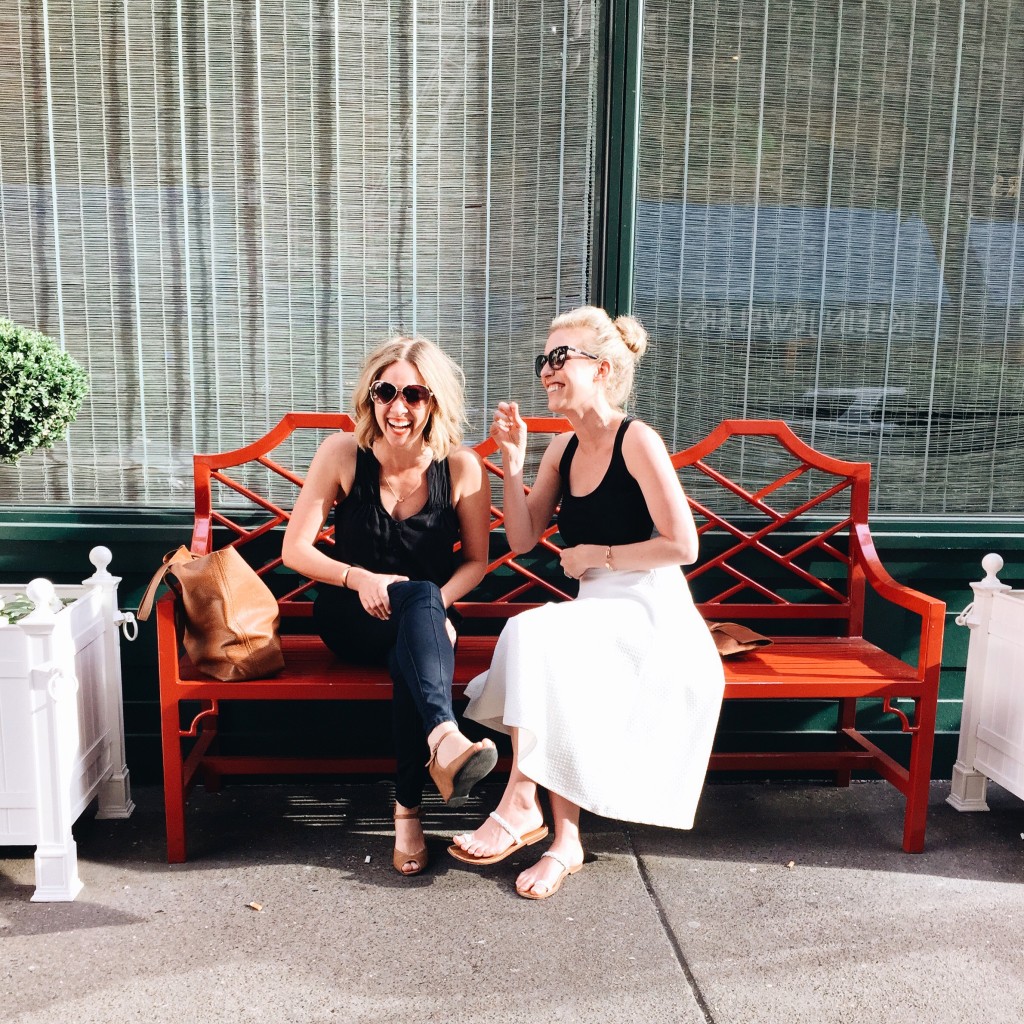 After the conference was over, I met up with one of my deaaaaarrreeeest of dearest of all time, Lisa. That gal is as genuine as genuine gets. I think she was pulling a string out of my ear or something. Fishing line?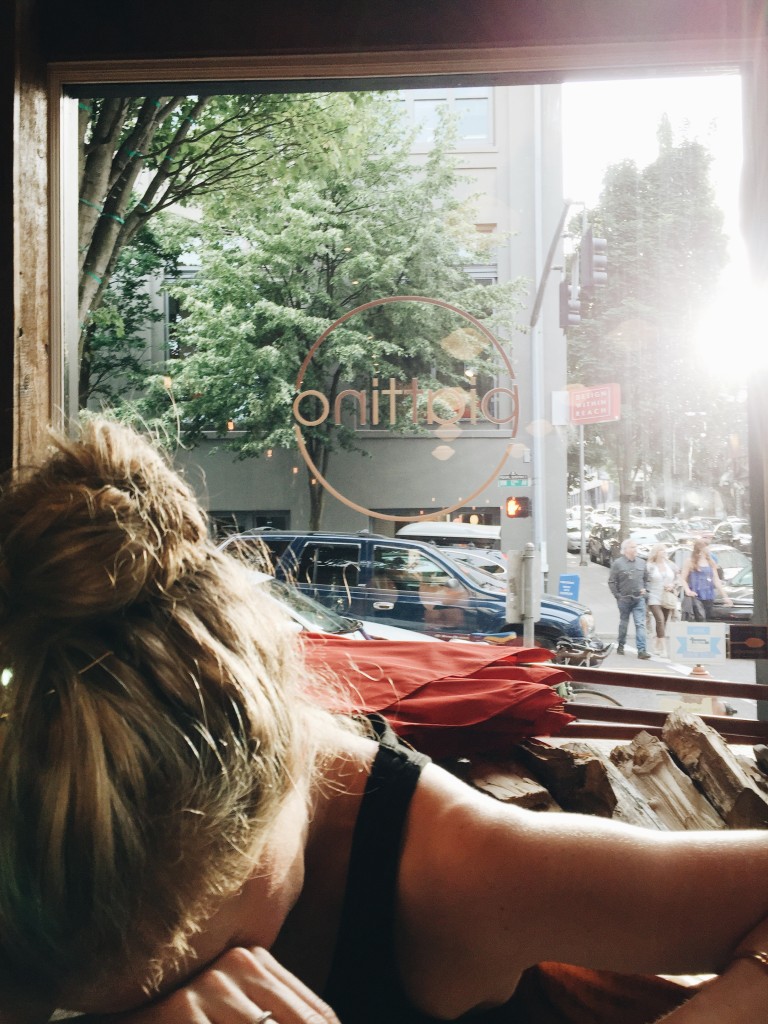 We walked the streets of the hip, quaint Pearl District and found ourselves a drinky drink. We laughed so, so much. We even cried a little. We gushed over baby photos and leather bags. She calls them begs. I giggled.
Here she is laughing at one of my lame jokes. Wait, I think she's laughing. Crap, is she crying? I'll get back to you on this.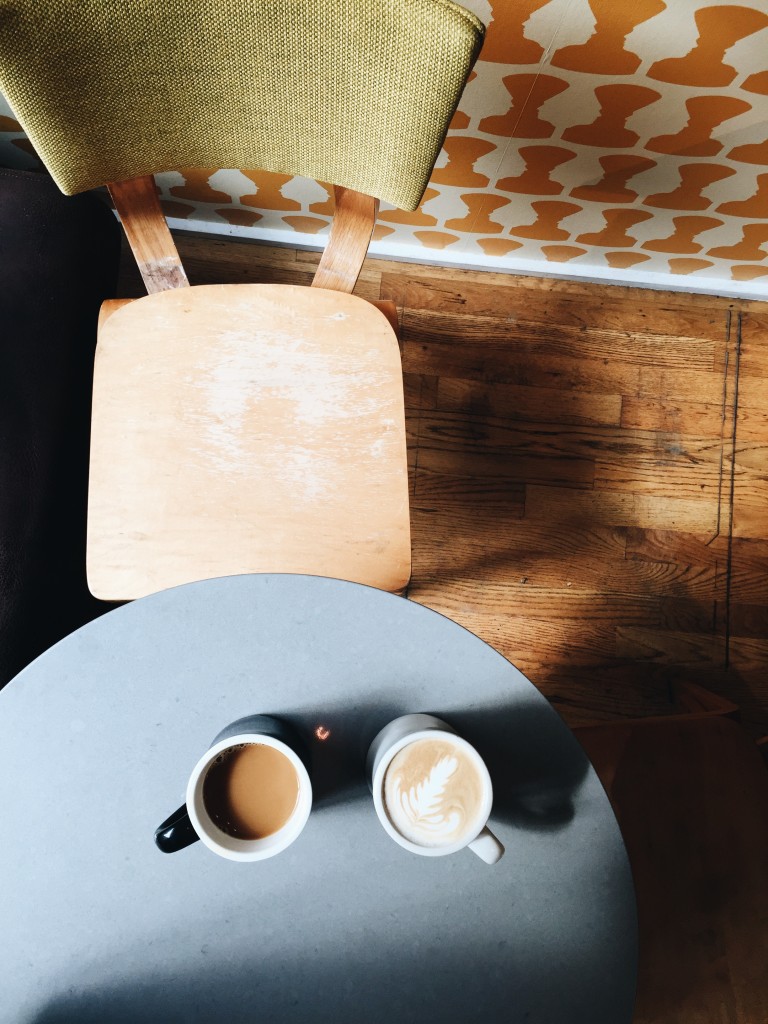 After a night of perusing the bustling streets, stumbling upon a random 10K filled with runners dressed in the wildest costumes at 8pm at night (who has a race on a Saturday night!? PORTLAND DOES. I love Portland. Have I told you how much I love Portland?), and of course the elaborate Starlight Parade making its roaring way through downtown (who has a giant parade at 11pm at night? HELLO, PORTLAND), Kristen and I set out for a slow-paced Sunday morning. (that whole sentence was really annoying.)
We started at the friendliest, cheeriest, yet maintaining a comfortable level of hip, coffee shop called Public Domain. Bold mustard patters on the walls, lots of light, lots of good looking beards. This place was cozy and perfect.
We also handed out cheese to homeless people, but that's another story for another day.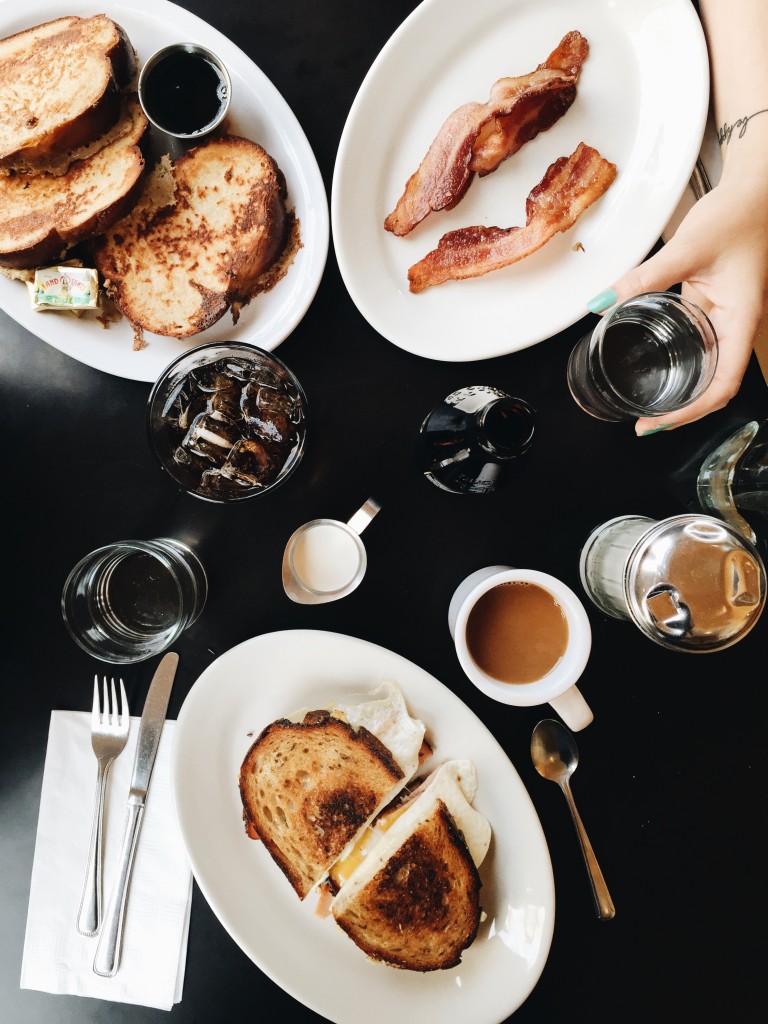 Next up was brunch at Kenny and Zuke's! Fabulous food. Casual, chic atmosphere. Even more mustard walls. I'm attracted to mustard walls apparently. THE FRIENDLIEST waitress in all of time. What is WITH all these friendly people, pretty mustard walls, amazing coffee and good looking beards? It's Por!- right.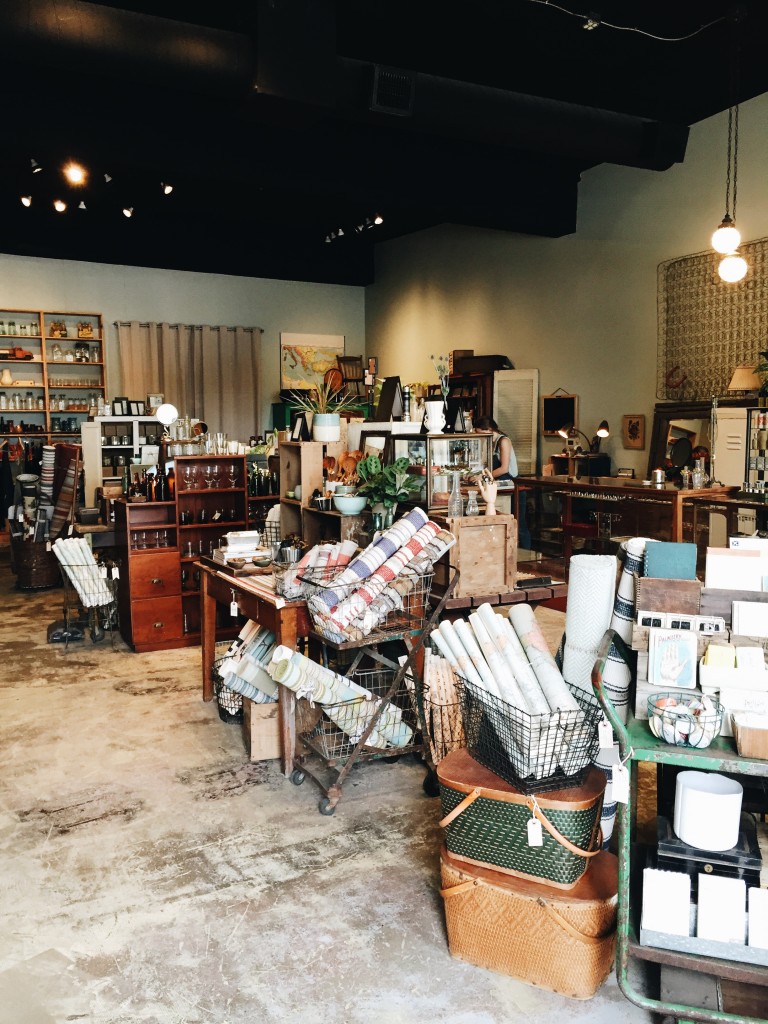 Theeeeen Kristen and I stumbled into my new favorite little store in the historically history of history. Are you even seeing this? Woven baskets, handmade rugs, little amber apothecary jars, hippie candles, Santo Palo sticks, on and on and on. I didn't buy a thing!
I probably bought a little.
. . . I bought way too much.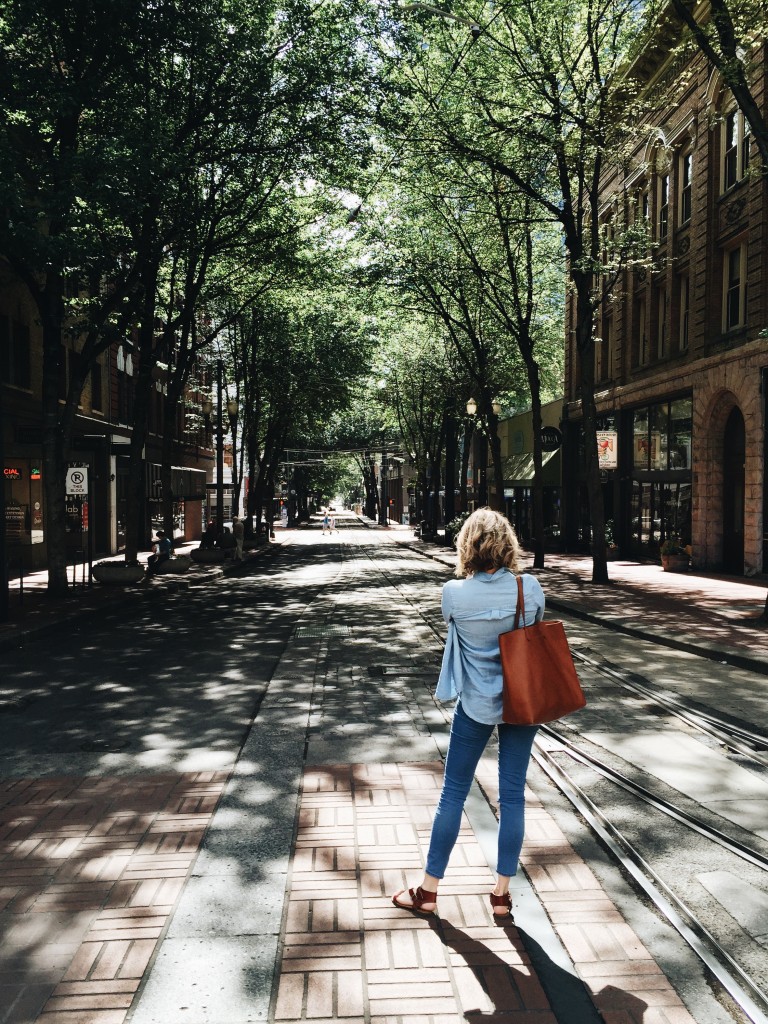 Right after that, we met up with an old bearded friend of mine from back in my indie rock days. Then Kristen and I wrapped up our trip with a slice of Mod Pizza, overpriced airport wine, and headed back to our beloved flyover state.
This is me blowing kisses to the city! Just kidding I didn't do that. I was taking a photo. (okay, and blowing kisses to the city)
Massive thanks to the ladies behind Indulge Conference for organizing such a well-planned, Porlandlicious weekend.
And thank you, Portland for showing me the light. And some really good looking beards.
(Don't tell Kansas City I said that.)