Winner winner, Rustic Tomato and Italian Sausage Soup dinner.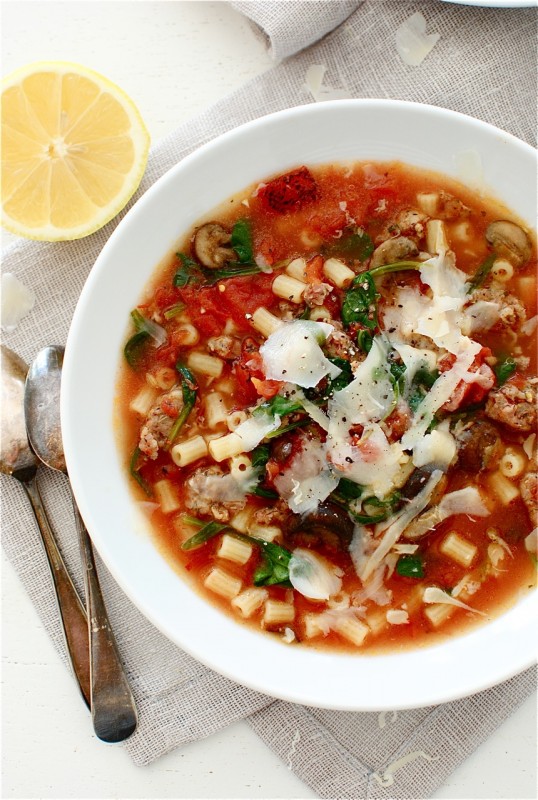 How about, I'm already giving you another sausage recipe. Wanna make something of it? Er, with it?
Like a huge ol' trough of comforting winter soup?
I knew you'd forgive me.
I'd thought I'd change up my regular fave soup with kale and sausage, and execute a little flimflam operation. Ya know, switch out the beans for a tiny pasta. Swap out the robust kale for silky spinach. Toss in a bunch of sliced baby bellas. And add a good punch of fire-roasted tomato biz instead of a straight garlic/lemon broth.
In short, this soup takes you for a RIDE, bruthuh.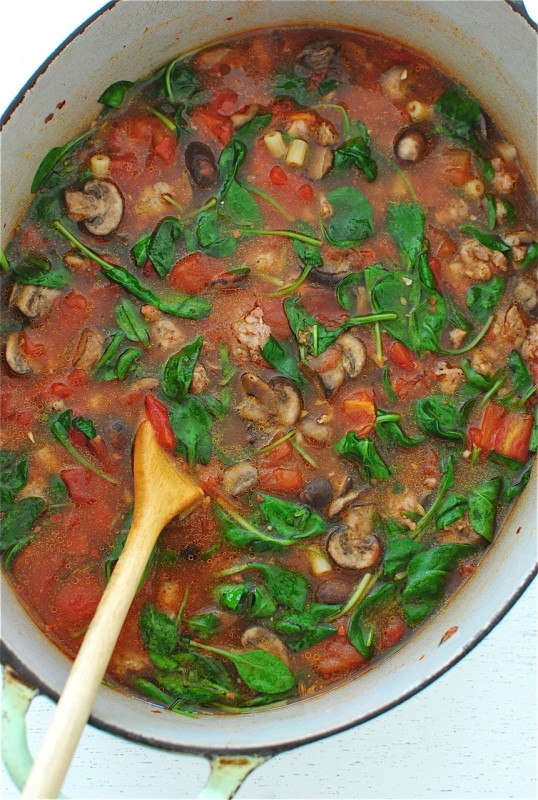 You'll still swirl in some acid right at the end, like fresh lemon juice, to wake it all up. And of course a generous sprinkling of rich, salty parmesan shavings right on top, to take your giddy level from a nine to a 19 trillion and a half. Times two, divided by .5, minus the past participle of the third dimension.
You do remember how good at math I am, right?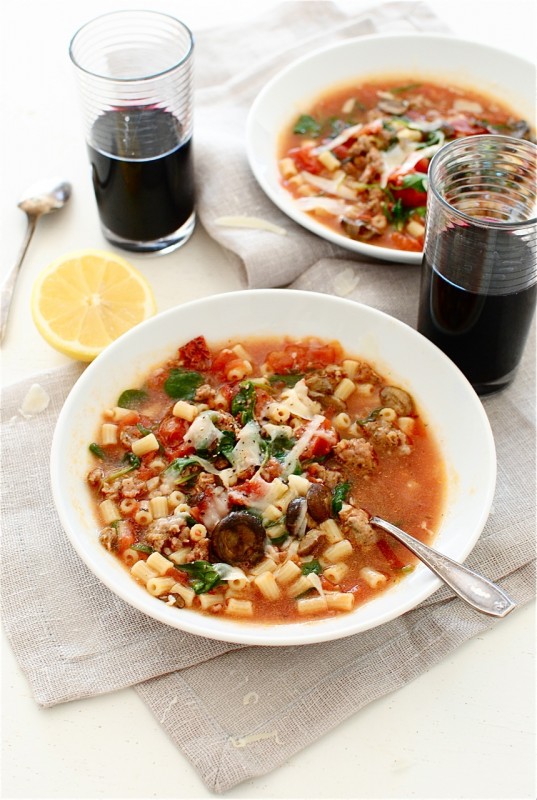 And let's not forget that this is ready in about 40 minutes. Maybe 45. Maybe 35. Depends on how many Weird Al videos you want to squeeze in before sitting down at the dinner table.
Not that I'd been watching Weird Al videos. That would be preposterous. I'm a grown woman. A mature, sophisticated, classy, refined woman!
. . . I'd been watching Weird Al videos.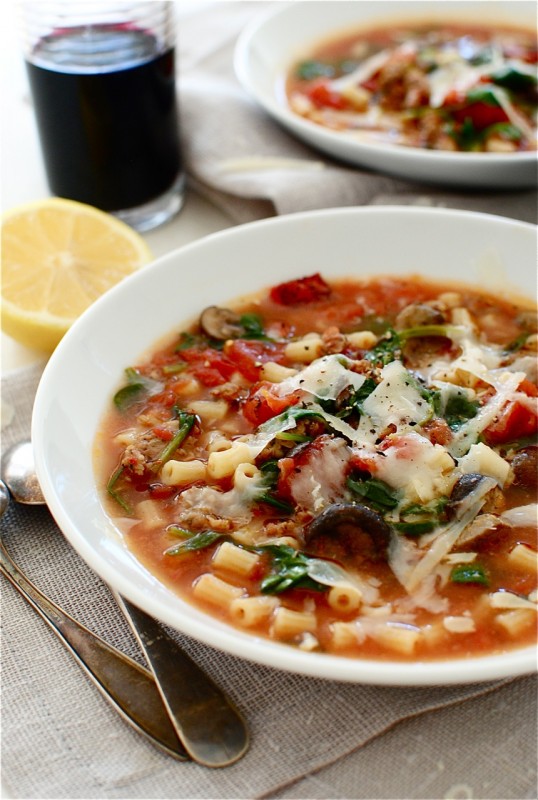 Bottom line: your mouth + this gaga ridic soup = match made in winter soup heaven.
And don't forget the crusty bread! If you do, your basement will be haunted with Weird Al's hairstyle for the next 37 Sundays.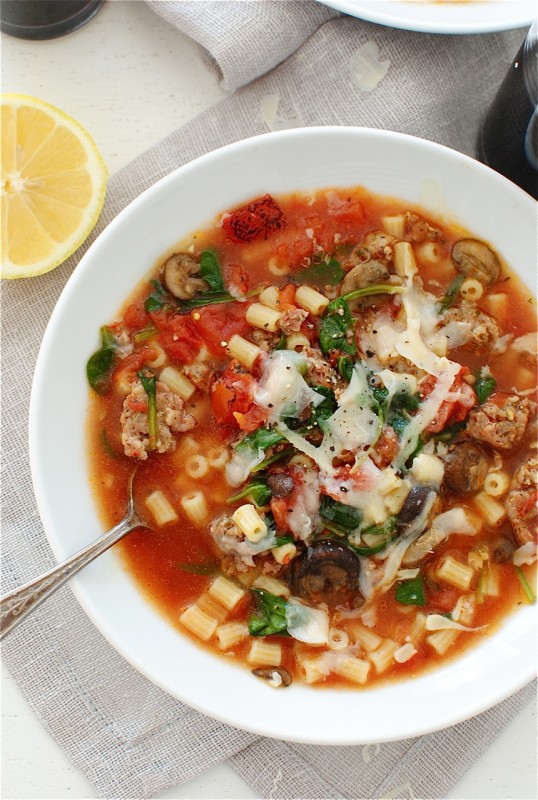 Gah.
Rustic Tomato and Italian Sausage Soup:
What it took for four-six:
* 2 Tbs. extra-virgin olive oil
* 3 links hot Italian sausage, casings removed
* 3 cloves garlic, minced
* 8 oz sliced baby bella mushrooms
* 28 oz can fire-roasted tomatoes
* 4 cups chicken stock
* 1 cup ditalini rigati (or any small pasta)
* 5 oz baby spinach (like, the tub)
* one lemon
* fresh parsley and parmesan, for garnish
Heat the olive oil over medium high, in a large dutch oven, or deep pot. Add the sausage and brown all over, breaking it up with a wooden spoon.
Add the mushrooms and a small pinch of salt. Sauté until the mushrooms are deep in color and tender. Add the garlic and sauté another 30 seconds, or until fragrant.
Add the tomatoes, stock and pasta. Bring to a boil; reduce heat and simmer on medium-low for about 20 minutes. Stir in the spinach and a good squeeze of lemon juice. Simmer another 5. Now taste it. UGH. Need anything? Maybe a little salt and pepper? Go for it.
Ladle and serve with some fresh parmesan shavings and parsley, if desired. You should totally desire, btw.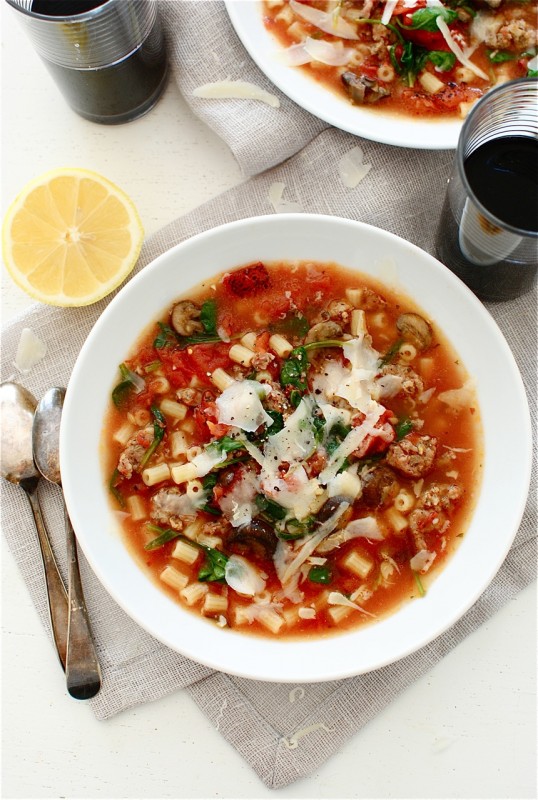 Get IN that.
Save
Save