Meatless!  . . . Tuesday.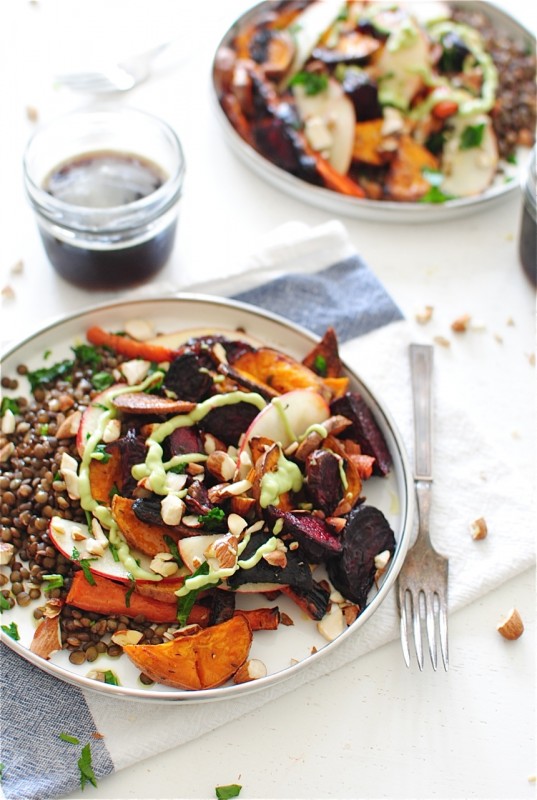 I'll admit, I'm not that that creative with vegetarian cooking. Back in the day when I was jazzed about expanding my vegetarian horizons, I tried making tofu a lot. I deep fried little strips. I pan fried little squares. I slipped silken blobs into soups. I even tried baking it! But I feel the time has come to get something off my chest. One . . . two . . . three:
I do not like tofu. (That felt good!)
And I'm A-OKAY with that. (I'm an adult!)
Flushing it down the toilet. (I'm going too far!)
It doesn't mean that I don't WANT to get creative with veggo cookerin', I just can't get tofus the way I like it, so I'm not going to worry about it no' mo'.
Besides, it leaves more room for cheese quesadillasaaaaaaam I right.
What I'm always always always game for though, is a plate/bowl/trough/mouthful of lentils. Especially the French ones. The good ones.
Lentils and rusted root- I mean roasted root vegetables. Always and forever with the roasted vegetables. Beets, carrots and sweet potatoes for this round.
It's a simple meal, actually, but you wouldn't know it with all the textures going on. The toothy lentils, the crunch of the apples and almonds, the tender flesh inside the roasted goods, and the finishing creamy avocado drizzle on top of everything. Ridiculous, really.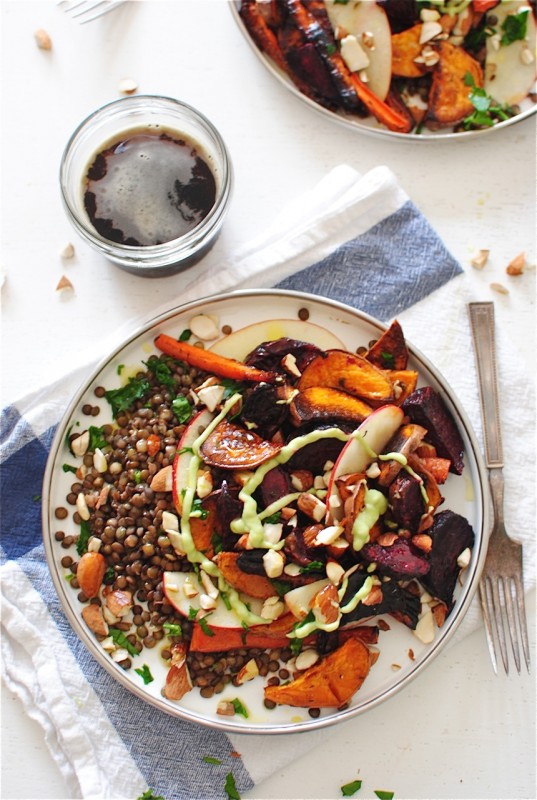 You're like, "This would be awesome with tofu in it!"
It's okay though. I still like you.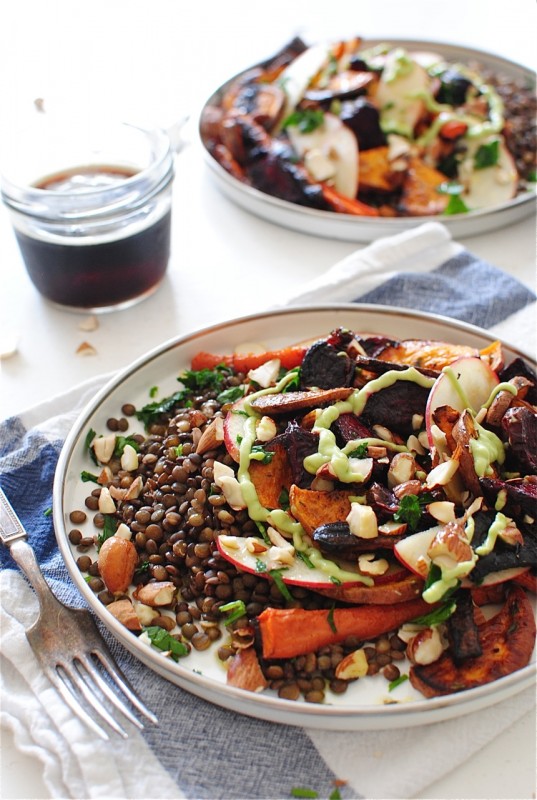 P.S. EAT THIS.
French Lentils with Roasted Root Vegetables
What it took for 2:
* 1/2 cup French lentils, picked over for boulders
* 2 small sweet potatoes, sliced into small wedges
* 2 carrots, cut into skinny sticks
* 3 small beets, cut into small wedges
* 2 Tbs. extra-virgin olive oil
* 1/2 Honeycrisp (or any kind you like) apple, thinly sliced
* 1/3 cup chopped almonds, lightly toasted
* 1 avocado, pitted
* 3 Tbs. Greek yogurt
* 2 Tbs. lime juice
* salt and pepper
* parsley, for garnish
Preheat oven to 400.
Bring a small pot of water to a boil. Cook the lentils for about 25 minutes, until they're tender, but not broken. Drain.
Haha, broken drain. My drain was broken last week. Anyway.
Spread the veggies on a baking sheet. Drizzle with olive oil and season with a good pinch of coarse salt and freshly ground pepper. Slide into the oven for 35-40 minutes, or until everything is tender and roasted, baaaaaybay.
In the meantime, place the avocado, yogurt and lime juice in a small food processor. Puree until smooth.
Arrange the lentils on two plates and top with the roasted veggies, apple slices and toasted chopped almonds. Drizzle with avocado cream and garnish with parsley!
Actually I bet shrimp, chicken and beef would be good on this. Doh!