We're having lentils for supper! Wait, don't cry.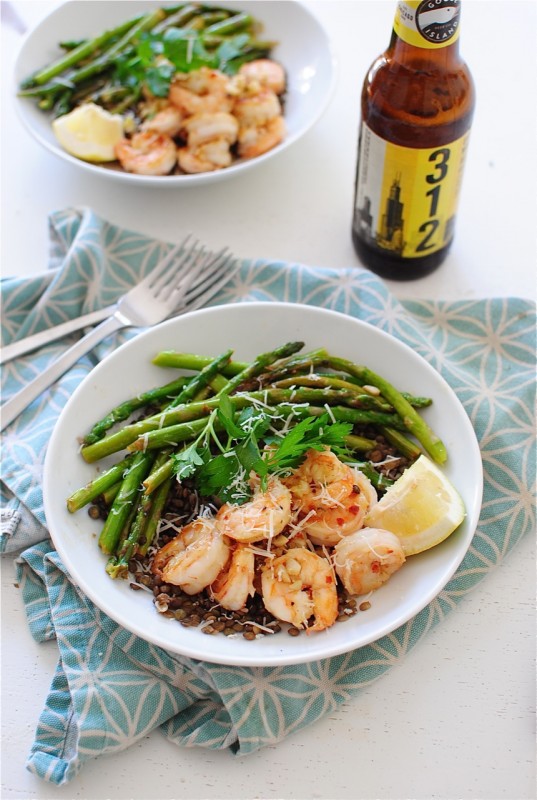 I'll never say supper again, I swear it.
So this is how this went down. A few weeks ago I had mega mama plans for lentils, shrimp and asparagus. You know how when you decide on a meal, you envision how it will look, right? Like, will the asparagus be whole, cut on the diagonal, or thinly sliced into tiny pieces? Will the shrimp be verging on crusty with a nice sear, or will it be more opaque, braised in a butter bath? Will the lentils be whole, or mashed through a ricer and dunked in turpentine? I'm just kidding I would NEVER put lentils through a ricer.
Anyway, I had a vision. But as luck would have it, by the time el hubso walked through the door at 5:30 pm, I was like, zonky donked. So incredibly tired my nasal hair felt heavy. Have I mentioned I have twins babies? I have twin babies. Twin babies who are both teething gargoyles from the aphotic abyss. So yeah, I didn't cook. I tried giving Aaron rinky dink instructions as he shoved me out of the kitchen and onto the sofa, "yeah yeah yeah I gaaaat thiiiis."
His vision? Totally different from mine!
Mine didn't have butter in it. I suck.
His did. He wins.
Mine didn't have nearly as much garlic. I lose.
His had lots. He rules.
Mine had the asparagus cut into small diagonal pieces. I bore.
His had long, tender sexy spears draping over the whole dish. He kills.
And don't forget about the lemon juice! Dudes, it's like a deep tissue massage and a bucket of cold water on your meal. Not in a weird way. Maybe I should rephrase this.
Don't forget about the lemon juice! Dudes, it's like a soothing bubble bath for your meal. Not in a gross way! Hold on. This isn't going well.
Don't forget about the lemon juice! Dudes, it will drip down into the lentils and become this lovely little dancy pants sauce with the butter and garlic and you will absolutely lose your mind.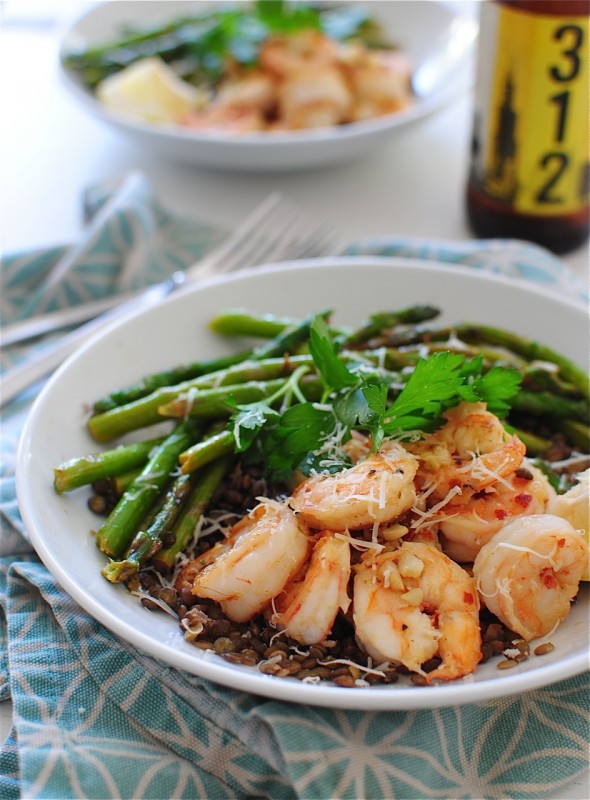 You can cry now.
French Lentils with Shrimp and Asparagus:
What it took for 2:
* 1/3 cup French lentils (le puy if you can find it)
* 2 Tbs. extra-virgin olive oil
* 2 Tbs. butter
* 1/2 bunch asparagus, ends trimmed
* 4 cloves garlic, minced
* 1/2 pound shrimp, peeled and deveined
* 1 pinch crushed red pepper
* juice of one lemon
* fresh parmesan for grating
* fresh parsley for garnish
Bring a small pot of water to a boil. Add the lentils and boil until tender, but not broken, about 20 minutes. Check for a nice mix of tender and toothy. Drain any excess water. Toss a tsp of olive oil in it and give it a quick stir.
Heat 2 Tbs. oil and butter in a large sauté pan. When the butter is melted and begins to foam, add the asparagus. Season with a little salt and and toss it around until it pops in color, maybe two minutes.
Scoot the asparagus over and add the garlic and shrimp. Season with salt, pepper and the crushed red pepper. Sear for a minute and a half, flip and sear another 30 seconds. Give everything a good squeeze of lemon and toss the pan around. The scent is going to knock your whole face off.
Divide the lentils among two bowls or plates. Top with the asparagus spears and a good spoonful of seared shrimp. Garnish with fresh parmesan and parsley. Serve with more lemon wedges! Always.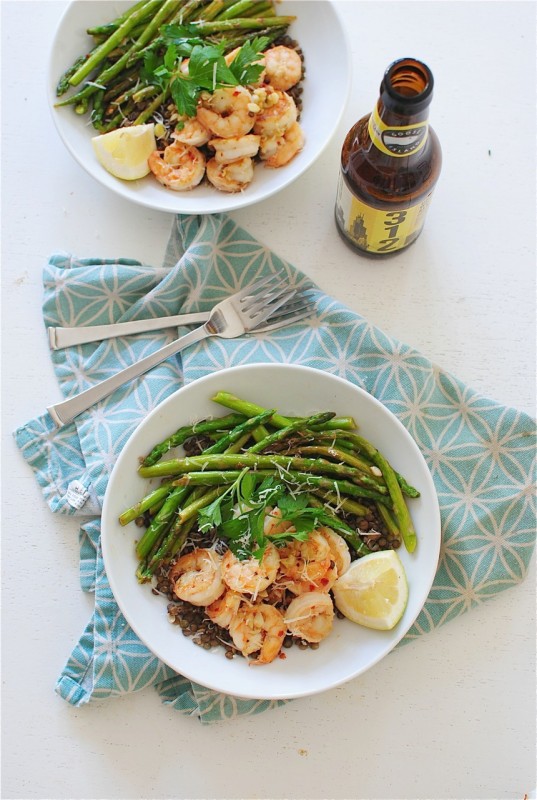 Go, Aaron.