Fridaaaaay! Time for something creamy.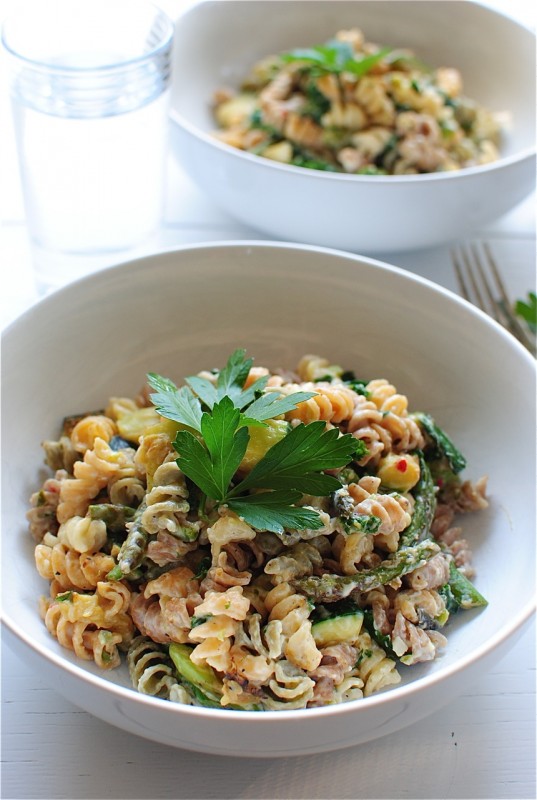 Also, there's frost on the ground. FA-ROST. I guess it makes sense, as it's late October, but whoa-train.
Also, how gross that I just said whoa-train. It might be the dumbest thing I've ever vocalized (but probably not) and I officially recoil it now.
Oh! Name this movie: "ReeeeeCOIL, reeeeeeVERSE, reeeeeeeLEASE!"
I miss the '90s.
Also, have you been watching Parenthood? UGHHHH my heart. Being pregnaloolootrain (I'm sorry did she just say pregnaloolootrain?) doesn't help the situation either. My eyeballs are like mini sprinkler systems just a waterin' the living room every week. Even Kristina Braverman's political headshots made me boo-hoo. It's not cute, you guys.
Did I tell you that there's a succulent velvety cream sauce that blankets all these dang vegetables and pasta? It has thyme and parmesan in it. And minced cherub wings.
This meal is simple. It's weeknighty. It's pretty healthy with all the green stuff in it. It's comforting with all the creamy stuff in it. Also, there's pasta in it. Winwinwinwiwniwnwin.
I don't think I spelled win right.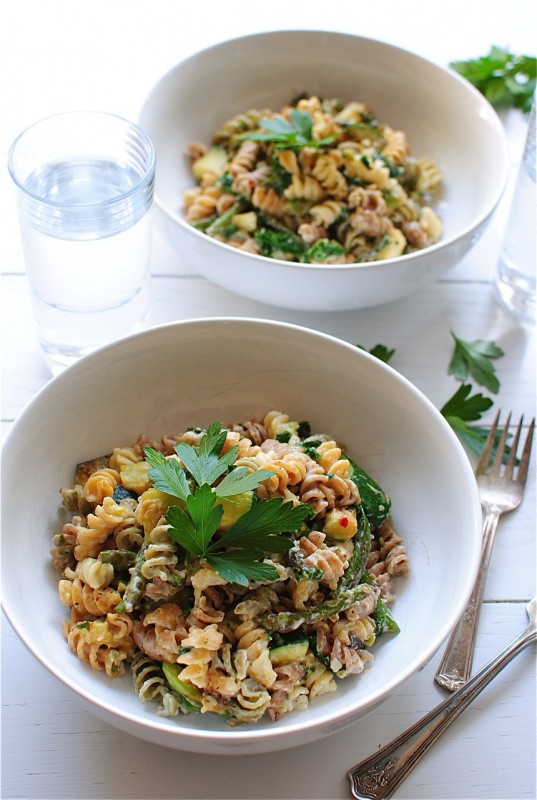 Also, I'm going to try to make my own modern stuffed animals for the nursery this weekend. Me + needles? Hold me in your prayers.
Also, I'm going to try to stop saying also so much. I'll let you know how it goes.
You should know there's a cream sauce in this.
Creamy Vegetable Pasta:
What it took for 4:
* 2 Tbs. extra-virgin olive oil
* 1 small zucchini, cut into small chunks
* half a bunch of asparagus, ends trimmed and cut into 1-inch pieces
* 1 cup green beans, halved
* 3 to 4 cups chopped kale
* 3 cloves garlic, minced
* 2 Tbs. butter
* 2 Tbs. all-purpose flour
* 2 cups milk
* 1 tsp fresh thyme leaves
* 1/3 cup freshly grated parmesan cheese
* pinch of crushed red pepper
* 1/2 pound rotini pasta, cooked until al dente
* coarse salt and freshly ground pepper
Heat the olive oil in a large skillet over medium-high. Add the zucchini, asparagus and green beans. Season with a pinch of salt and pepper, thyme and crushed red pepper. Sauté for about 5 minutes, until soft and tender-ish. If that makes sense. You want to see a little color on the zucchini.
Add the garlic and kale, along with another small pinch of salt. Toss to wilt the kale.
Add the cooked pasta and toss toss toss.
In the meantime, melt the butter in a small saucepan. Add the flour and whisk until it becomes a golden brown color and the smell of flour is gone, just a few minutes. Stir in the milk and whisk until it becomes thick and creamy, about 5 minutes.
Off the heat, stir in the cheese and a pinch of salt and pepper.
Add the sauce to the pasta and vegetable mix and give her another seductive toss. Because that makes sense.
Divide and serve with some fresh parsley! And more parmesan. For the love.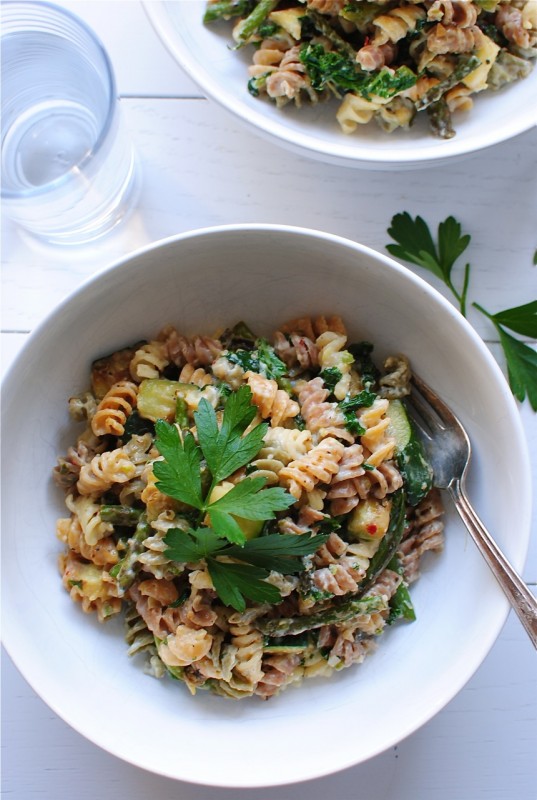 Excuse my white balance issues. The babies kicked my elbow off the keyboard when I was editing  and it scared me.