(This giveaway is now closed. The answer to the question though? Friends!)
Guess what rhymes with Ree? CHEELEE.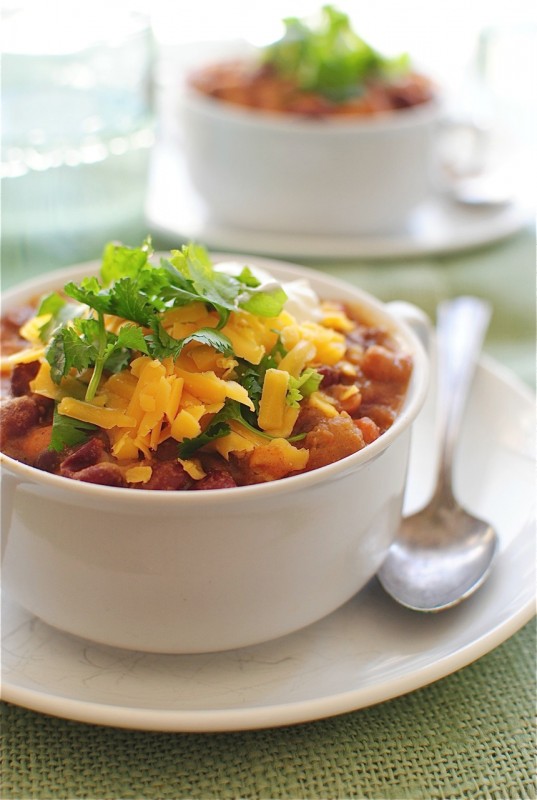 Okay not so much.
But guess what yesterday was? The release of Ree's new Holidaaaay coooookboooooook! (said like Oprah)
I've already licked every page. Thrice.
Obviously the book is completely fabulous, filled with crystal clear step-by-step instructions, finger-lickin' photography, and her unmistakable voice.
I just licked every page again. Like, just now.
I love that she addressed this copy to my bebes! They gave me a high-five through my belly membranes in thanks, Ree.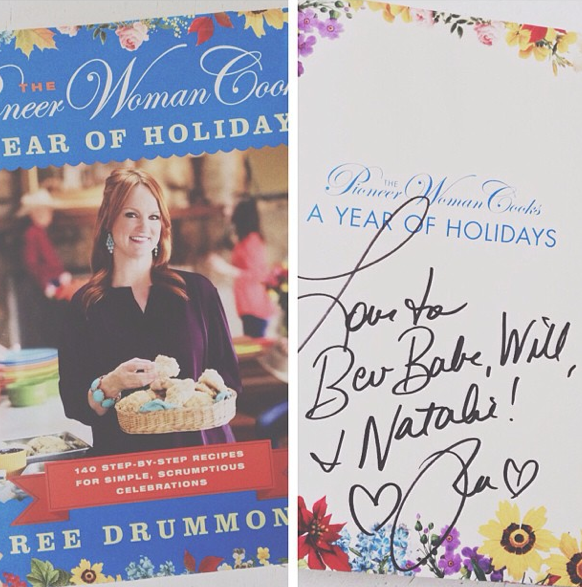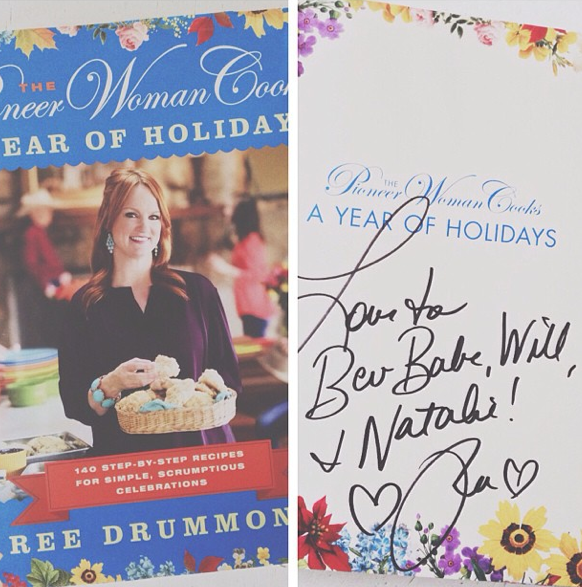 I made her Chipotle Chicken Chili and I'm still mad about it.
But you don't care about that. You just want a copy, duncha? I know how you people are.
Okay, so I'm giving away THREE signed copies of this deliciouso book. Annnnnd, there are a handful of other bloggers who are celebrating with me today, so you have to go to their sites as well and enter to win. Increases the chances, yo. I'm like Vegas, but knocked up.
Ew.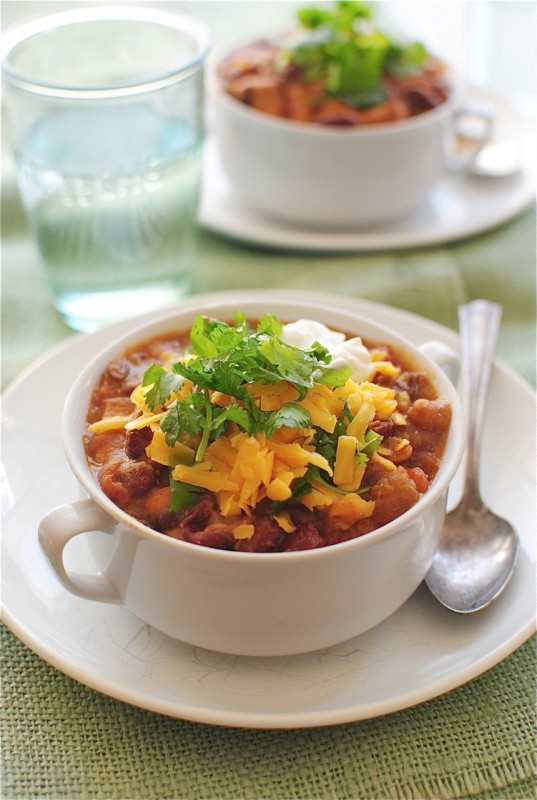 Just answer me this and you're totally entered to win:
What popular TV show is this quote from? "Well it was either the pink bunny, or no bunny at all." "No bunny at all! ALWAYS no bunny at all!"
(This has nothing to do with this cookbook, so if you don't know, just say, "I don't know, dude. Just give me the dang book!" or whatever you want to say!)
You can also follow me here, here, here and here and leave a separate comment back here letting me know! Simple as pie. I mean chipotle chicken chili.
Chipotle Chicken Chili:
What it took for 5 billion: (or 8-12 servings)
* 2 Tbs. extra-virgin olive oil
* 1 large white onion, diced
* 4 garlic cloves, minced
* 2 pounds boneless, skinless chicken breast, cut into bite-sized pieces
* 1 (12 oz) beer of your choice (Mexican is recommended)
* 1 (14.5 oz) can of diced tomatoes
* 3 chipotle peppers in their adobo sauce, minced
* 1 (14 oz) can black beans, drained and rinsed
* 1 (14 oz) can pinto beans, drained and rinsed
* 1 (14 oz) can kidney beans, drained and rinsed
* 1 Tbs. chili powder
* 1 Tbs. cumin
* 2 tsp salt, more to taste
* 1/4 cup corn flour (masa harina)
* juice of one lime
* sour cream, for serving
* shredded cheddar cheese, for serving
* fresh cilantro, for serving
Heat the olive oil in a large pot of dutch oven over medium-high. Add the onion and garlic and sauté for about 3 minutes, until they start to soften.
Add the chicken and cook until browned on all sides, about  5 minutes. Then add all but 1/4 cup of the beer.
Throw in the tomatoes, minced chipotles, and all the beans. Toss toss toss.
Then add the chili powder, cumin and the salt.
Bring that thang to a boil, then reduce it to a simmer and let it cook for 45 minutes to an hour. I partially covered mine. Do what makes you happy in life.
Then whisk together the remaining 1/4 cup of beer and the corn flour until it's smooth.
Pour it in. LOOK how thick that just got. Squeeze in that lime juice.
Let it simmer another few minutes. Taste the chili. Dang, that is seriously good, Ree.
Serve the chili garnished with sour cream, cheese and cilantro! (and more beer)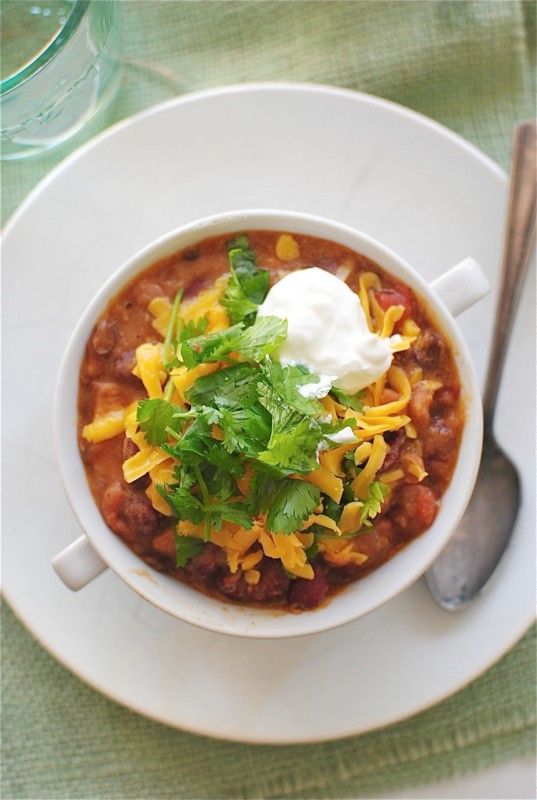 Peeeeeep iiiiiiit.
Recipe Girl made Pecan Pie
She Wears Many Hats made Perfect Cream Scones
Reluctant Entertainer made Mulled Apple Cider
Two Peas and Their Pod made Dulce De Leche Brownies
Add a Pinch made Rum Cake
i am baker made Dr. Pepper Cake
(This giveaway is sponsored by Ree's publisher. I'll pick three winners at random and announce them November 5th. Thanks, dudes!)