How you doin'?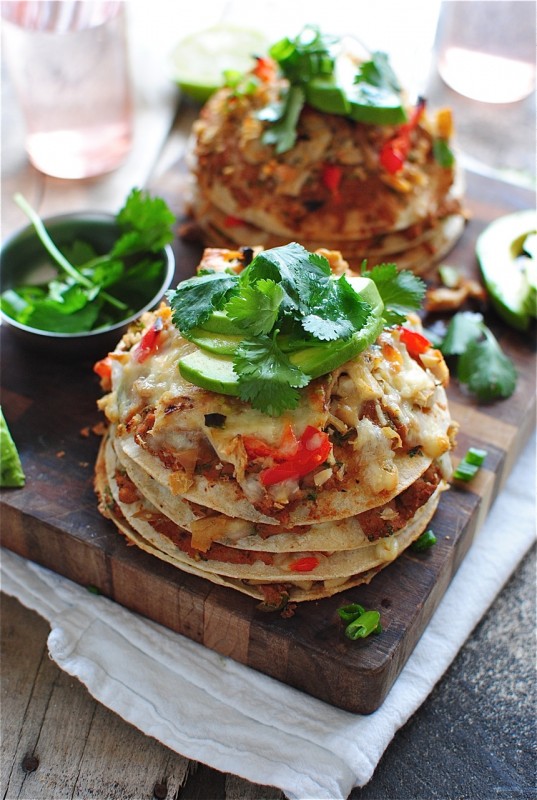 (before I continue, my world has been shattered as what you are about to read is all a hoax. okay proceed.)
I'm trying to find the words to describe how I feel about this. Giddy school girl doesn't quite cut it. Rampant tornadoes of hysteria is a little closer. A pile of slaphappy cells on the verge of a titanic freak attack is getting warmer.
Oh I'm not talking about these bad-to-the-bone chicken taco stacks. We'll get to those in a sec.
I'm talking about the r.e.t.u.r.n.o.f.F.R.I.E.N.D.S. As in, only the best show evar. As in, Monica, Rachel, Phoebe, Joey, Ross and Chandler. As in, my bruthus and sistas from another muthu and mista. (that was dumb.)
And get THIS. They're not only talking about a reunion, but an entire comeback SEASON. Multiple episodes! My head and heart and pancreas just collapsed. Who's going to play Emma?! What about Jack and Erica? Will it be the entire cast? I haven't been this excited since we discovered you can scrub that little area on the sides of your ankles and it's like, BRAND new skin under there.
So, chicken taco stacks! I mean come on. Are these not completely hilarious? Let me tell you what I did here, if I can think about something else besides Friends for .56892 seconds.
It all started with a can of refried beans that's been in my pantry since Watergate. I thinned it out a little with some lime juice, freshly minced jalapeno pepper, and ceelayantrow. When you taste that mixture, little cartoon birds will come and sing tunes of jubilee around your head.
Then you basically just do some pilin'. Bean mixture, chopped chicken, freshly diced red bells, scallions and CHEESE, sweet baby ponies of the earth.
Stack 'em up, bake 'em up, waaaay up. (you know, like a cheer. but you don't have to say the cheer part. but you probably should.)
And then this is what occurs within the confines of your life.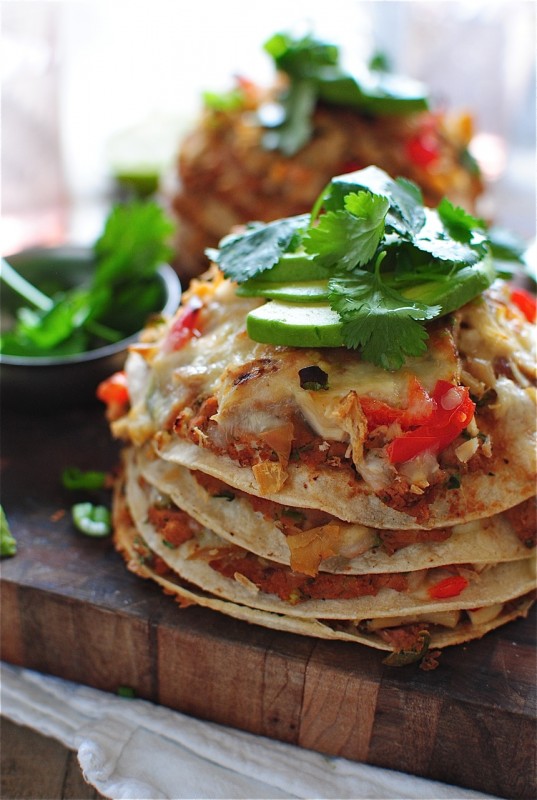 GAAAAAAAAAAH.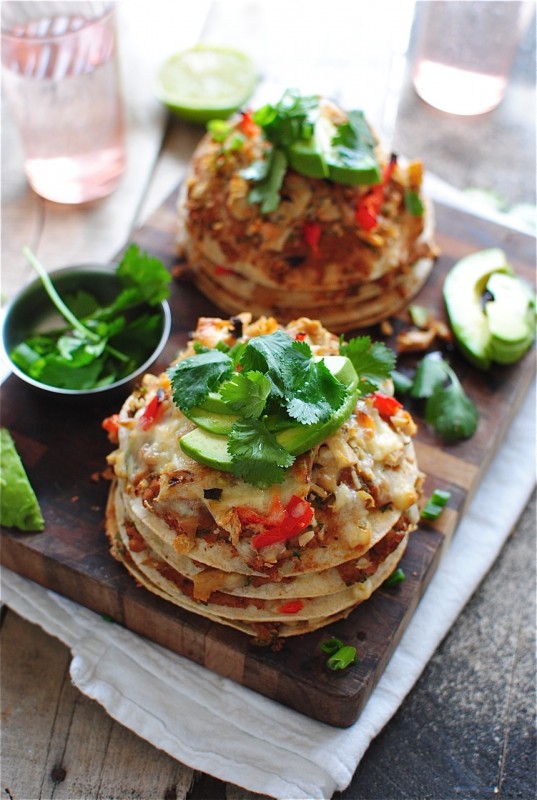 I already can't wait for you to eat this.
Chicken Taco Stacks:
What it took for 2 stacks:
* 1 (14.5 oz) can refried beans
* 3 Tbs. lime juice, plus more for garnish
* 1 jalapeno pepper, minced (seeds removed for less heat)
* 1/2 cup chopped cilantro, plus more for garnish
* 2 cups chopped cooked chicken
* 1/2 red bell pepper, diced
* 8 corn tortillas
* 1 1/2 cups shredded pepper jack cheese (or more!)
* 1 avocado, sliced
* 2 scallions, sliced
Preheat oven to 400.
In a large bowl, combine the beans, lime juice, jalapeno pepper and cilantro. Stir until well mixed.
Lightly coat a large baking with cooking spray. Arrange the tortillas in a row on the sheet. Place in the oven and bake for 3 minutes. Flip and bake 3 more minutes. This just starts the tortilla crispin'! Go ahead and start a band called Tortilla Crispin'.
Evenly spread the bean mixture over each tortilla. Top with chopped chicken, dice bed pepper, cheese and scallions. Carefully stack the tortillas, 4 to each stack. But I guess you could have done that math. Sorry.
Slide her back into the oven for 20 – 30 minutes, or until the cheese is bubbly and the tortilla edges are golden and crispy.
Garnish each stack with sliced avocado, cilantro leaves and fresh lime juice!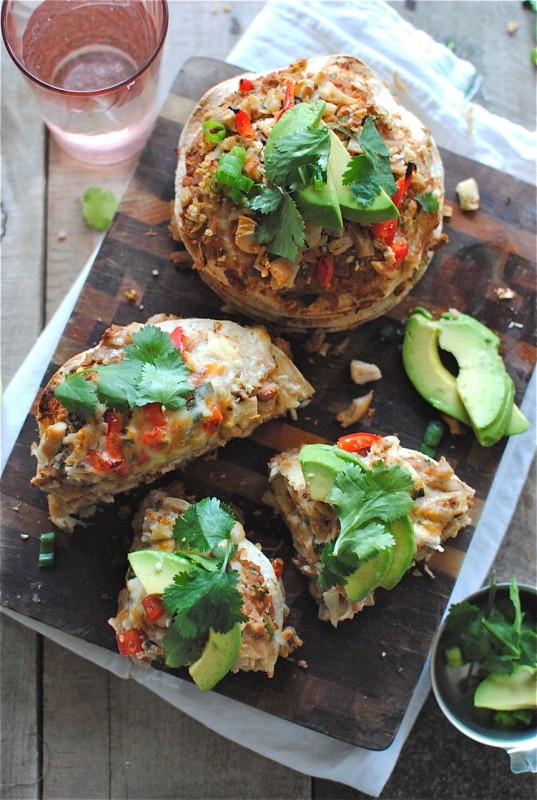 Get stacked!