This is basically my version of Lucy's infamous Vitameatavegamin.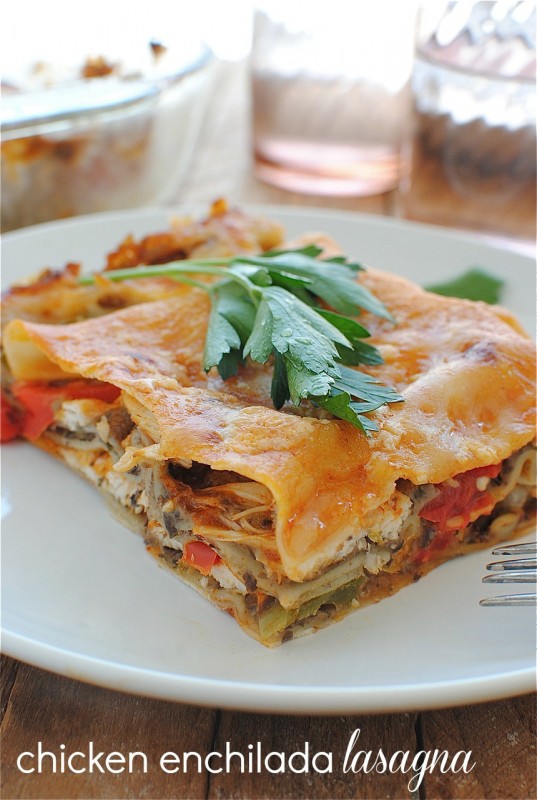 But I'll call mine Chickenchilasagnita.
It's so tasty too!
Come hitherly hither. Could we just stop for a moment to discuss what's happening in the next couple of photos? My cerebral cortex had no idea what was unfolding as my multi-fingered extremeties kept throwing stuff into the food processor. Black beans, cream cheese, a lot of garlic, some diced chile pepper and a LOT of cilantro? What is even happening right now?
Blitz blitz. Taste.
Feel that? Yeah that was your soul being slapped silly.
Oh and here comes the fajita part! Some nicely sautéed bell peppers. I left it out of the title because I couldn't decide on Chicken Enchilada Fajita Lasagna or Chicken Fajita Enchilada Lasagna or Chicken Lasagna with Enchiladaness and Fajita Action or Chicken This is Hurting My Head or Chicken Enchilada Lasagna with Fajita Essence or Chicken Melting Pot or Fajita Enchilada Lasagna with Chicken or Enchilada Lasagna with Chicken and Fajita Substance or Chicken Nucleus with Enchilada and Fajita and Lasagna Fundamental Elements of the World.
So I just left it out.
Oh, and – crumbled queso fresco and no-boil lasagna noodles? Go ahead and make them your bia.
LOOK at the way those lasagna sheets ripple up and wave in the finished casserole. When I die I want to be buried in that.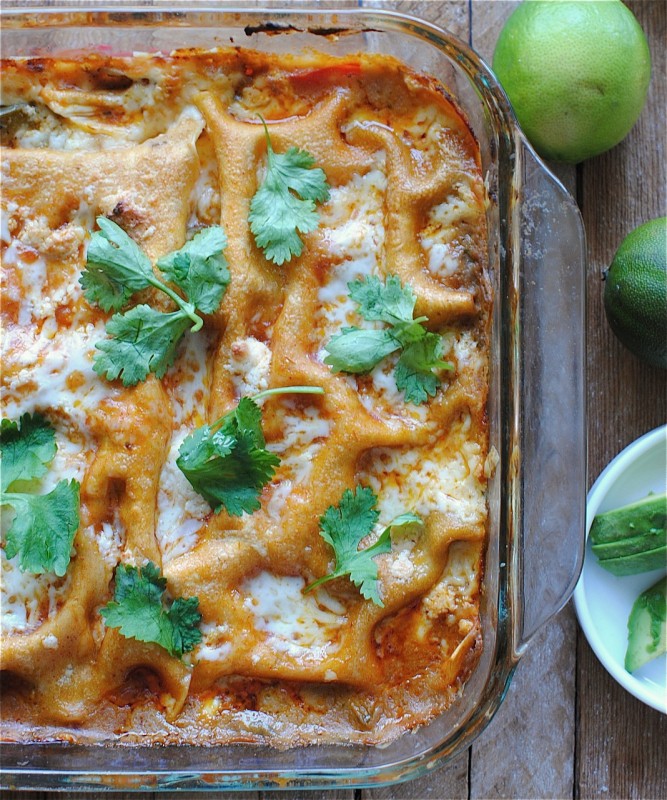 Or we could bury me in it now.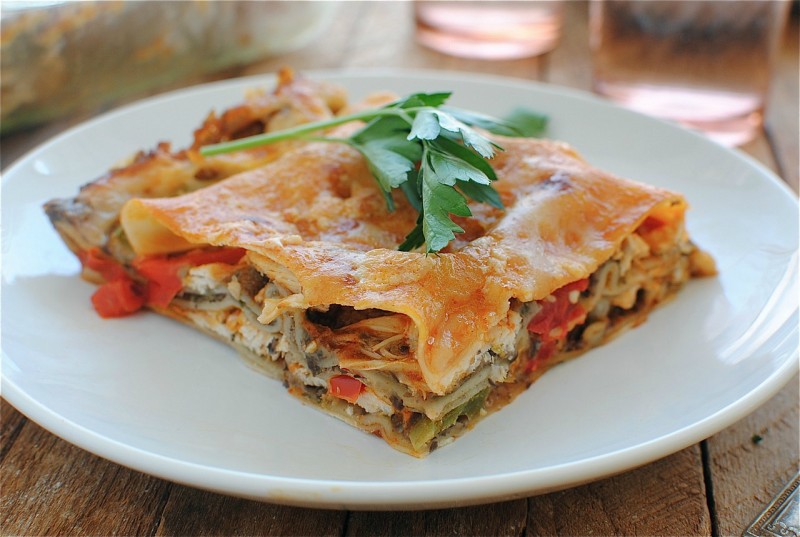 Get this in your mouth as fast as you possibly can.
Chicken Enchilada Lasagna:
What it took for 6 servings:
* 1 (14.5 oz) can black beans, drained and rinsed
* 1/2 (8 oz) block cream cheese
* 2 cloves garlic, minced
* 1 red chile pepper (or jalapeno) minced
* 1/2 cup cilantro leaves, plus more for garnish
* 1 Tbs. extra-virgin olive oil
* 1 red bell pepper, sliced into 2-inch strips
* 1 green bell pepper, sliced into 2-inch strips
* 2 chicken breasts, poached and shredded
* 2 (10 oz) cans red enchilada sauce
* 12 no-boil lasagna noodles
* 1 cup crumbled queso fresco (or more if you like!)
* 1-2 cups shredded monterey jack cheese
* coarse salt and freshly ground pepper
* sliced avocado and lime juice for garnish (optional)
Preheat oven to 375.
In a food processor, combine the beans, garlic, chile pepper, cream cheese, cilantro and a good pinch of salt and pepper. Blitz until smooth and glorious.
Heat the oil in a medium skillet over medium high. Add the diced bell peppers and sauté 3 minutes. Season with a pinch of salt and pepper.
Pour about 1/2 cup enchilada sauce along the bottom of a casserole dish. I used 9 x 13. Lay 4 lasagna sheets on top of the sauce. Then spread half of the bean dip on top of the sheets. Sprinkle half of the chicken and peppers on top of the dip. Then some of that good crumbled queso fresco. Gosh I love that stuff. Then pour some more of the enchilada sauce on top of everything. Oh goodness.
Then you'll repeat with 4 more lasagna sheets, the rest of the bean dip, chicken, peppers, queso fresco and sauce. Oh dear.
Then the last 4 sheets, the rest of the sauce, the monterey jack cheese and a little more queso fresco. Oh my heart.
Cover and slide her into the oven for 50 to 55 minutes. Remove the foil and switch your oven to broil to get that cheese good and browned and bubbly and I die.
If you can, and this is hard, let it sit for about 10 minutes, so that when you cut into it and serve it stays in cute little squares.
Garnish with avocado, cilantro, lime juice and your mouth!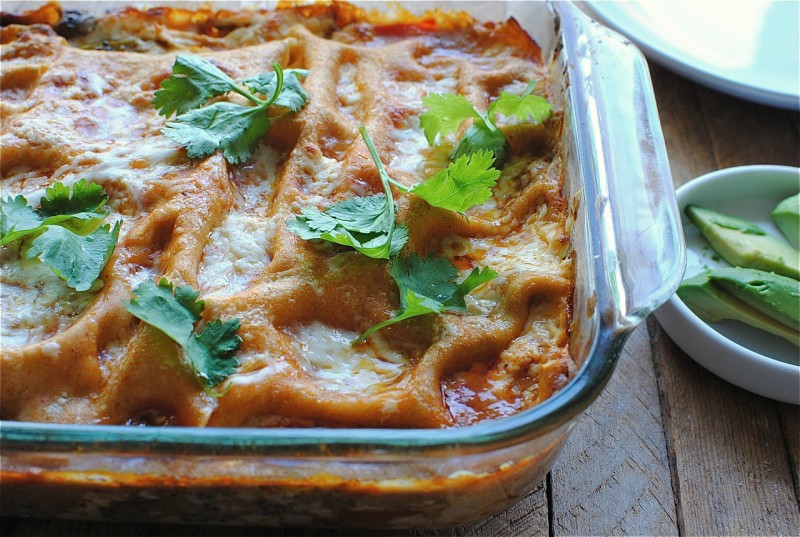 omg it hurts.