Remember when I went to Florida a few weeks ago to visit Jaden, Julie and Jessica? (photo recap coming later this week)That was awesome. I miss those pigeons.
All right so, Saturday afternoon Jaden and I are doing our nails with this crazy astronaut Darth Vader time capsule machine thingy, and in walks Julie, with like 400 bags of Meyer lemons. "You all get lemons! Wee!" (Julie didn't say the "wee" part. I kind of wish she had though.) And all weekend, we all stared at our bags of lemons, like Lloyd Christmas and Harry Dunne stare at LIFE.
Both Jaden and I have the baking skills of a paper clip, so we were like, "Dude, what you are gonna do with these lemons?" "I seriously don't have a clue. You?" "Me either. Lemon bars? But how do you even DO that?" While Jessica and Julie shook their heads at our incompetencies and we glared back and Instagramed our drinks.
I get home, with my bag o' lemon in tow, and as I plop down in front of my laptop to plan out the week's work schedule/menu, I'm totes wishing I had something hot to drink. Something cozy, something that gently kneads my soul innards, something with a citru….OOOOOOOOHHHHHHHH.
And the hot toddy angels flapped their wings in my face.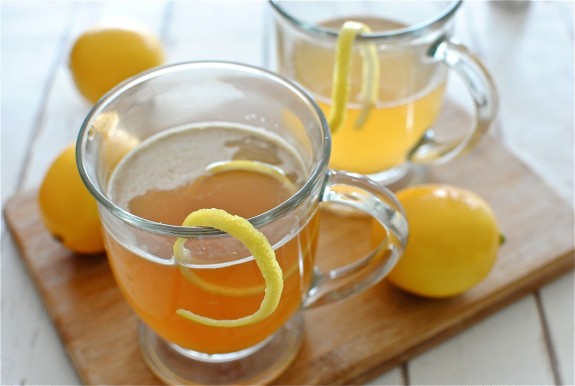 See this drink right here? You have some major saddling up to do. Here's my step-by-step on the Tablespoons!
*p.s. Don't be jealous of my award-winning lemon peeling skills.