Do you ever find yourself zombieously wandering around your kitchen, scanning the pantry inventory for dinner: wild rice, lentils, oats, cob webs. WAIT, oh ew.
And then you drag yourself out to the garden, squinting into the blinding sun to check out what's left of the season: kale, some herbs, a few tomatoes, weeds. WAIT, oh no.
And then you make your way back inside and lethargically pull open the refrigerator door to skim over the last of the perishables: butter, half a lemon, some orange juice, a dead fly. WAIT, oh my stars.
This isn't me I'm writing about. No way, man. I'm always 100% on TOP of my game when it comes to meal planning, prepping and cooking.
Yeah, I couldn't get through that sentence without snorting.
Actually, I'm all about the hodge-podge staple dinner. It's the lazy (wo)man's fast track to sublime happiness.
Now, to clean that fridge. Ay yi yi.
p.s. What's your favorite staple dinner? Holla!
French Lentils with Kale and Shrimp: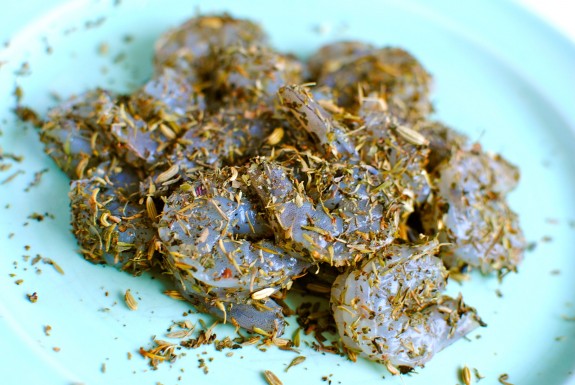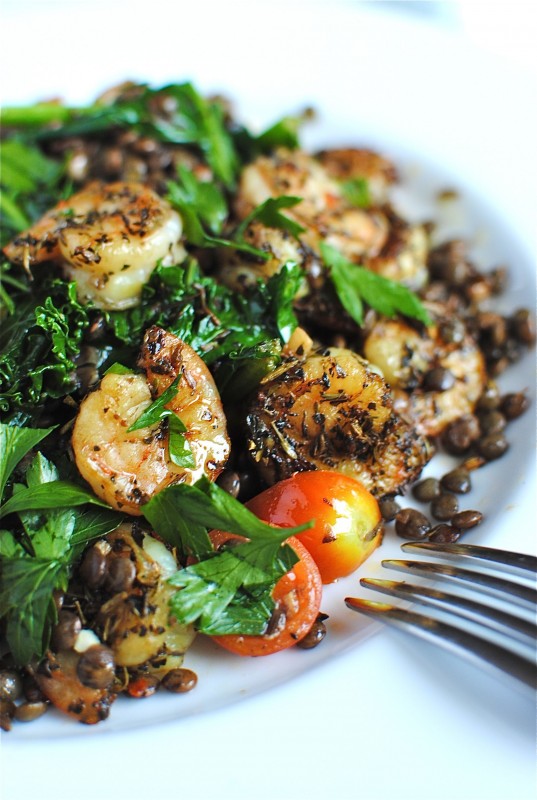 What it took for 2:
* 1 cup green french lentils
* 1 pound shrimp, peeled and deveined
* 1 bunch kale, ends trimmed and cut into ribbons
* 1 cup cherry tomatoes, halved or quartered
* 2 cloves garlic, minced
* 2 Tbs. Herbs De Provence
* 1 pinch crushed red pepper
* 3 Tbs. extra-virgin olive oil
* juice from half a lemon
* 1/4 cup dry white wine
* 1/4 fresh parsley, chopped
* 1/2 tsp coarse salt
* 1/2 tsp freshly ground pepper
Cook the lentils in boiling water until tender, 25 minutes. Drain, if necessary.
On a plate, toss the shrimp with the Herbs De Provence and crushed red pepper.
Heat 2 Tbs oil in a medium skillet over medium-high. Arrange the shrimp in a single layer and sear for 2 minutes. Flip and sear 30 more seconds. Remove from pan and set aside.
Add the wine and deglaze the pan. Scrap up the good browned bits on the bottom of the pan. Once the liquid has mostly absorbed, add the garlic and bloom for 30 seconds. Add the kale and cherry tomatoes; saute until wilted, 1 minute.
To the pot with the lentils, add the kale mixture and seared shrimp. Taste and season with salt and pepper, accordingly. Drizzle with remaining oil and spritz with lemon. Toss together and serve with the parsley as garnish!
Bistro eatin', baby.