I know this might sound completely insane, due to these incredulous temperatures we're experiencing, but for some reason warm, cheesy, baked, gooey chicken and spinach enchiladas called to me today, begging on hands and knees to be eaten for dinner tonight.
Oh, but see, it's okay! You don't have to admit me into a psych ward! I stayed safe from the heat. I remained indoors, cranked up my AC, turned on all the fans in the house and had "Cool Runnings" on repeat on the old VHS machine.
True story!
Well, it is if you replace the word "true" with, " hahaha sucker, totally not true."
Yeaaaaah, let's just move on to food.
Chicken and Spinach Enchiladas: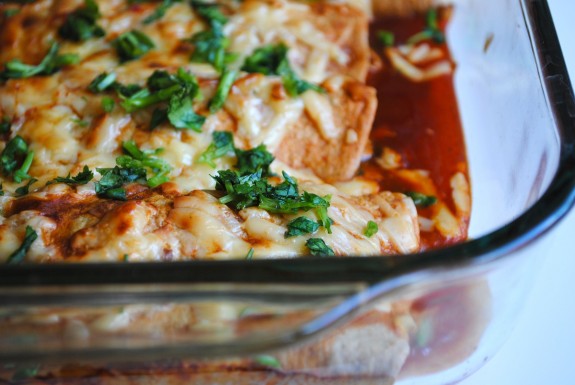 Oh mama.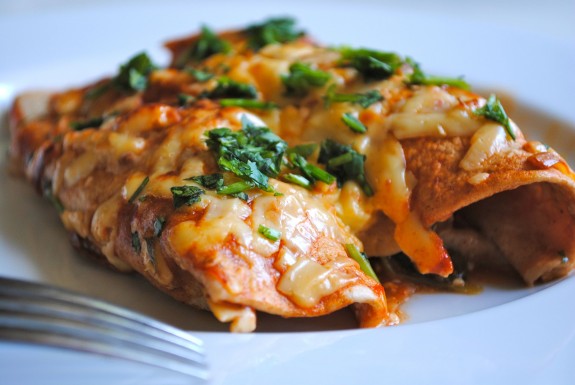 What it took for 2:
* 1/2 onion, finely diced
* 2 garlic cloves, minced
* 2 chicken breasts, cooked and shredded
* 2 Tbs. ground cumin
* 1 Tbs. chile powder
* 1 tsp ground coriander
* 4 cups spinach
* 1 (10 oz) can red hot enchilada sauce
* 2 Tbs. extra-virgin olive oil
* 1 Tbs. butter
* 1 cup pepper jack cheese
* fresh cilantro for garnish
* coarse salt and freshly ground pepper
* 8 small, whole wheat tortillas
Preheat oven to 375.
Okay, so you just cooked the chicken in some boiling water. Add the spinach to the water and blanch about a minute. Remove from water, drain and squeeze out remaining water.
In a large bowl, combine the cooked chicken with the spices, a good dash of salt and pepper and set aside.
Bring the oil and butter to a medium-high heat in a medium skillet. Add the onions and cook until soft, 6 minutes. Add the garlic and cook 1 more minute.
Add onions and garlic to chicken mixture.  Add in the spinach as well and mix to combine everything.
Pour in a little bit of the enchilada sauce, just for the sake of it all.
While you're at it, spoon a little bit of sauce along the bottom of your baking dish.
Spoon some filling into the center of each tortilla. Top with a little bit of cheese. Roll up each tortilla and place face down in the baking dish. Once all the babies are in a row, pour the rest of the sauce on top, and top with grated cheese.
Cover and bake for 20 minutes. Uncover and bake 10 more minutes, until cheese is brown and bubbly. Let cool a minute or two, garnish with cilantro and you're set!