I know it's 100 degrees out. I know it's mid-June. I know the staple outfit these days is a bikini. I know most of you are firing up your grill tonight. I know.
I still wanted soup for dinner.
It's my kitchen, I can soup if I want to.
Yeah, that only sort of works, doesn't it?
Anyway, it's Friday night, so I needed dinner to make itself. This soup is so easy you can actually pay more attention to the news, a cocktail, or syndicated Friends episodes, than you do on dinner.
(I'm still really pulling for Ross and Rachel!)
Make this and you will see what I mean. Enjoy your sweet, sweet Friday evening.
Smoked Cod Soup: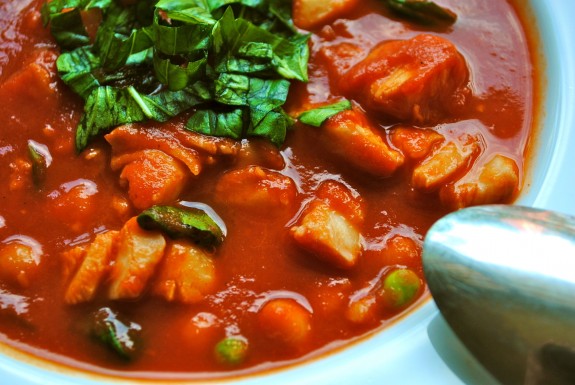 What it took for 4:
* 1 pound cod, cut into bite-sized chunks
* 3 Tbs. extra-virgin olive oil
* 4 cloves garlic, minced
* 2 Tbs. smoked paprika
* splash of vermouth
* 1 can chickpeas, rinsed and drained
* 1 cup total green beans and peas
* 2 cups chicken stock
* 1 (28 oz) can whole-peeled tomatoes
* 2 cups spinach
* fresh parsley for garnish
* coarse salt and freshly ground pepper
Heat the oil in a large saucepan. Add the garlic and bloom for 30 seconds. Add the paprika and stir to combine, 20 more seconds. Toss in the chickpeas and stir. Add the vermouth and let sizzle for a second. Add the stock and tomatoes. Bring to a boil, reduce heat and simmer 20 minutes. Stir in the spinach and the cod and cook until fish is opaque, about 2 minutes. Season with salt and pepper. Serve with fresh parsley! Happy weekend.