In my quest to make 4 million, 738 thousand, 617 burgers this summer, I decided that today was as good as any to make it all about the mushroom.
I love mushrooms. I am so in love with mushrooms. The weirder the spelling, the better. The stranger the texture, bring it on. The funkier the fungus, sign me up. I really, really, REALLY love mushrooms.
I love mushrooms.
If you find yourself wiping away the tears and nodding at the computer screen and you're all, I KNOWWWWW in your head, a) we're soul mates and b) don't close your browser.
Well, at least scroll down and take a look at the pictures first.
Let's feature…the portobello mushroom!
Portobello mushrooms are a glorious substitute for meat if you're trying to healthy up your life a smidge. And on the grill, are you kidding me? In the form of a burger with fresh guacamole? STOP. Sweet potato fries on the side? DEATH BECOMES ME.
Oh and I need to mention the peaches. I had no idea peaches could sexy up a burger so much. Really, my life has just taken a new direction. I'll never look at a peach the same way again.
M.a.k.e. T.h.e.s.e. F.o.r. T.h.e. S.a.k.e.
Portobello Mushroom and Peach Burgers: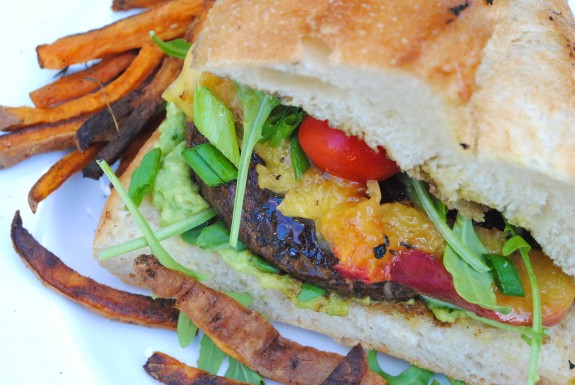 What it took for 2:
* 2 portobello mushrooms, lightly cleaned of any grit or dirt
* 2 peaches, halved and pits removed
* 1 sweet potato, cut into thin sticks
* 2 hamburger buns (of your choice)
* 1 cup arugula
* 1/2 cup cherry tomatoes
* 1 scallion, sliced
* 4 sprigs fresh thyme, divided (2 sprigs chopped)
* 1 Tbs. freshly chopped rosemary
* 3 Tbs. extra-virgin olive oil
* 2 cloves garlic, minced
* juice from half a lemon
* 1 tsp ground cumin
* 1 tsp chili powder
* coarse salt and freshly ground pepper
Preheat oven to 350. Toss sweet potato fries with a couple Tbs of olive oil, the cumin, chili powder, a couple thyme sprigs, salt and pepper. Bake for 45 minutes, checking at 30.
For the mushroom marinade, combine the oil, thyme, rosemary, lemon juice and pinch of salt and pepper in small bowl. Brush each side of the mushrooms and peaches.
Preheat the grill to medium-high. Grill each mushroom on each side for about 3 to 4 minutes. Same rule goes for the peaches. Continue to brush with marinade.
Grill up the buns too!
Serve the burgers with cherry tomatoes, scallions, arugula and fresh guacamole. And sweet potato fries. For the love do not forget about them.