Earlier this spring I became quickly obsessed with an old TLC show, "Take Home Chef." We don't have cable, so once I discovered the show in my Netflix streaming, I clicked play, and we fell in love. It had NOTHING to do with the cute host from Australia, Curtis Stone. Absolutely nothing.
His tagline at the end of every THC show is, "The next time you go to the grocery store, you never know who you're gonna bump into. It might be me, so make sure ya dress up."
You guys, I've dressed up for THREE months now and not seen a peep of him. Not until I was flipping channels and saw him in a commercial in front of A GROCERY STORE IN KANSAS CITY. Y-E-P. He recently teamed up with our local grocery store HyVee for a series of summery commercials. UM, I'm a full-time actress (not at all actually) so why didn't *I* get the chance to audition for this commercial (totally wasn't expecting the invitation.)
I'm starting to accept this and move past the pain.
That was until I got our local HyVee food magazine in the mail with him on the COVER.
WHAT IS THE MESSAGE HERE?
Okay so there is none. I made his stuffed tomatoes. Blah, blah, blah. They were good. So he cooks for everyone else and not me.  FAAAAHN.
Here's my version or whatever.
(not pouting at all.)
Wild Rice and Bacon Stuffed Tomatoes: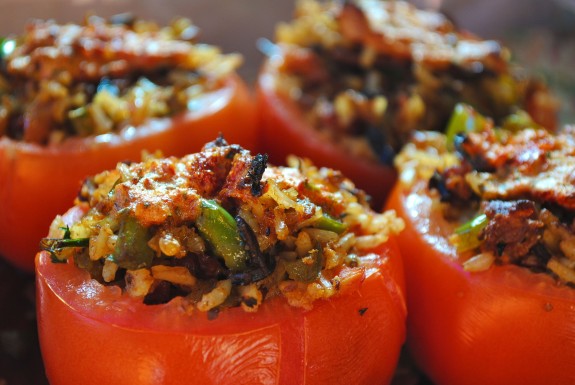 What it took for 2:
* 4 medium tomatoes
* 4 slices bacon
* 2 cups cooked wild rice
* 2 Tbs. sun-dried tomato butter
* 3 cloves garlic, minced
* 1 cup diced green bell pepper
* 3 Tbs. fresh parsley
* 1/2 cup whole-wheat breadcrumbs
Preheat oven to 350.
Cut a 1/2-inch slice from the top of each mater. (that's a TOMATO.) Toss out the tops. Using a melon baller or a teaspoon, scrape out the pulp, leaving a 1/2-inch shell to stuff. Get rid of the seeds, but coarsely chop the pulp and set aside.
Cook the bacon until crisp. Remove from heat, let cool and crumble.
Melt the butter in a skillet over medium heat. Toss in the garlic and bloom for 30 seconds. Add the tomato pulp, diced green pepper and parsley. Saute 2 minutes, until the pepper is crisp-tender. Stir in the rice, bacon and the breadcrumbs.
Stuff each tomato with the filling. Dollop just a smidge more of the sun-dried tomato butter (trust me on this) on each tomato. Bake, uncovered about 15 minutes.
Food time!