Well, it's been approximately 17 minutes since I last ate Mexican food and I'm beginning to twitch.
(It wasn't really 17 minutes you guys. It was last week. YOUUUU.)
But honestly, when I'm meal planning my mind usually drifts over to a land of crunchy chips and fresh salsa, a hot mariachi band and rivers filled with melty cheese, cilantro and spices. There's even a diving board made out of a huge scallion next to the cheese river. It's such a beautiful land.
In the midst of making my grocery list, my dreamlike state led me to scribble something about shrimp and mushrooms and spinach and tortillas and cheddar cheese. When I woke up I found myself in my kitchen over a hot skillet making quesadillas.
Don't even ask me about the entire WEEK between making the list and now. I've been in a coma. I can't be blamed for anything. Except quesadillas. And maybe the 3 tons of compound butter Aaron's going to find in our freezer tonight.
Shrimp, Spinach and Mushrooms Quesadillas: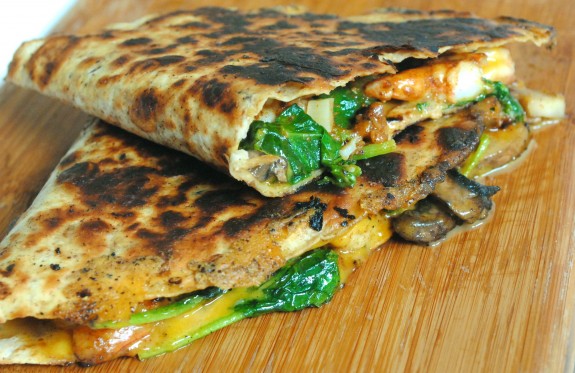 * 1/2 pound extra large shrimp, thawed, peeled and deviened
* 2 Tbs. extra virgin olive oil
* 5 oz spinach
* 4 oz baby bella mushrooms, sliced
* 1 Tbs. ground cumin
* 1 Tbs. chili powder
* pinch of cayenne pepper
* 3 garlic cloves, minced
* splash of vermouth
* 1 cup shredded cheddar cheese
* 4 large tortillas
* coarse salt and freshly ground pepper
Toss the shrimp with the spices and season with salt and pepper.
Heat a medium skillet heat the oil over medium-high heat. Add the mushrooms and garlic and saute about 3 minutes. Add a pinch of salt and pepper. Saute 2 more minutes. Remove from pan and set aside to keep warm.
To the pan, add a little bit more oil along with the vermouth. Add the spinach and let wilt about 1 minute. Remove from pan and keep warm.
To the pan, add a teeny bit more oil. Arrange the shrimp in a single layer. Cook 2 minutes. Flip and cook 30 more seconds. Remove from the pan.
To the pan AGAIN, lay a tortilla and lay a healthy amount of cheese on one half. Add the spinach, mushrooms and shrimp. Add another layer of cheese on top, and fold the tortilla, making a quesadilla. Cook until the tortilla browns and the cheese starts to melt. Flip and finish cooking another 2-ish minutes.
Slice and dig in!