When we were in Florida on vacation, (I swear this is the last time) not only did I pick up a most exotic espresso steak rub at a local spice shop, but I also scored an awesomely titled spice blend, "Crazy Chicken."
"Crazy Chicken" – seriously, who wouldn't buy that? I smelled it and you guys, it smelled totally crazy. Like, I still can't tell if it's mostly sweet, mostly savory, or if I'm about to slip on a banana peel, fall on a whoopee cushion and open my eyes to a crowd of Bozo the Clowns pointing at me laughing, JOKE'S ON YOU.
Crazy.
So, after this morning's trip to my nearby farmer's market, I decided to make a totally crazy dinner by combining some crazy chicken with some simple skillet potatoes and garlicky, wilted swiss chard.
I just can't tell you how crazy it was in my kitchen.
Even if you don't have the crazy chicken blend on hand, try it with your favorite spice blend, or make something up!
No matter what, just make it crazy.
Am I driving you crazy? (don't answer that)
Crazy Chicken with Skillet Potatoes and Swiss Chard: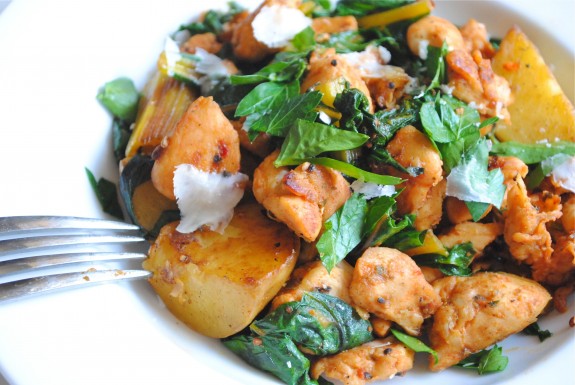 What it takes for 4:
* 1 pound chicken tenders, cut into 1/2-inch chunks
* 3 Tbs. crazy chicken spice blend (or your favorite poultry spice blend)
* 1 pound baby blonde potatoes, halved or quartered, depending on the size
* 1 bunch swiss chard, ends trimmed and leaves cut into 1-inch ribbons
* 3 cloves garlic, minced
* 2 Tbs. extra-virgin olive oil
* pinch of crushed red pepper
* coarse salt and freshly ground pepper
Toss the chicken chunks with the spice blend, a dash of salt and a few good grinds of pepper.
Bring a pot of salted water to a boil. Add the potatoes and cook 10 minutes. Drain.
Heat the oil in a medium skillet over medium heat. Add the chicken and saute until cooked through and slightly blackened, 6 to 7 minutes. Remove from heat and set aside to keep warm.
Drizzle a little more oil in the skillet and add the potatoes. Saute until brown and crispy all over, 10-ish minutes. Toss in the garlic, swiss chard and a pinch of crushed red pepper. Saute another 2 minutes to wilt the chard. Throw in a pinch of salt.
Add the chicken back to the pan and toss to combine.
Plate up and get on with it already!