I remember when I first moved to Kansas City, Aaron giddily drug me around to a gajillion restaurants, introducing my face to all kinds of new tastes and textures.
I'd be embarrassed to admit what I'd not eaten before moving here, so let's just pretend that I told you and you gasped and I was all, "I KNOW."
One afternoon we dropped in on a swanky plaza restaurant. Moments after being seated at a cozy window booth, and without a second glance, Aaron grinned at the waiter and mouthed, "we'll have the seared ahi tuna please."
I elbowed him, "the seared wha-y wha-wha?" In the sweet, trust-me-because-I-know-you-love-food-and-I'm-trying-to-impress-you-because-we've-only-been-together-20-minutes face, he replied, "you'll see."
Minutes later, our fancy little ahi tuna dish arrived. I glanced at it, "This is raw." Aaron shot me a daring look and smirked, "I know. Eat up!"
I took a nibble. Looked at Aaron. Took another nibble. Looked at Aaron again. Smiled. Took another nibble. Nibble turned into a bite. Smiled again. Bite turned into what looked like a ravenous lion on something not necessarily appetizing for a food blog.
You get the picture.
I'm a fan.
Seared Ahi Tuna with Asparagus: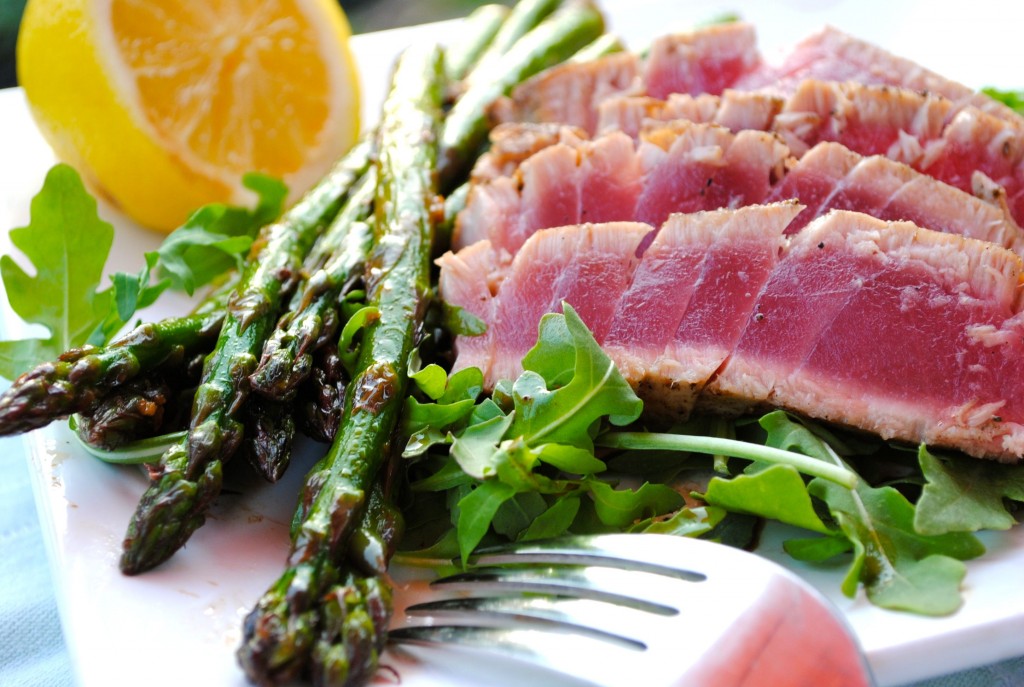 What it took for 2:
* 1 pound fresh ahi tuna
* 2 Tbs. extra virgin olive oil, divided, plus more for drizzling
* 2 Tbs. freshly ground pepper
* coarse salt
* 1/2 pound asparagus, ends trimmed
* 2 cups arugula
* 1/2 lemon
Liberally salt and pepper both sides of the ahi tuna. Yum. I'm already salivating.
Heat 2 Tbs. of the oil over medium-high. Add the asparagus, sprinkle with salt and saute about 4 minutes, until crisp-tender. Remove from pan to keep warm.
Heat another Tbs. oil in a medium skillet over high heat. Once you see the oil shimmer, add the tuna to the pan and sear for maybe 2 minutes. But no more. Flip and sear 1 more minute. You're done. Don't be nervous. Just do it. Remove from pan and let rest a few minutes. Slice thinly.
Serve tuna over asparagus with arugula and spritzed lemon.
I know.