With the distant hum of lawnmowers in the air, the beginnings of filling up the garden plot, and temperatures so beautiful you want to weep, I felt it only fitting to indulge in steak fajitas on this perfect spring evening. Plus it's the night before we go vegetarian for 7 days, so what idiot wouldn't eat steak? I mean, am I right or am I right?
I made a most fresh tomatillo salsa to top each fajita. The recipe comes from my great friends over at www.fourfoodies.blog.wordpress.com. (Can someone please show me how to link? I know, I know. You can laugh.) It has just the right kick without losing feeling in your upper body. Give this salsa a try. You'll change your salsa ways, immediately.
Enjoy this most gorgeous night. I'll be posting the vegetarian menu in the morning!
Steak Fajitas with Peppers and Tomatillo Salsa: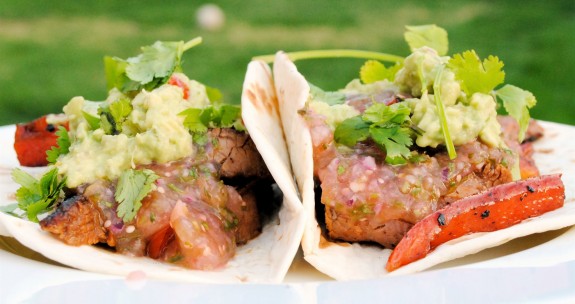 What it took for 2:
• 1 pound flank steak (marinated for at least 5 hours)
• 1 red bell pepper, sliced
• 6 tomatillos
• ½ red onion, roughly chopped
• 1 jalapeno, roughly chopped (Leave in the ribs and seeds. I'm serious.)
• 1 lime
• 1 cup cilantro, roughly chopped
• good pinch of salt
• 4 tortillas
• 1 avocado, sliced or diced
For the tomatillo salsa, husk the skins and boil the tomatillos in water for 10 minutes. Drain the water and dump into a food processor, along with the roughly chopped red onion, jalapeno, lime juice, cilantro and salt. Process until smooth. Refrigerate for at least an hour before serving.
Grill the steak to your preferred doneness. Let rest for 10 minutes. Grill the peppers too. Easy enough.
Grill the tortillas for just a smidge to get those nice grill marks.
Serve each fajita topped with the fresh tomatillo salsa and sliced avocado. Yes baby, yes.