Crispy plus tender plus vibrant plus fresh. This is our game today.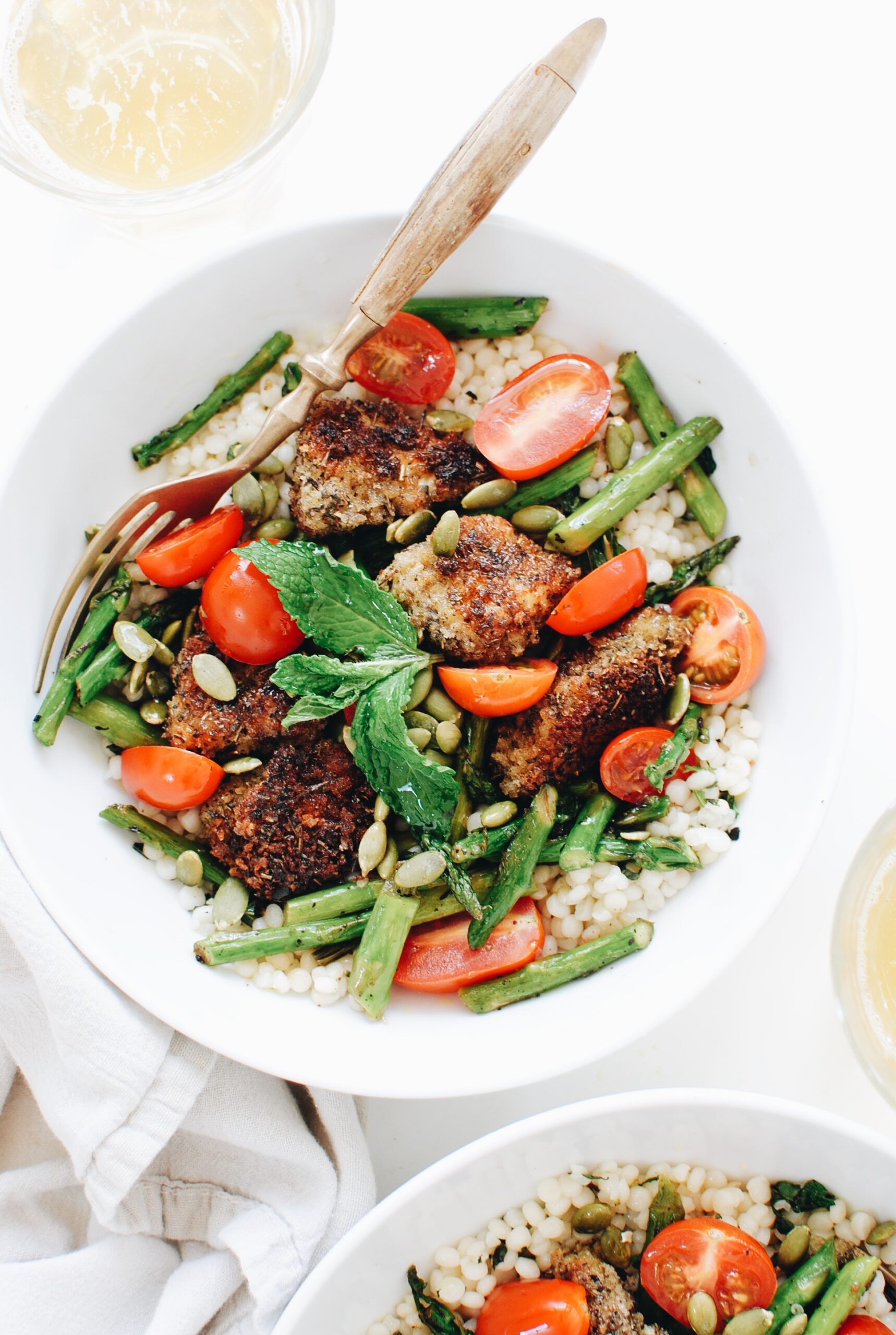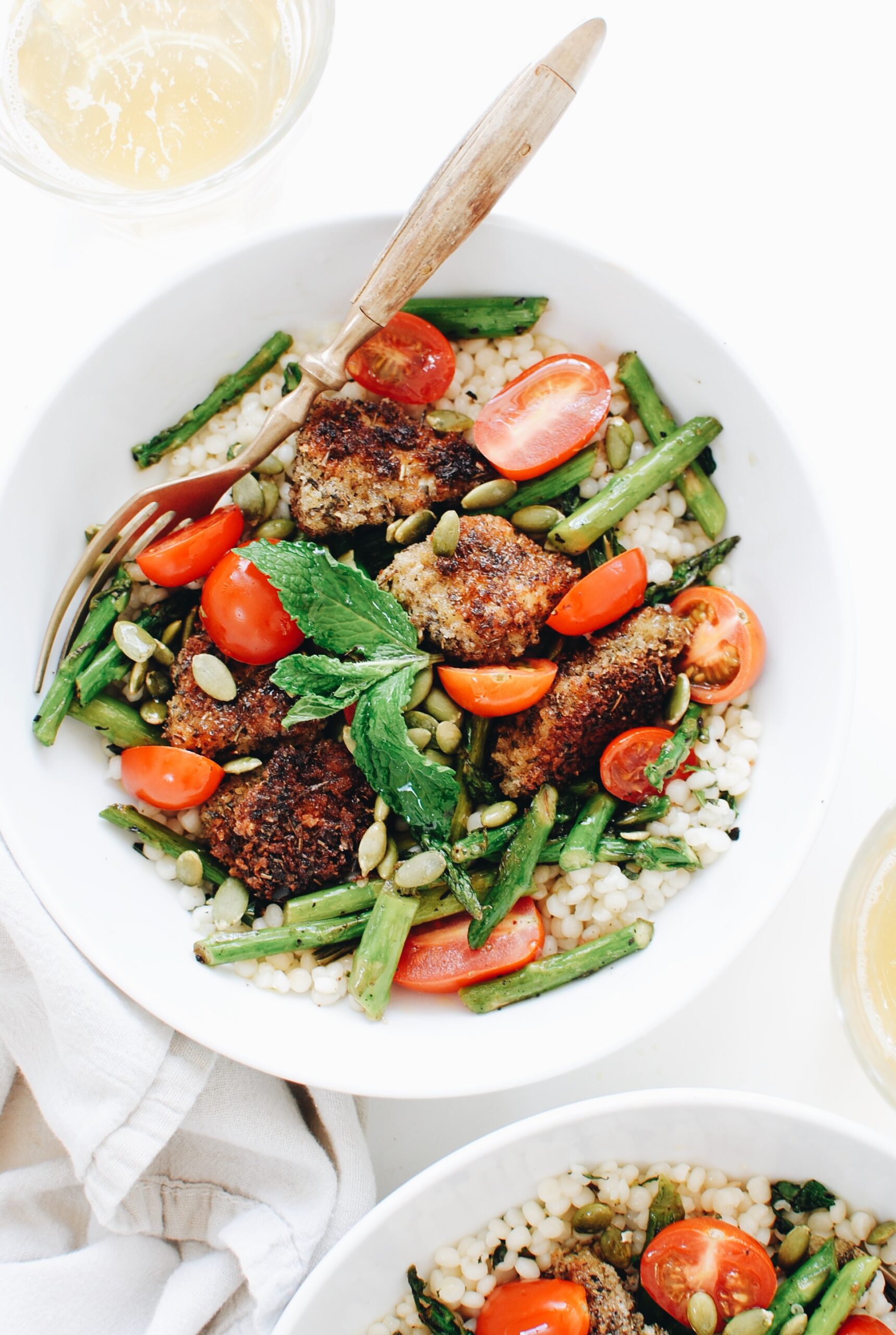 I love this dinner. It's quite simple even though there looks to be a lot happening here.
Thing about it is that you can take bits and pieces from this recipe, twist it up and out, and make different dinners out of it. Crisp the chicken and tuck into tortillas with a tangy dressing and butter lettuce. Cook the couscous like this and top it with mustard salmon and wilted spinach. See? Two dinner ideas. And we've not even read the post yet! Ha!
Oh.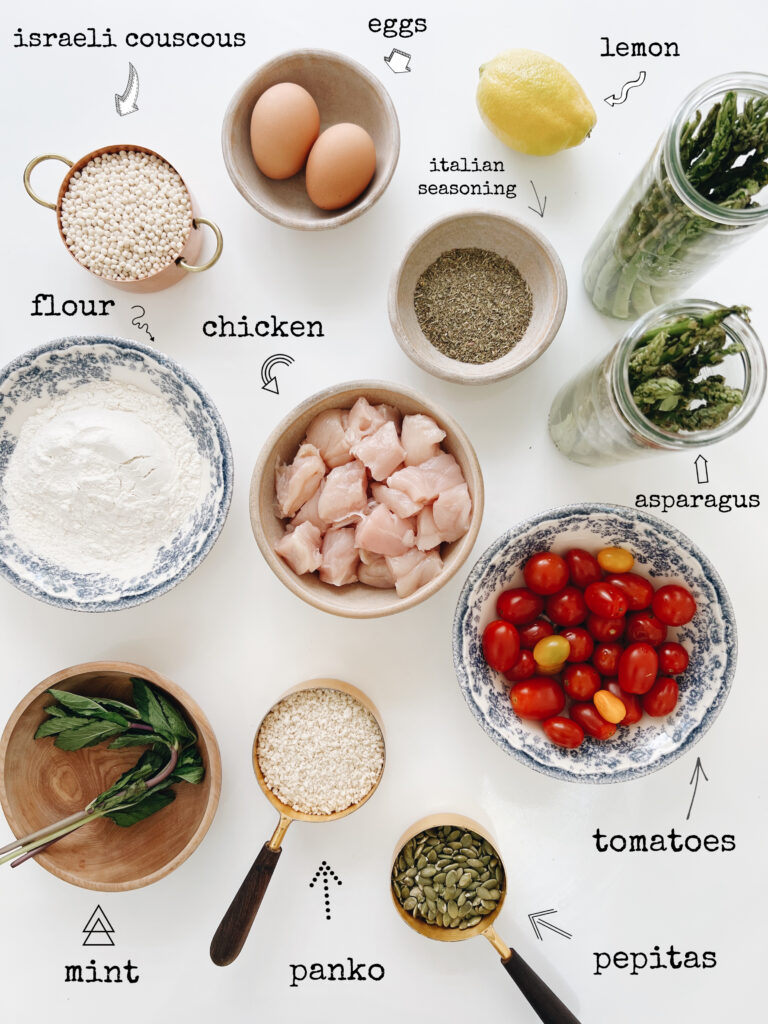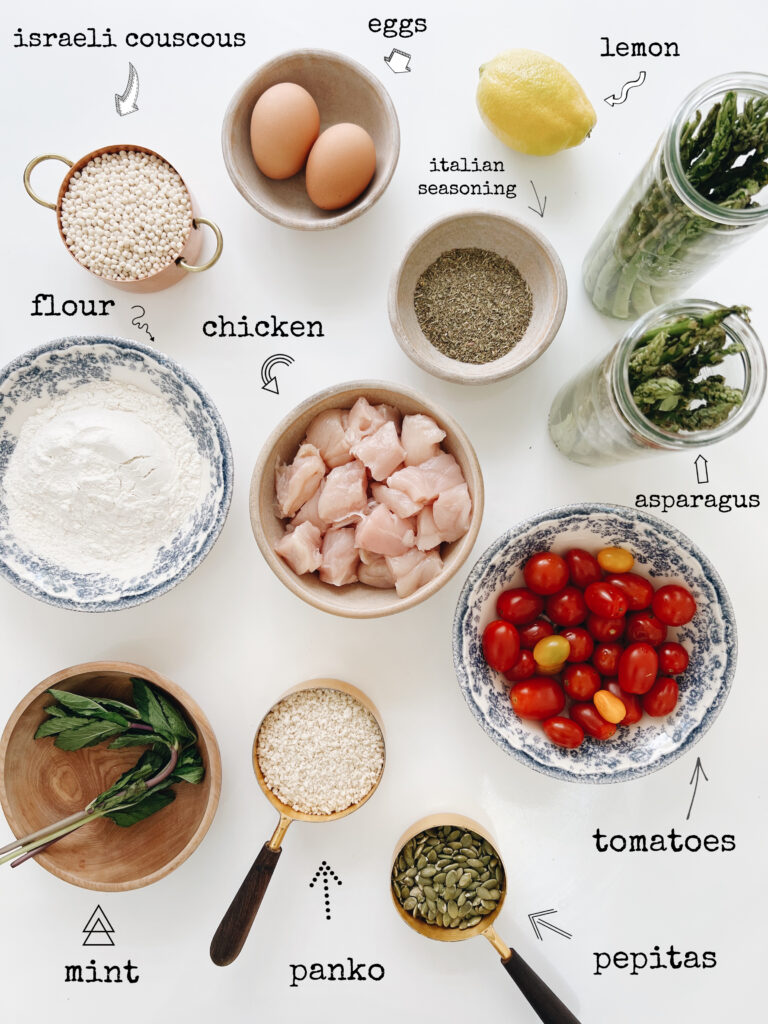 A bit, yes. But look how springy this is right now.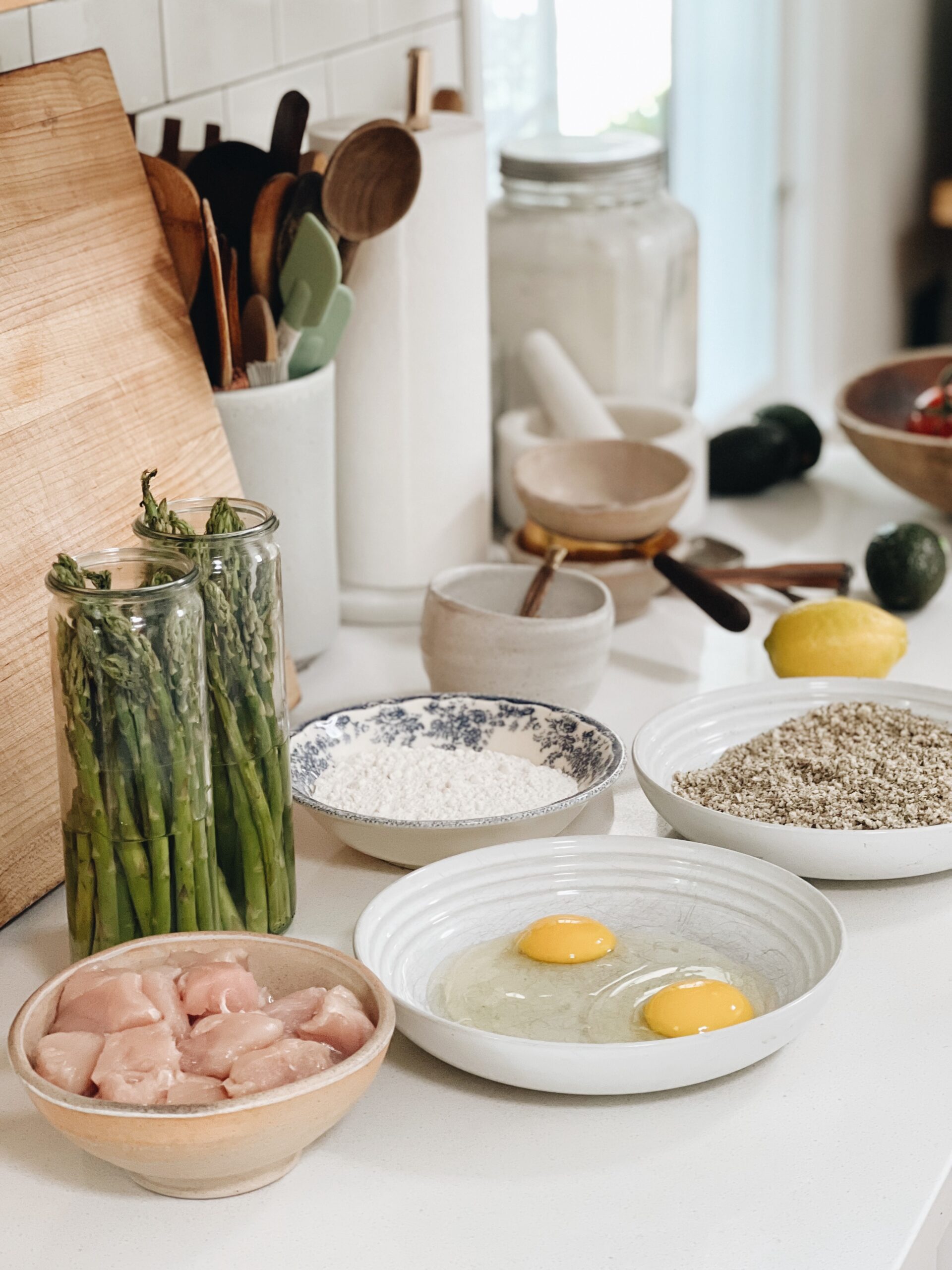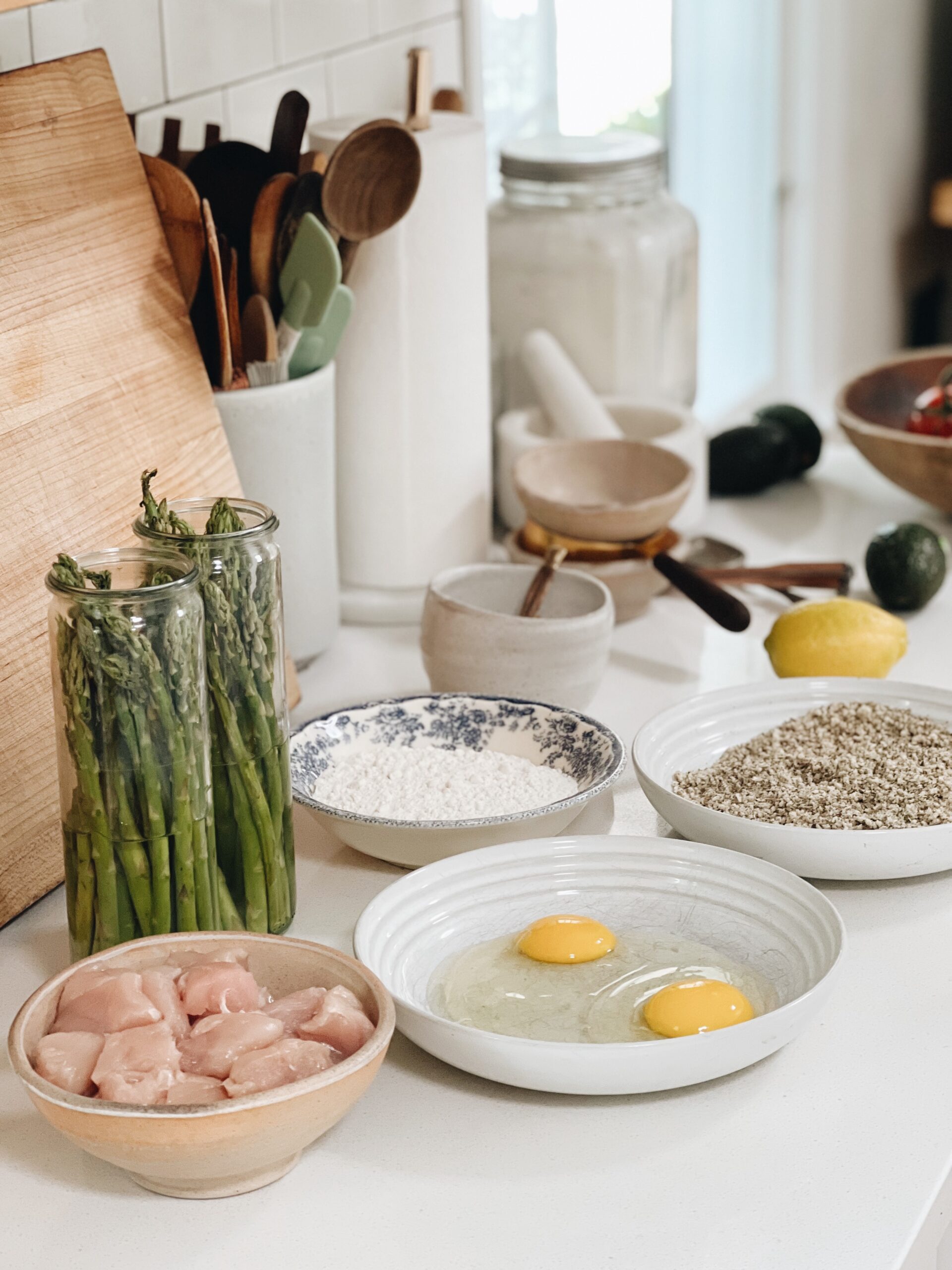 Let's make our chicken! I took some tenders and cut them into bite-sized chunks. Even though they look to be a bit bigger here. Just get them to a size that works for you.
And yes, those are actual asparagus jars. Aren't they the cutest thing you've ever seen? My friend Kate is moving (waaaaah) and gave them to me. I just love them.
So the chicken: (also, whisk those eggs!) into the flour, into the egg wash and into the panko mix. Which is just panko + dried Italian seasoning + pinch of salt + a slice of your blistered soul.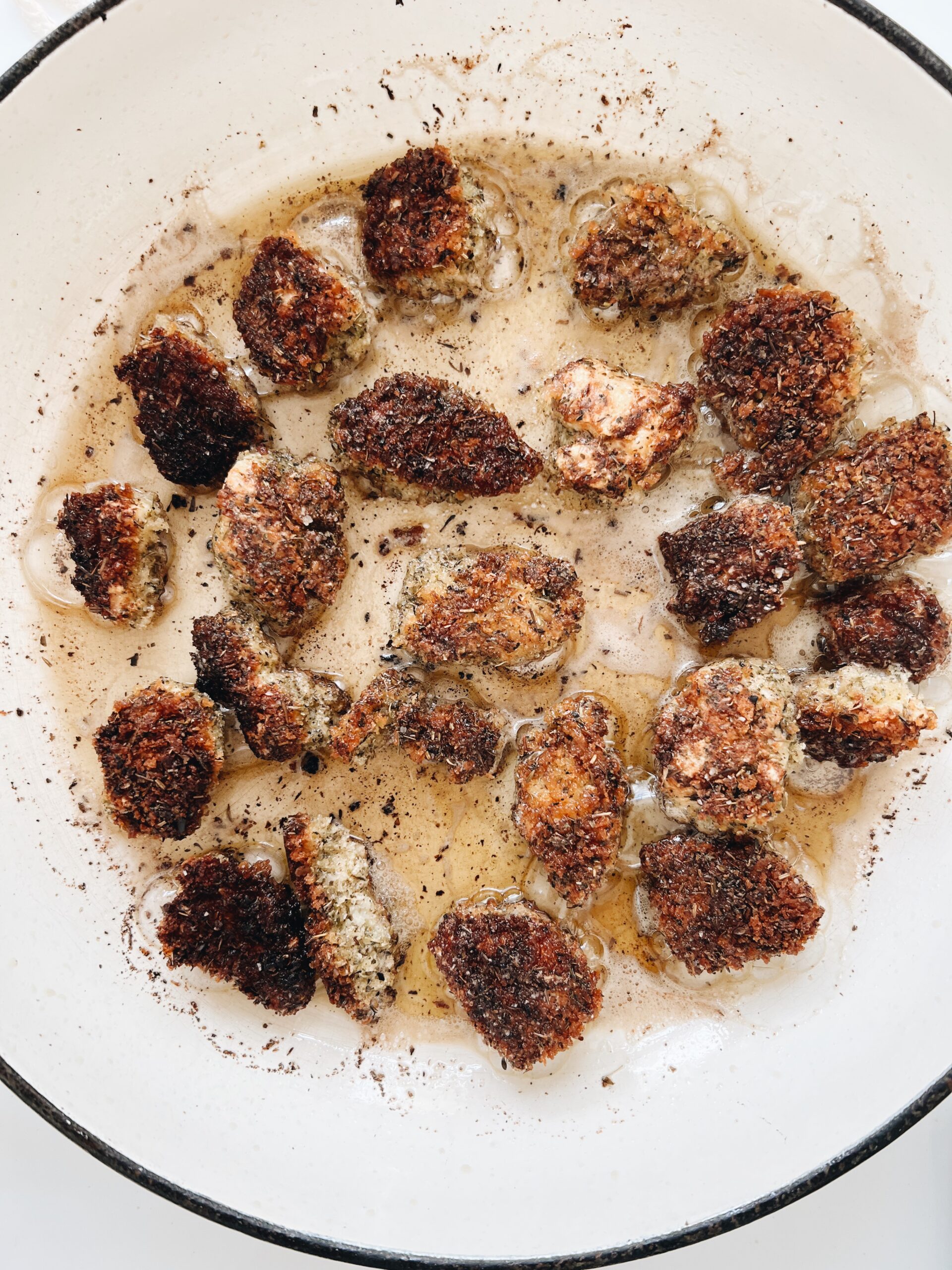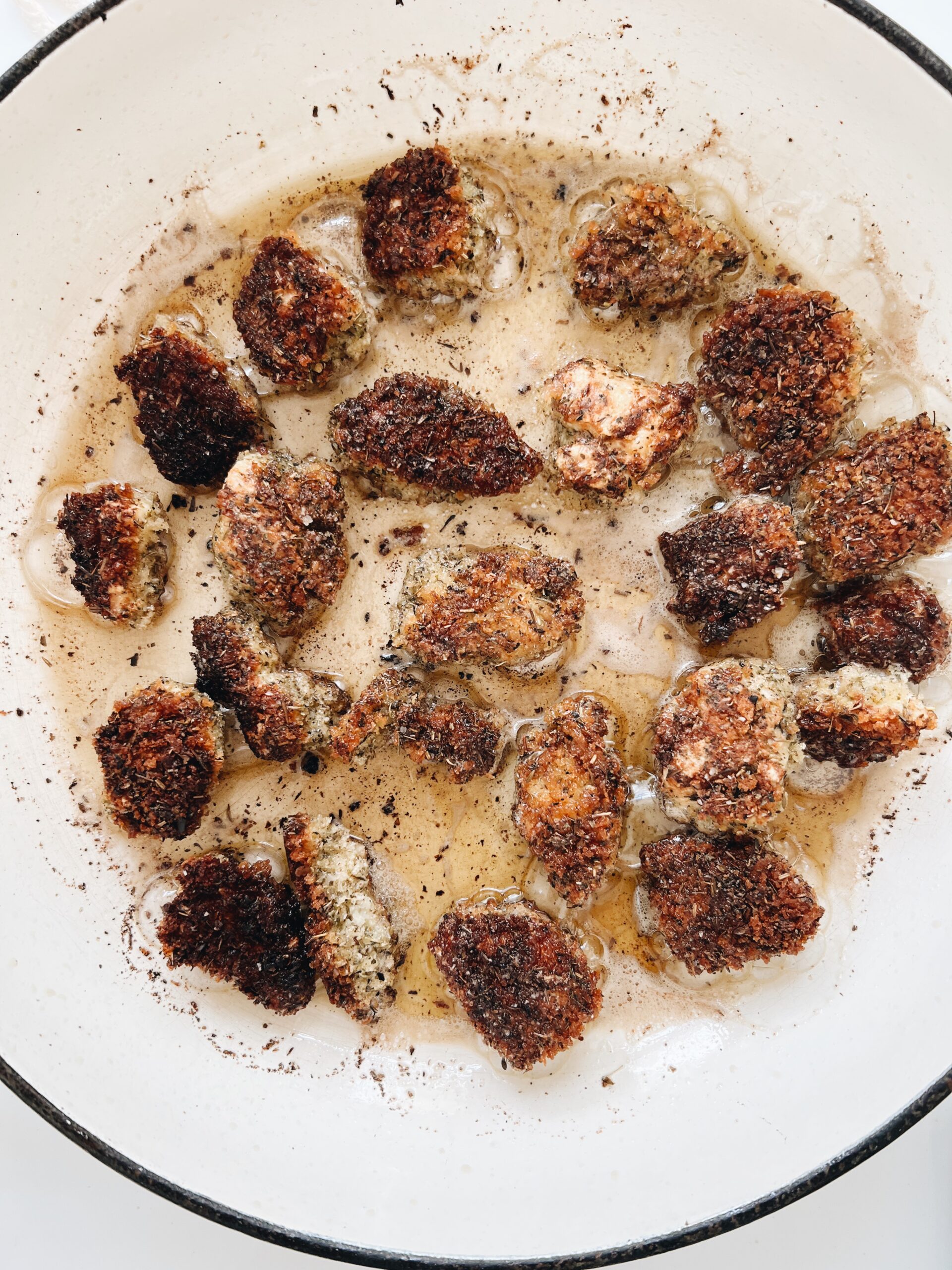 Three minutes per side in some hawt awl. Let 'em dry on paper towels while you fry a second batch.
Oh! And this is a crucial step, so listen hard. Grab some ranch dressing, dip a nugget in it and snack on it so good. Yeah, that's delish. Maybe just pour some ranch in a little bowl. No one will notice a few chicken pieces missing.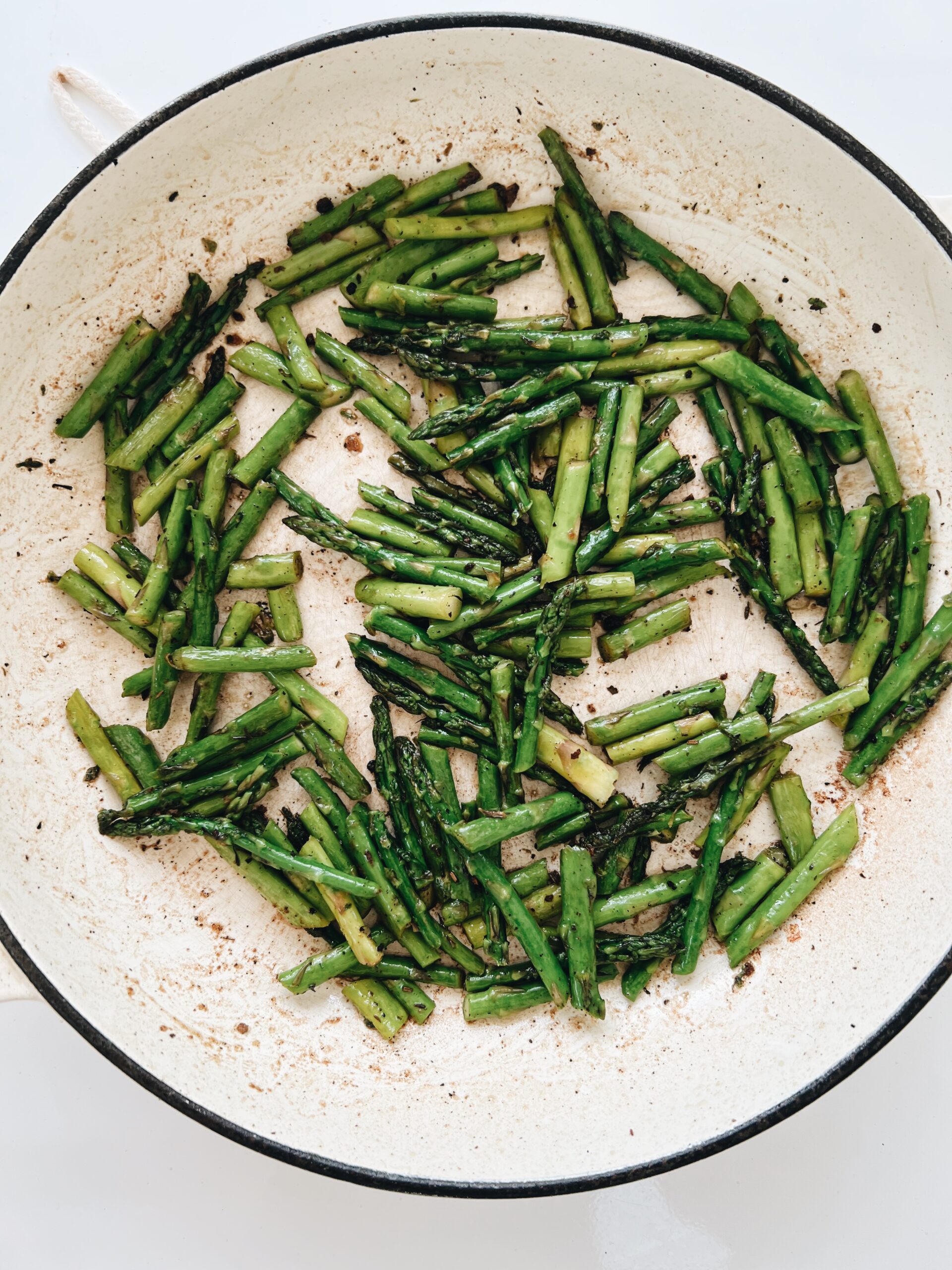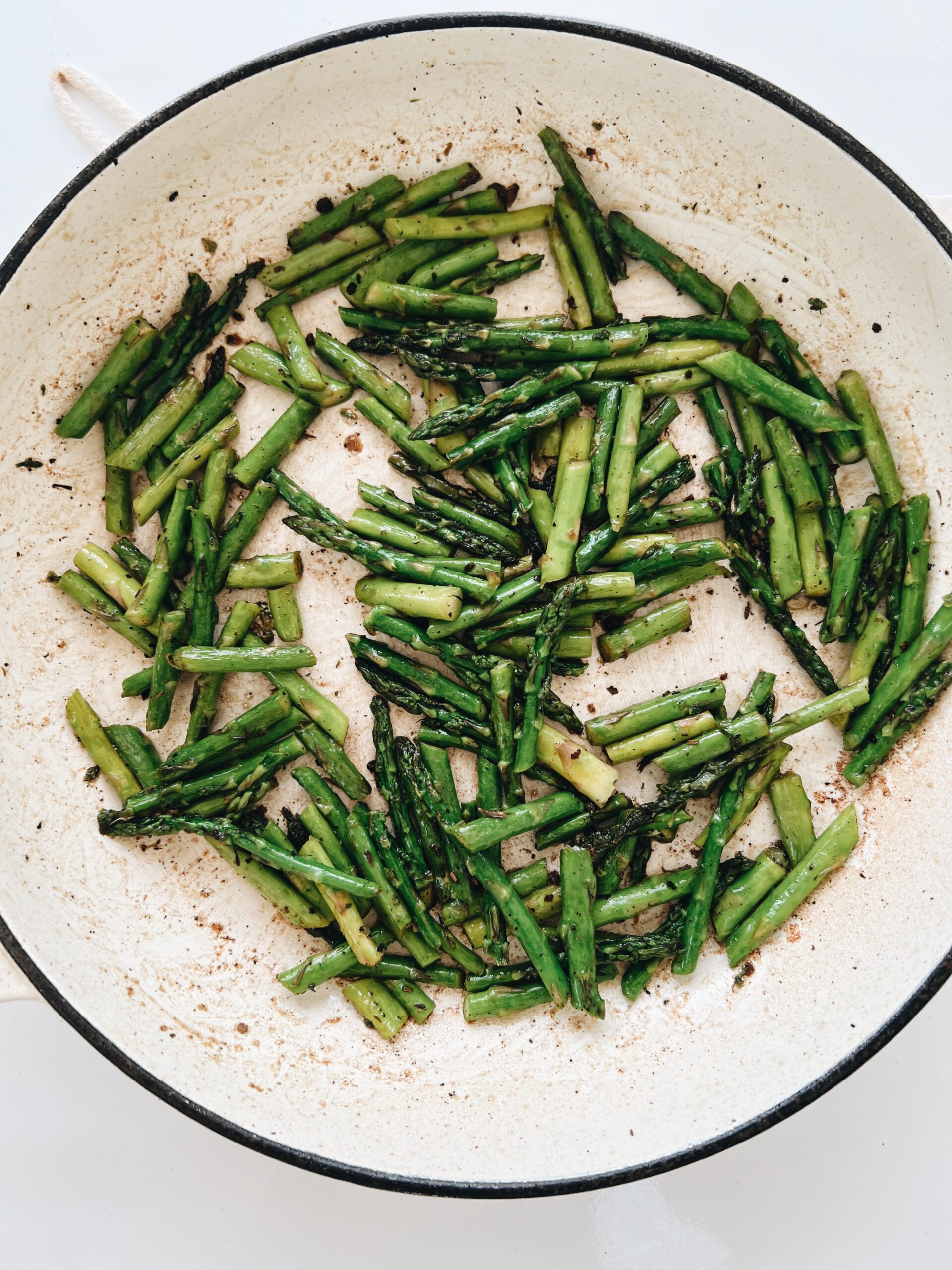 Back in the skillet get your asparagus sautéed. Little bit of salt, no bigs.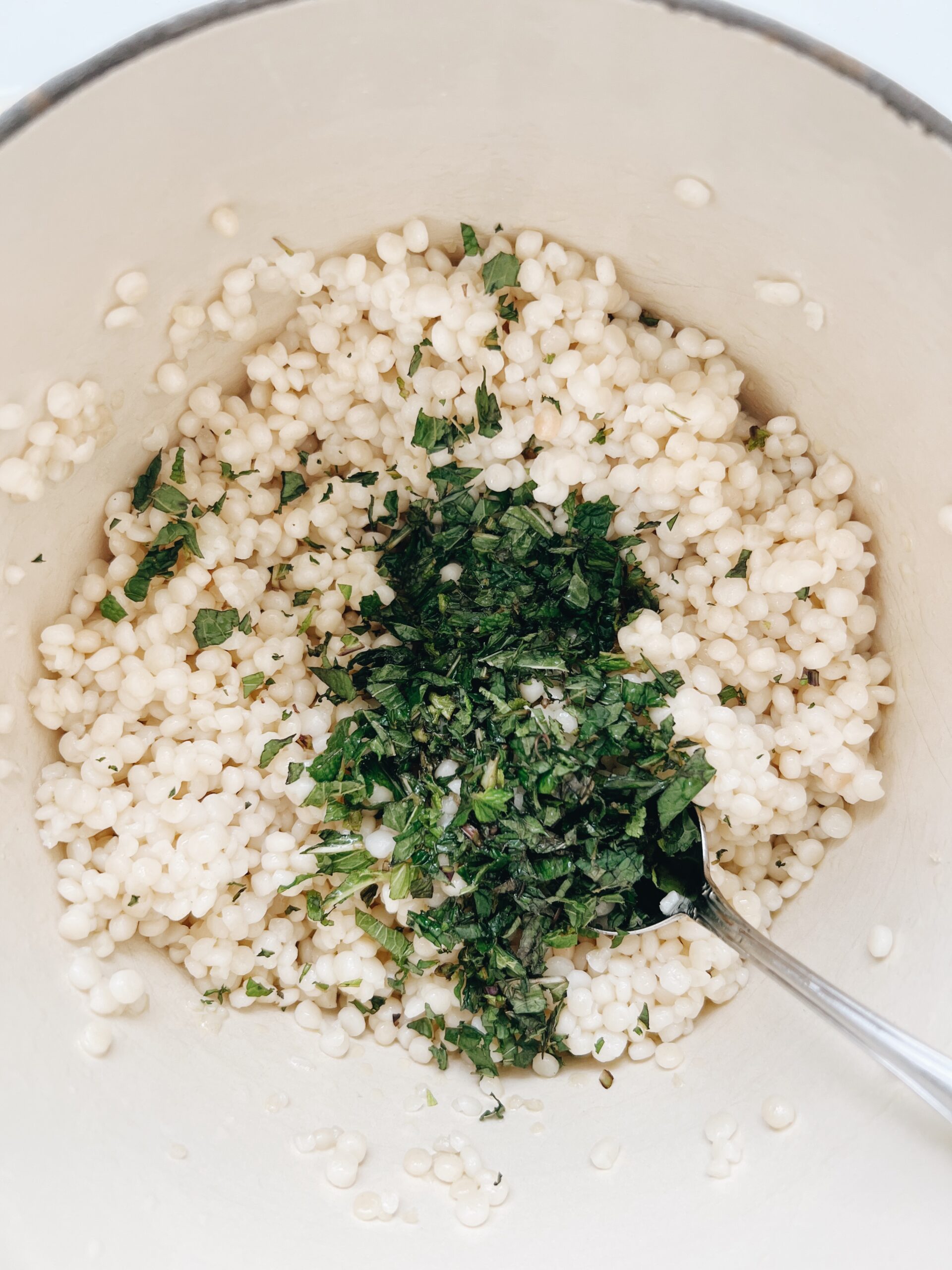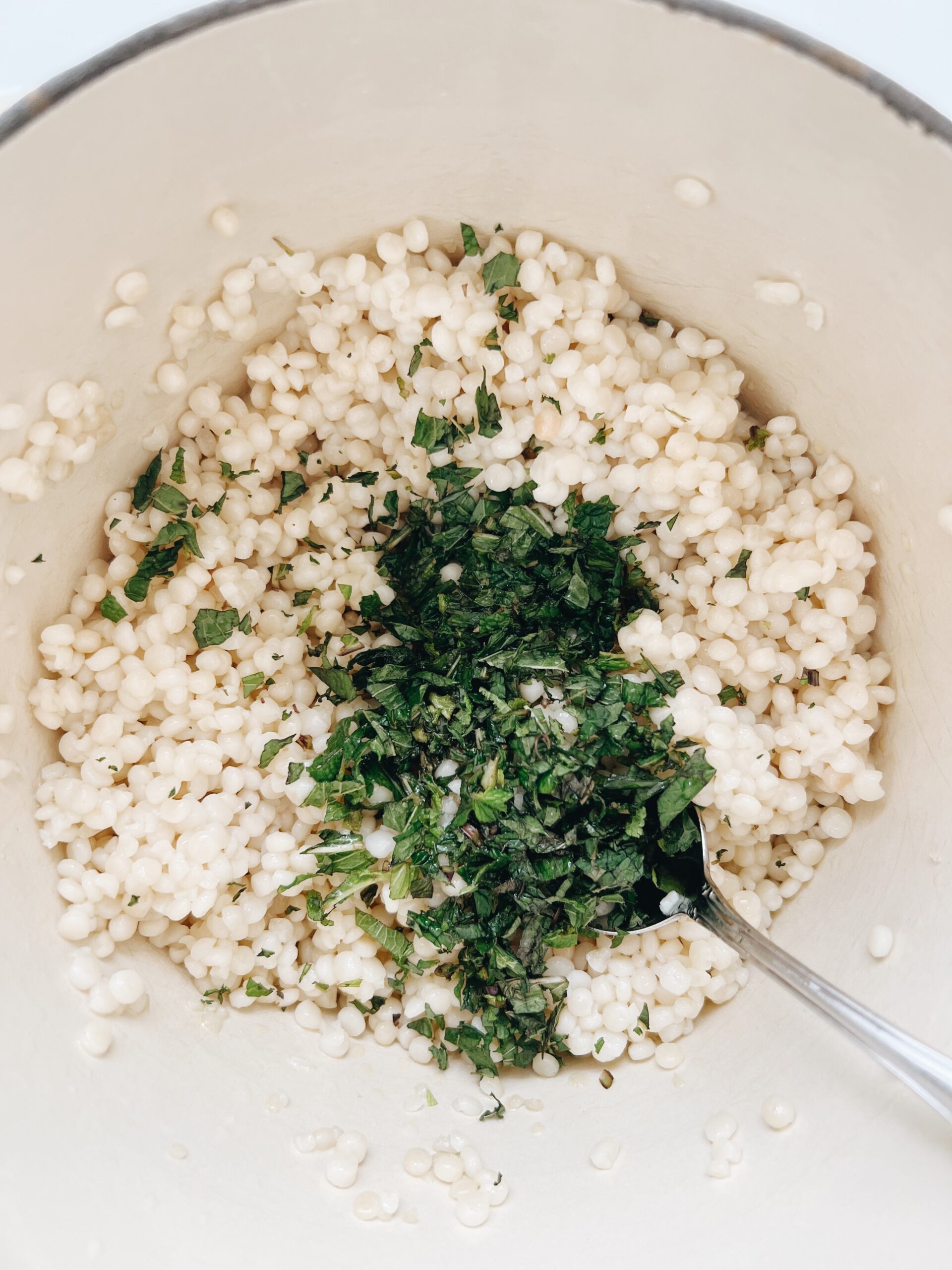 In the meantime, let's boil some Israeli couscous. I love this type 10,343,y6234w345w64 times more than regular couscous because it's toothy and tender and we call them pasta pearls. Yum.
Save some pasta water (about half a cup) and drain the rest. Back in the pot add the water, a drizzle of awl, some finely minced mint and a good hit of lemon juice. Couple of teaspoons. So good.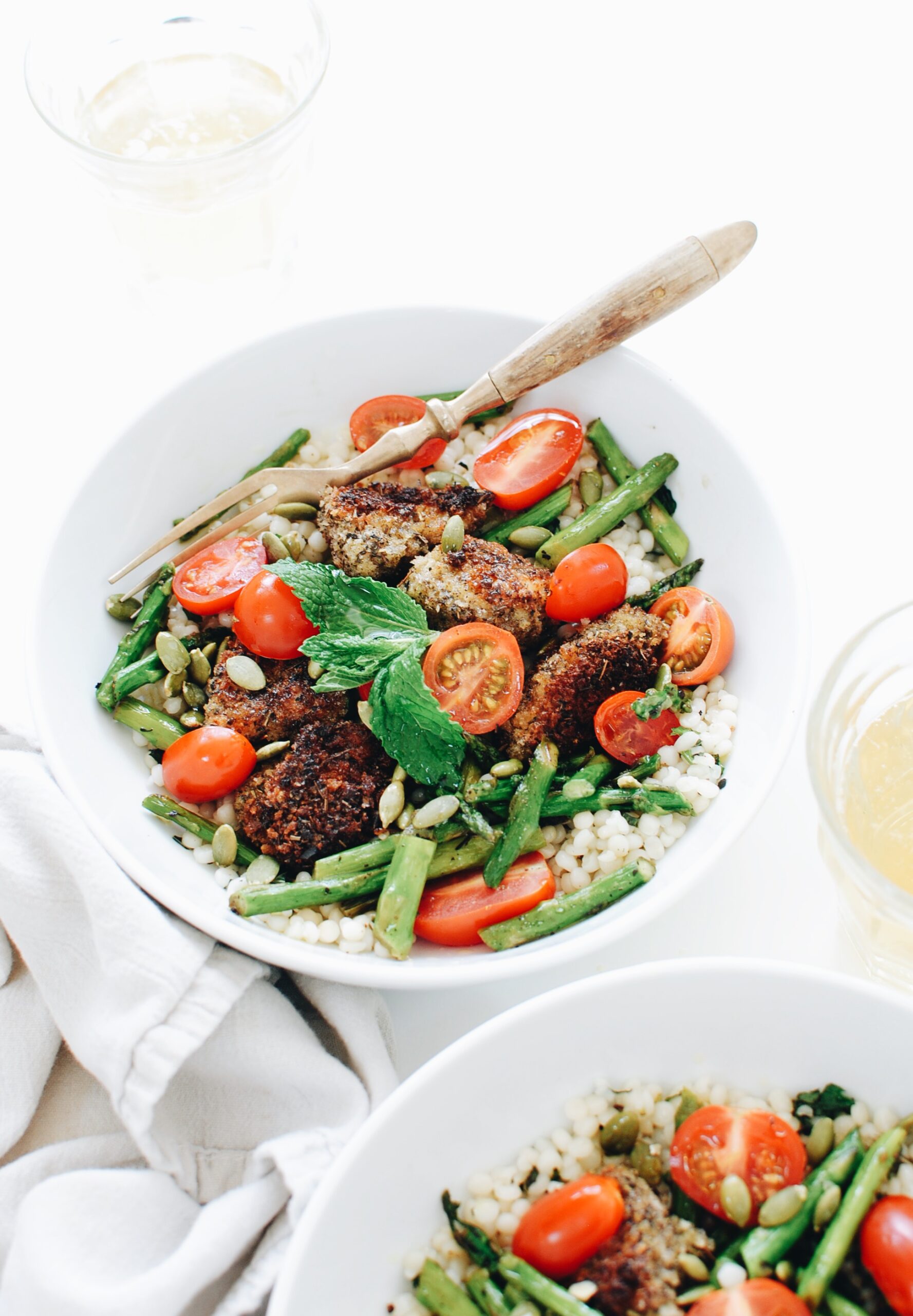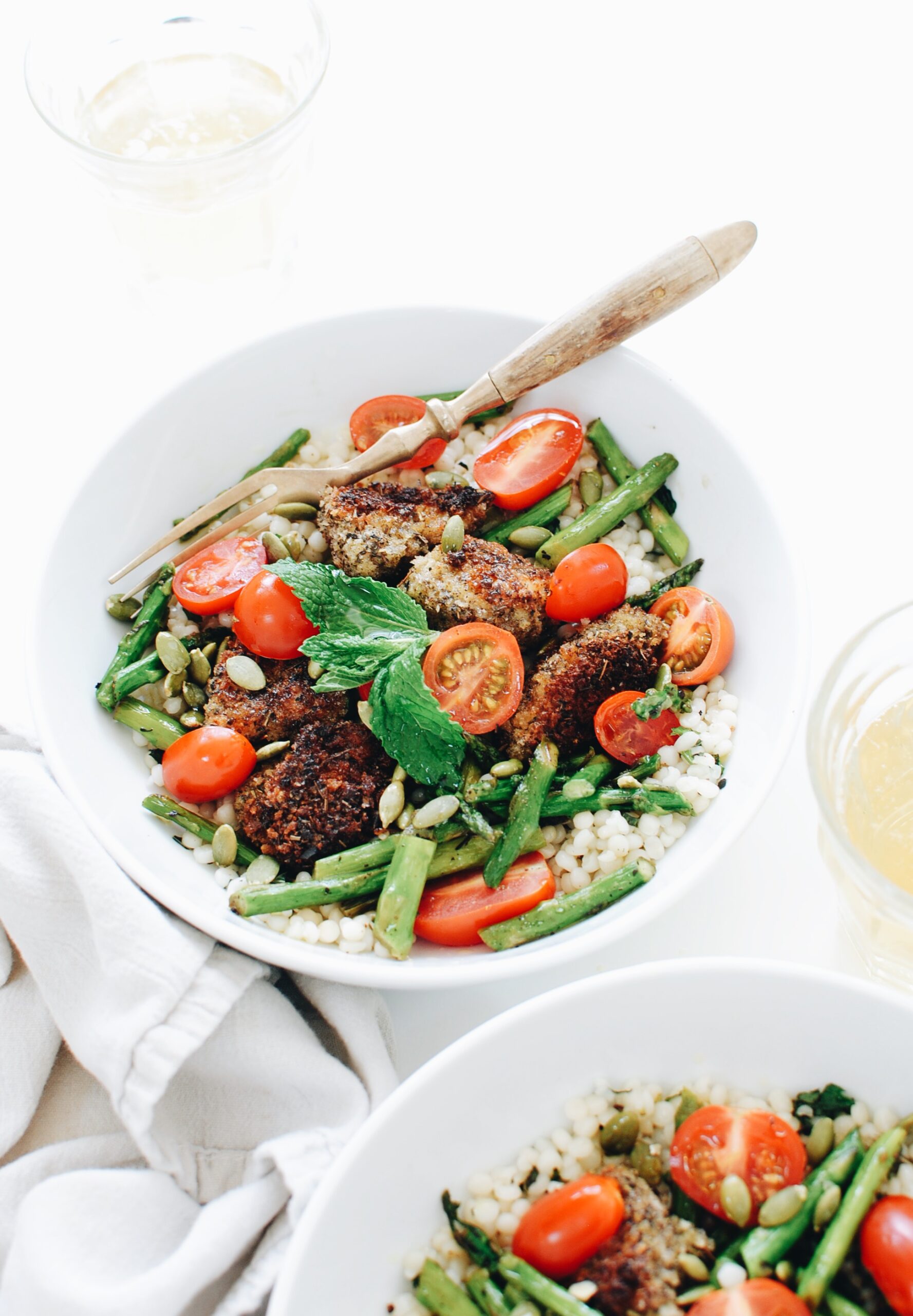 And then we just plate it! So simple.
The tomatoes! Right, so while I normally marinate them (you know this about me), I left these untouched. Sliced and topped. WHO AM I. If you'd like to marinate (never a bad decision) please fly. But this works, too.
Top with extra mint leaves, another drizzle of your BEST oil, a squeeze of lemon juice, a sprinkle of pepitas, and you're set for goodness.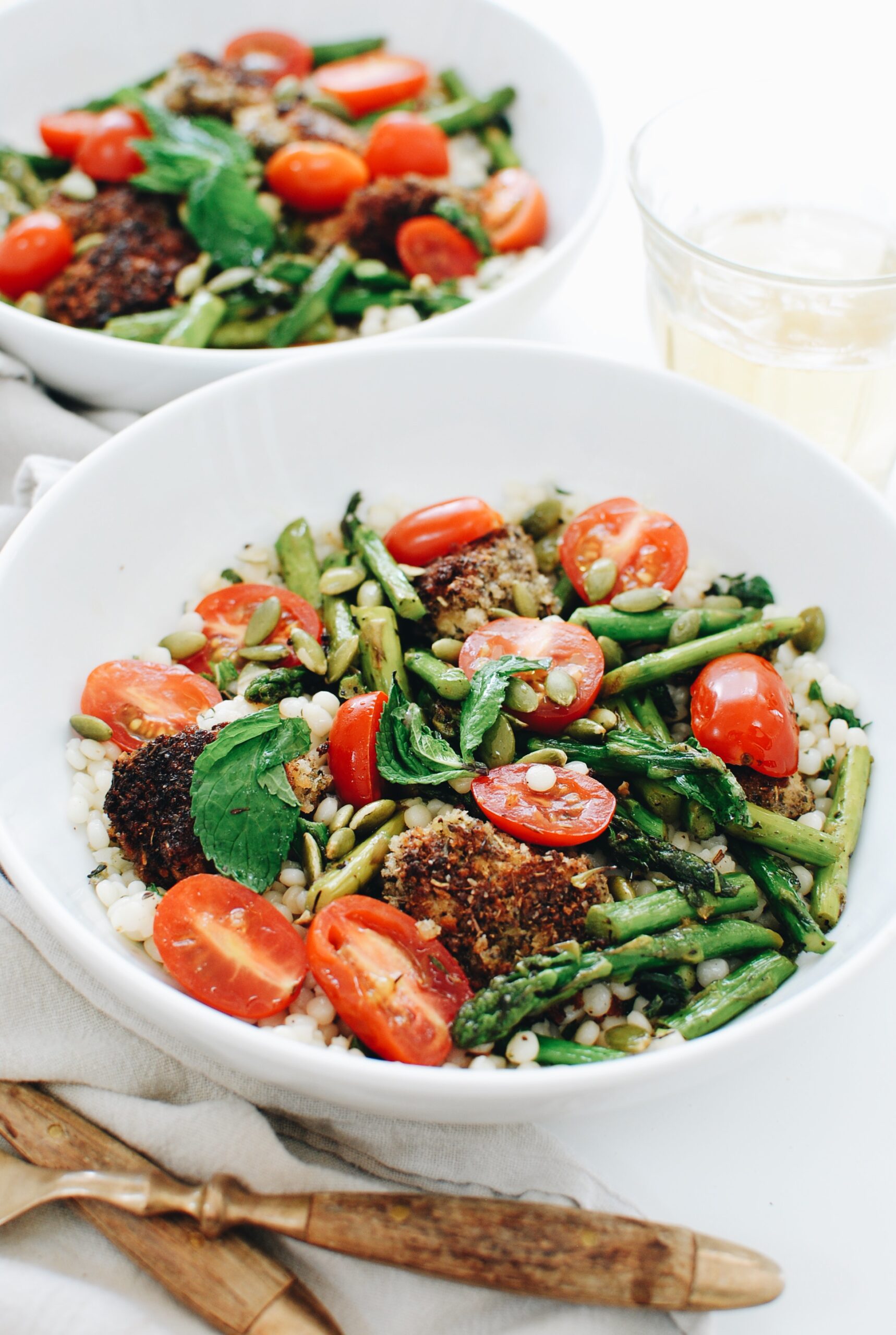 Uuuuuuuunbelievable. Upsettingly perfect. Because you've got everything! The base of perfectly cooked, plump couscous, the seasoned crispy chicken bites on top, earthy asparagus, vibrant tomatoes, and the zingy mint. I'm telling you, an easy chicken dinner that will please you all dang summer long.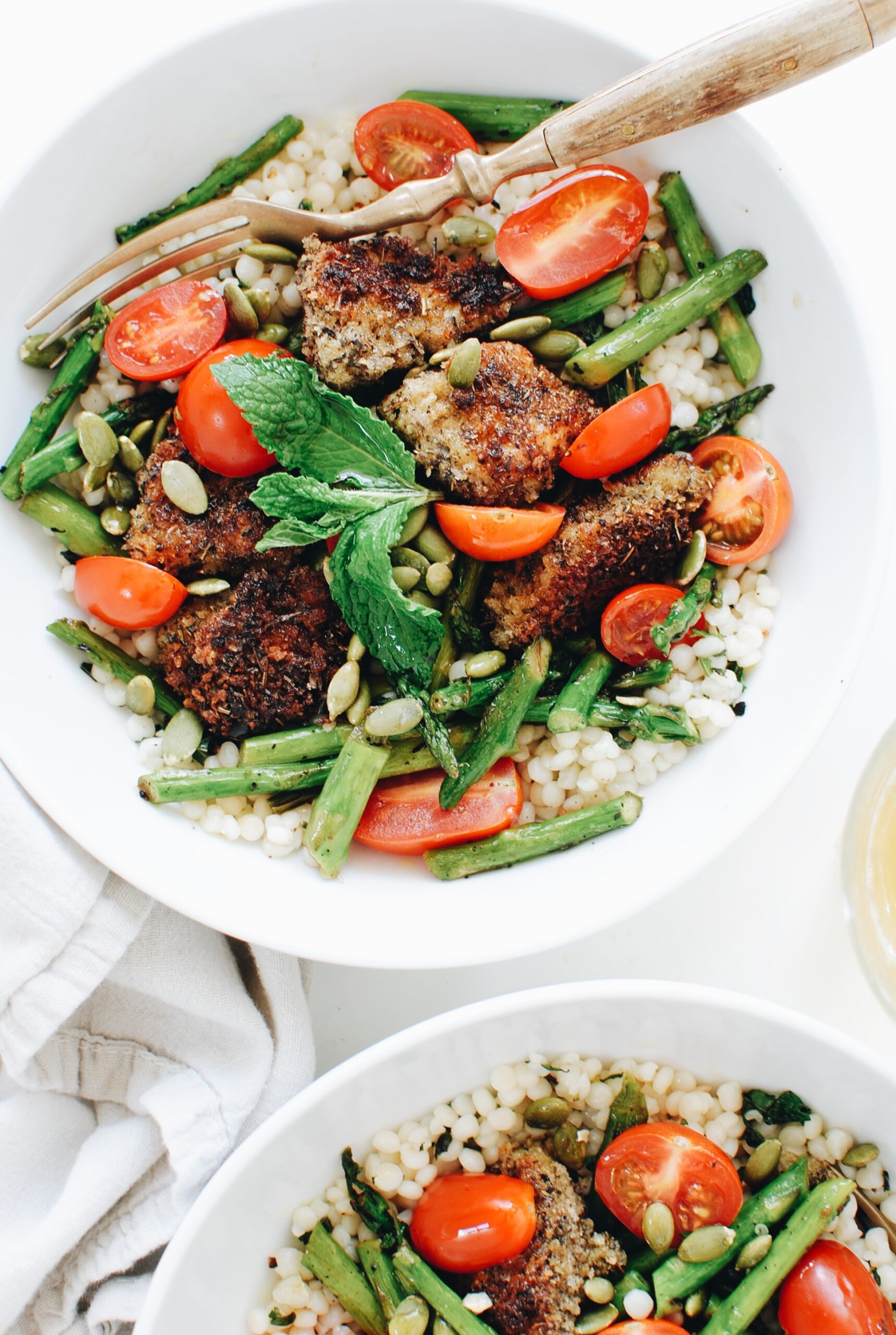 I mean come on.
Crispy Chicken with Asparagus and Israeli Couscous
Ingredients
1 pound chicken tenders, cut into bite-sized pieces
1 cup panko breadcrumbs
2 Tbs. dried Italian seasoning
2 eggs, lightly beaten
1 cup flour
1/4 cup canola oil
1 cup Israeli couscous (a little more if you're feeding a crowd!)
1 bunch asparagus, ends trimmed and cut into 2-inch pieces
3 sprigs mint, a bit of it minced, a bit saved for garnish
1/4 cup pepitas
1 cup cherry tomatoes, halved
Coarse salt
Instructions
Place the panko, Italian seasoning and a pinch of salt in one shallow bowl, the eggs in another another, and the flour in another. Dip the chicken pieces it the flour (a little roll around), then the egg wash (a good dredge), then the panko (get it all coated). Place the chicken on a rimmed baking sheet as you work the rest.
Heat the oil in a wide skillet over medium high, and arrange the chicken in a single layer. Fry for three minutes, then flip and go another three minutes. Let the chicken drain on paper towels. You'll do this in two batches.
Back in the pan sauté the asparagus with a pinch of salt until bright and tender, about five minutes.
In the meantime, bring a medium pot of salted water to a boil. Add the couscous and cook about ten minutes, until toothy and tender. Save 1/2 cup of starchy water and drain the rest. To the pot, add the couscous, starchy water, a drizzle of your best oil, about a Tbs. of minced mint, a couple of tsps of lemon juice and a pinch of salt. Give it a stir.
Place the couscous in bowls, topped with crispy chicken, sautéed asparagus, cherry tomatoes, pepitas and a few more mint leaves for garnish. Spritz with a little more lemon and you're set!
Serves four.
7.8.1.2
573
https://bevcooks.com/crispy-chicken-with-asparagus-and-israeli-couscous/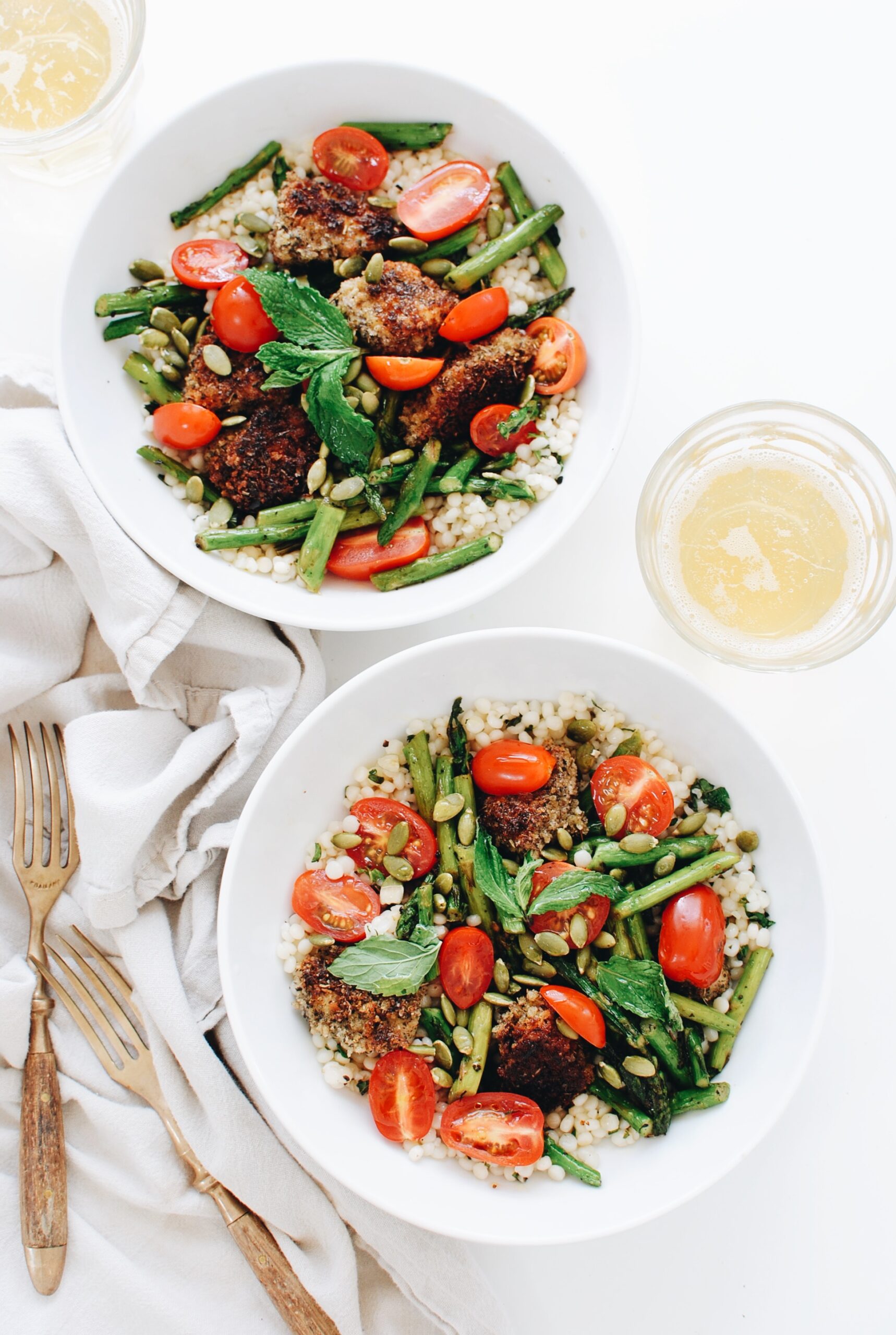 This weekend! It's a must. But only if you want. I'm breezy!