And I think this one's actually Paleo! I think.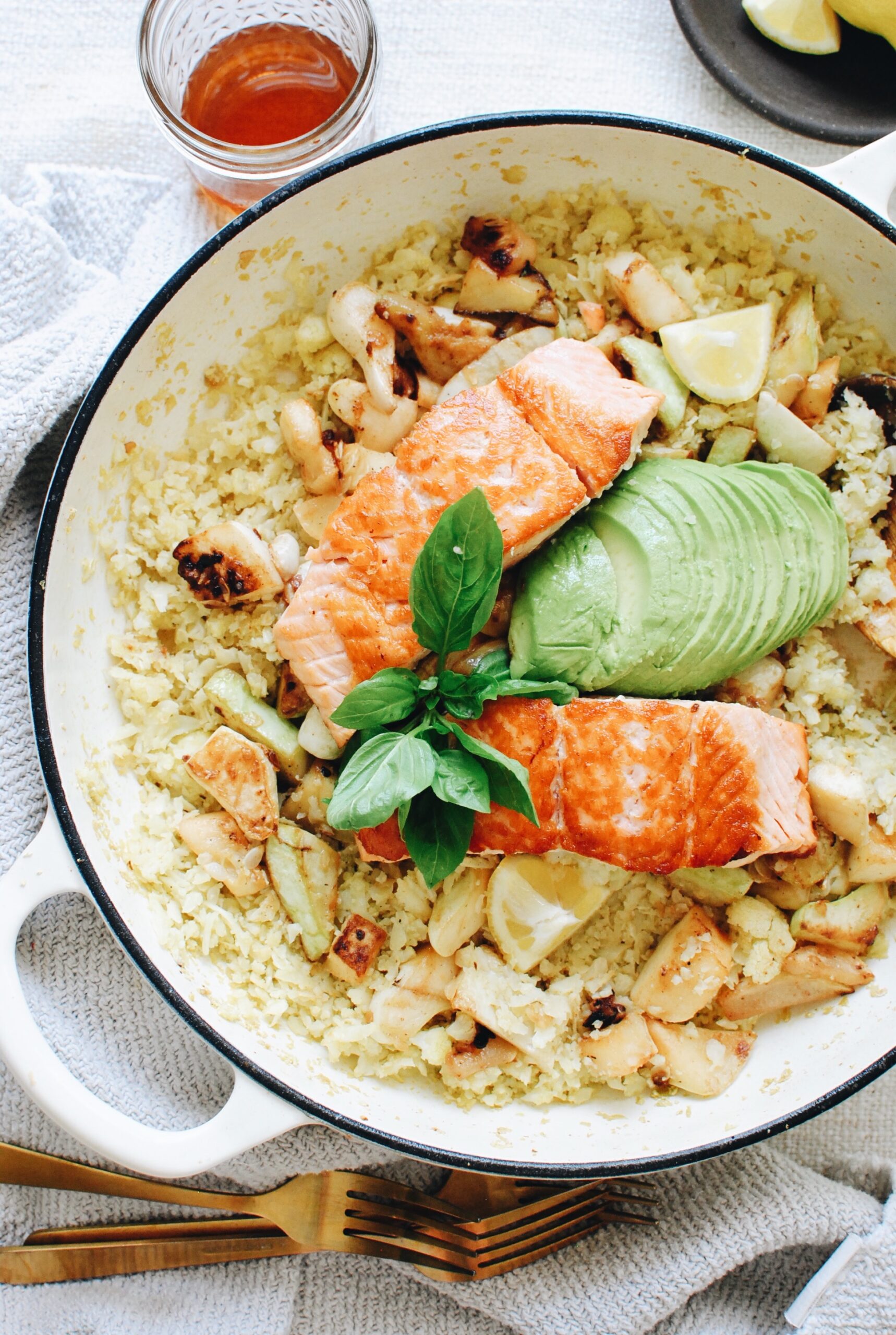 Whatever it is, it's delicious.
See, personally I LOVE salmon. I even love it as cold leftovers. Gosh yes. You know that part in one of the old classic Winnie the Pooh books when Winnie (I'm not going to call him Pooh) is stuck in the hole and Gopher is there to try to get him out, but it's lunch time (actually it's midnight snack time), and Winnie is all, "Dude what's in that lunch box?" And Gopher's like, "Let's seeeee, cold salmon." (among other things, I'm just keeping this short because I like human friends.)
I'm just like Gopher! Cold salmon!
Never mind.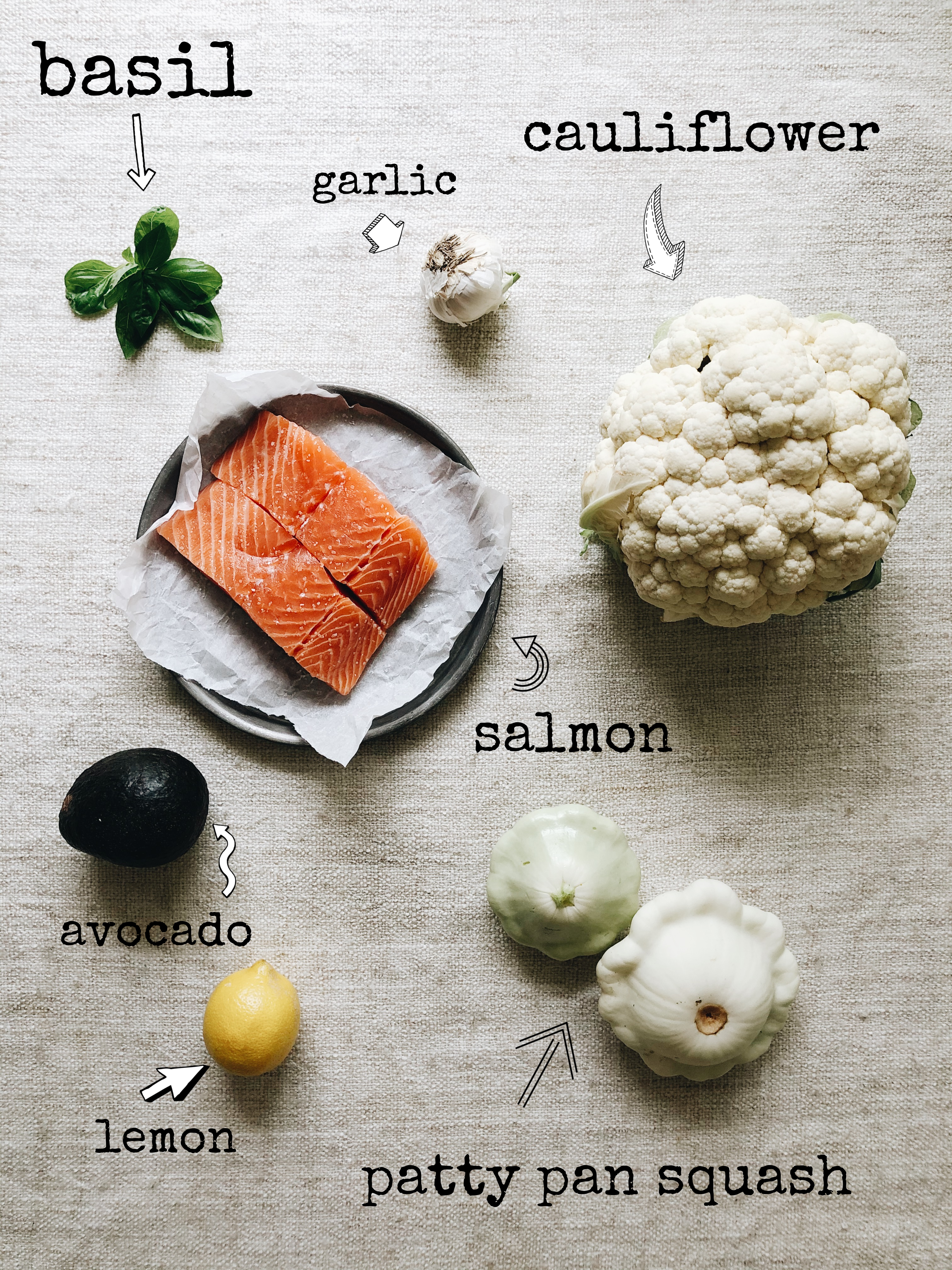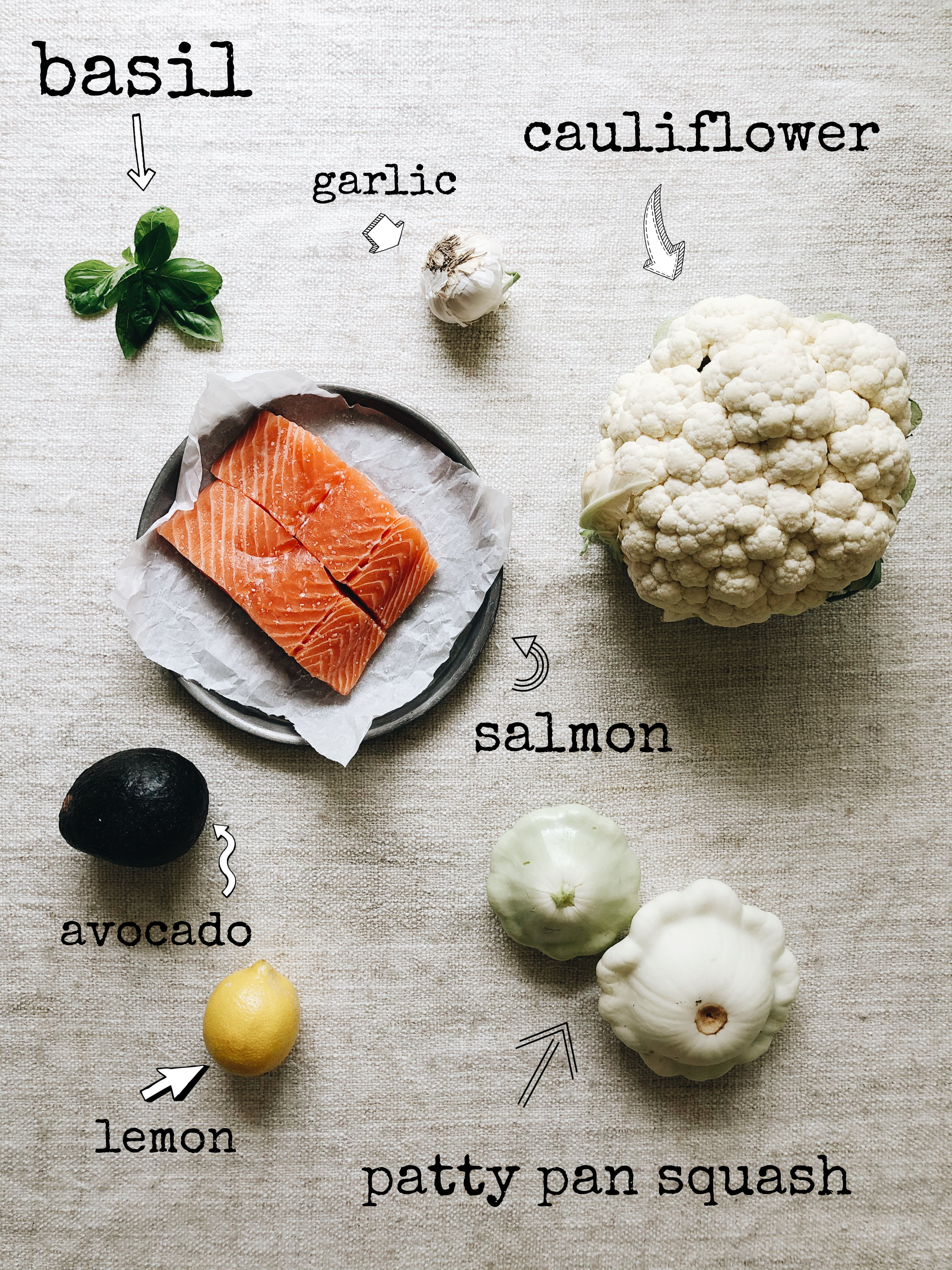 Let's make a Paleo bowl.
It's pretty straightforward, this loot. And like always, if you want to swap in another favorite veg for the patty pan, by all means.
Also, I'm only using two salmon fillets, because my kids are meh on salmon (weirdos), but get as many as the heads in your house loveth. Or something.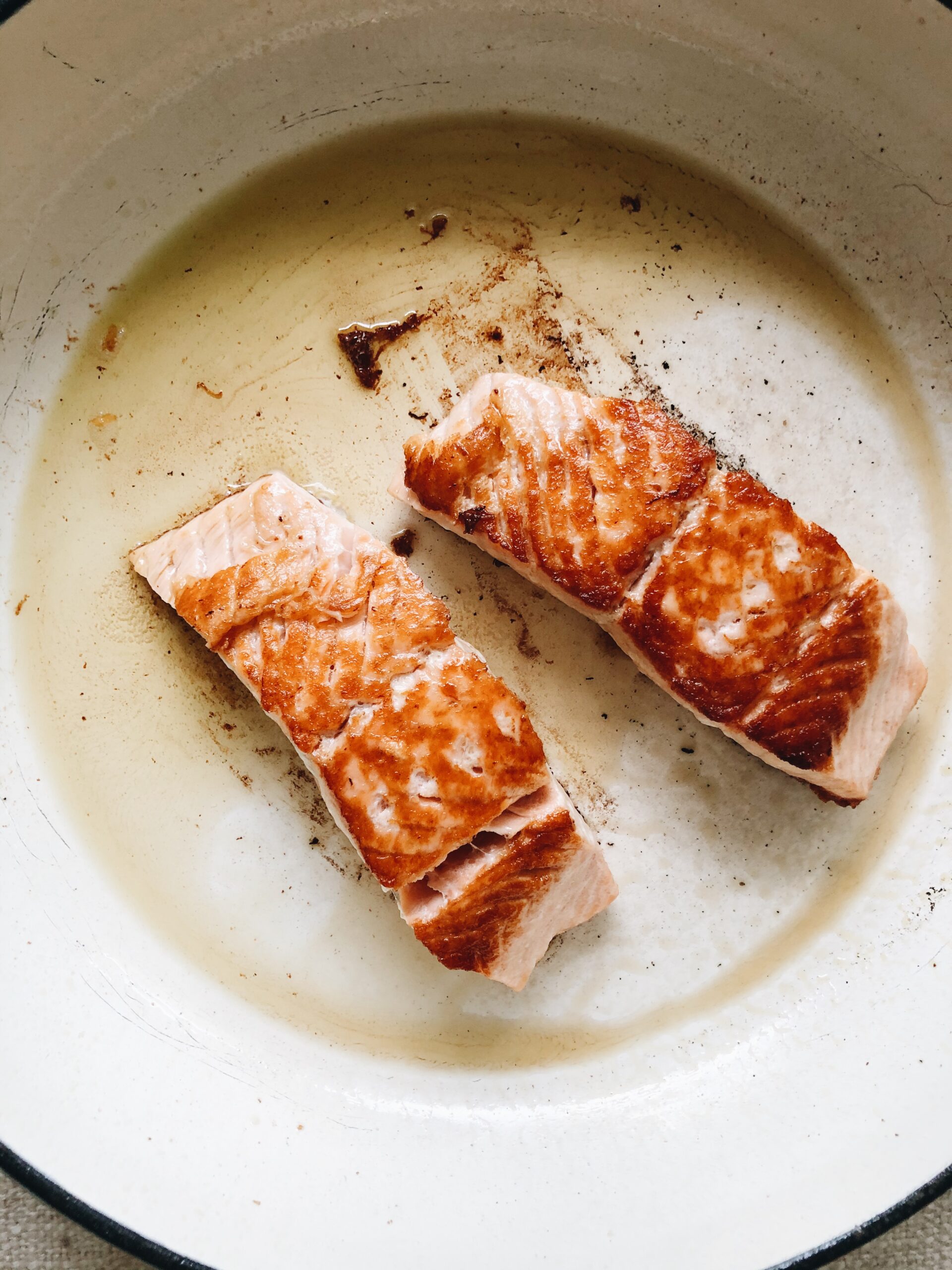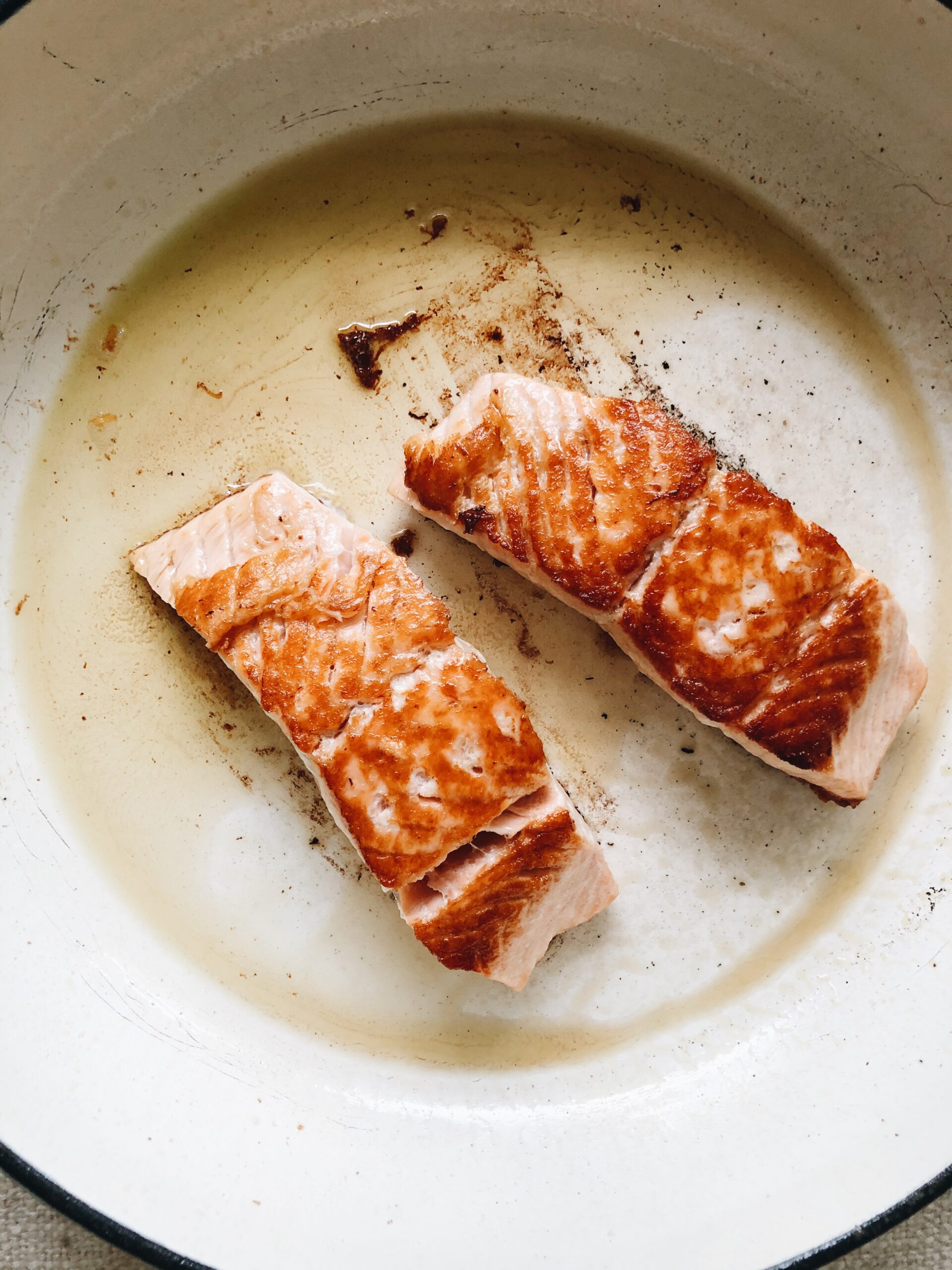 Salt + pepper. Sear on both sides. Done.
The middle should be flaky, but not dry. Get it to the point where it's still soft and barely squishy, but cooked through.
I'm pretty sure "barely squishy" didn't sell you on this just now.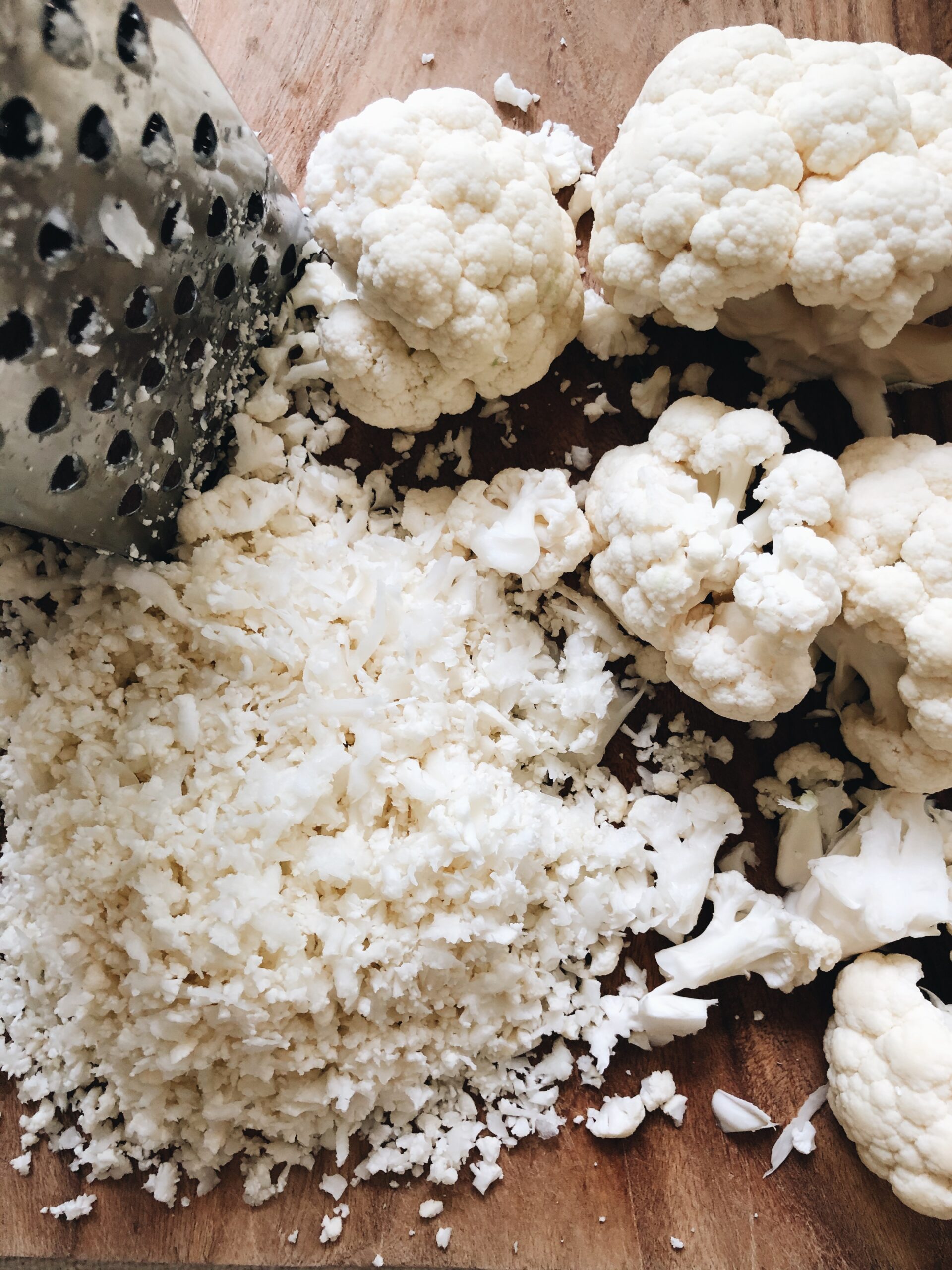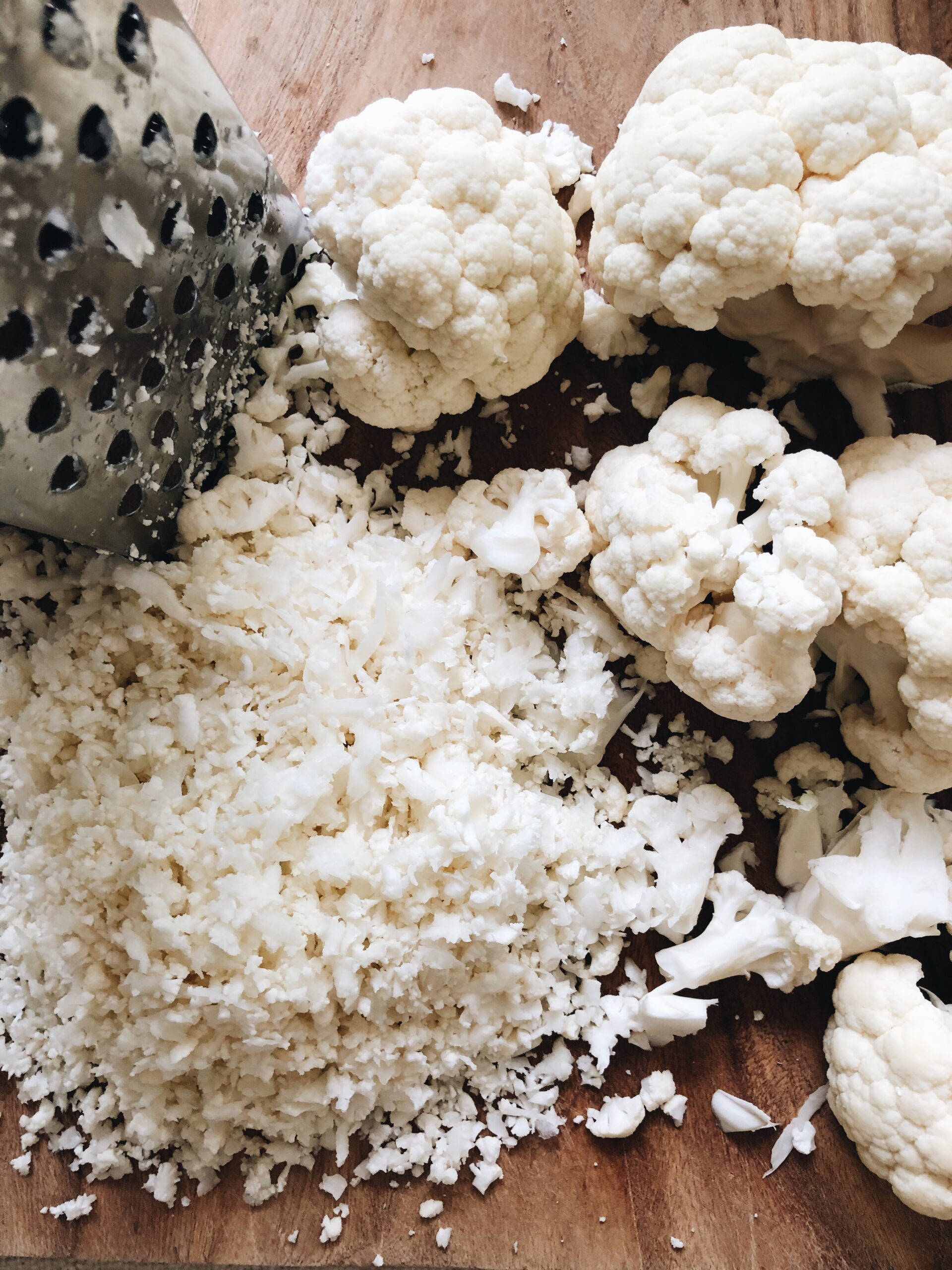 Take a cheese grater and run your cauli down the sides. This is our "rice." And gurl, with enough salt and garlic and butter (or oil, whatever you want to use) it is mighty fine. TRERST MEH.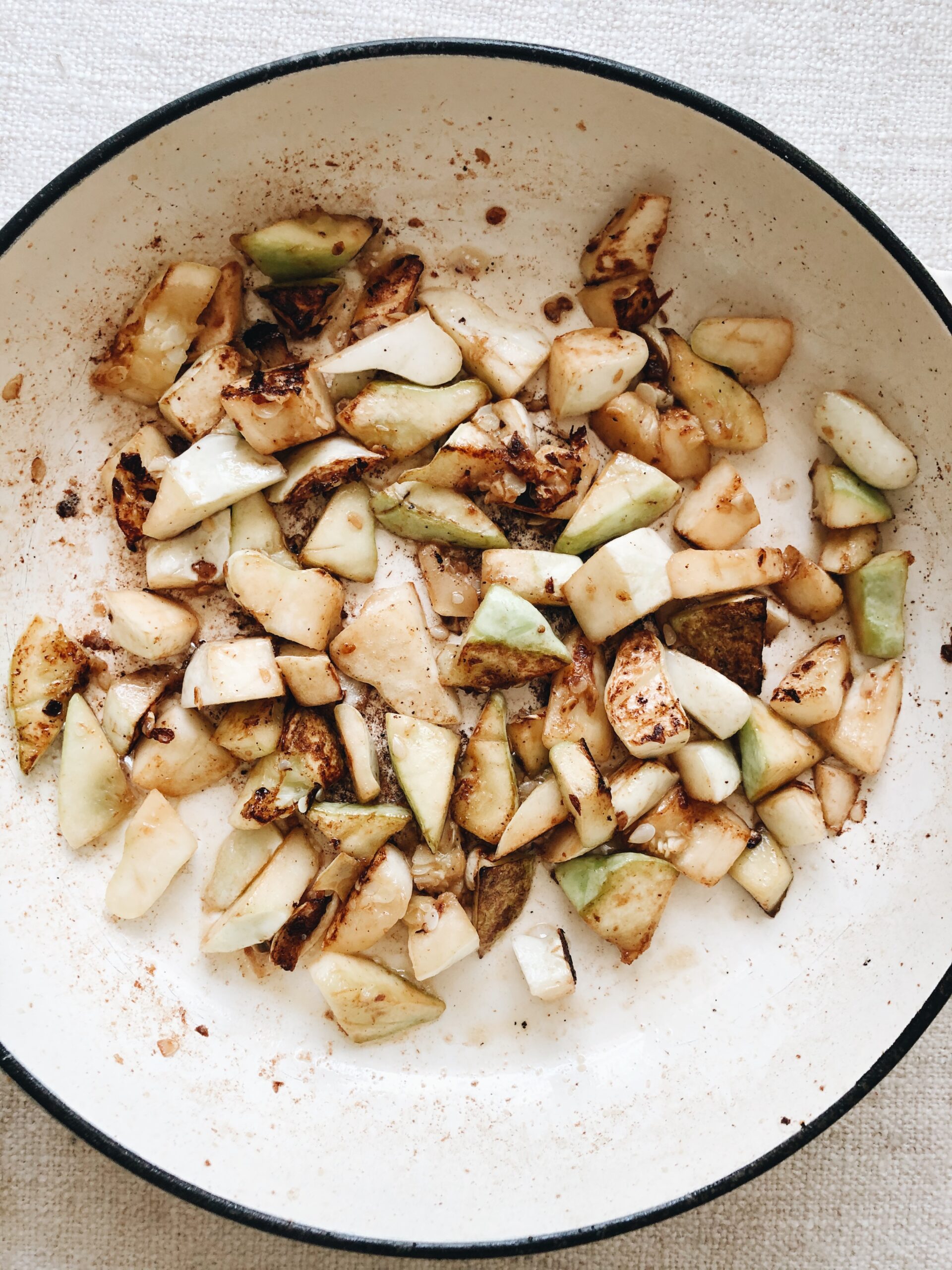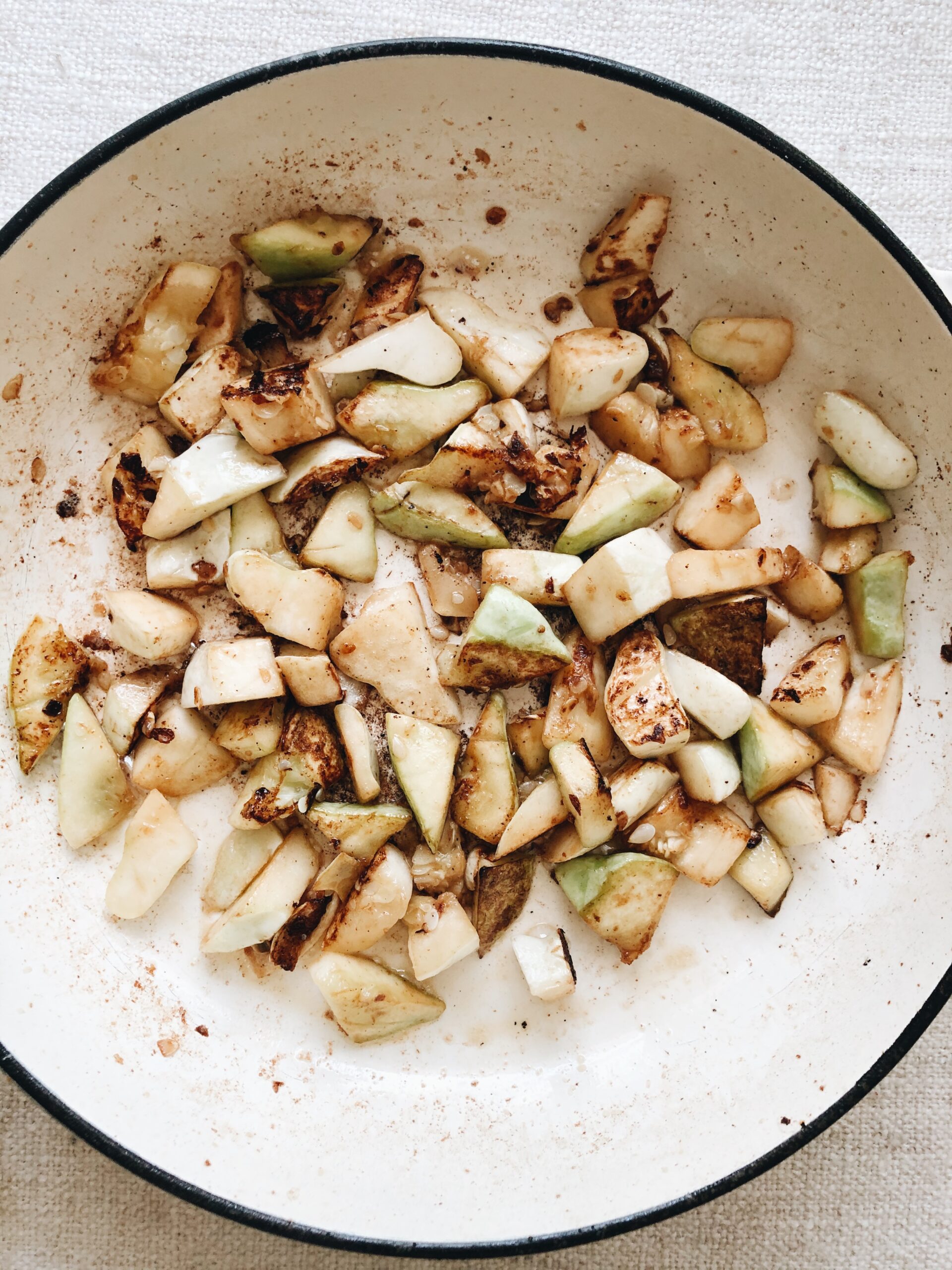 Cube or dice your veggie and get a nice sear all over. What I did was let it sit for two-to-three minutes without touching it, so that it browns up beautifully and you want to pet it and call if Frank.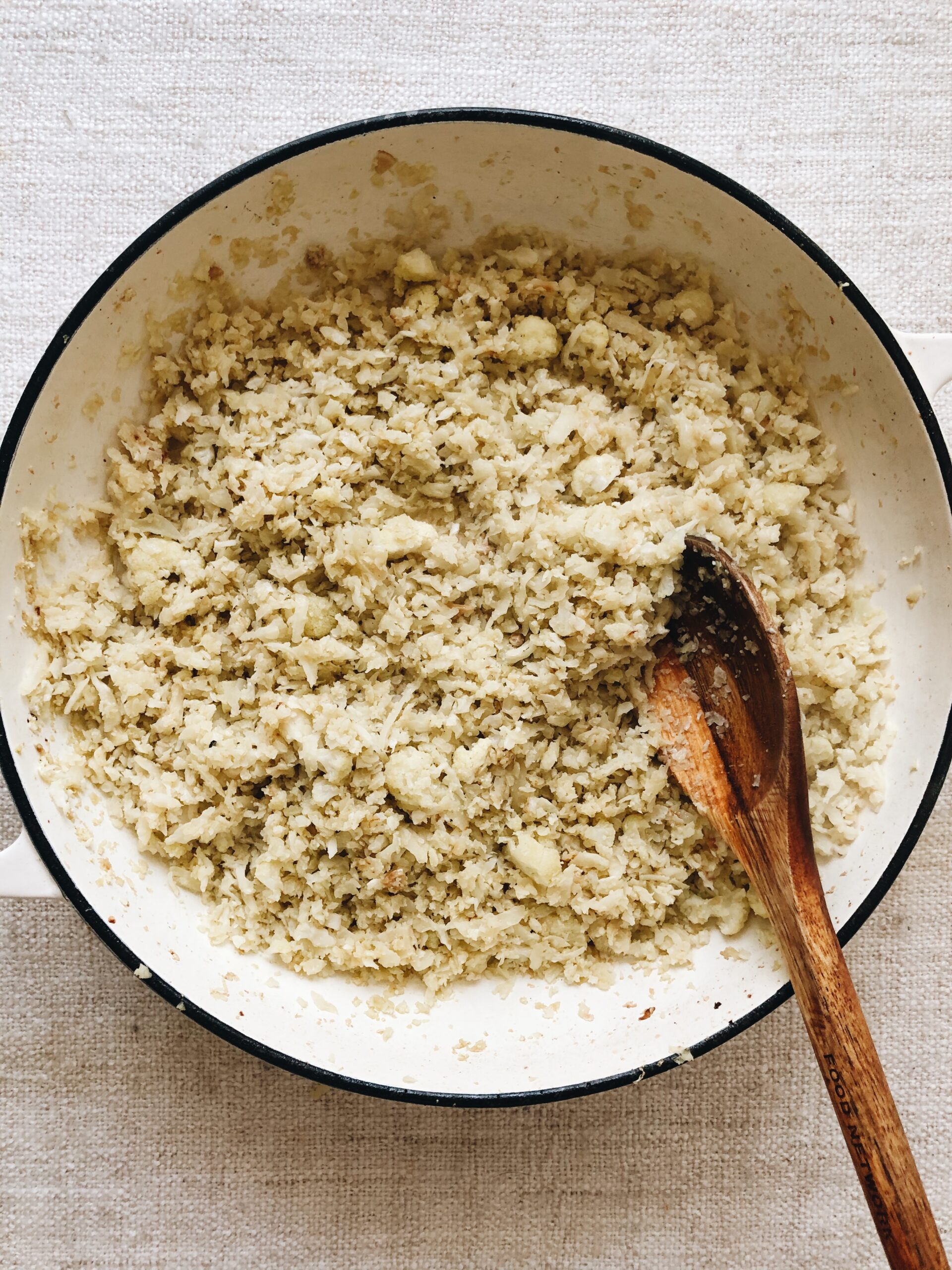 Now your grated cauli goes in. I DID add butter for flavor, and lots of minced garlic. You just want it tender and toothy. Doesn't take too long, so stop giving me the stink eye already.
I've actually taken a shining to grated cauliflower this month. It's not a pain in the face, and the texture is a treat and a half. Who knew!
Oh, you?
Oh.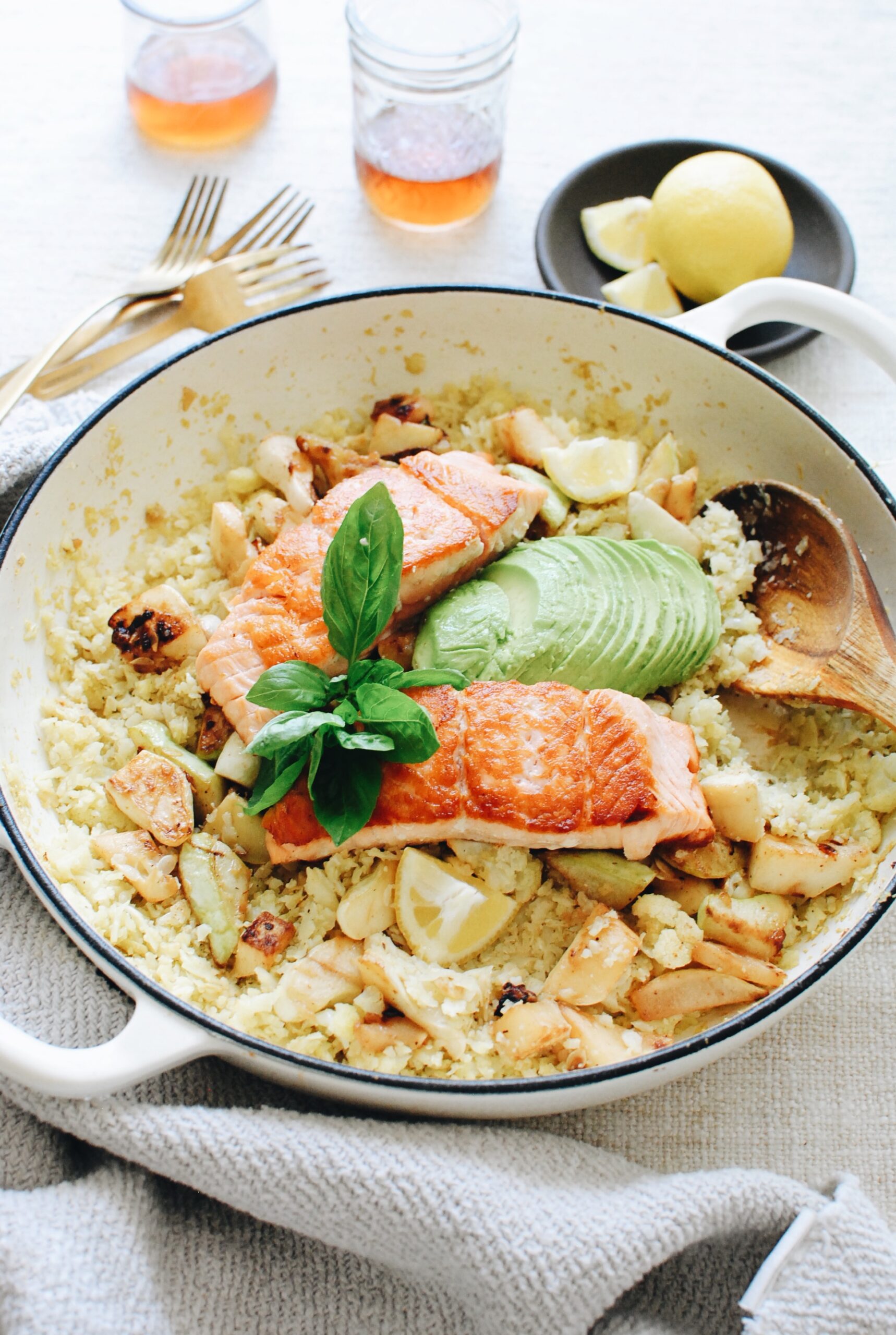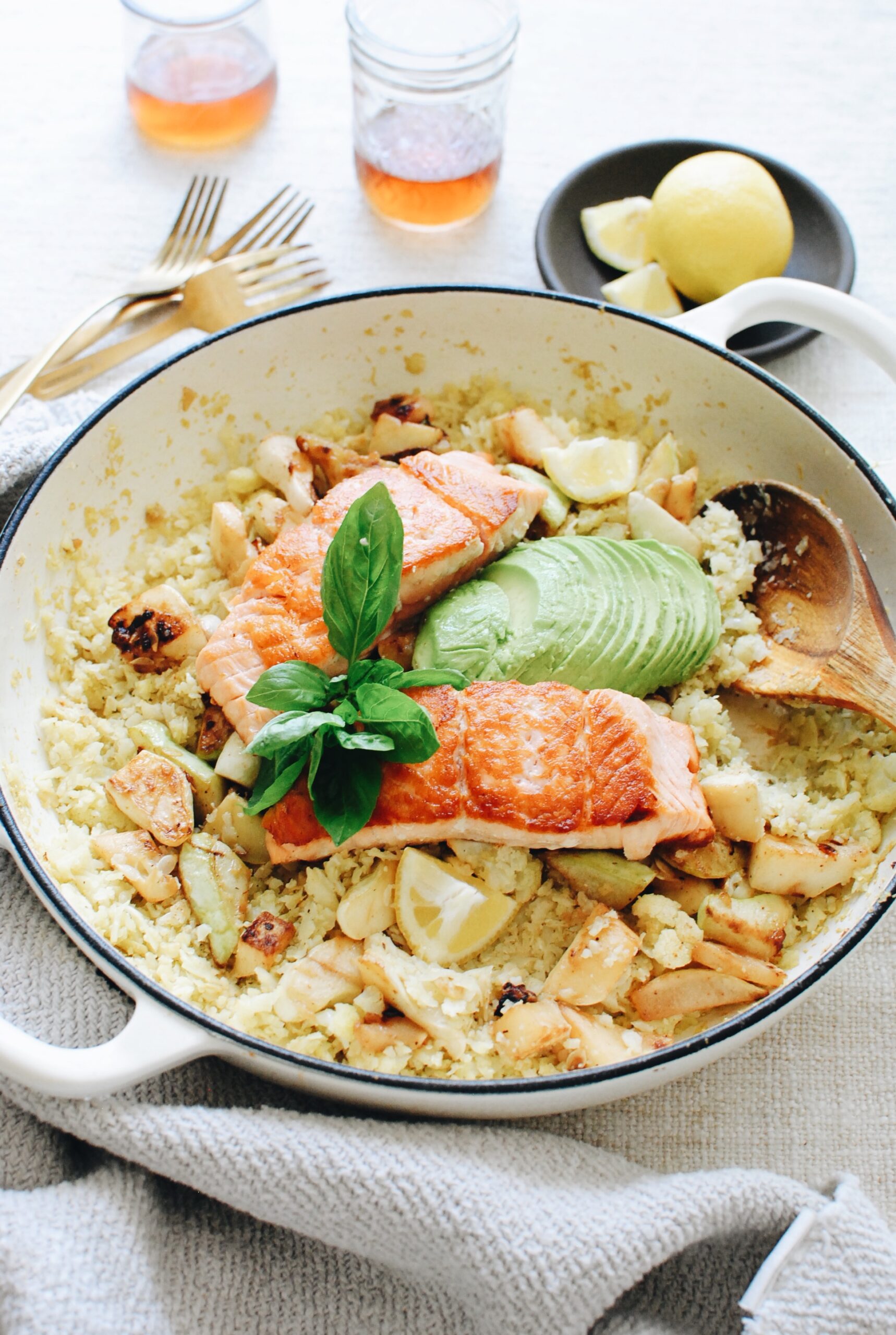 At this point it's just the grand pile on, ya know. Garlic cauli on the bottom, browned veggies and finally your flaky salmon on top. Garnish with lemon (always! always.) and fresh herbs. We've got basil coming out our ears, so on it went.
And avocado. Because it's my soul. Fan it out. Go bonkers. This is your one life.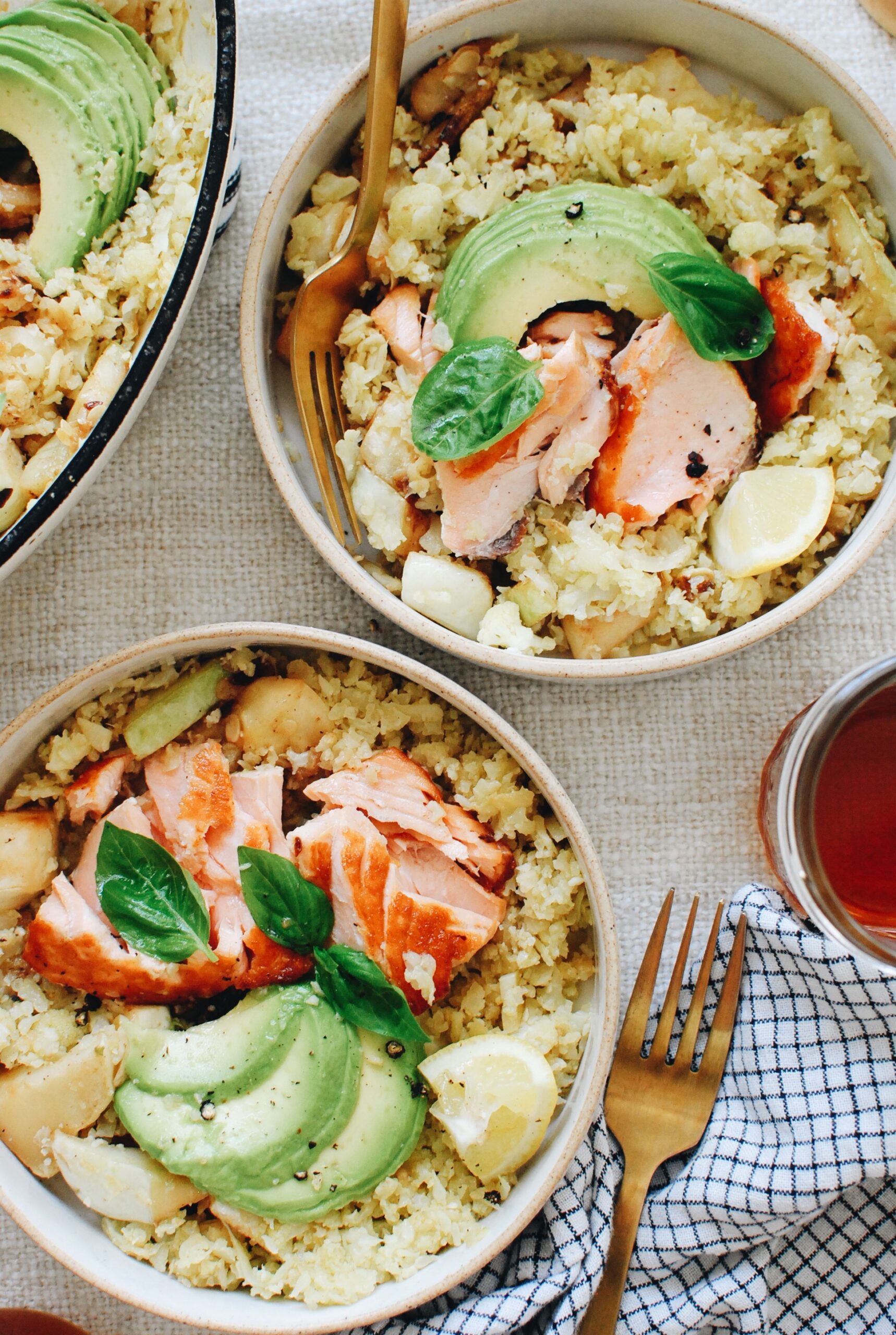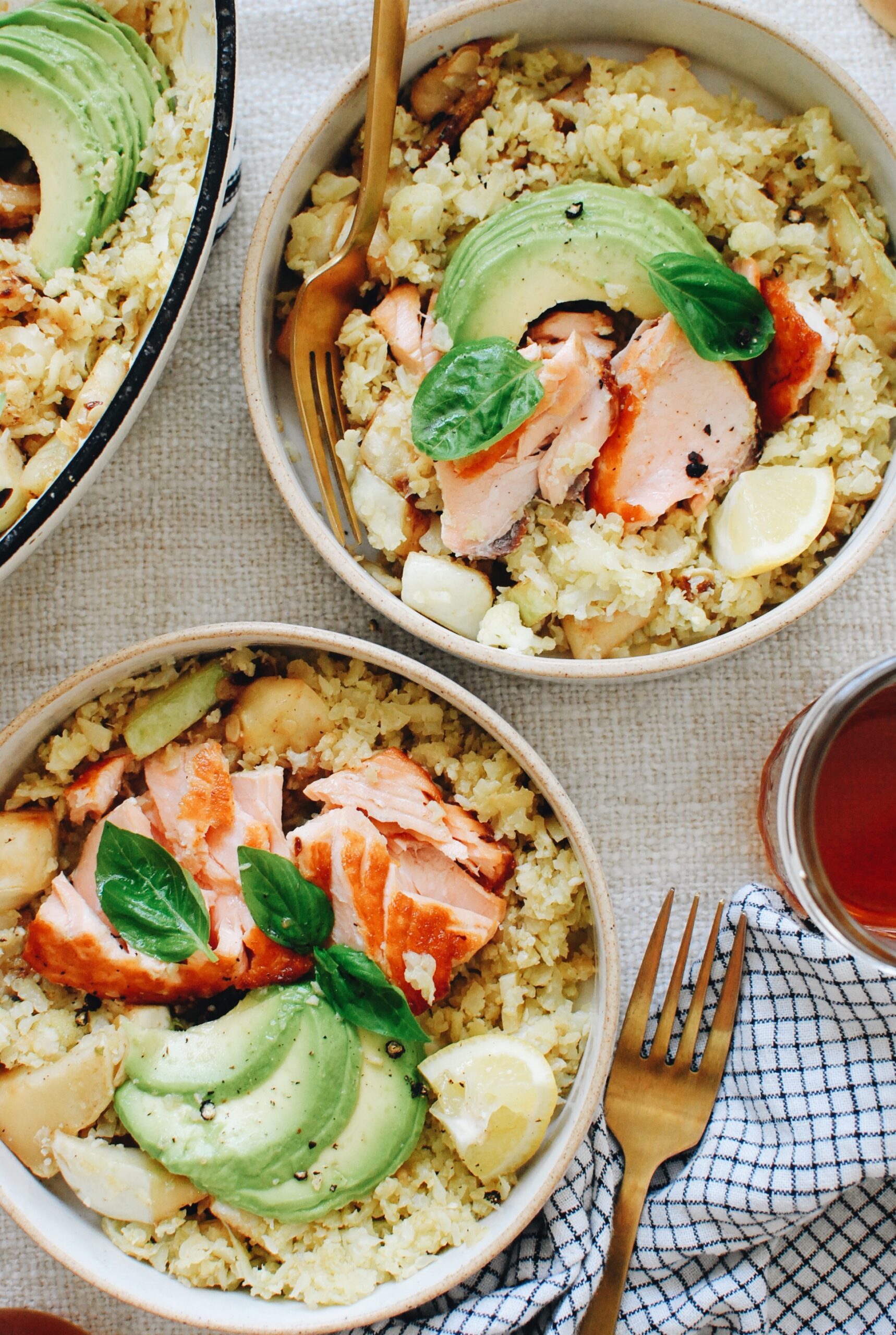 It's flaky on creamy on tender on crumbled with a squeeze of lemony brilliance on top. Even if you're not Paleo, here's your no-carb, waist-friendly weeknight winner.
And like, on top of that, it's just plain TASTY, if I do say so myself.
Get. in. that.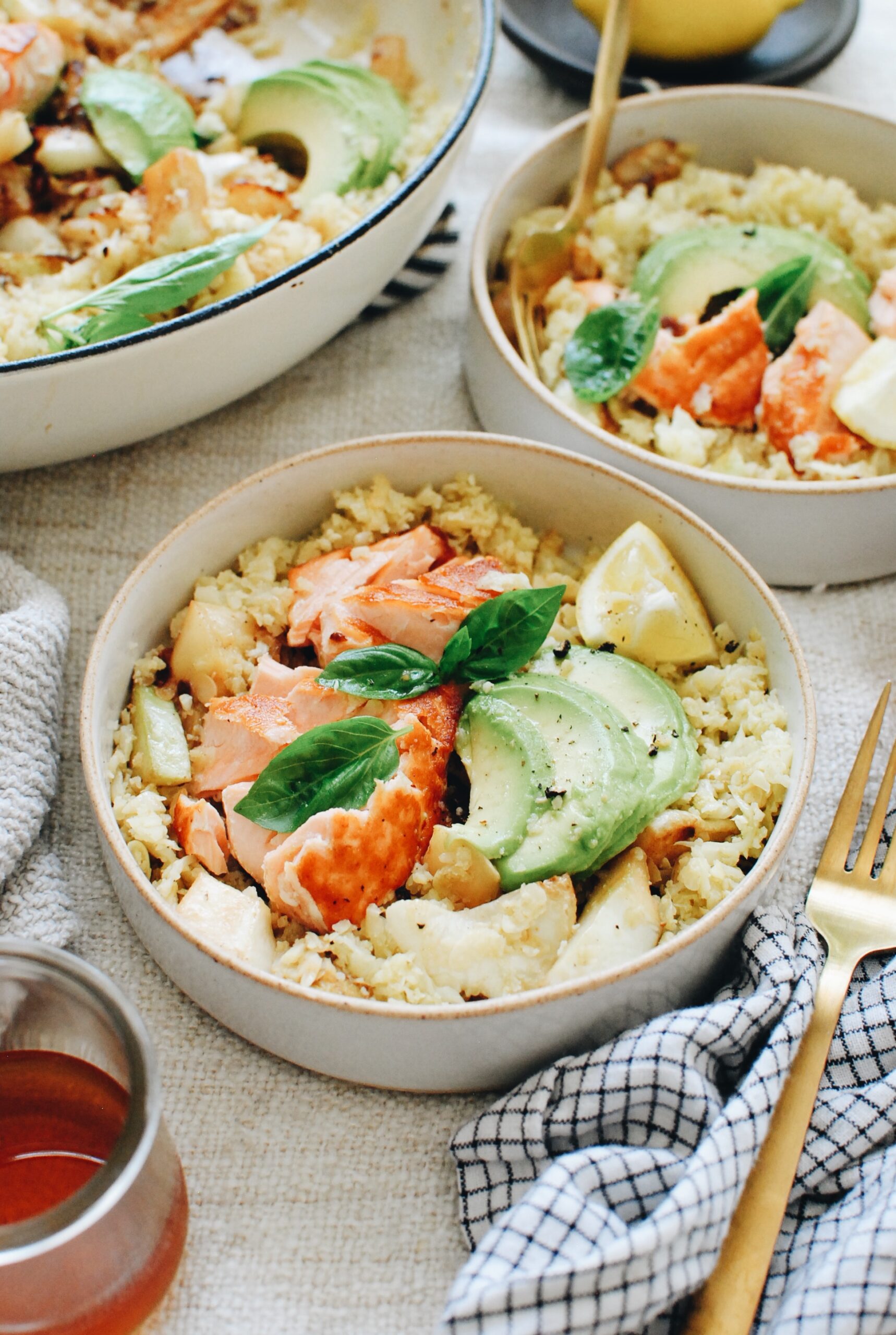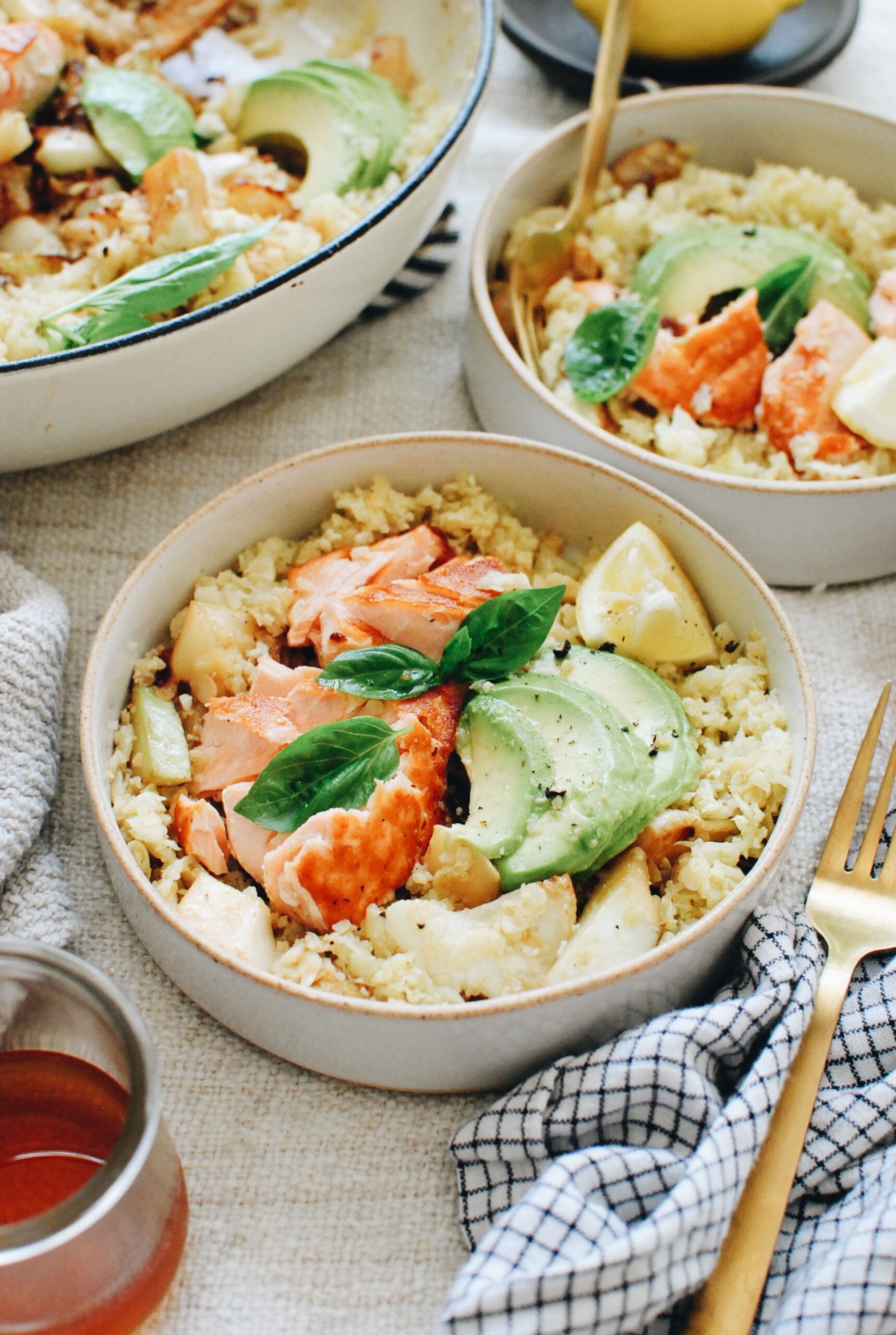 Don't make me beg.
Salmon and Cauliflower Bowls with Patty Pan Squash
Ingredients
2 Tbs. extra-virgin olive oil
2 to 4 salmon fillets (based on how many eaters you have)
1 lemon
2 medium size patty pan squash (or about three cups diced veggie of your choice)
2 Tbs. butter
4 garlic cloves, minced
1 large head cauliflower, grated
2 tsp garlic powder
1 avocado, thinly sliced
Coarse salt
Fresh basil, for garnish
Instructions
Heat the oil in a wide skillet over medium high. Season the salmon with salt and sear on both sides, four minutes per side, until flaky and cooked through on the inside. You want it still on the tender side, not overly dry. Remove the salmon from the pan.
To the pan, add the diced patty pan squash. (And more oil if needed) Season with salt and pepper; sauté about six minutes, until you get some good browning all over. Remove from the pan and set aside a few minutes.
Now, add the butter to the hot pan and melt. Add the minced garlic and sauté for about 30 seconds, until fragrant. Add the grated cauliflower, along with the garlic powder, and a healthy pinch of salt. Let this sauté in the pan about eight minutes, until the cauliflower starts to get tender and browned in places. (You can add a splash of water to help speed things up.)
Now we layer! Leave the cauliflower in the pan, and top with sautéed veggies and the reserved salmon. Garnish with plenty of lemon wedges, fanned avocado and fresh basil. Squeeze the lemon over the top for that hit of bright. You can even drizzle your best olive oil over the top for that final finish. Little ground pepper? Get on it.
Serves 4!
7.8.1.2
446
https://bevcooks.com/2020/08/salmon-and-cauliflower-bowls-with-patty-pan-squash/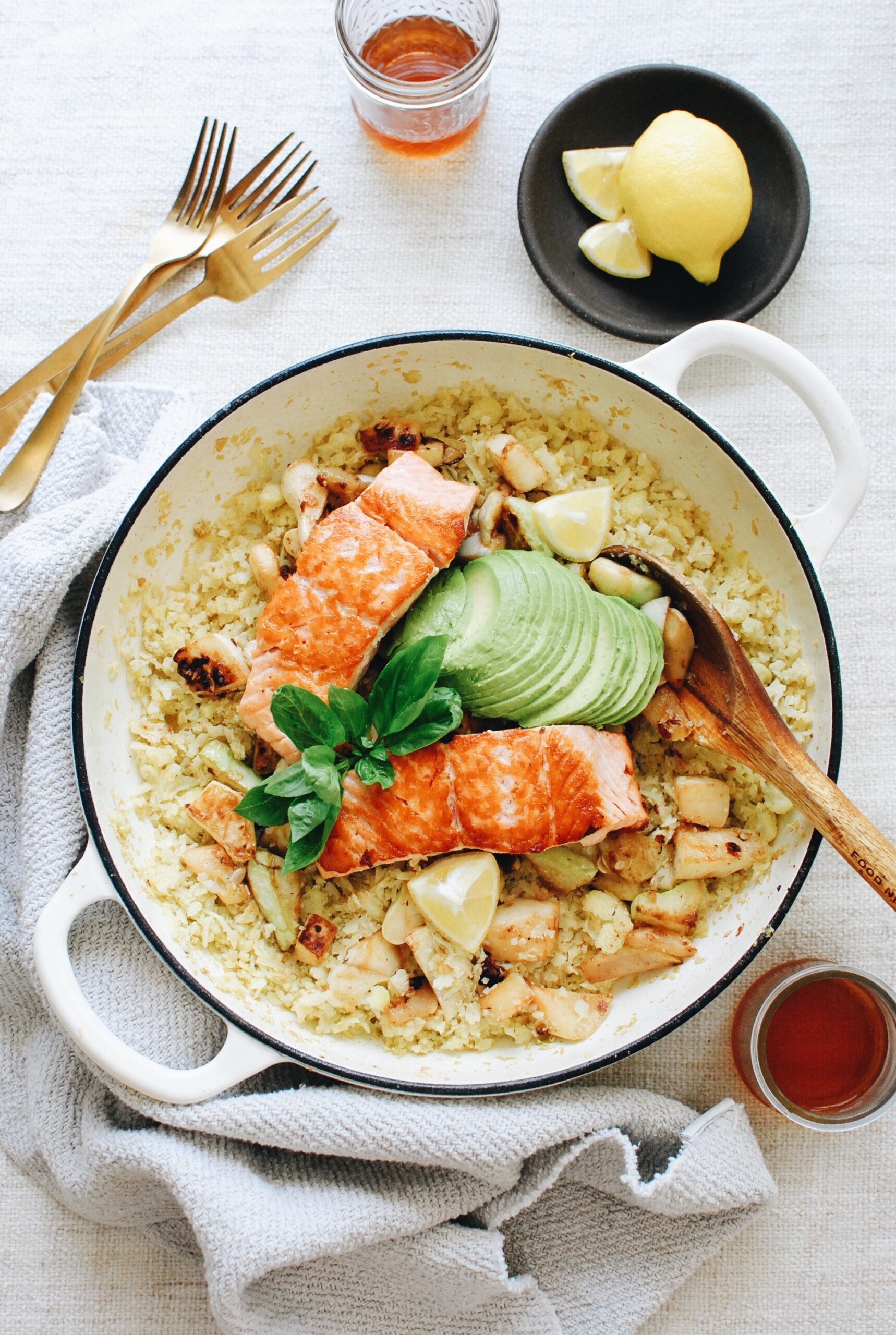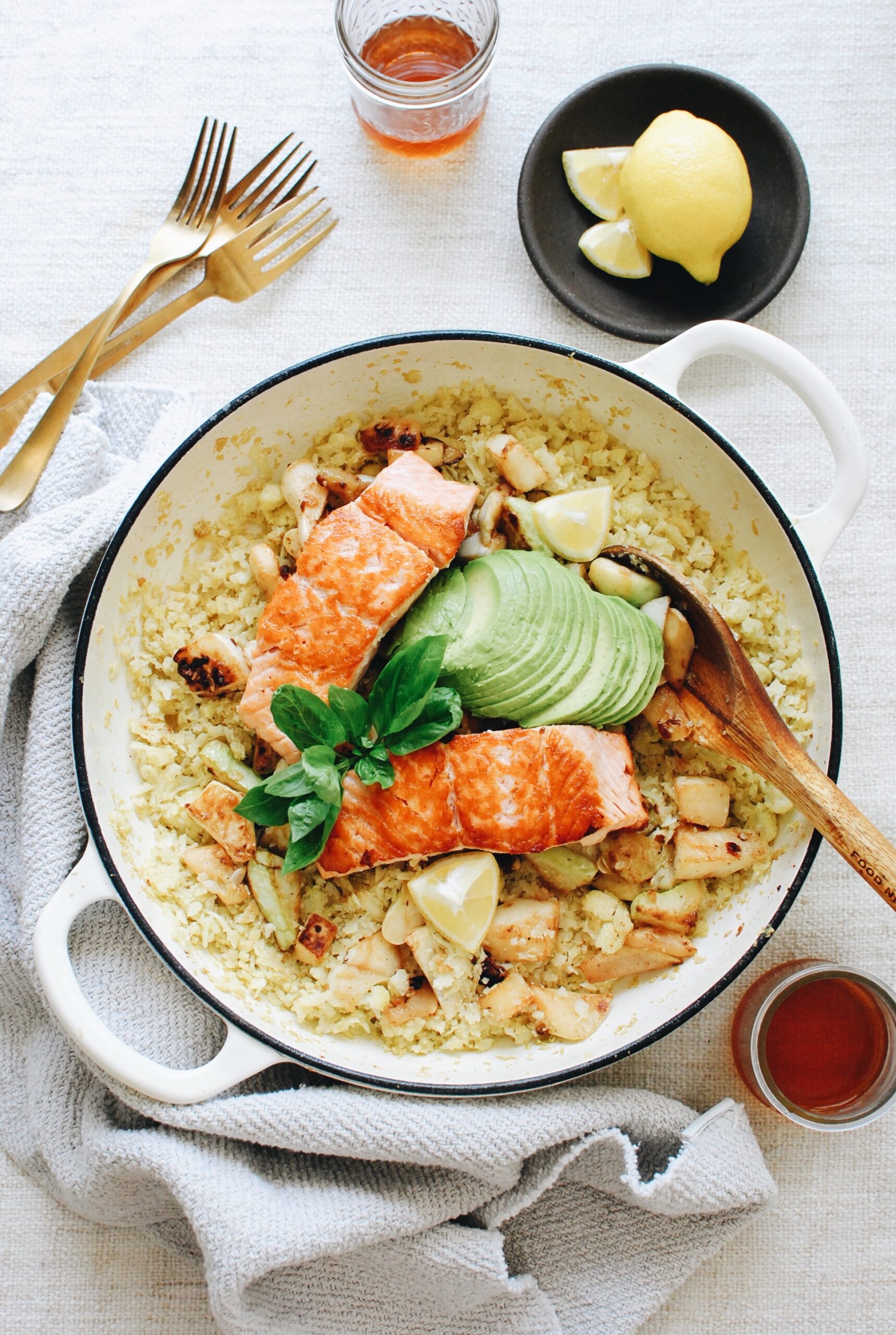 Nomnomnomnomnom.