Things are getting a bit brothy over here, you guys.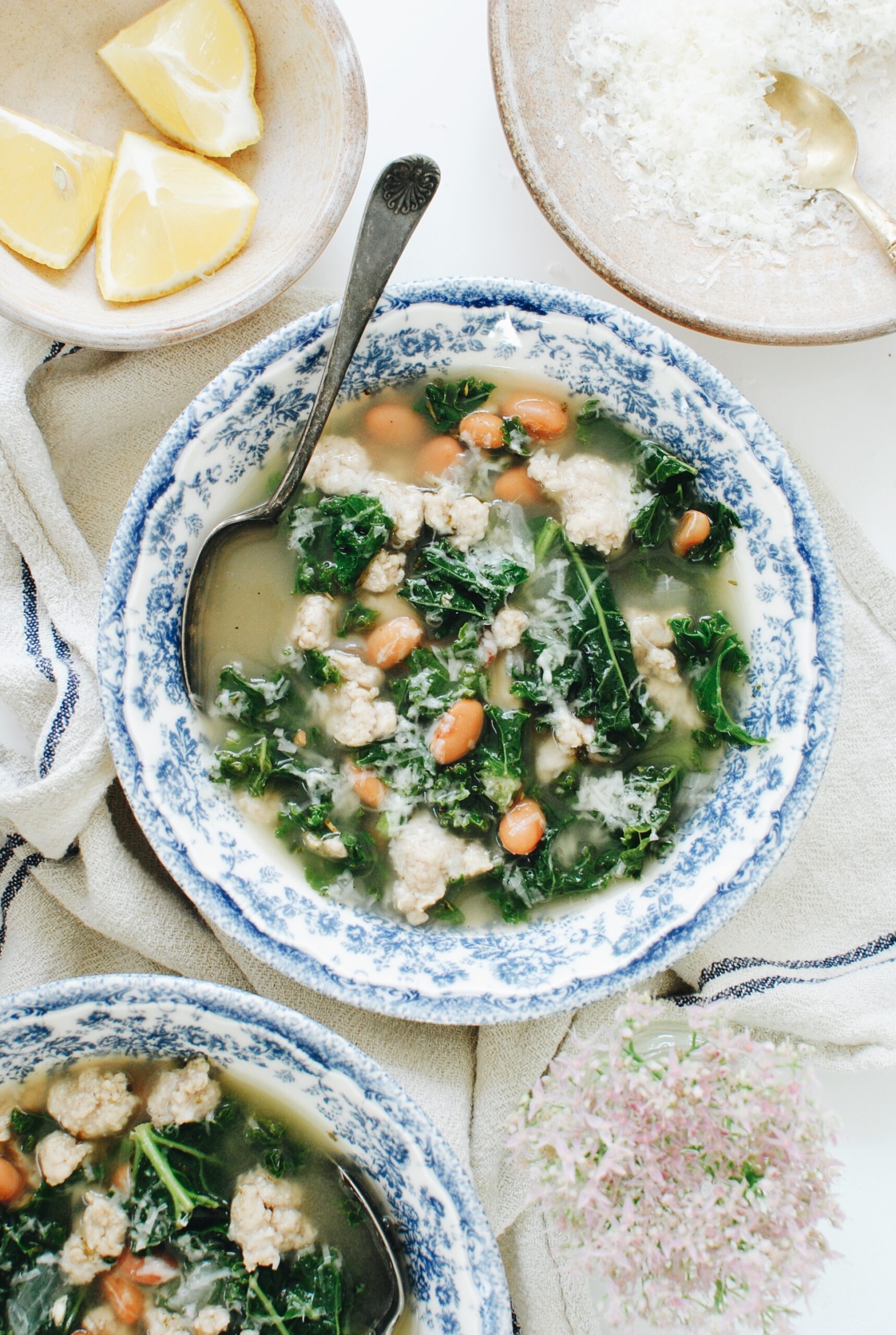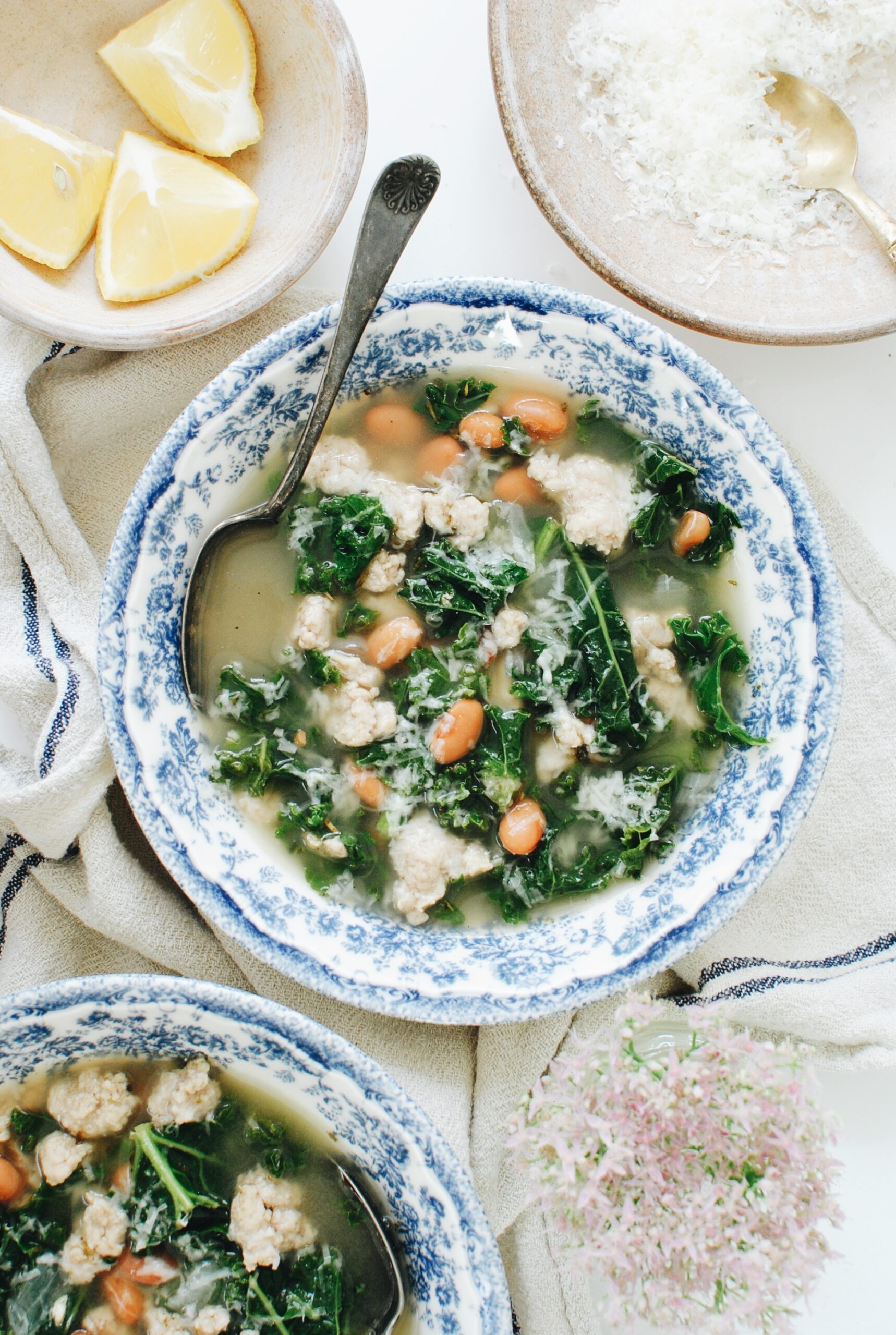 This soup, OH this soup. It's classic, ya know. A bit of protein, a bit of wilted curly greens, a few beans for guts, and loads of lemon to wake it up. Just how we like it.
It's mega simple, if you're looking for something quick to get on the table while your offspring gnaws at your cuffs and hangs off your pants all rubber chicken style. You know those nights. And you know that dead weight dangle. You've been there, I feel it.
Let us peepeth!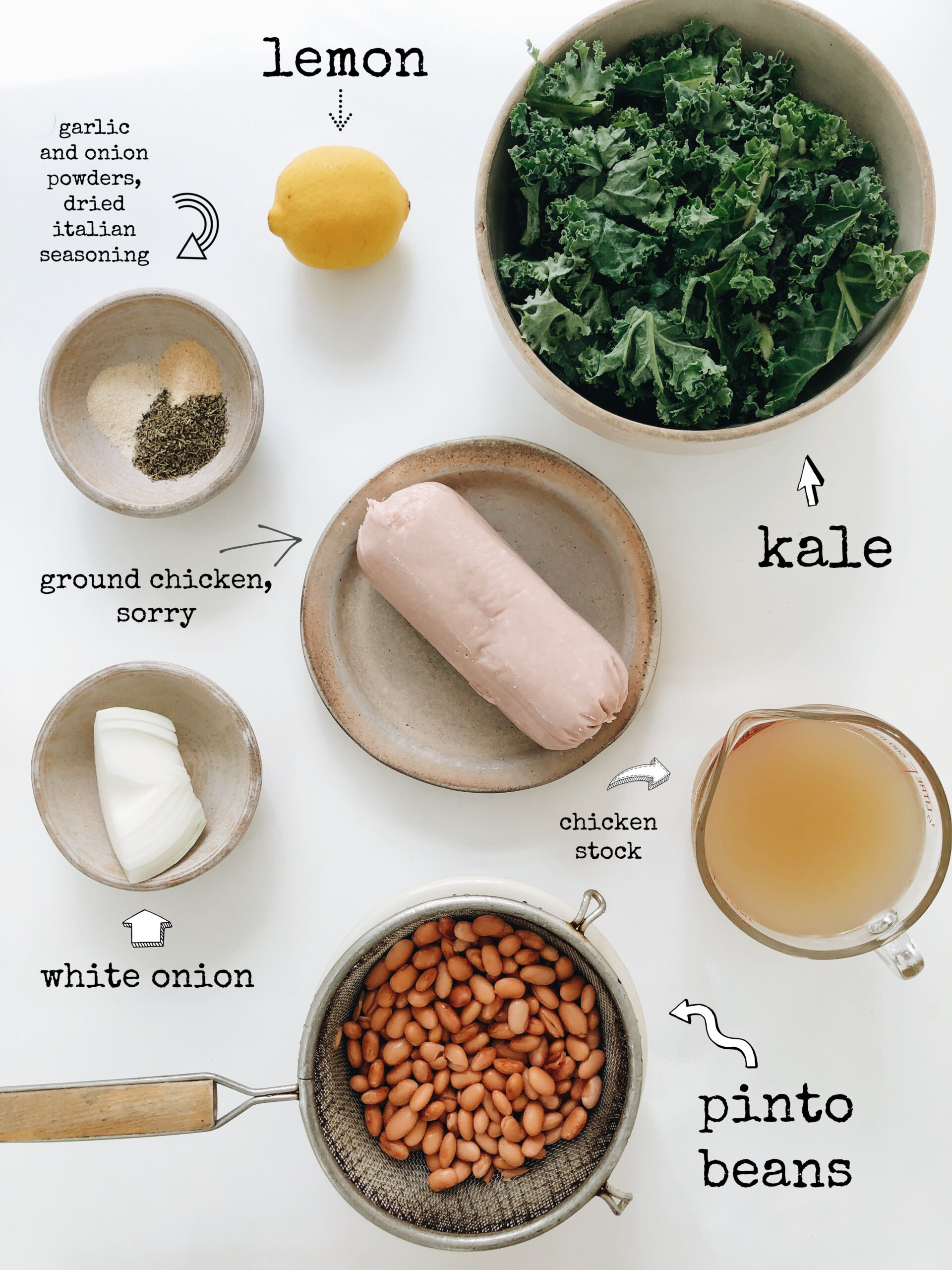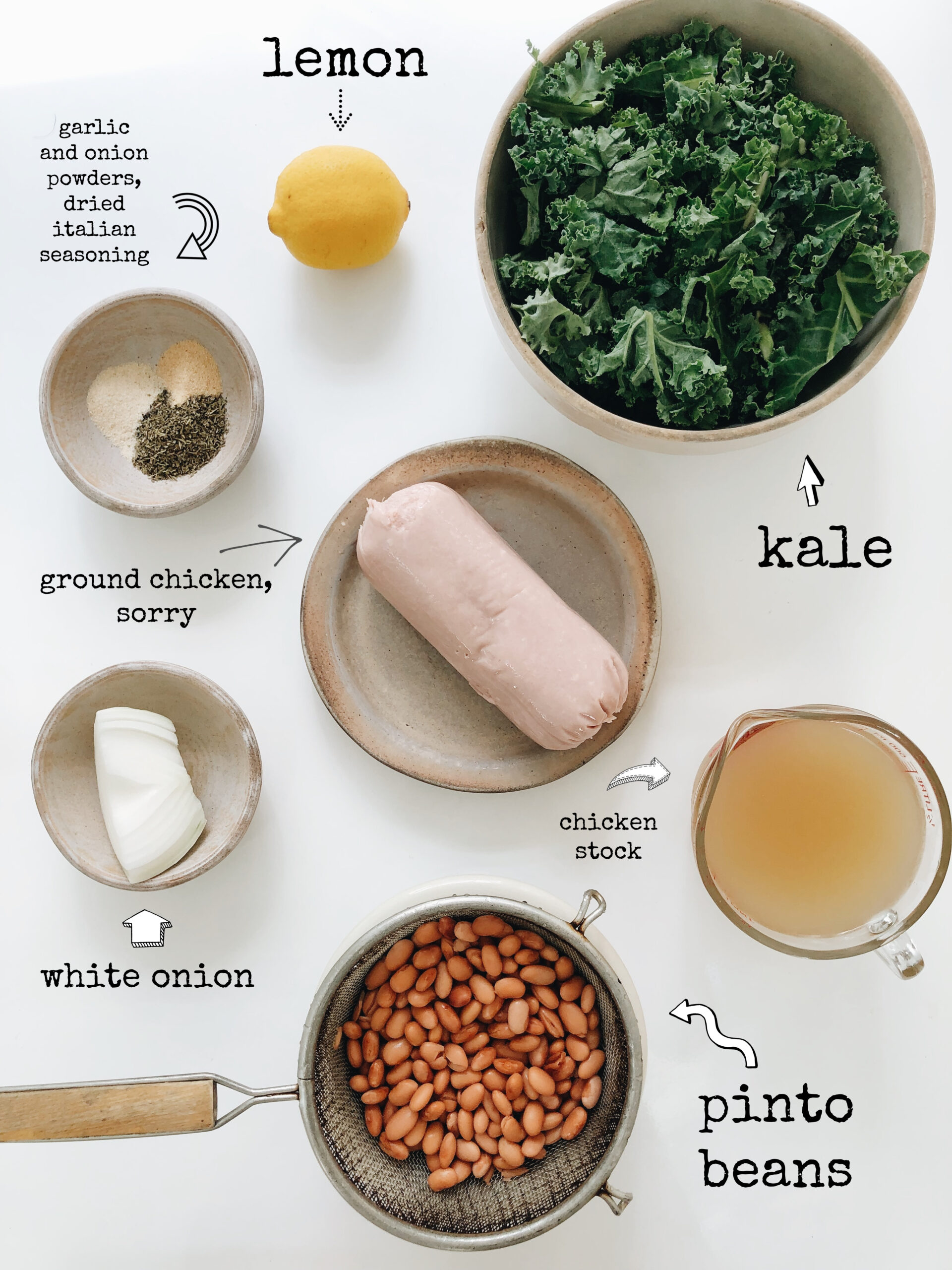 For the meat, you can honestly use anything, but I was feeling like an uncomfortable log of ground chicken, so that was the direction my life took me, and here we are.
The beans – pinto! I just really love the flavor, so in they went.
And the seasonings – I use garlic and onion powder on e-v-e-r-y-t-h-i-n-g and it's never wrong. Do it. Chop a white onion, too.
The kale – this is regular curly kale, but if you want to sub in Tuscan, you fly.
Ready? Let's get in it.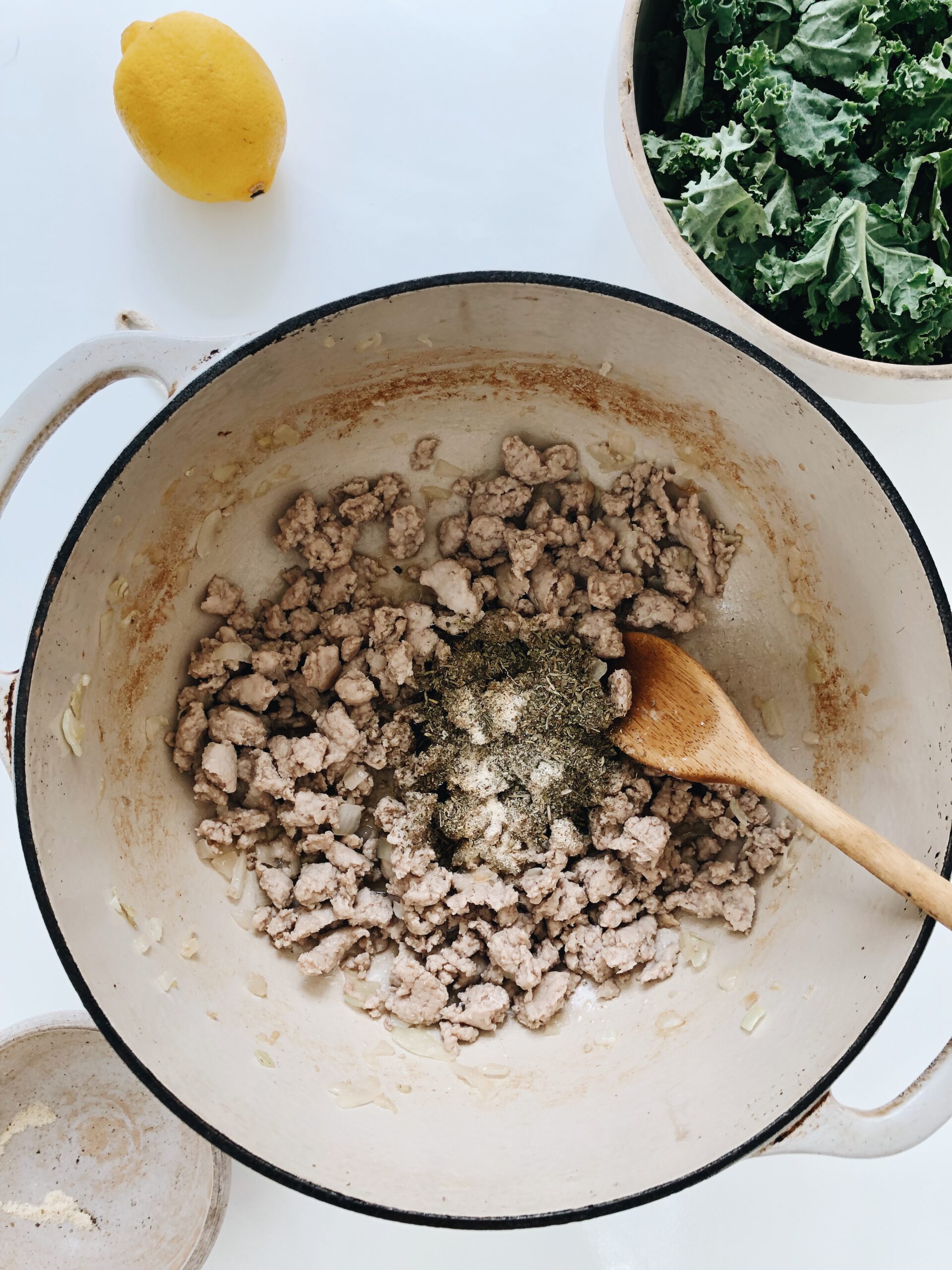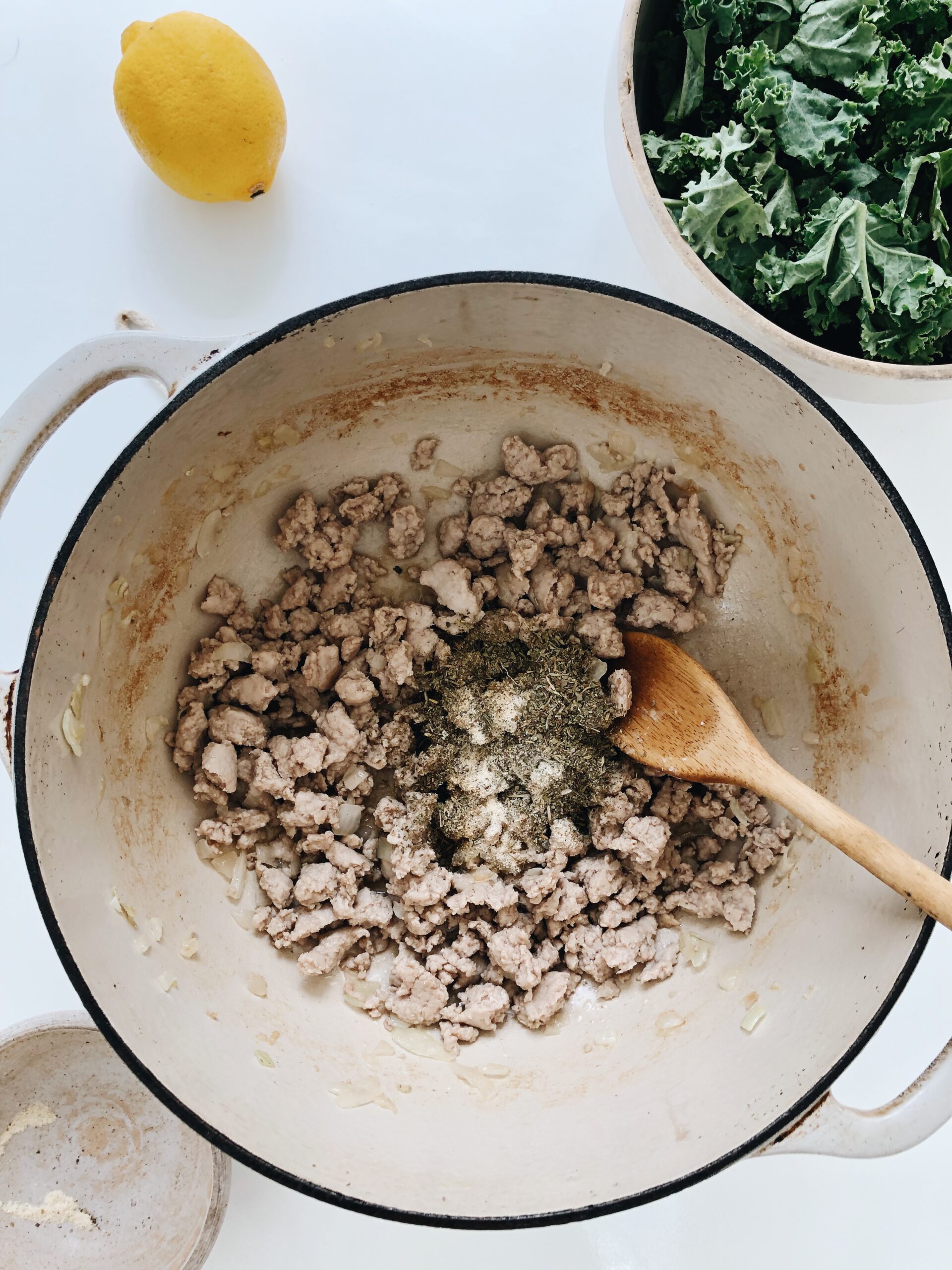 We'll just sweat our onion a little bit in some AWL. (that would be oil for my non-southerners) Get a teeny bit of color on it, the violently throw in that uncomfortable chicken log and get it all broken up with a wooden spoon. Once it's cooked through, add a good pinch of salt, the Italian seasonings and powders. Hey-OH that smells nice.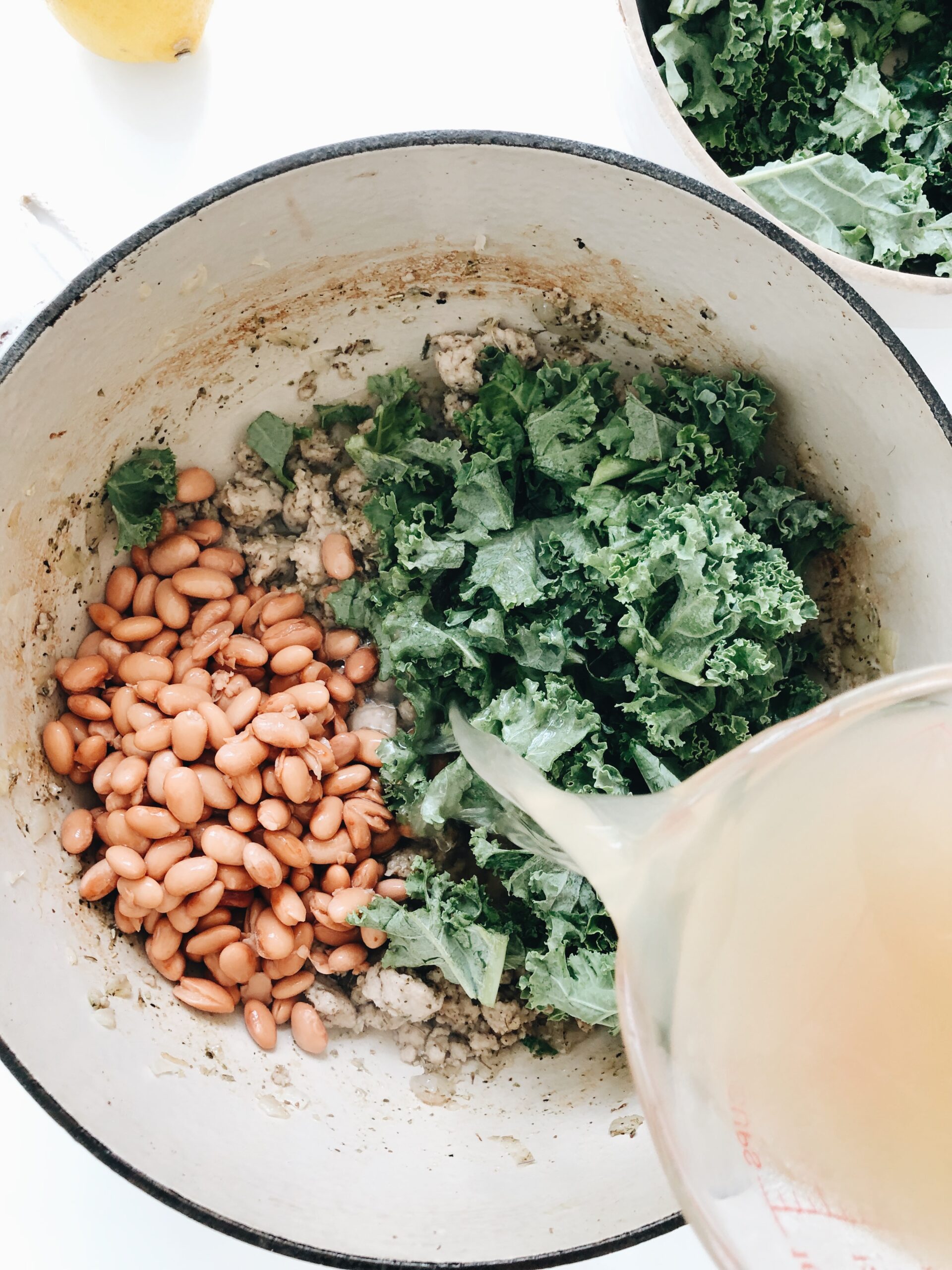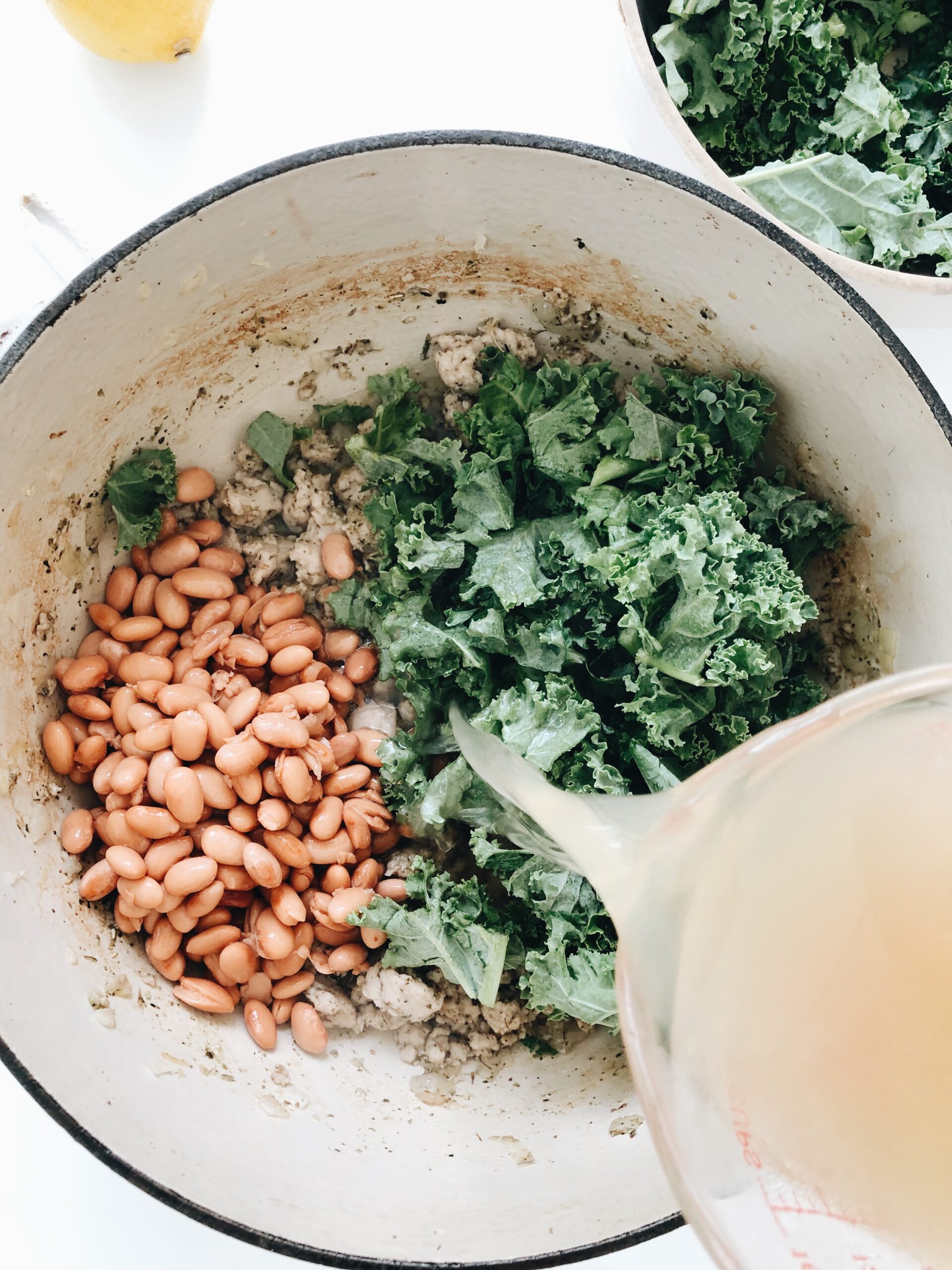 Now we'll spill the bea- sorry, we'll toss the beans into the pot with the kale and pour the stock right on over it.
I only had a quart of stock, so I added a cup of water just to extend the soup a little. If you have more stock, certainly add that. Water'll do, too! Bring this to a BAWL (that would be boil for my non-southerners), then reduce it and let that kale wilt in a simmer for under ten minutes. That's all it needs. You'll taste it, salt it, add some lemon juice, garnish with parmesan cheese and slap that (gently) on the table within minutes.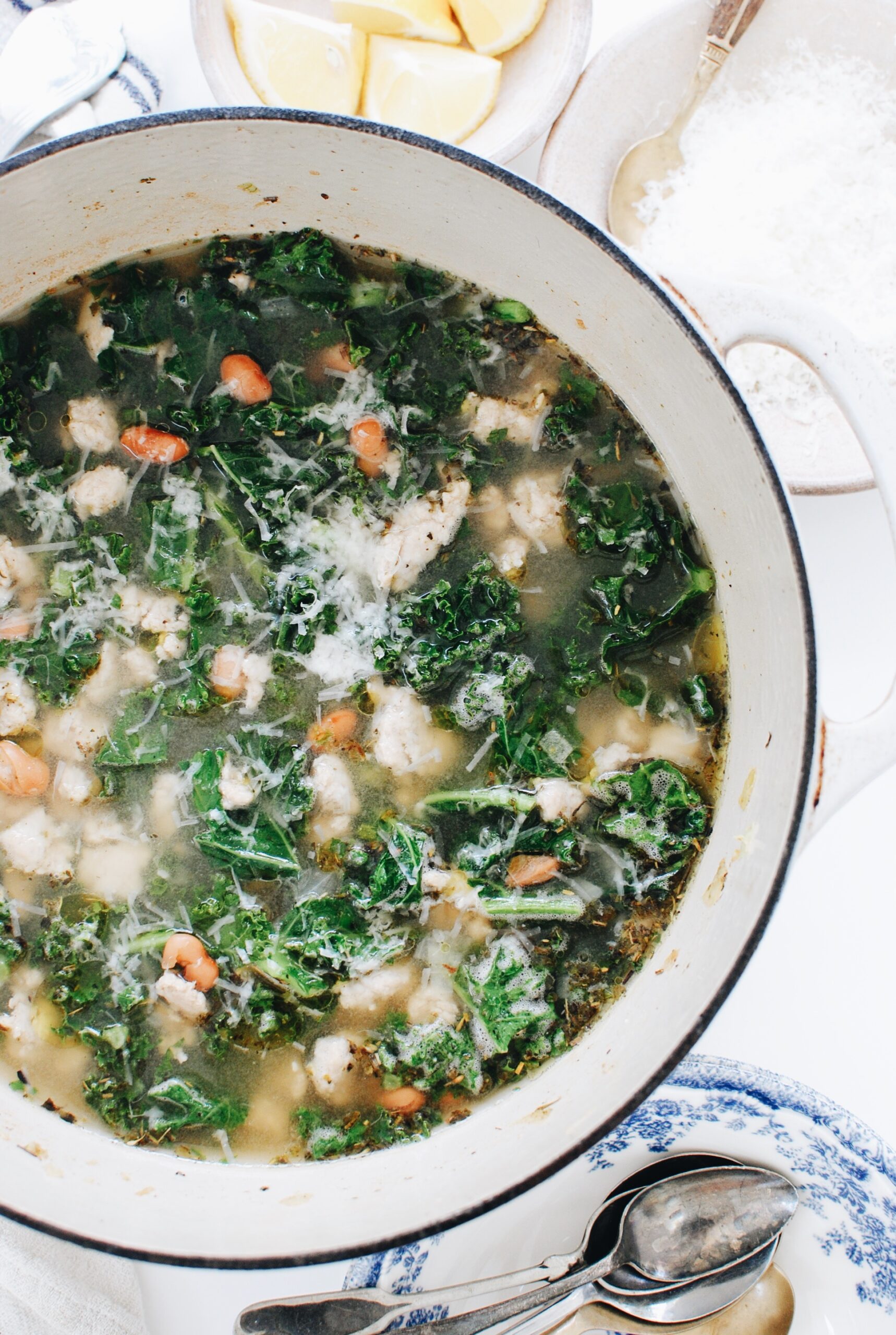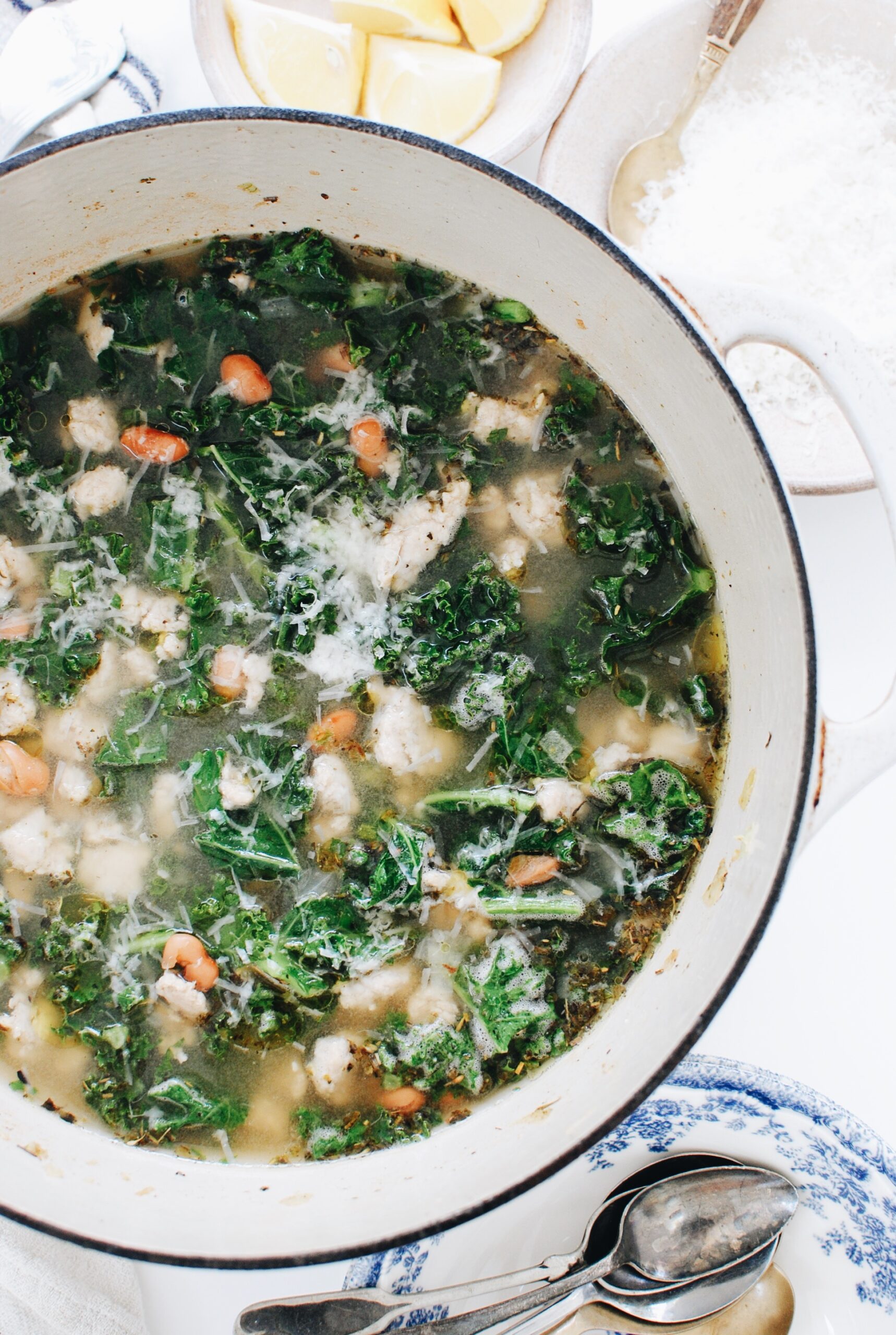 It's got a reaaaaaally nice rustic herby Italian flavor, with the dried Italian seasoning. Secret weapon right there with that seasoning. And of course the kale is wilted and silky and earthy. The beans are creamy and add a little texture to the whole thing. The chicken is perfectly flavored with the garlic and onion powders, ugh.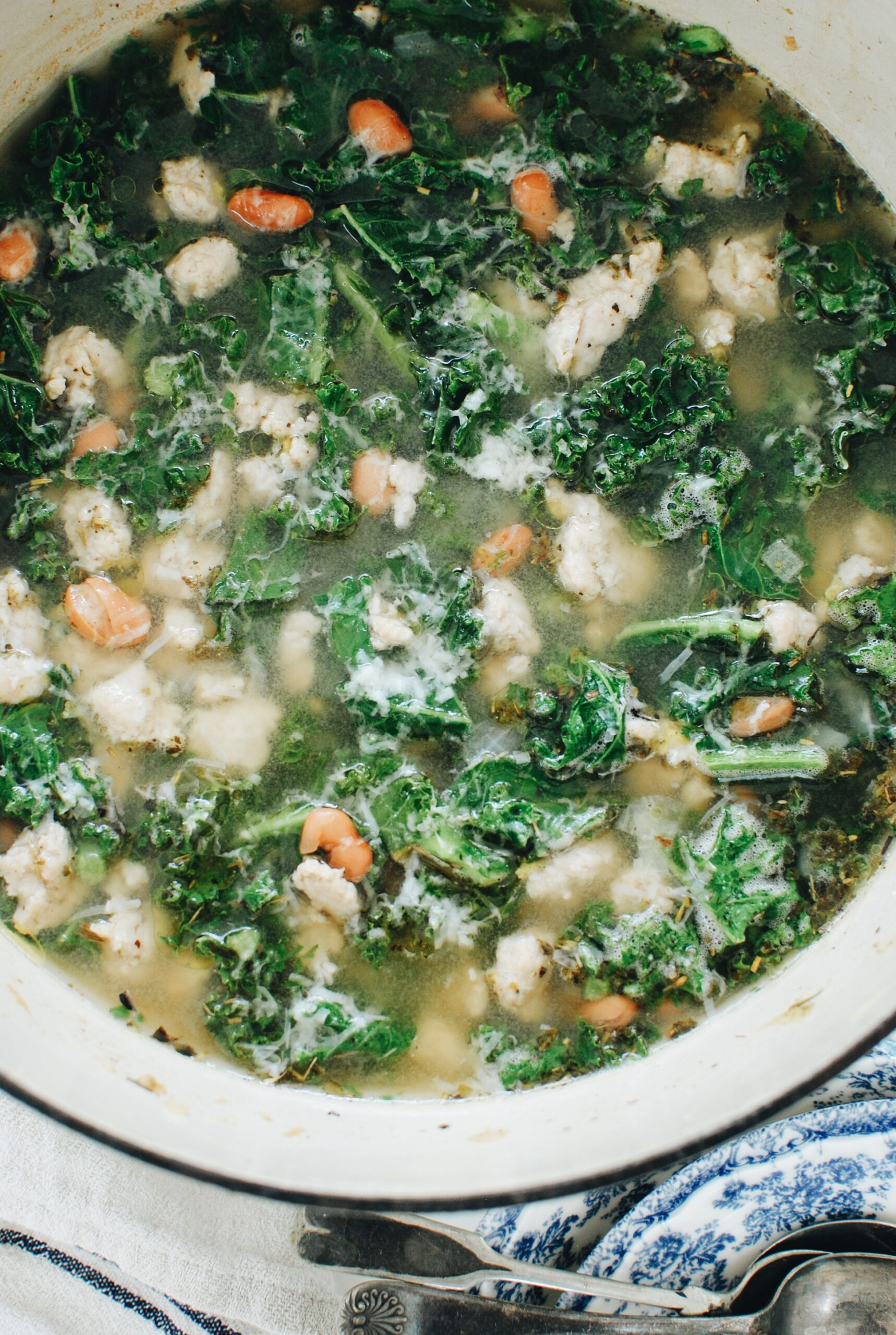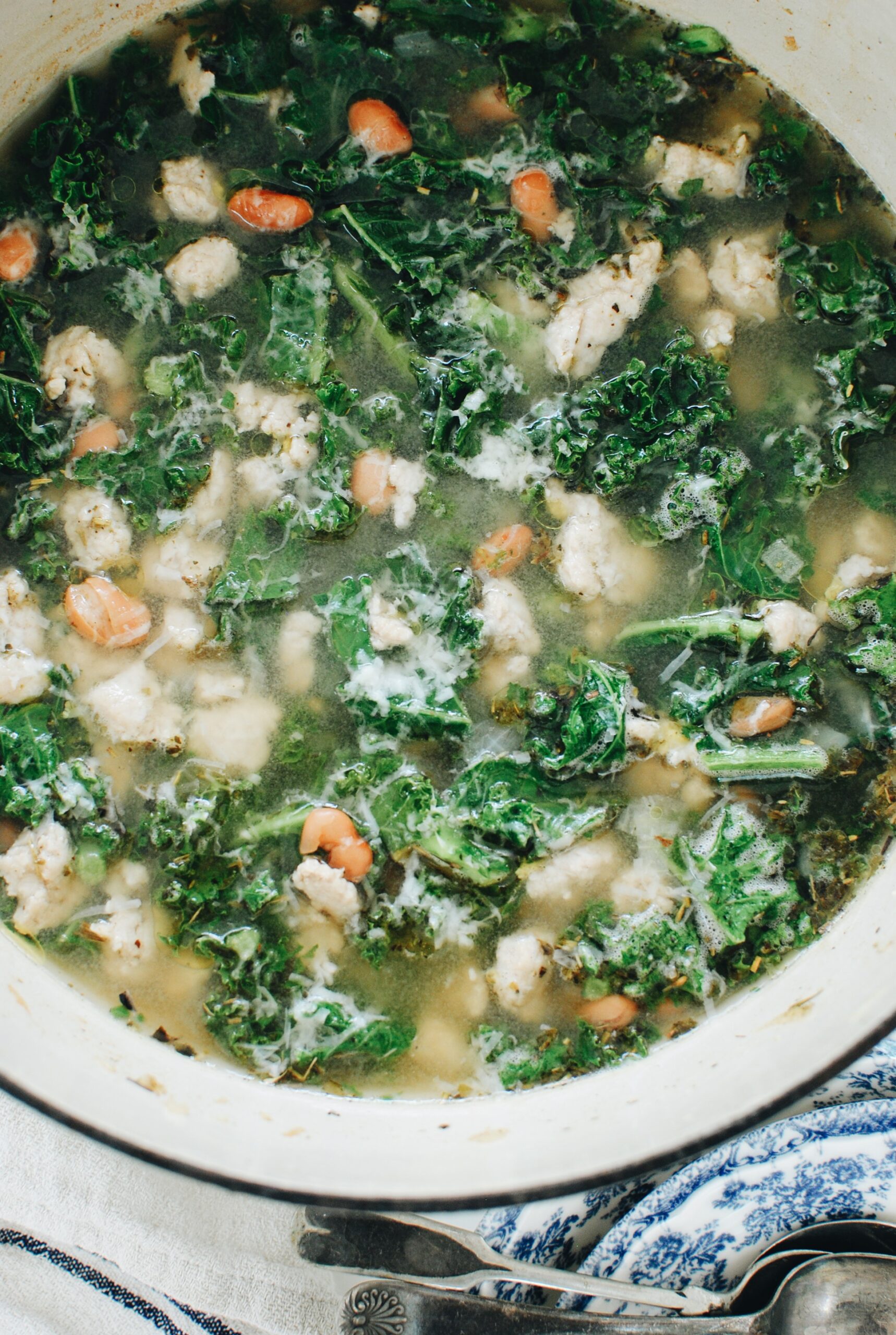 Don't skimp on the lemon! It's going to transform this. You need that acid to bring it to life. That and a good drizzle of your best olive oil right at the end. And some freshly grated nutty parmesan cheese. Trust these typed out words from your favorite Internet stranger.
I am your favorite, right?
Don't answer that.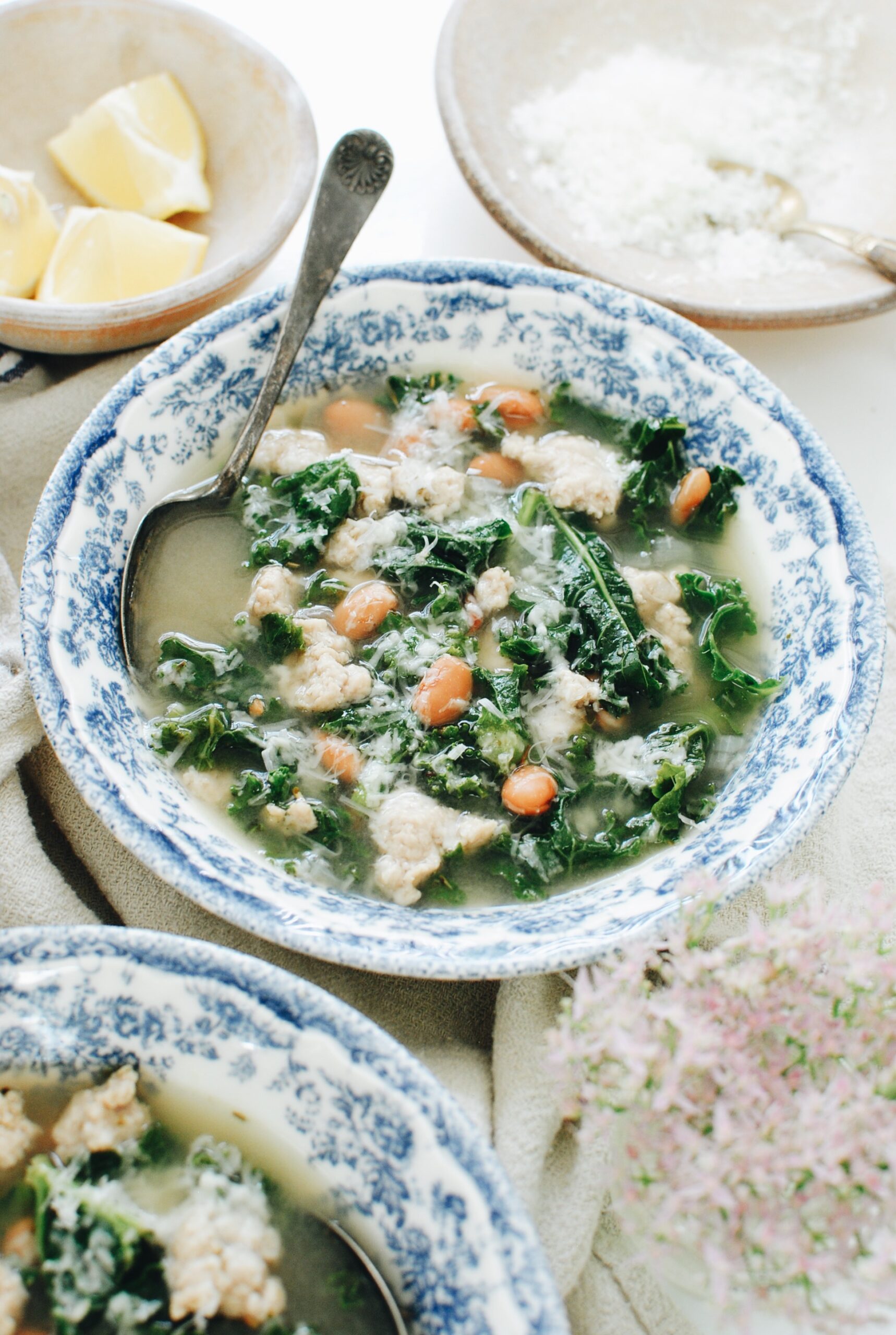 Complete comfort. Have some crusty bread on the side for the ultimate dunk fest, and your life is bliss.
Also, I'm hoping you can find it within your heart to look past "ultimate dunk fest" just now.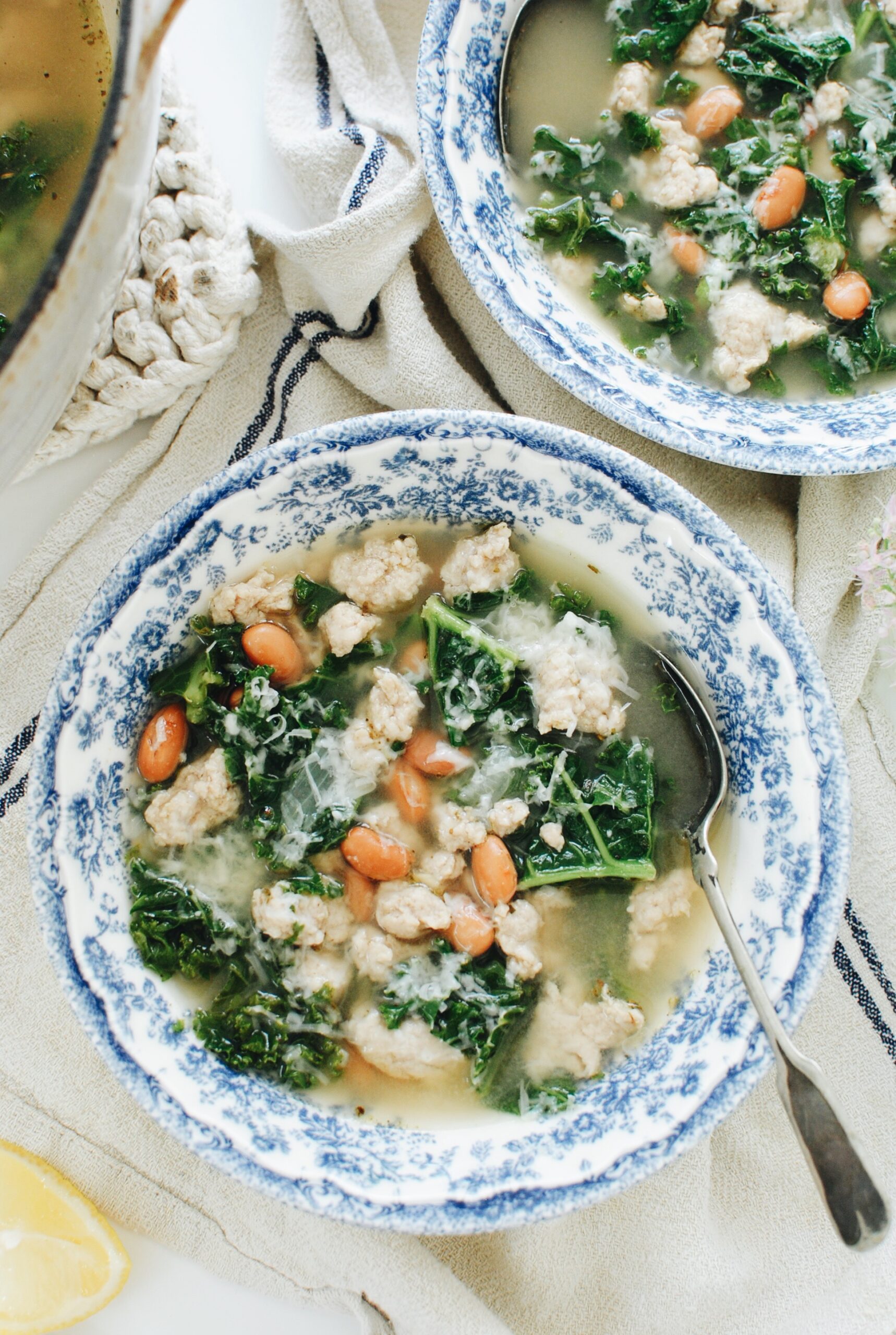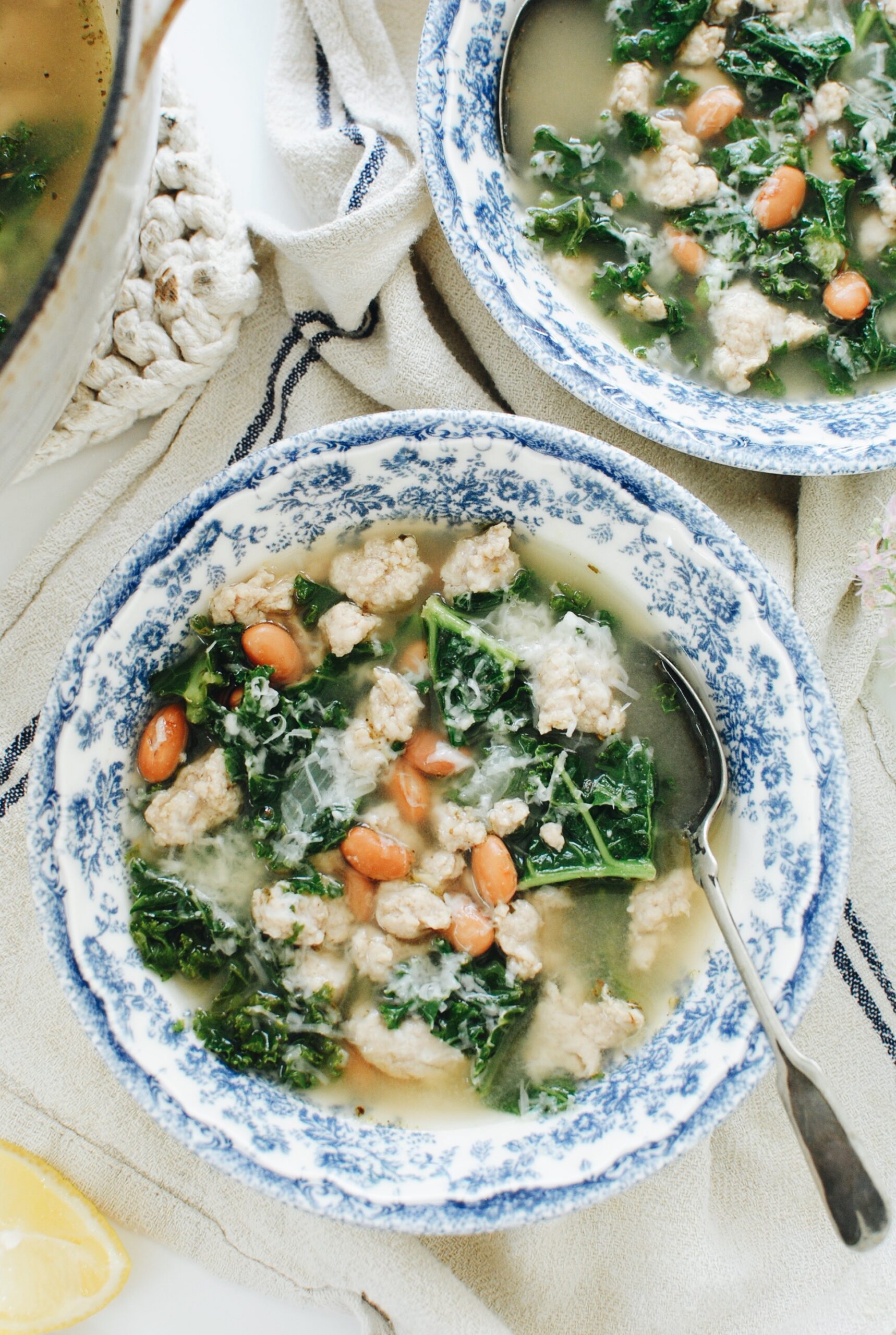 It is just SO good. The leftovers reheat sublimely, and the flavors are warm and rustic and will caress your soul cavity on these chilly nights.
I've heard that if you have a fire in your fireplace whilst slurping this soup, it tastes even better.
Fire or no fire, make this immediately!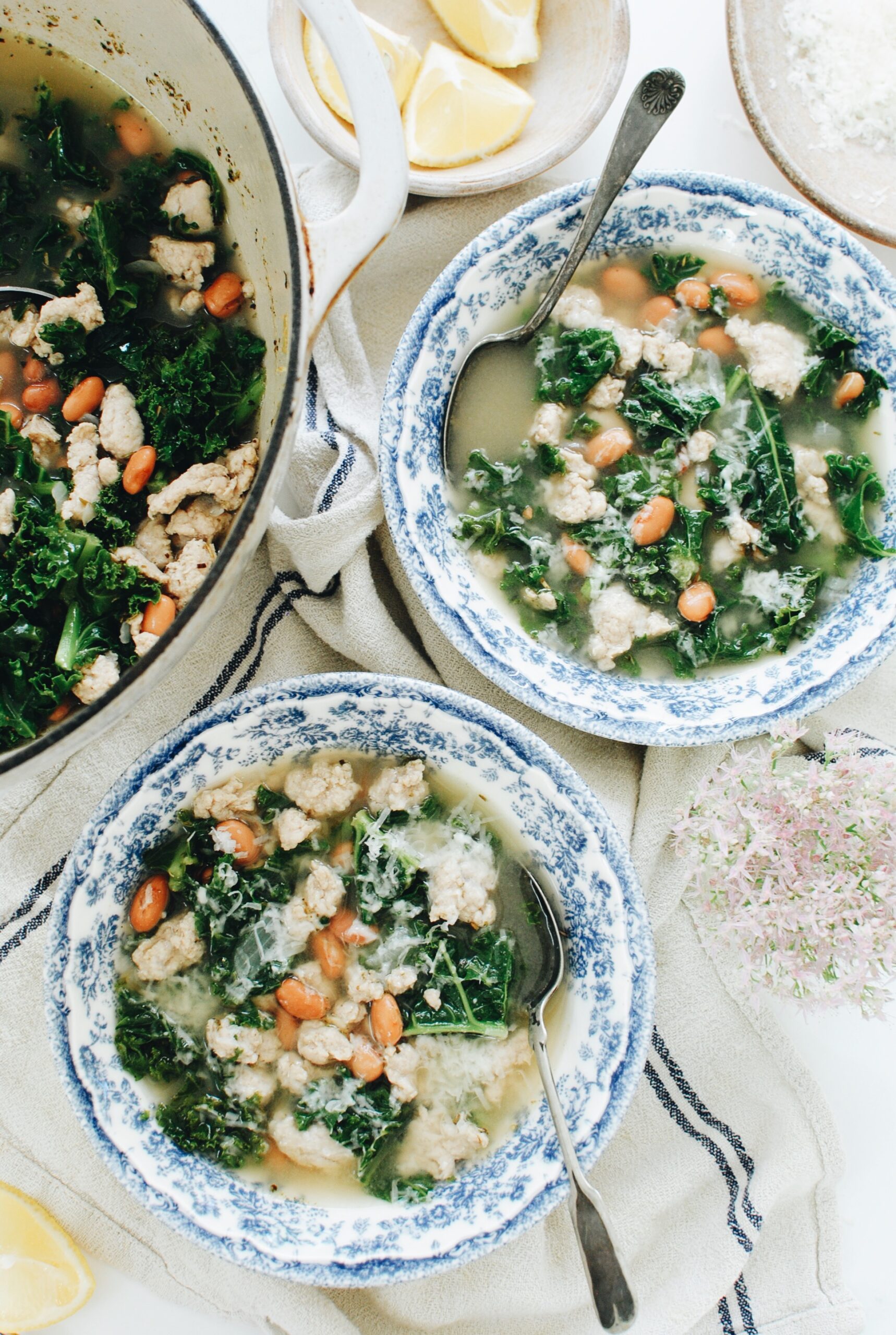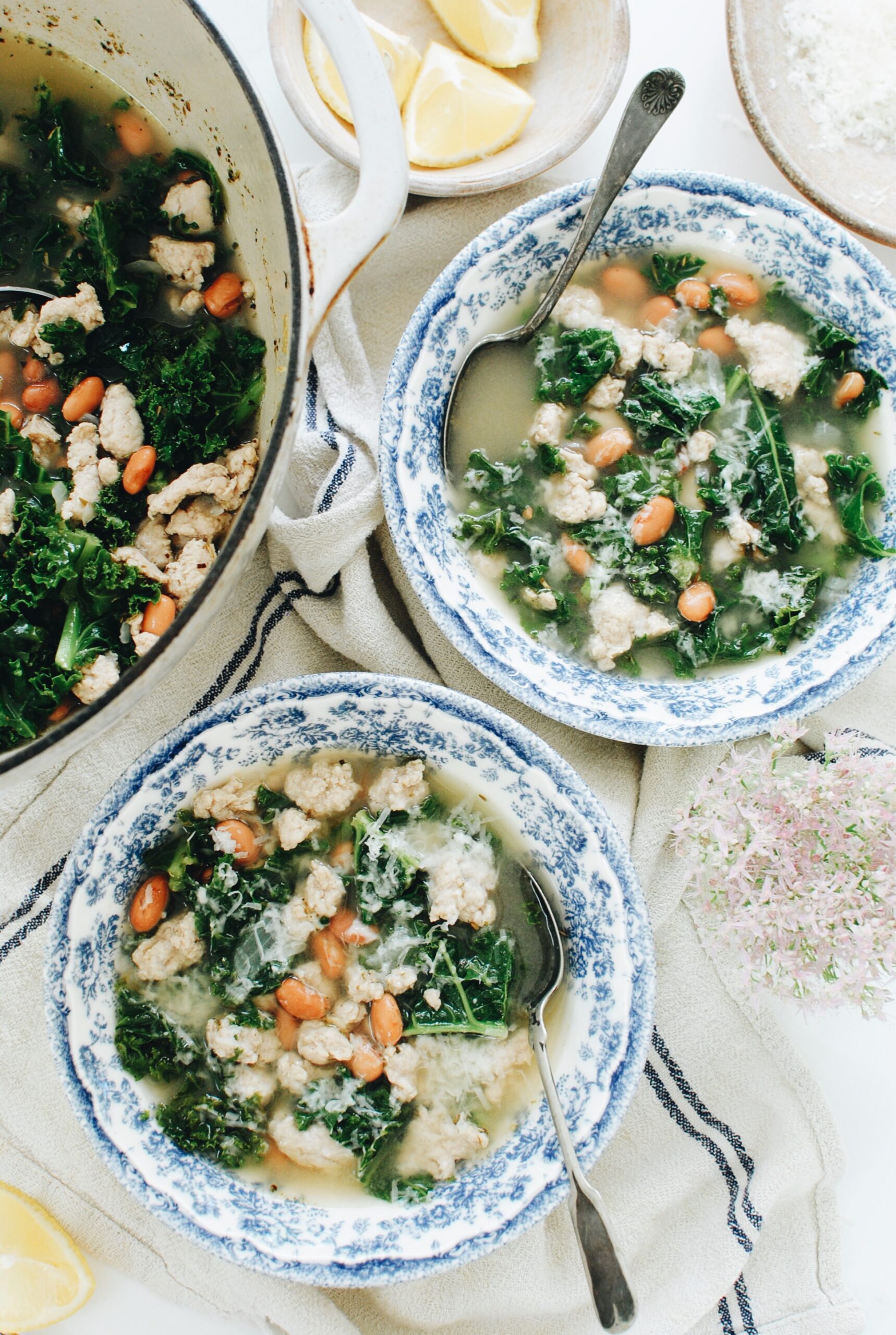 Don't forget the AWL drizzle. (that would be oil for my non-southerners.)
Chicken, Kale and Pinto Bean Soup
Ingredients
1/3 cup diced white onion
2 Tbs. extra-virgin olive oil
1 pound ground chicken
1 Tbs. dried Italian seasoning
1 tsp garlic powder
1 tsp onion powder
1 (15.5 oz) can pinto beans, drained and rinsed
5 oz kale
4 cup chicken stock
1 cup water
1 lemon
Parmesan, for garnish
Coarse salt
Instructions
In a large soup pot, heat the oil over medium high. Add the chopped onion and let it sweat about five minutes, until you see a little color on it. Give it a little pinch of salt. Add the ground chicken and break it up with a wooden spoon. Once it's all cooked through, add a pinch of salt, the Italian seasoning, garlic and onion powders. Stir the seasonings in and go another minute or two.
Add the beans, kale, stock, and one cup of water to the pot; bring to a boil. Reduce the heat to a simmer, and let this go about ten minutes, just to marry the flavors and make sure the kale is wilted. Add a good pinch of salt and the juice from half the lemon. Give it a taste. Need more salt? More lemon? Make it happen.
Ladle the soup into bowls and garnish with freshly grated parmesan cheese. Drizzle your best oil right over the top and spritz with more lemon, if desired. (You know the answer here.)
Serves four-six! (add another cup of water (or stock) if you need to extend it!)
7.8.1.2
530
https://bevcooks.com/2021/10/chicken-kale-and-pinto-bean-soup/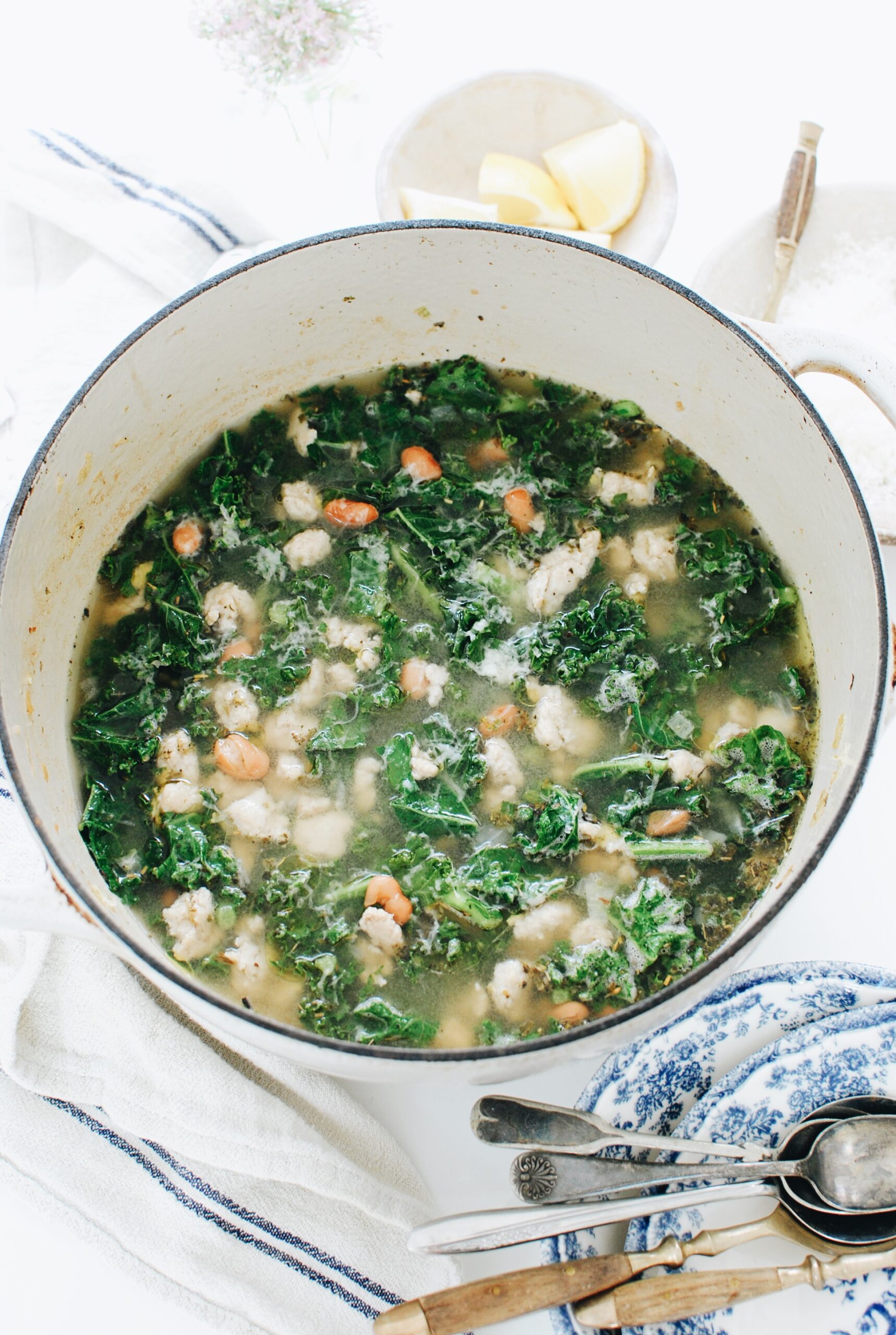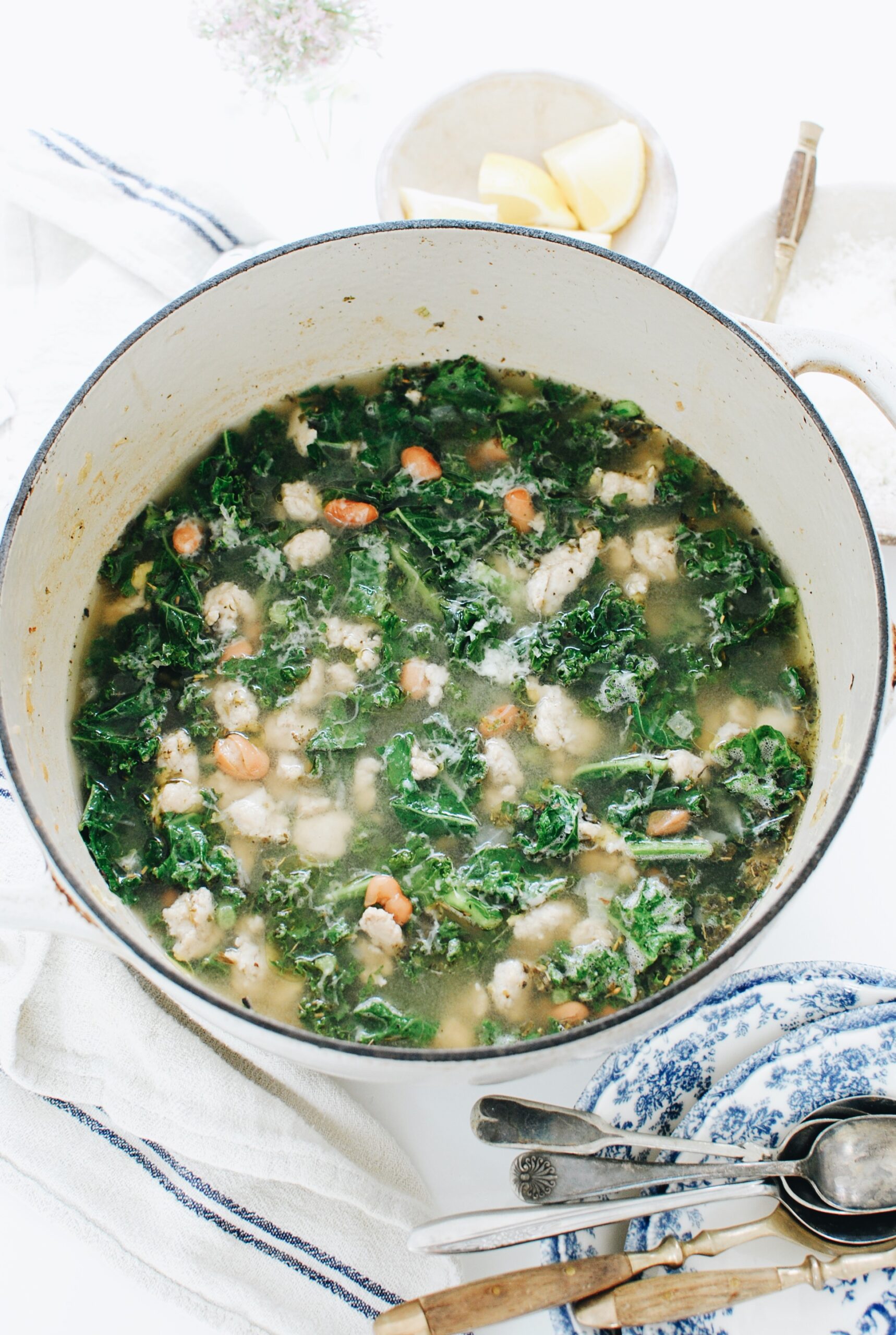 Suit up, y'all.