Look at how summery that is right now.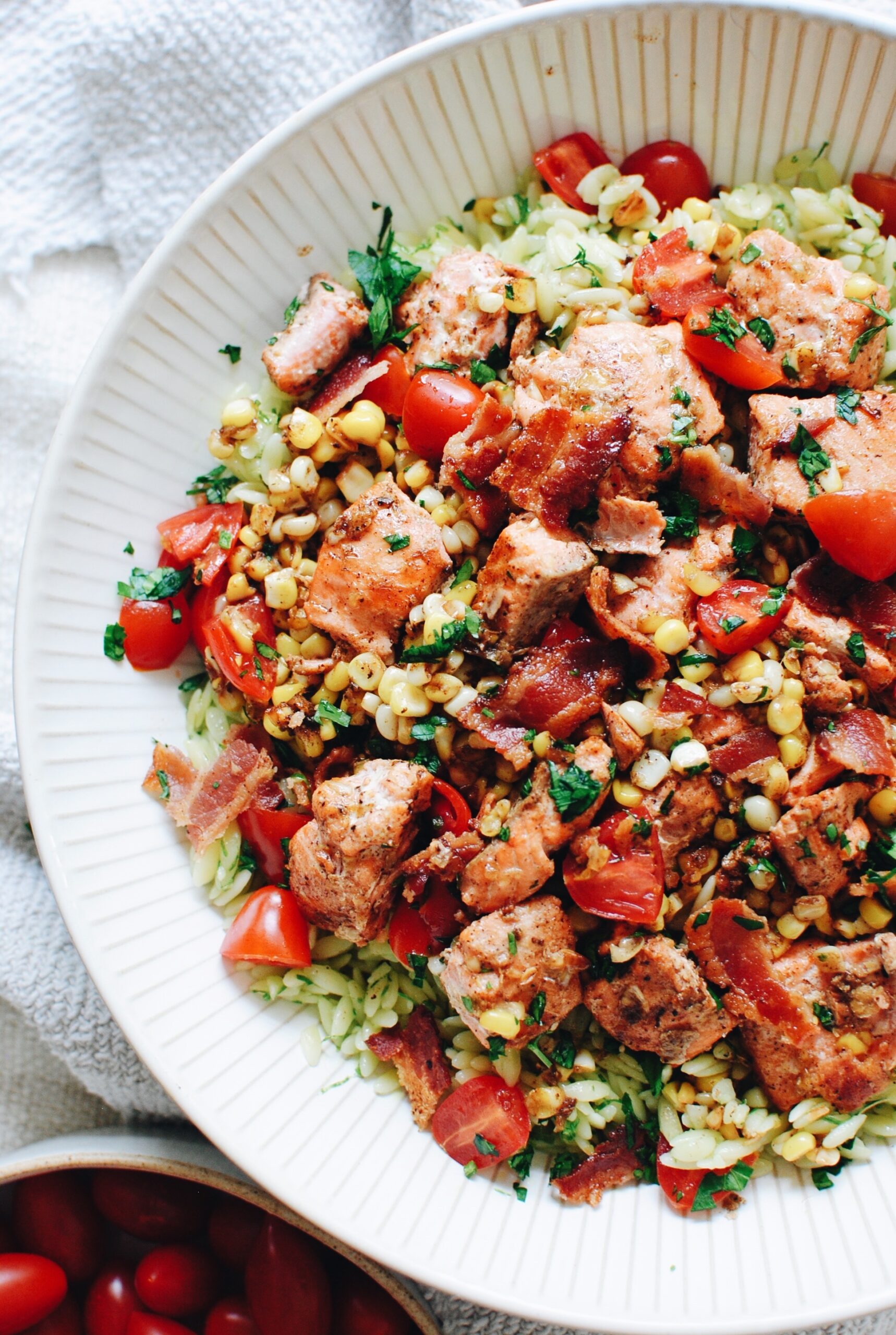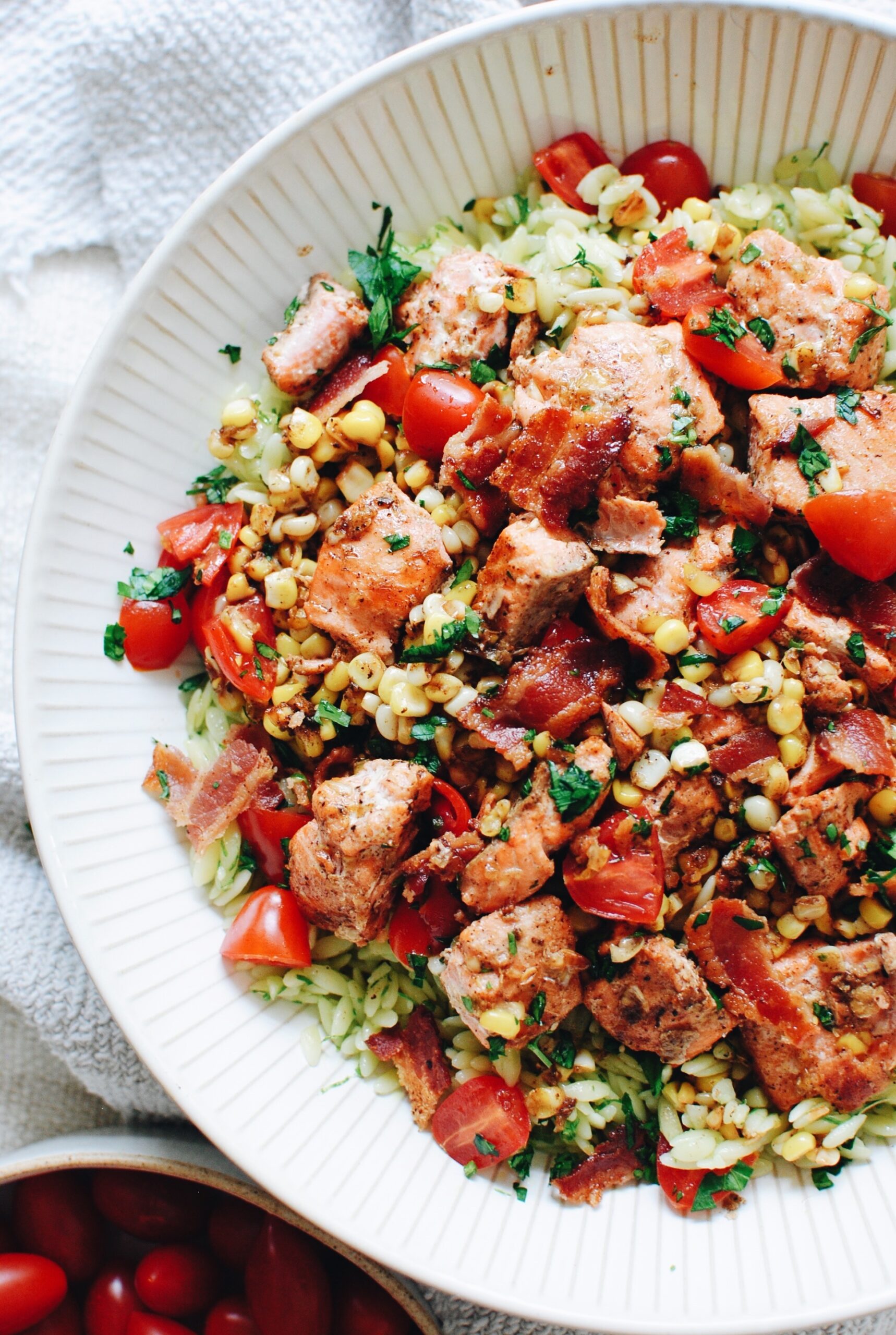 Listen, I don't wanna be harsh about salmon, because I happen to really, really, REALLY love it. But I also know that most of the time it's mega yawn town to a lot of people. So, in an attempt to change your mind over this magniFISHent (<–yes I did) food, I cubed it and cooked it in bacon fat and never will I feel a half ounce of regret.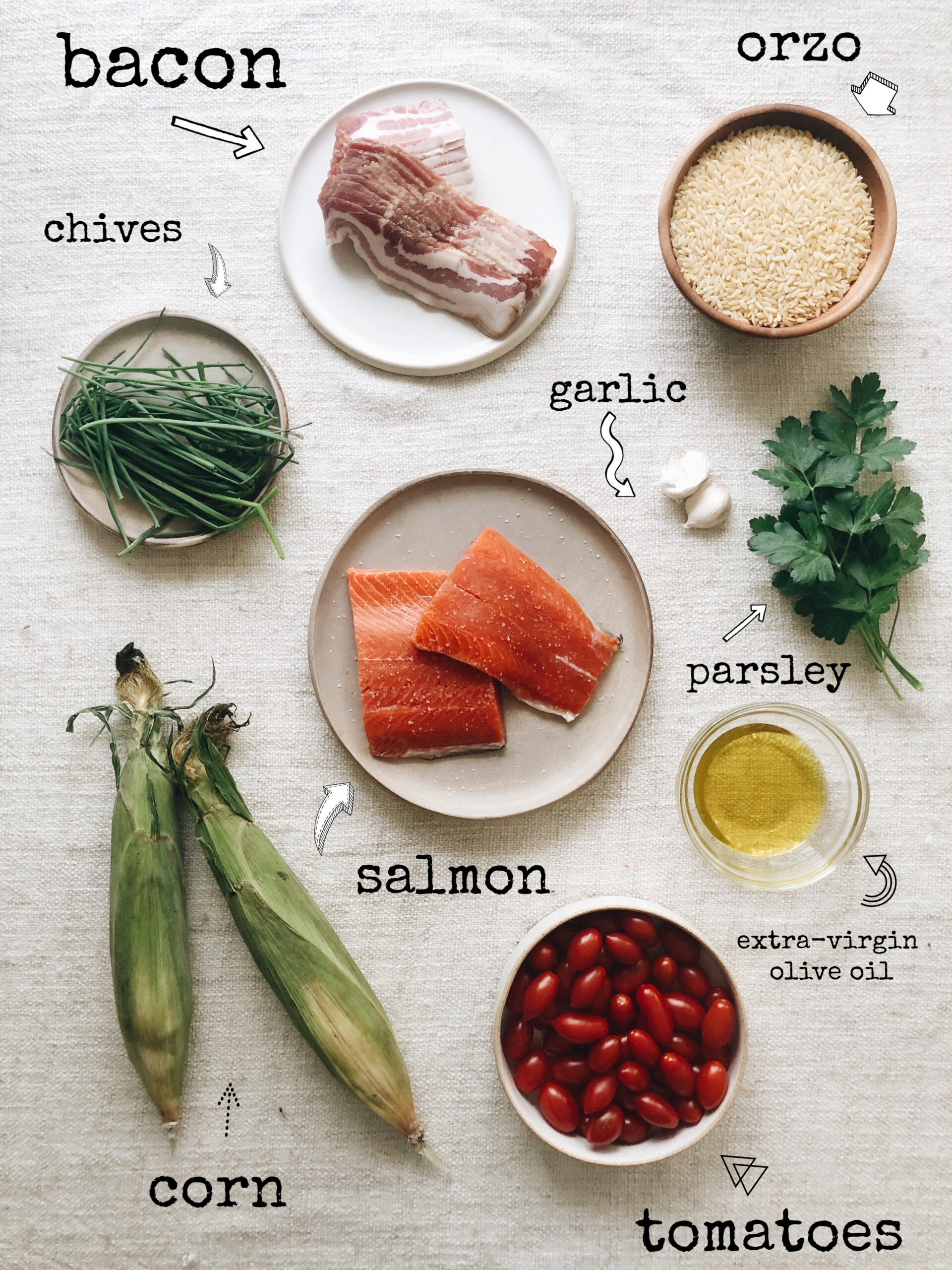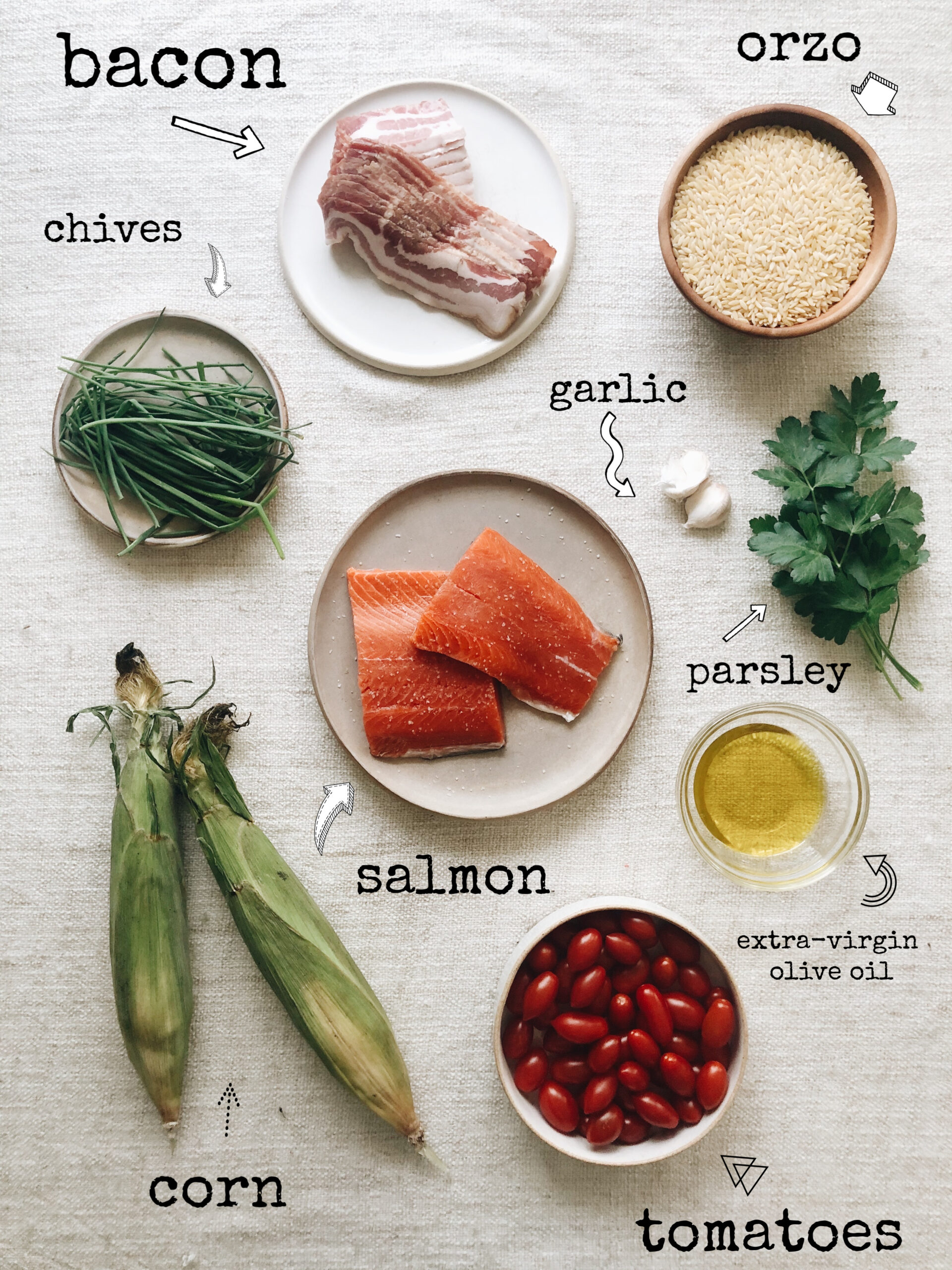 It's all pretty straightforward, this recipe. And you know, it's sort of a hodge podge mix of what I had in the fridge, and it ended up being spectacular on a a humid mother of a night.
See all of that? Can you get that stuff? Good. Very good.
I WILL say, try and get salmon that doesn't have the skin on the bottom. Because we'll just cube it up and cook it. I had to peel that skin off and while I've healed since, it wasn't a cute five or so minutes in my life. Go skinless.
Scaleless. Skinless. Why does all of this sound so weird?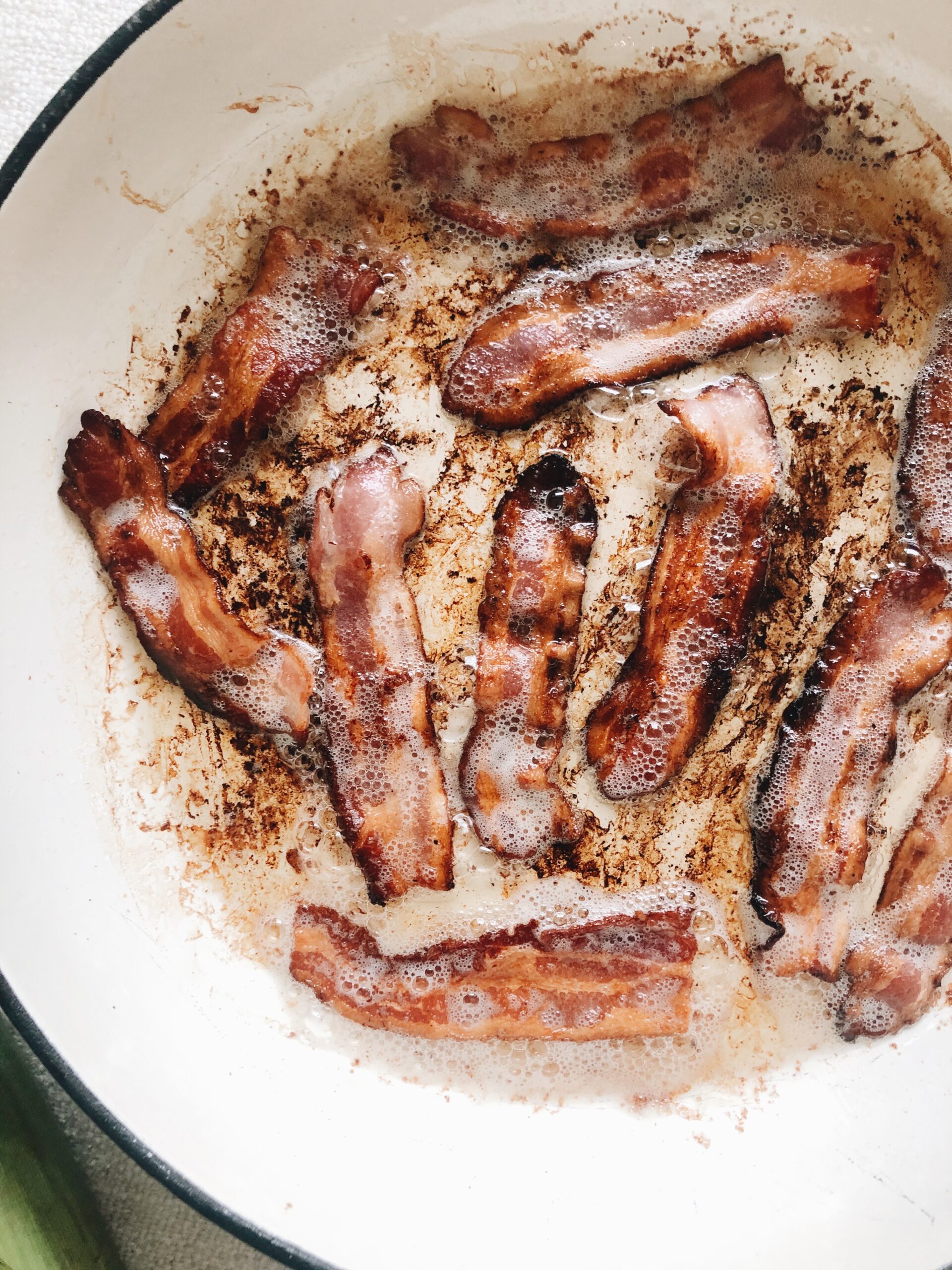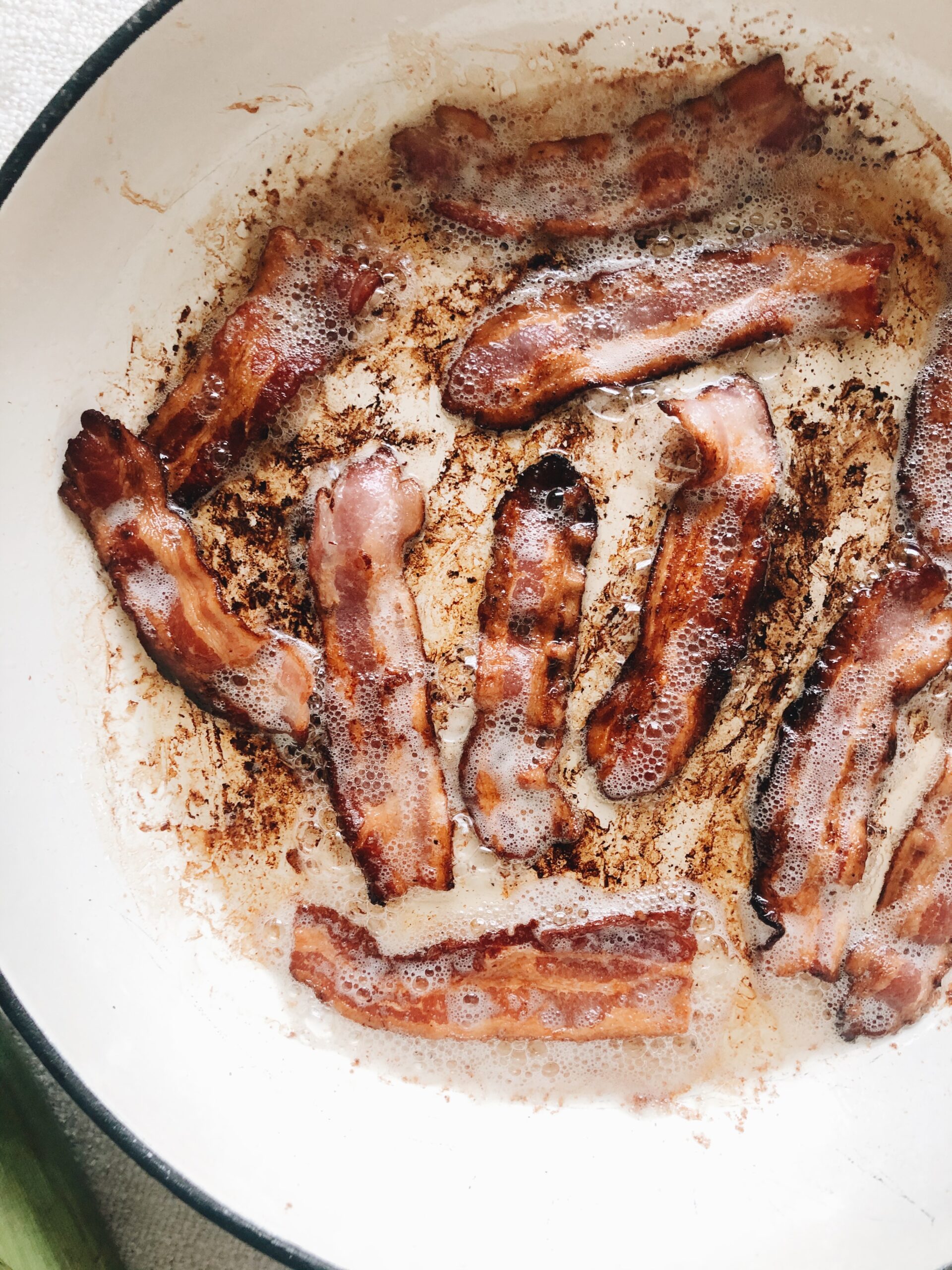 Cook your bacon. I always cut my long strips in half so that they fit in the pan better, but you live as you see fit.
In a bit you'll crumble it before adding it all back. I view crumbled bacon as full permission to snack. You with me? I knew we understood each other.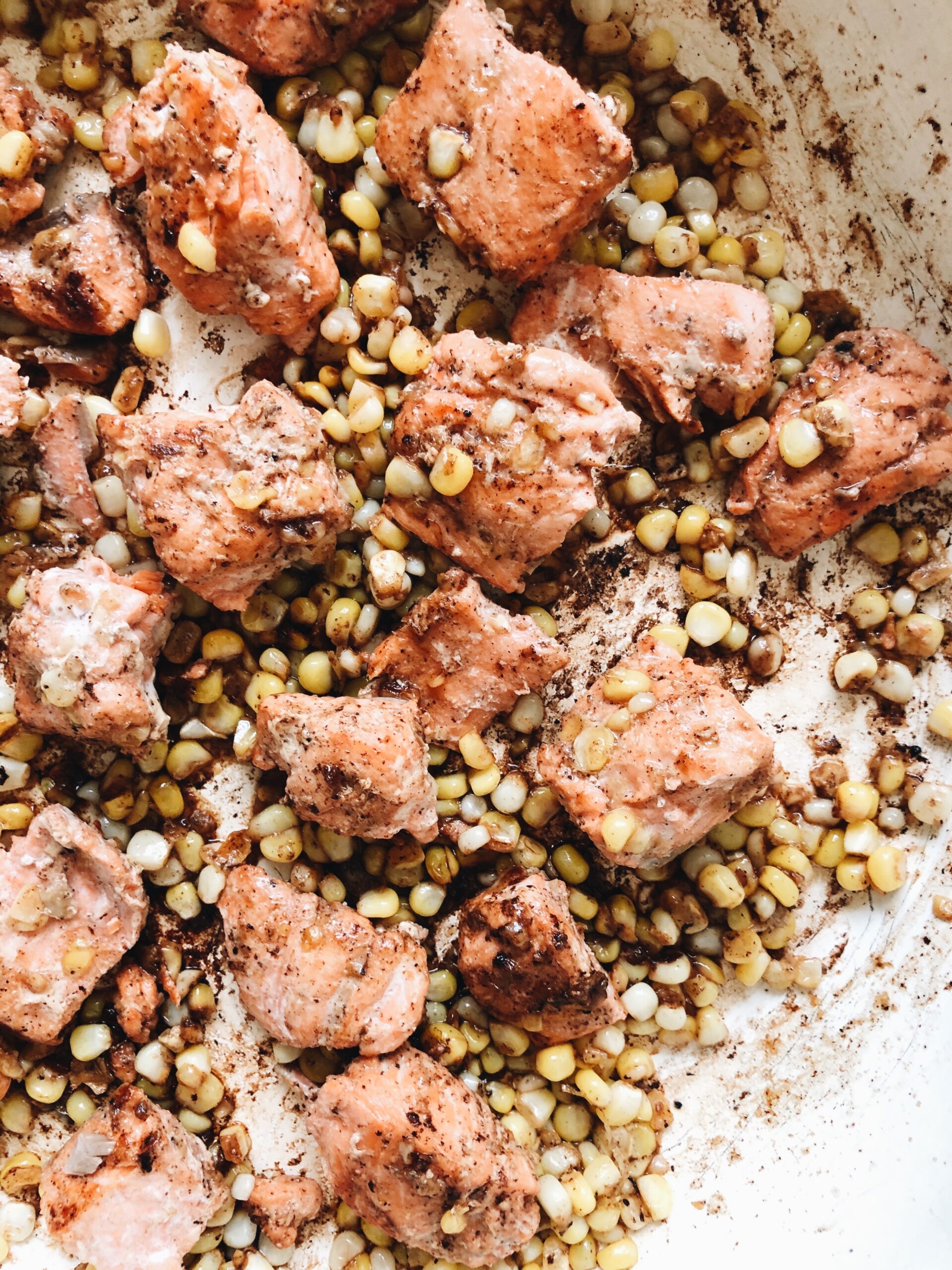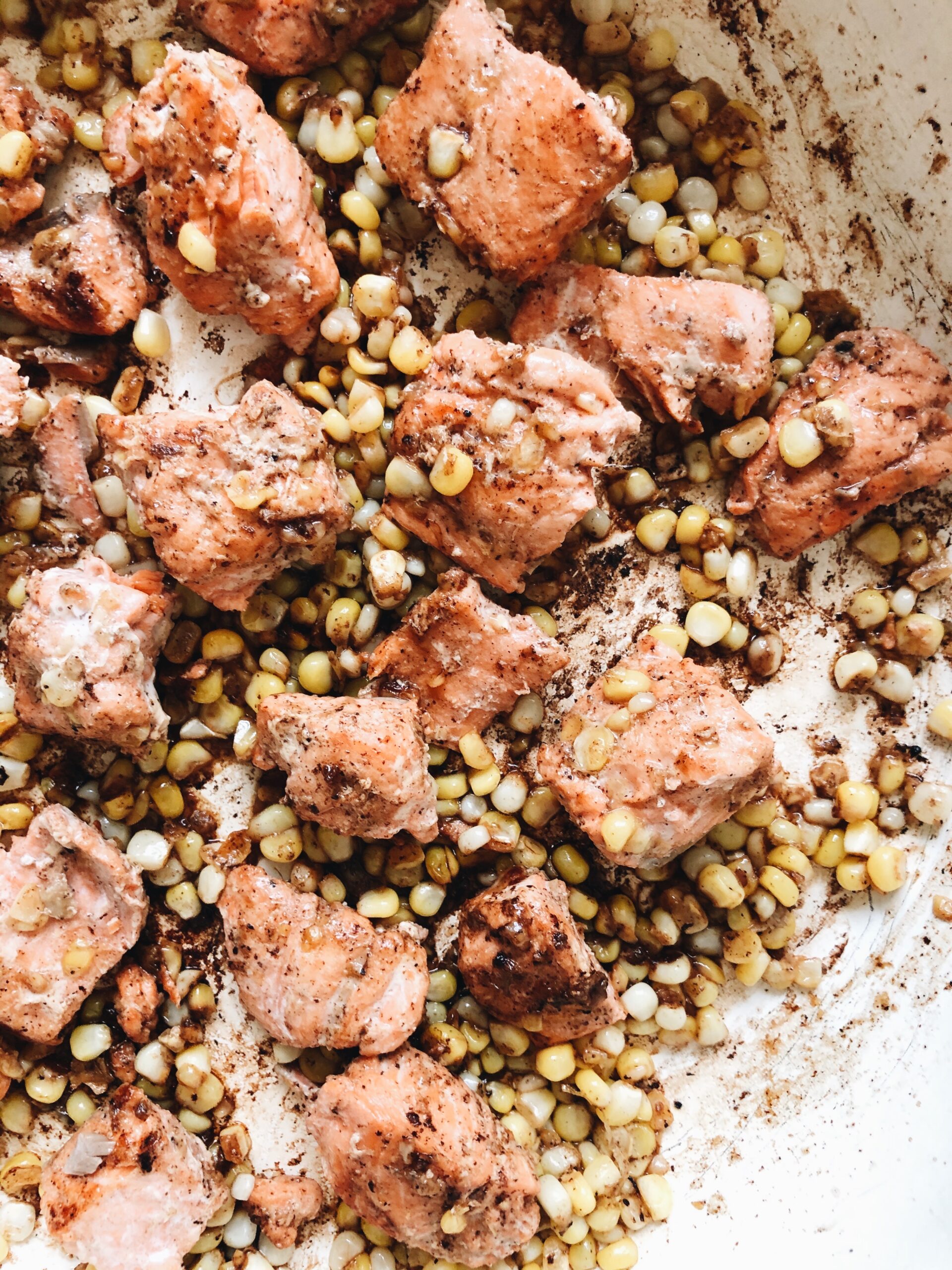 In that bacon fat we'll cook our corn and our cubed salmon. I DID drain much of it off, but kept about a Tbs. or so. Tell you what, pour the fat ("you were gonna drink the fat!" – NTS) into a little cup or glass, then pour a little back into the pan if you need a tiny drizzle here or there. It's okay.
The salmon and the corn will take on those beautiful bacon grease speckles and this is what we want, you see. You've done proper.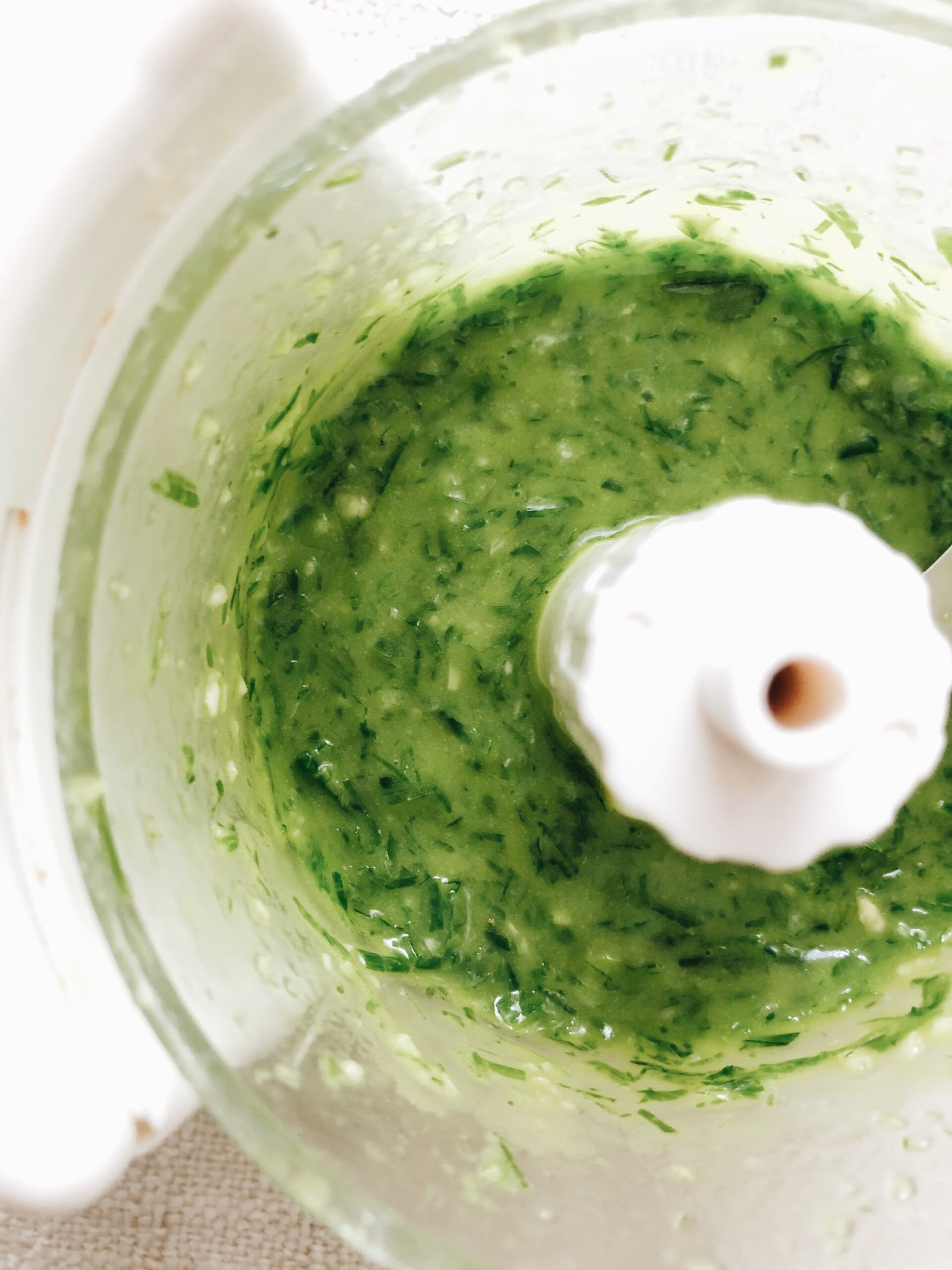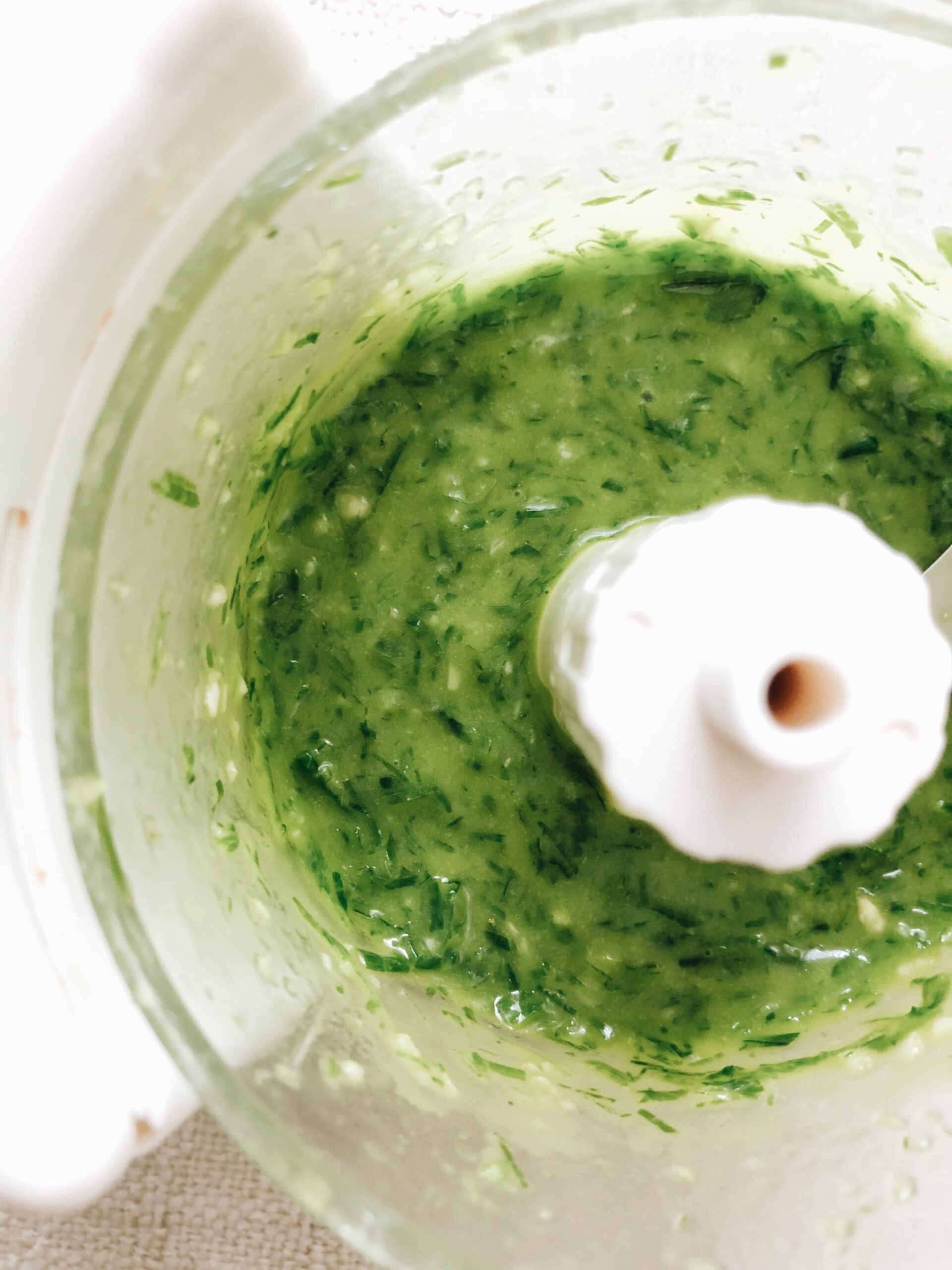 Oh, I mentioned we're making a chive oil, right?
No? I didn't mention that yet?
We're making a chive oil. With chives and oil but I feel like you caught that. Chives, garlic, salt and your best extra-virgin olive oil. This is all in a small food processor and it's absolute heaven. You know it has that sliiiiight onion essence, being a chive and all, but also earthy, fresh and herby. This is exactly what we're going for here. Toss that chive oil with your cooked orzo and look at that vibrant green bowl of summer glory. I didn't get a photo because I'd temporarily passed out at how pretty it was. Took me about 15 minutes to come back. By then I've moved on.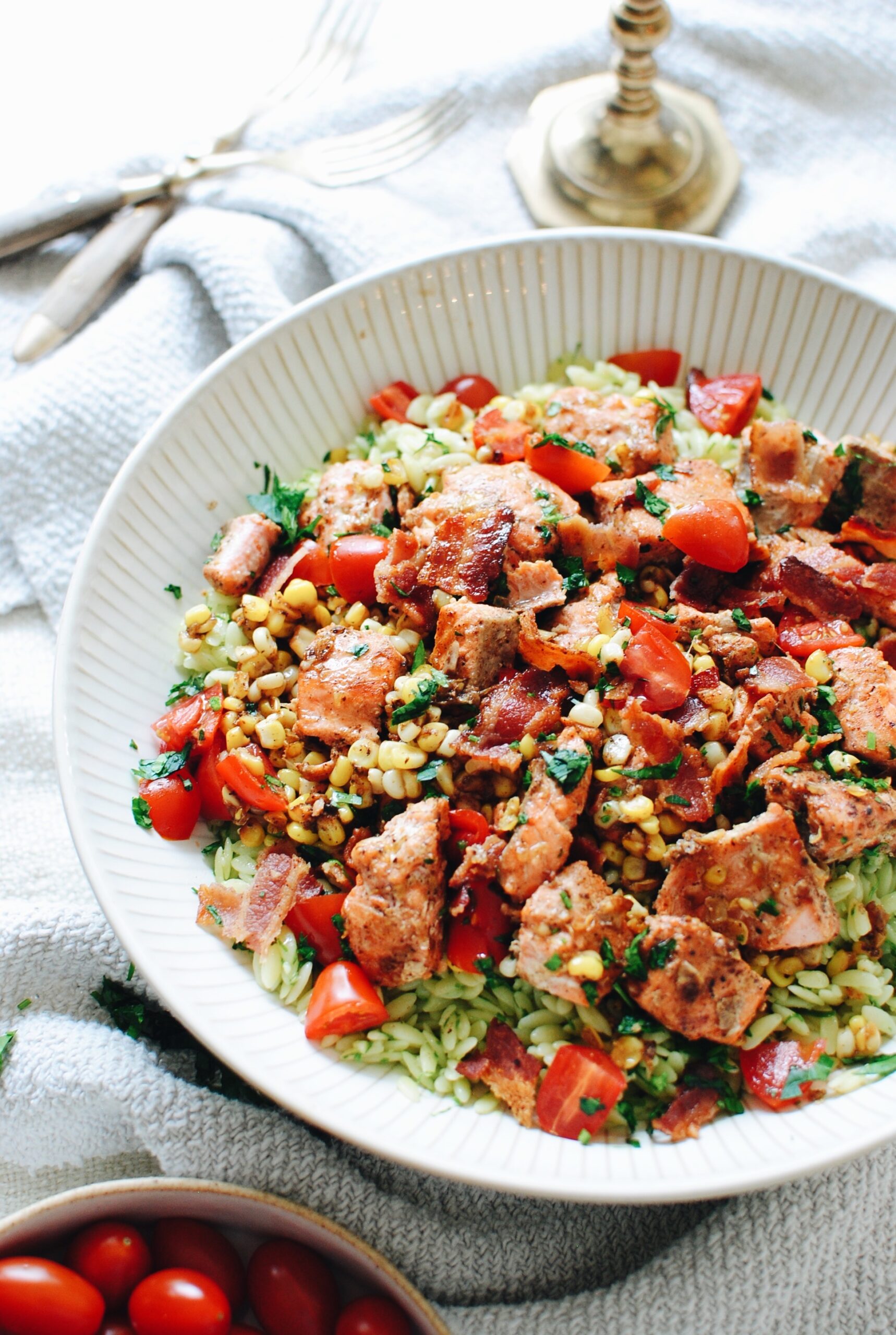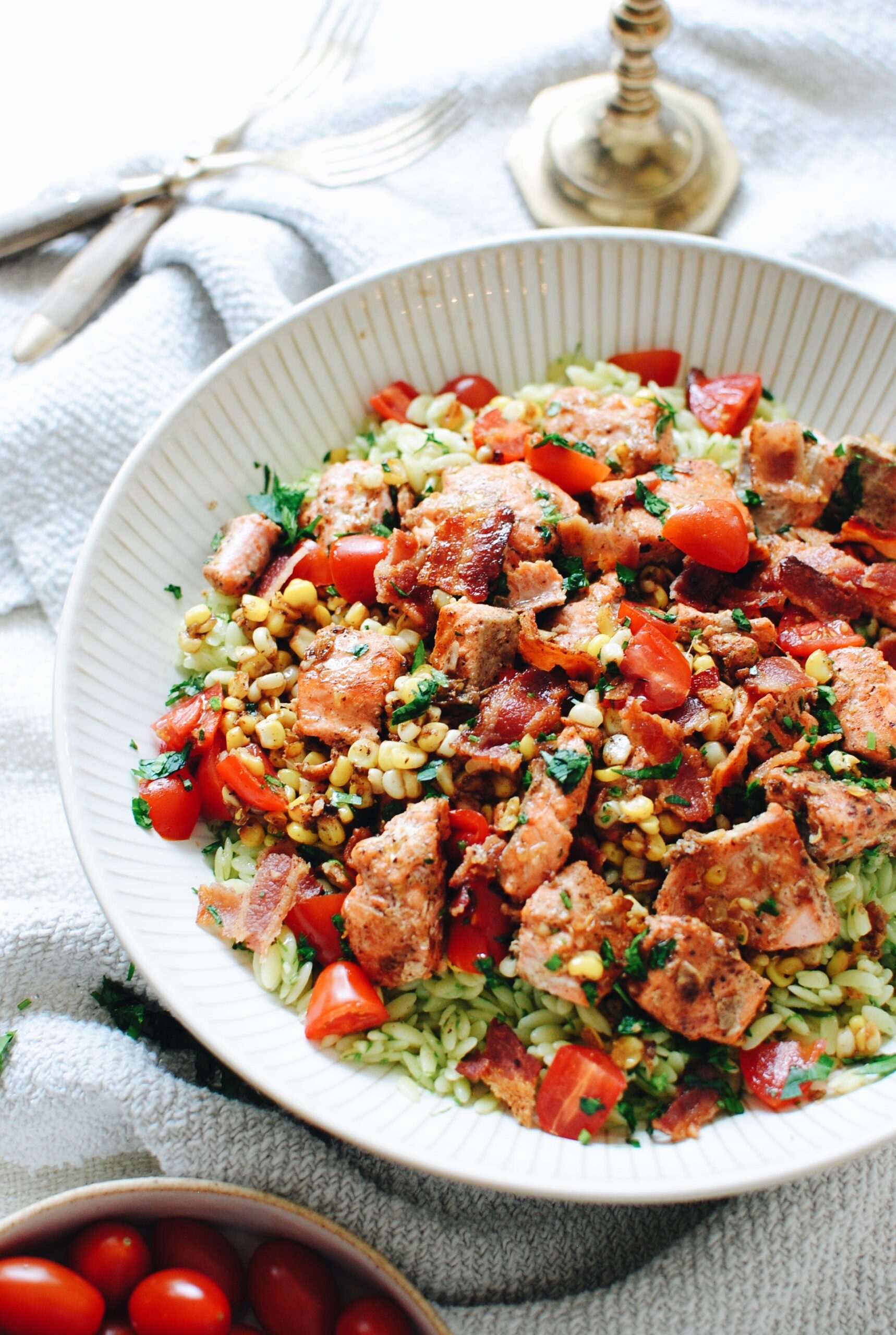 And then you just pile it together! While everything was cooking I quartered cherry tomatoes. The recipe calls for a little more than you might want to use, so just go with your gut. You love tomatoes? Quarter a bunch. Just want a little? Rest on it, then. You're good.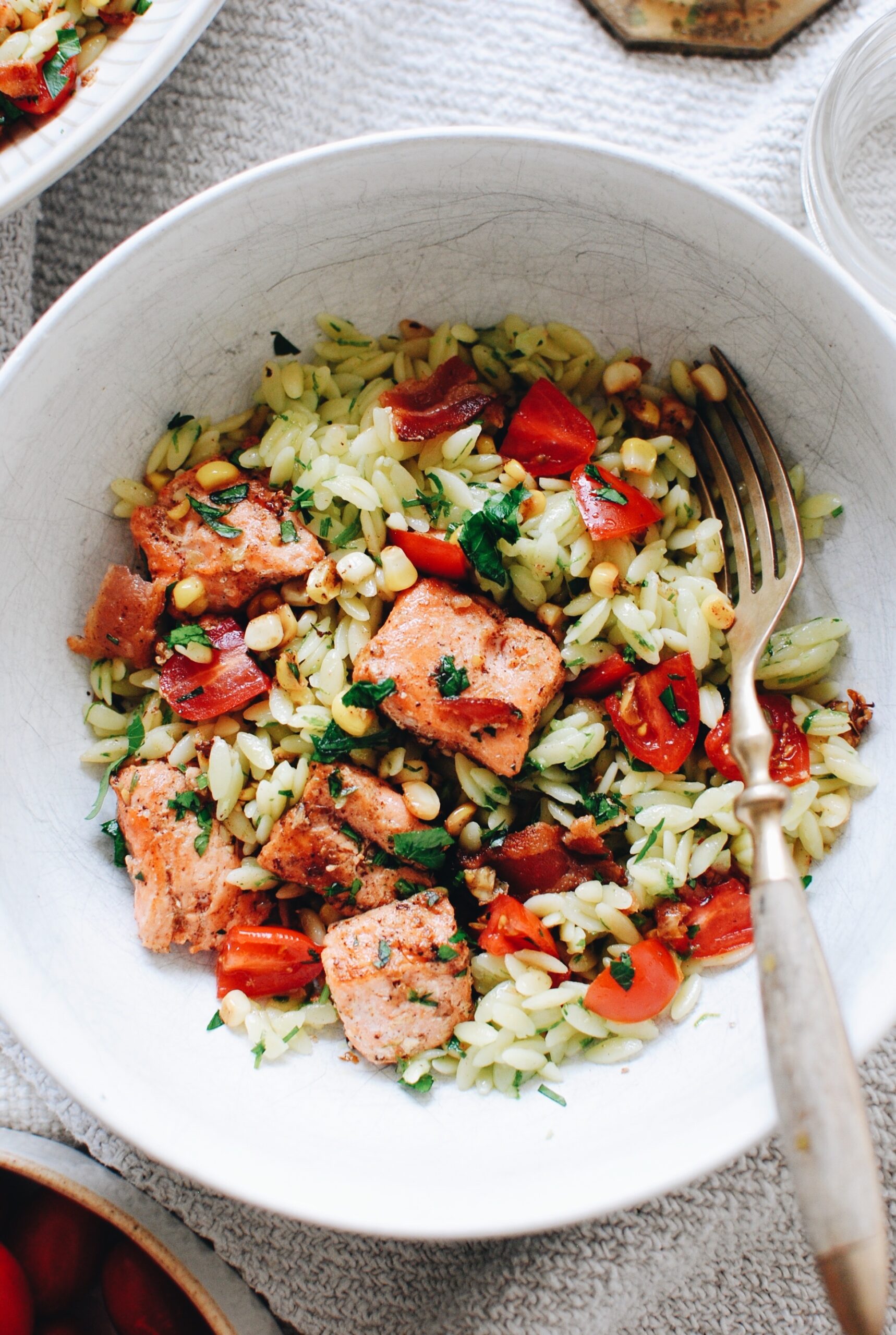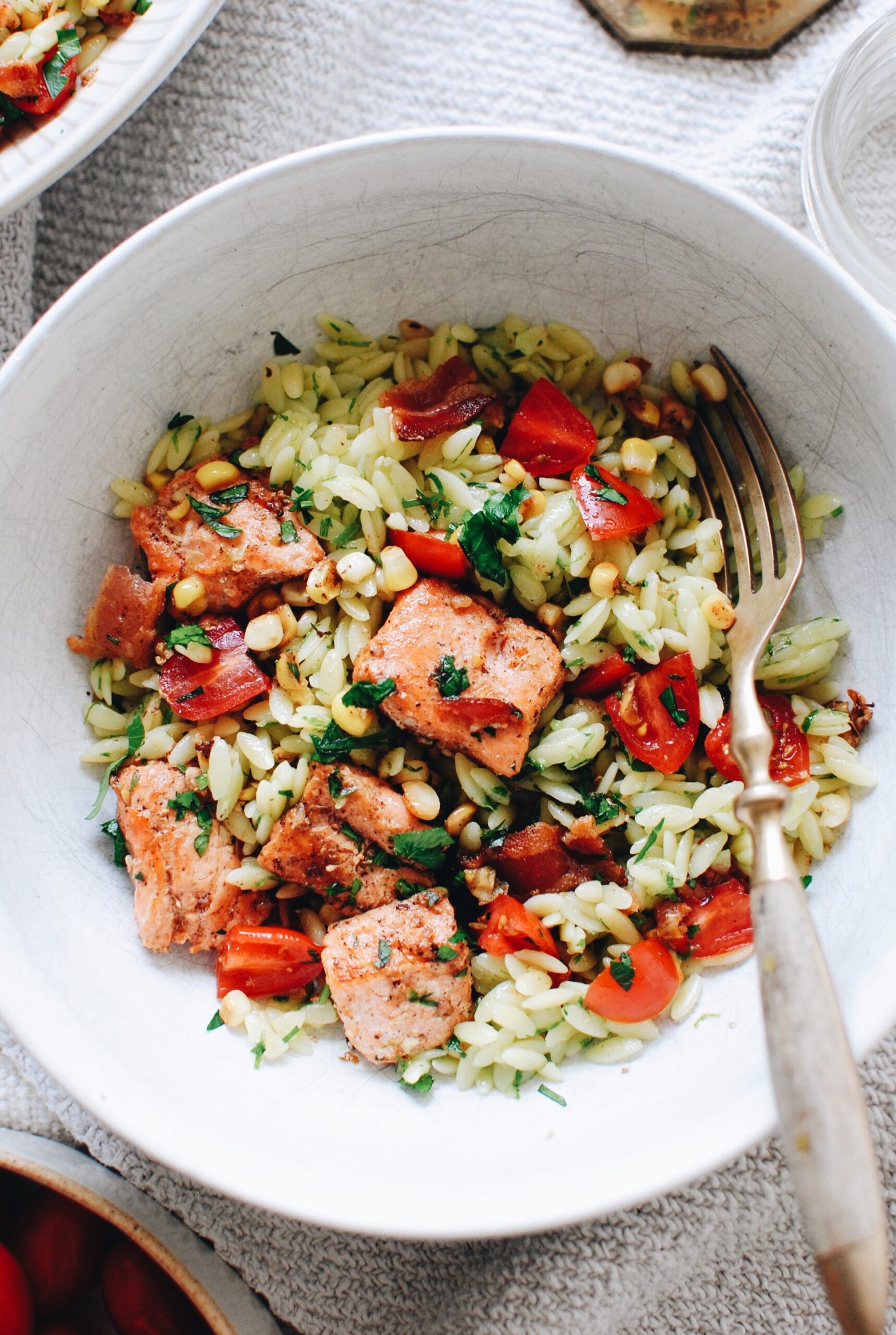 Gosh, there's just so much going on in this. That corn is sweet, the bacon smoky, the orzo coated in that chive and garlic blanket, the salmon flaky and savory, and you also cut up some parsley for garnish. I slid that one in like James Bond. You can also spritz some lemon on it all! You'd be a good person going that route. I always like to add a tiny bit of finishing salt and maybe oooooone more drizzle of AWL, but you fly. Tweak it the way you dig. It's summer eatin'.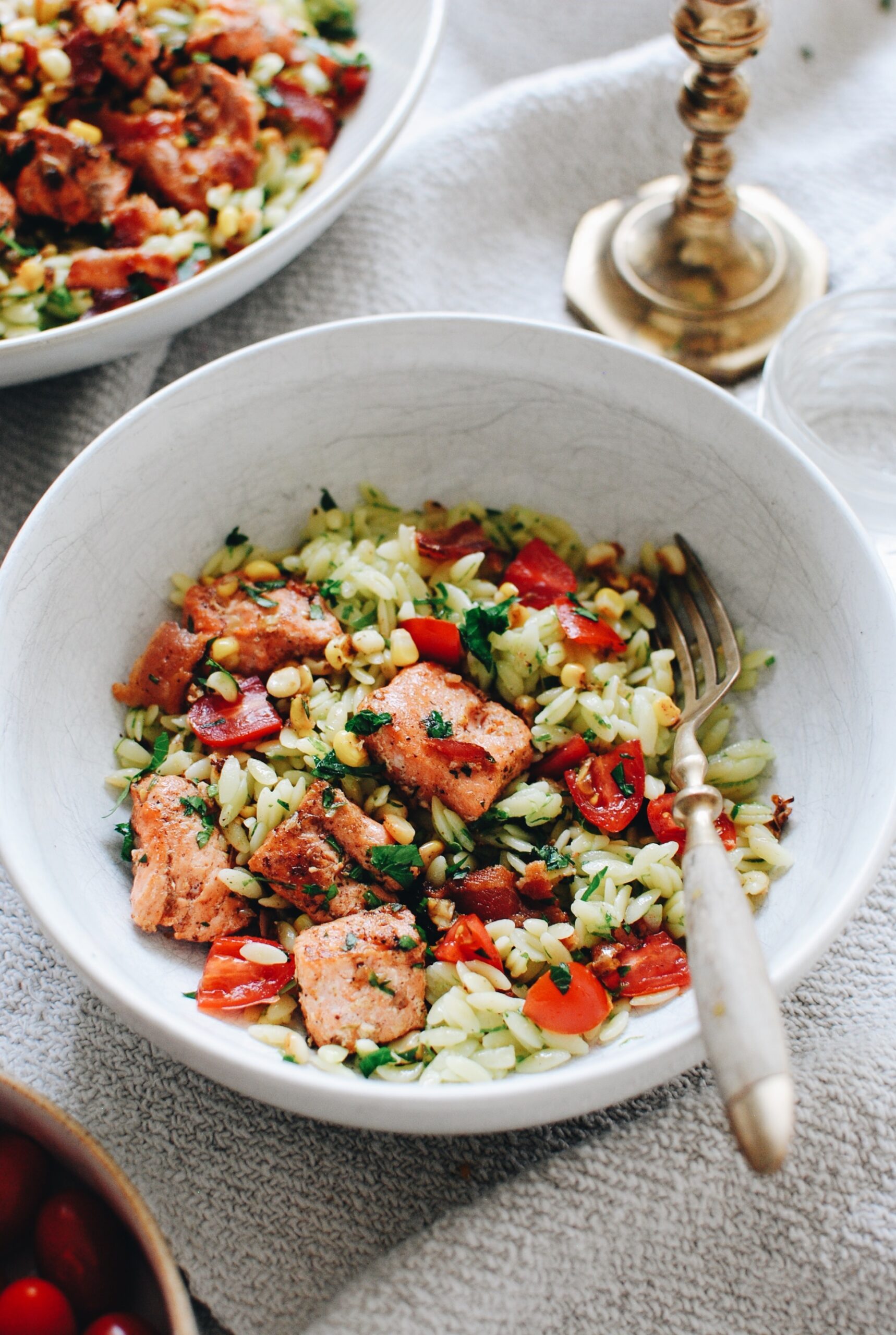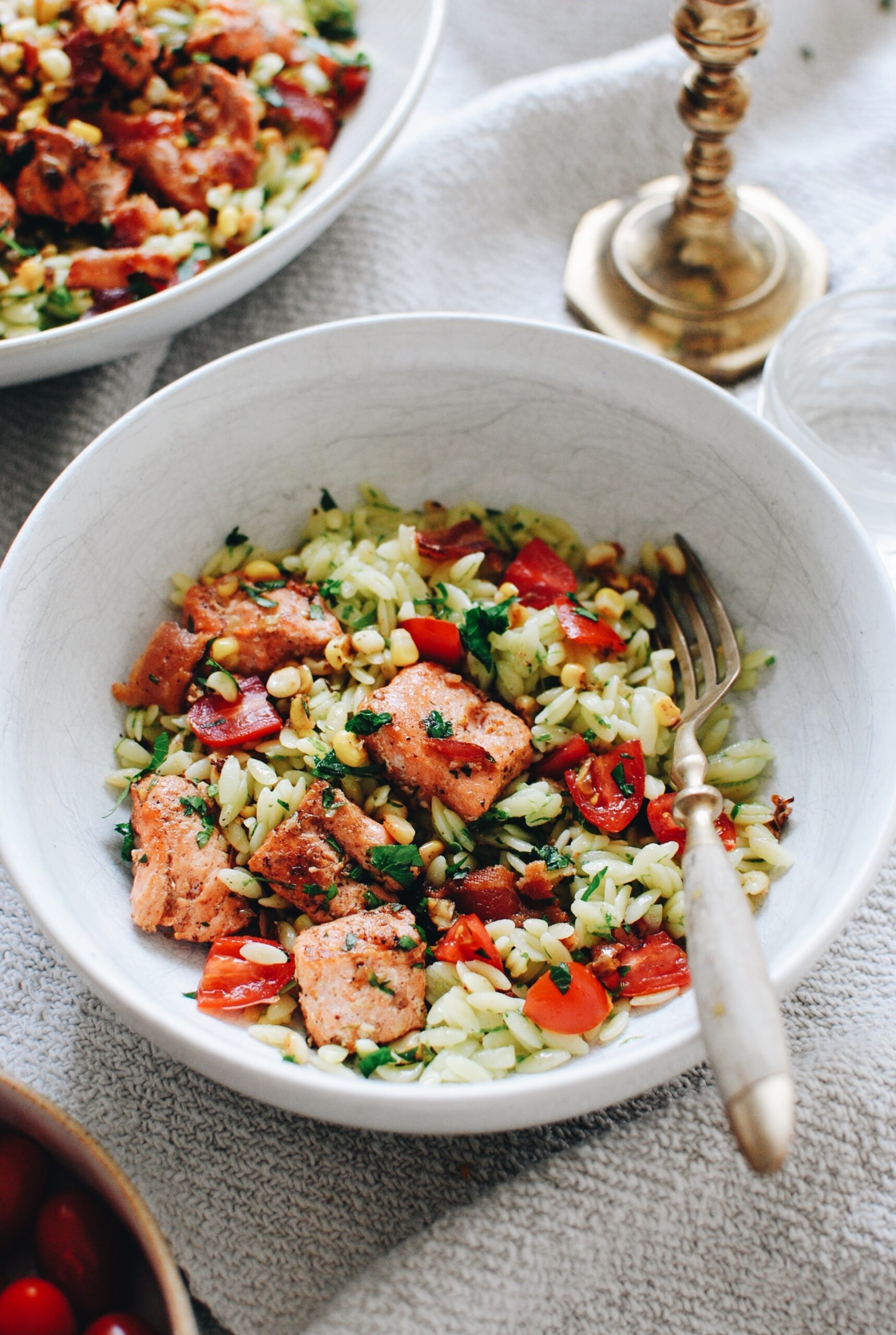 Now THIS is the way to eat salmon.
Salmon with Bacon, Corn and Chive Orzo
Ingredients
12 oz skinless salmon, cut into 1-inch pieces
2 cobs of corn, husked and kernels sliced off
1/2 pound bacon, cut in half
10 oz cherry tomatoes, quartered
.8 oz chives, cut into smaller pieces
2 cloves garlic
4 Tbs. extra-virgin olive oil
1 pound orzo
A small handful of chopped parsley, for garnish
Coarse salt
Instructions
Heat a wide skillet over medium heat. Add the bacon strips and render until crispy and bright red, flipping every couple of minutes. Move the bacon out and discard all but about a Tbs. of bacon fat. To the pan, add the salmon chunks and corn. Season with a pinch of salt and sauté until the salmon is cooked through and starting to brown in places, about five minutes.
In the meantime, bring a large pot of salted water to a boil. Cook the orzo until al dente, according to package directions.
In a small food processor, combine the chives, garlic and a pinch of salt. With the motor running, add the oil in a thin stream. You've made a chive oil! Taste it. Need more salt? You know what to do.
Toss the chive oil with the cooked orzo, and top it with the crumbled bacon, salmon and corn mixture, and quartered tomatoes. Garnish with parsley and give that a taste. Maybe a hit of fresh lemon juice! That's always the way.
Serves 4!
7.8.1.2
431
https://bevcooks.com/2020/06/salmon-with-bacon-corn-and-chive-orzo/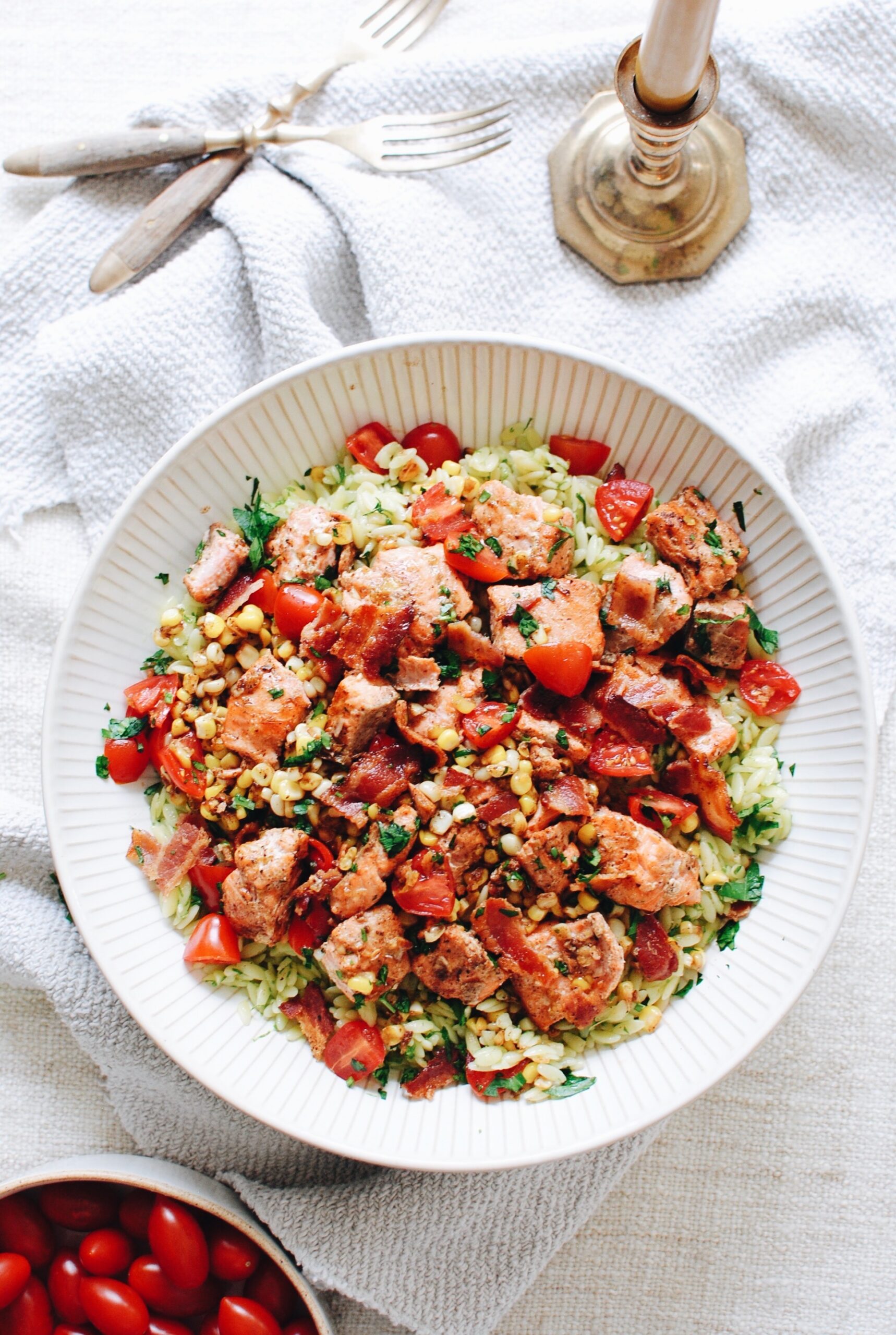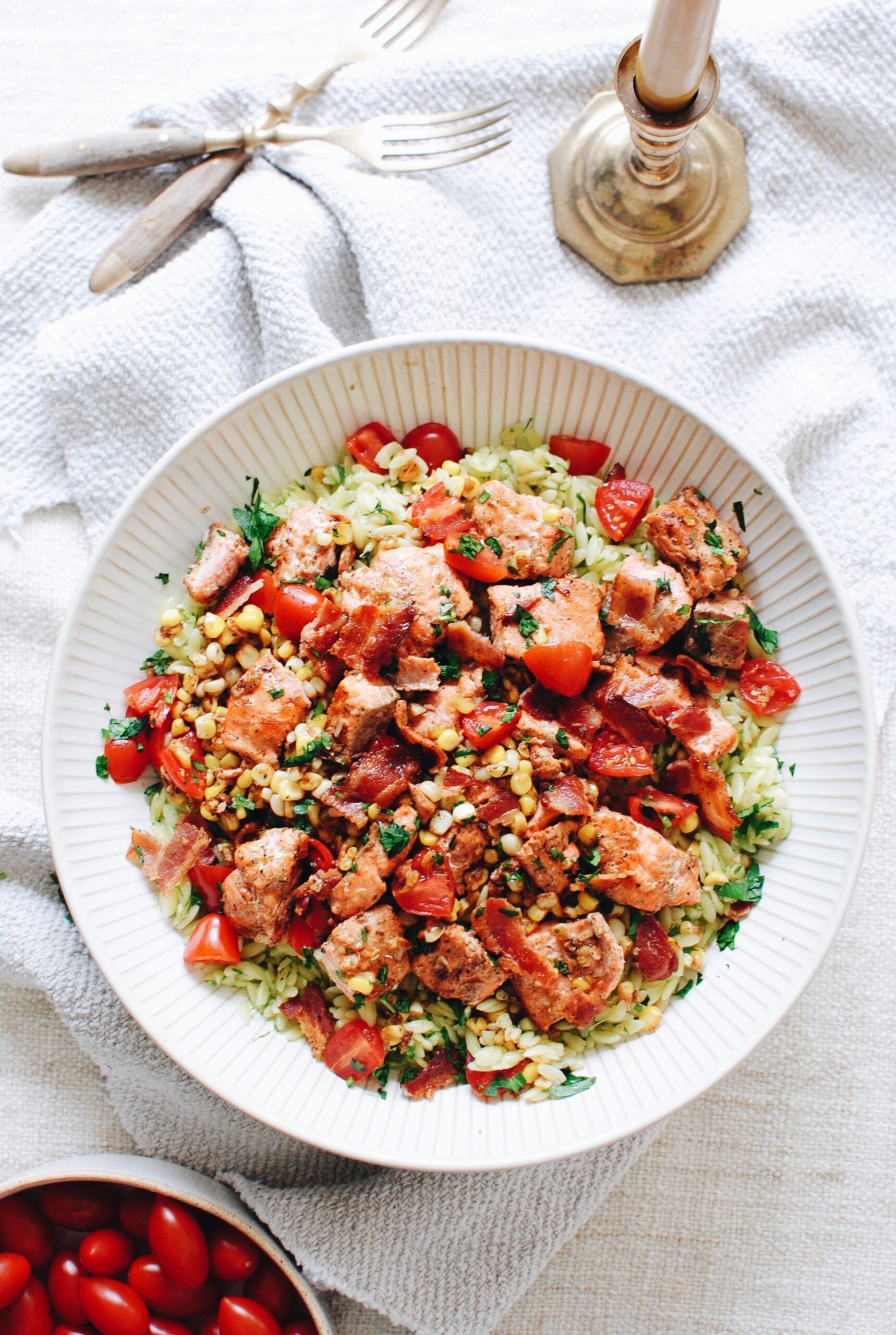 It's okay if you need to lie down.