And just barely barely fried! But still a little fried. See how I love you?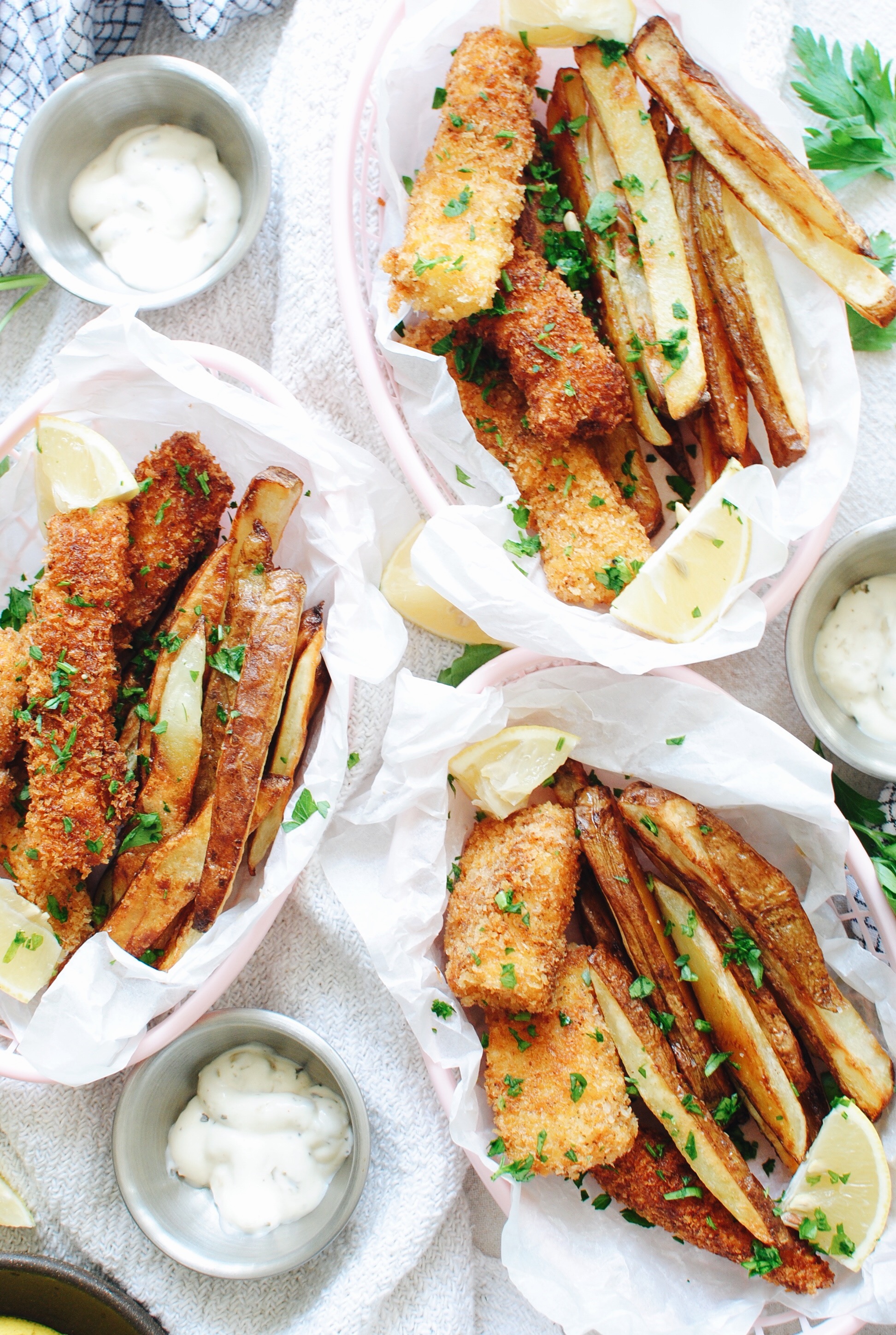 But dudes. Don't even try to learnt me on if it's Fish 'N Chips, or Fish N' Chips, or Fish 'N' Chips or Fish NSYNC Chips. I don't get it. Never will. So Fish AND Chips it is.
So glad we had this talk.
The inspo for this recipe comes from a few different life places. Yes "life places" is a thing.
First off, our two coastal trips over the last couple of summers. Der. We snarfed them constantly. MORE often in Oregon, as opposed to the lobster rolls/fried clams on the east coast. But, I feel like . . . where there's water, there's a fish and chips stand fifty feet away.
Don't quote me on that.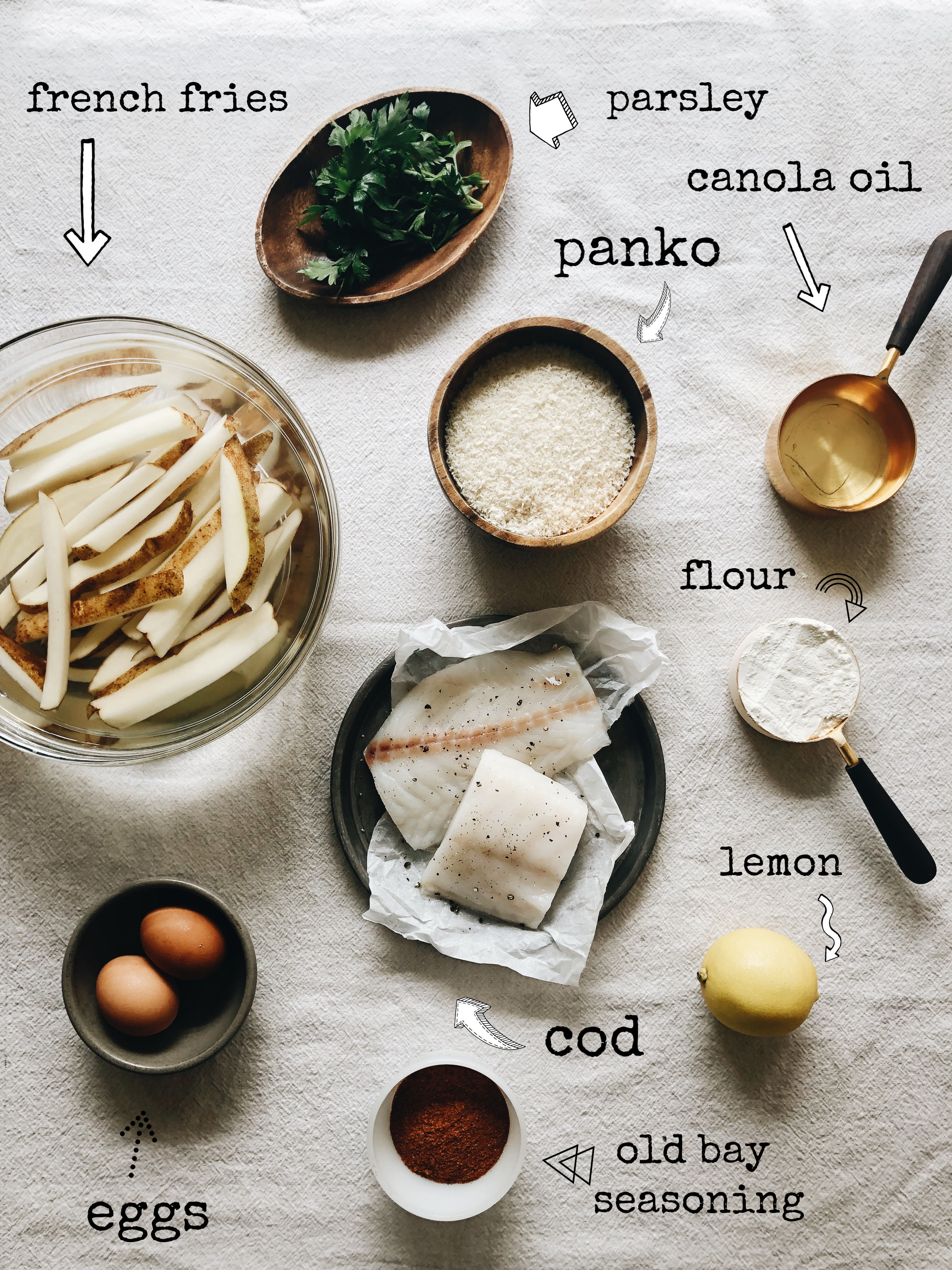 The other bit of inspo for this comes from the little Everything Bagel Chicken Tenders I made you a short while back. I took the concept of the tenders + panko + NOT Everything Bagel BUT Old Bay, and got to boogieing.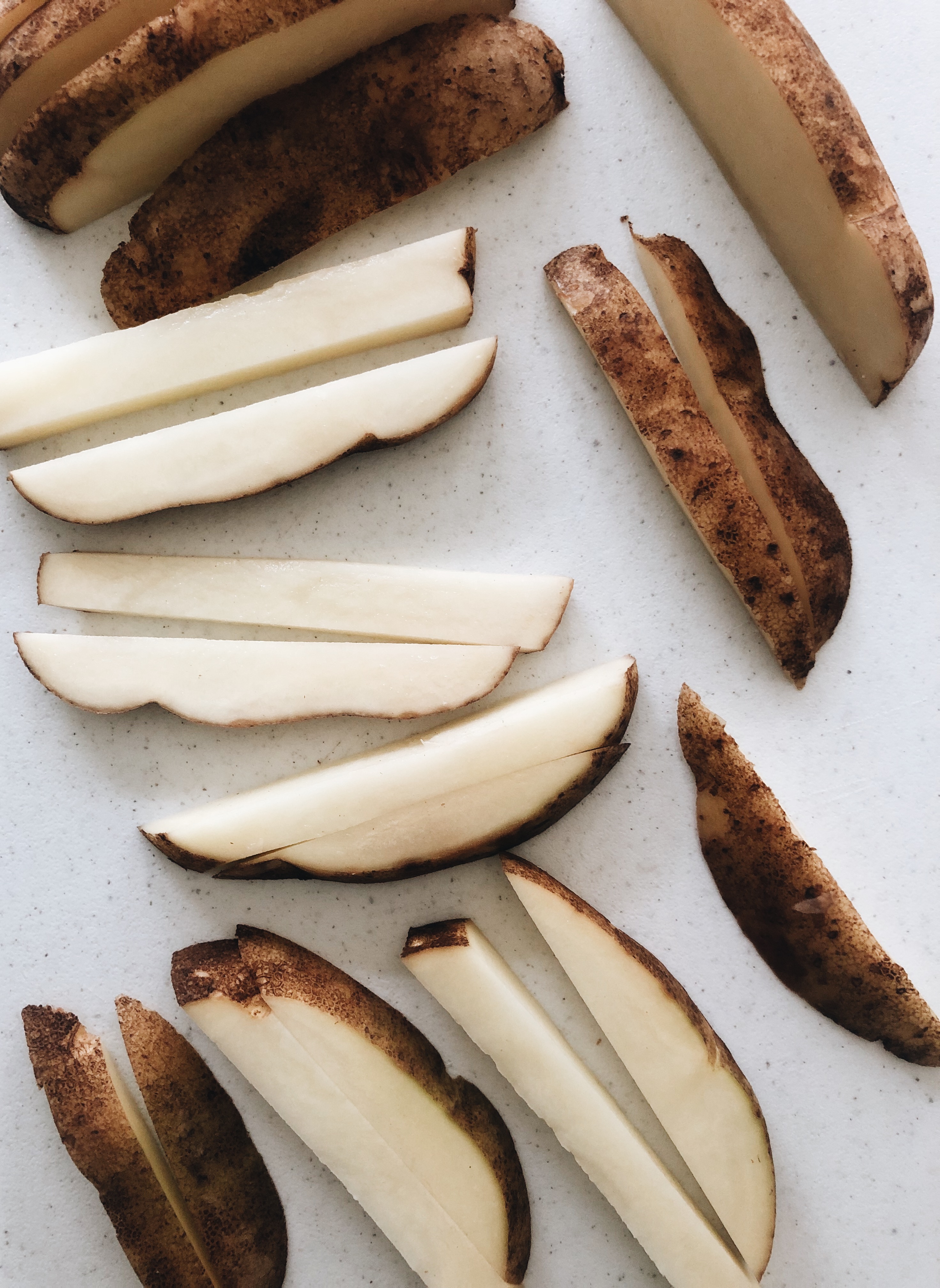 Let's discuss these fries. I like to call them pub fries, because they're not overly skinny, and have some gutsy guts to them. PLUS, when you're slicing the russet, it's easy to get even sticks because you're basically cutting in half lengthwise, then into four or five pieces, and then the super thick ones in the middle in half. #math
But what you'll DO is soak them in cold water for at least an hour. Up to all afternoon if you want. This helps remove from the starch from the fries, so that they crisp up divinely in the oven. And I mean sinfully crispy. No sog. You'll curse my name so good.
(Be sure and pat them bone dry before spreading on a baking sheet with oil and salt! Okay bye.)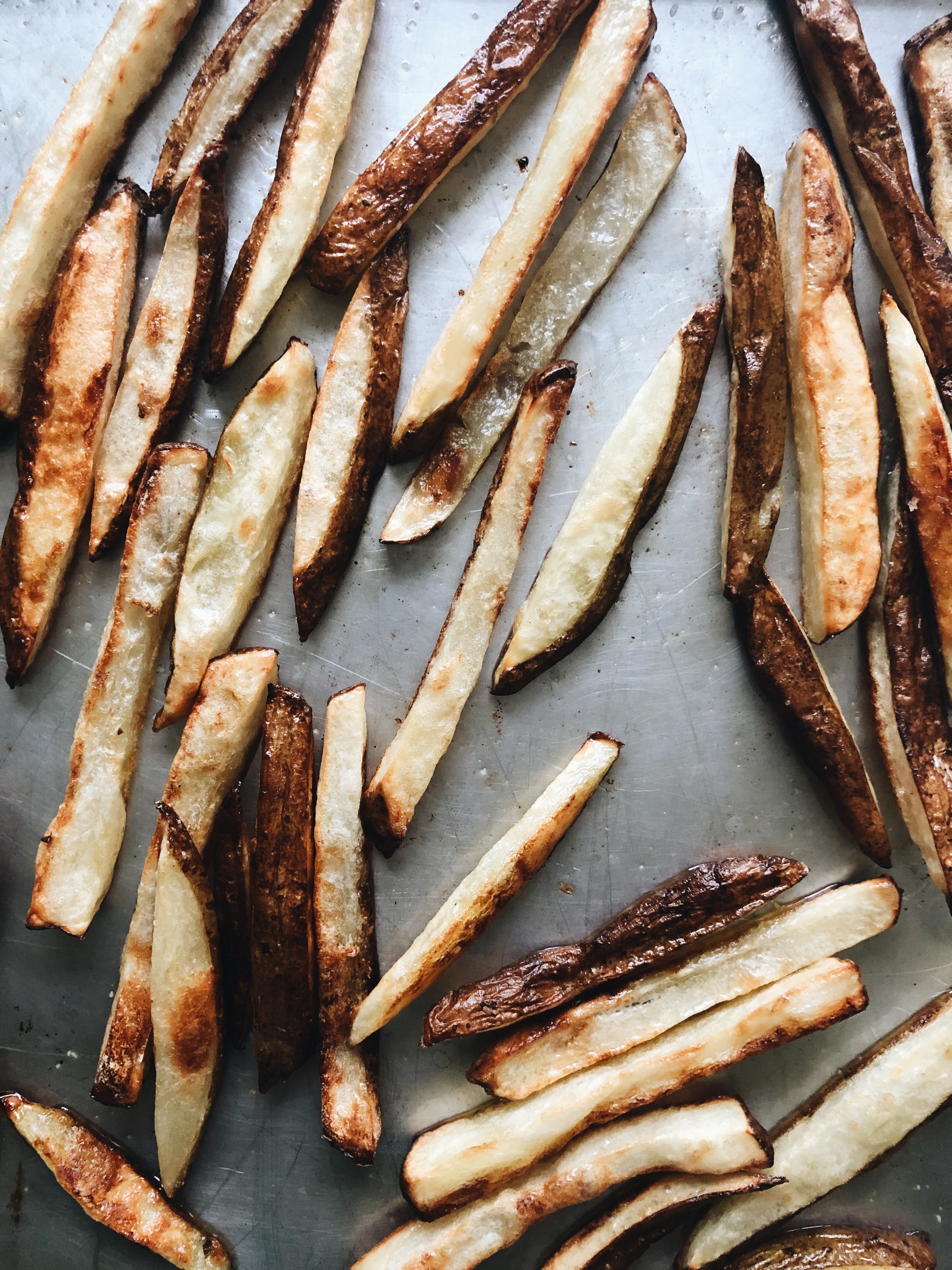 Post bake. Hello, gorgeous.
I only used two russet potatoes and it's my life's biggest regret. Next time, 74.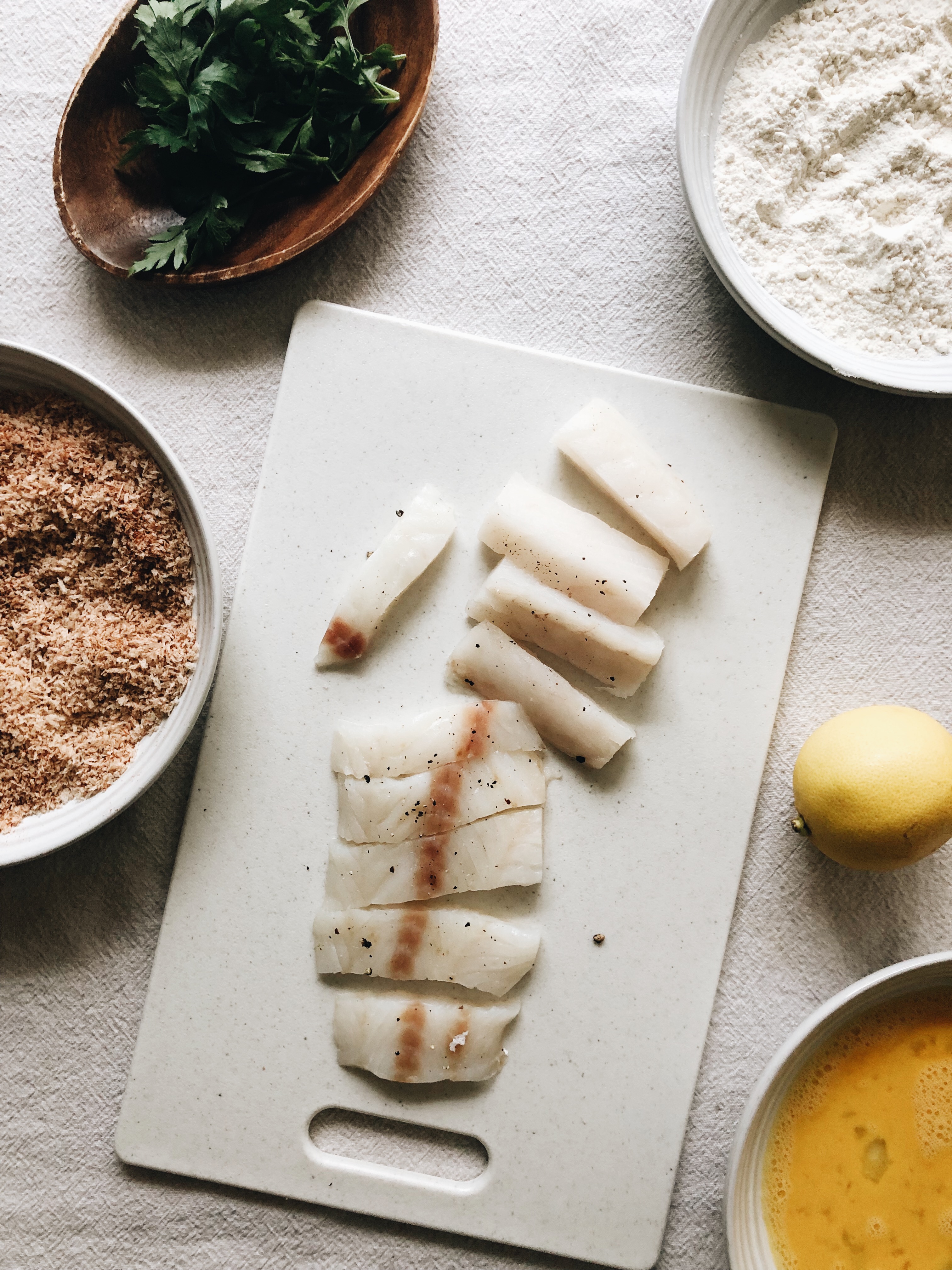 Now for the fish. I used cod ONLY because it's what most Fish NSYNC Chips places out west used. But go for any white fish that you can find. Cod, halibut, pollock, what have you.
You know what, tilapia would even work! They're on the thinner side, but I'm sure they'd be just dandy.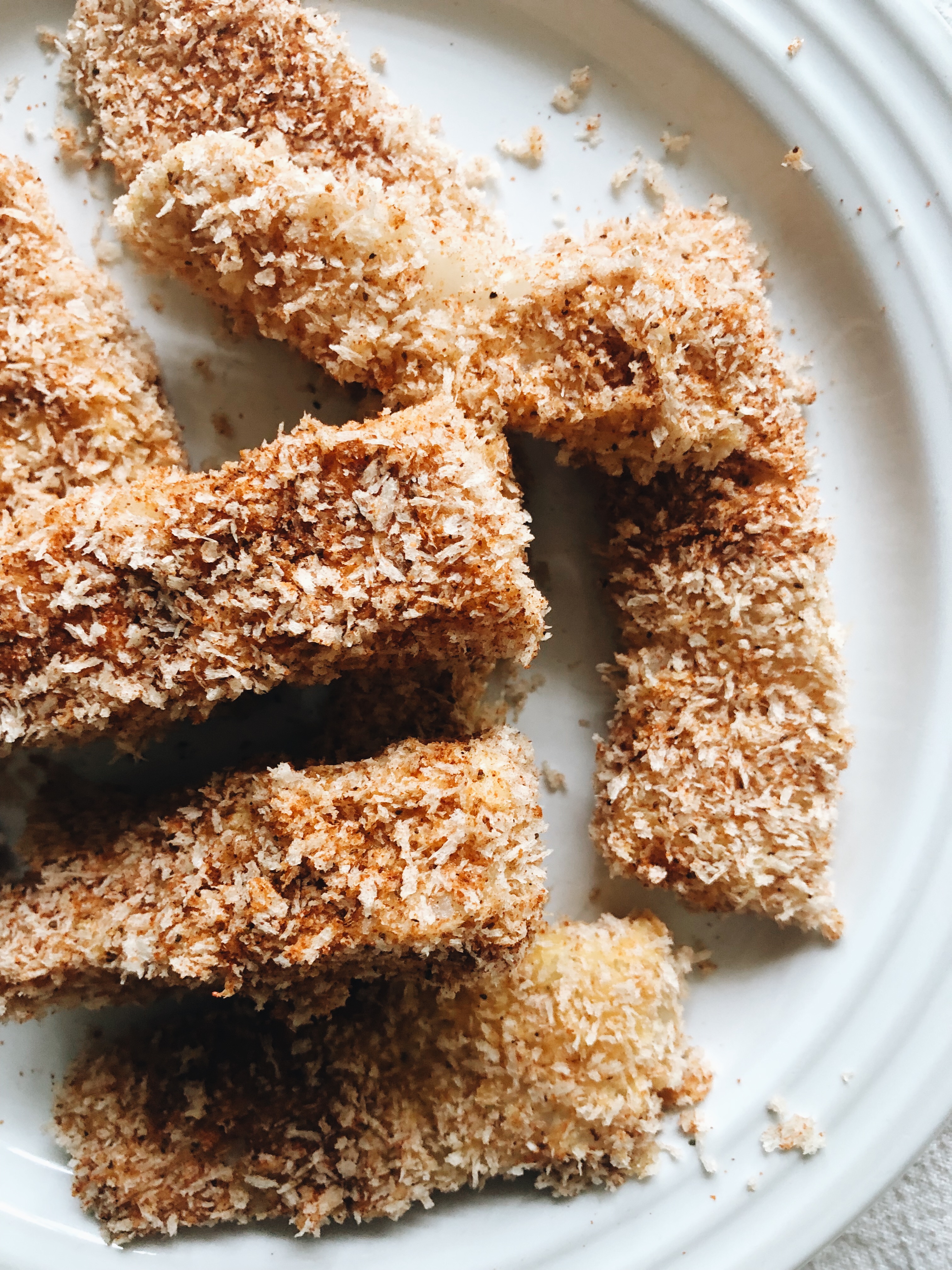 It's basically this: into the flour, into the egg, into the Old Bay panko mix. Boom.
You're killing it, I can tell from this side of the interflex.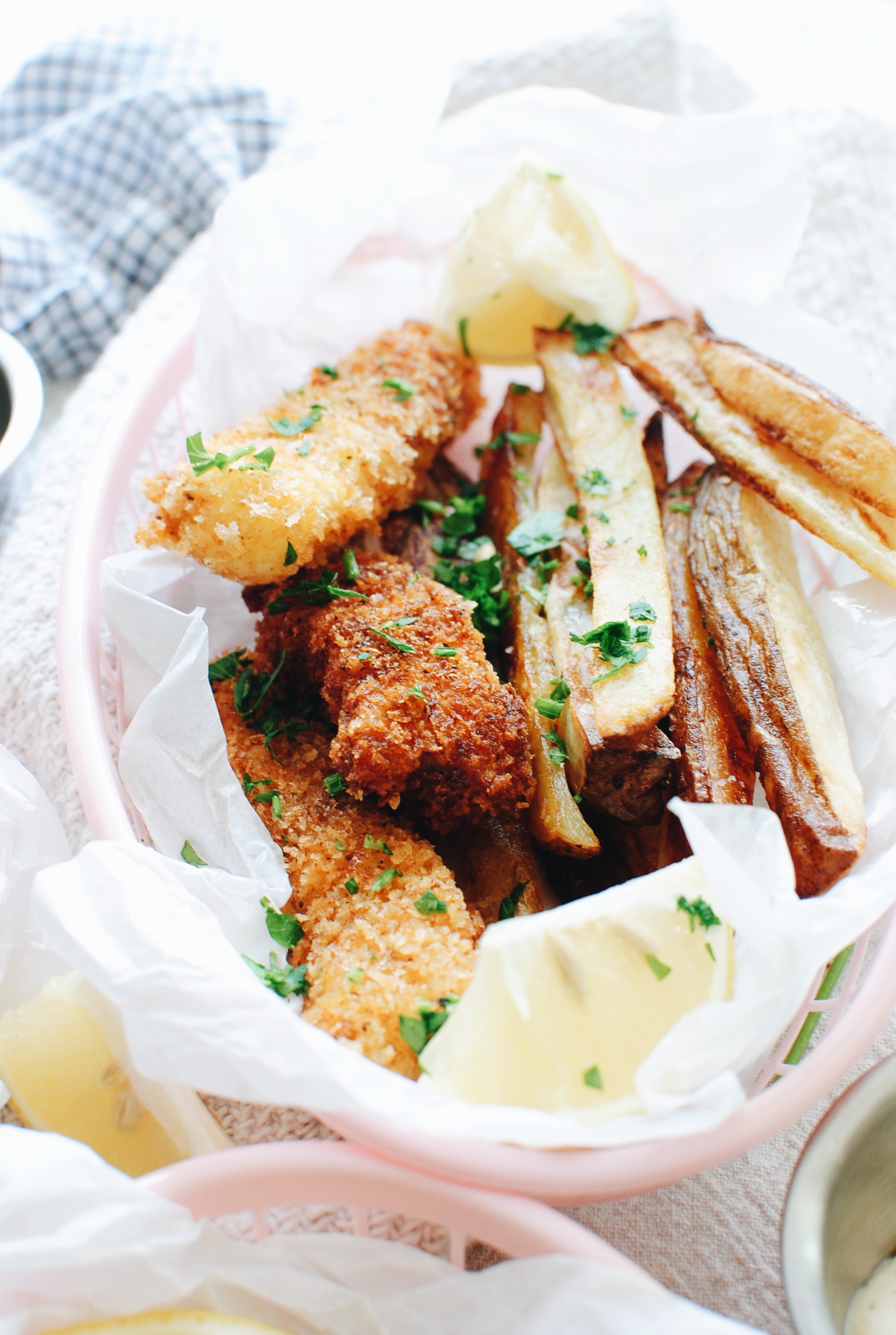 After a quick dip in hot canola oil (Only a cup! It's not a full-on deep fry. You'll shallow fry for 3 minutes, flip and go three more. That is it, bunnies.) she's all done!
Serve it with your insanely perfect pub fries, with TONS of lemon wedges, tartar sauce and chopped parsley on top for that final eye zing.
Yes "eye zing" is a thing.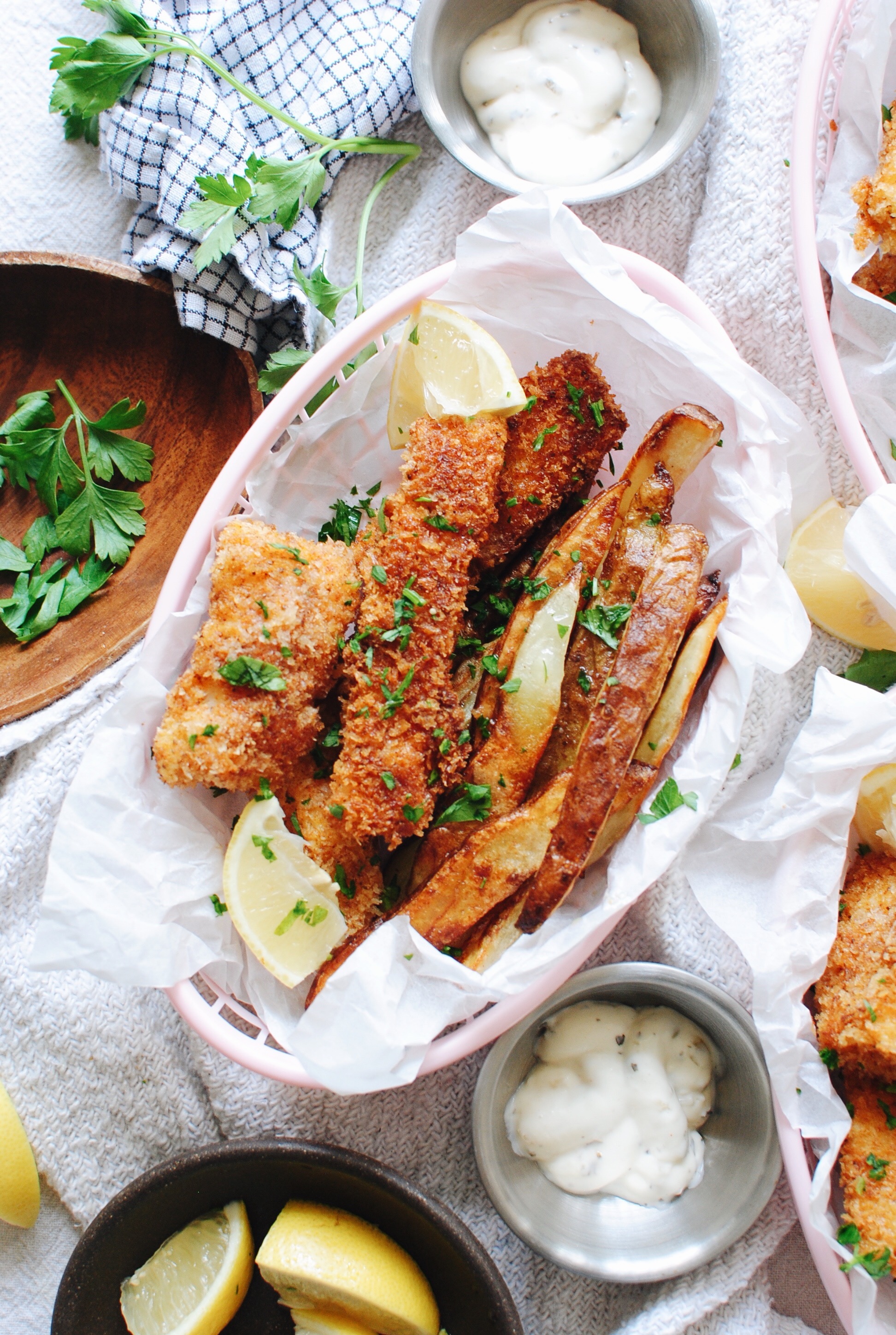 It's just so festive. It feels different from other mealtimes, ya know? A bit naughty, snackish, unexpected, coastal, picnic-y!
The Old Bay gives the panko a nice seafood essence. And the crunch of the panko is like a little treat for the mouth.
It's like grownup fish sticks. With steeeeeeez.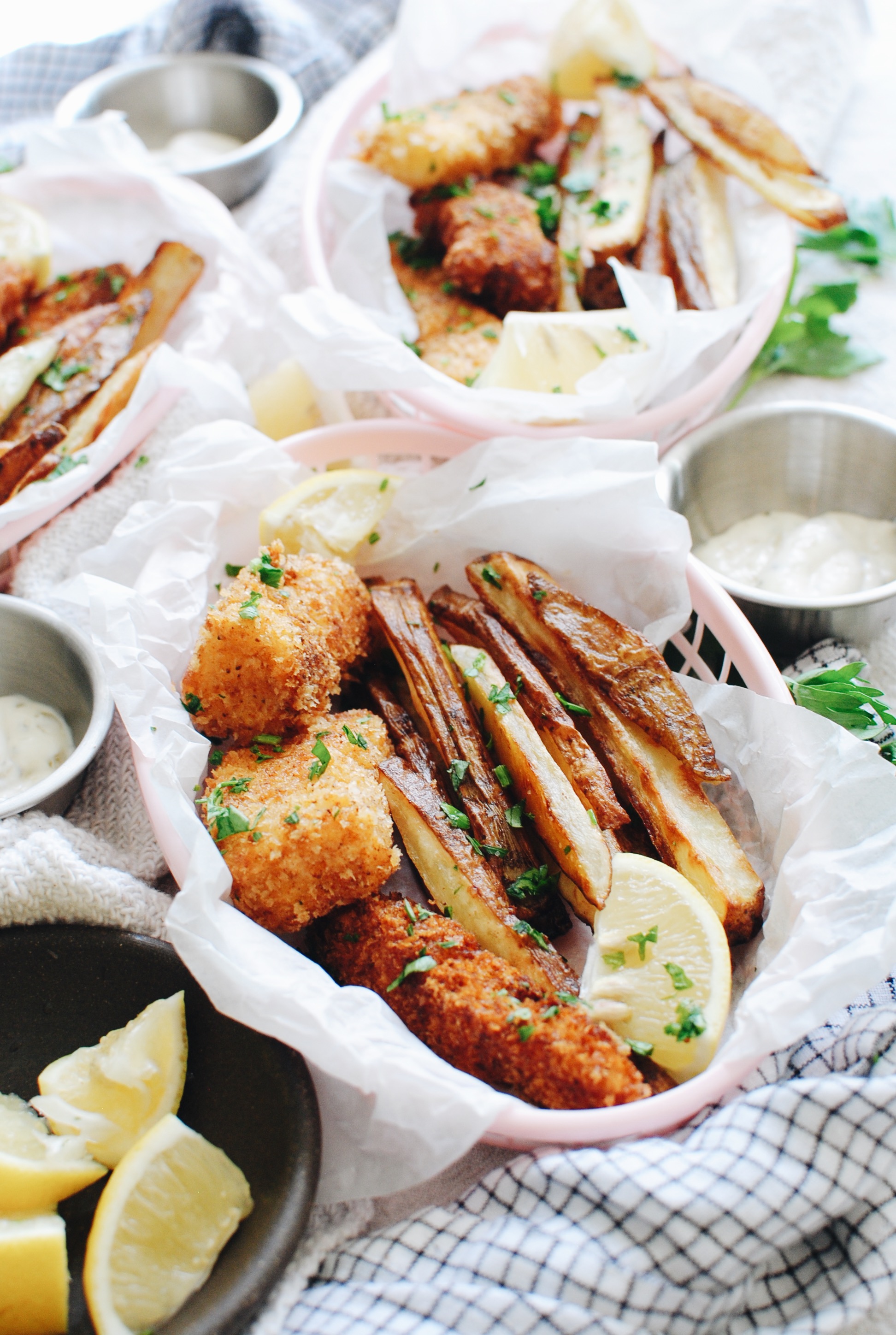 Do not forget the lemon! (sorry to yell at you) As I always say, it wakes it all up in the end. Spritz it over every bite, dude. Keep on spritzin'. Border on psychotic with the spritzing.
Did I mention the lemon?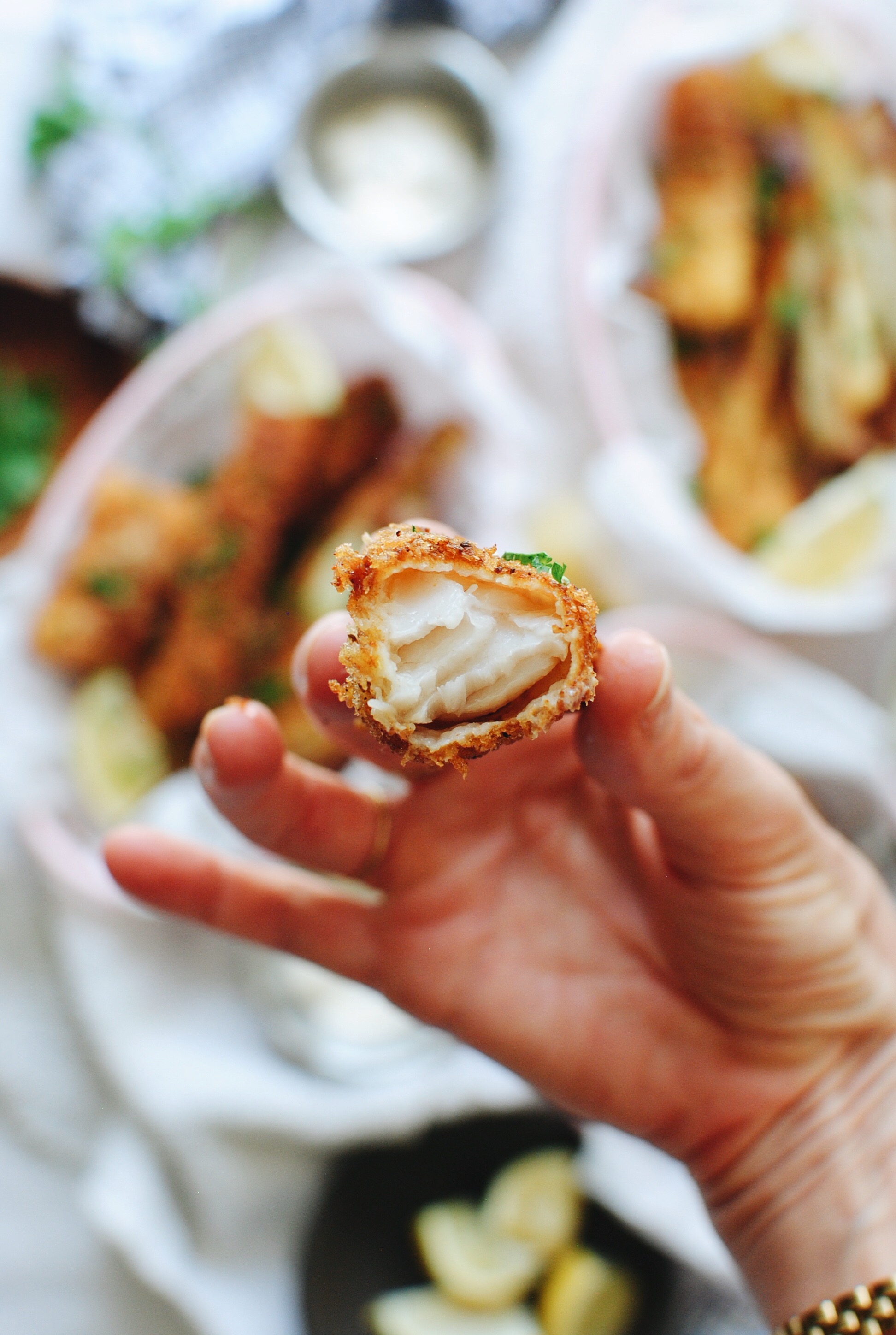 I meaaaaaaaan . . .
Ingredients
1 pound cod, cut into four-inch strips
1/3 cup all-purpose flour
2 eggs, lightly beaten
1 cup Panko
2 Tbs. Old Bay seasoning
1 cup canola oil (for frying)
3 russet potatoes
2 Tbs. extra-virgin olive oil
Coarse salt
Tartar sauce, for dipping
A handful of lemon wedges, for serving
Chopped parsley, for garnish
Instructions
Cut the potatoes in half lengthwise. Then slice each half into five thick slices. Turn the middle slices on their sides and cut in half, lengthwise, getting a good pub fry thickness. Place the cut fries in a bowl of cold water and let them sit on the counter for an hour. Longer is even fine.
After a bit, preheat your oven to 400.
Drain the starchy water and dry each potato slice with a towel, until it's as dry as possible. Arrange on a baking sheet and drizzle with a Tbs. or two of extra-virgin olive oil. Season with salt and toss the slices with your fingers. Bake for 45 minutes, up to a full hour, until crispy and tender on the insides. You want that good shriveled browning in places.
Place the flour in a shallow bowl, the eggs (beaten) in another shallow bowl, and the Panko with the Old Bay in another shallow bowl. Lightly dredge the fish through the flour, patting off any excess, then through the egg, shaking off any excess, then through the Old Bay panko. Get each strip good and coated. Set on a plate while you continue with the rest of the fish sticks.
Heat the canola oil in a wide shallow pan until very hot, and place about five fish sticks in the oil. Fry for three minutes on one side (they won't be totally submerged), then flip and fry three more. Place on paper towels to drain. Fry in batches until you're finished with all the fish.
Serve with the pub fries, plenty of lemon wedges, chopped parsley and tartar sauce!
You'll just LOVE THIS.
Serves four.
7.8.1.2
377
https://bevcooks.com/2019/10/fish-and-chips/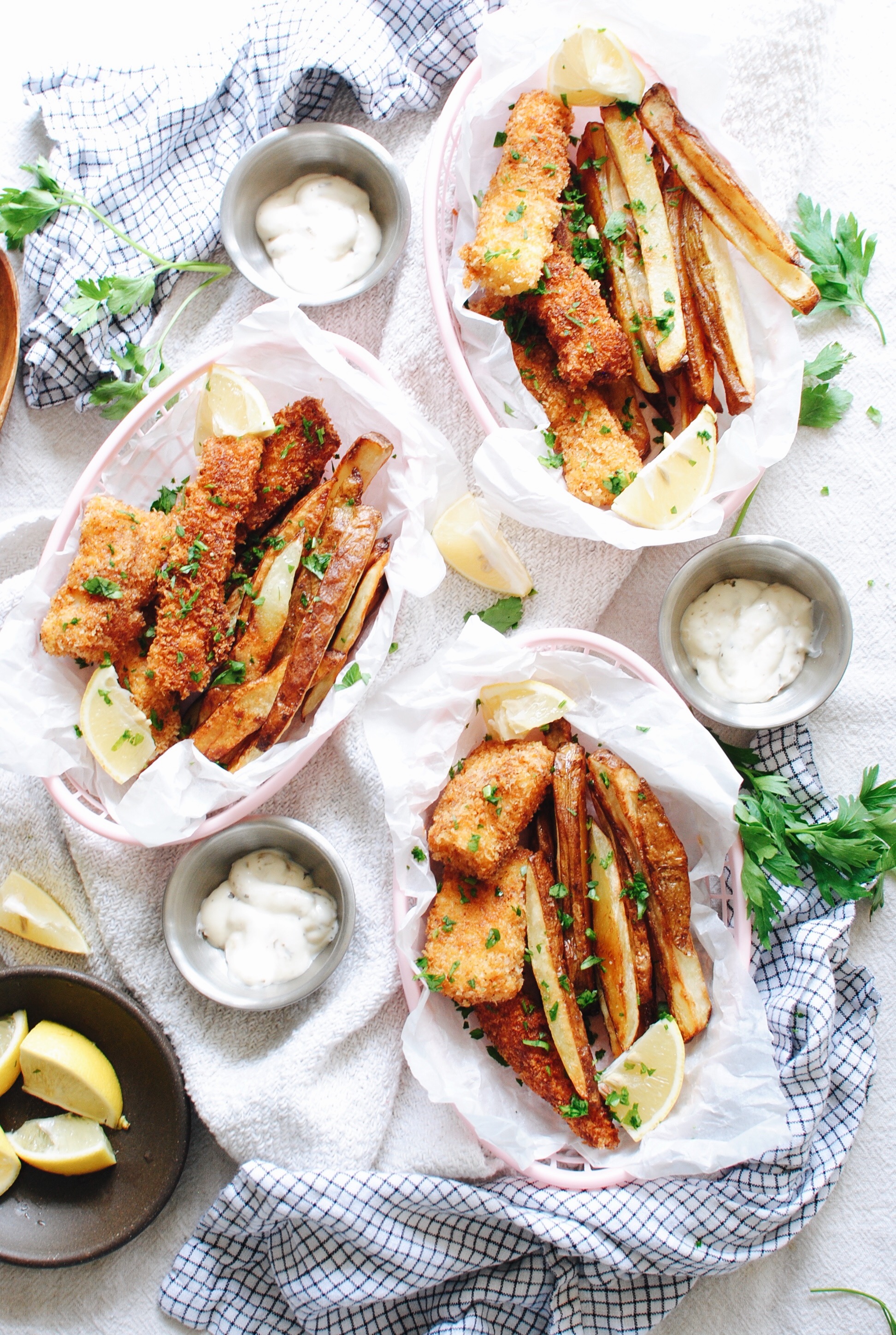 Fish NSYNC Chips. I'll make the tee-shirts.