Also known as: it's the end of summer and you've got a whole bumper crop of tomatoes so here.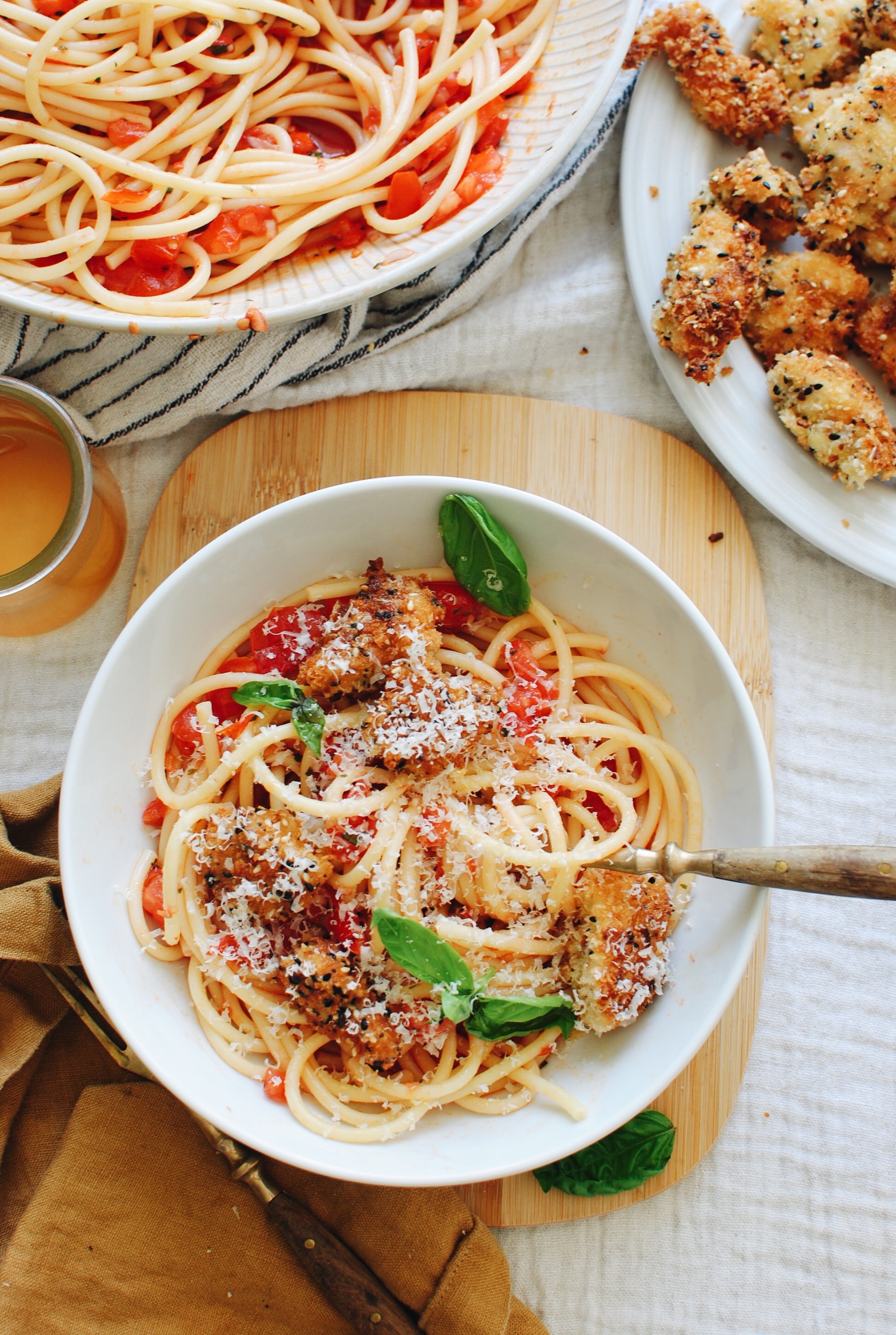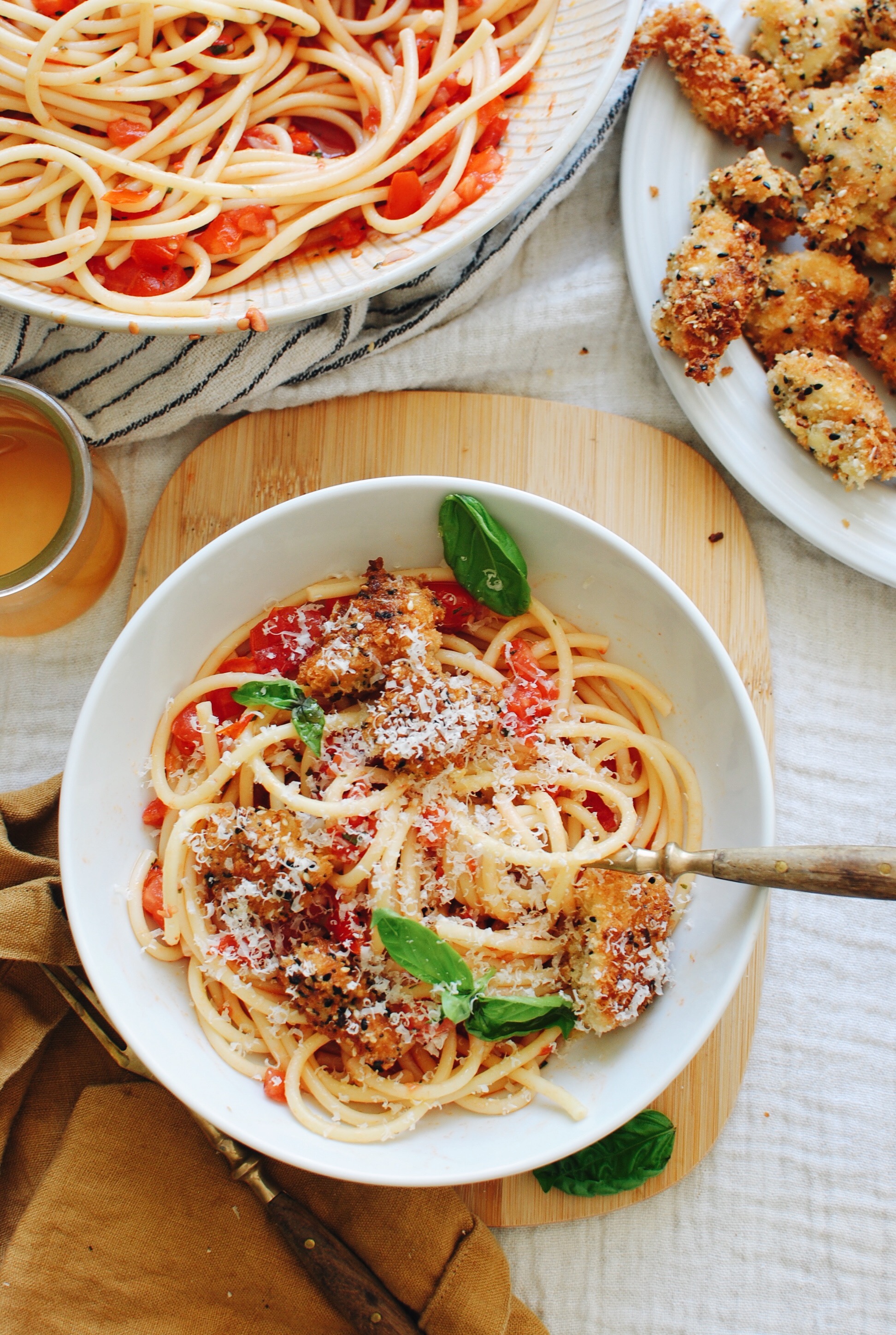 This is a two-parter. I think I might have a thing about two-parters. Mainly because I like saying two-parters.
But we must discuss! Because first, we have the tomato sauce. It's raw, y'all.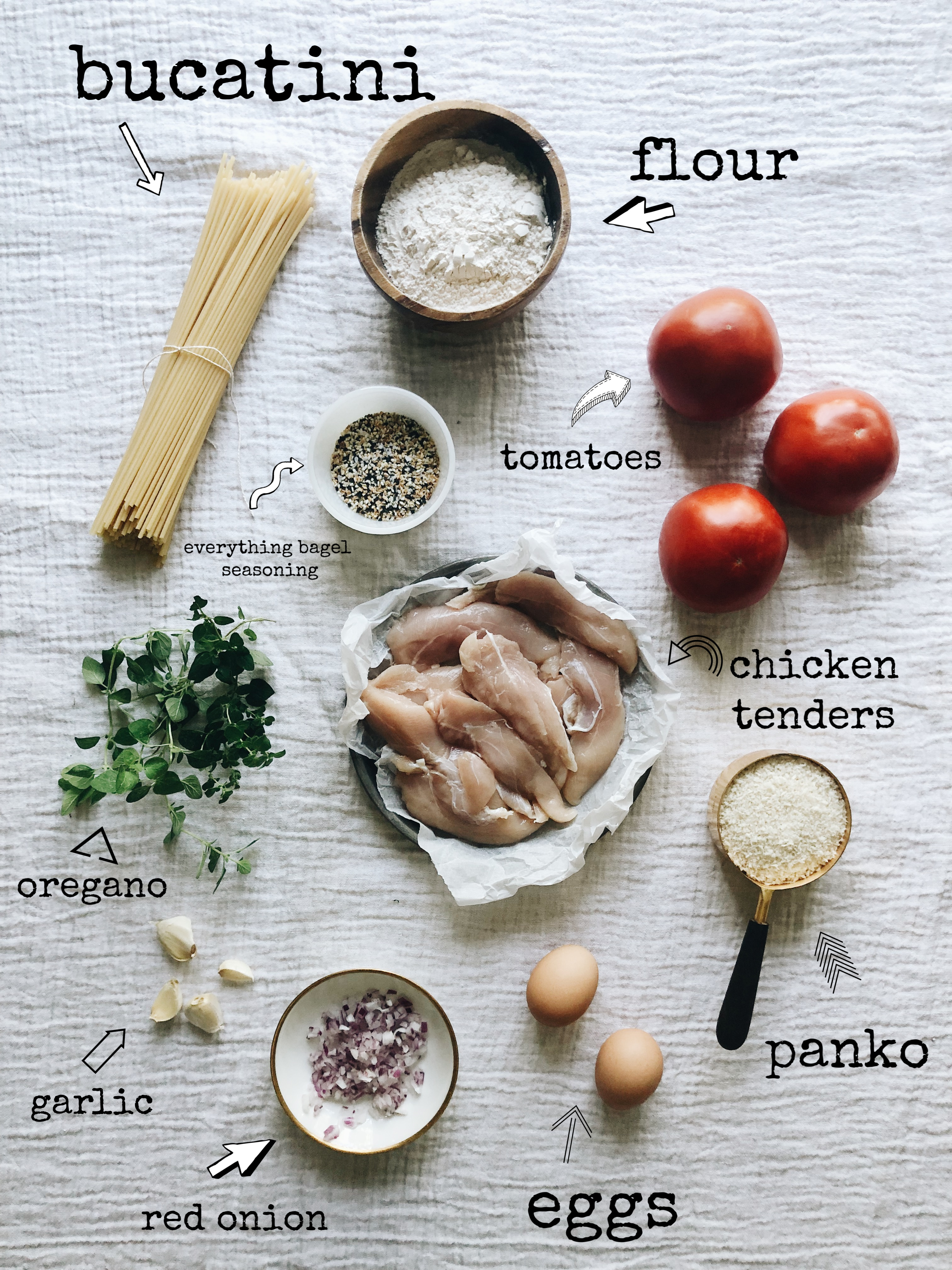 Oh wait, I forgot about this photo.
We've got the tomato sauce, and the chicken! Which we'll chunk up and lightly bread in crunchy panko and savory everything bagel seasoning (genius tip, Eating Well!), and fry until golden brown and continue to live our happy little lives.
But first, the sauce.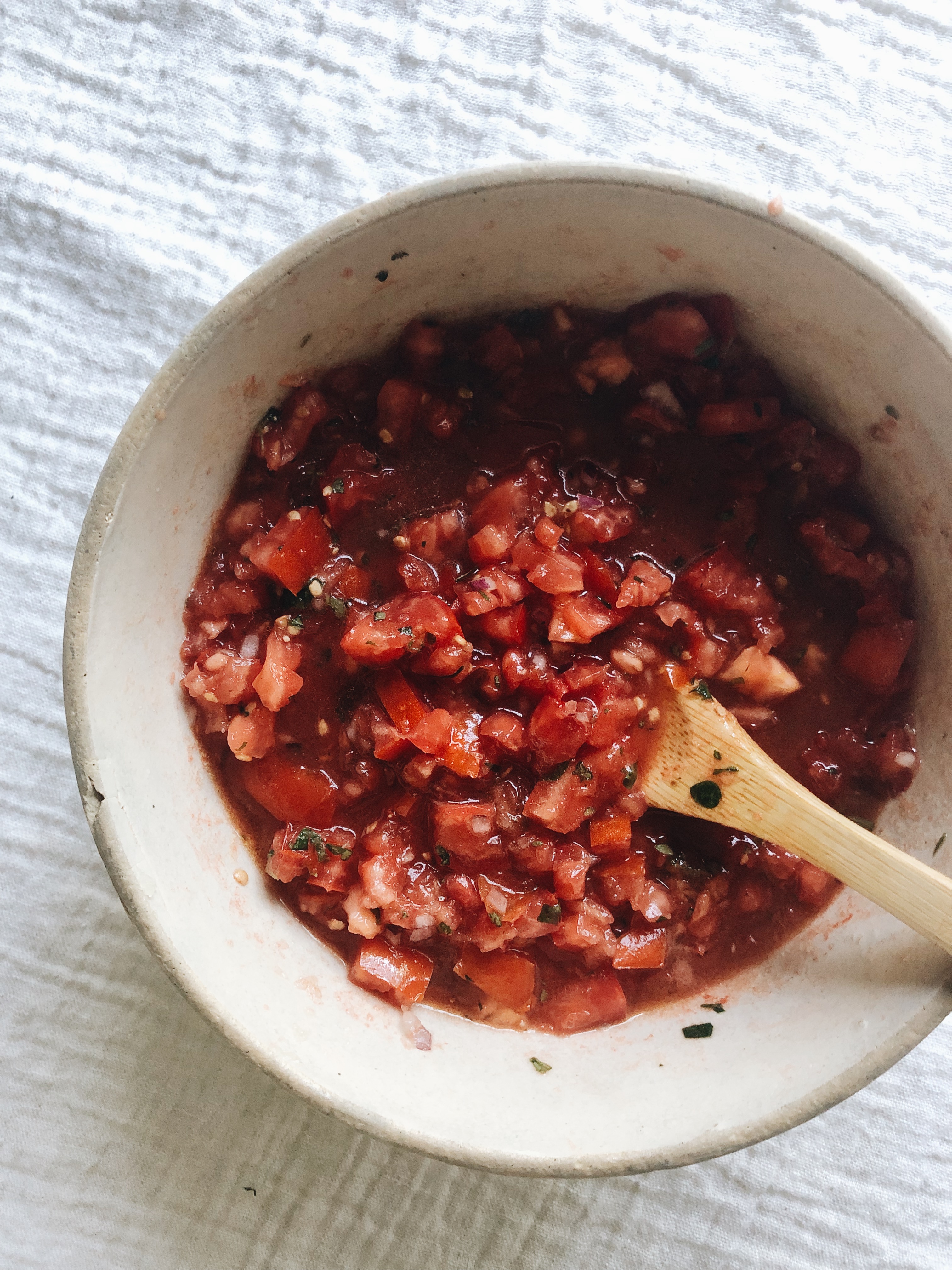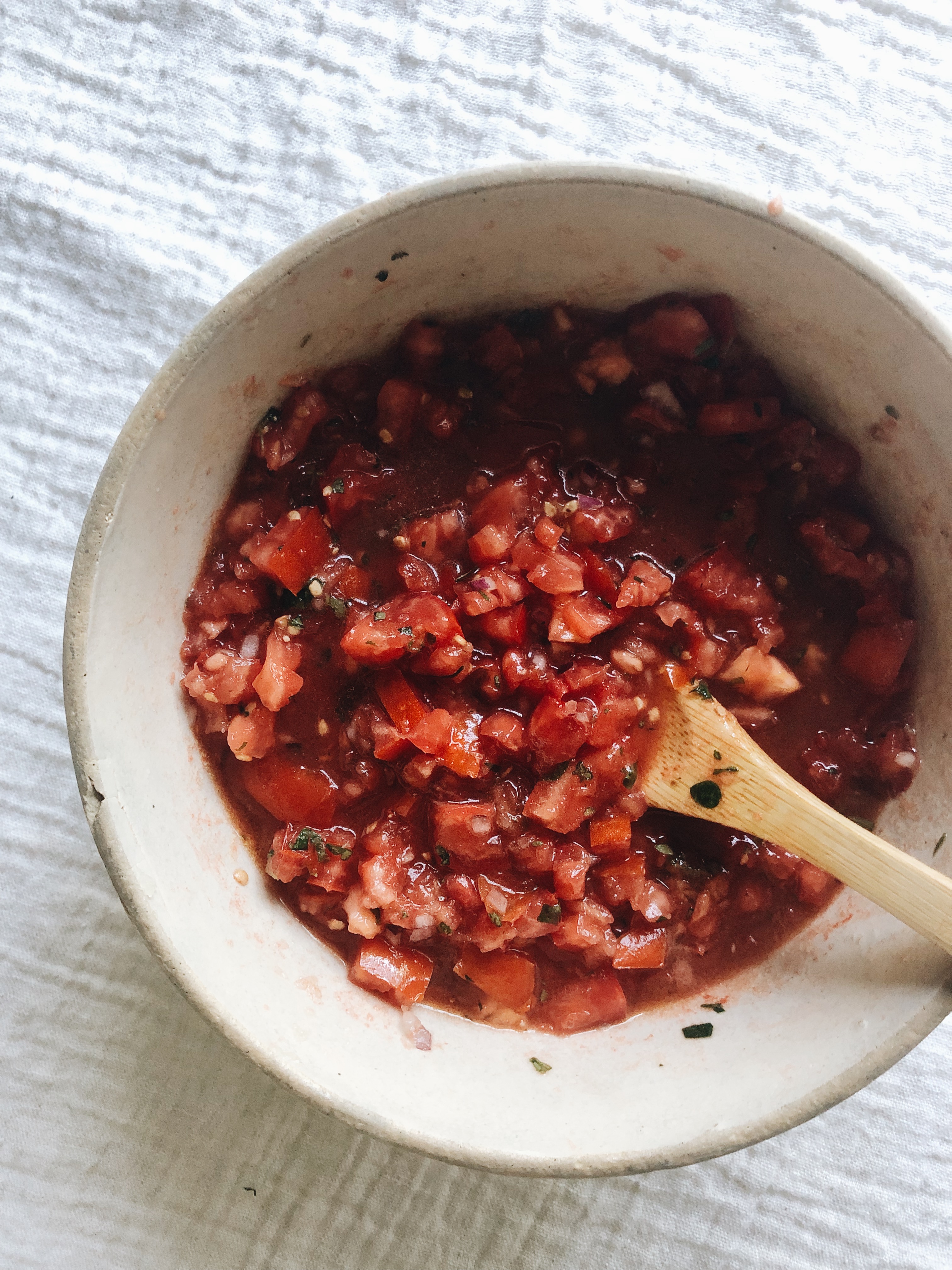 Little back story – my sister-in-law Carolyn was visiting a few weekends back. For dinner one night she whipped up this super simple raw tomato sauce (I've been a slobbery fan of raw tomato sauces since Fine Cooking put one out y e a r s ago.) and I was like, "OH YEAH, RAW TOMATO SAUCES."
Have I said raw tomato sauce enough?
It's this – diced garden tomatoes, a little bit of red onion (or scallions if y'awnt!), minced garlic, freshly chopped oregano, a glug of oil and a good pinch of salt. No acid, no sugar, no nuttin'. Just fresh tomatoes that marinate in herbs and aromatics for as long as humanly possible. And it's completely marvelous. The juices release over time, the flavors deepen in an other-worldly way, and your soul weeps.
Do this.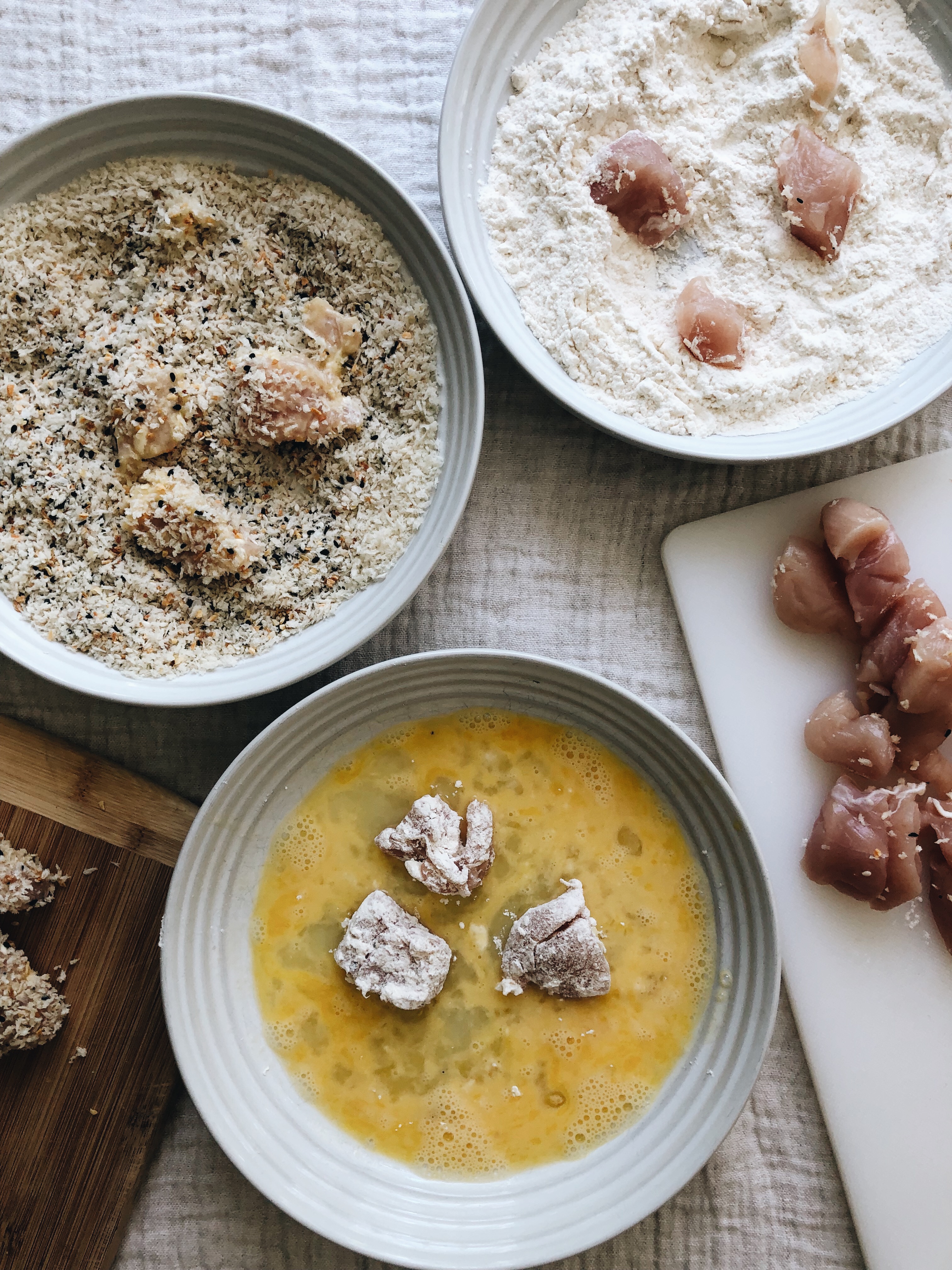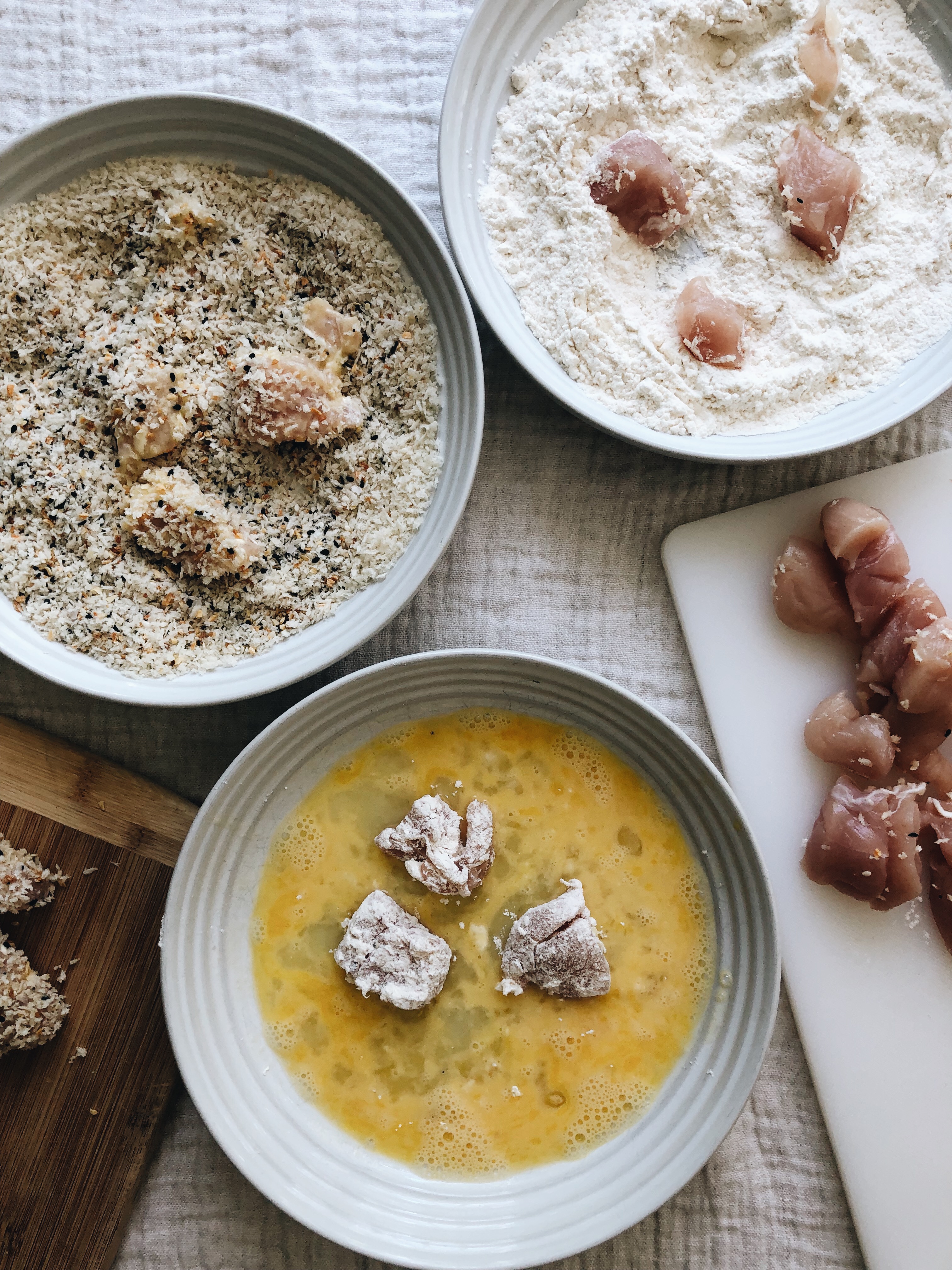 The chicken! Honestly, I've made this chicken four times now (cut up in nuggets like this) and the kids are bonkers for it. It's not overly fried. Just barely fried. And so crunchy! And the everything bagel seasoning (I get mine at TJ's) is a) everyone's favorite flavor right now and b) makes complete sense and c) so dern perfect it almost hurts.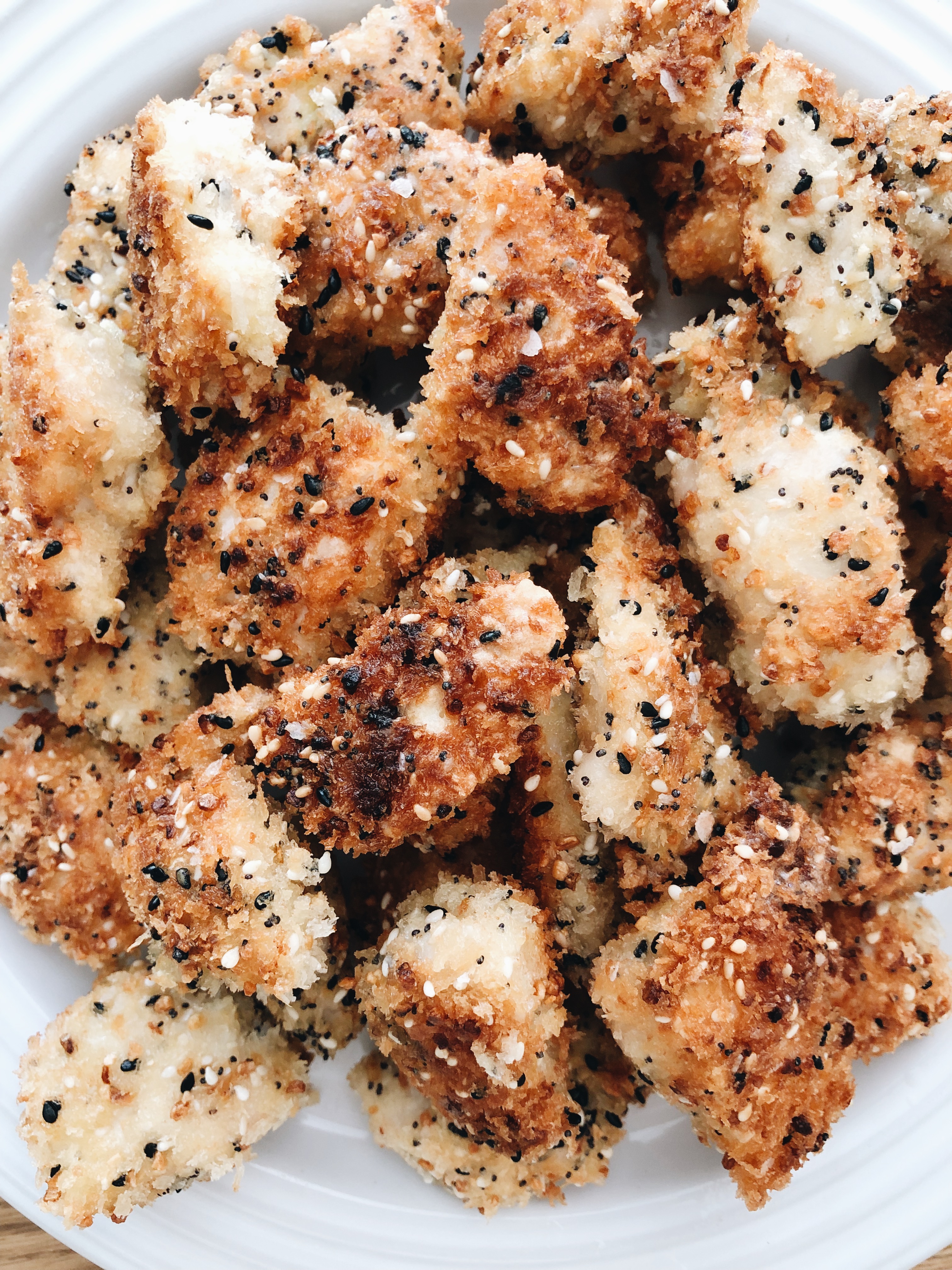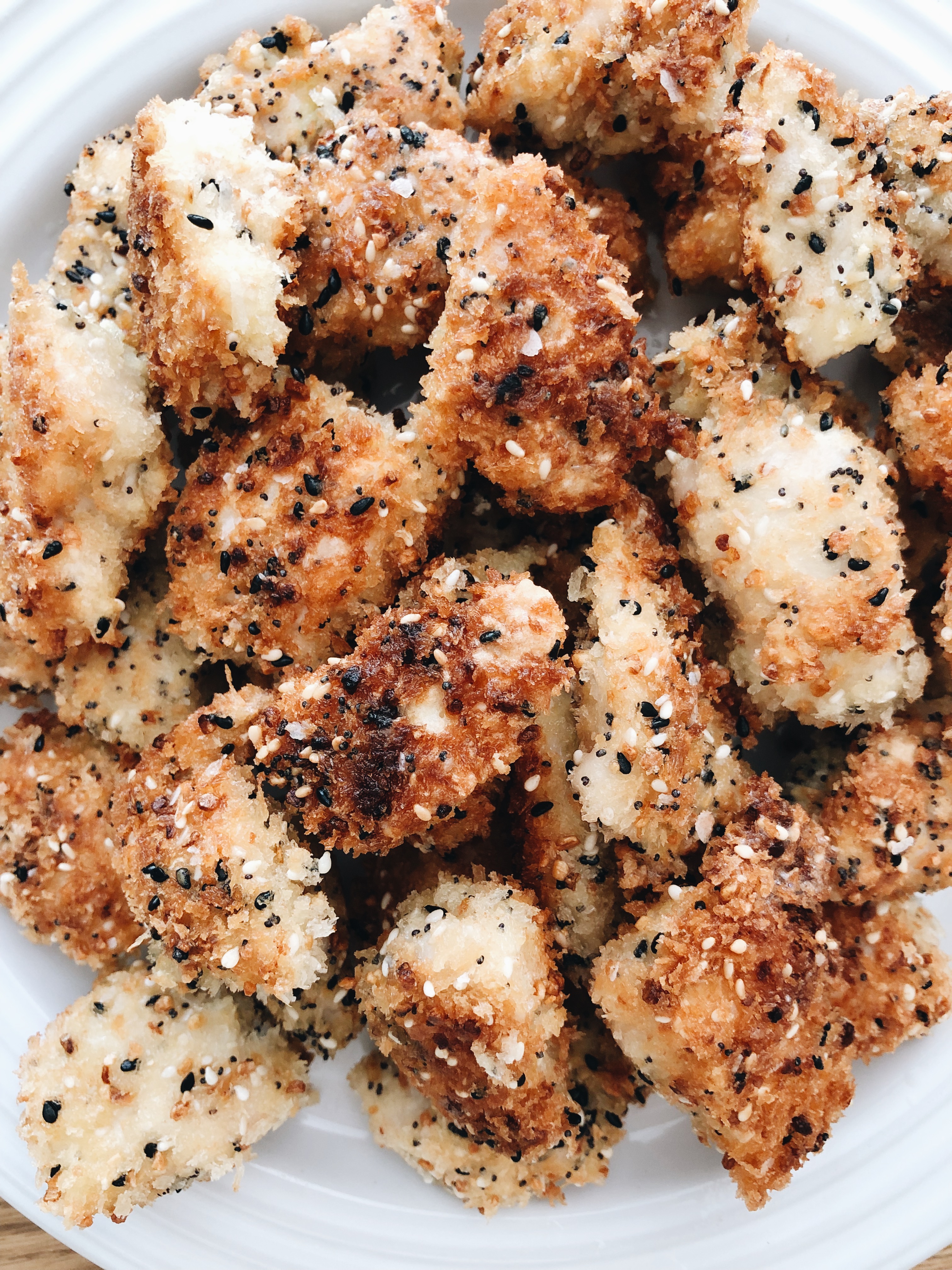 Just look at that pile o' crunch.
It will change you, hear these words.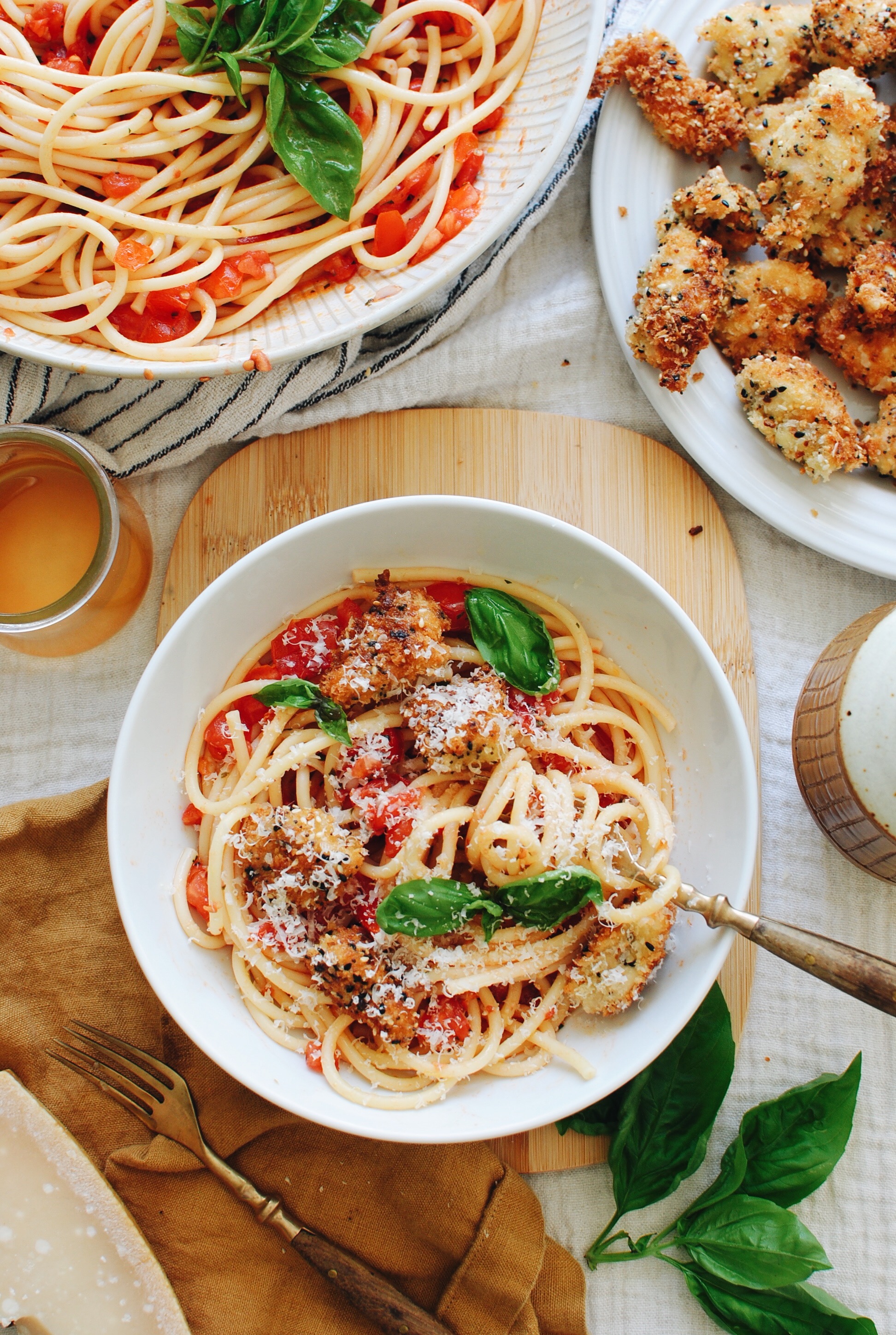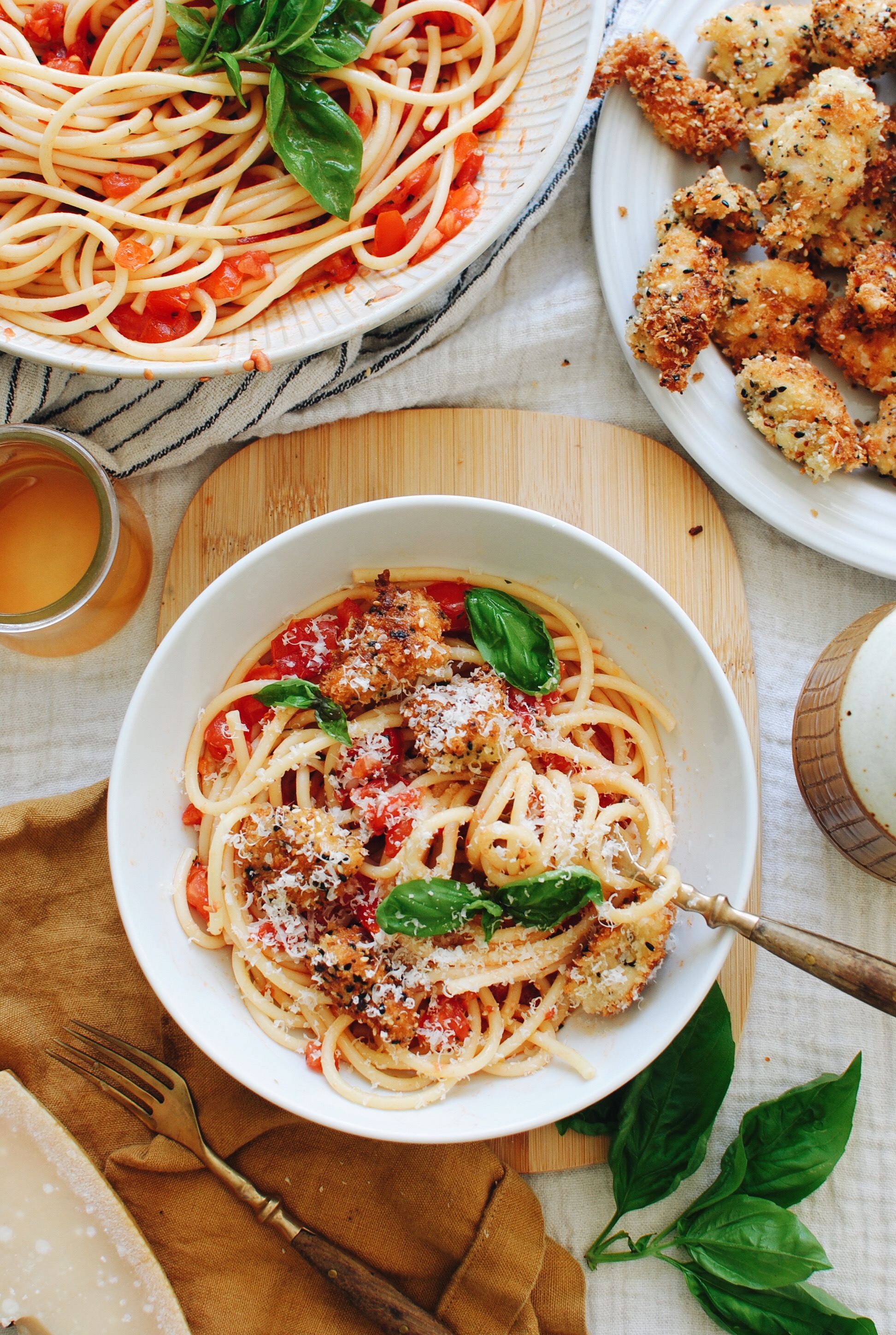 And really – you just BAWL up some bucatini (the long pasta with the hole down the center! Tell the kids they're eating mini garden hoses, they'll giggle so hard.) and toss it with the raw tomato sauce and omg. It's all so stupid delish.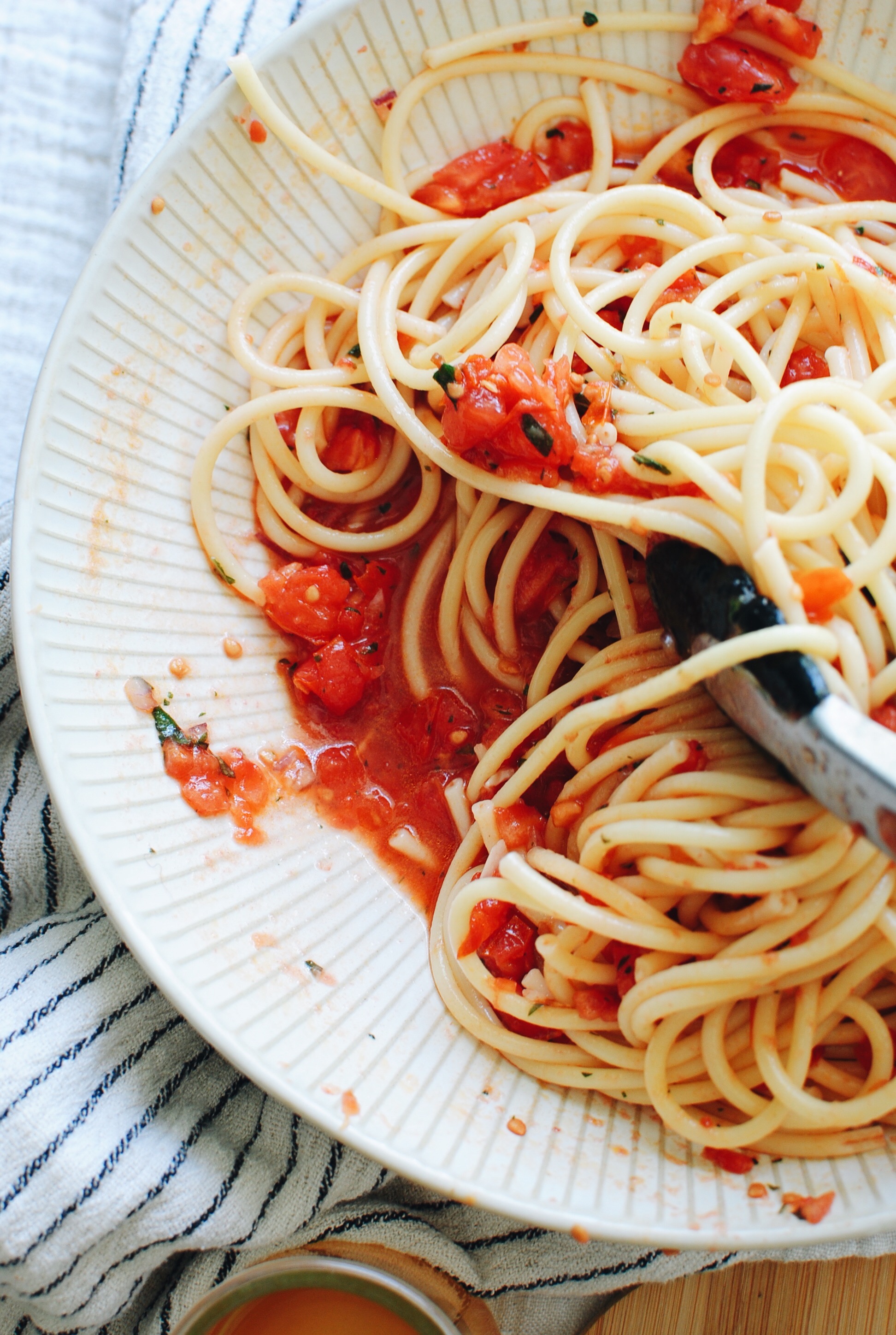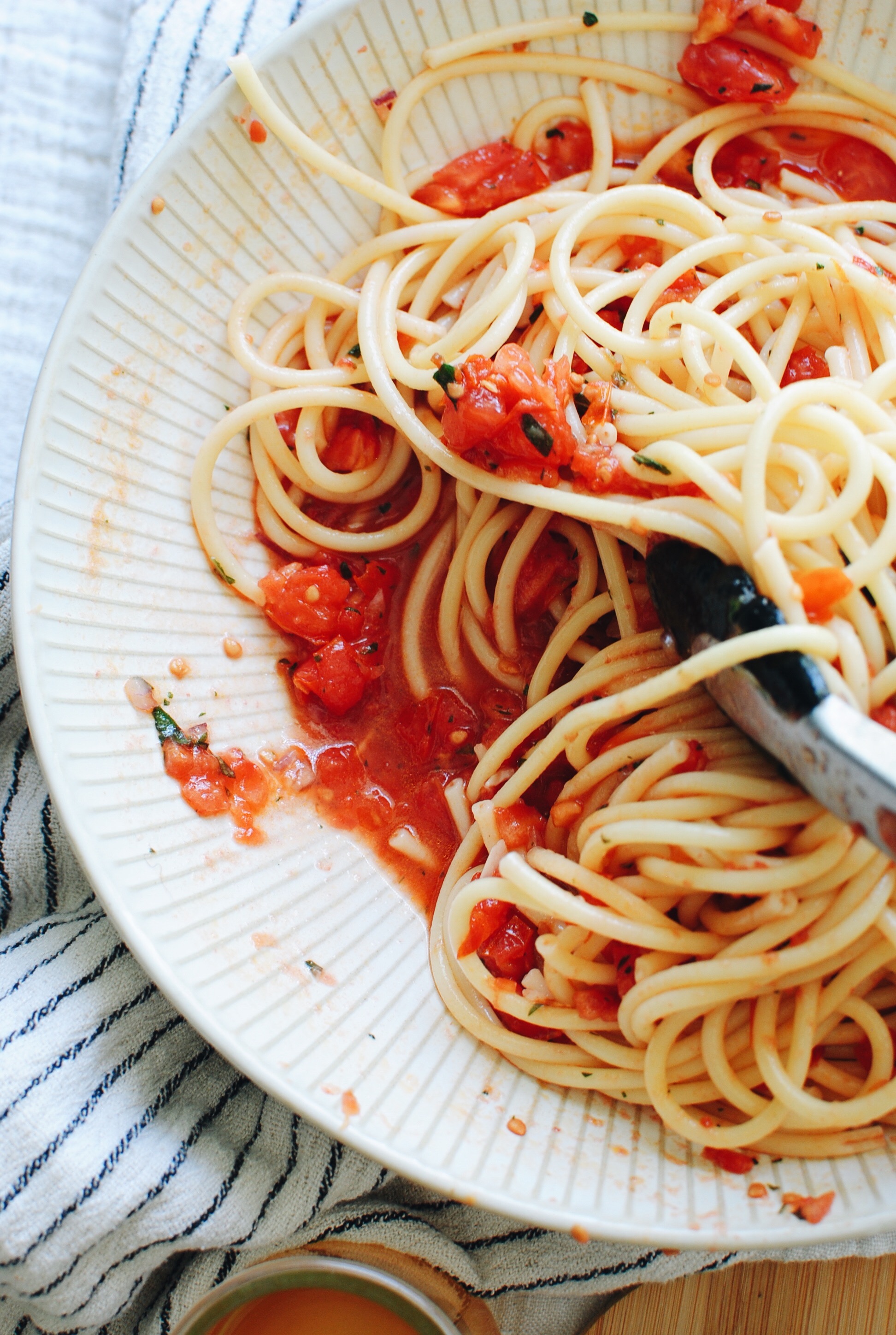 This is an odd photo, yes. But I want to show you just how much juice collects in the tomatoes. So when you serve it, be sure and spoon the juice over the top. Mandatory life decision.
That with the crunchy nuggets, DUDE. So perfect. And be sure and garnish with so much fresh parmesan you can barely feel your upper torso. And maybe some fresh basil because WINTER IS COMING.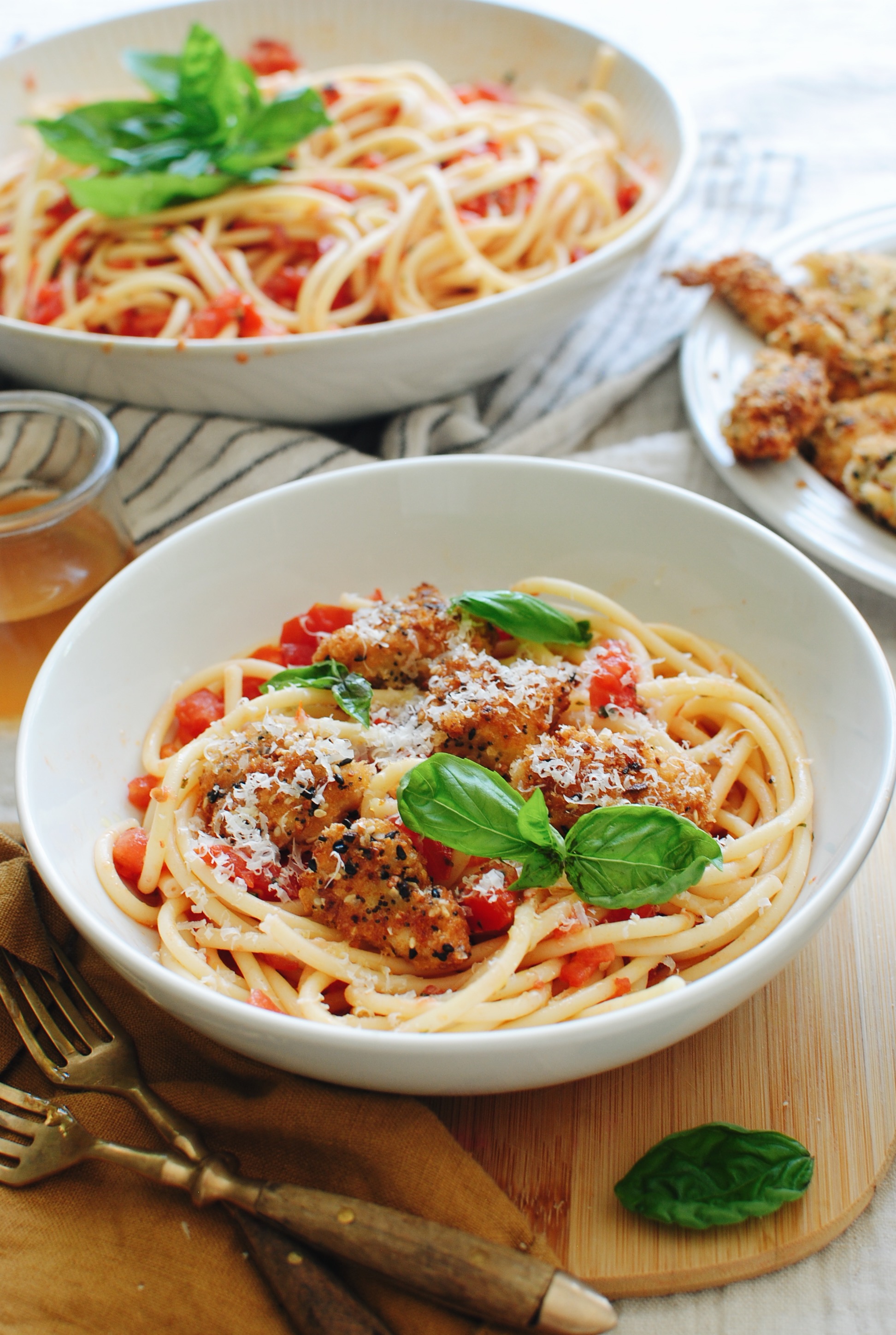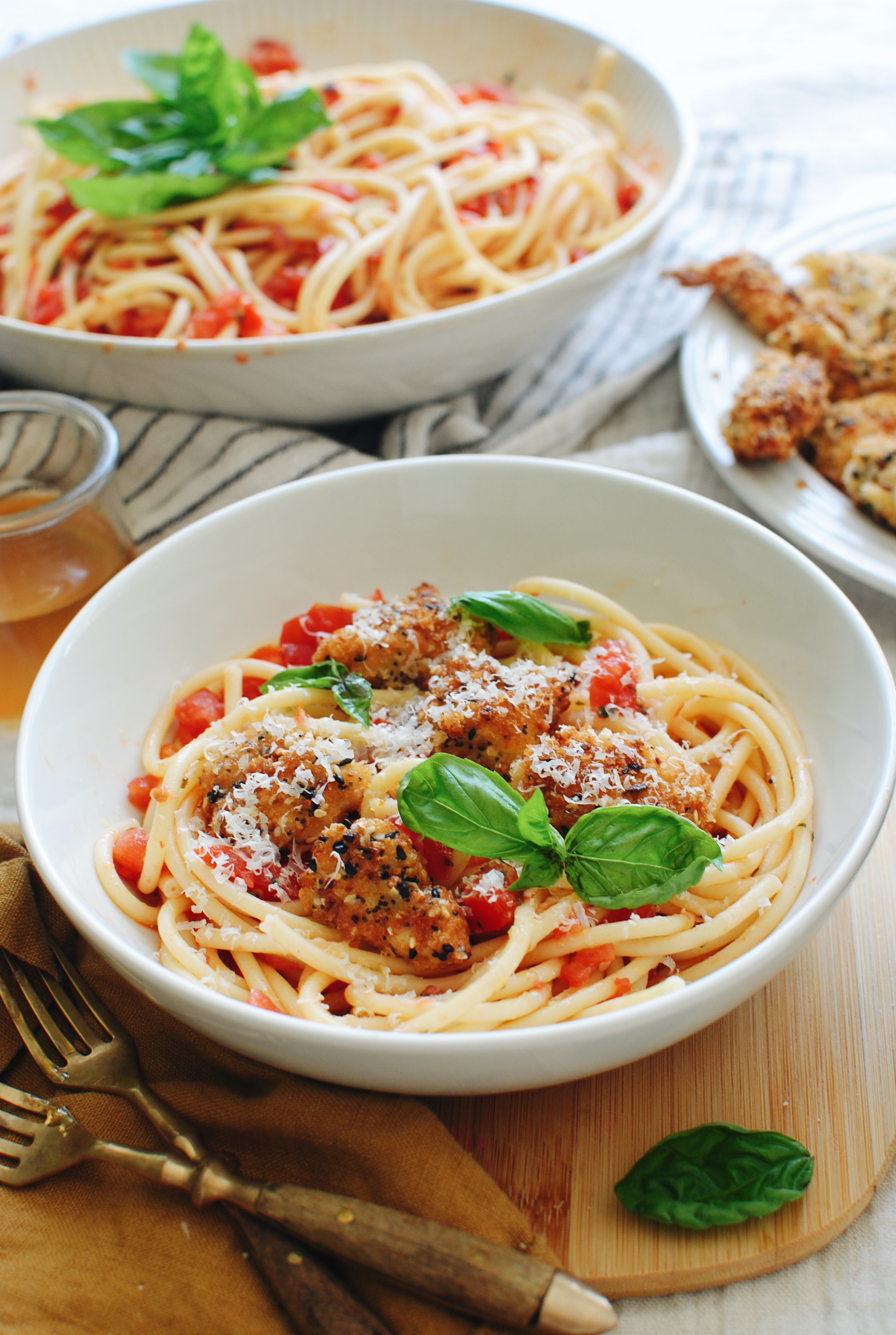 Hungry?
Bucatini with Everything Bagel Chicken Nuggets in a Raw Tomato Sauce
Ingredients
12 oz bucatini pasta (you can use a full pound if you want)
3 large tomatoes, cored and diced
1/3 cup diced red onion
4 cloves garlic, minced
1-2 Tbs. freshly chopped oregano
2-3 Tbs. extra-virgin olive oil
1 pound chicken tenders, cut into bite-sized pieces
1/2 cup all-purpose flour
1 cup Panko
3 Tbs. everything bagel seasoning
2 eggs
1/2 cup vegetable or canola oil
Coarse salt
Instructions
In a large bowl, combine the diced tomatoes, diced red onion, minced garlic, chopped oregano, extra virgin olive oil and a good pinch of salt. Let this sit on the counter (covered if you want) for at least an hour. Longer if you have! ALL DAY IF YOU CAN. Sorry to yell.
Put the flour in one shallow bowl, the panko and bagel seasoning in another, and the two eggs, lightly beaten in another. Dredge the chicken pieces through the flour, then the eggs, then the panko/everything bagel seasoning. Keep going until all the chicken is coated. (Just stack them on a plate or cutting board.)
In the meantime, heat the oil in a wide skillet. Lightly fry the chicken nuggets in the oil, 3 minutes on one side, flip and another minute on the other, or until both sides are golden brown. Doesn't take long at all! Fry in two batches, then place on paper towels to drain.
In the meantime, you've brought a pot of salted water to a boil. Cook the bucatini until al dente, just a few minutes. Drain and pour the raw tomato sauce right into the pasta. Toss toss toss until coated and silky. That sauce is going to hurt you so good.
Serve the pasta with the everything bagel chicken nuggets, garnish with freshly grated parmesan and fresh basil!
Serves four.
7.8.1.2
370
https://bevcooks.com/2019/08/bucatini-with-everything-bagel-chicken-nuggets-in-a-raw-tomato-sauce/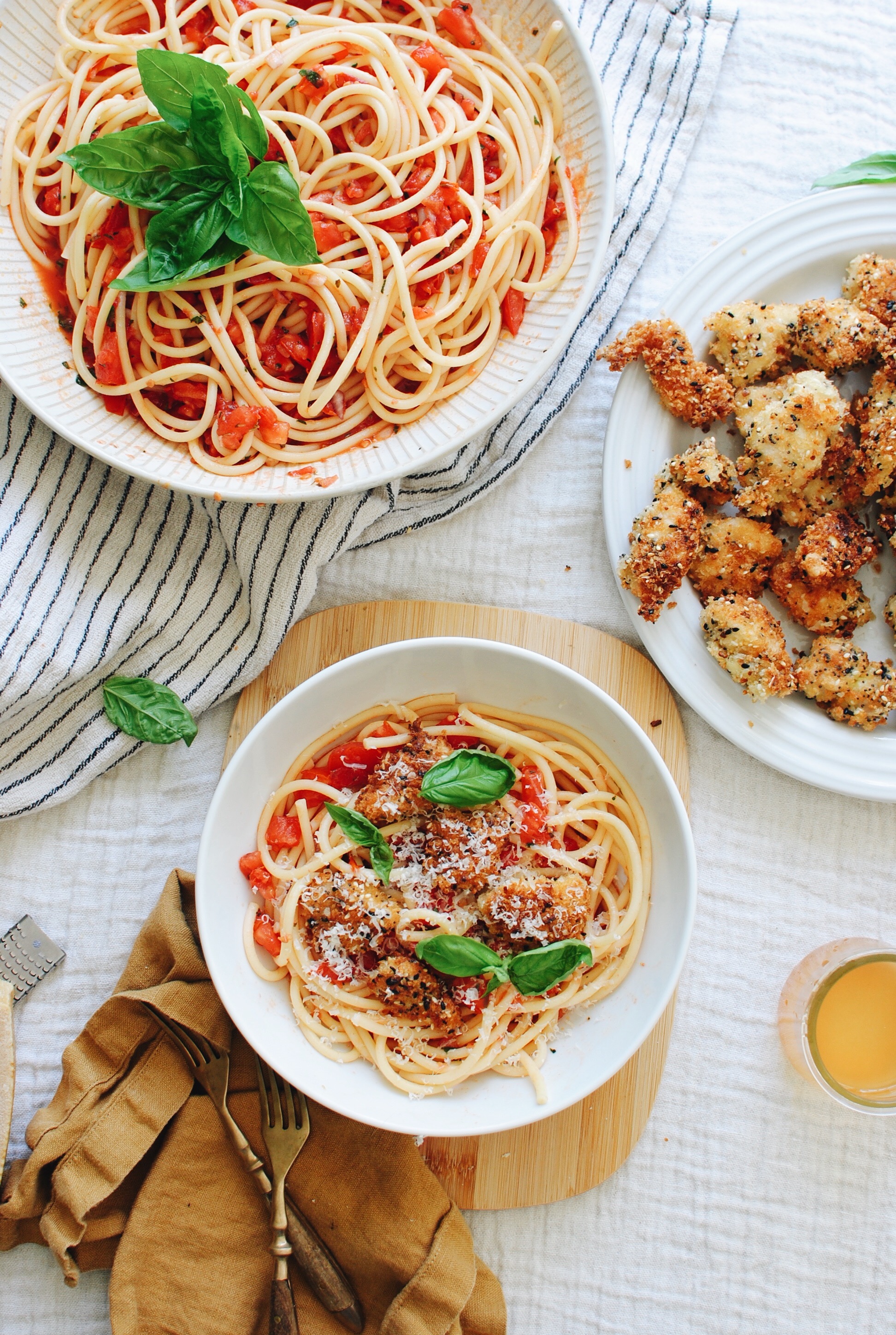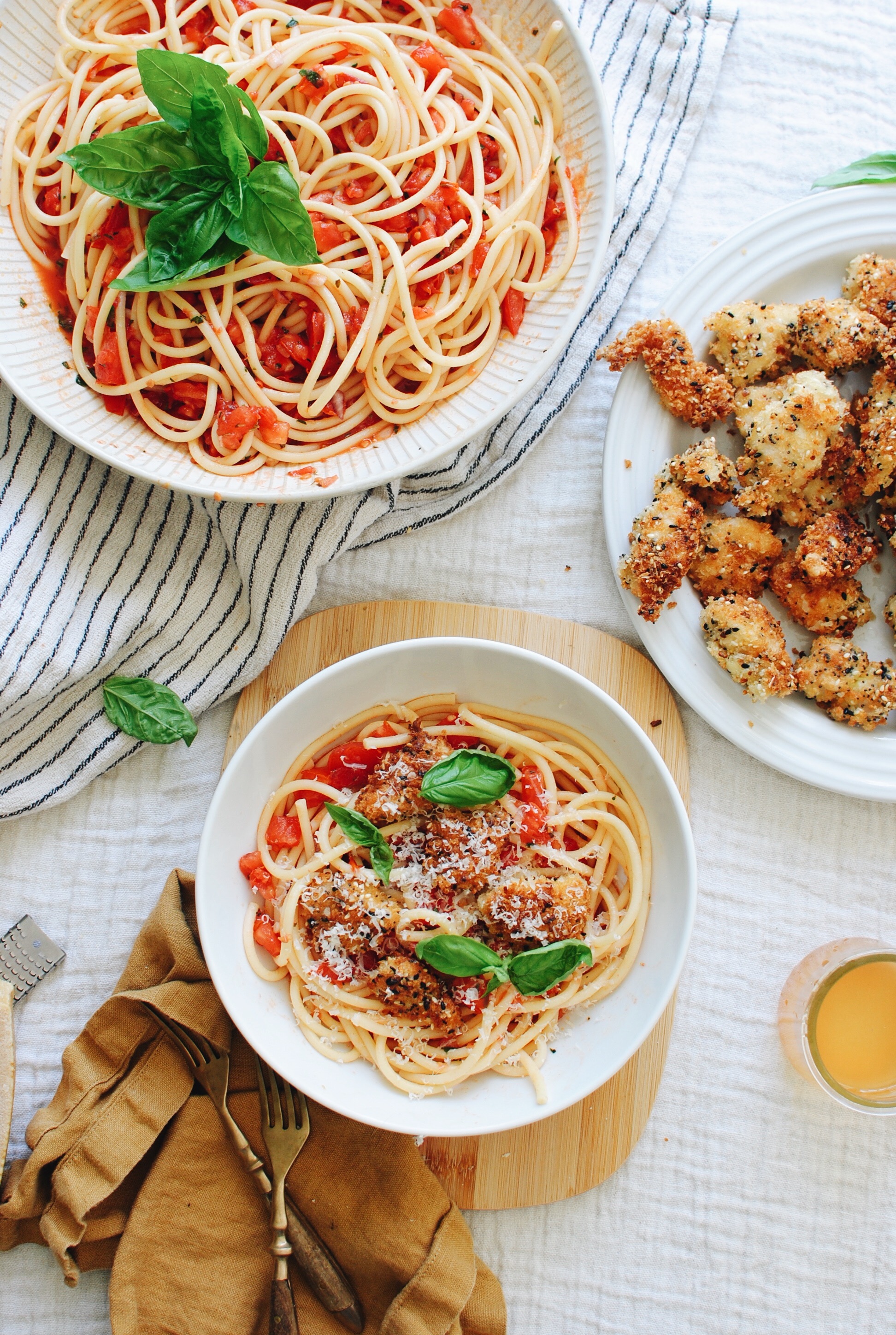 It's like, perfection.