And a lot of garlic! I just couldn't find a place for it in the title.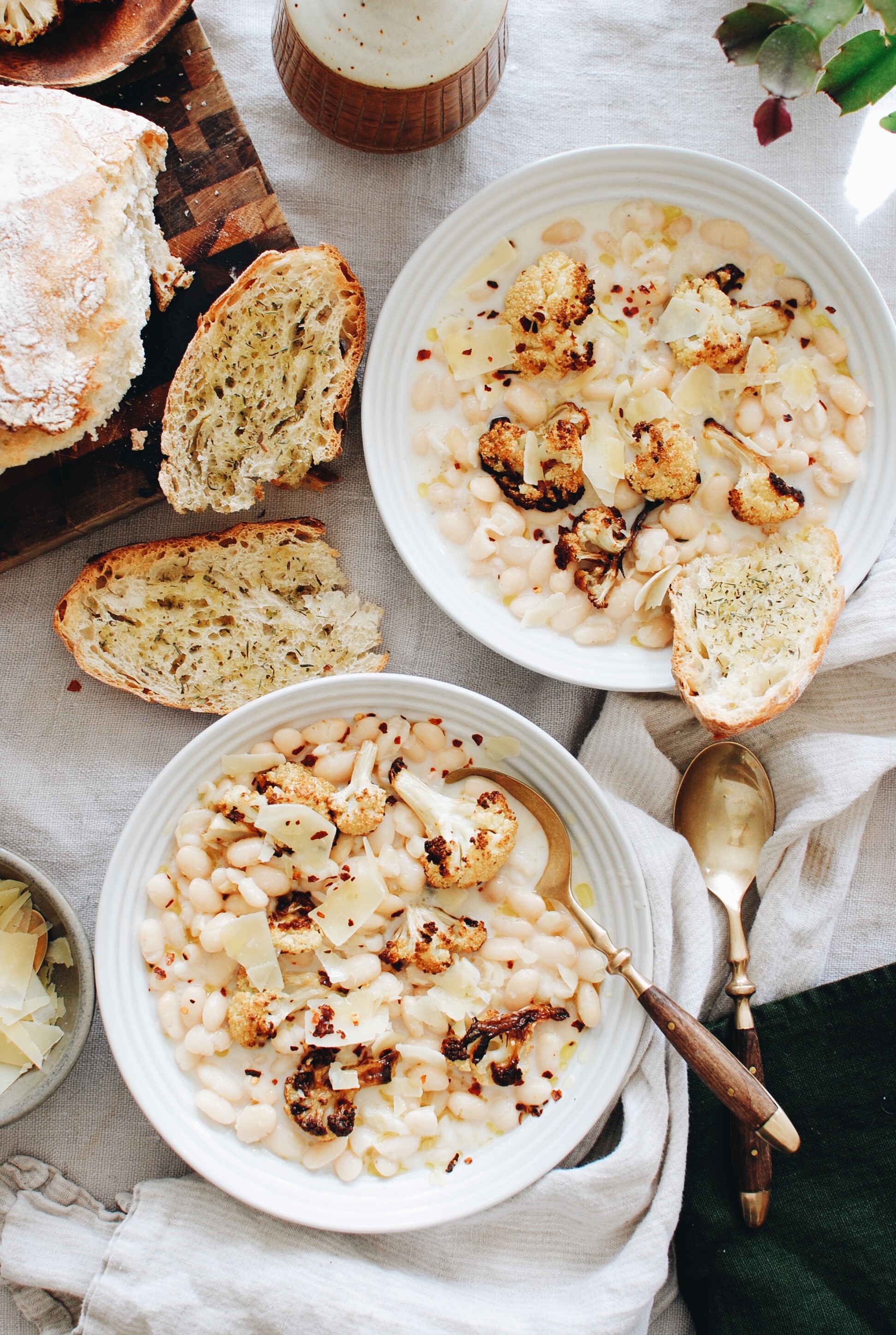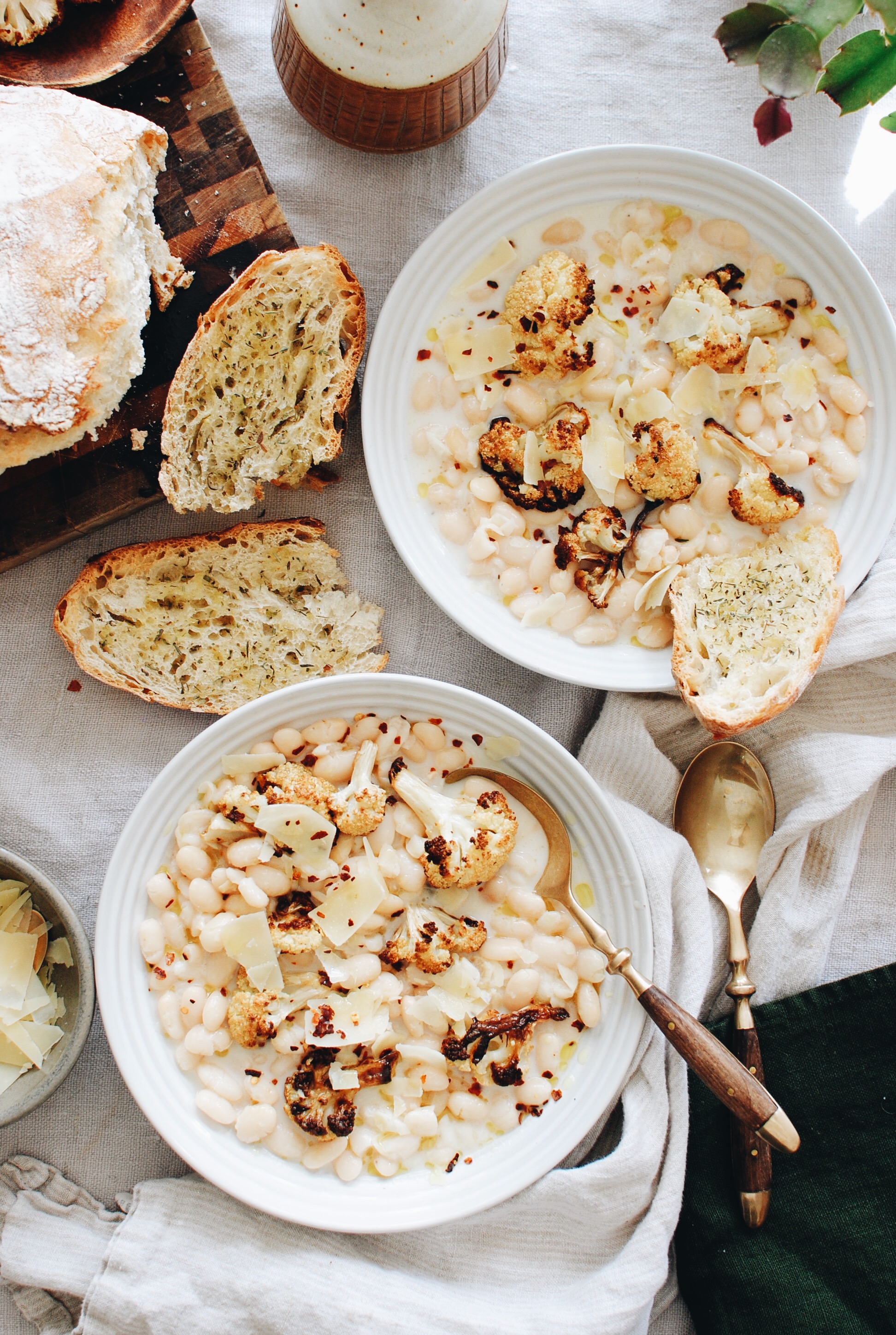 You know how you wake up one day and you're like, "I WANT TO EAT A POT OF BEANS."
A pot of beans! I never just make "a pot of beans." I think I thought about "a pot of beans" two years ago, and then forgot about "a pot of beans."
And then I realized – it's "potta beans."
Well clearly now I have to have some.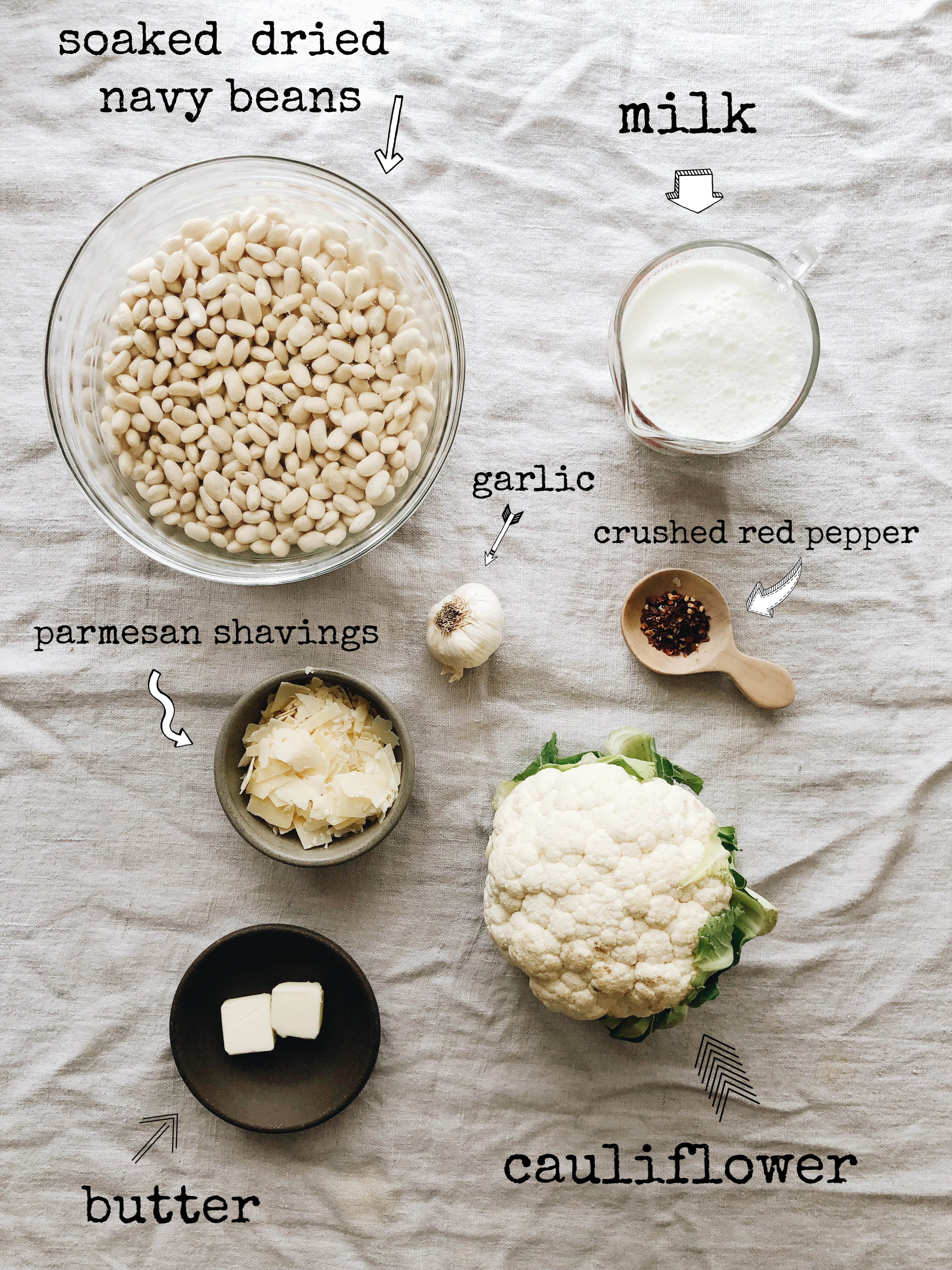 And you know, it's totally not a podunk meal. No matter what imagery just invaded your cerebrum .2 seconds ago.
Because when you make it with dried white navy beans that soak all night, and then you simmer them in salty water for almost two hours, and all the whilst you're roasting cauliflower with a head of garlic until charred and submissive, and then you make a roasted garlic cream sauce with a smidge of butter and crushed red pepper finished with thick, nutty shavings of parmesan cheese on top? Well now you're partying.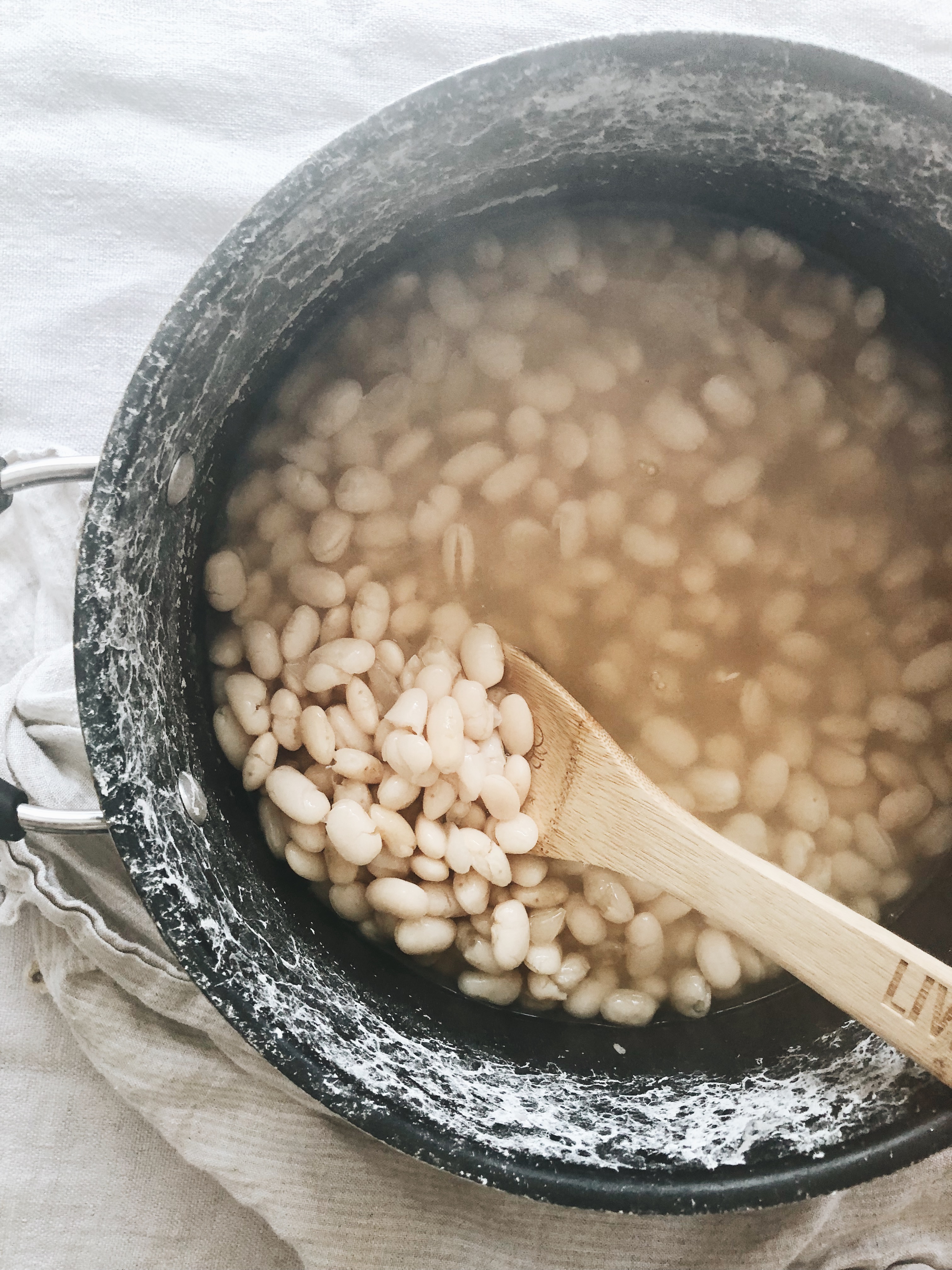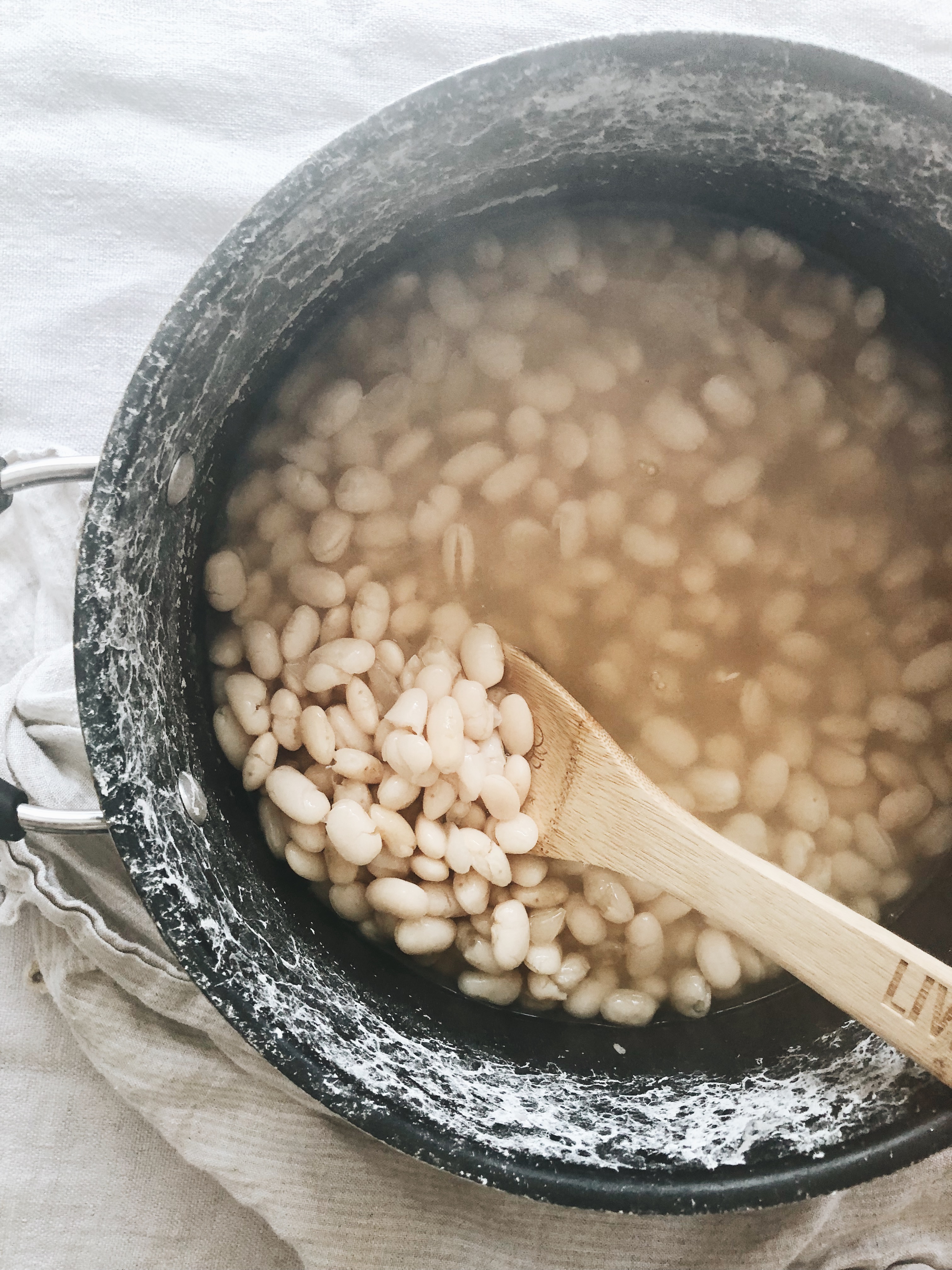 So that's just what I did.
It's actually pretty relaxing to make a pot of bea- sorry, potta beans. There's something about watching them shrivel and wrinkle like raisins who've seen a ghost in the bowl of soaking water, and then slowing simmering them the next day, plump and eager to tenderize.
Beans don't get eager. I made that part up.
(You could also cook these in an instant pot, if you'd rather not simmer. You fly, little bird.)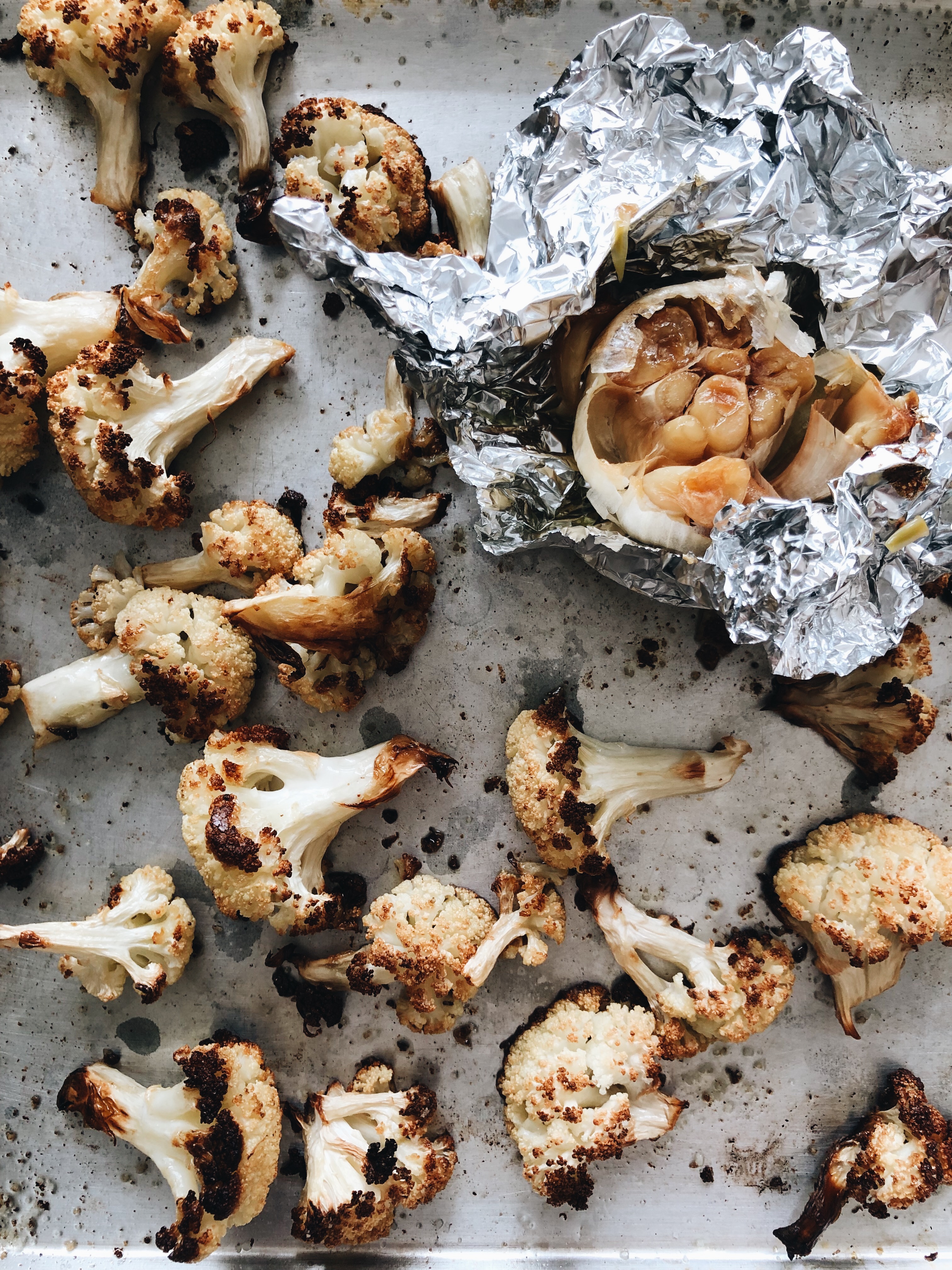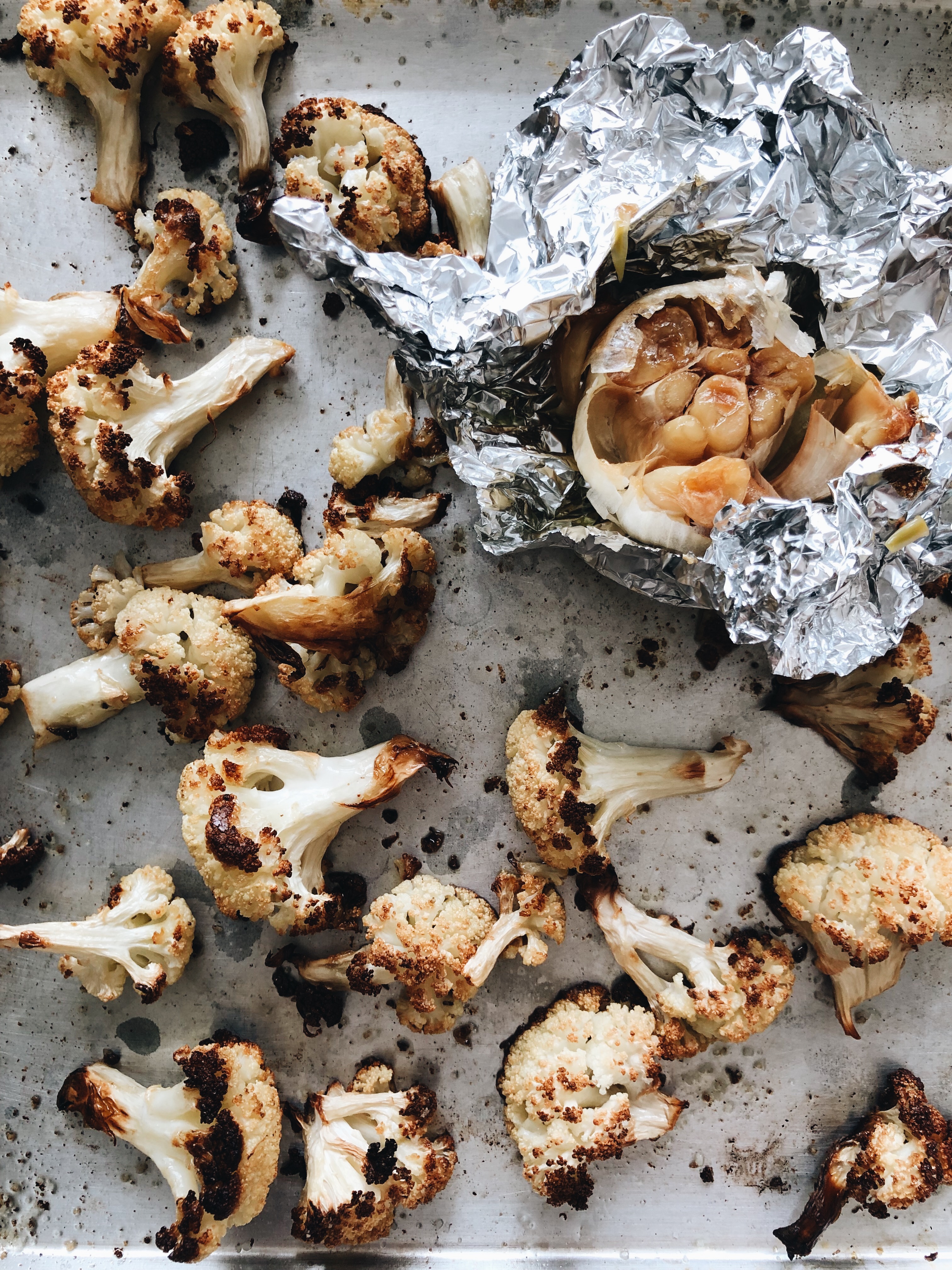 Cauliflower and garlic in a hot oven for an hour means promising things for your life. Promzee.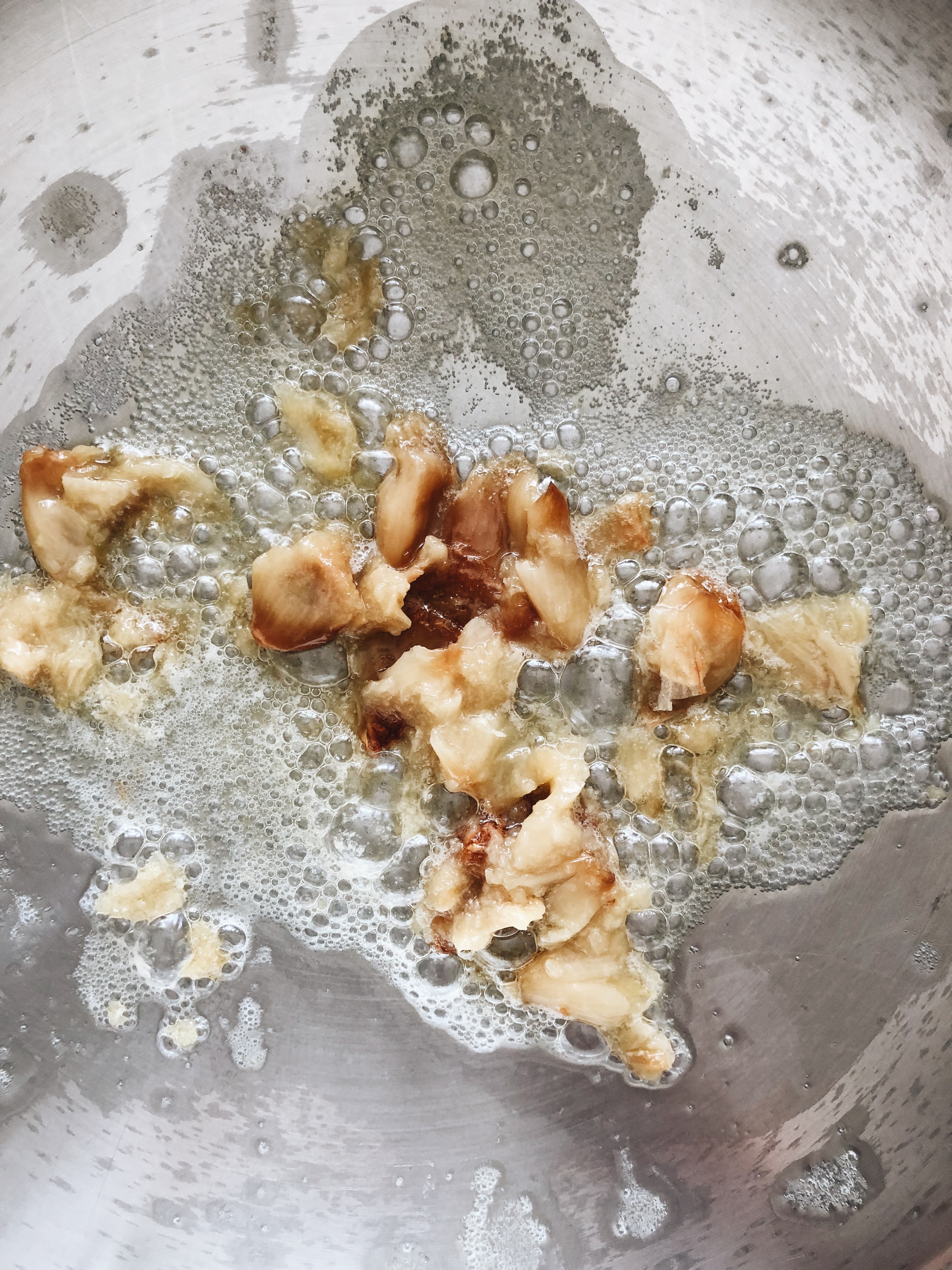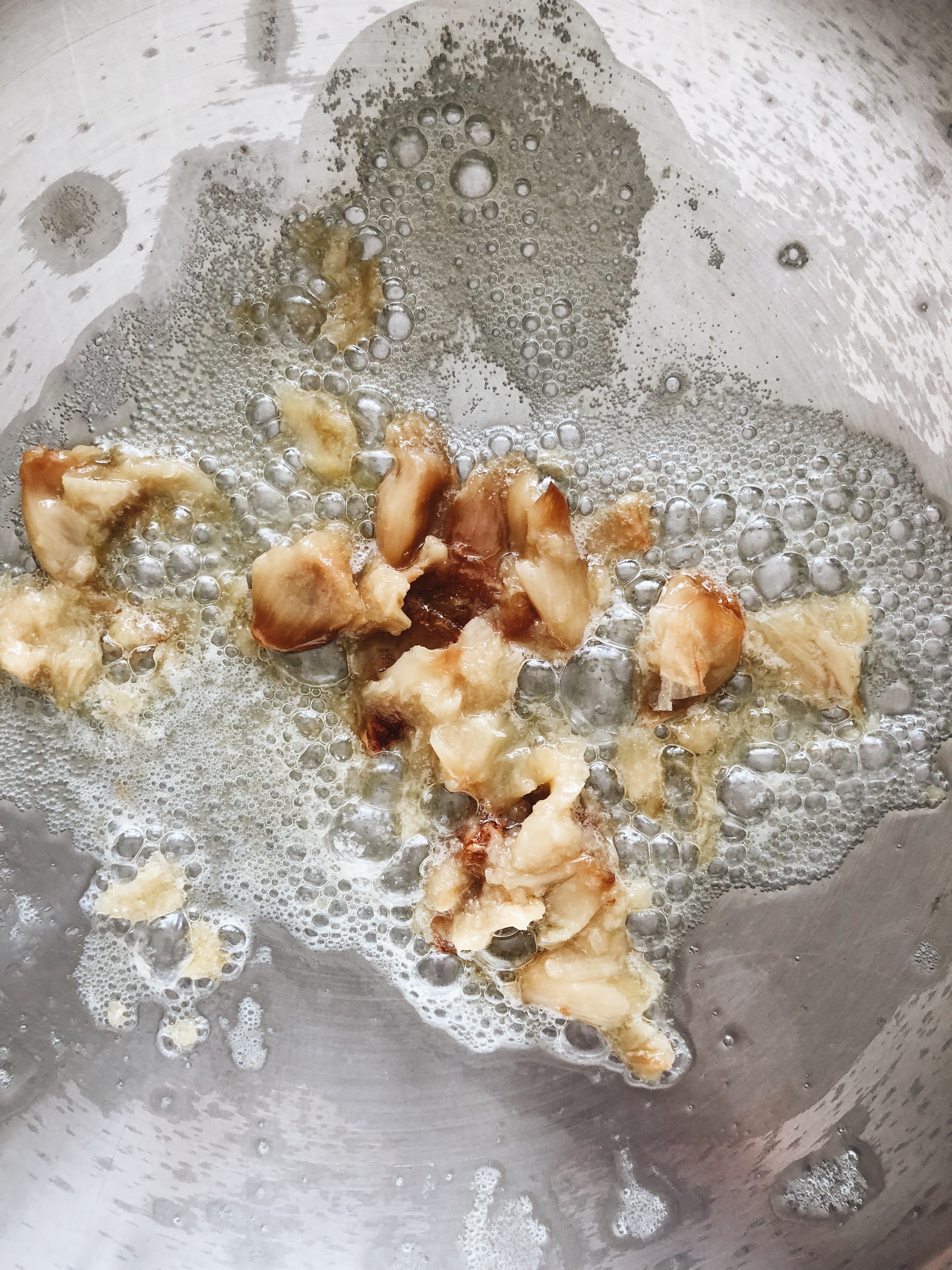 Now melt a little butter, and squish the roasted garlic out of their skins and into the pan. It's rustic, yes – but if you press the garlic into the butter, it will break up a bit and sizzle in the butter, and you will weep from within.
Then really, all that's left is stirring in a couple cups of milk, the cooked beans, a pinch of salt, and another pinch of crushed red pepper because rustic eating is life.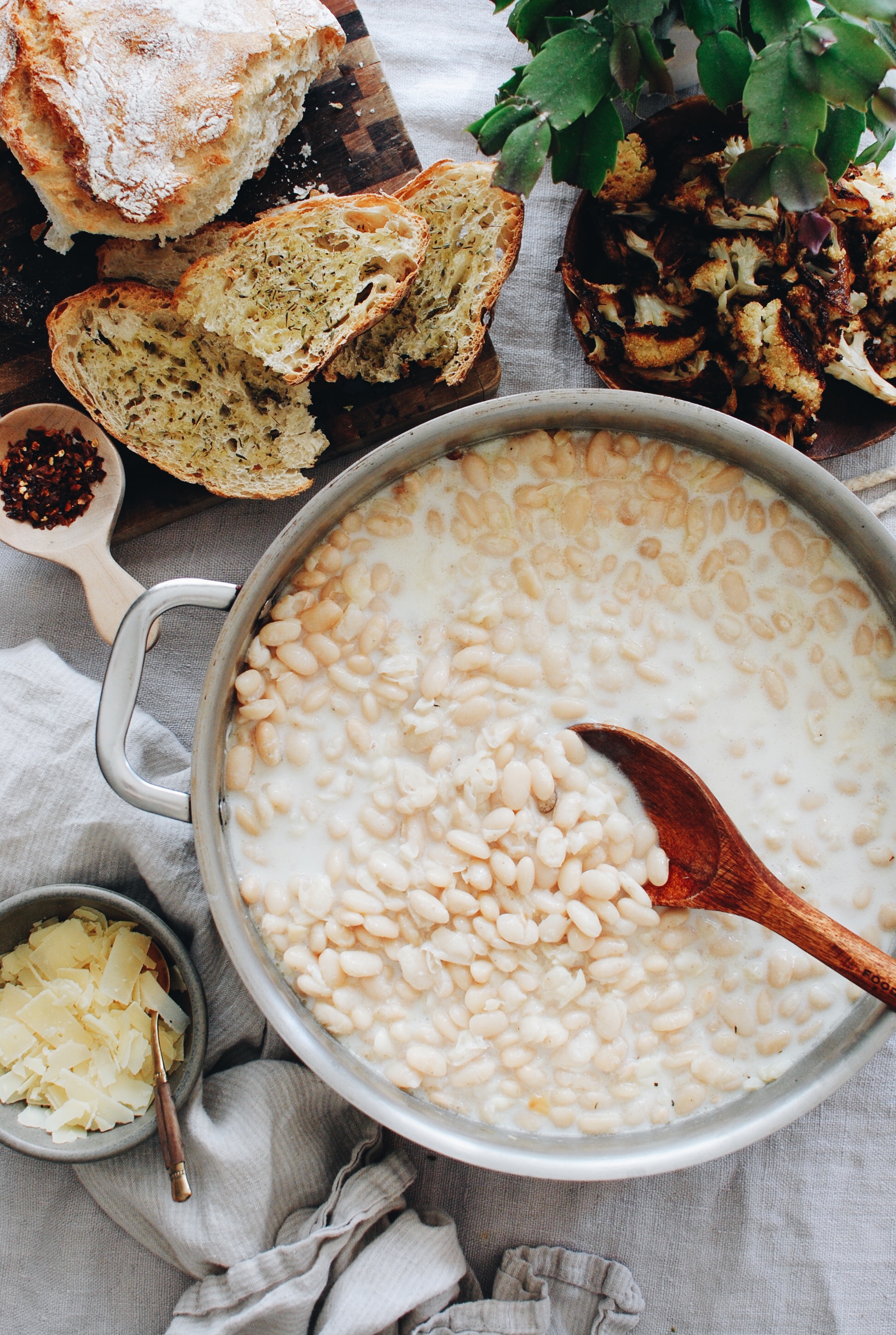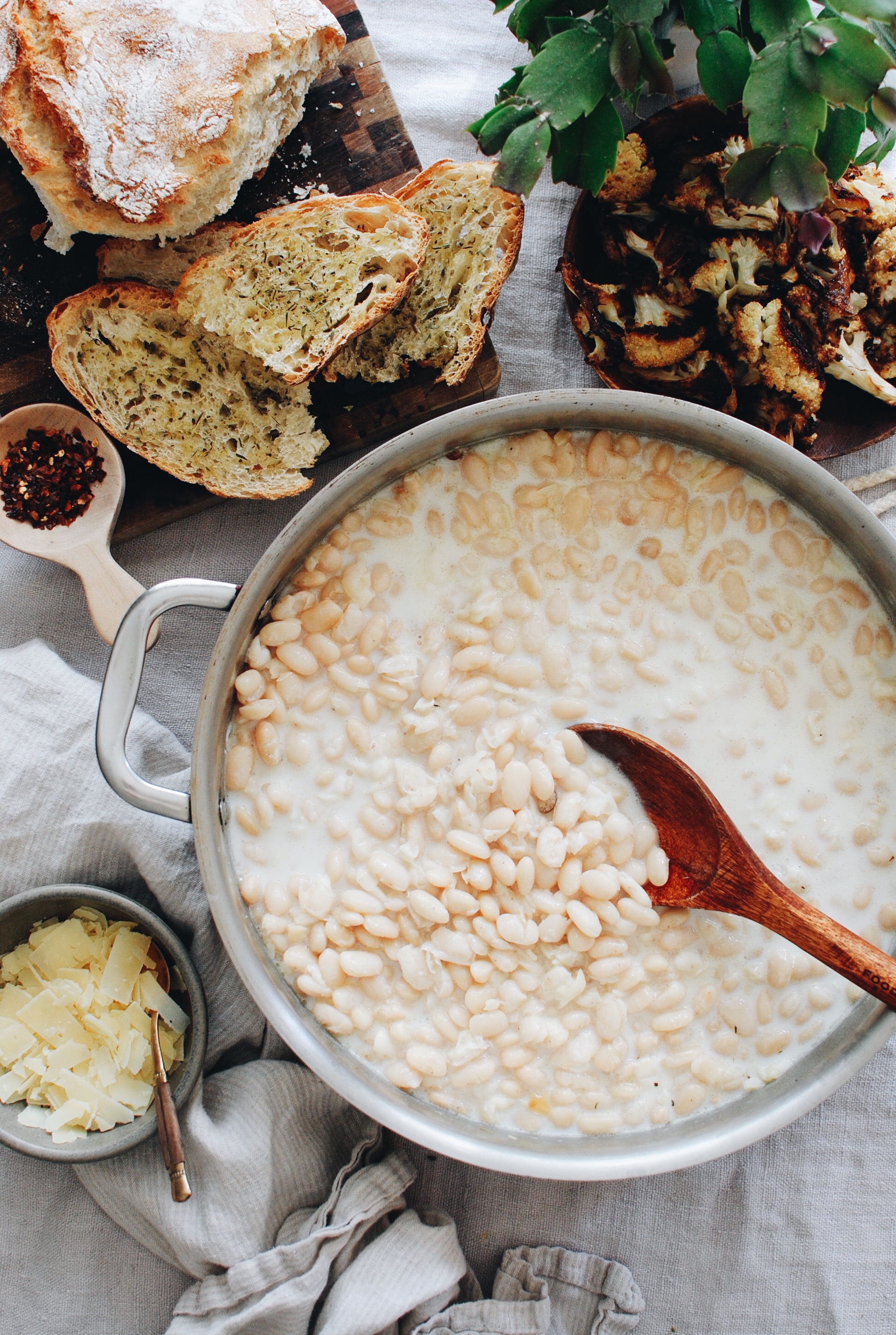 Freaking look at that.
Okay, you can add the roasted cauliflower now, nestle it in, top with some parm and serve it up family style with some crusty bread. Which is always a stellar life move.
Or! You can ladle the soupy beans into shallow bowls and commence with cauli nestling at your own speed. Cheese, red pepper flakes, your mouth.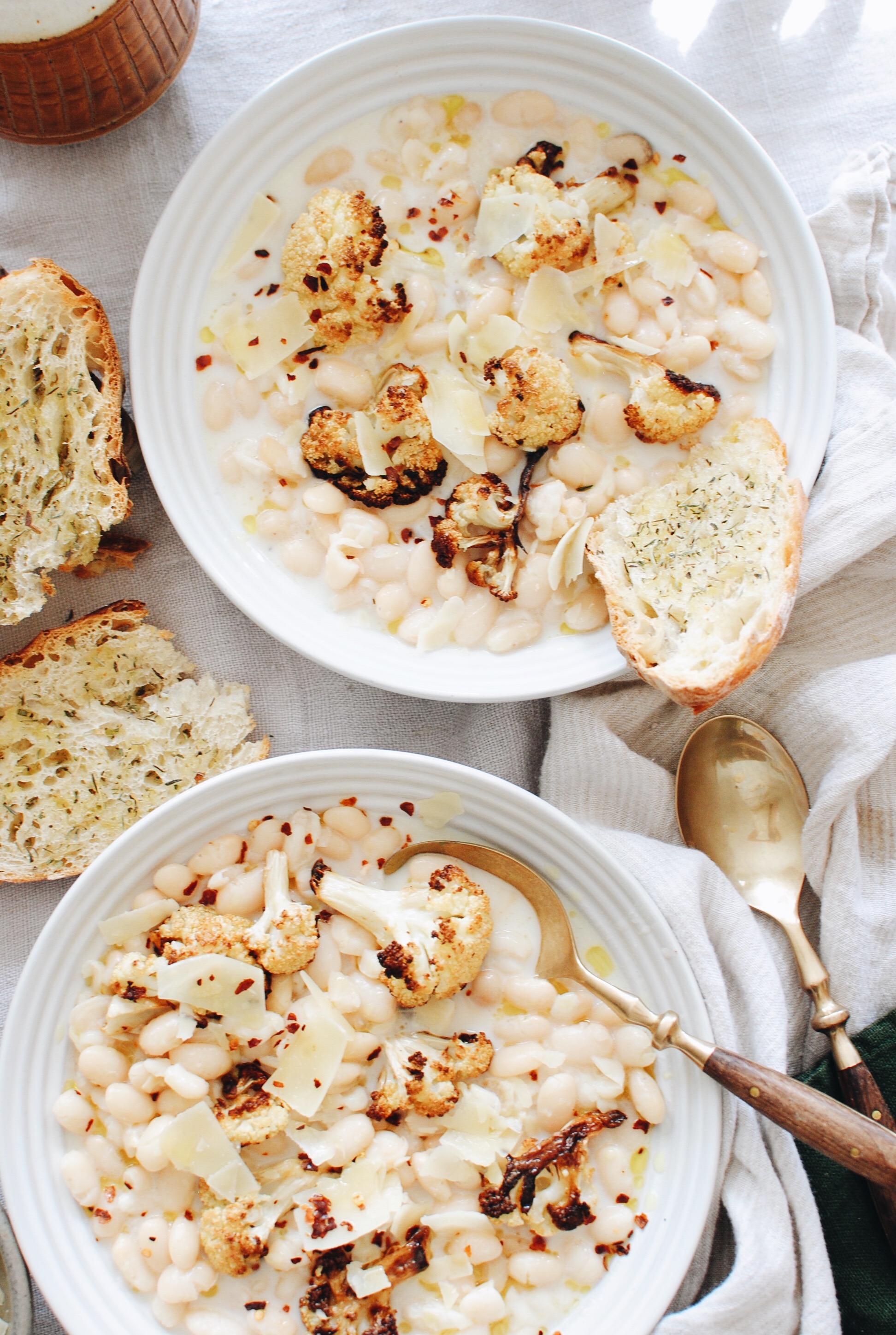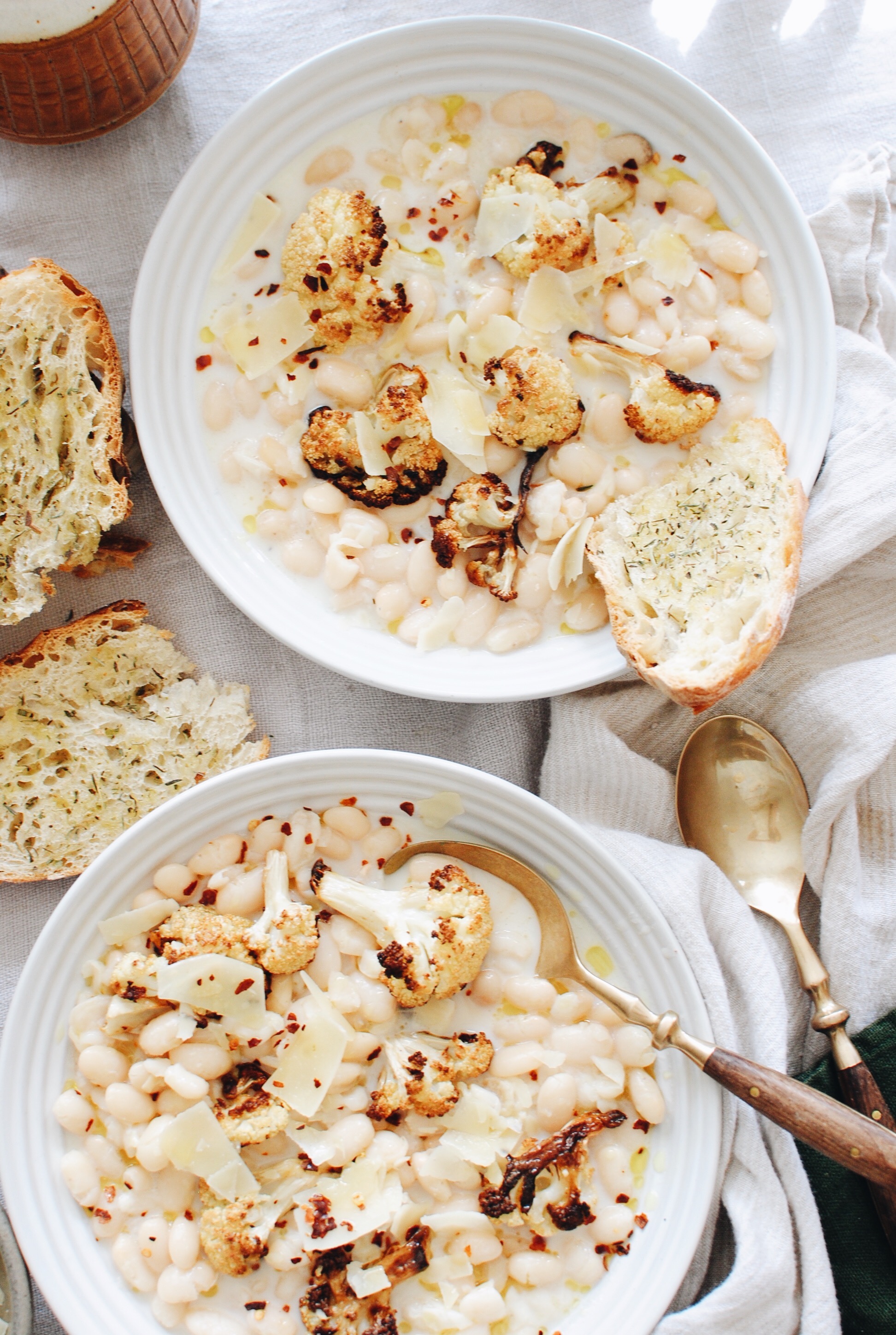 It's just DIVINE, I tell you. A humble meal in a way, but like – elevated. Those beans have been on quite the journey, and you will TASTE every step on your tongue. And snuggled all in a roasted garlic cream sauce with roasted cauliflower NO WILL NOT STOP.
You can absolutely serve this with a roasted chicken, or deem this'n your meatless meal of the week!
But make it. It's so homey, smells ridiculous, has that rustic je ne said quoi that feels elegant but familiar.
And maybe obviously add more parmesan.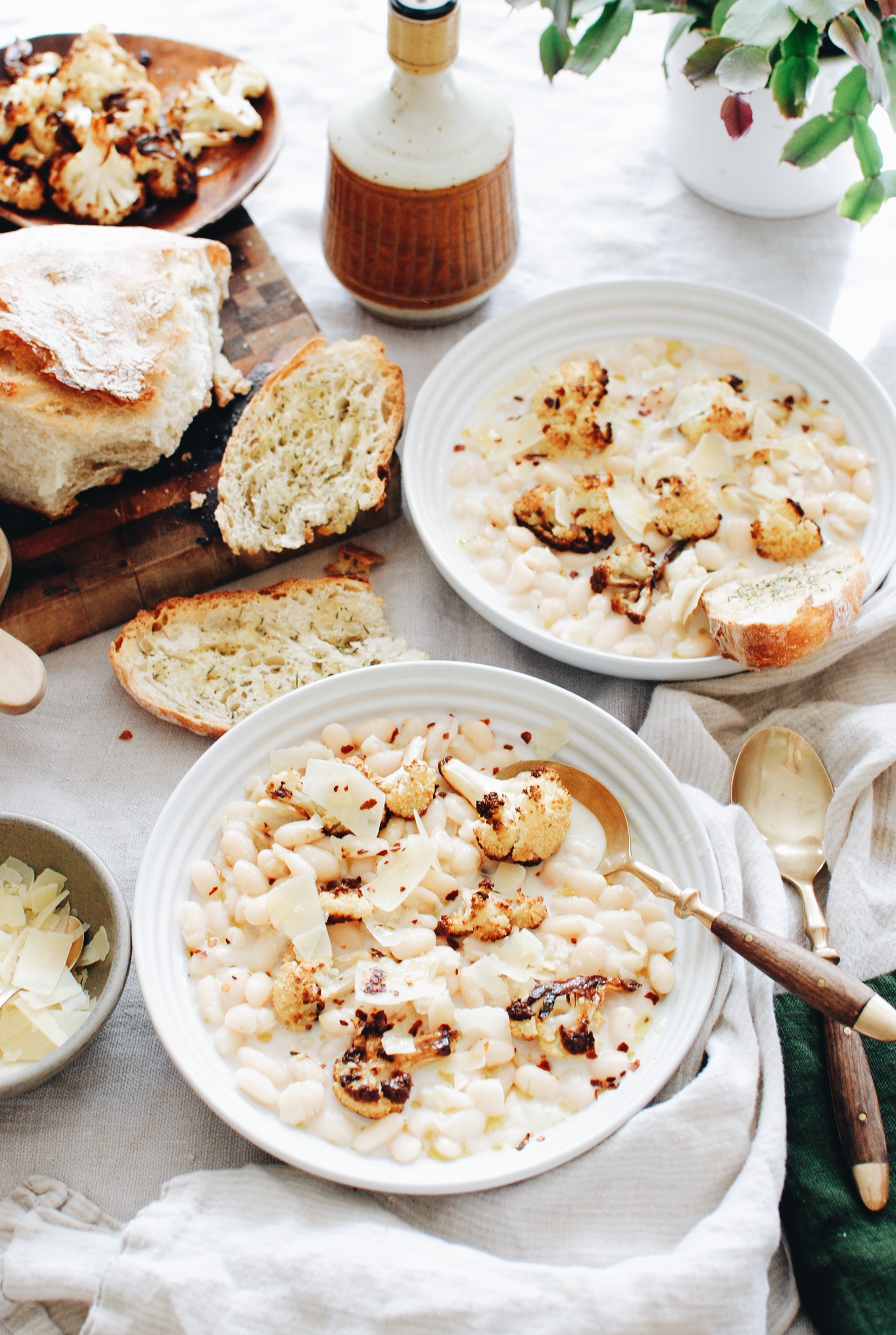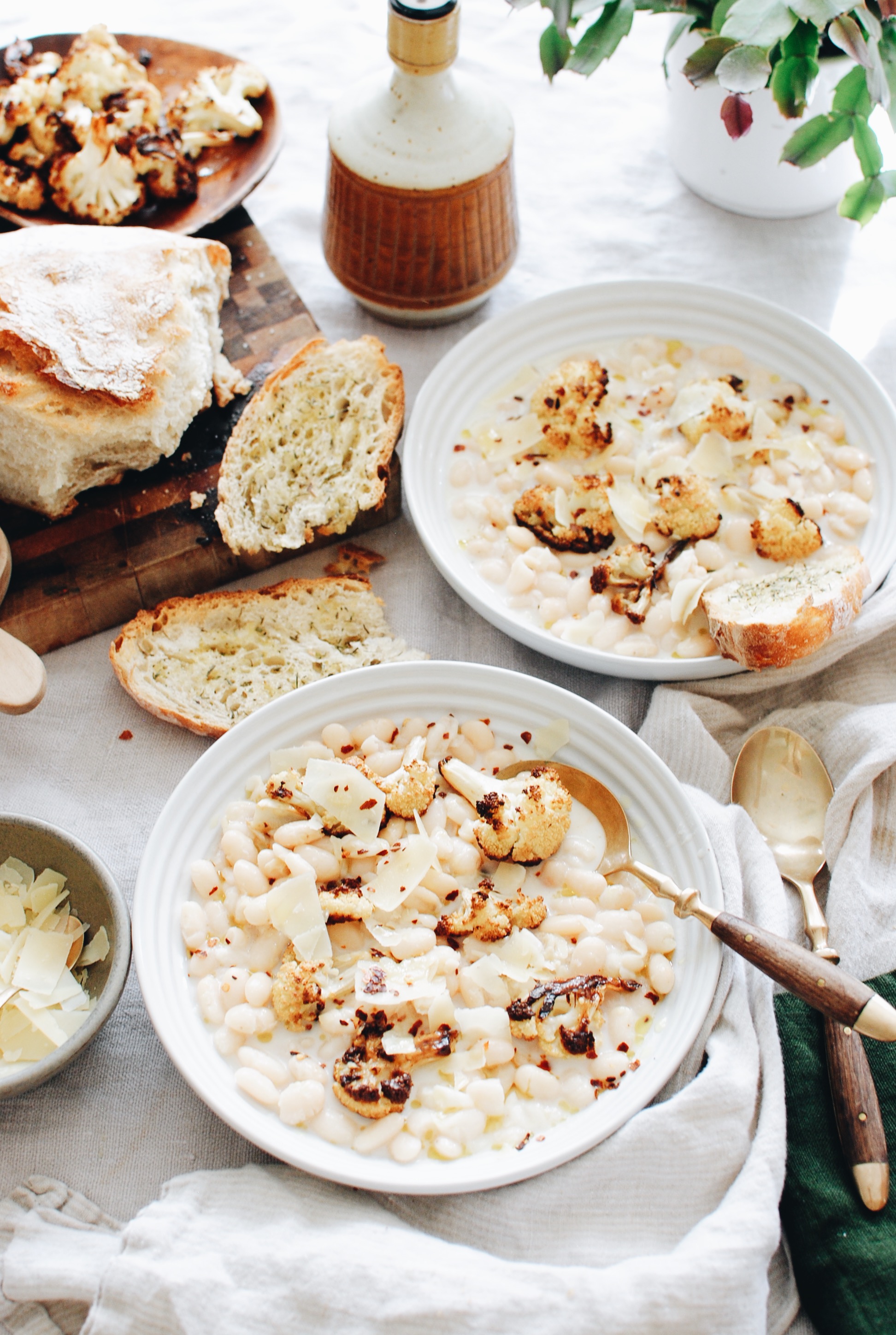 This weekend? YEPPERS.
Garlicky White Beans with Roasted Cauliflower
Ingredients
1 pound dried white navy beans, soaked overnight in a big bowl of water
1 head of cauliflower, broken into florets
1 head of garlic, root cut off to expose cloves
2 Tbs. extra-virgin olive oil
2 Tbs. butter
2 cups milk
Coarse salt
Parmesan shavings
Crushed red pepper
Instructions
Bring a large pot of salted water to a boil. Add the soaked beans and let simmer on medium-low anywhere from 1-2 hours, until softened, but not mushy and broken. Just keep an eye on them!
Preheat your oven to 400.
Place the cauliflower florets on a rimmed baking sheet. Drizzle the cauliflower with a Tbs. or two of olive oil, and season with a pinch of coarse salt. Wrap the garlic in a small piece of foil, drizzle a tsp of olive oil on it, with a pinch of salt. Pinch the foil and place it on the baking sheet. Roast the cauliflower and garlic for one hour, until the cauliflower is tender and charred all over.
Melt the butter in a large skillet. Once foaming, squeeze the garlic cloves out of their skins straight into the butter. Using a wooden spoon, sort of press the garlic into the butter, breaking it up and letting it sizzle. Add the milk, the cooked beans, and a pinch of salt. Let it simmer roughly five minutes, just enough for the beans and milk to marry and fall in love. Now taste it. Need more salt? You could even add a squeeze of lemon juice right here, just to amp it up. Look at you, you rebel.
Serve the creamy beans with roasted cauliflower, a pinch of crushed red pepper and the parmesan shavings!
Rustic, homey, freaking delish. Slurp.
Serves 4.
7.8.1.2
211
https://bevcooks.com/2019/03/garlicky-white-beans-with-roasted-cauliflower/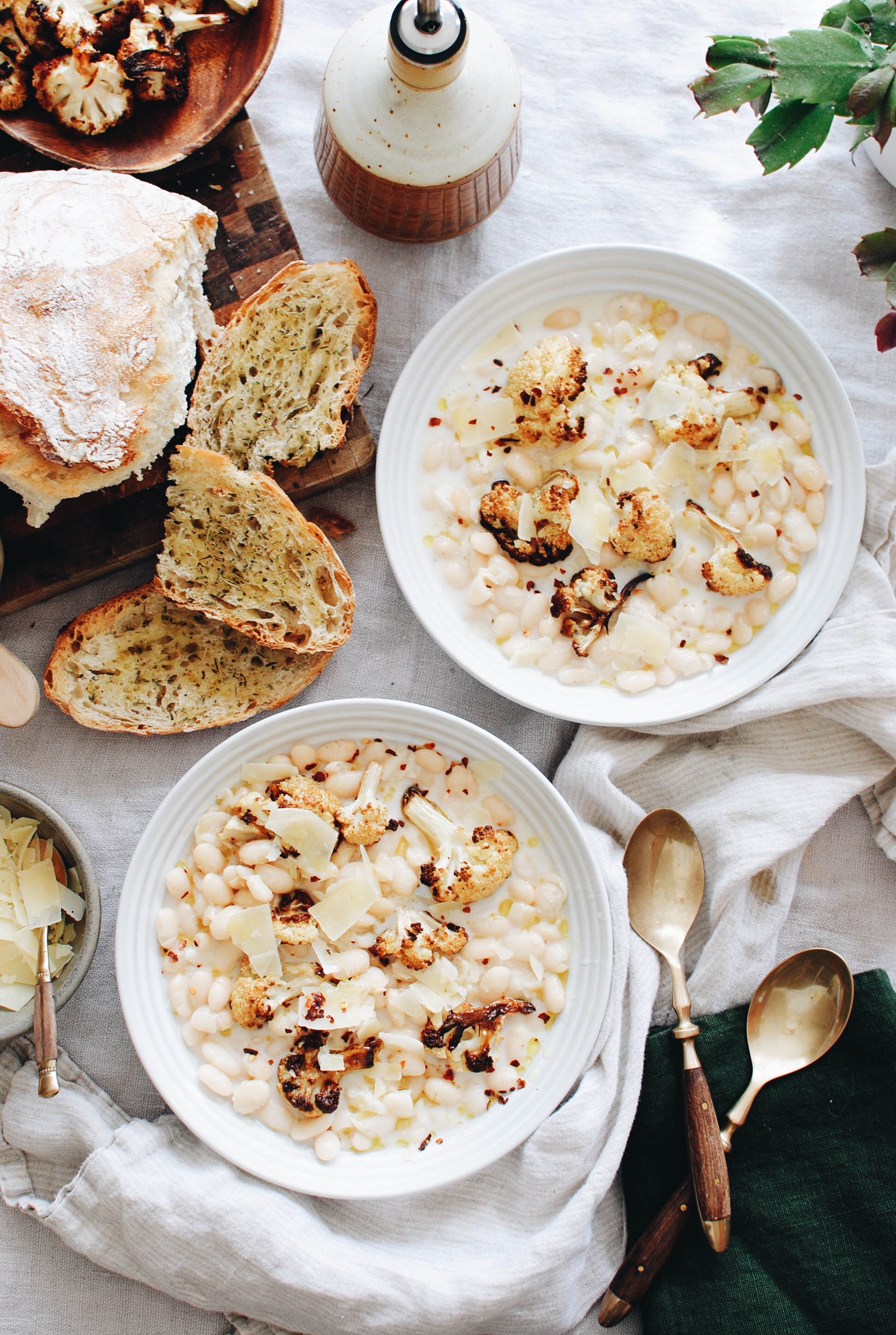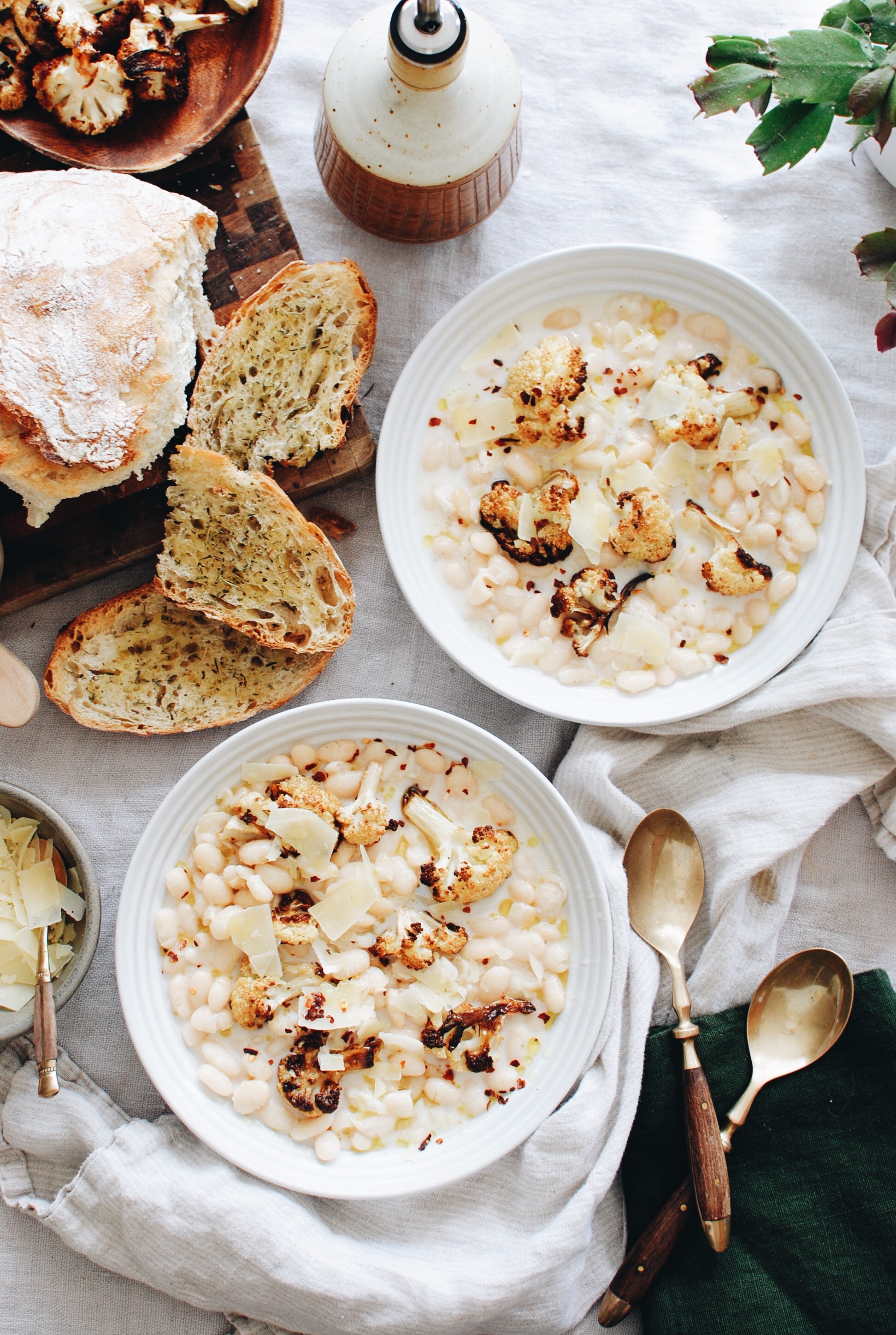 Potta beans MY FACE.