Soup! On the second day of spring. IT IS STILL CHILLY, GUYS.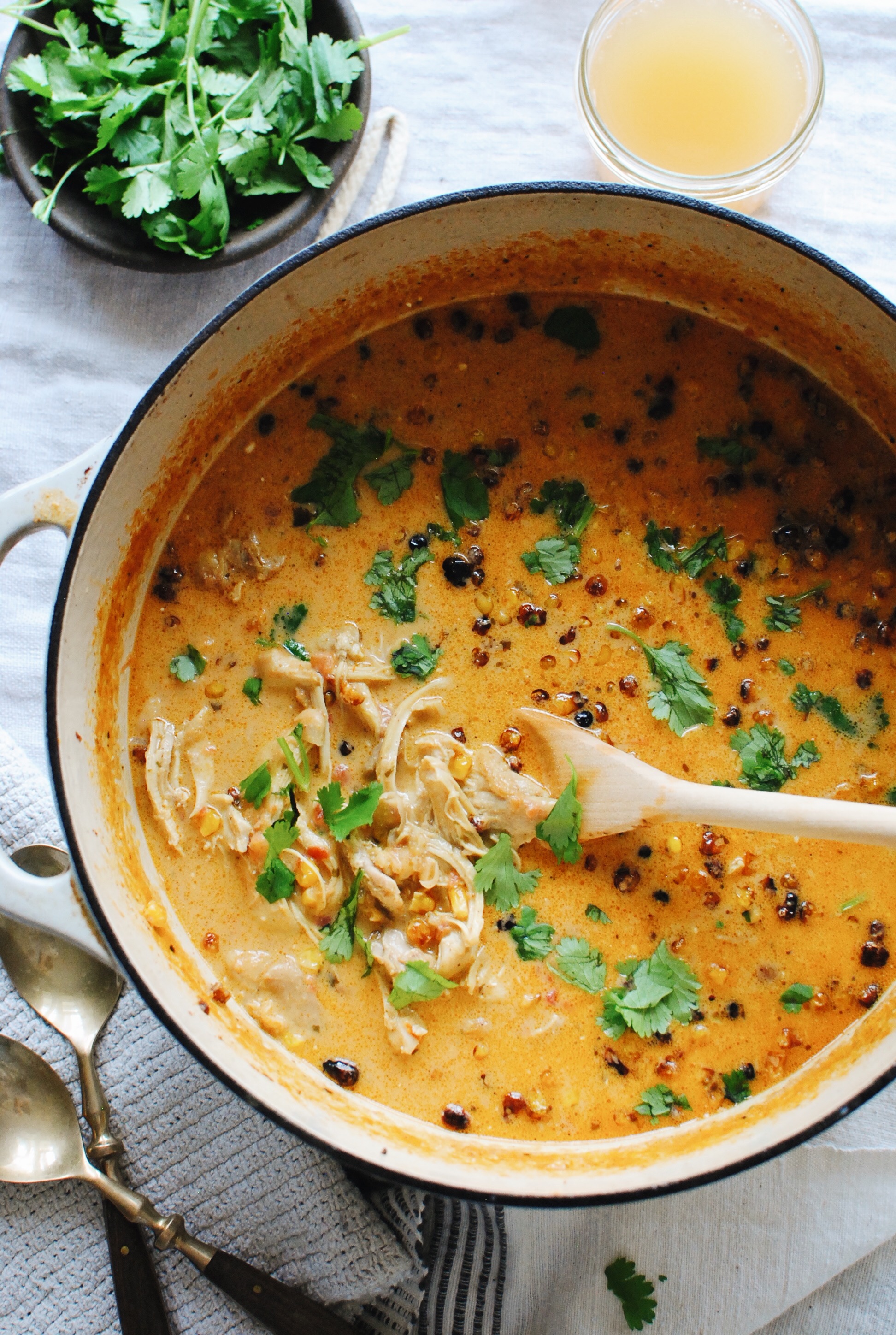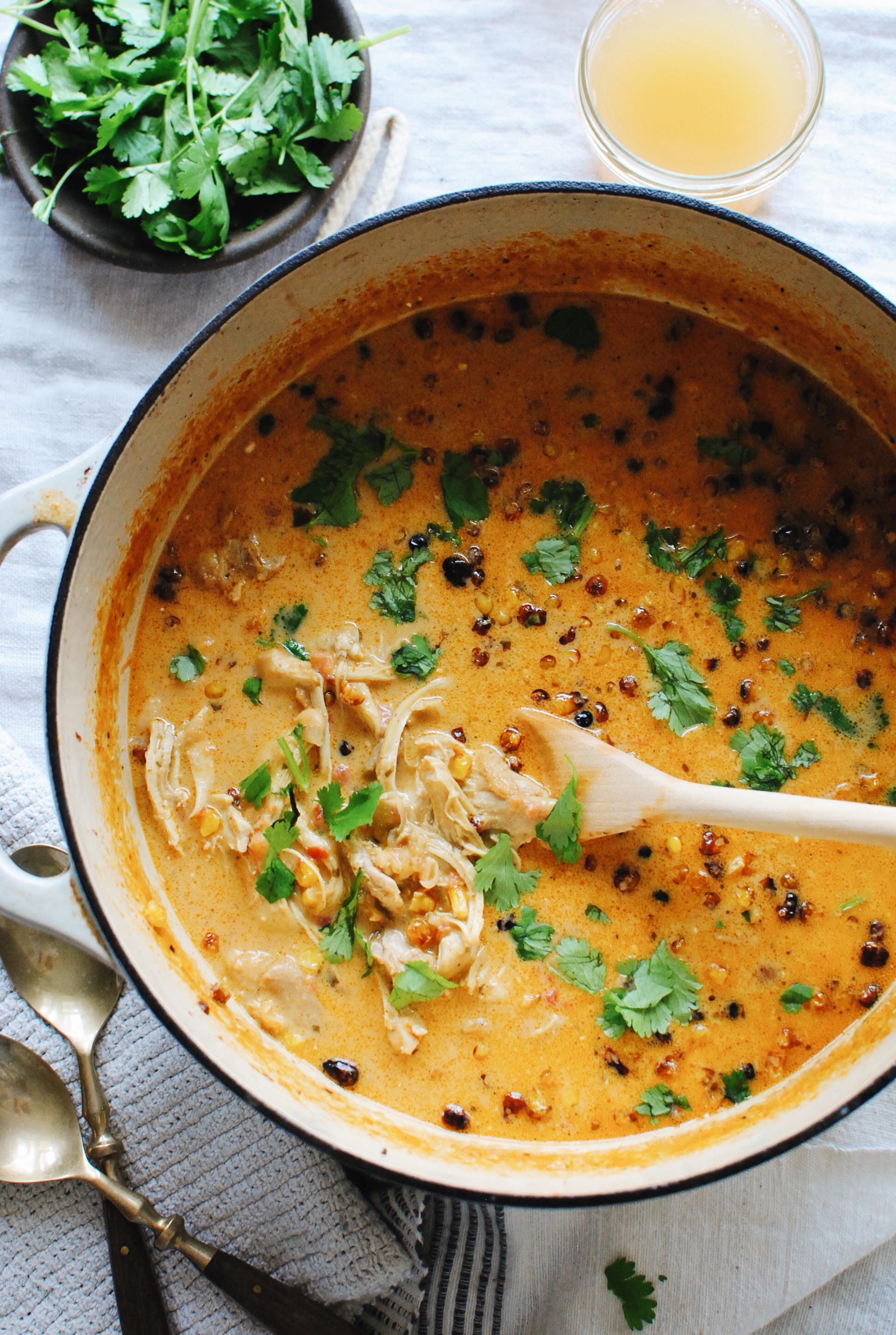 I'm not yelling at you.
Sometimes I speak like Owen Meany. Remember that book? A Prayer for Owen Meany? He's this tiny dude that screams constantly in all caps? That's me.
So yeah, soup! CHICKEN SALSA SOUP. And I feel like you're here for it.
This is totally that soup that you make at the end of the day after working in the garden (spring!), or tidying up the yards (spring!), or relaxing on the back patio with a book and a rosé (SPA-RING!).
It's simple. Filling. Madness flavors. You'll see.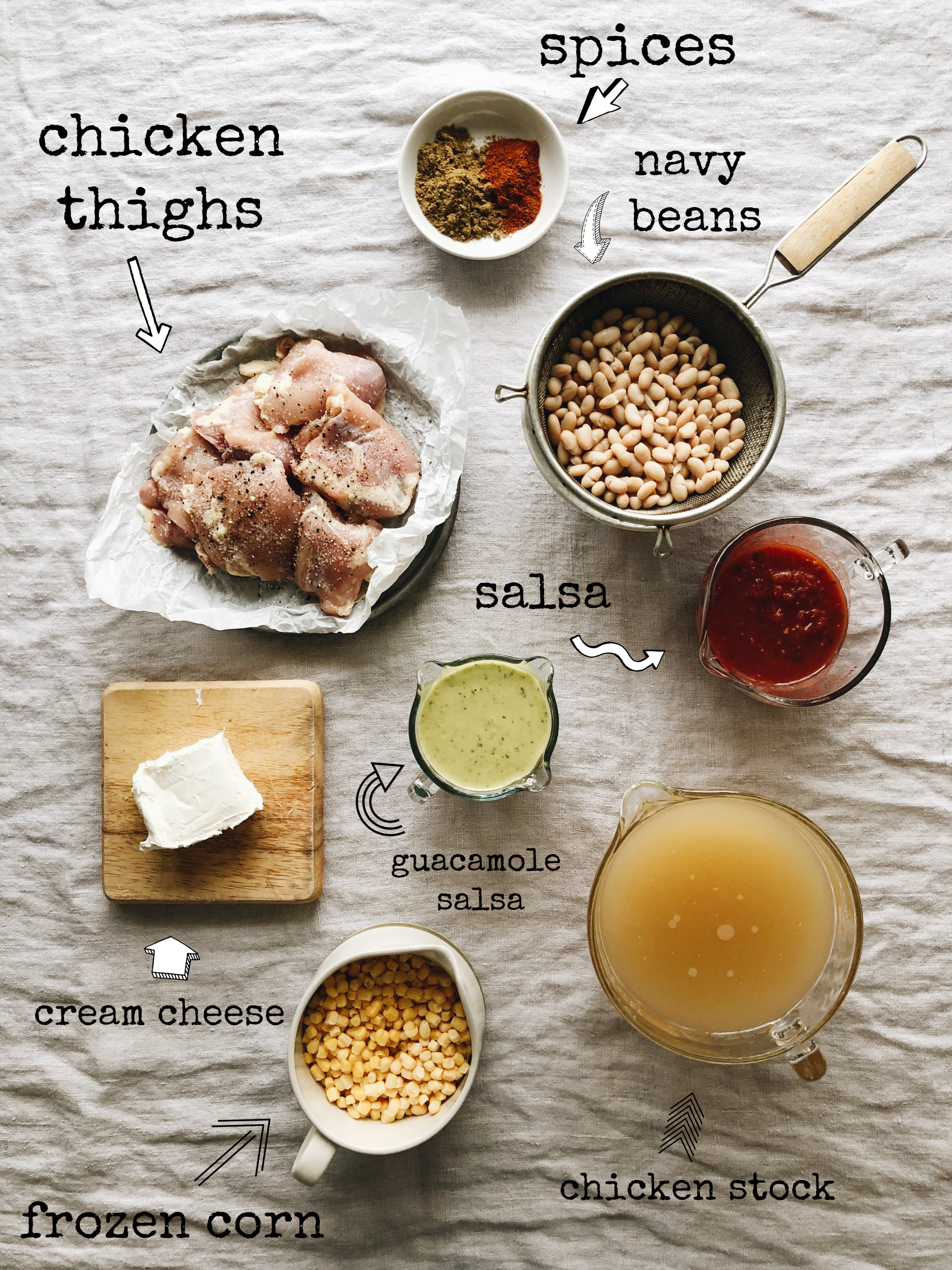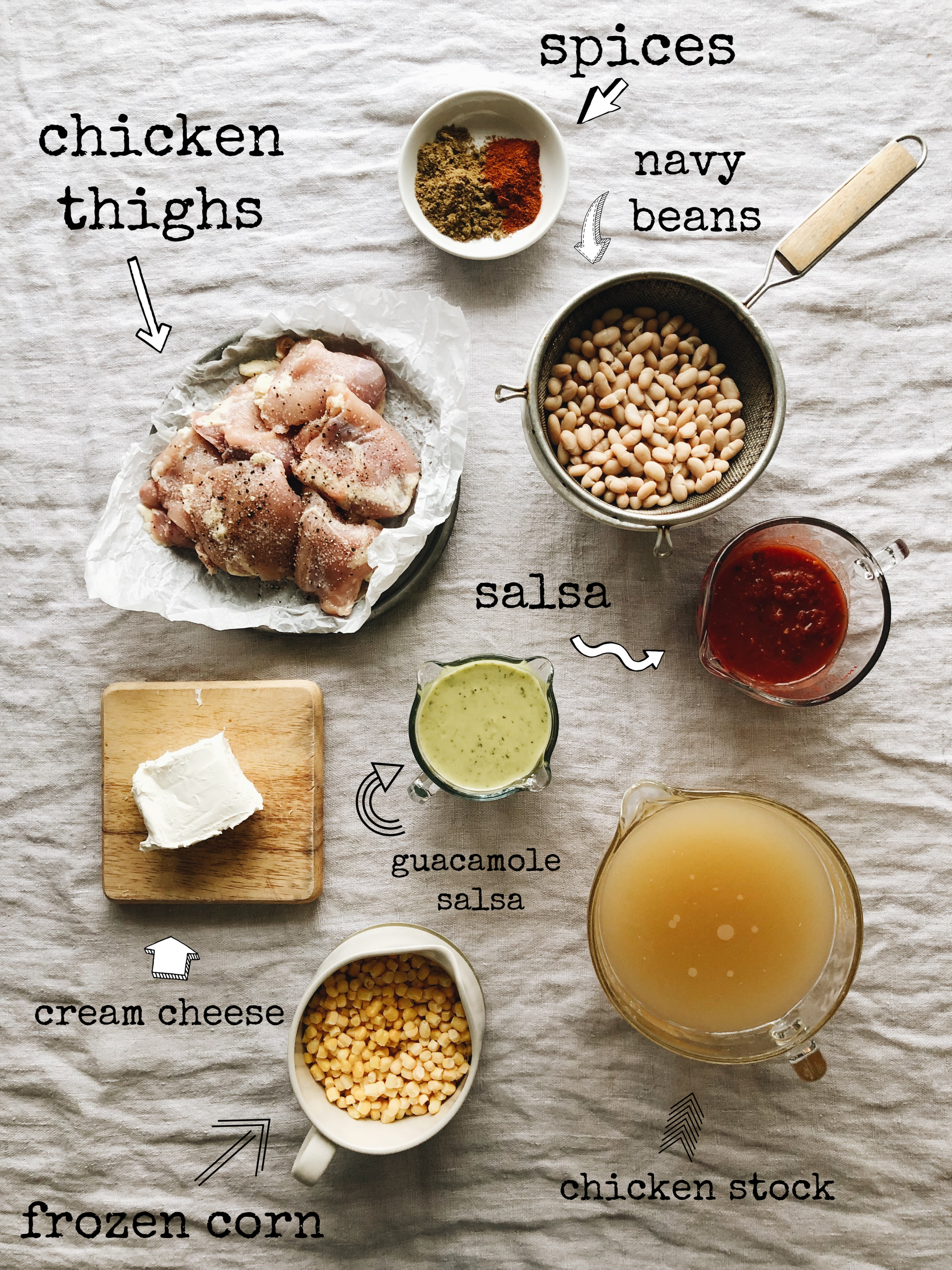 Mostly staples, you know? Jarred salsas, frozen corn, stock, half a block of cream cheese (you know there's one waving at you all lonely in your cheese drawer), canned beans.
Before I go on, I know you're like, "WHAT is that gaucamole salsa and how do I make the rest of my life about it?" This post isn't sponsored at all – but this is the brand I used. It's a big brand, so I feel like you can get it anywhere. But if you can't, salsa verde works like a muthuh.
And chicken! Go with thighs if you want a good long happy life.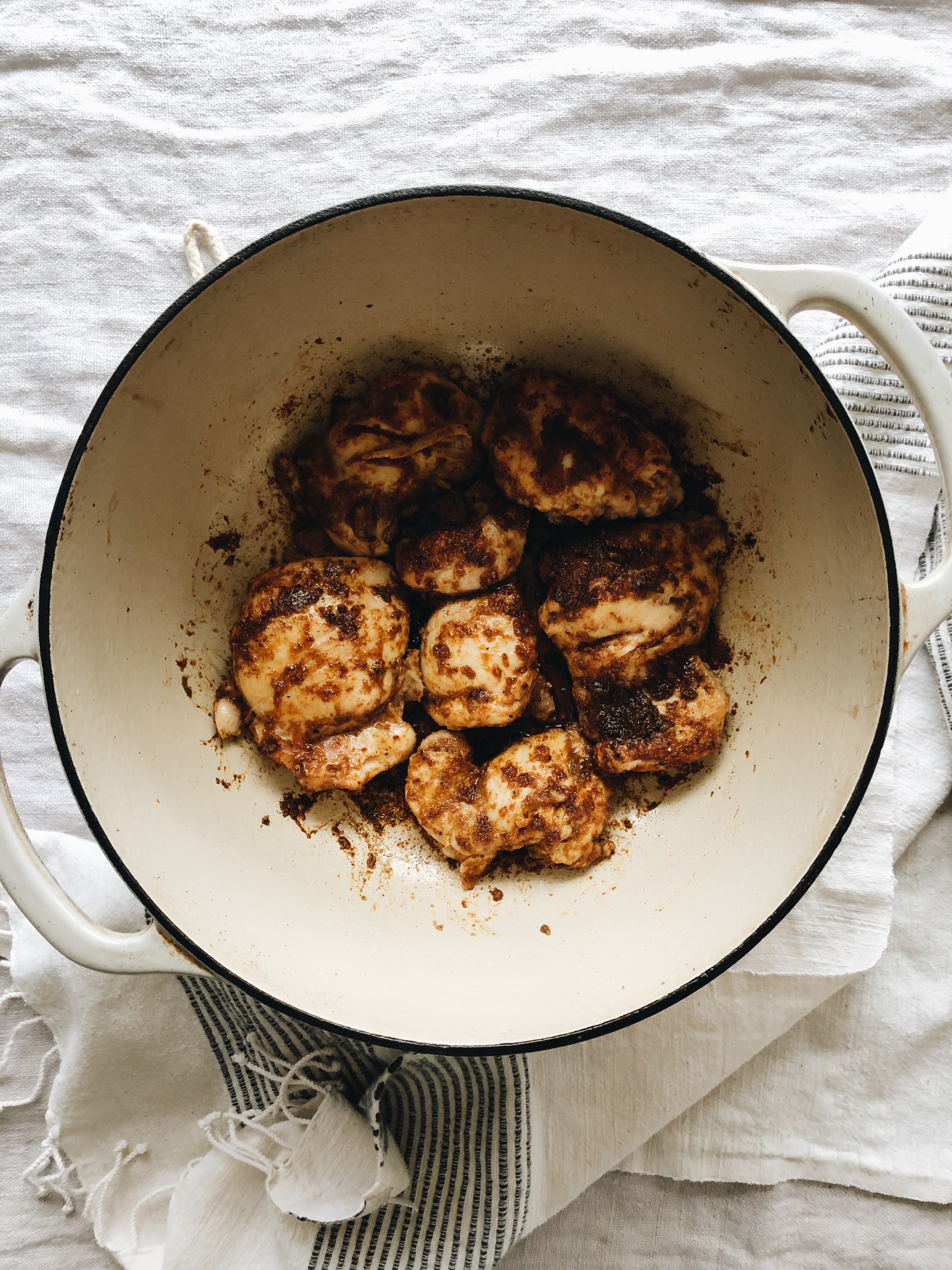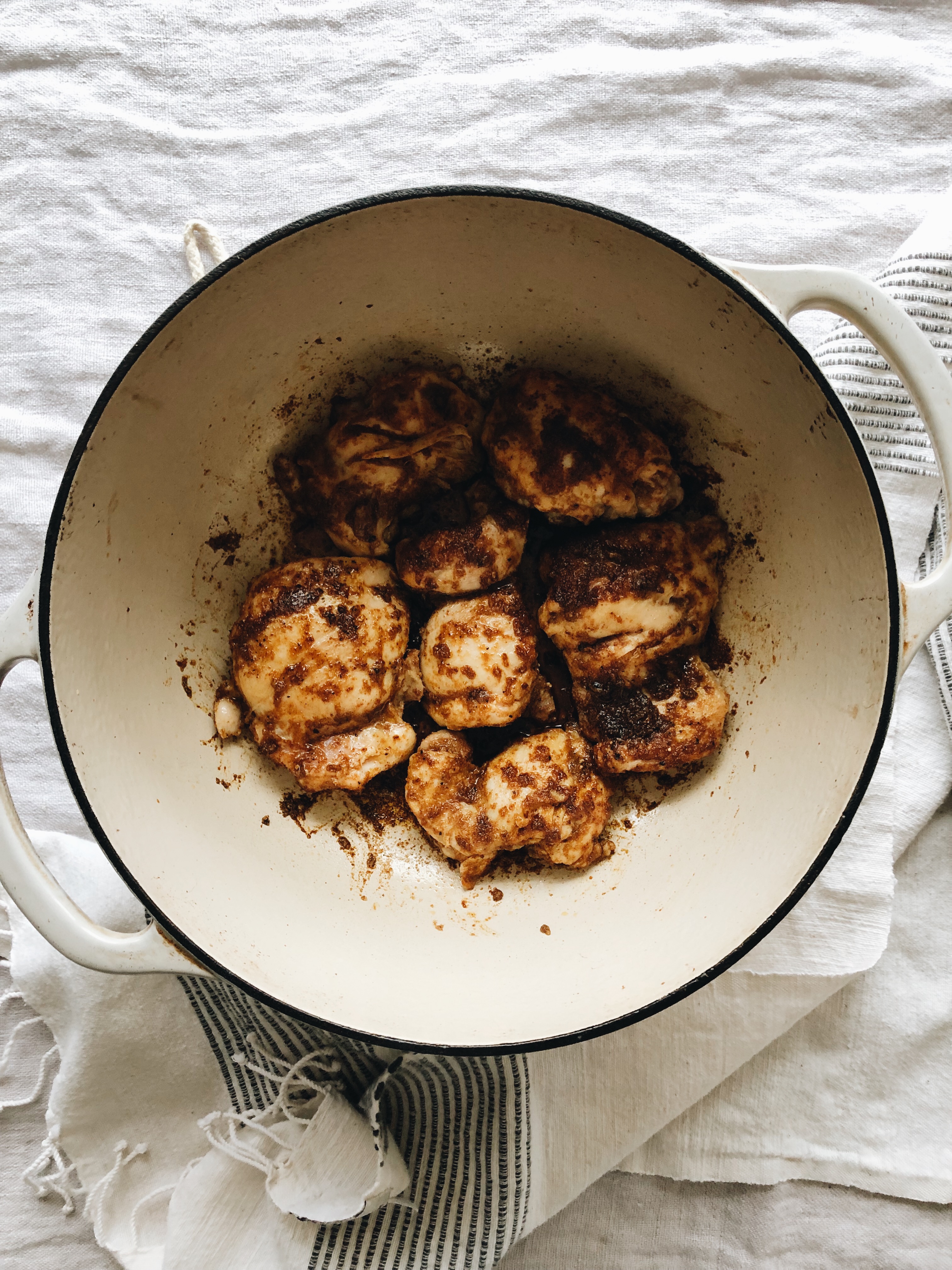 First up, sear your thighs! Not YOURS, ya boob.
Season with cumin and chili powder and get 'em nice and browned all over. Then take them out for just a little bit because we're about to perform some voodoo craziness on the broth, and the chicken can't get in our way. They'll finish cooking in a bit! Don't give me the stink eye.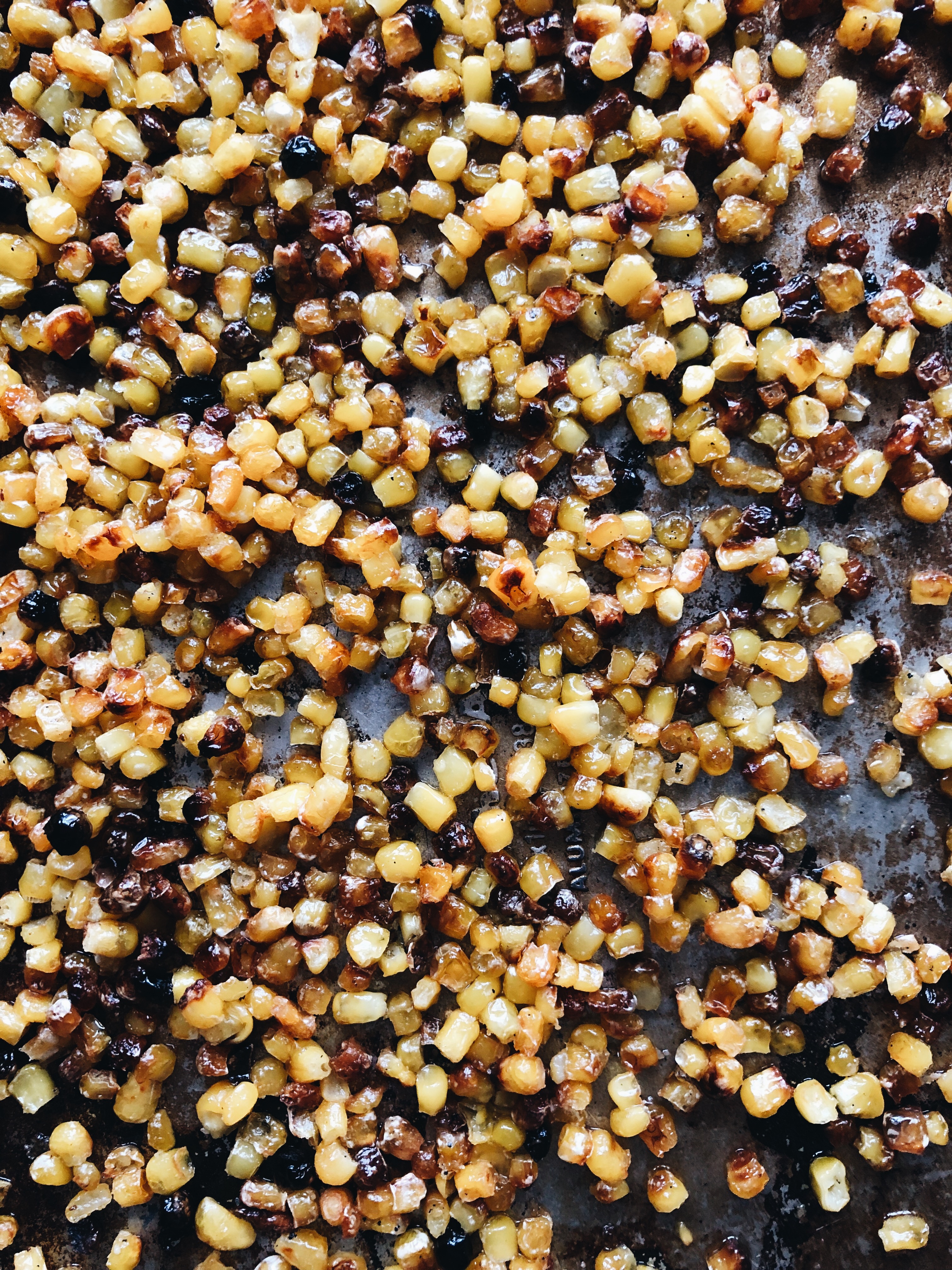 Take that frozen corn and broil it on a baking sheet for about 10 minutes. You know this is my loop hole in life. The secret to perfectly "roasted" corn, is actually broiled.
And I'll be straight-up-now-tell-me with you – I broiled too long. Just a minute or two. I got distracted and excited about a new curling iron and boom – burnt corn. But yours will be perfect. I believe this about you.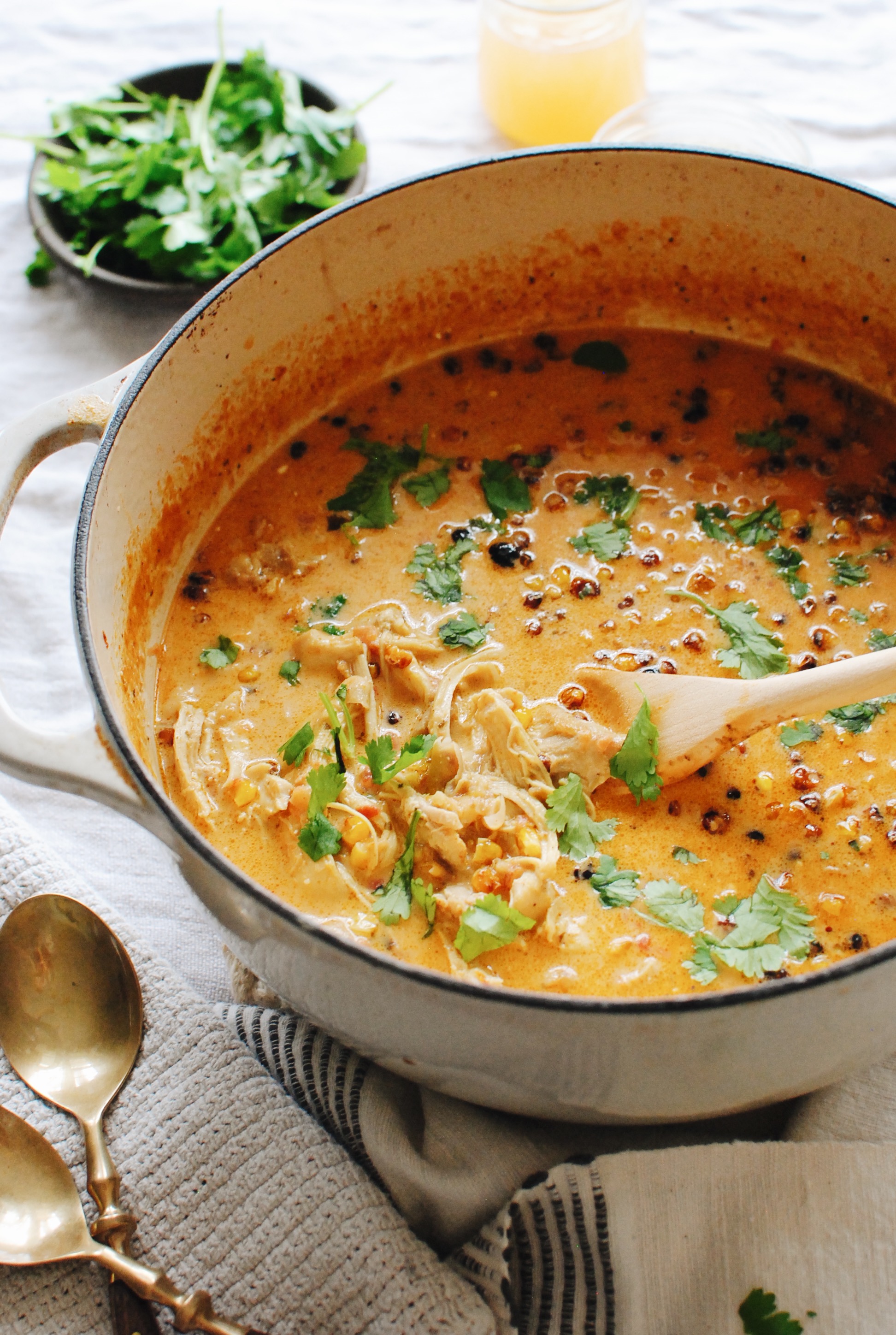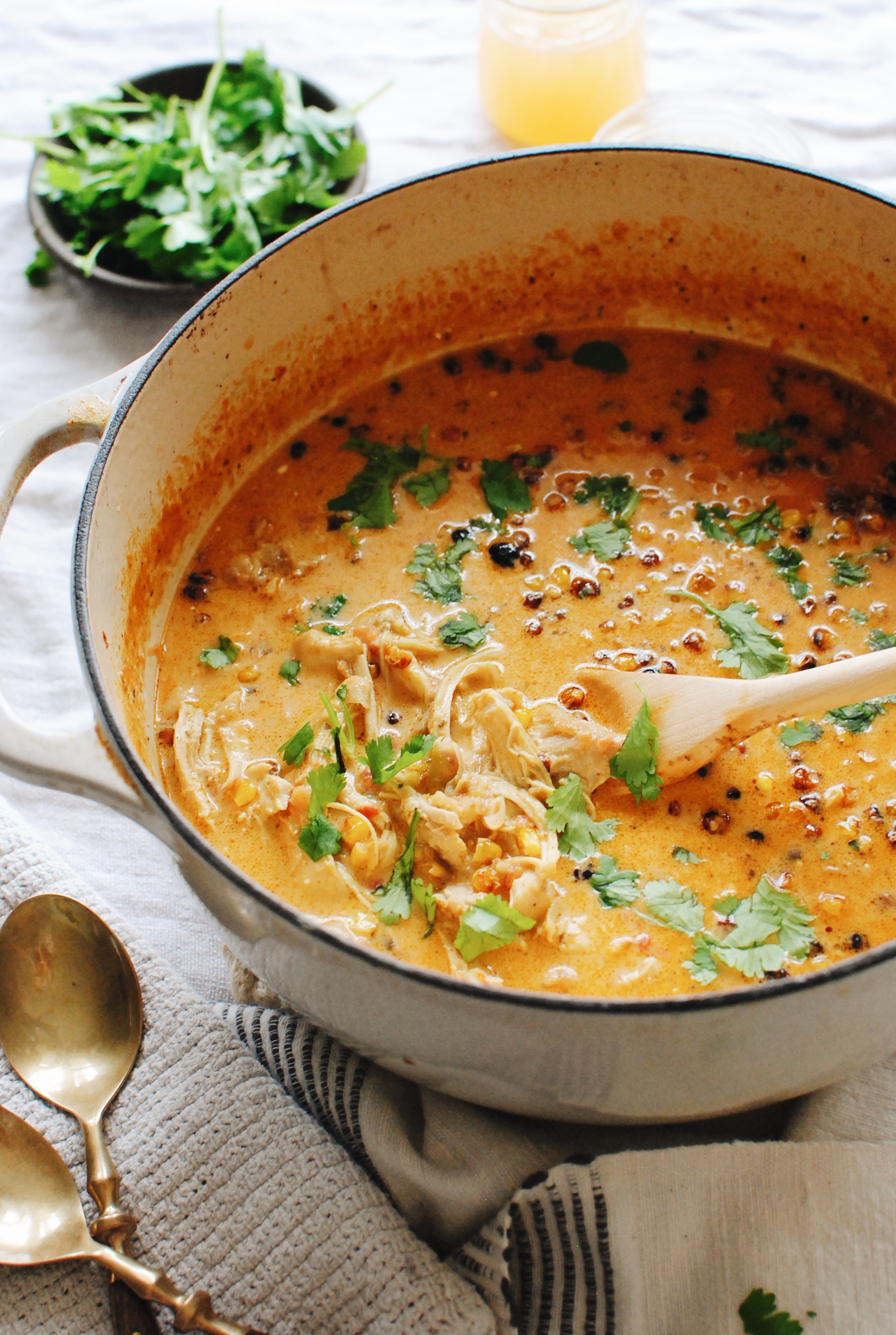 So yep, that's the final soup, but let me tell you the middle part so you don't curse me. Before you add the chicken and the beans to the soup, you'll stir in the (very room temp, super softened) cream cheese to the stock and salsas, and whisk it all until the cheese is really broken down and not lumpy. Takes just a second. Once the cheese has creamed up the soup, add the beans and chicken and corn (oh my) back to the soup, and let it simmer another 10 or so. The simmering also helps with the last of the cheese flecks.
"Thanks for coming out to see us, we're The Last of the Cheese Flecks. We have some merch over there for sale."
JUST LET ME DREAM.
This is PAINFULLY tasty. The salsas do the bulk of the heavy lifting with flavor. The chicken (which you'll shred with a couple of forks) is comforting and totally filling. Creamy beans, crunchy corn, you know. RIDIC.
This weekend! Do it. Or I'll come after you.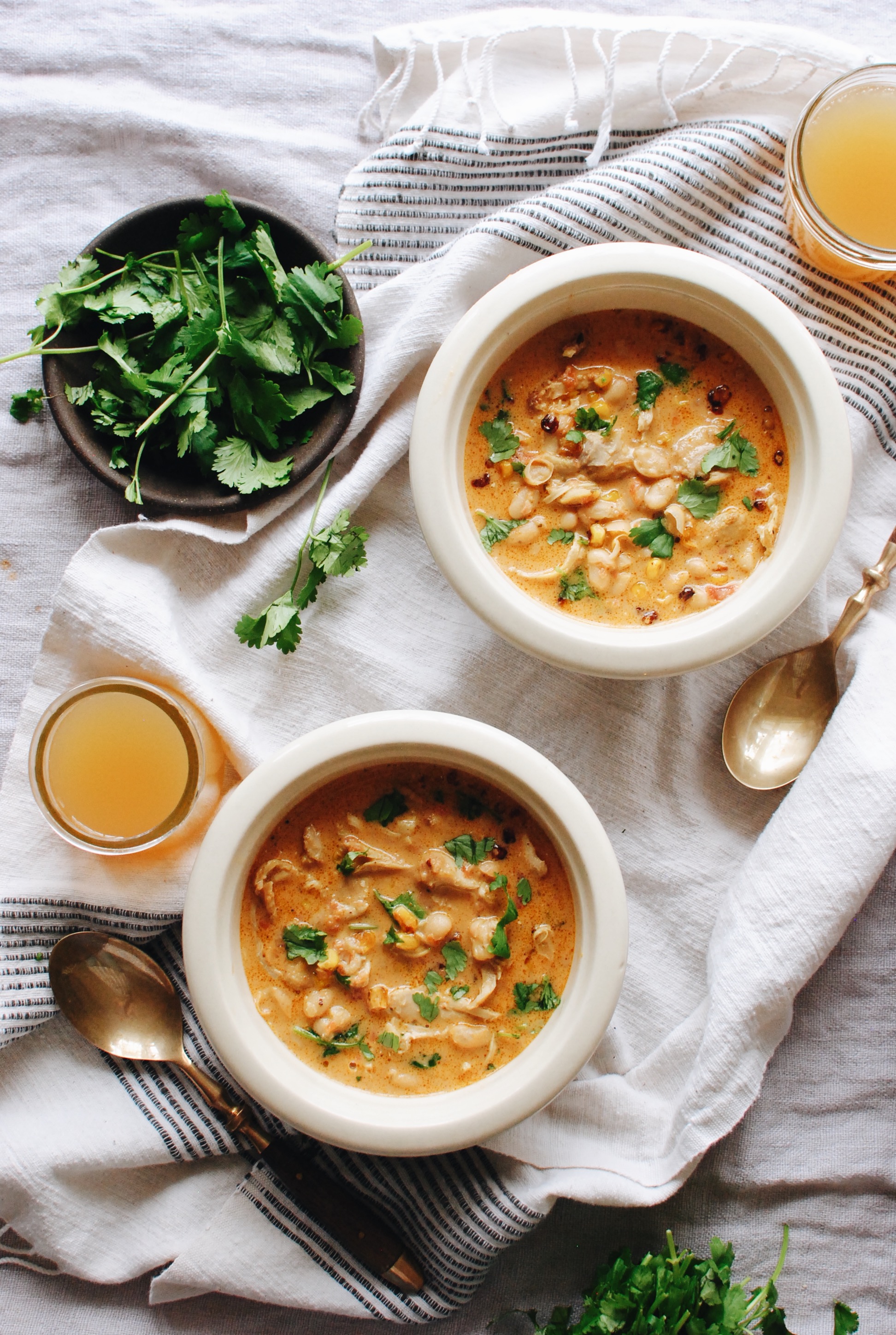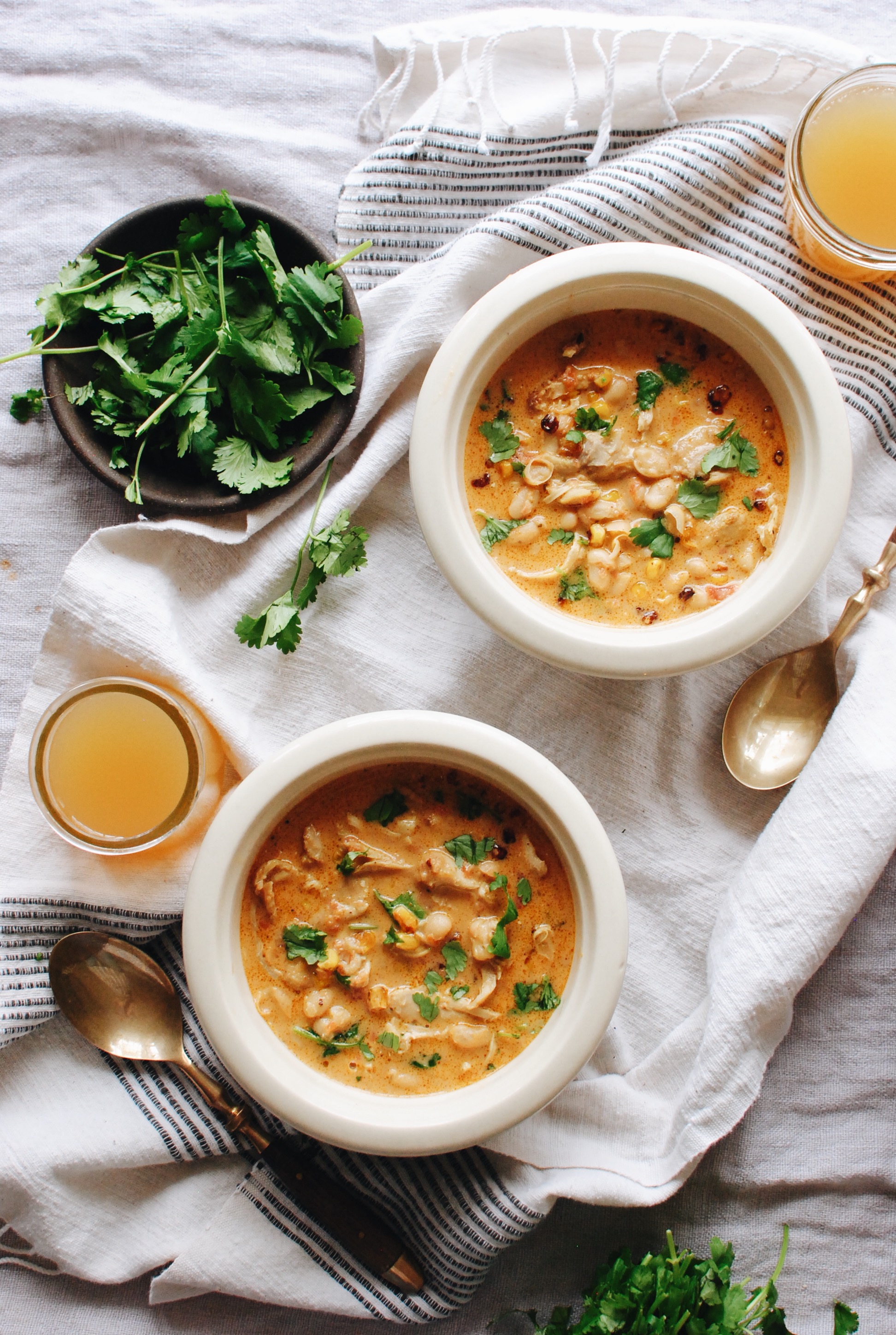 I won't come after you.
Ingredients
22 ounces chicken thighs
2 Tbs. cumin
1 Tbs. chili powder
4 Tbs. extra-virgin olive oil, divided
1 (15 oz) can navy beans, drained and rinsed
4 oz (half a block) softened, room temperature cream cheese
1 cup salsa
1 cup guacamole salsa
2 cups frozen corn (from a bag)
4 cups chicken stock
Coarse salt
Cilantro, for garnish
Instructions
Heat the oil in a large pot over medium-high heat. Season the chicken on both sides with salt, cumin and chili powder. Sear in the pot for about four minutes per side, until you get good browning all over. Remove the chicken from the pot. (We'll add it back in a bit!)
While you're searing the chicken, preheat your oven to broil. Spread the frozen corn on a baking sheet, and drizzle 2 Tbs. oil over it, plus a good pinch of salt. Use your fingers to make sure the corn is coated with oil. Broil 8-10 minutes, until the corn is charred and starting to pop around. It might need a little longer than 10 minutes, just keep an eye on it!
Back in the pot, add the salsas, the stock and the softened cream cheese. Whisk the soup until the cheese really breaks down and start to cream up. You might see flecks in the soup, but simmering will melt them. Now add the beans, chicken and corn to the soup and let it simmer about 10 minutes. Using a fork, shred the chicken (on a cutting board), then add it back to the soup. NOW WE'RE TALKING.
Ladle up, garnish with cilantro and dive on in!
Serves 4-6.
7.8.1.2
214
https://bevcooks.com/2019/03/chicken-salsa-soup/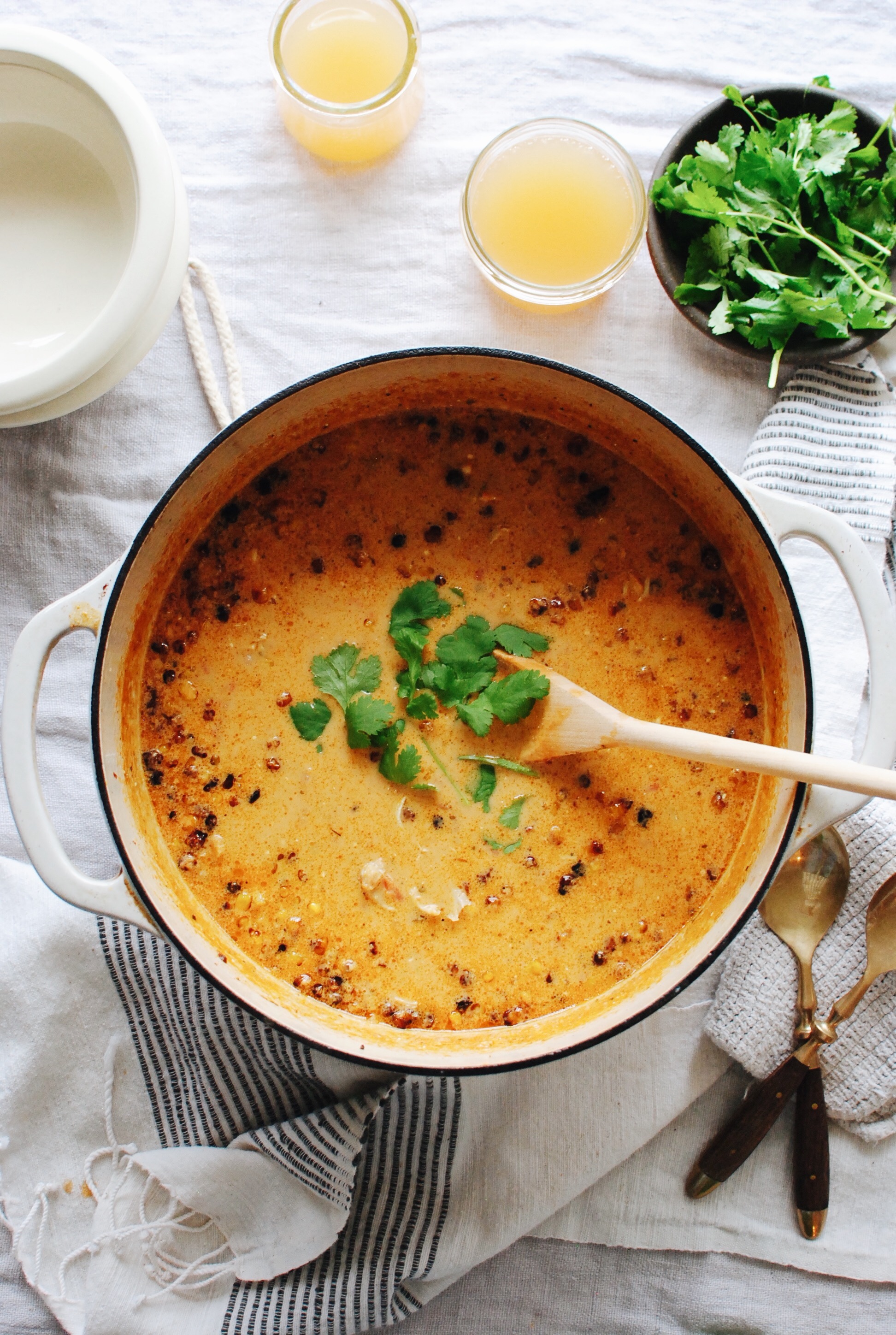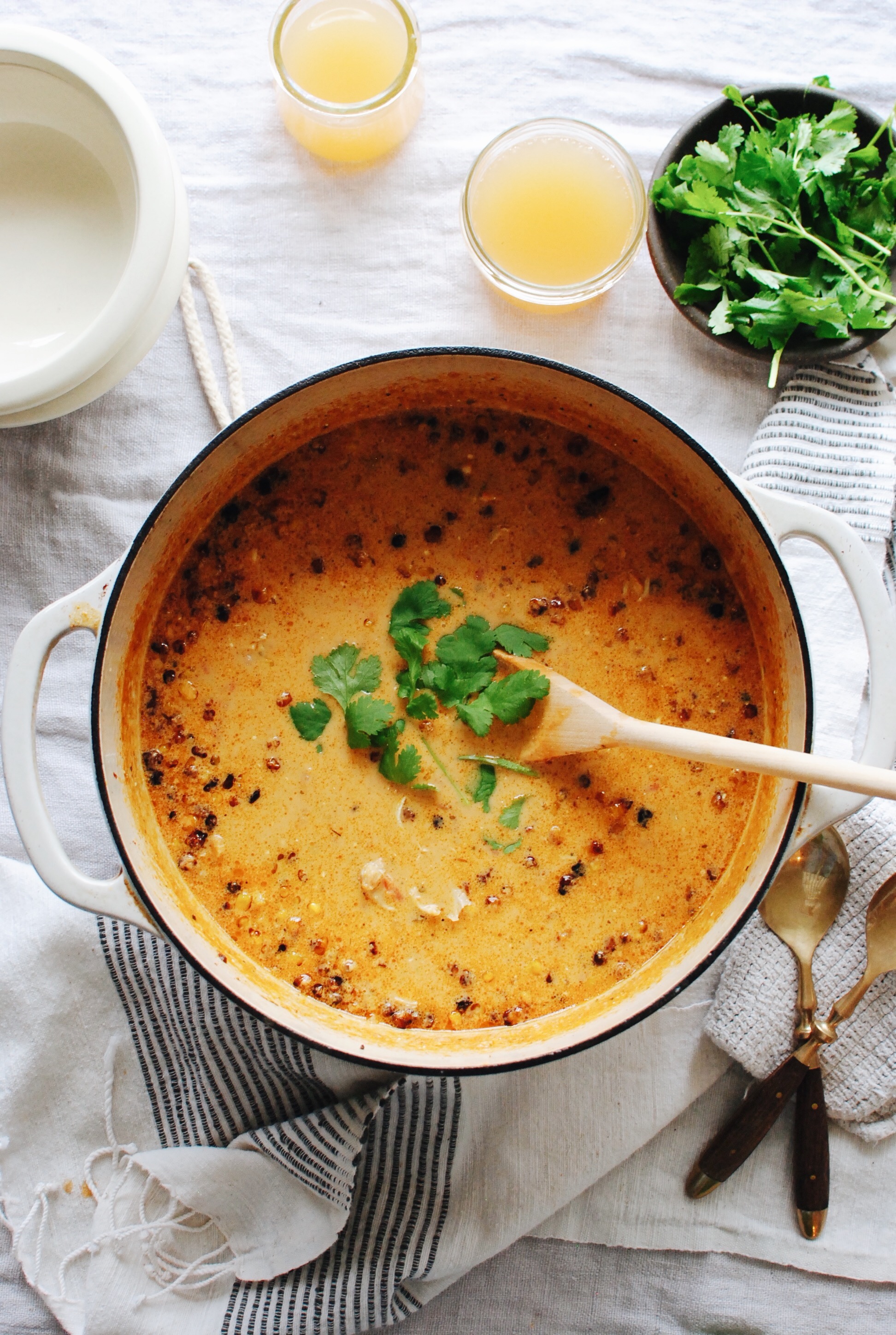 I might come after you.