This is summer's way of allowing us comfort food.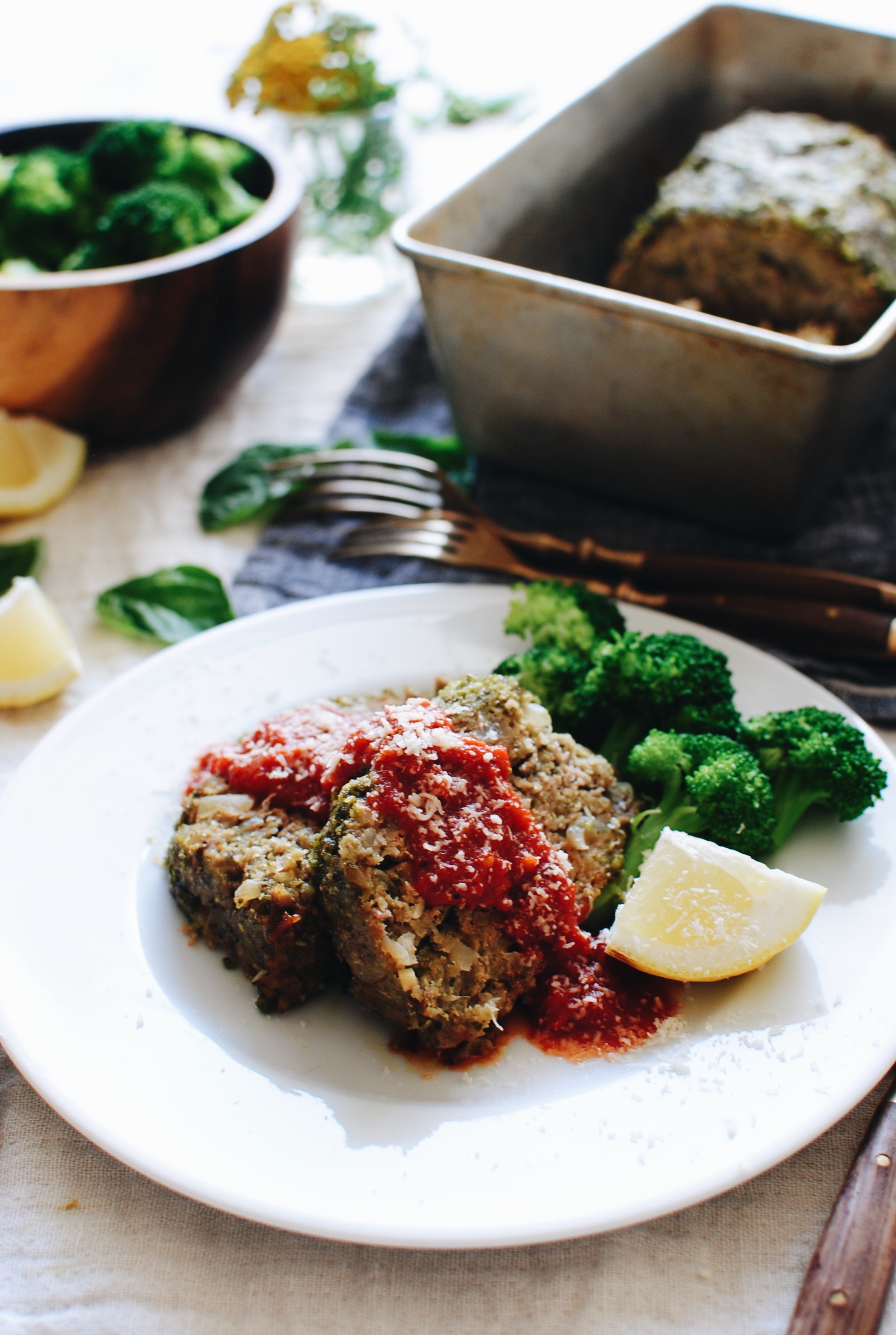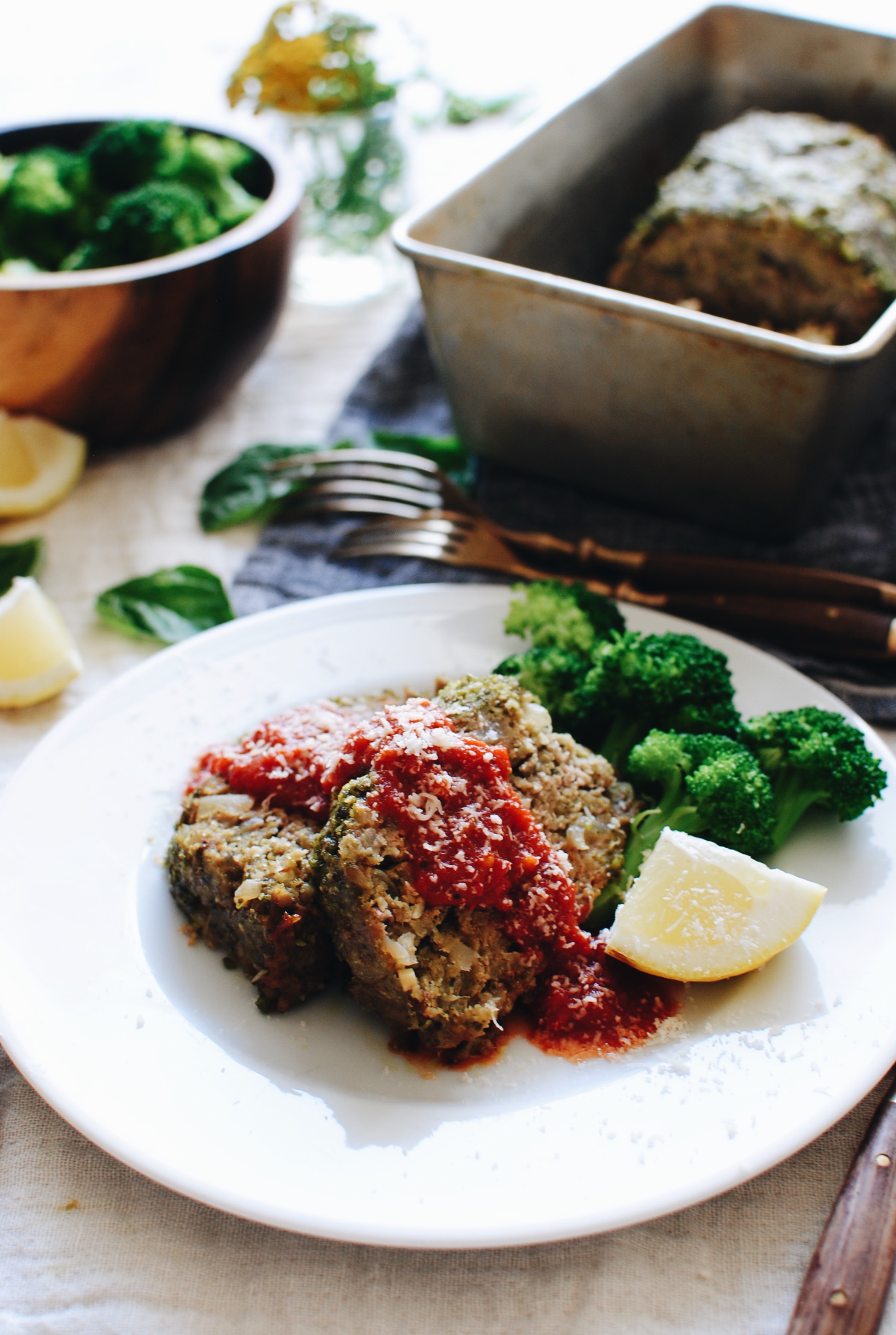 BECAUSE THAT THING IS PESTO PACKED. (sorry to scream.)
This is a recipe I've had in mind since January. But it had to be basil pesto, and it had to be fresh from the garden, GOSH DARNIT.
And I can honestly say, it was even more spectacular in my face and mouth than it was in my noggin.
Let's talk about it.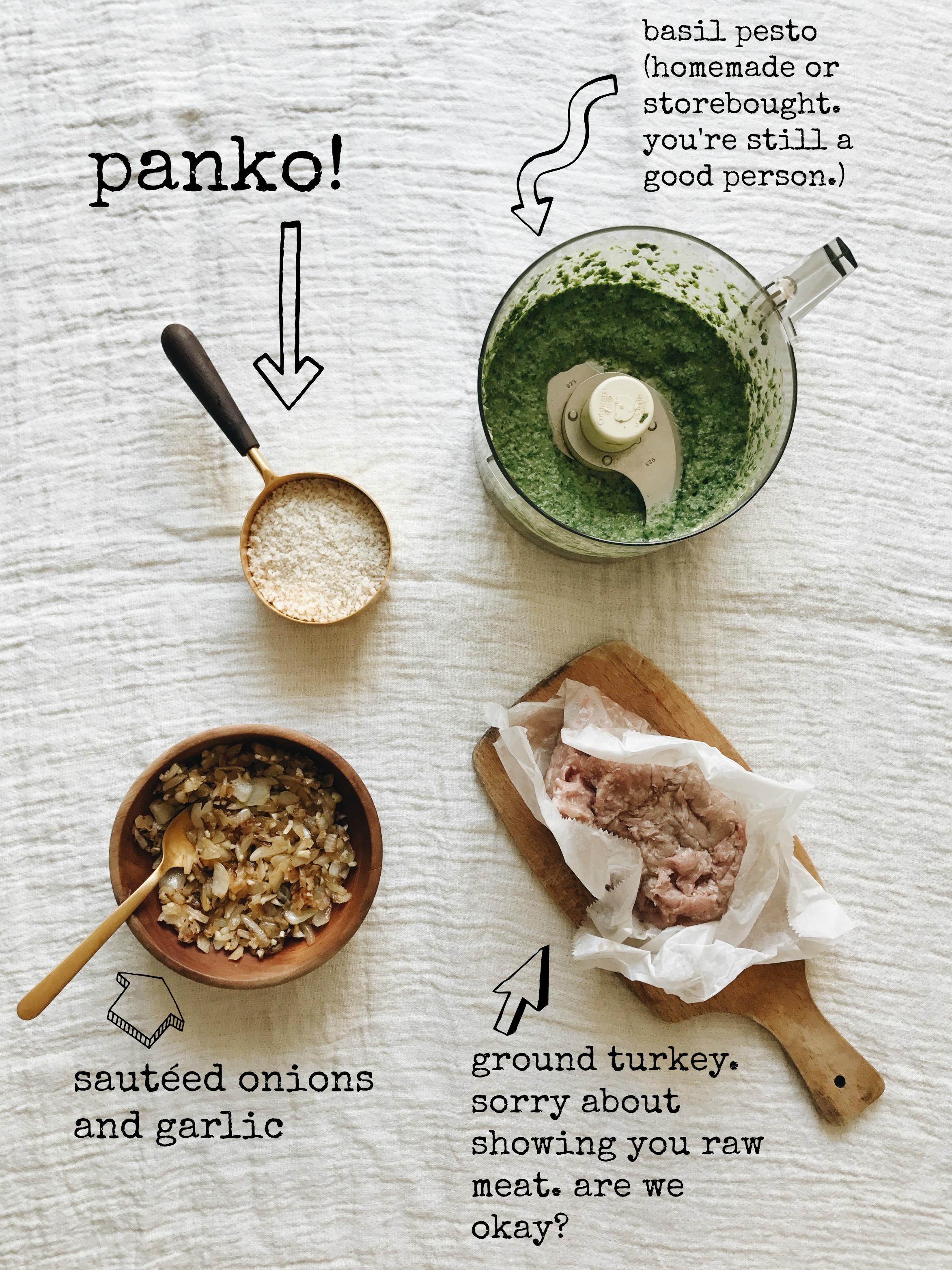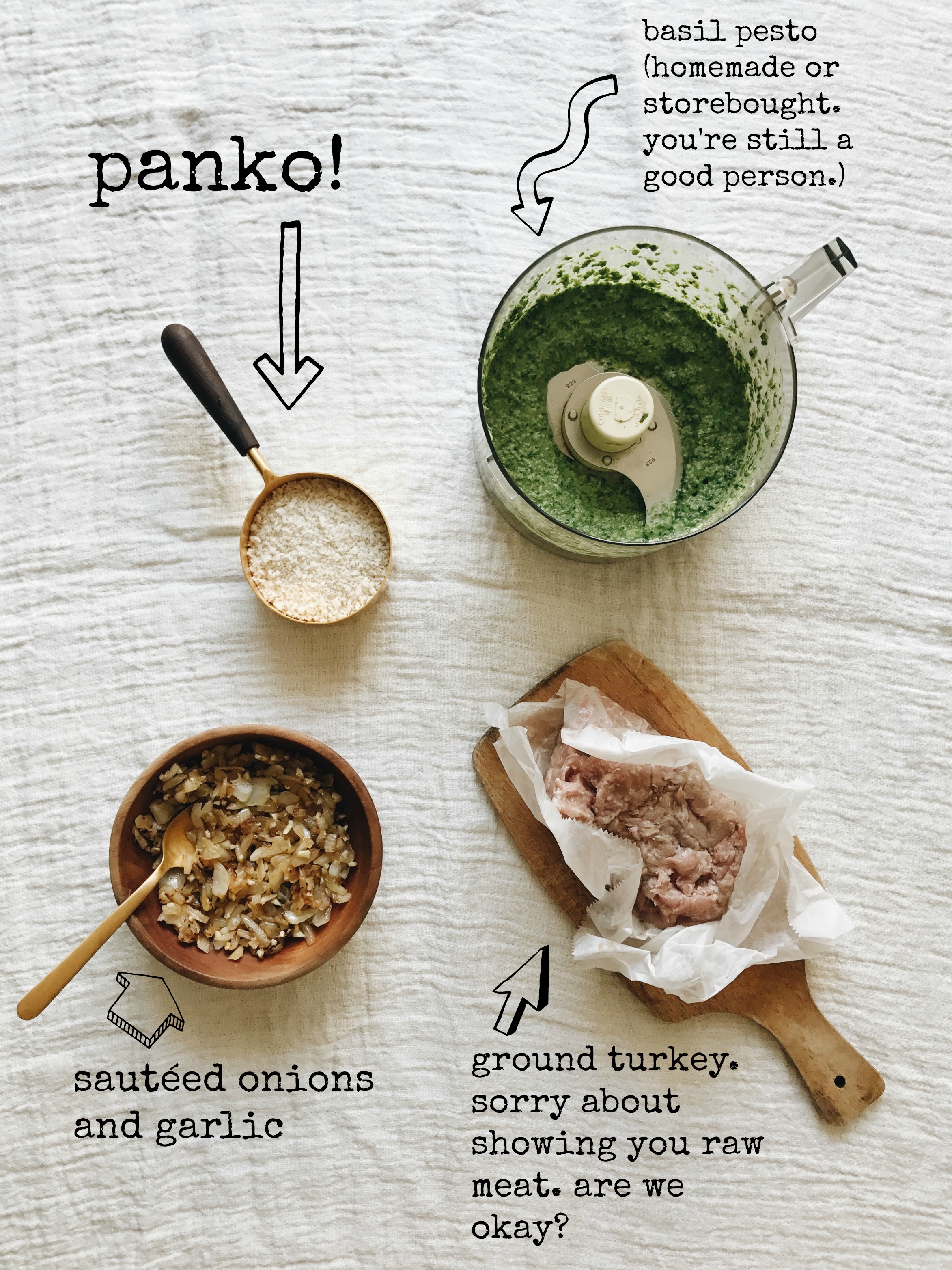 There are four basic components to this here loaf. And I can't decide if calling it loaf is saving us or destroying us.
First, ground turkey. NOW – this is a pound and half, because I kind of felt like the pesto and the panko and the onions and garlic would bulk it up a bit more, but next time I'd go with a full 2 pounds. The loaf (<–sorry) is on the small side, so if you have big mouths in your hizz, go with 2 pounds.
Next up – pesto! I made an almost-traditional basil pesto, but instead of pine nuts, I swapped in almonds. I want to say it's because I'm spontaneous, impulsive and seek pleasure in discovering new flavors in an otherwise familiar and mundane existence, but – I was out of pine nuts. Are you mad? (HOWEVER, the almonds added such depth to my life, I'll forever owe this newfound cherished pesto my gratitude.)
There's also sautéed onions and garlic in it, because every decision in life should begin with sautéed onions and garlic.
And finally, panko! Crunch crunch crunch. The end.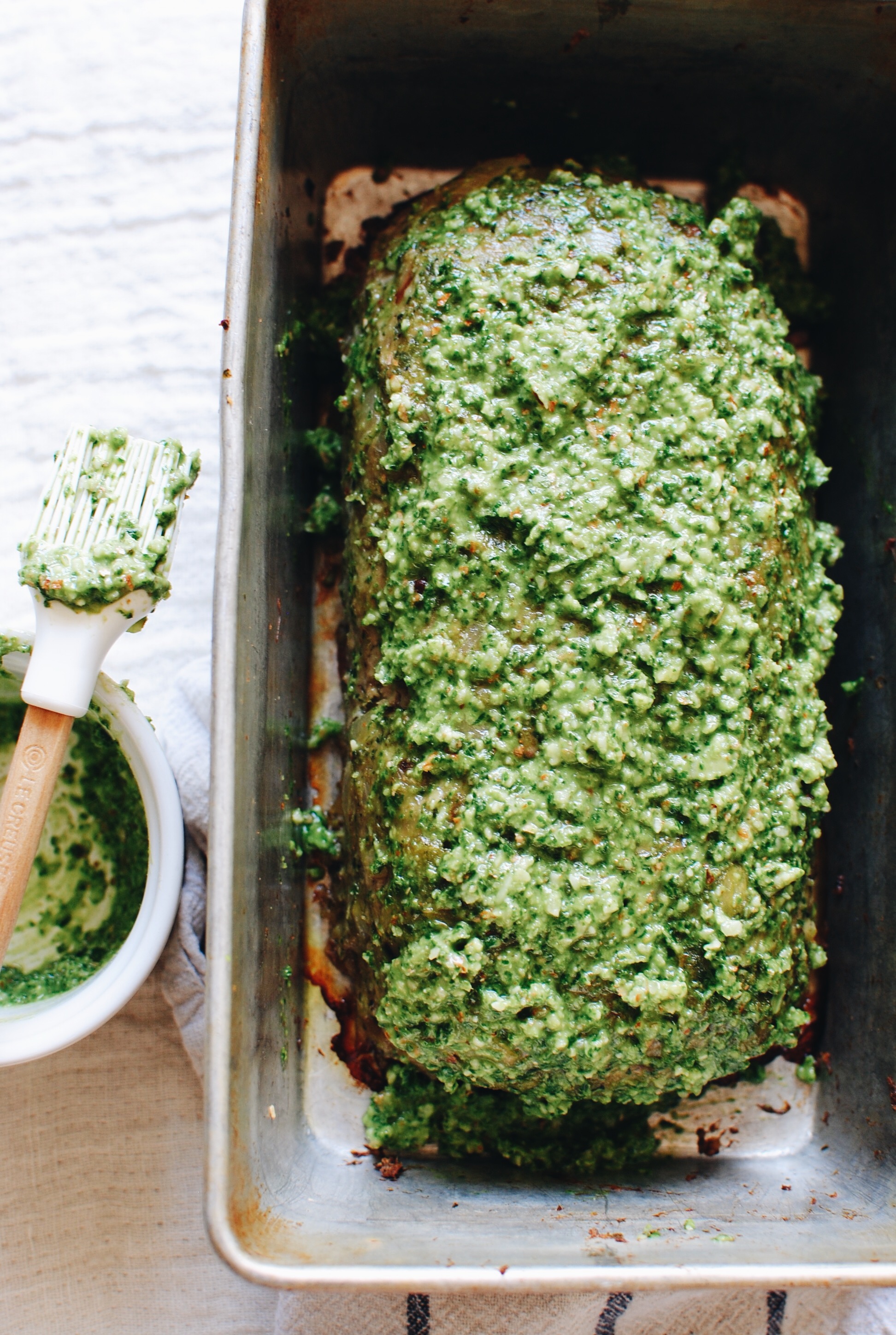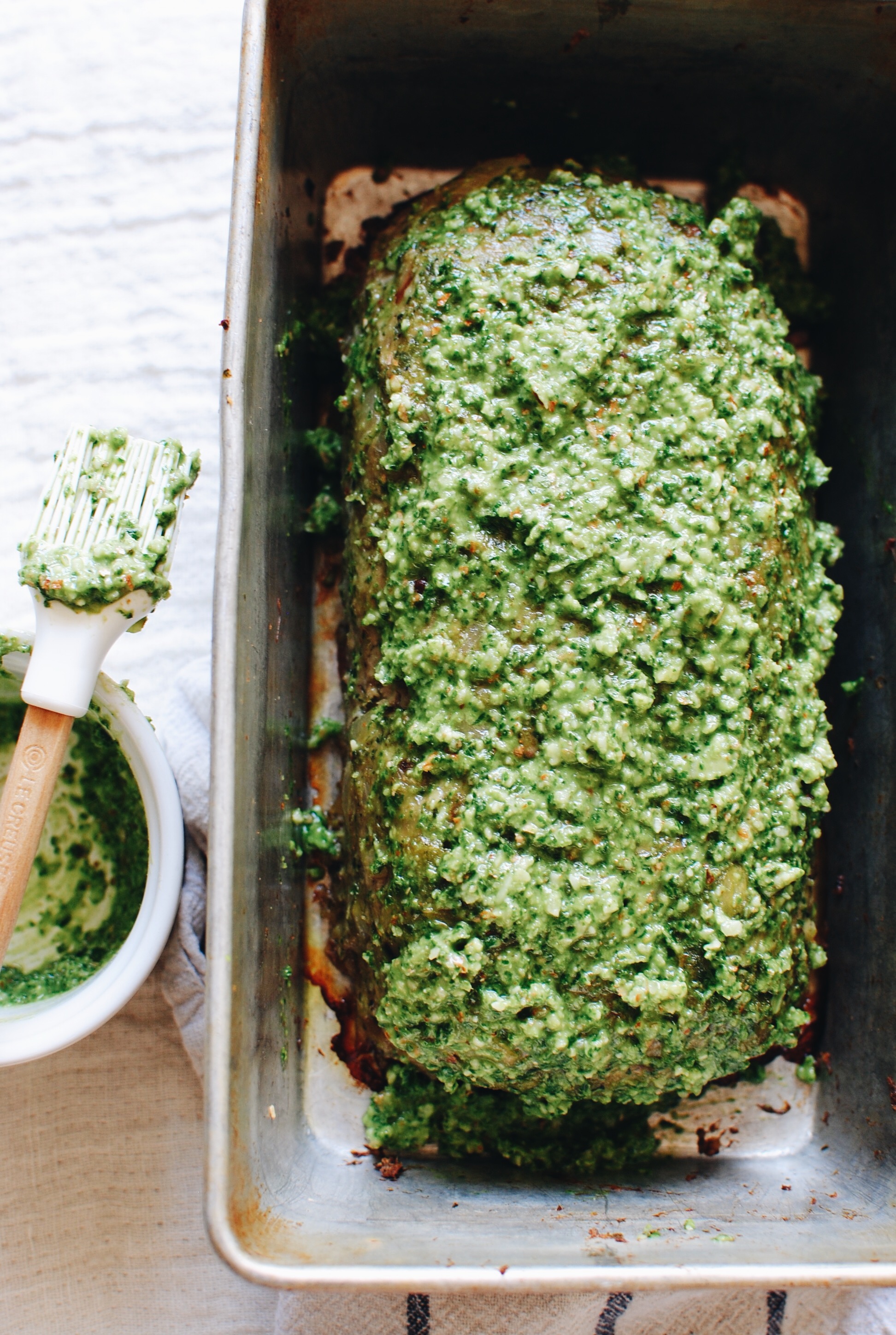 You'll stir alllllmost all of the beloved basil/almond pesto into the loaf (<–why), and bake it for 30 minutes. Then sling her out of the oven and brush the last little bit on top, and throw her back in for another 30.
While the loaf (<–ugh) bakes, you'll watch Joey and Pacey try to not completely barf over Dawson and Gretchen.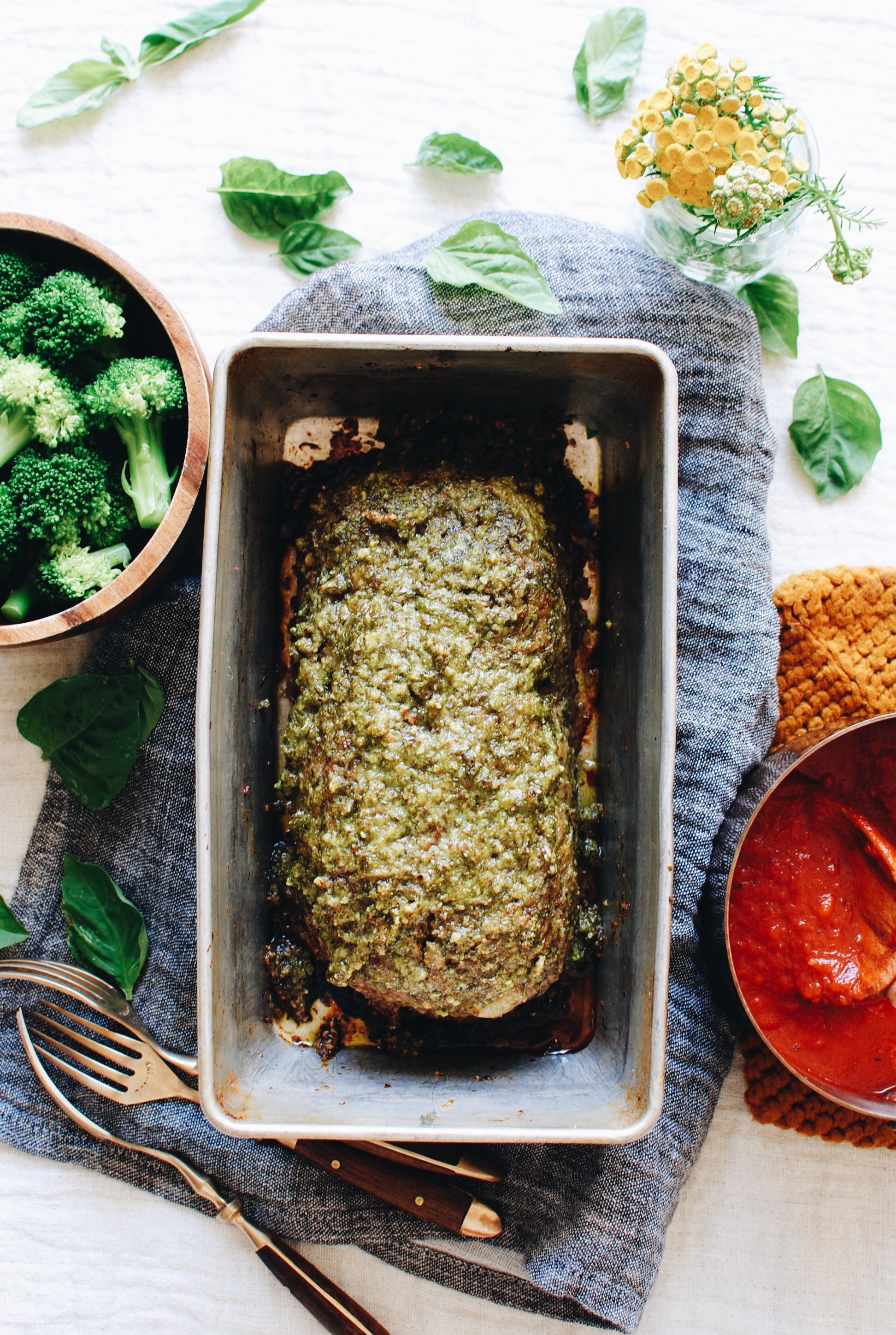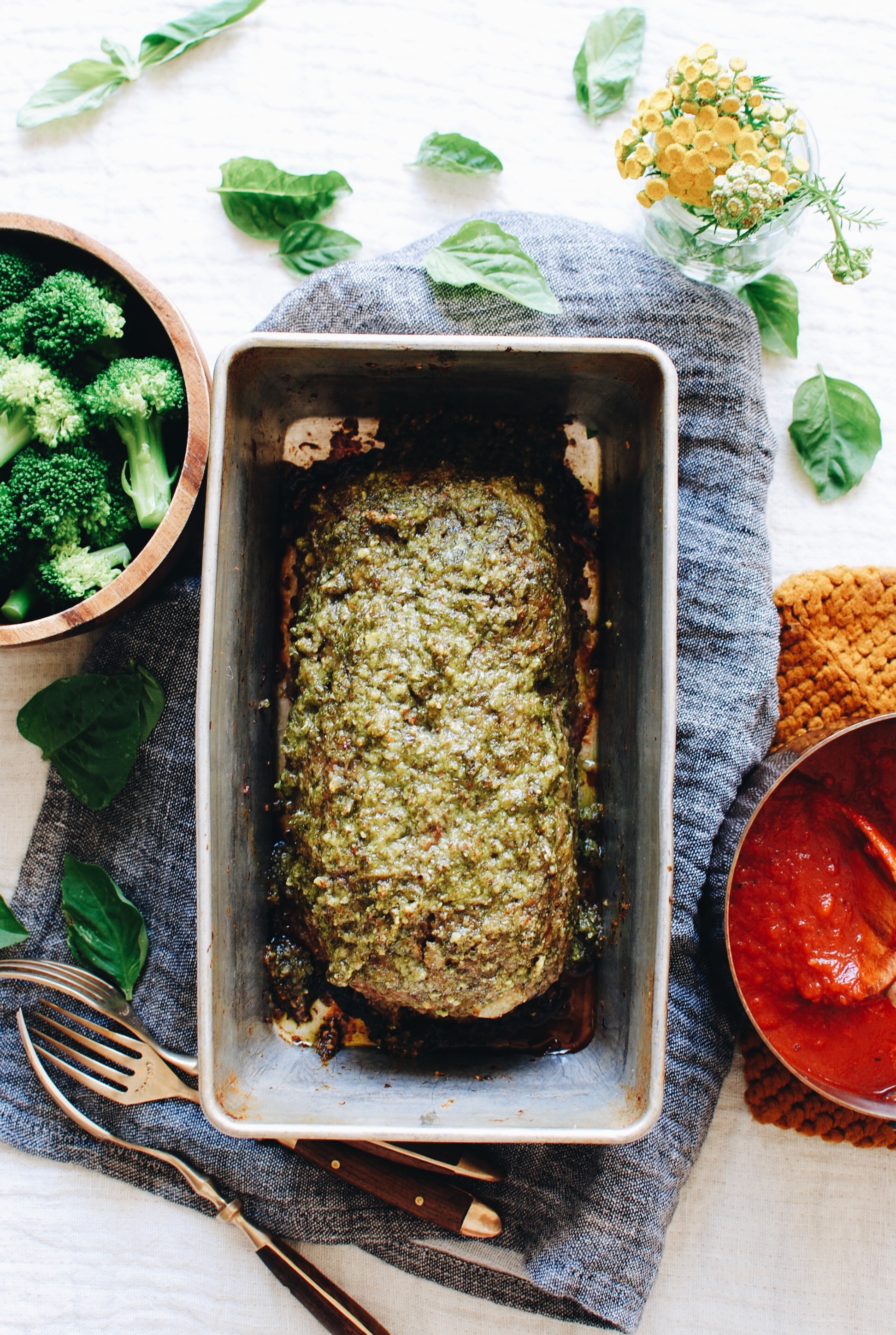 Ba da bing!
Now, this next part is crucial – lightly simmer your absolute favorite marinara (go local if you can! I use Cupini's and I'll never quit it.), and then drizzle it over the loaf (<–no) slices at the very end.
A bit of freshly grated parmesan on top, uh yes.
Lemon broccoli on the side, without a doubt.
This loafy loaf (<–even worse) will have your eyes and tongue wanting to elope, I tell you. The turkey is the furthest from blah, given its matrimony with the fresh pesto and onion/garlic essence. And I won't talk about how the loafer (<–can't stop) is good and moist, because of the pesto. I won't say moist again, because I can't do it. And I like you. So I won't say moist.
I'll just say it's marvelous and magical and super summery but comforting and your face beggeth.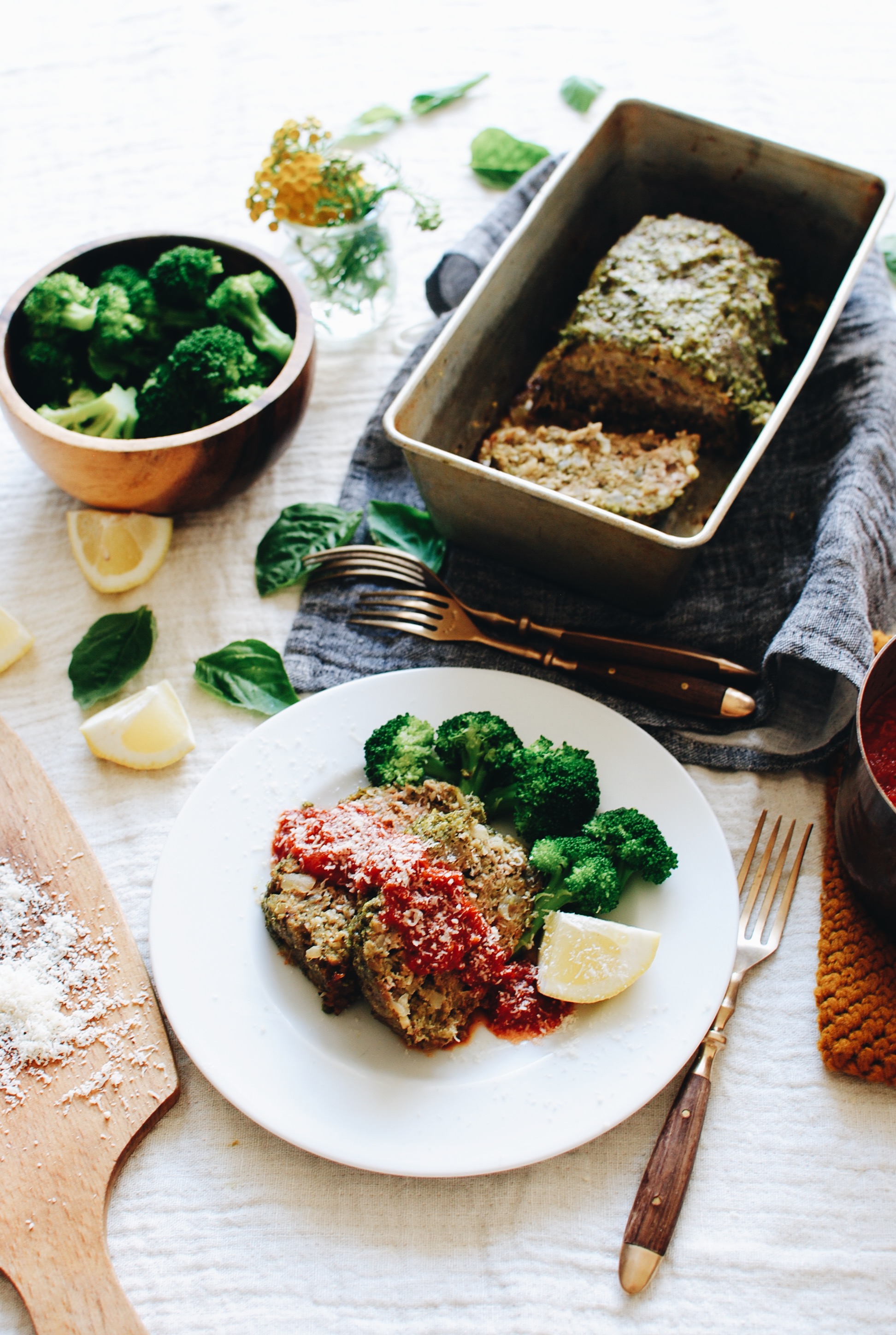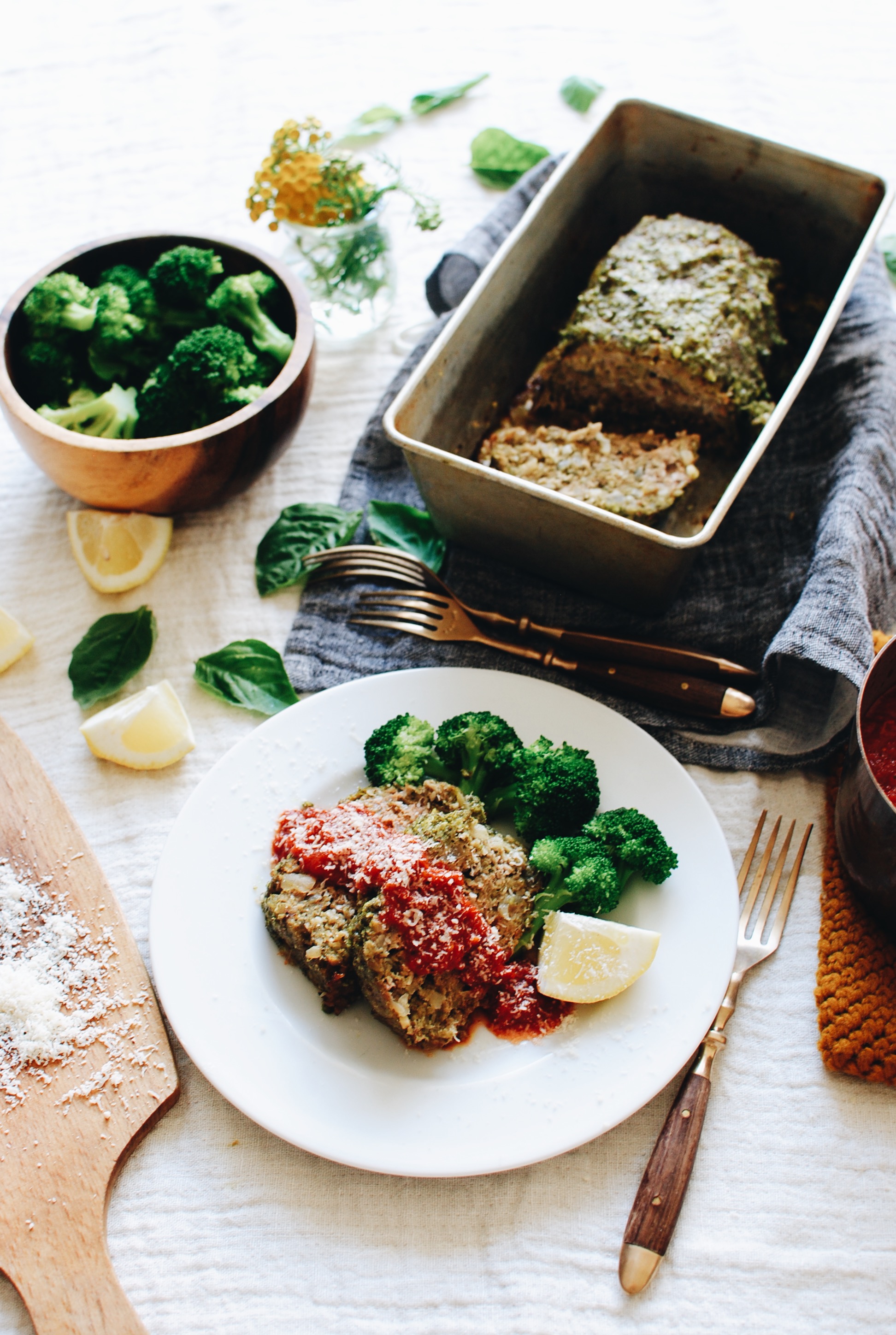 Like, spectacular.
Ingredients
4 cups loose basil leaves
1/4th cup raw almonds
Juice from half a lemon
1/4th cup freshly grated parmesan cheese
3 cloves garlic
1/3 cup extra-virgin olive oil (maybe a little more if you prefer)
Salt and pepper
2 pounds ground turkey (I used 1 & 1/2 pounds in these photos, but craved a little more)
1 medium yellow onion, diced
3 cloves garlic, minced
1 Tbs. extra-virgin olive oil
1/2 cup panko
Parmesan for garnish
1 jar favorite marinara
1 head broccoli, boiled or steamed, then served with a pinch of salt and lemon wedges
Instructions
Preheat oven to 350.
In a food processor, combine the basil, almonds, lemon juice, parmesan cheese, garlic, and a pinch of salt. With the motor running, add the oil in a thin stream, until it becomes a pesto consistency.
Heat the other Tbs. of oil in a large sauté pan. Add the diced onion and sauté for 3-4 minutes, or until the onions soften and begin to brown. Add the minced garlic and sauté another 30 seconds, until fragrant. Season with a pinch of salt.
In a large bowl, combine the ground turkey, most of the pesto (reserve about 1/4 cup), panko and the onion/garlic mixture. Using your bands, press and combine everything together until well incorporated. Make a loaf shape with your hands, either on a baking sheet or a loaf pan. Bake for 30 minutes, then remove from the oven and brush the remaining pesto over the top. Bake for 30 more minutes.
In the meantime, simmer your favorite marinara (homemade or store-bought) and drizzle it over the meatloaf slices when serving.
Serve with steamed lemon broccoli, extra lemon wedges and freshly grated parmesan. SO LIGHT! SO GOOD! Sorry to scream.
Serves 4.
7.8.1.2
99
https://bevcooks.com/2017/07/turkey-pesto-meatloaf/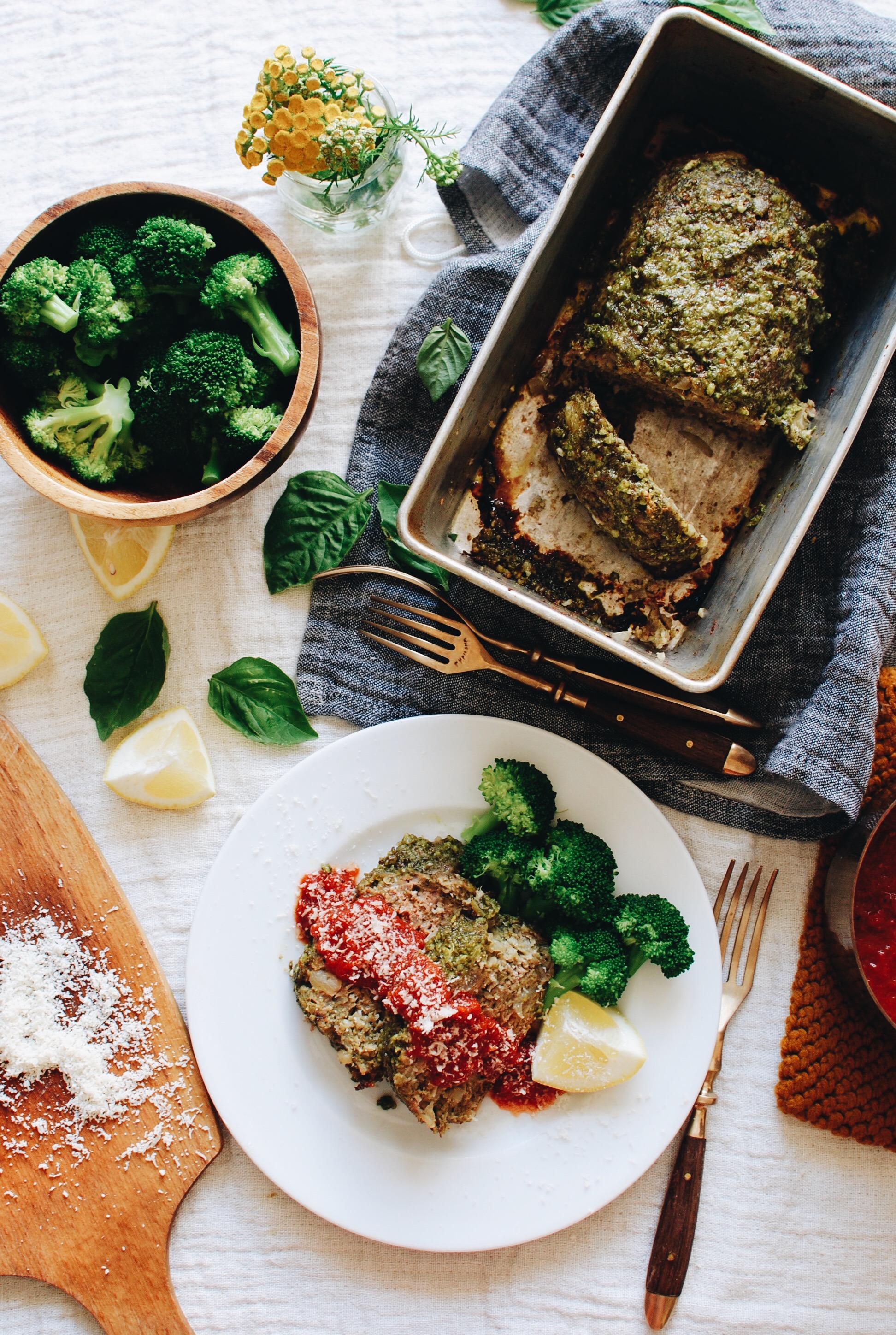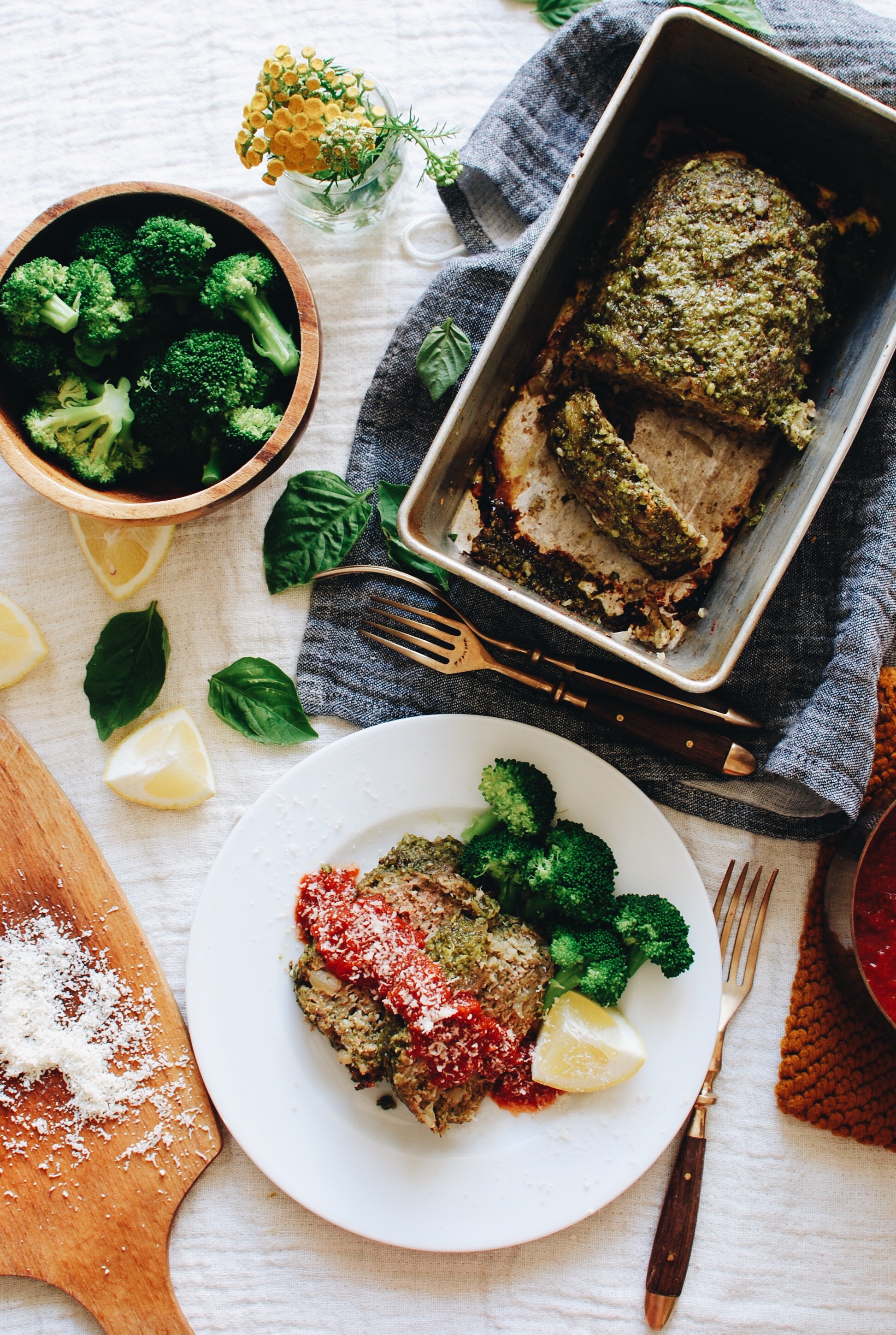 Do it for the children.