Is it obnoxious to post spring rolls a month before spring?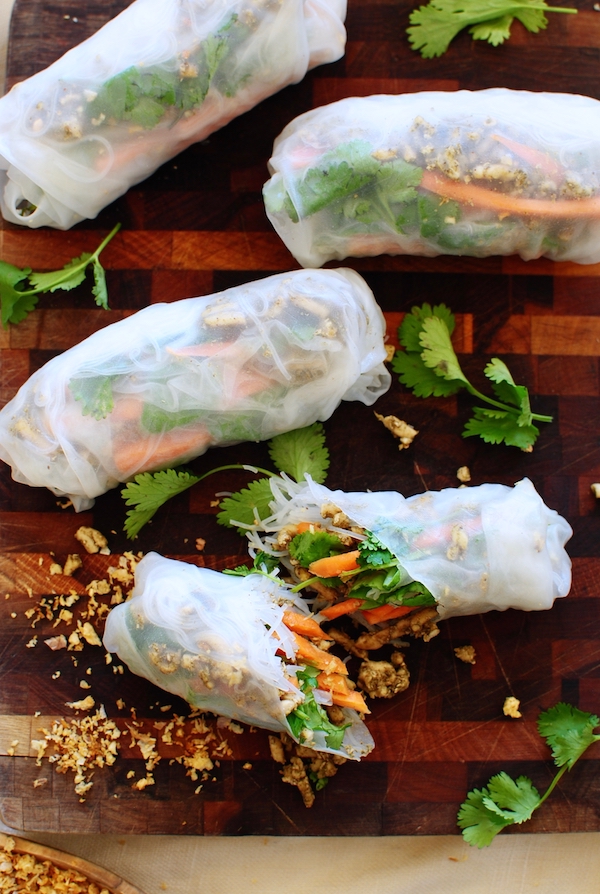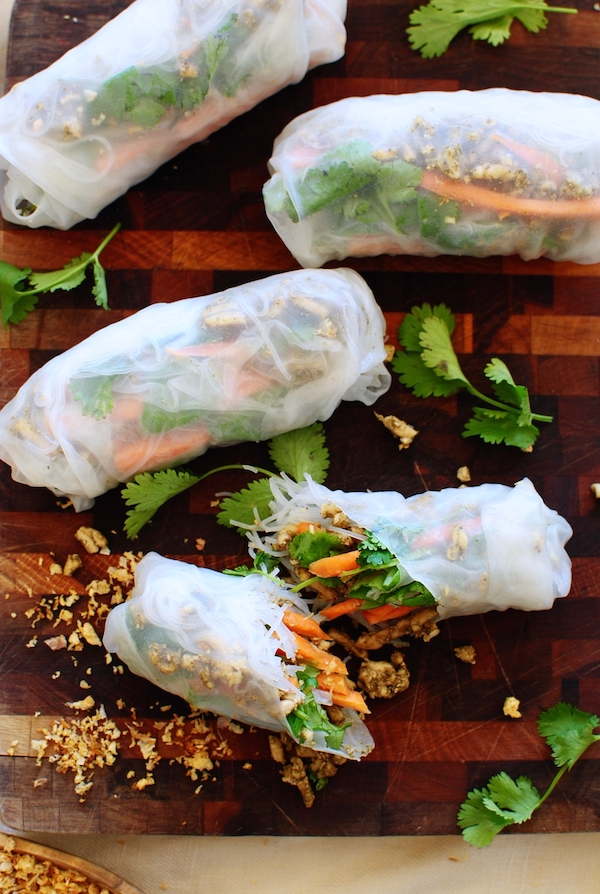 I'm pretending that you're shaking your head so hard your eyeballs are loosening.
Spring rolls! How can you not? They're spring rolls. With GROUND CHICKEN.
But let me just say right here and right now, swap in pork or beef if you want. If you do go with chicken, find a trusty brand where the chicken really really gets good and ground. And the key is – dark meat! I accidentally bought chicken breast meat, and it was more like long, skinny strange worms of chicken meat. Which probably isn't the most appetizing way to start a food blog post, but do you know who I am?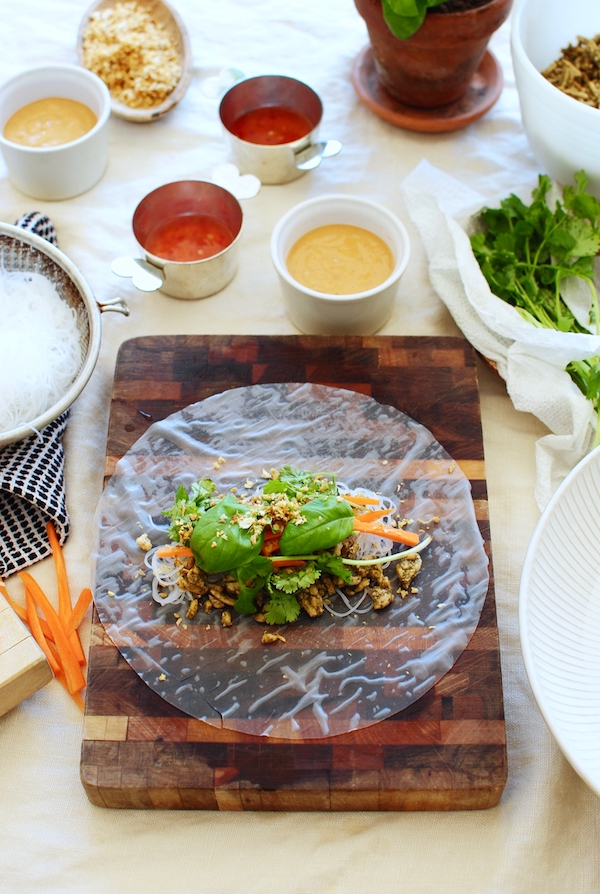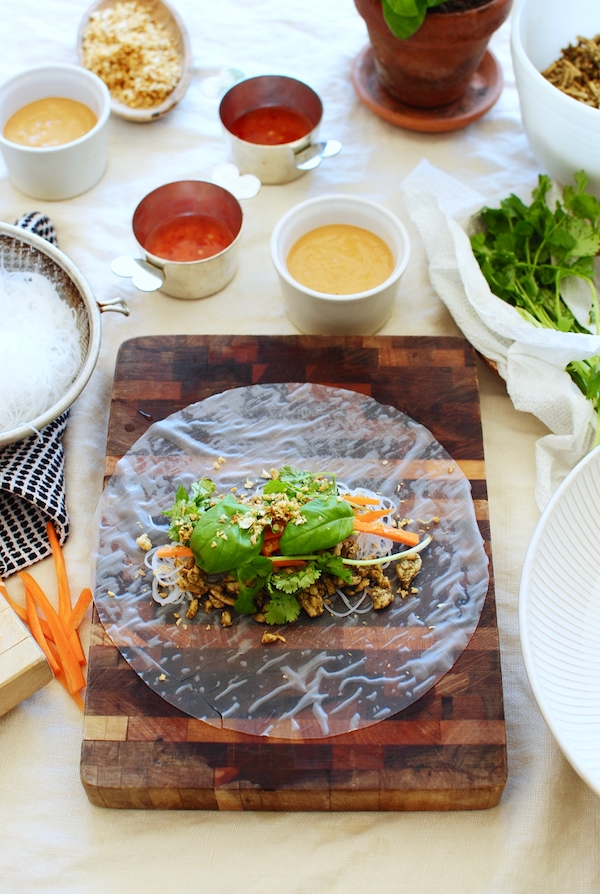 The innards are simple. Seasoned ground chicken, vermicelli noodles, carrot sticks, herbs and FRIED GARLIC. You know how Asian restaurants have the little bowls of fried garlic on the table? And you get so obsessed you want to trade the inside of your mouth with it? And take it home and pet it and call it Frank? Right. Well, I bought a little container of it the other day at the Asian food market, and I've decided to dedicate the rest of my life to it. The end.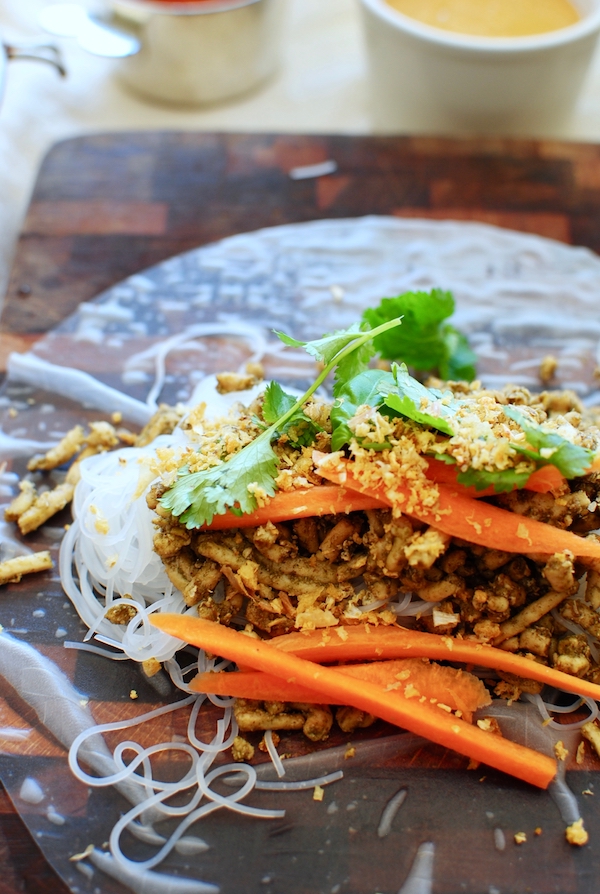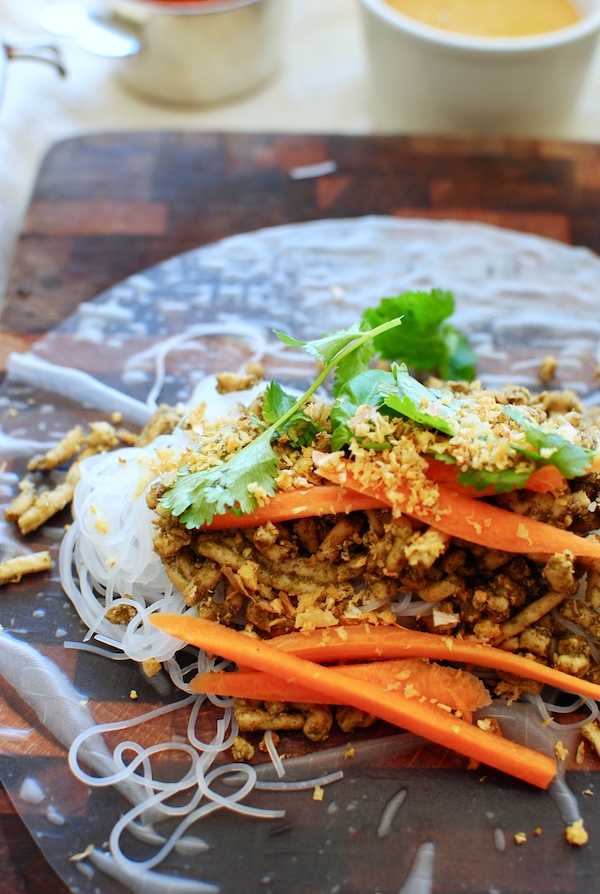 Rice paper is tricky. Actually, right before this shoot, I went to grab the package of rice paper from the pantry, and just as I was reaching for it, it slipped past my grip and fell straight to the floor. And all I heard was a million little rice paper cracks flipping me off. But I cool about it all. Didn't curse. Didn't swear. Stayed super happy about the whole thing.
ON OPPOSITE DAY.
The assembling process is rather quick, as the rice paper softens crazy fast in warm water, so have everything prepped and ready to pile in like whoa.
And I can promise, yours will look much better than mine. Natalie had just woken from her nap and was having some sort of meltdown about a speck of dirt on her stuffed hamster.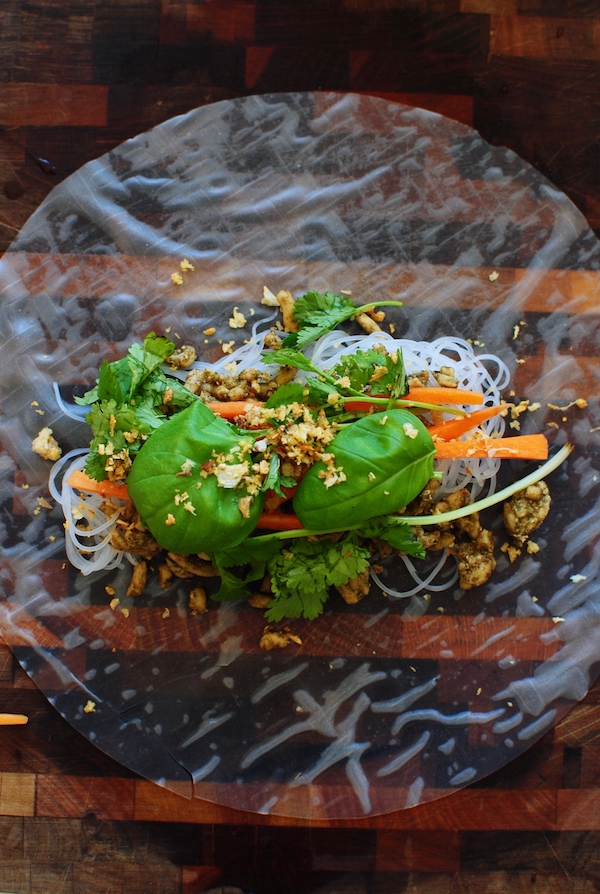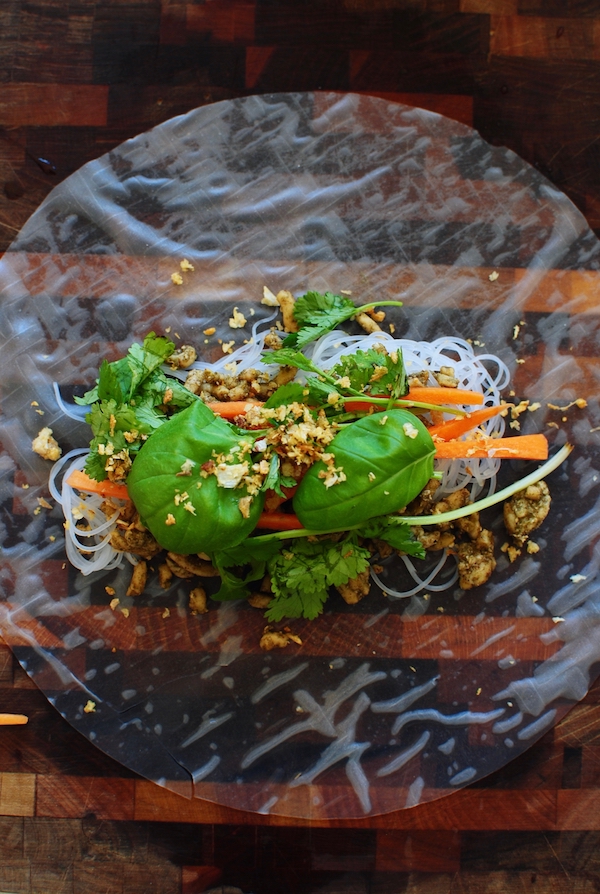 Fresh basil and cilantro, you guys. It's that FRAYSHNAYSH that transcends these pups.
And the dipping sauces! Let's discuss: one I made, and one is store bought. (p.s. the store bought makes you a good person.)
You'll have a spicy peanut butter sauce for the creamy texture. And then a sweet chili sauce, for gloss factor. Dip in both, you won't regret it a day in your life.
And roll them up neater and tighter than what you think they need! I did not and I was sad.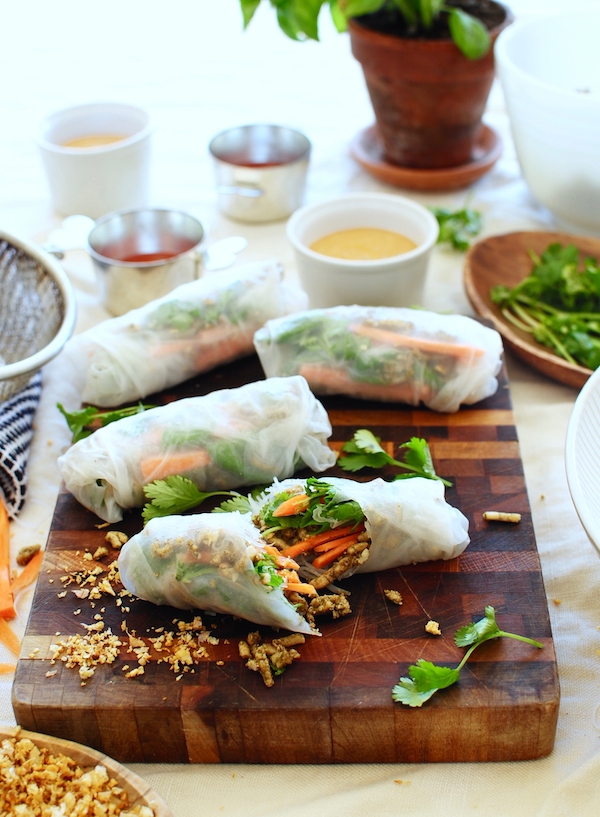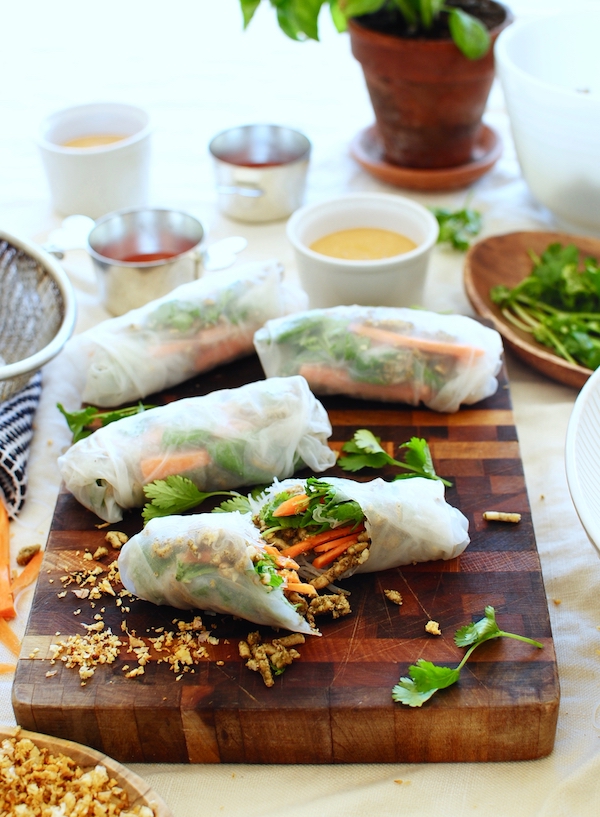 The chicken is a simple mix of Chinese 5-spice, hoisin sauce and soy sauce. And lime juice! It's guuud. You'll dig it.
Overall, the flavors will completely freak your life. If the idea of wrapping it all in a prophylactic-looking log skeers ya, then just dump the innards in a huge bowl and garnish with the herbs, fried garlic and call it good.
Because it's SO, so good.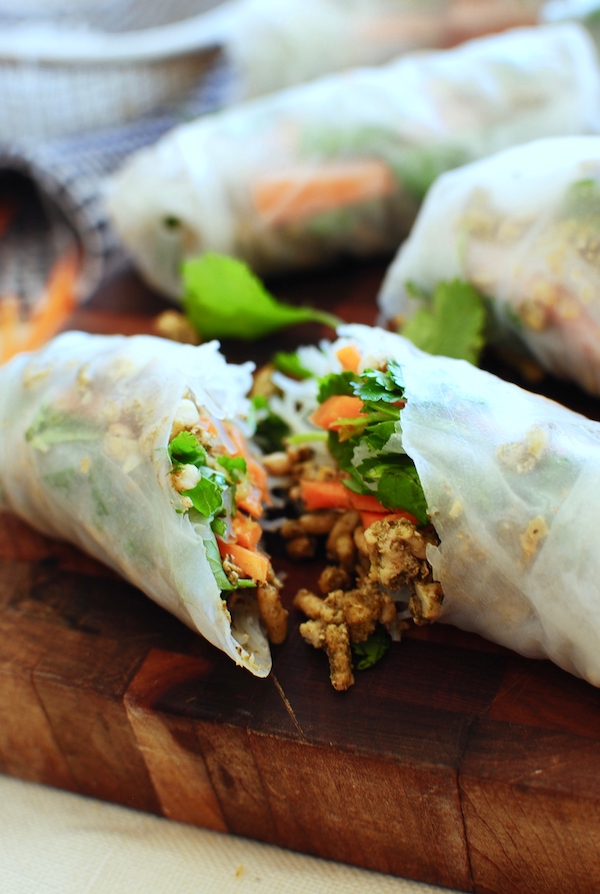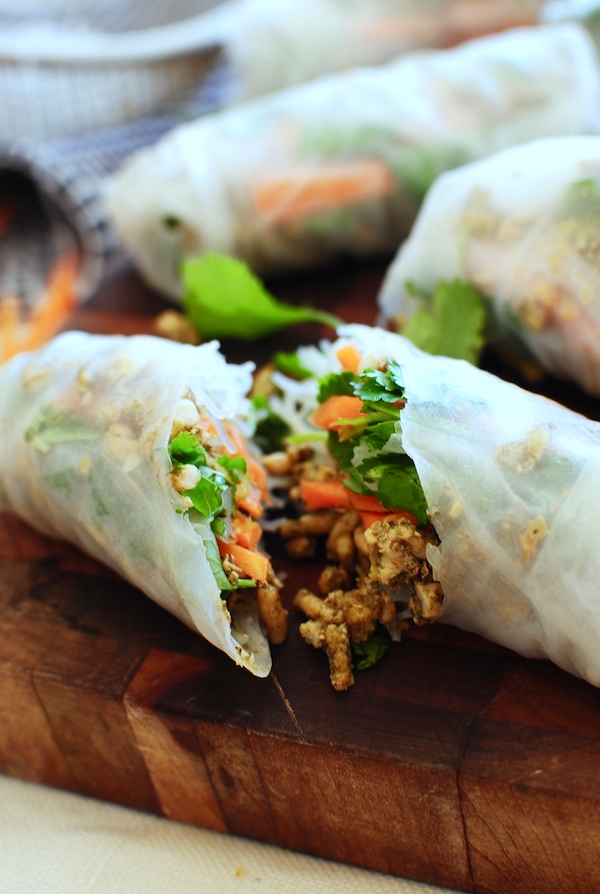 Get your spring on! Your spring roll on. Get sprung? Never mind.
Ingredients
1 Tbs. extra-virgin olive oil
1 pound ground chicken (dark meat!)
1 Tbs. Chinese 5-Spice seasoning
3 Tbs. hoisin sauce
2 Tbs. soy sauce
Juice from half a lime
1 large carrot, cut into thin sticks
2 -3 bundles vermicelli noodles, (about 2 cups, cooked)
1 bunch of cilantro
1 bunch of fresh basil
8-10 sheets of rice paper
1/2 cup peanut butter
2 Tbs. soy sauce
2 Tbs. milk (or coconut milk if you have it!)
Juice from a lime
sweet chili dipping sauce (store bought!)
Salt and pepper
Instructions
Heat the olive oil in a large skillet over medium high. Add the chicken and brown all over, then stir in the Chinese 5-Spice, hoisin sauce, soy sauce and lime juice. You want the mix to be almost glaze-y. Add a pinch of salt, to taste.
Cook the vermicelli noodles in hot water for about 2 minutes, until they soften. Drain under cool water.
In a small bowl, whisk together the peanut butter, soy sauce, milk (or coconut milk), and lime juice. Get it as smooth as you can. If you need to add a little more milk to thin, go ahead!
Now, carefully dunk each rice paper sheet into a shallow bowl of warm water. Once the paper has softened (about 20 seconds), lay it flat on a work surface. Blot with a paper towel. In the center of each paper, add a small mound of vermicelli noodles, ground chicken, carrots, a few sprigs of cilantro, a few basil leaves, and a sprinkling of fried garlic. Bring the sides of the rice paper in, and carefully, tightly roll up each spring roll. The paper will stick to itself, but go ahead and place them seam-side down on a platter or cutting board. Keep on wrapping up rolls!
You can leave them whole, or slice them in half on the diagonal. Serve with the two dipping sauces and ENJOY YOUR LIFE.
Makes about 10 rolls.
7.8.1.2
71
https://bevcooks.com/2017/02/chicken-spring-rolls/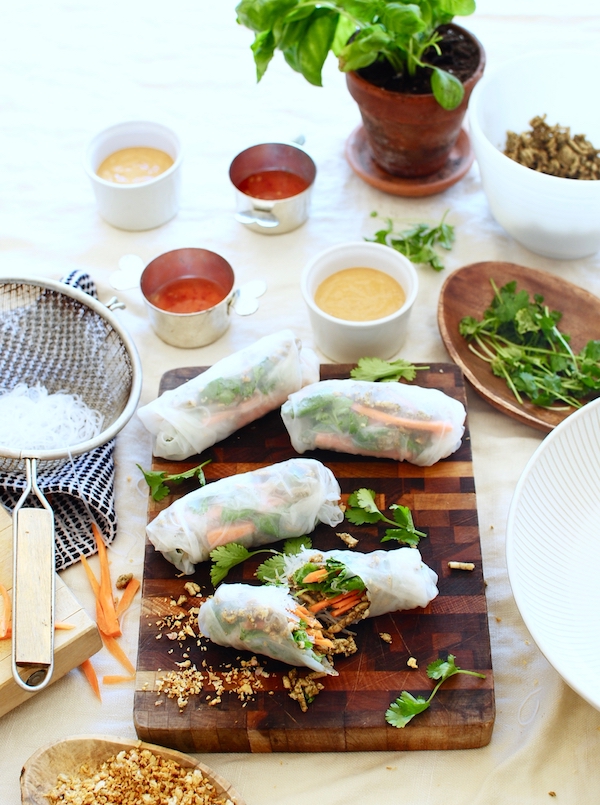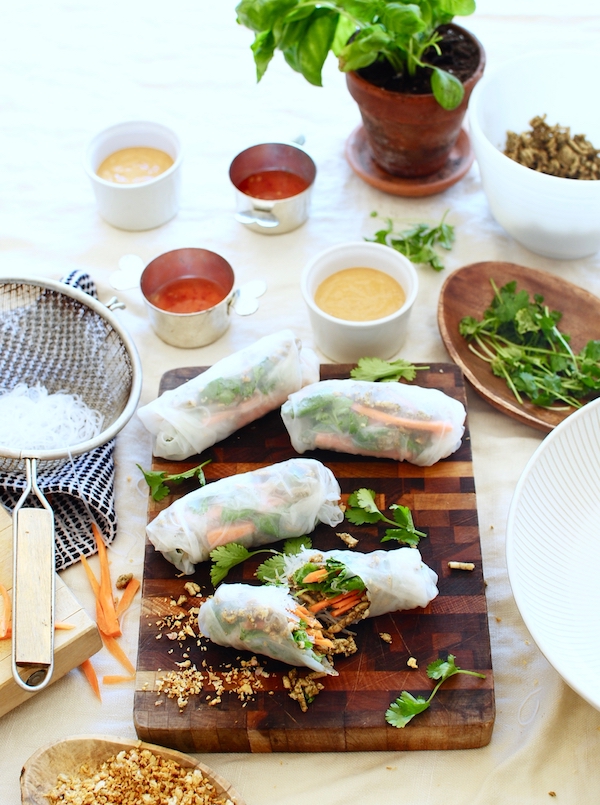 I mentioned the fried garlic, right?