I promise all those words in a row are WORTH IT.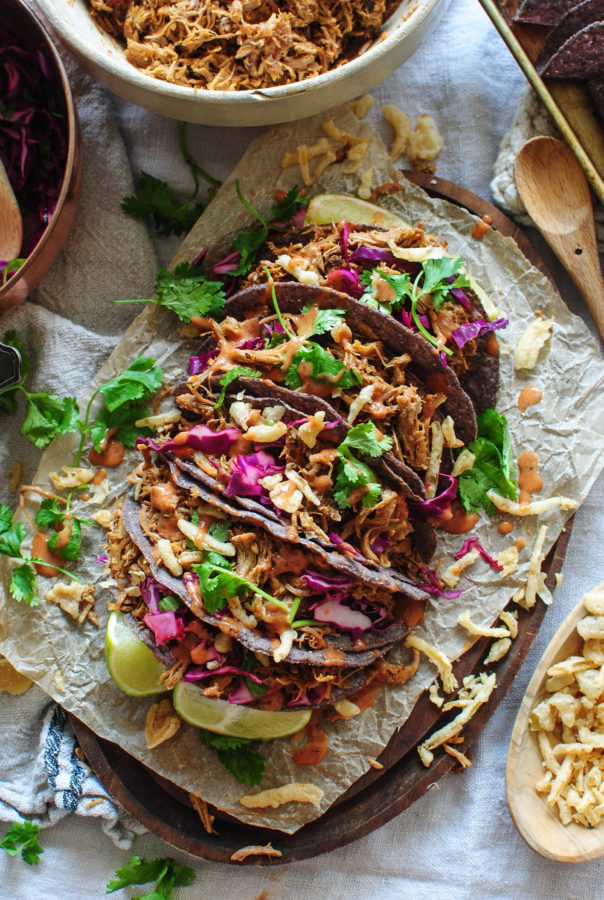 This is the thing – a while back I made some BBQ-ish nachos for a client, and on top of those nachos was a dollop of BBQ sauce, and a dollop of sour cream. You guys, I was not aware at that time, of the divine union between BBQ sauce and sour cream.
Did you know – and this is true – that once the two forms come together in any way – mixed, touched, a light whisk, what have you, that inner peace rises within and the sun shines on your soul like the babies that drink the morning dew? Did you know?
This is the truth I speak.
So I made you tacos.
With BBQ sauce and sour cream.
Pony up.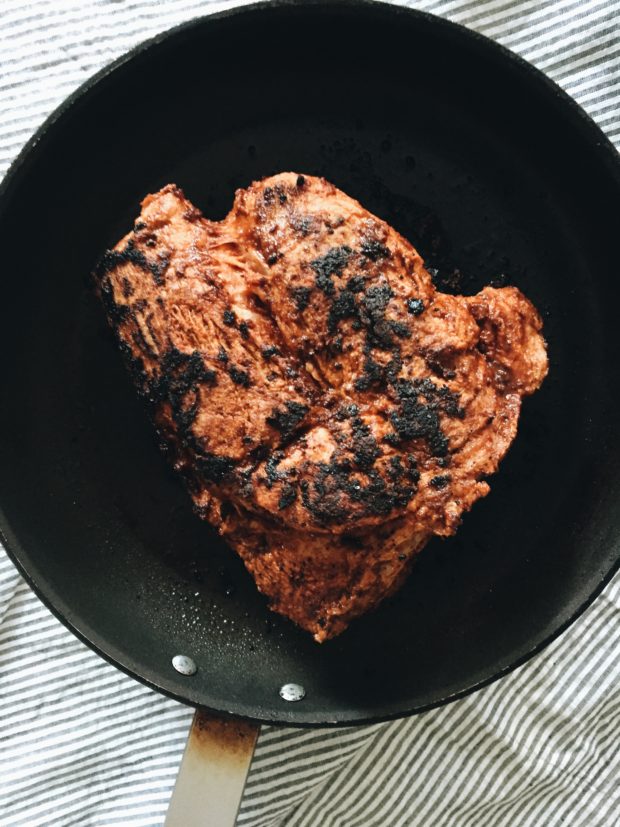 It's all very simple, really. I accidentally found this Peruvian BBQ spice blend at Whole Foods, and fainted inside. So I rubbed it all over a 3-pound pork shoulder, seared it all over in a hot skillet (with my exhaust fan on because hi, I set off the smoke alarm like, every other hour around here), and placed it in a slow cooker for about six hours. Nothing added. Just the pork. Soopah simp.
I will say, if you want to skip the searing, feel free. If you're in a time crunch and the thought of searing the pork gives you emotional gas, just don't worry about it. Place that seasoned mutha right in the slow cooker and call it good. I just feel like there's a bit more flavor with all the browning, but it's totally your call. You're still a good person.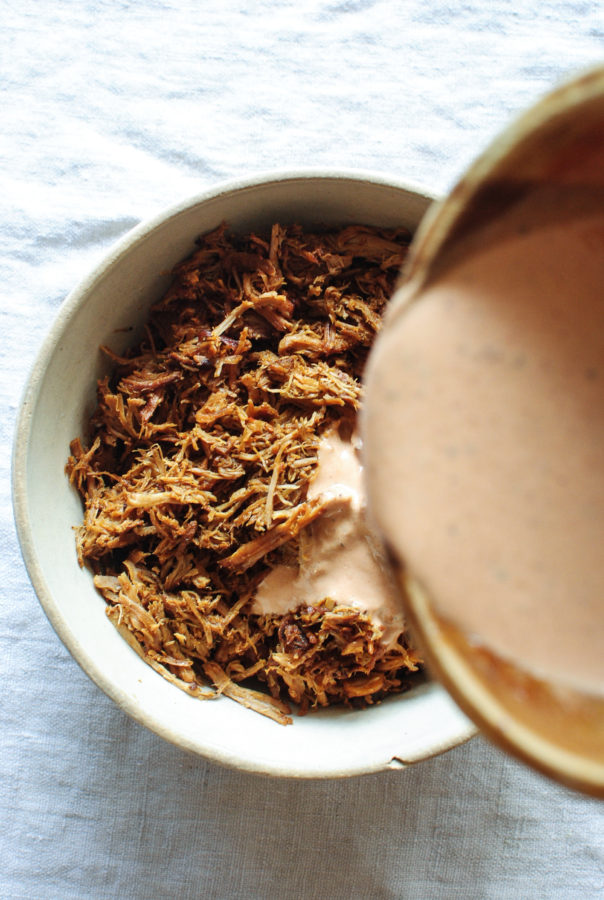 After you do some porkalicious shredding, whisk together a bit of your favorite BBQ sauce and a little more sour cream. This is the part where you can barely contain yourself because of what is about to unfold. You'll pour most of the sauce right in the pork and gently toss it to coat. It's not a ton of sauce. It won't make it mushy. It simply adds a layer of SWEET BABIES I CAN'T FEEL MY TORSO.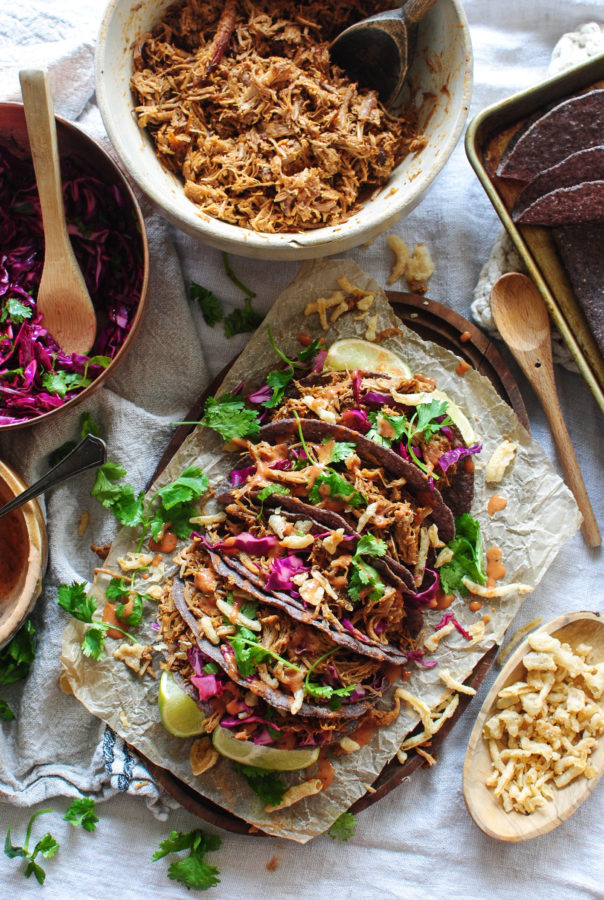 And then you'll tuck as many mounds of pork as you can rightly deal with, into some warmed (purple!!) crunchy taco shells. (another Whole Foods find. this is not an ad.) Top it with some simple cabbage slaw you made while the pork cooked. Drizzle the rest of the sauce over the tacos. Toss a few more cilantro leaves on top. A few squeezes of lime juice. A small sprinkle of crispy onion straws (optional, but face-numbingly amazing), and there you have it!
I dig the purple taco shells because they're not quite as STALE as the traditional ones seems to be. They have a more delicate crunch to them. Try to find them! It's wawth it, gawgeous.
If you don't make these soon I will question humanity.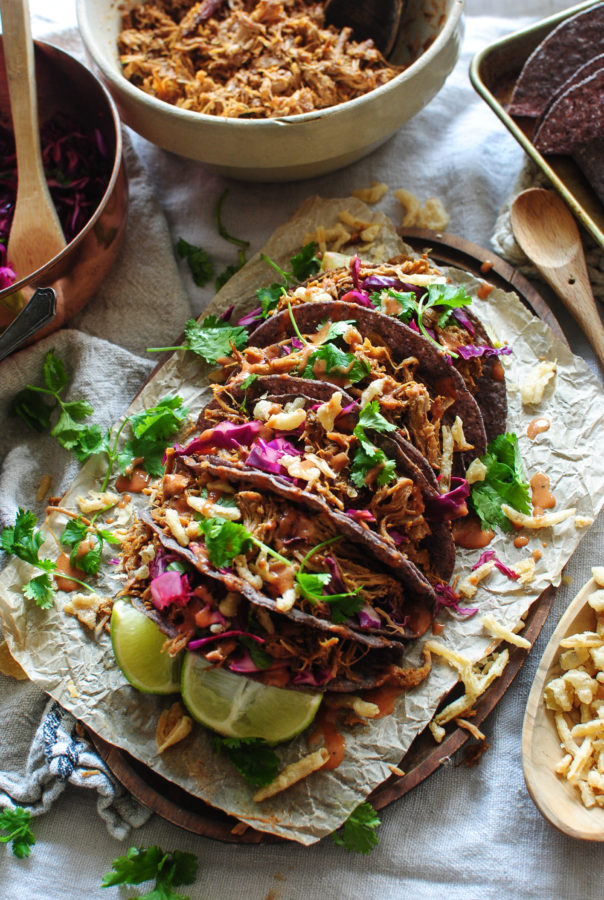 P.S. Add more sauce.
Slow Cooker Pulled Pork BBQ Crunchy Tacos
Ingredients
3 pound pork shoulder, trimmed of excess fat
2 oz favorite BBQ spice rub
1/2 cup favorite BBQ sauce
1/3 cup sour cream
1 small purple cabbage, finely shredded (a mandolin works great!)
1 lime
1/2 cup cilantro leaves
one box purple crunchy taco shells
crispy fried onion straws, for garnish (totally optional)
coarse salt
Instructions
Evenly rub the spice blend all over the pork shoulder, then place in a hot skillet with a Tbs. of oil. Sear on one side for about two minutes, then flip and sear another two minutes. If you can, flip the pork on its sides and sear another minute or two, just to get good browning all over. Transfer the pork to a slow cooker and cook on low for six hours. Shred with two forks, right in the pot.
In a small bowl, whisk together the BBQ sauce and sour cream. Pour 3/4th of the mix over the shredded pork and gently toss with a pair of tongs, until coated.
In the meantime, combine the shredded cabbage with the lime juice, cilantro and a pinch of salt. Let it sit in a bowl to marry for about an hour.
Warm the crunchy taco shells in the oven, and fill each one with shredded pork. Top with the cabbage slaw, more cilantro leaves, a good drizzle of the sauce, and a few crispy onion straws. OMG.
Serves a lot. Like maybe six.
7.8.1.2
43
https://bevcooks.com/2016/09/slow-cooker-pulled-pork-bbq-crunchy-tacos/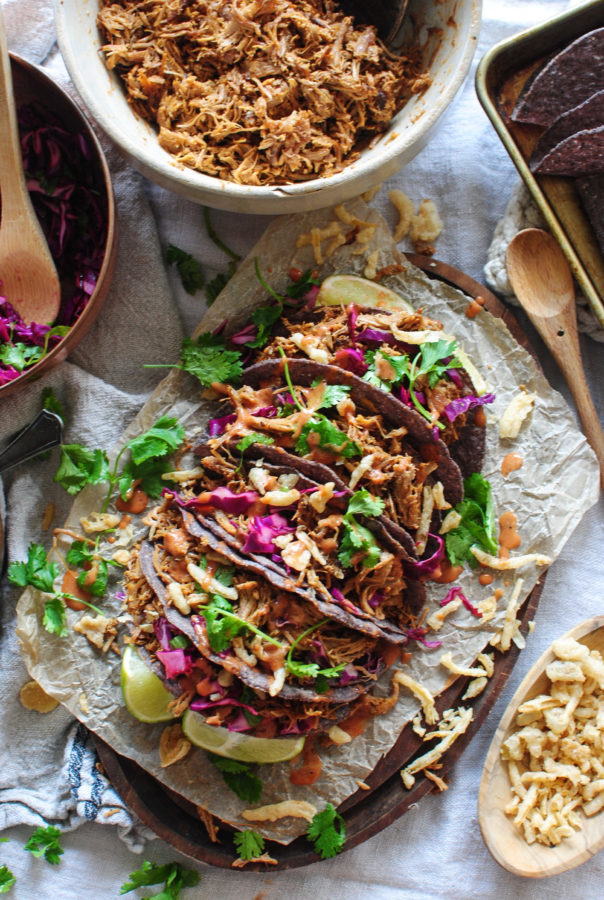 Yes I will hold you.
Save
Save
Save
Save