Breakfast! And also, I lost my camera cord.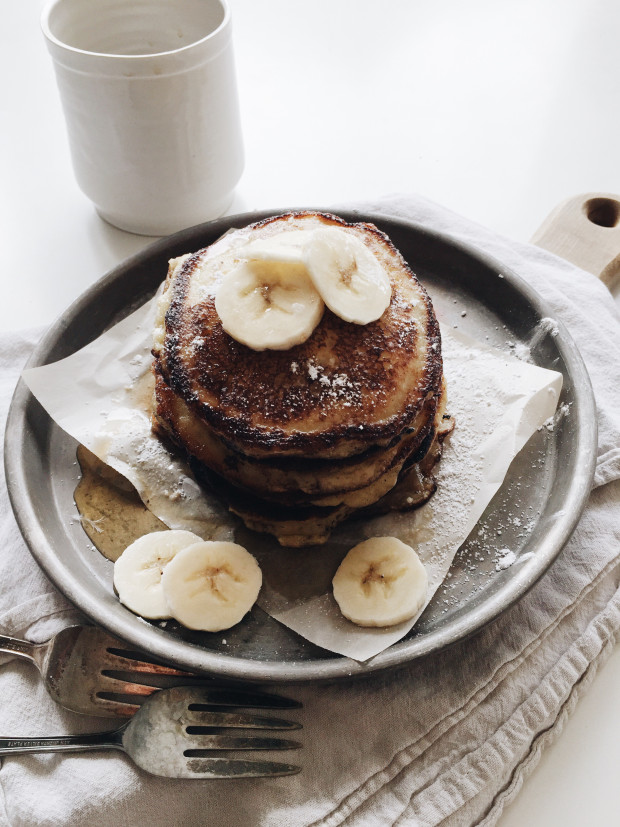 You know the cord that attaches the camera to the computer so you can dump photos? Lost it. And it's MAKING ME CRAZY. I use it almost every single day. It's always in one spot! And now it's completely gone. Vanished. Disappeared. This has twins written all over it.
Sorry I said dump.
Anyway, it's a good thing I remembered to snap a few with my phone or else we'd be blog postless today. And lawdy Lou, that'd be bad newsy Sue! (no idea)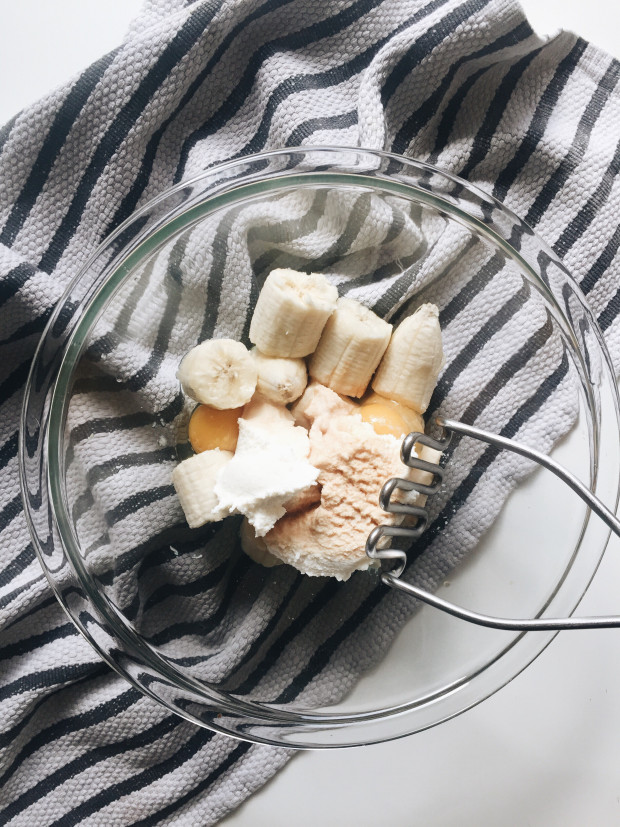 Now, if you follow me on Snapchat (I SWEAR I'll stop saying these words someday), you might remember that Paula Deen's third cousin, twice removed stopped by again to make these pancakes for my kids. You guys, I can barely take that woman. She's super flirty with Aaron, makes a complete mess of my kitchen, and doesn't even bring booze! This ain't right.
Well anyway, remember how my brother-in-law Matt came to visit from Japan? While he was here, he made us these craaaaaaazy simple banana pancakes. Listen though, he only used one egg and one banana. THAT WAS IT. And I mean, it worked, sure, but you know me and my trollish ways. I had to make things more complicated. So I added ricotta and vanilla!
Don't get excited yet.
I thouuuuught I could get away with keeping them gluten free. But my first attempt, once in the skillet, was a complete yuck disaster. Way too runny. Way too wet. Way too gluten free.
So I added a little bit of flour and baking powder! And remembered that gluten is my favorite food group.
Now you can get excited.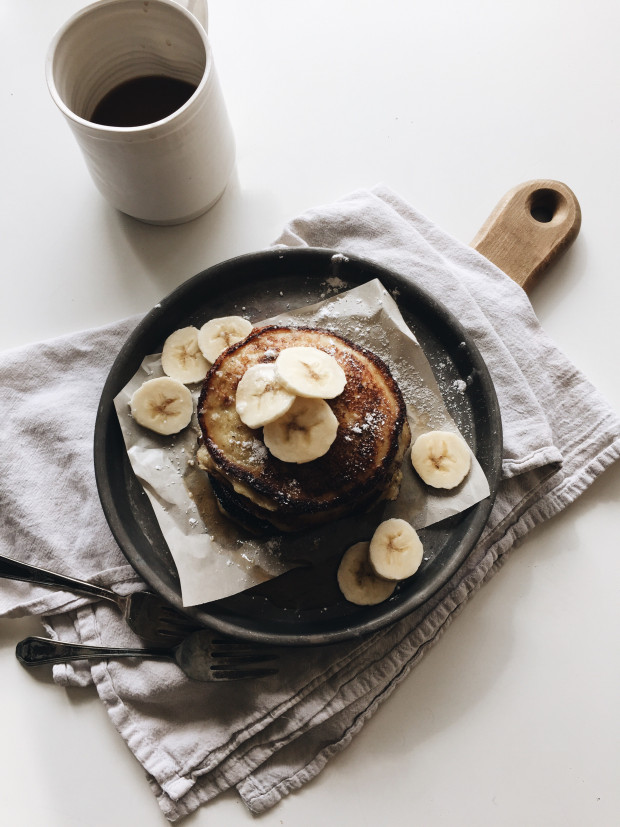 Since I'm (I mean, Paula Deen's third cousin, twice removed) not exactly a seasoned baker, I winged it (wang it? oh, ew no) until they tasted right. There's no sugar at all in it, but the banana flavor pulls some delicate sweetness into it, without slapping your face completely off.
Not to mention, the simple factor be booombtastic. I'm so mad at myself for typing that just now.
Three things:
insano easy
insano fast
insano yummy
Now to find that stupid camera cord.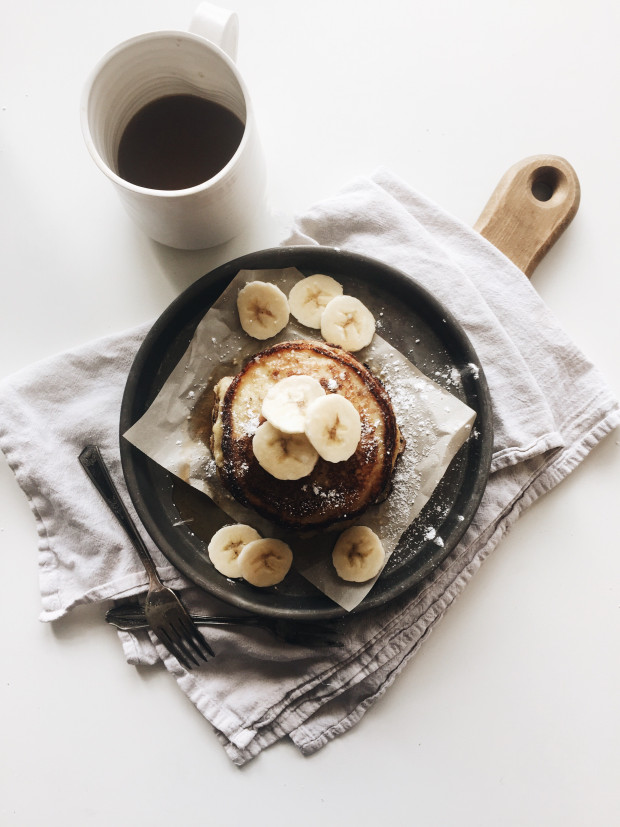 Get in that stack.
Simple Banana Ricotta Pancakes:
What it took for eight-ish pancakes:
* 1/2 cup all-purpose flour
* 1 tsp baking powder
* 1 pinch of salt
* 2 eggs
* 2 bananas
* 1/2 cup ricotta cheese
* 1 tsp vanilla
* a few Tbs. oil for pan frying
In a medium bowl, whisk together the flour, baking powder and salt.
In another bowl, combine the eggs, bananas, ricotta cheese and vanilla. Mash until everything is as smooth as you can get it. If you need to whisk it at the end, that's fine.
Add the banana mix to the flour mixture and mix until smooth.
Heat a Tbs. of oil (or butter!) to a large skillet or griddle pan over medium. Ladle out 1/3 cup of the pancake batter to the pan, one or two at a time, grilling until each pancake is golden brown on both sides, two-three minutes for each one. Keep adding more oil to the pan as needed, as you cook the rest of the pancakes.
Serve with maple syrup, a little bit of powdered sugar and freshly sliced bananas!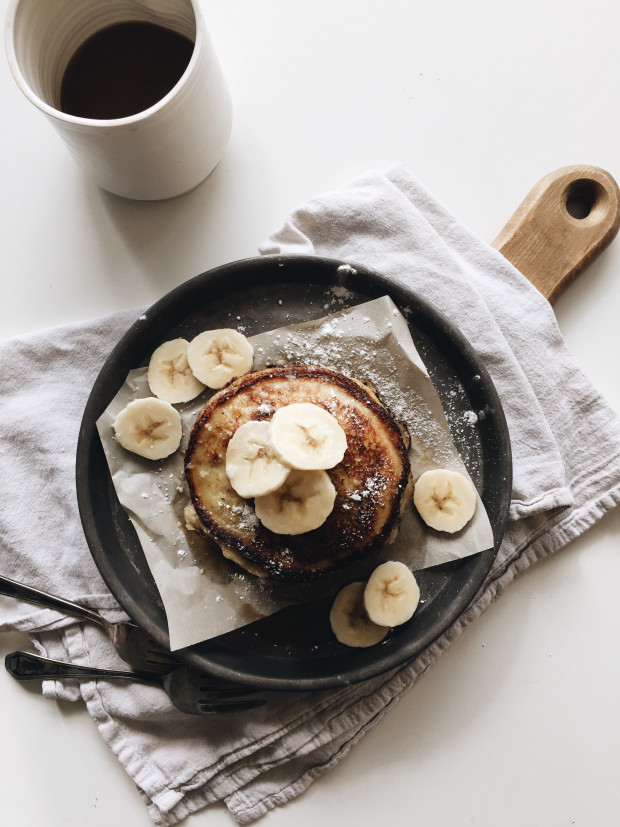 Y'ALL.