Emergency recipe!! Sort of.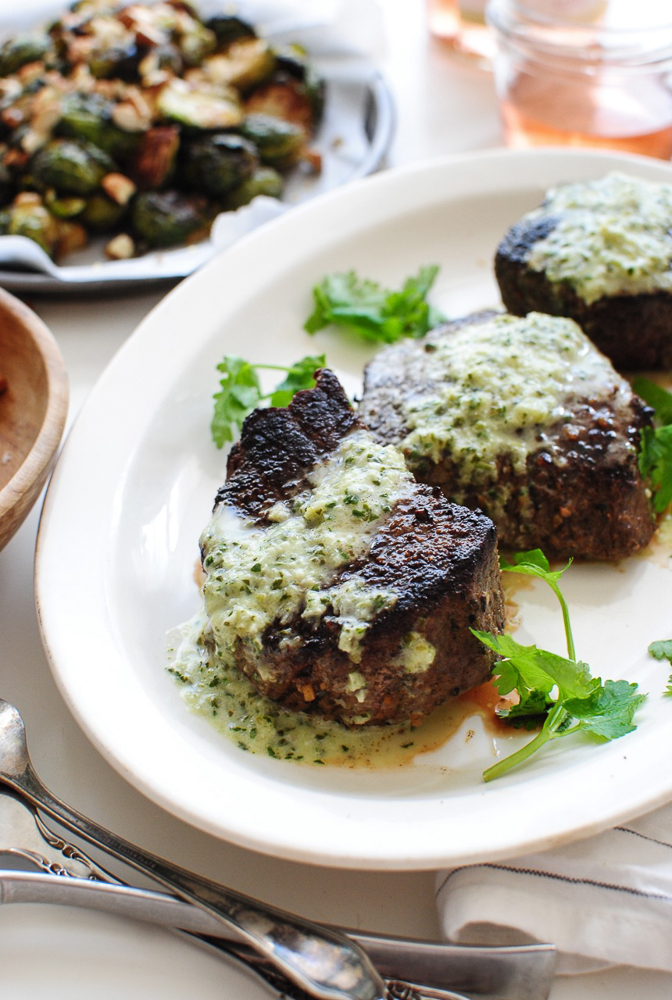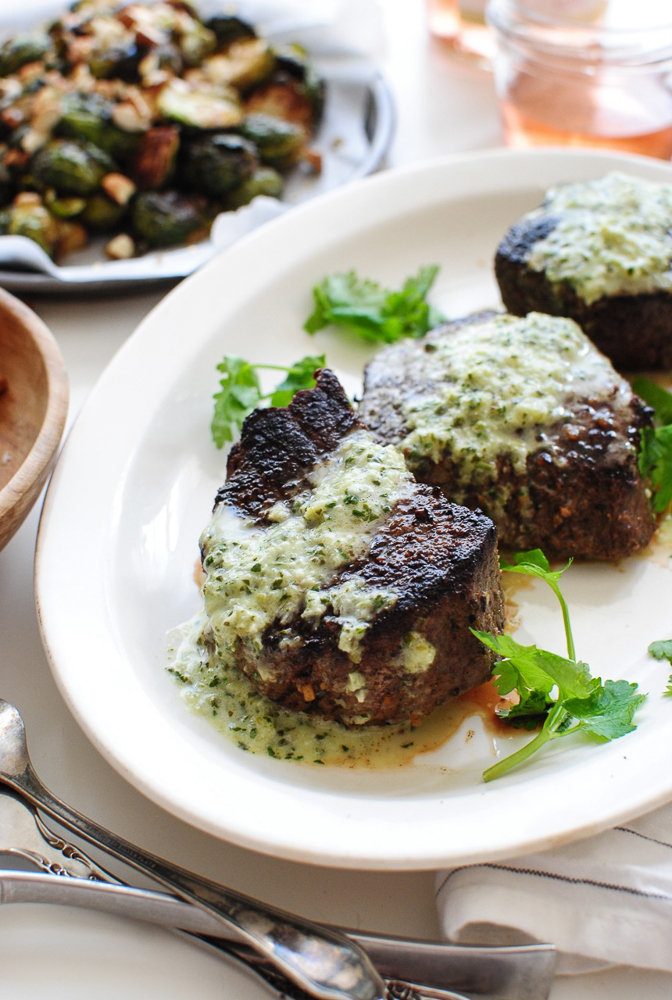 I say emergency since a hatch chile is involved. Two hatch chiles are involved. And we know hatch chile season only lasts like, one Tom and Jerry episode. And we're in it!
I also say emergency because I hadn't planned on making this dish until I stumbled upon a mini-hatch fest at my local grocery boutique last weekend. I say boutique because it's a tiny grocery store, with select items. I say select because- I'm just kidding.
I also say emergency because I bumped back a few recipes on my editorial calendar (I say editorial to sound cool), so that I could squeeze in this here hatch chile babe. It's a sauce! And it's creamy! And you've got to make it!
I mean, if you want.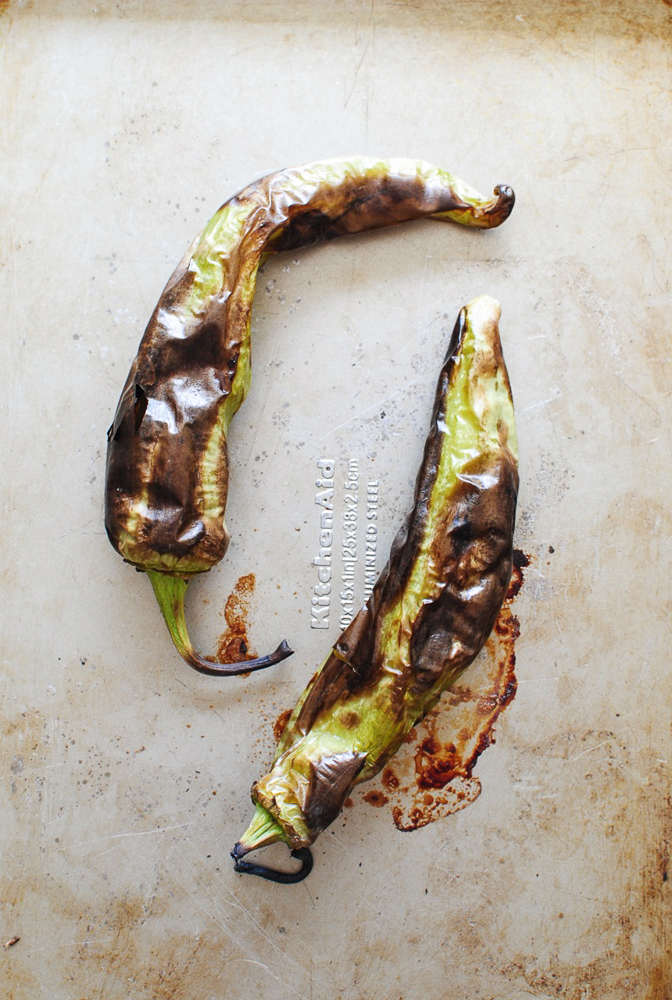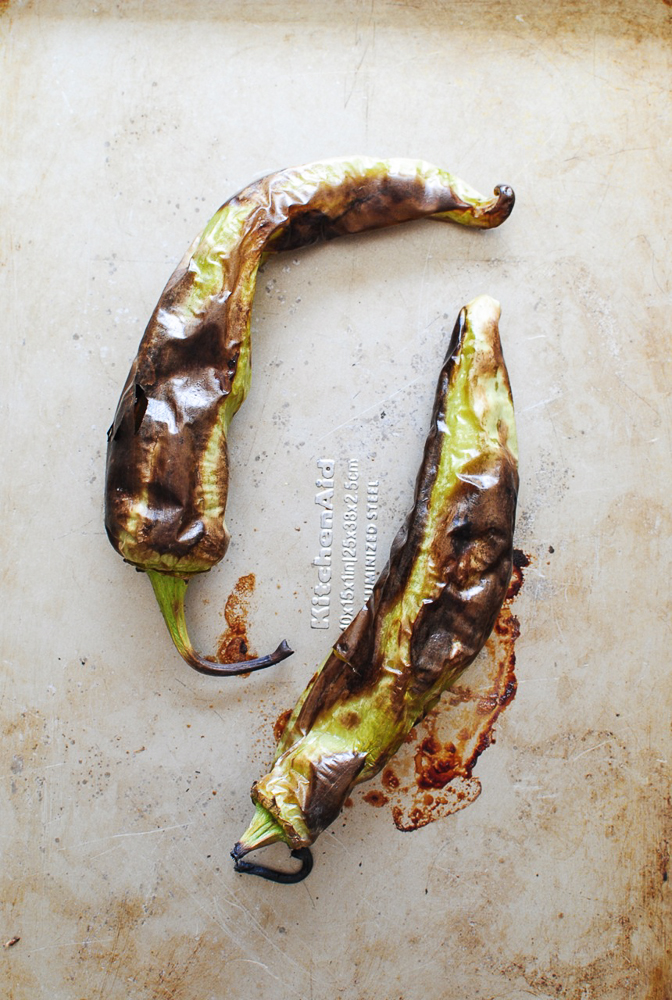 New Mexico Hatch chiles are similar to Anaheim in shape and color. I think they might be a cousin? Maybe I'm making that up. Don't listen to me. But like any pepper, once you take out the seeds, they'll yield a much milder flavor. But leave some seeds in for some kick! And boy, is there a kick. Have the sprinkler ready and aimed.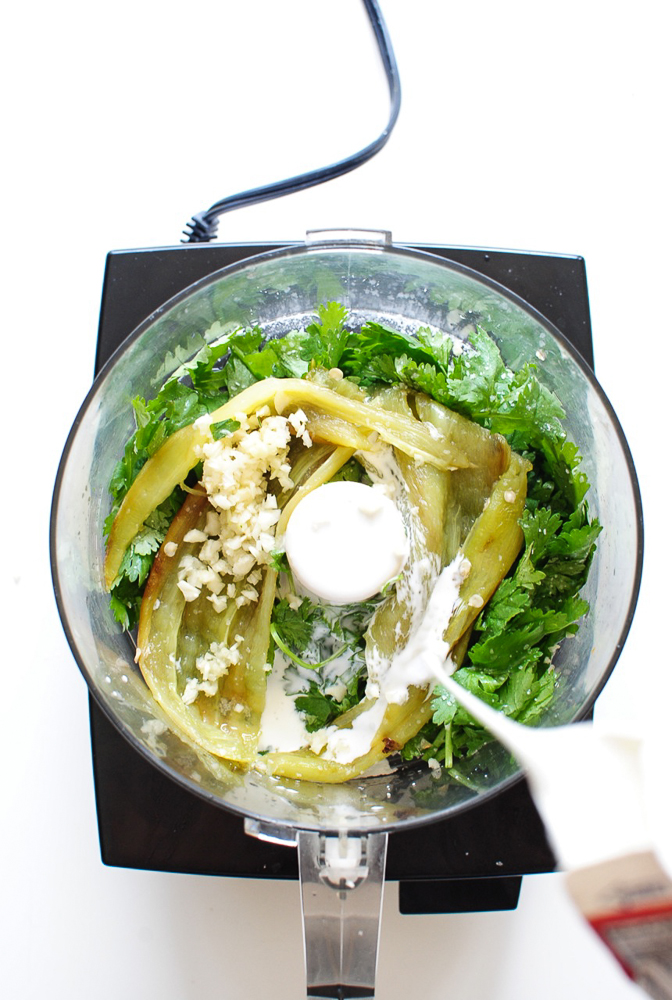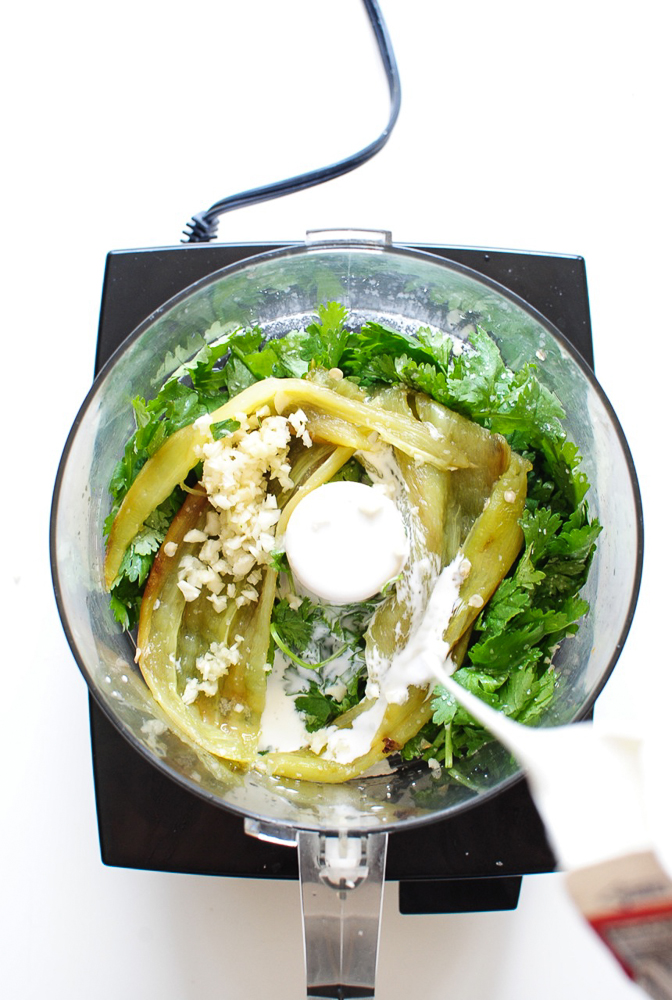 Now about this sauce. Ugh, cream sauces slay me (and my waistline). But this one is painfully simple. No roux making, no melting of this or that. It's just roasted bliss pureed in a food processor with cilantro, lime and heavy cream. And then just simmer that mess. That's AWL SHE WROTE.
Oh and garlic! I keep forgetting there's garlic in the sauce, which is a mental tragedy of its own.
Are you even seeing how simple this is? I think you are.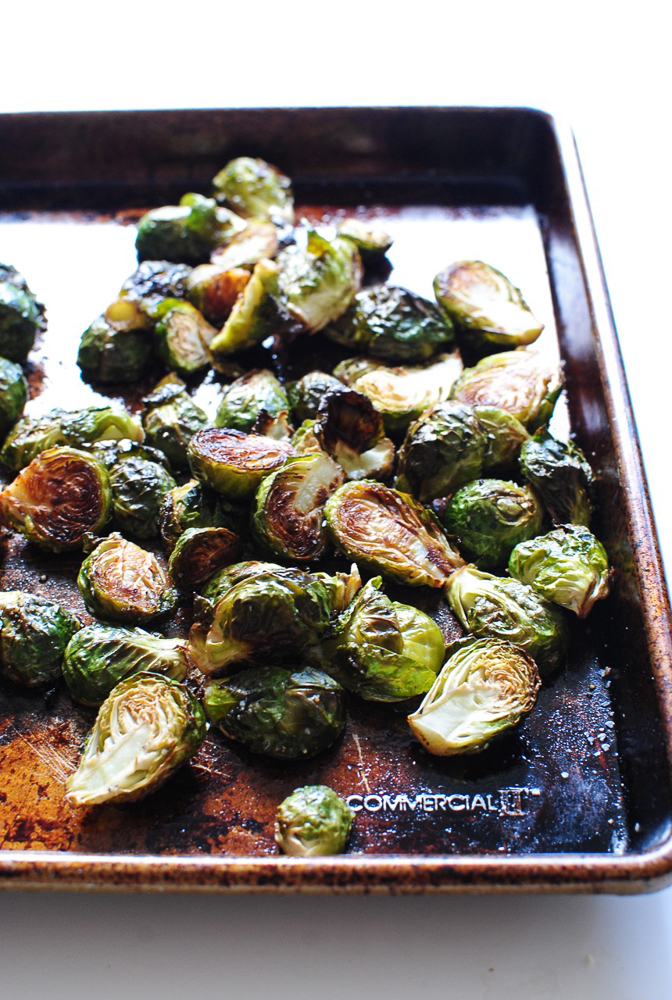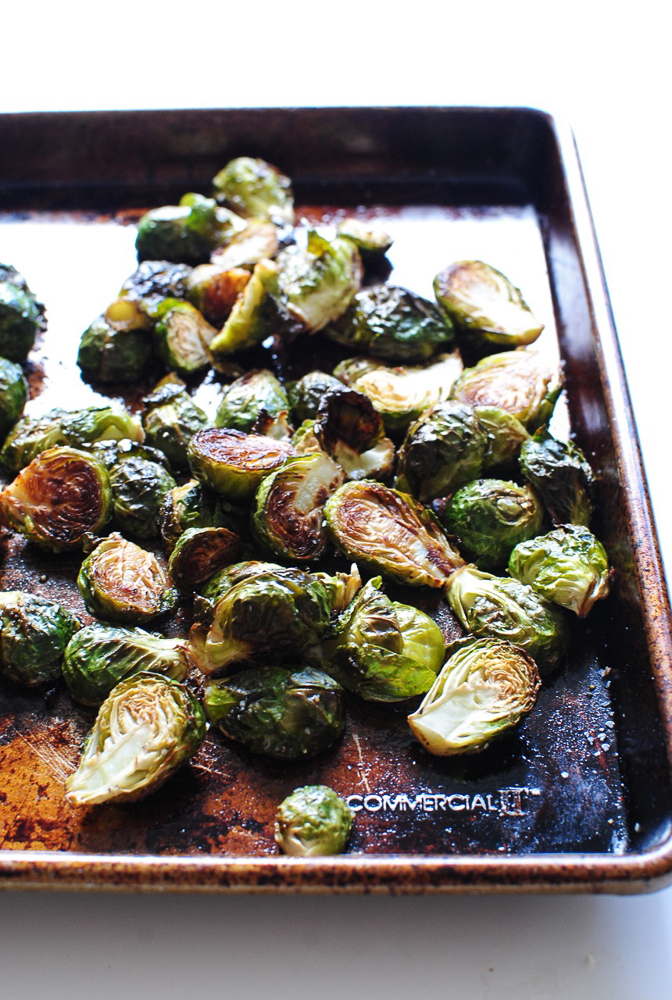 You can serve any sides you want, really. The brussels looked spectacularly cruciferous this particular day, so I decided to give her a roast, in anticipation for fall boogie times. And I did something different with them- I drizzled the platter with some good syrupy honey and a heavy hand of chopped almonds. Hooooooleh. You've got to try that. I was going to make a balsamic reduction, but got lazy and grabbed the honey jar. Seeeeeeeew glad I did.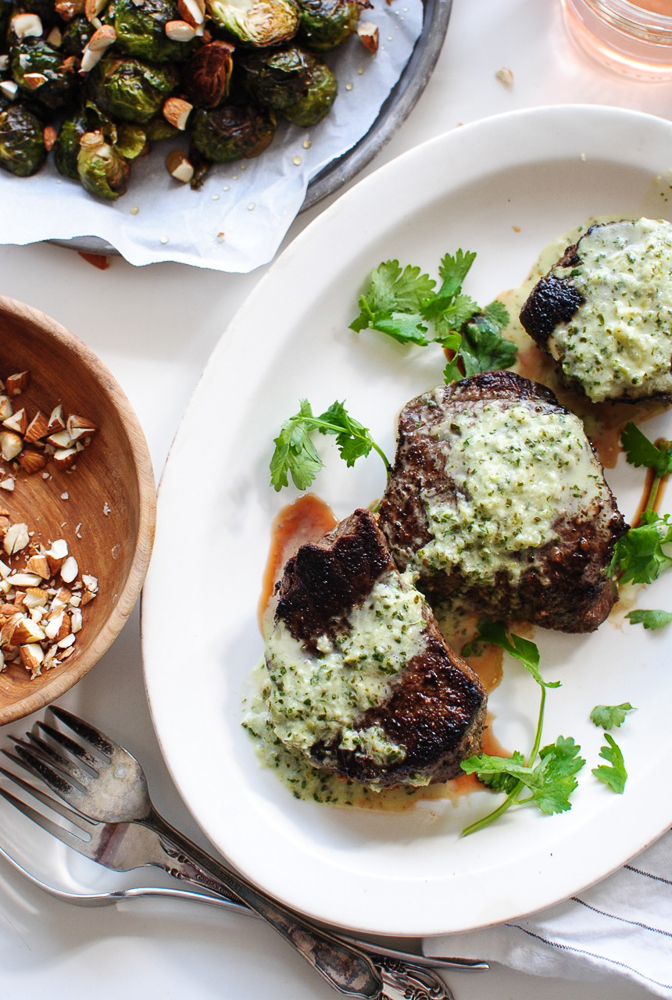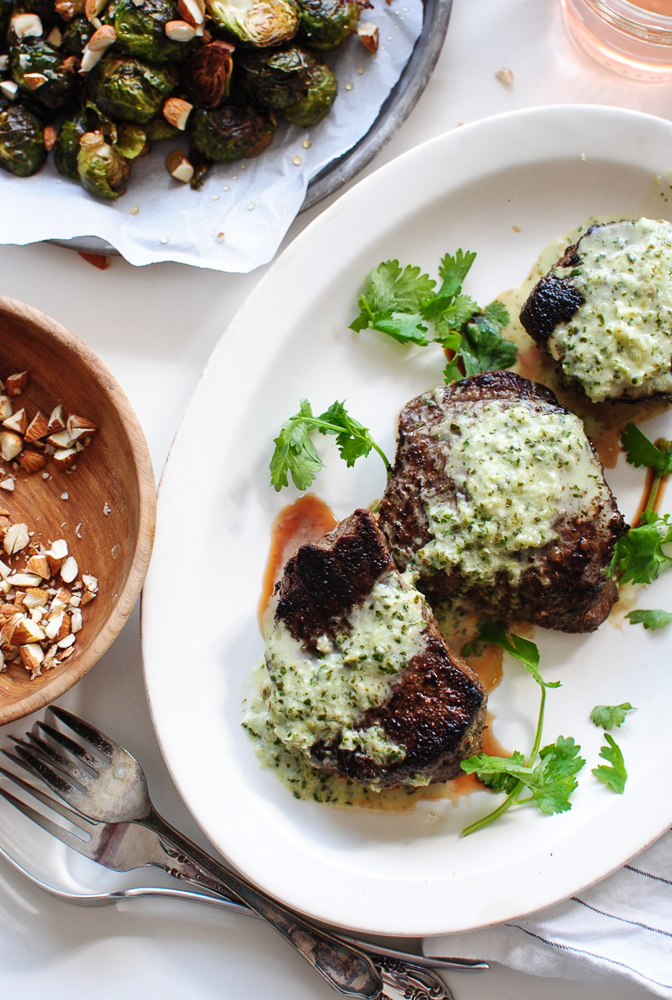 And I know what you're thinking, and yes, you can use any pepper you want. Hatch chiles might be unavailable to you right now. Maybe. I thiiiink we have a couple of weeks left in the season, so try and hunt some down if you can! HENCE THE EMERGENCY.
I'm using my emergency voice right now.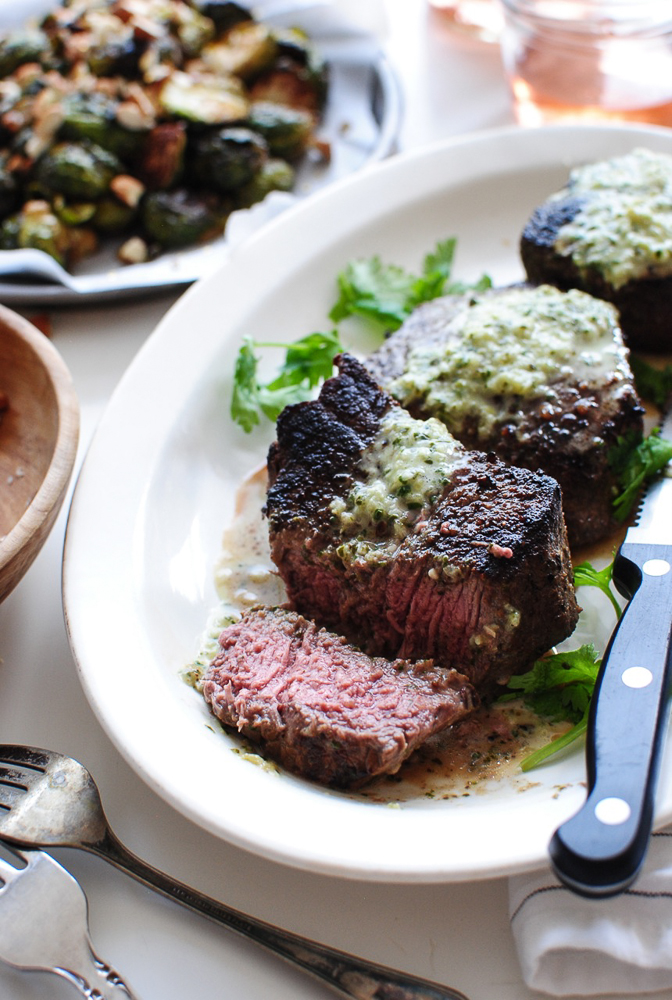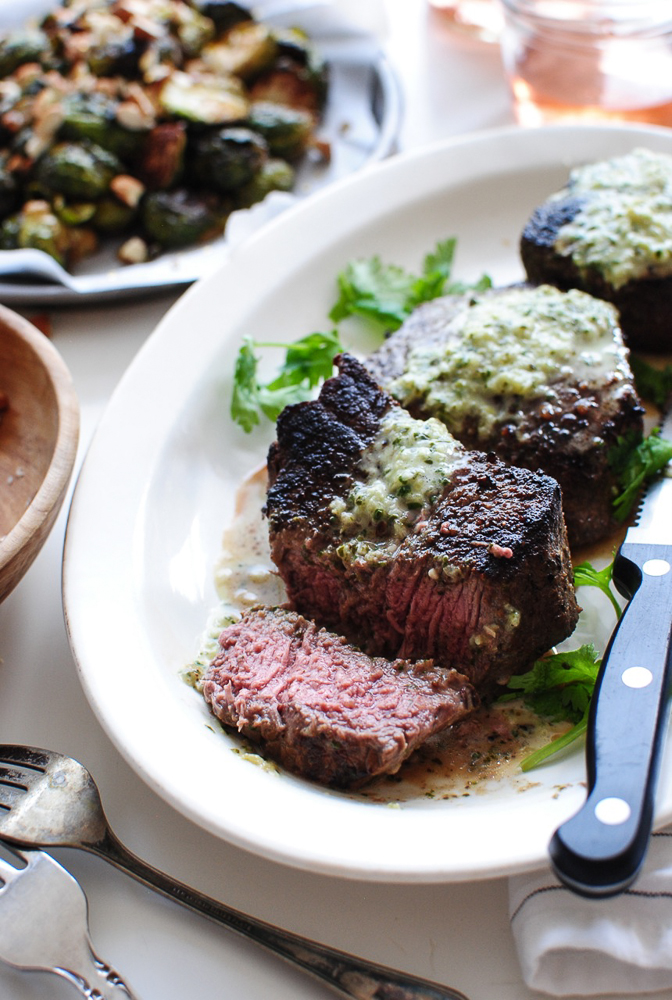 Get hatched.
Creamy Roasted Hatch Chile Sauce with Steak and Roasted Brussels Sprouts:
What it took for 4:
for the creamy hatch sauce:
* 2 fresh hatch chiles
* 1 cup cilantro leaves
* juice from half a lime
* 2 cloves garlic, minced
* 1 cup heavy cream
* pinch of coarse salt
for the steak:
* 4 (6 oz) steak filets, or whatever meat you dig! (flank, skirt, sirloin, whatever)
* 1/4 cup extra virgin oil
* 2 Tbs. favorite steak seasoning
* pinch of salt
for the brussels sprouts:
* 2 pounds brussels sprouts, cut in half lengthwise
* 1 Tbs. extra-virgin olive oil
* 1 pinch coarse salt
* 1 giant drizzle honey
* chopped almonds, for garnish
Get your steak marinading by combining the filets with the oil and seasoning in a large baggie. Seal and marinate in the fridge for at least an hour. Longer the better!
Bring the steak to room temp while you prep the brussels sprouts and chile sauce. Sear the steak on each side for four minutes over medium high. Cover and let rest for 10 minutes.
In the meantime, the sauce! Broil the peppers on a baking sheet until they're charred and black all over. Place in a small baggie and let steam for a few minutes. Peel the skins off, de-stem and seed. Taking out all the seeds will make for a milder sauce. Leave some seeds in for a little heat.
Place the peppers in a food processor with the cilantro, lime juice, salt and heavy cream. Blend until combined and smooth. The cream will harden up in the processor a bit, so just transfer the mass to a small saucepan and simmer on low until ready to serve.
Roast the brussels sprouts (with a drizzle of oil and sprinkling of salt) in the oven at 400 for about 30 minutes, checking to make sure nothing is burned. Serve with a good honey drizzle on top and chopped almonds!
Serve the steak with the the hatch chile sauce spooned over it. Ahhhhh, baby.
*if you have leftover sauce, try swirling some in with your morning eggs. you.don't.even.know.*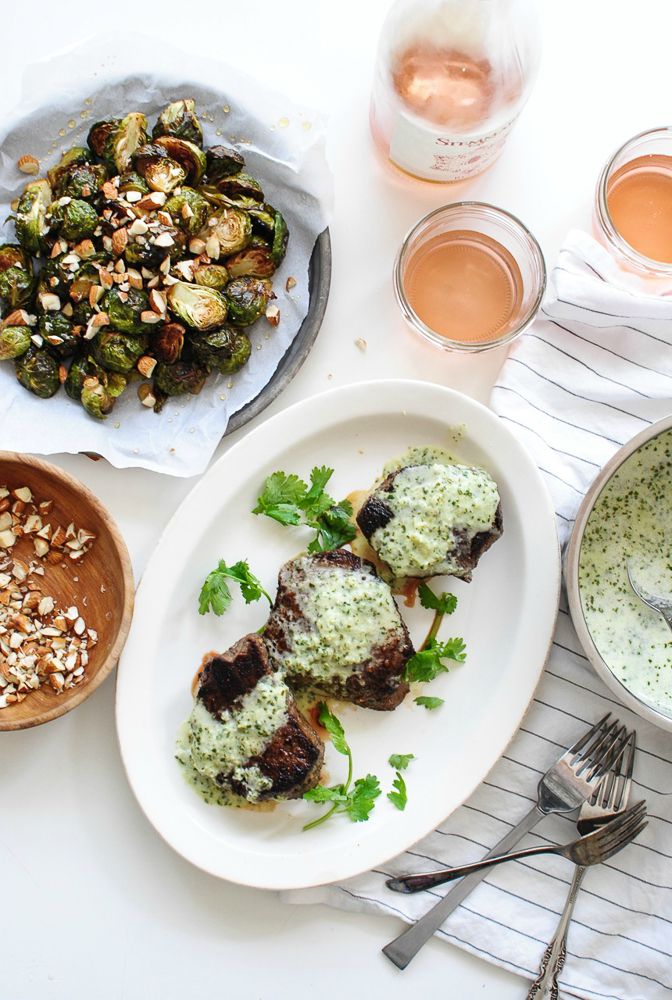 EMERGENCY.