You're gonna want to sit down for this.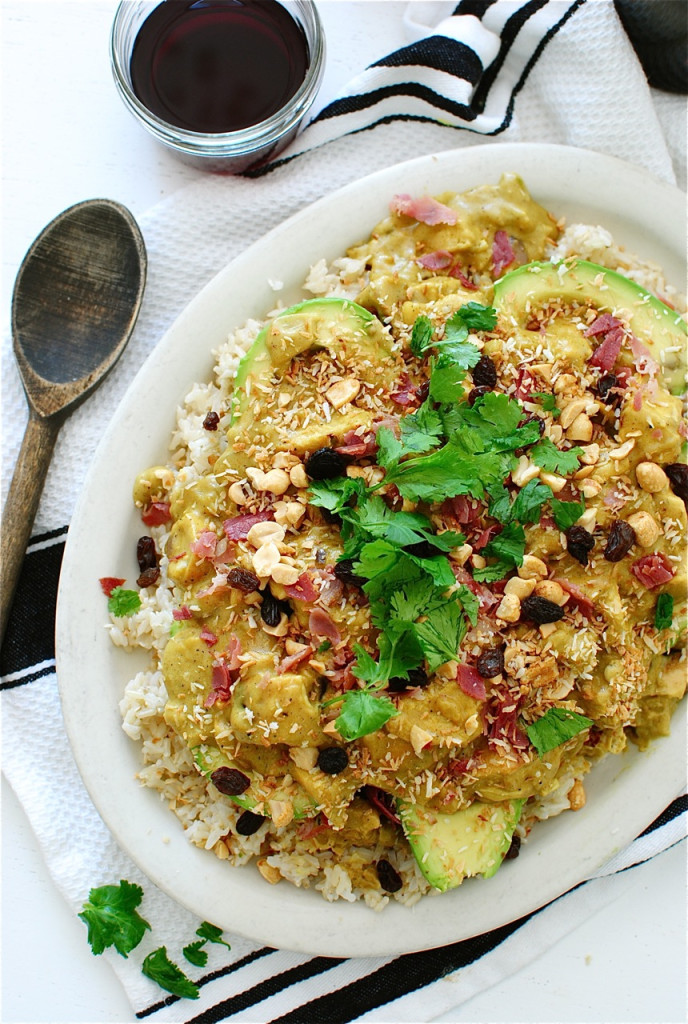 Which, you probably are already, so never mind.
Okay, have you ever heard of serving avocado halves warm like this? Apparently the Avocado Advisory Board brought this idea to the table (RA RAAAA) back in the late '60s. Then it became crazy popular in the '70s. Did you even know about this? I didn't either. Are we excited about this? Dunno yet.
Iiiiit's another Rewind Recipe!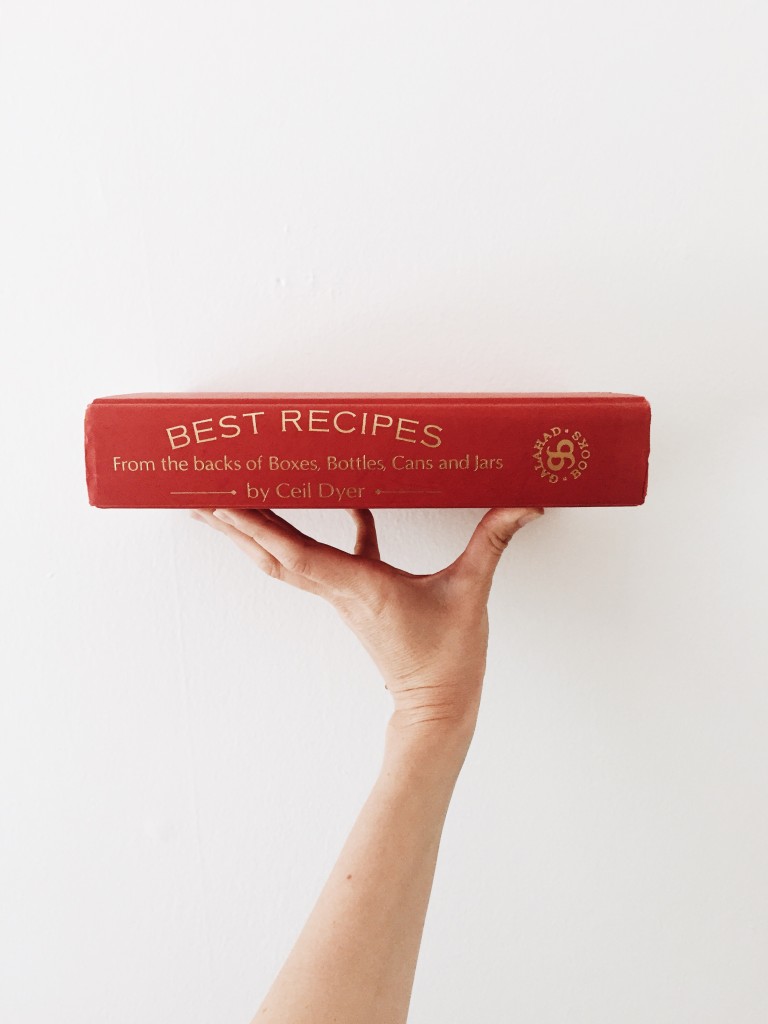 This oldie barely slid by my pre-1980 requirement with its original 1979 copyright date. And I'm so glad because, hello, look at the title! Of course there are no photos of any of the recipes, and there are like two recipes per page, and 578 pages. Needless to say I spent the better part of a rainy afternoon on the sofa perusing this monster for my next feature.
I have no idea why this one stuck out to me. Maybe it was the familiar but unexpected combination of ingredients. Or the idea of draping a hot curry sauce on top of avocado? Who DOES that? Is it legal? Does it hurt? Should I repent?
But first, look what you do here.
You'll sauté a sexy combo of apples, onions, garlic and curry powder in a half a stick of butter. Already fine by me.
Then you'll add make a rich sauce with flour and cream. But let's talk about the cream for a smidge. The original recipe called for "light cream." I'm sorry, what is light cream and why does it exist? I had to Google image it to even see what the hay it was talking about. Well, I've never seen it in my stores, so after a quick search on the best sub, it suggested going with a cream with a similar or higher fat content, as to not totally disrupt the molecular compounds or whatever. So, I went with half & half! And life was so good.
Add some pre-seared chicken breast to the sauce and let it simmer for about ten minutes. This gives you plenty of time to start your new band called Molecular Compounds.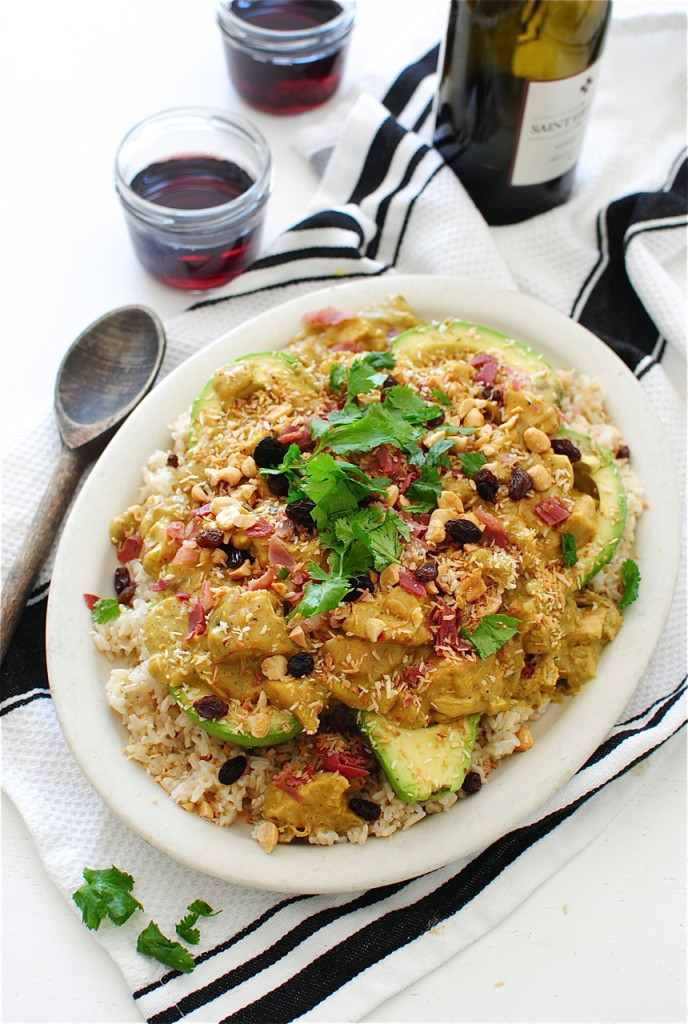 Could we just look at this mess for a moment? What IS that? I still have no idea. But it's absolute insanity in your mouth hole.
Okay these are the layers, just to go over this again, because I know you're seriously wiggin' right now.
* brown rice on the bottom (I just used my rice cooker, but do what makes ya sing)
* FRESH AVOCADO HALVES. Just straight up on top of the hot rice. w a t ?
* creamy chicken curry sauce allllllll over it.
* tons of toppings! bacon (I used prosciutto. it was all I had, man), cilantro, chopped peanuts, raisins, toasted coconut, omg.
It is such a family-style dish it's ridiculous. You wouldn't really expect all those flavors to pair so well together, especially the avocado! I dare you to make it this weekend.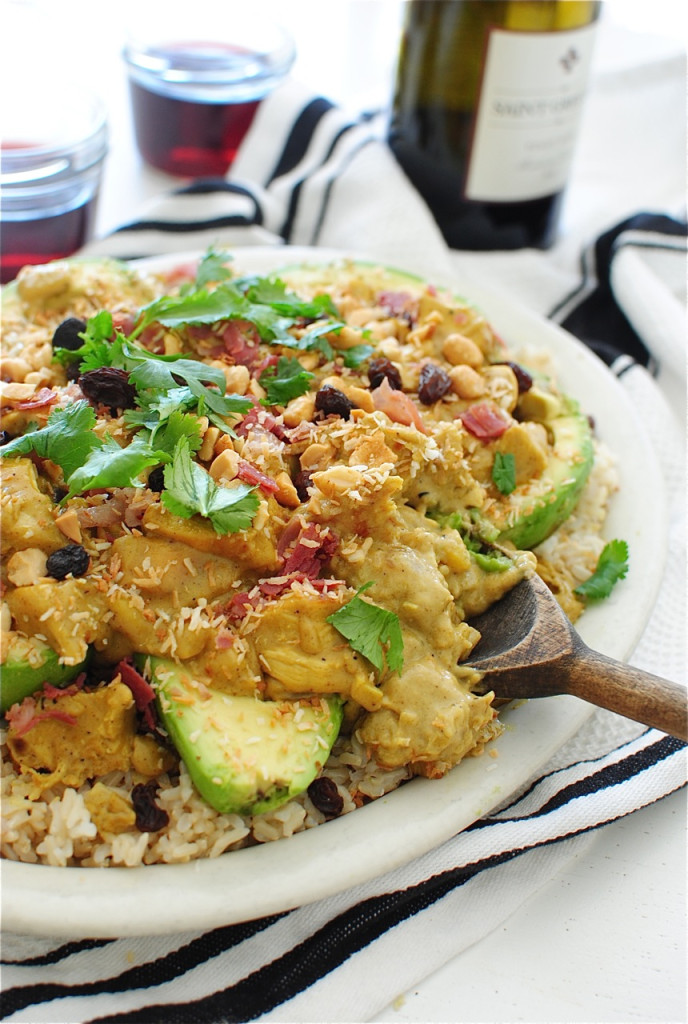 Double dog dare you.
Avocado with Curried Chicken:
What it took for 4-6:
* 1/2 stick of butter
* 1/2 cup chopped, peeled apple
* 1/4 cup chopped onion (I used red)
* 1 clove garlic, chopped
* 1 Tbs. curry powder
* 1/4 cup all-purpose flour
* 1 cup half & half (or light cream if you have it)
* 1 cup chicken stock (or bouillon)
* 1 tsp coarse salt
* 1/8 tsp ground pepper
* 2 cups cooked and chopped chicken (14 oz package of cutlets is fine)
* 3 or 4 avocados, halved and peeled
* 3 to 4 cups cooked brown rice (white is fine, too)
* optional garnishes: bacon bits (or crispy prosciutto), fresh cilantro, toasted coconut, raisins and chopped peanuts (just eyeball it all)
In a large saucepan, melt the butter. Once the foaming begins to subside, add the apple, onion, garlic and curry powder; sauté for about 3 minutes, until the onion is crisp-tender. Stir in the flour and toss to coat. Slowly add the cream and chicken stock and continue to stir until it thickens and becomes a glorious curry sauce, just a couple of minutes. Season with salt and pepper.
Add the chicken and reduce the heat to low. Let it simmer 10 minutes while you prep your toppings.
Arrange the cooked rice on a large serving platter, then place the avocado halves on top of the rice. Spoon that crazy chicken curry over the avocados, and finish with insane amounts of garnishes. You'll be so happy.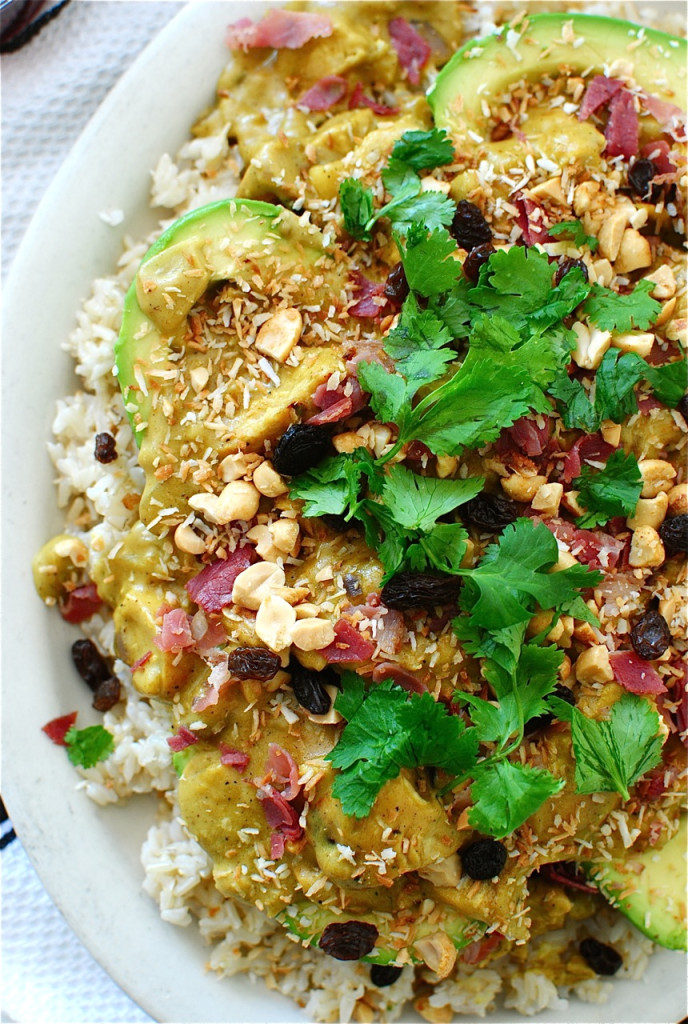 AVOCADO AND CURRY. Who does that?! Besides me.