I keep wanting to type smokey and then I realize there are no bears in this bean soup.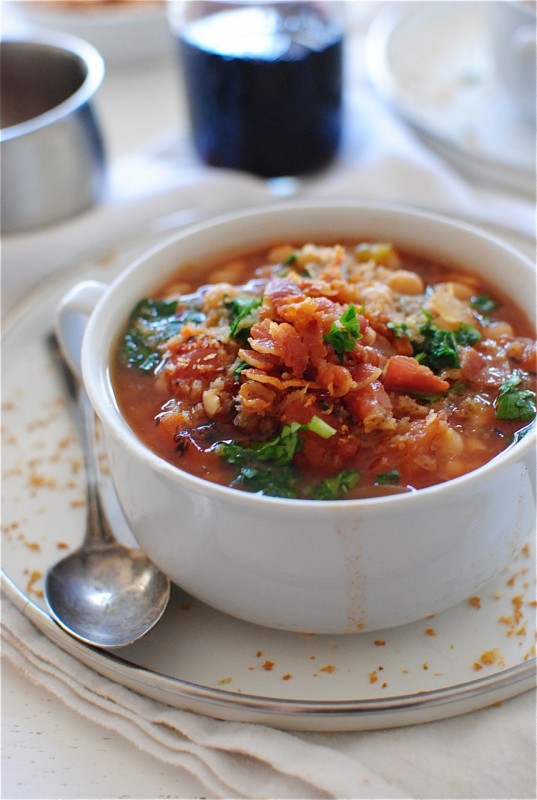 Close though! Beans. Bears. Smokey the Bear soup. Smoky the bean soup? Never mind.
SOUP! And this one is so stupid easy you'll have actual time to drink the eggnog without the whole IV thing.
Don't ask.
So the star of this show are obviously the beans. Last Mother's Day Aaron gave me a huge gift package from our local French Market, and these cutie patootie little white coco beans were in it. What are white coco beans, you ask? Well let me tell you! I have no idea. I tried researching and didn't get too far. It kept asking, "do you mean white cocoa beans?" and I kept responding, "DO YOU MEAN YOU WANT A KNUCKLE SANDWICH?"
Aaron kept telling me they're white lentils. He's loco. BUT, I looked that up, too, and the shape of the beans are slightly different from white lentils. I'm starting to think these are space alien white "coco" beans sent to me from our yonder planets. It's the only thing that makes sense.
Anyway, they're cute little white beans that you soak overnight, just like any other dried bear. Bean.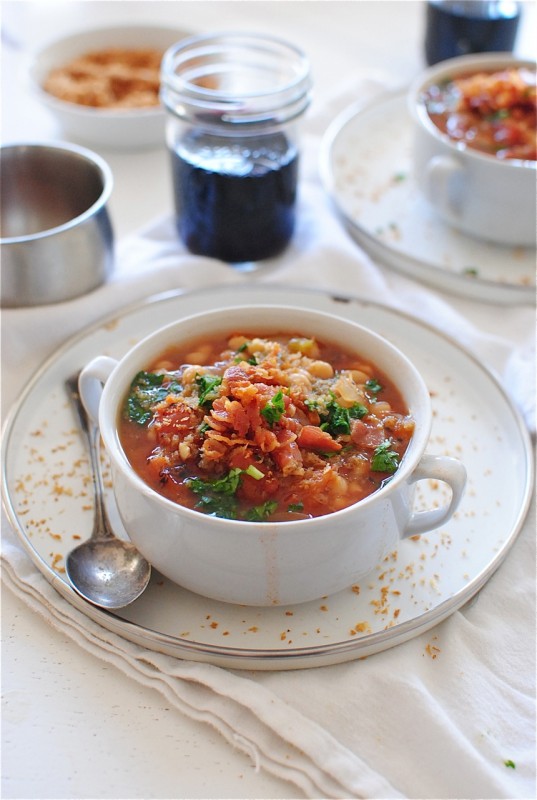 But listen to this part that I'm about to tell you! Instead of a ham hock (frankly, that thing makes me nervous), I crisped up some thin pancetta slices riiiight at the end for a delicate porky, salty finish. And it was lovely. You won't even miss the hock. Oh! Let's start a band called Miss the Hock. Smokey the Bear will play the hock.
What gives the soup its ultra fab smoky flavor are the fire roasted tomatoes and just a touch of smoked paprika. It's really nice. Not too much. The balsamic adds a little acidic zing, but feel free to use red wine vinegar, or even cider vinegar in its place. I won't be mad.
Don't forget – slow cooker. 'Cuz you're easy like Sunday morning.
And lastly, a little toasted breadcrumbs for crunch and minced parsley for a fresh pow, and your Christmas is good to go. Save some for Santa!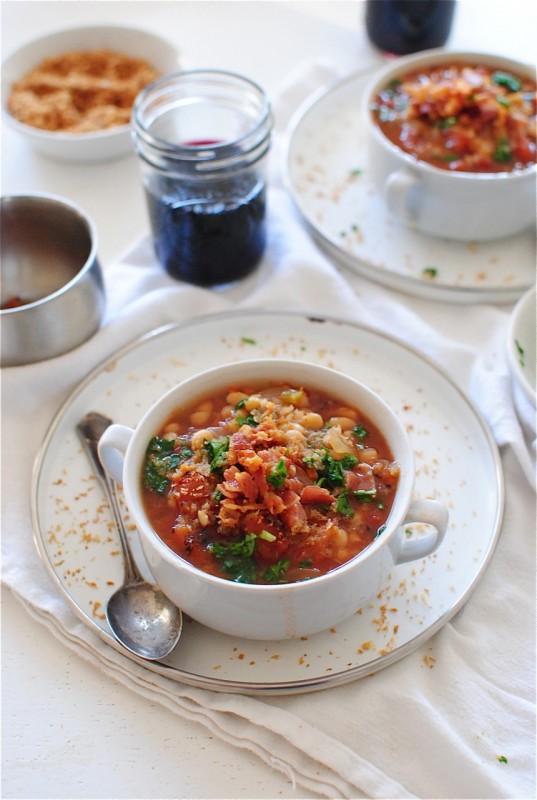 And Smokey the Bear, duh.
Slow Cooker Smoky White Bean Soup:
What it took for 6:
* 2 cups dried white beans, soaked overnight (I used white coco beans)
* 1 (28 oz) can fire roasted diced tomatoes
* 1 medium yellow onion, finely diced
* 1 carrot, chopped
* 1 celery stalk, chopped
* 4 cloves garlic, minced
* 4 cups chicken stock
* 1 tsp smoked paprika
* 1 Tbs. balsamic vinegar
* 1 bay leaf
* salt and pepper, to taste
* toasted breadcrumbs, minced parsley and crispy pancetta for garnish
In a slow cooker, combine, um, everything. Let it cook on high for 4 to 6 hours. Taste it. Need a little more salt? Little more acid? Do it.
Serve with breadcrumbs, parsley and the crispy pancetta!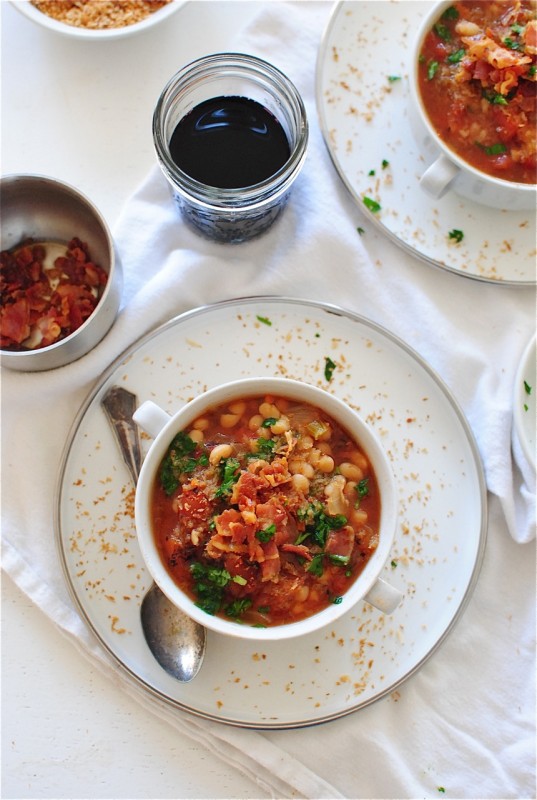 And for a little behind-the-scenes shot. Will is upset because his imaginary orchestra just missed a note.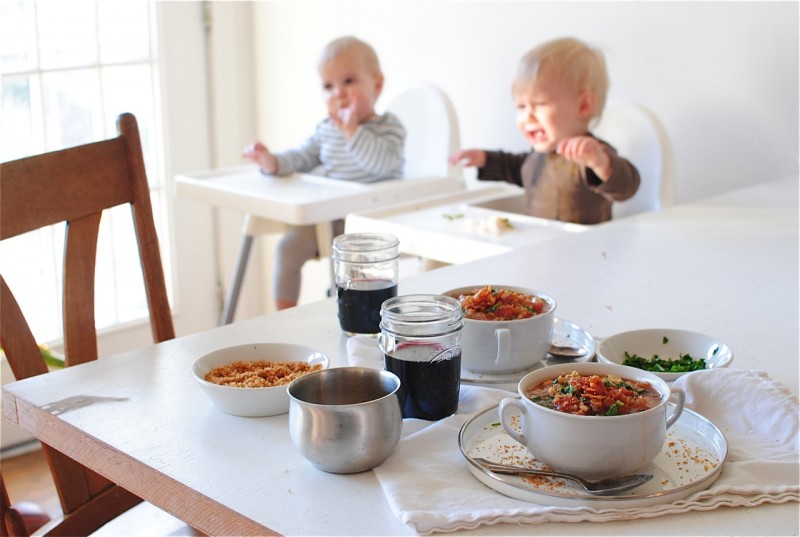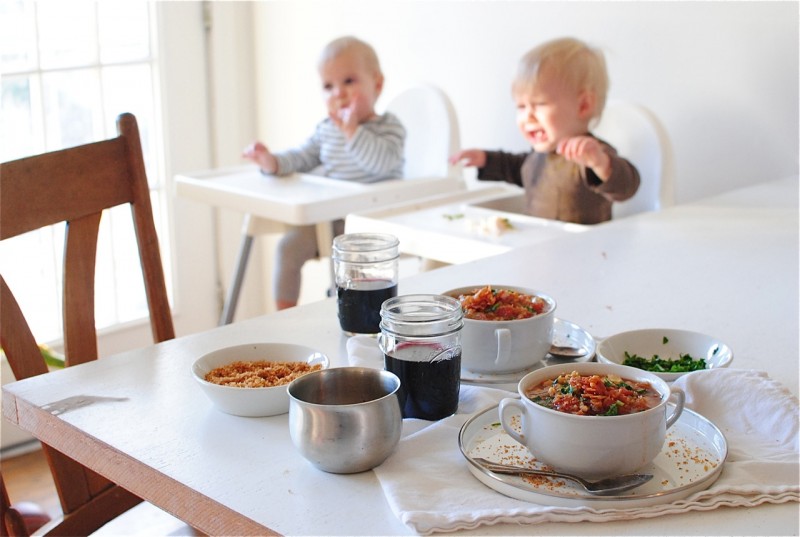 Eat some dang soup!